If you want to promote or sell your drugs, medicine pharmacy online what you need prestashop themes? This medical health drug medicine pharmacy prestashop themes for online shopping for drugs medicine has many benefits. You have access to the greater assortment of medicines available not only in your city but all over the globe. The only thing important for drug store owners is choosing the right design to feature their products online. We can prove that this template is the proper one for your business in a couple of minutes.
Firstly, its white and green color scheme is associated with purity and health, which is good for conversion. Secondly, its design is flat and trendy, which tells the customers that you sell only the best and newest drugs. Thirdly, due to the main menu and tabbed navigation in the content area it is very simple for the buyers to find the medicine they were prescribed.
Besides, the slider makes the page more dynamic and interesting to view. Want more proof? Look at the colored stickers and allocation buttons. They create the atmosphere of urgency and gently guide the customer to the checkout process. We hope you are satisfied now and ready to start the online commerce.
Medicine Pharmacy Prestashop Themes
Phami
Phami is a perfect medicine prestashop themes that is suitable for any type of health and medical business website such as pharmacy, healthcare services, clinic, hospital, pharmacy, drug store, pharmacy, dentist or doctors,. .. In addition, with Phami, you can build your medical and pharmacy items more attractive and can be solved with numerous eye-catching designs. Your customers can easily find their desired drug through product categories.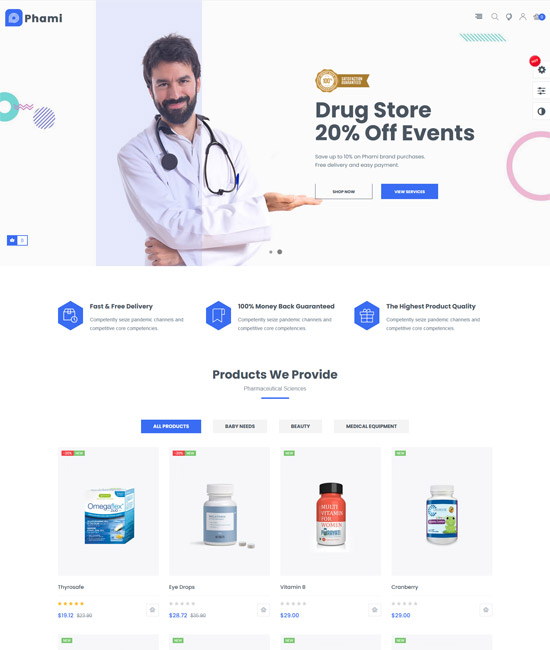 More info / download Demo
Clinical
The Clinical Responsive Prestashop theme is perfectly designed for Hospitals, Clinics, Doctors, Pharmacies, Healthcare, Medicine, Pharmacy, Ayurvedic, Modern, Ecommerce, Clothing Stores and Multipurpose. The Clinical Responsive Prestashop theme looks nice and professional with its color scheme. It looks great with its clean and professional look.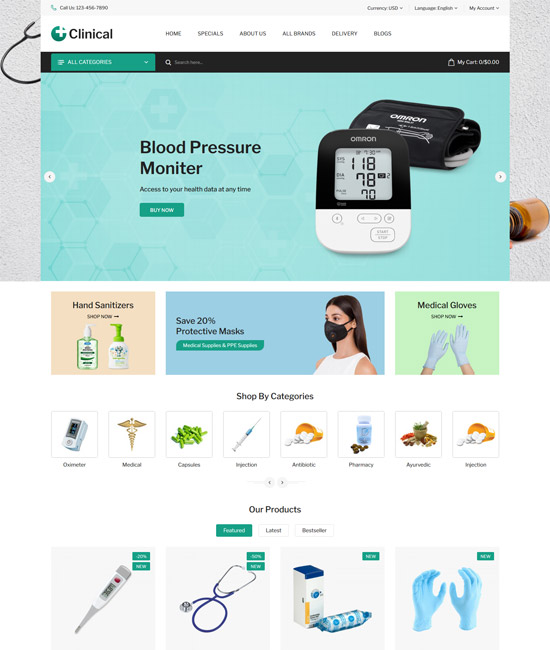 More info / download Demo
CoronaV
This medical store theme is a ready-to-use multipurpose solution for online stores specialized in selling medical equipment and medical items, or any other essential medical supplies. CoronaV theme is a number one multi-faceted medical template that includes various medicine oriented themes with multiple variations of the home page.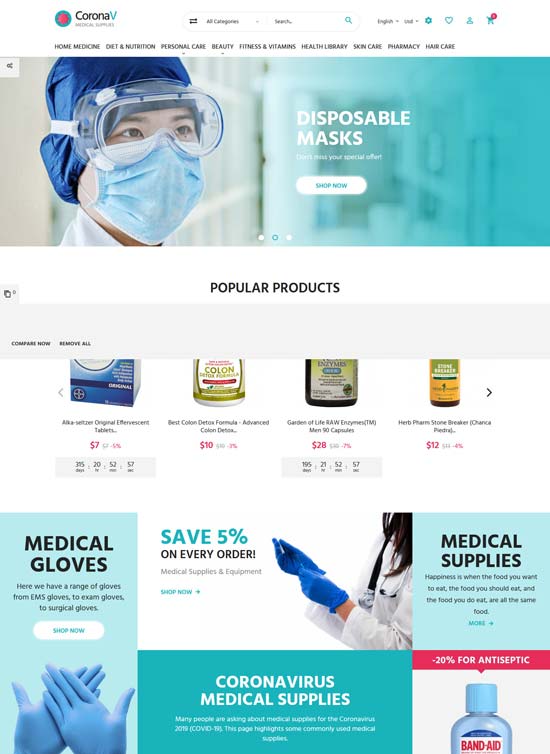 More info / download Demo
Medicor Pharmacy Store PrestaShop Template
Medicor is a perfect PrestaShop pharmacy template that is suitable for any kind of medical and health business website such as pharmacies, health care services, clinics, hospitals, pharmacies, drugstores, pharmacies, dentists or doctors, … In addition With Medicor, you can build your most attractive Medicine and Pharmacy items that can be solved with numerous eye-catching designs. Your customers can easily find their desired medicine through product categories.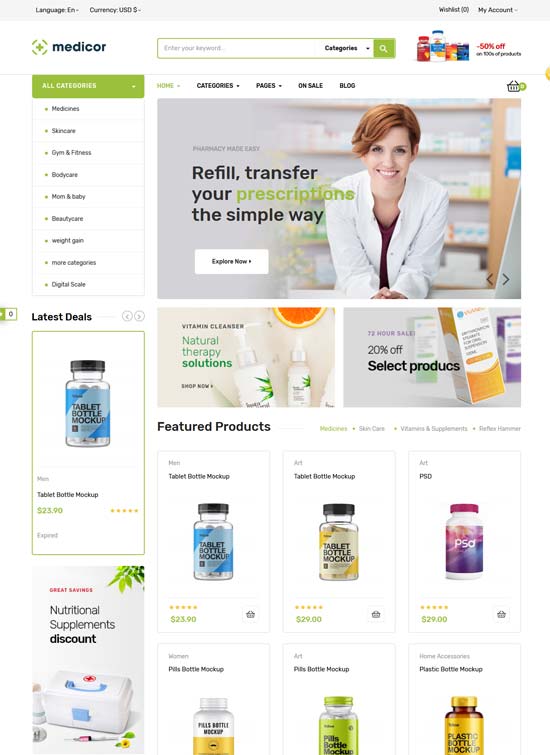 More info / download Demo
Medici – 4 Home page
Medici is a perfect solution for private doctor's offices and hospital websites, for small clinics such as pediatric, dental, gynecological or general therapists, family doctors and ambulances. It has an attractive layout, responsive mobile layouts, and special features for managing services, doctors, gallery, testimonials, faq, blog / news posts, and pages.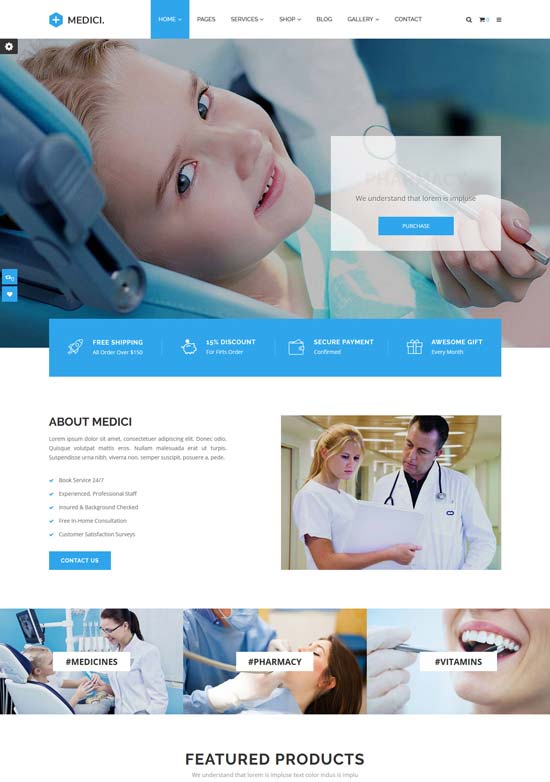 More info / download Demo
Medicine – Pharmacy & Drug Store
Medicine is a responsive theme of Prestashop for the Pharmacy & Drugstore Medical & Health Store. This responsive theme comes with 4 home layouts, Mobile Optimized Design, Ajax Live Filters and Filters, a powerful Theme Customizer, MegaMenu Drag & Drop, Product View List & Grid, Quick Product View and Product Zoom.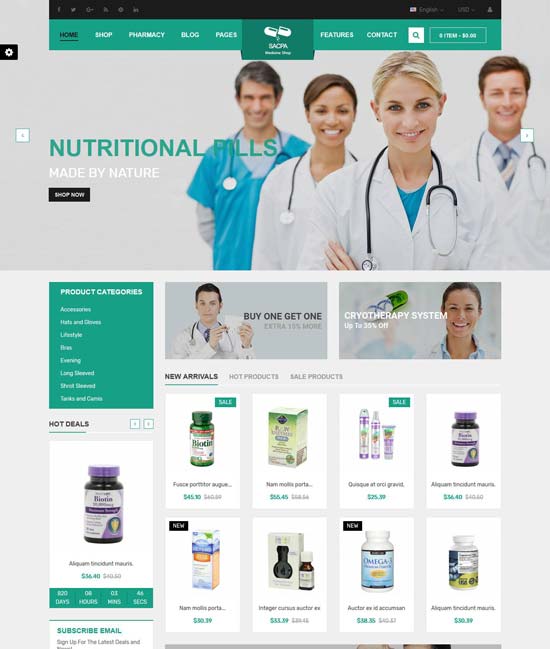 Demo More info / download
Leo Healthy Care
Leo Healthy Care is fully Responsive Prestashop Theme. Healthy Care has SIX different home pages is suitable for all e-commerce sites and diversified products such as pharmacies, pharmacy, fashion stores, shoe stores, lingerie shops, hat shops and Multistores.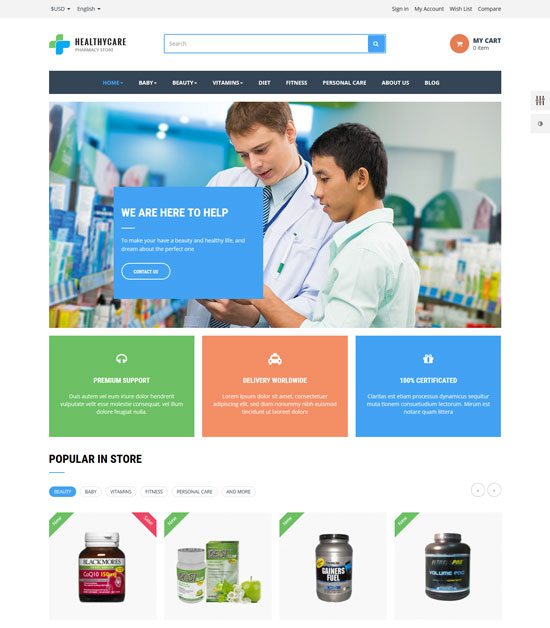 More info / download Demo
Leo Value
Leo Value Responsive Prestashop Theme is a wonderful theme with 3 home pages. It is designed for diversified products such as fashion shop, pet store, pharmacy and numerous shops. The value of stock suitable for all e-commerce sites.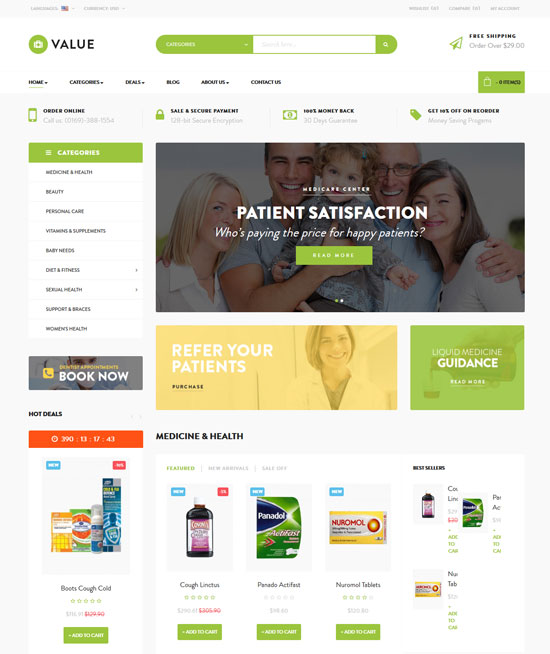 More info / download Demo
Medicine – Pharmacy Prestashop Theme
Medicine Prestashop Responsive Theme is designed for drug and medical stores. Medicine Prestashop Responsive Theme is looking good with green colors . All sub pages are customized. It is very nice with its clean and professional look.
Oximeter Medical Store PrestaShop Theme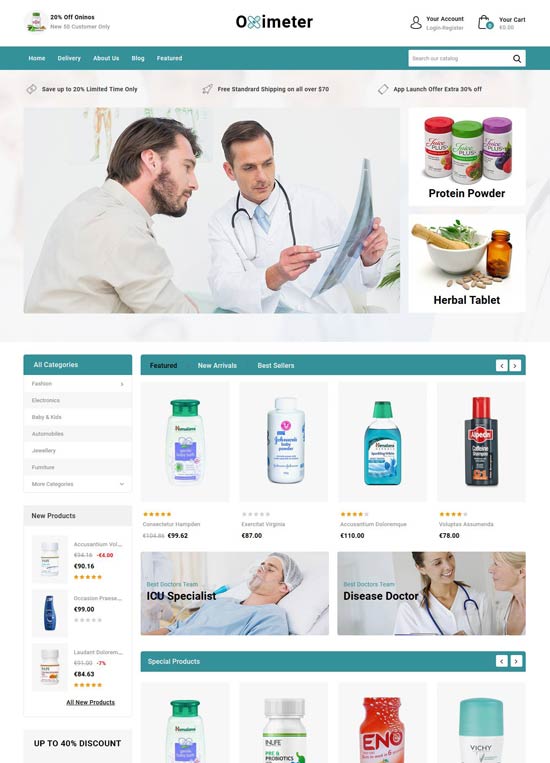 More info / download Demo
Wellneser Medical Store PrestaShop Theme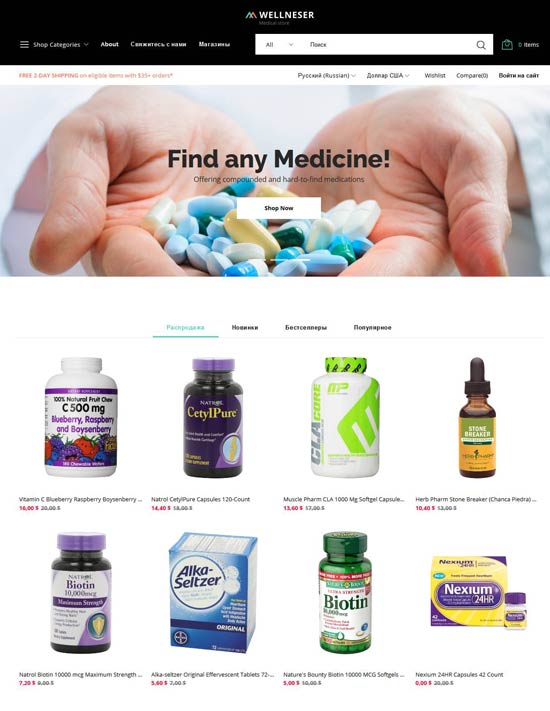 More info / download Demo
Wellness Drup Store PrestaShop Theme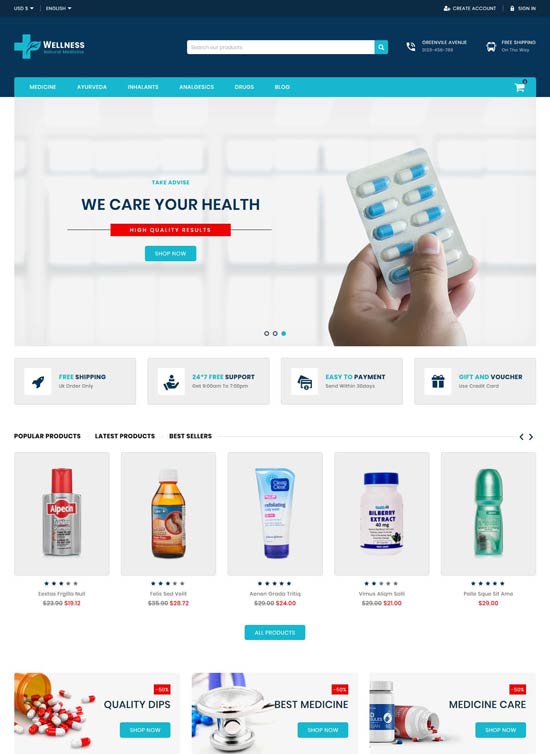 More info / download Demo
Eveprest
If you need a template for selling drugs, this trendy theme will suit all your needs. This could be a great solution for pharmacies, pharmacies and pharmacies. Exceptional modules such as TM Advanced Filter and TM Collections will help customers find the required product in seconds and add them to collections with the ability to share via social media.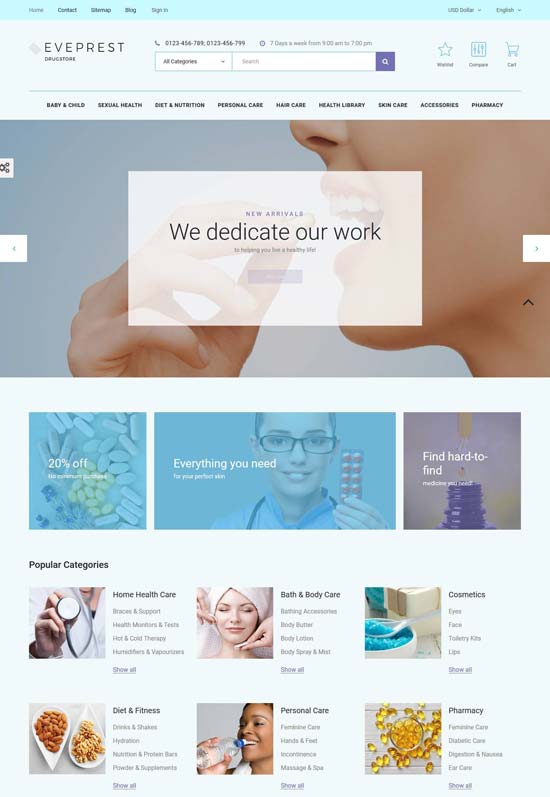 Demo More info / download
Mansavex
Mansavex is a feature-rich PrestaShop for medical equipment model, compatible with heavy online shops. Designed to be both user-friendly and developer-friendly, it includes a host of smart customizations and visual options that will make your ecommerce website more powerful and remarkable. The theme is built in a clean and minimalist style, with the use of neutral colors. However, you can change the color palette in one click with the built-in theme color picker.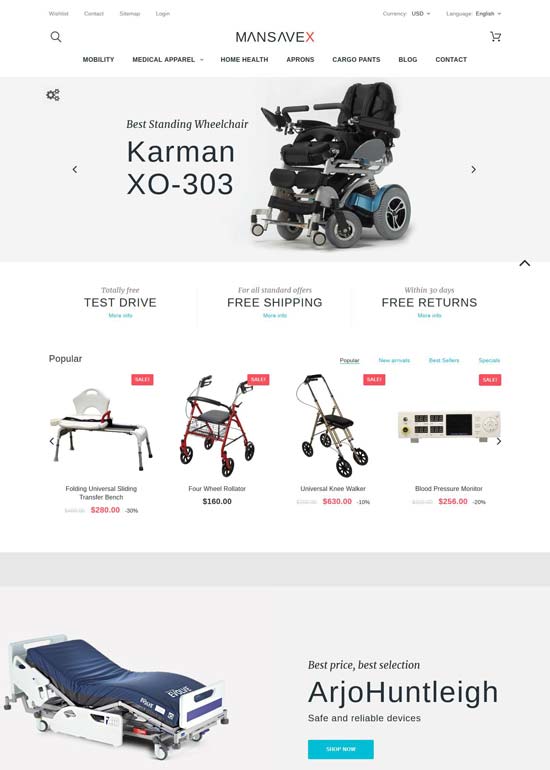 Demo More info / download
Perfect Vision
Build a functional medical store with this responsive and feature-rich PrestaShop theme. You can organize items in a carousel and let buyers sort them by special categories, bestsellers, news and popular. In hover, they can also access a convenient quick view option. This allows them to check more details on each item on the same page. Whenever you make a sale, you can highlight discounted products with red badges. This PrestaShop eye care theme also includes an information form that helps build customer loyalty and reach them from time to time.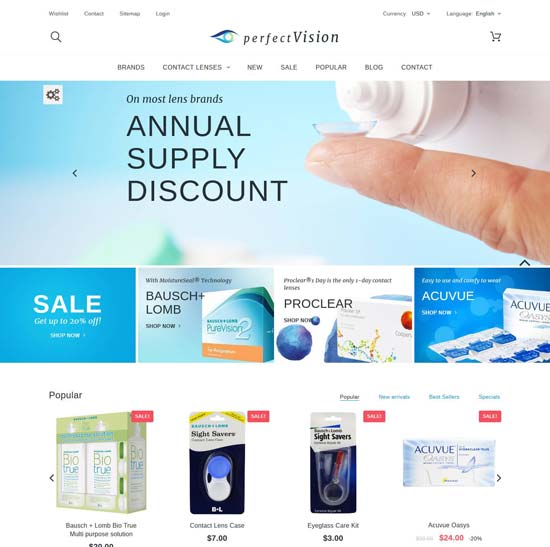 Demo More info / download
Optometrist's Responsive PrestaShop Theme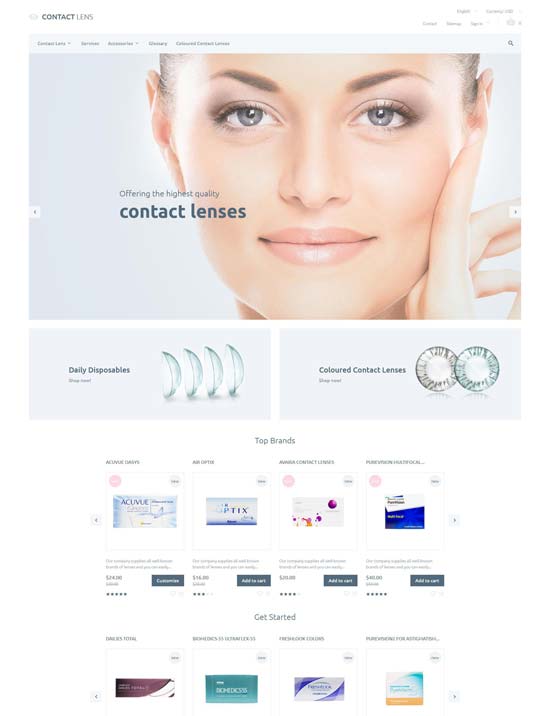 Demo More info / download
Drug Store Responsive PrestaShop Theme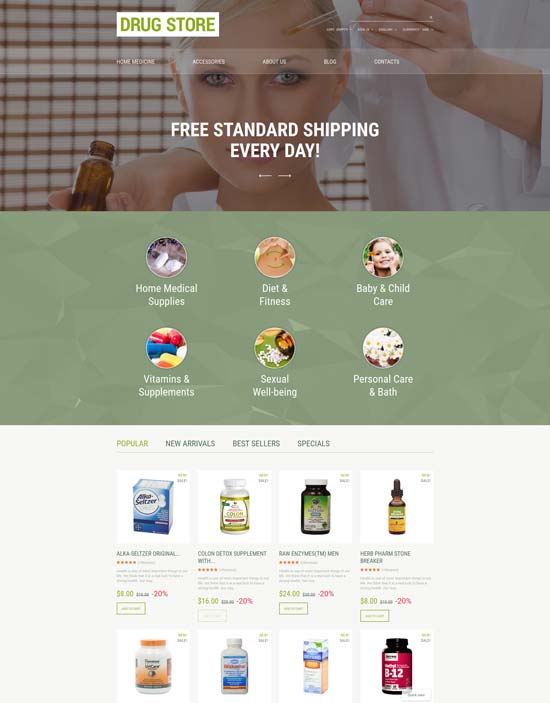 Demo More info / download
Healthcare Essentials Store
Don't miss a chance to design your ambulance online store with this responsive First Aid PrestaShop Theme . Clean design and compact layout make this theme a perfect e-commerce solution for medical business. Theme Color Switcher is available to change the color palette fast and easily. Products are introduced via tabs and slider , and also enhanced with the Cloud Zoom option, stickers and call-to-action buttons . Moreover, it is easier to find the necessary stuff due to simple vertical sidebar navigation. Well documented, SEO friendly and powered by Bootstrap options , this theme is designed to improve your medical online business.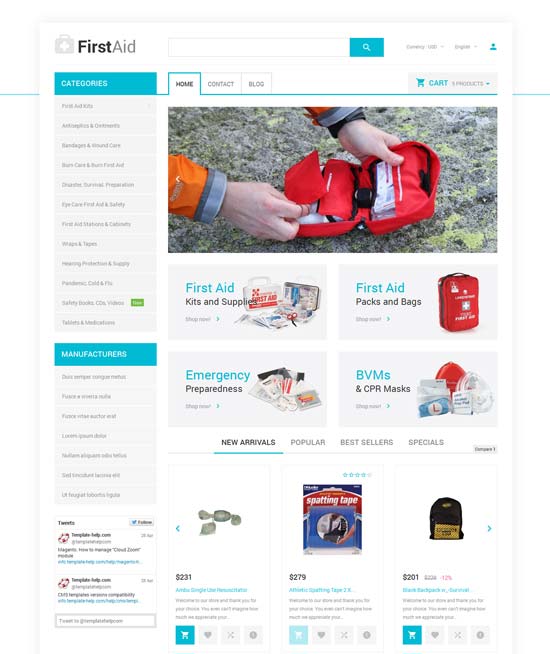 Demo More info / download
Medical Equipment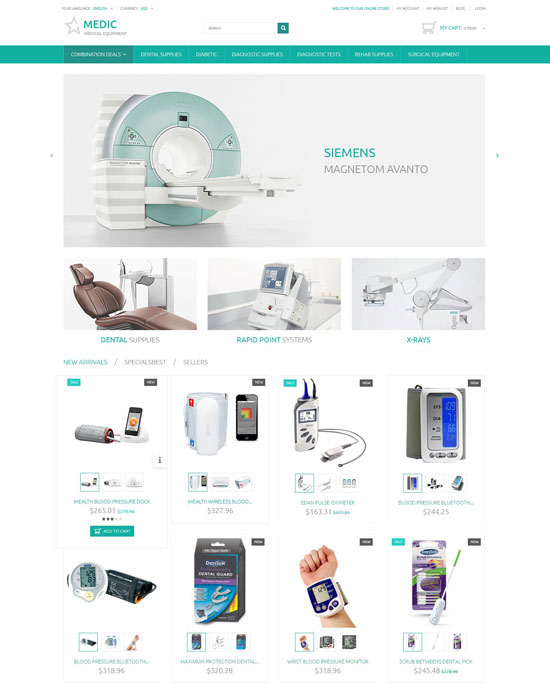 Demo More info / download
Nutrition Products PrestaShop Theme
Inspired by the latest design trends, this modern responsive theme will effectively present any type of beauty related stores. Emphasis on visuals in attractive slider, large featured areas and nice product images help to drive people in and make them interested in items the store offers. Wise structure and intuitive navigation of this nutrition warehouse PrestaShop theme will offer them a pleasant shopping experience.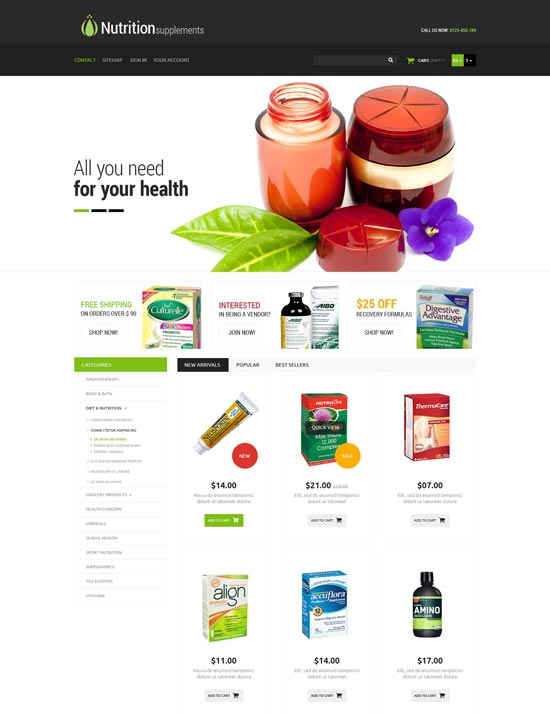 Demo More info / download
Nutrition Supplements PrestaShop Theme 52915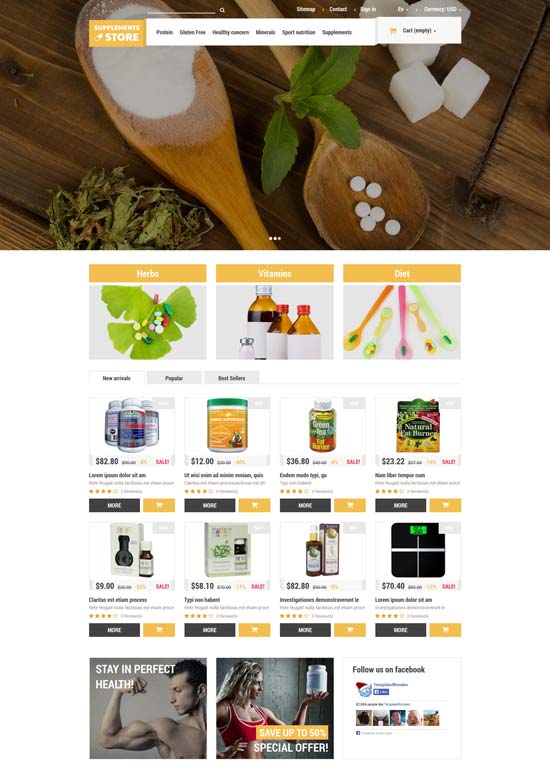 Demo More info / download
Medical Care PrestaShop Theme
Here is a one stop theme for everything health related. Its easy to navigate homepage features a number of links to different areas of your vast site. Sidebar menu and smart categorization make it possible to come up with the necessary items in a few clicks. Blocks of new arrivals, popular and best selling stuff allow starting shopping right from the homepage. Thanks to the grid based structure, you will find no difficulty with incorporating much content on one page. Make use of this theme for bringing your medical equipment store online and expect your business to grow.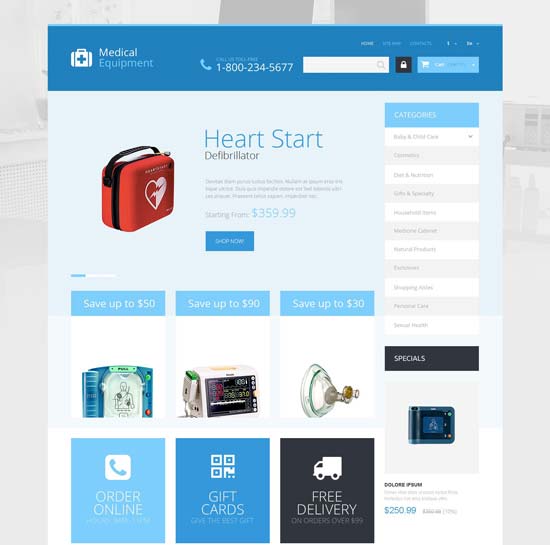 Demo More info / download
Contact Lens Technology PrestaShop Theme
Due to tremendous advancement in the spectacle lens technology, more and more weak eyed people refuse from glasses and resort to contact lenses. To help producers of these tools spread the word about their offerings on the web, here is a template to make use of. With its elements of the lightest color in the spectrum, it will be easy to create an enthusiastic outlook on the advertised products. A psychological impact of yellow will also inspire the audience to decide in favor of the promoted store in a blink. Thanks to the wise structure of the template, a wide assortment of offerings can be revealed right on the homepage. Staying on a site built with this theme, individuals with poor eyesight will understand that there's no need to visit a pharmacy to purchase contact lenses, as everything can be obtained online.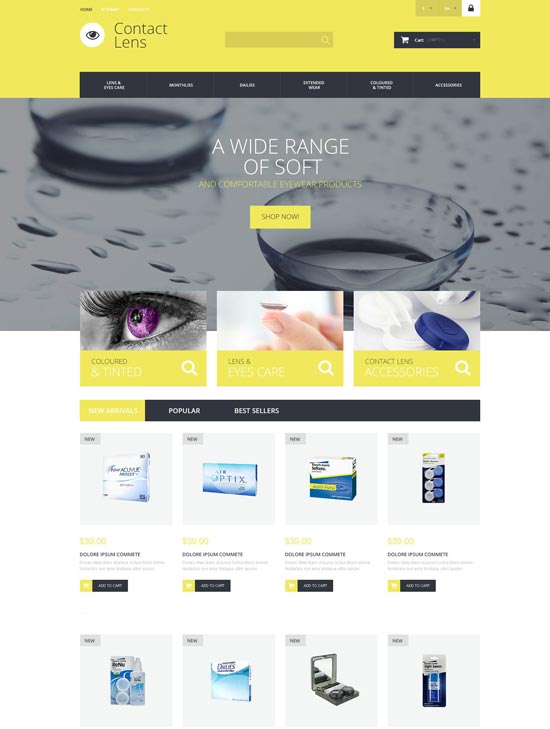 Demo More info / download
Medical Appliances PrestaShop Theme
Modern hospitals always strive to use the best equipment in terms of usability, functionality and novelty. And the Internet is one of the most popular places where healthcare professionals search for high tech medical appliances nowadays. To catch their attention, here's an appropriate theme to build a site with. Blue and white are known as the most suitable colors in the sphere of medicine as they symbolize cleanliness and sterility. For that reason, these hues have been chosen for the template you see. With their aid, your online store will be noticeable on the web among other platforms of the same subject area. Don't hesitate to use this theme, as it will help you see a rapid growth of your medical equipment business.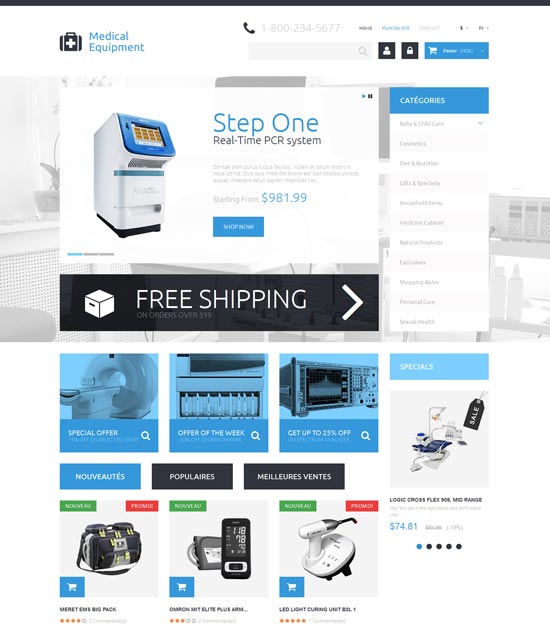 Demo More info / download
Drug Store Medicine Responsive PrestaShop Theme
Health Medicine Store PrestaShop Theme
Drug store PrestaShop Theme
Making your online advertizing effective and informative, you turn your site into a Mecca for the target audience. To create the one for a drugstore, try this ready touse professional design. A large welcoming slider with the company information, an appropriate green color a perfect choice for a medical websites, natty small fonts, detailed product descriptions, and easy to follow structure set the right tone and offer the visitors to choose any desired product without a ruffle. That's all you need to drive people in. Start working now, set up a site, and earn your first capital easily.