If you're in the medicine or pharmacy business, you know that having a professional, reliable website is crucial. That's why Medicine and Pharmacy WordPress Themes are the perfect choice for your business. With a variety of features and designs to choose from, you can create a website that's perfect for your needs.
Plus, all of our themes are easy to use and customize, so you can get started right away. So don't wait any longer, check out our selection of Medicine and Pharmacy WordPress Themes today!
Related Article
MedXtore
MedXtore is a clean, beautiful, and completely customizable pharmacy, medical, and beauty Elementor WooCommerce theme for any modern pharmacy, medical store, vitamin, supplement store, beauty products, cosmetics, or supplement goods website.
MedXtore is a fully responsive and modifiable, Elementor-ready theme with full WooCommerce capabilities, designed to facilitate the rapid development of strong and professional eCommerce websites. You do not need to know a single line of code to modify the professional design of this template.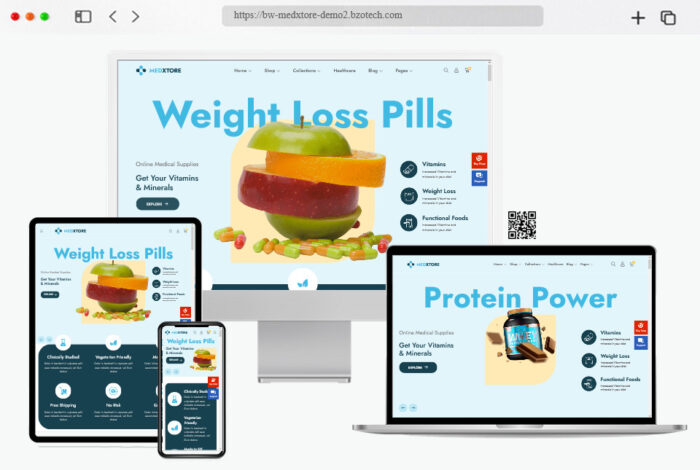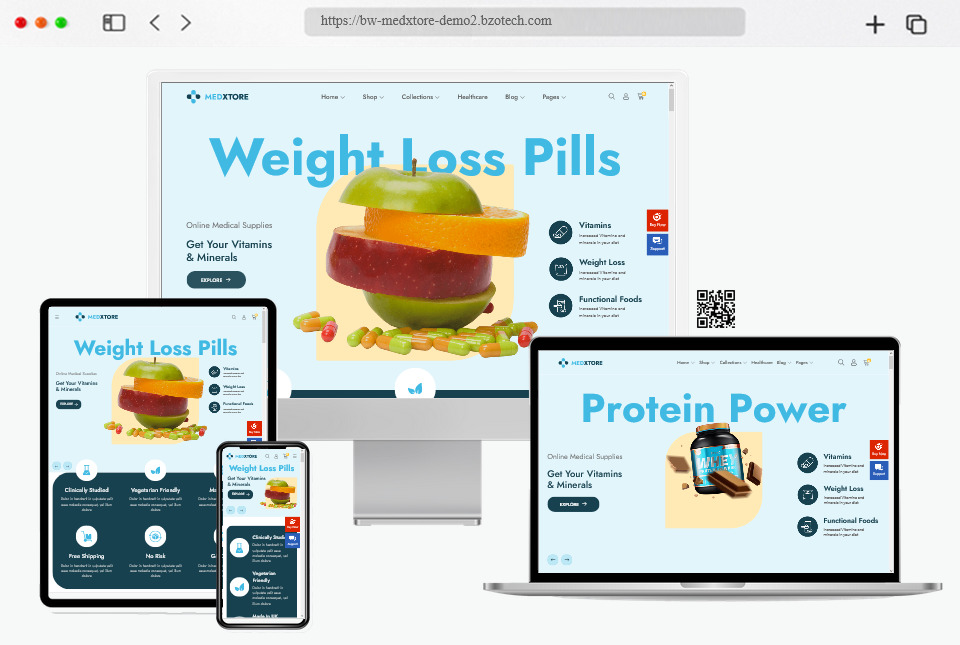 More info / download Demo
Medimall
Medimall is built on the Bootstrap 5 framework and has a lot of features that aren't found anywhere else. Its designs are all responsive. Never before has it been so easy to make a website. Experience multi-page home pages with 4 unique homepages.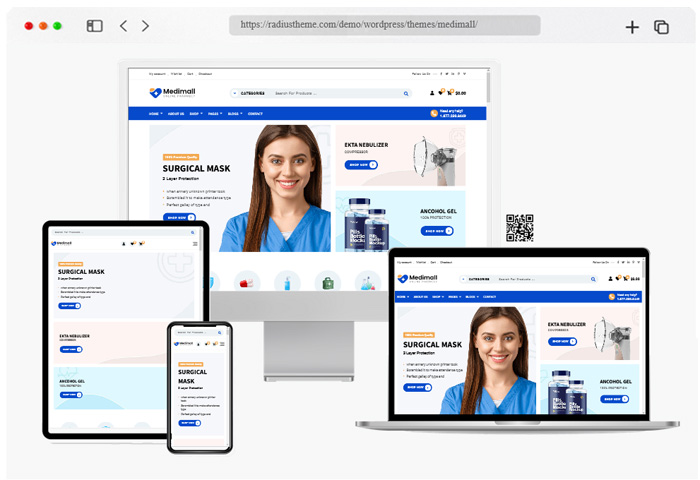 More info / download Demo
MediShop
Medishop is a WooCommerce WordPress theme that is fully responsive and can be used to make highly functional Pharmacy Shops, Drugstores, Healthcare Stores, Medical Products, Apothecaries, and other health and wellness marketplace businesses.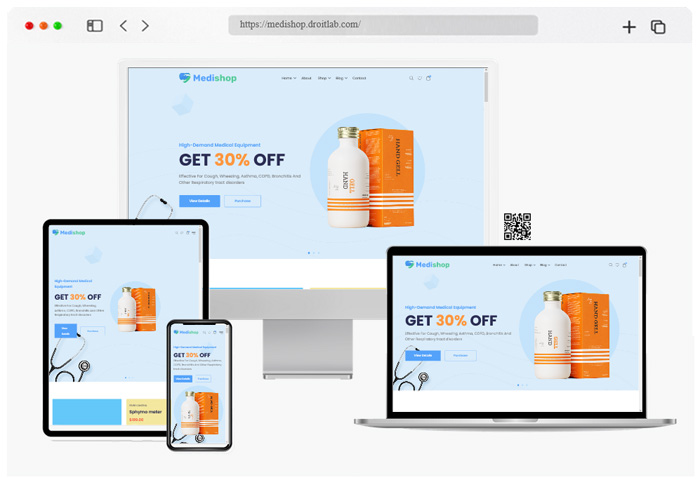 More info / download Demo
Melawell
Melawell is a beautiful health and medical WooCommerce WordPress theme that you can use for a variety of eCommerce purposes, such as a medical store, shop for medical equipment, drugstore, or pharmacy website.
With this pharmacy WooCommerce theme, you can make a store that looks both elegant and up-to-date. The design of the theme includes 02+ beautiful medical and pharmacy homepages that are already built, as well as a shop page, product pages, a blog, and basic functional pages. And with the 1-Click installation tool, you can quickly add all of the demo content and layout to your site.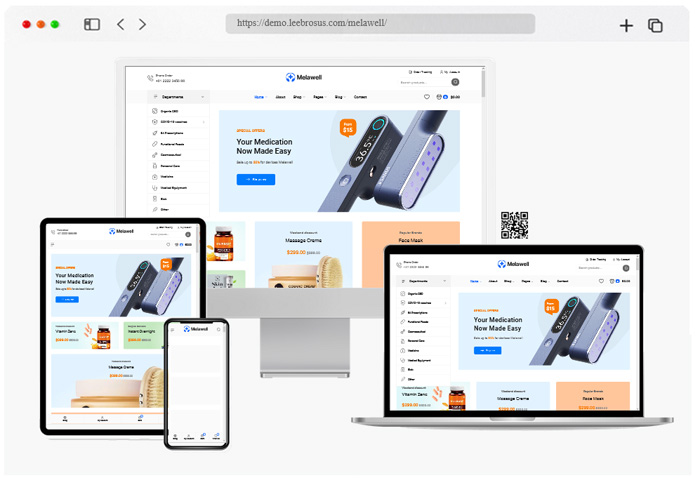 More info / download Demo
Propharm
Propharm is a multipurpose wordpress theme for online stores that uses WooCommerce. Propharm has a lot of home page and product page layouts that are already made to give you the best options for customization. The Pharmacy Medical WooCommerce WordPress site was used to build Propharm.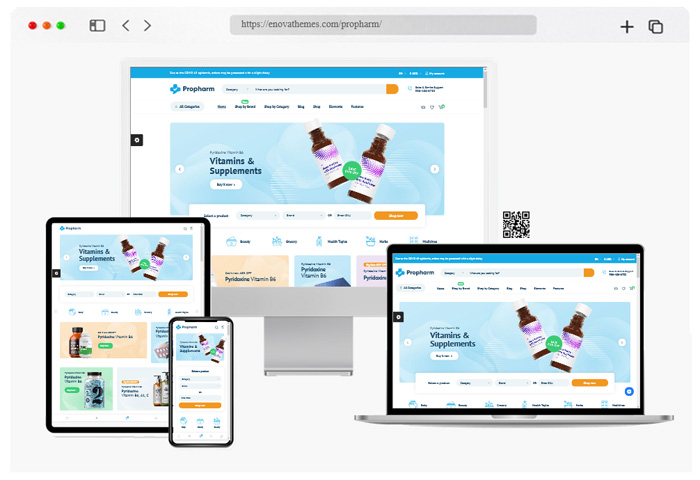 More info / download Demo
CliLab
CliLab is a medical WordPress theme that was made for websites and blogs about health and wellness. CliLab is used by websites for doctors, dentists, hospitals, health clinics, doctors, physical therapists, surgeons, and other health professionals.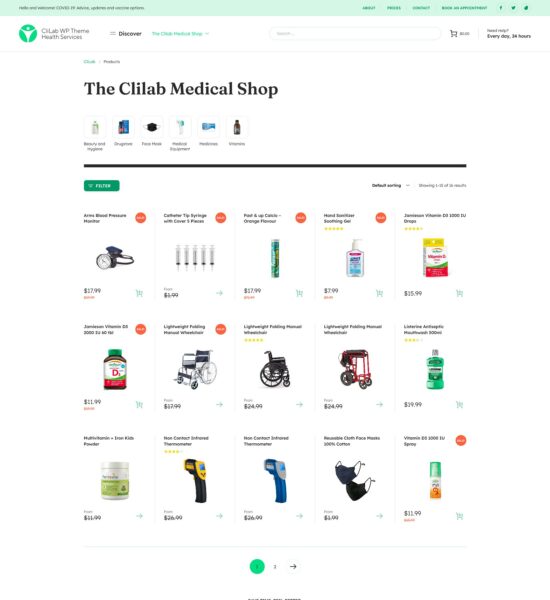 More info / download Demo
Fuho
Fuho by Wpbingo is a good medical themes for WooCommerce health store and medical websites. It uses the most recent version of Bootstrap as its back-end framework, and the design of this theme is sure to impress and work well for your store.
Fuho puts a lot of importance on making sure that products are in the right place for their categories. But it also shows how some parts of the web work. A design that combines parts to show off certain products.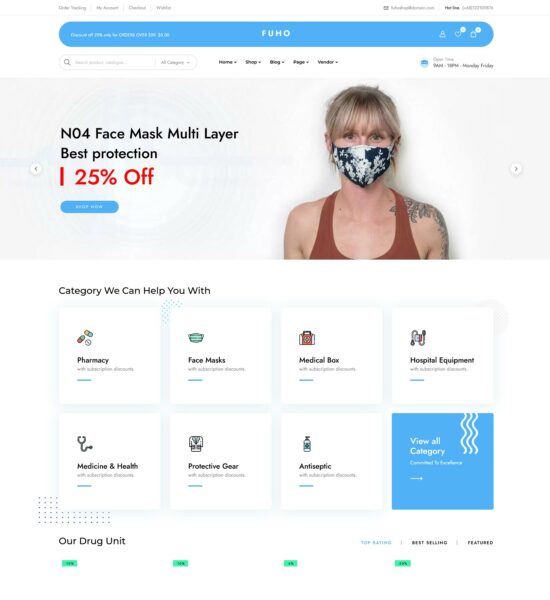 More info / download Demo
Mallon
Mallon is a Premium Medical Shop Elementor WooCommerce WordPress Theme that was made for any Medical Store, Pharmacy, Medicine, Clinic, Healthcare, Drugstore, Dentist, Hospital, or Health-Related Stores or Markets. Mallon is very customizable.
It has unique homepages, a responsive design, support for multiple vendors, and a lot of powerful theme options that make it easy to set up and run an online shopping website.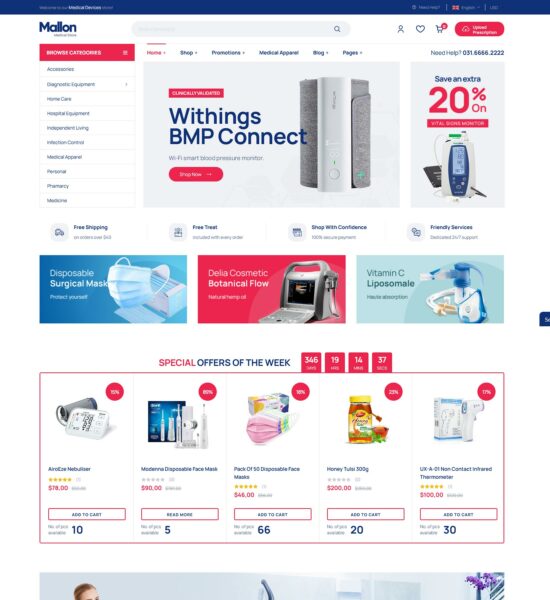 More info / download Demo
Healfio
Healfio is a modern medical marijuana and coffeeshop WordPress theme made for recreational medicine, cannabis stores, CBD and marijuana oil dispensaries, medical marijuana stores, cannabis blogs, and more.
The theme works well with plugins like Elementor Page Builder, which you can use by dragging and dropping, WooCommerce, and translation plugins like WPML and TranslatePress.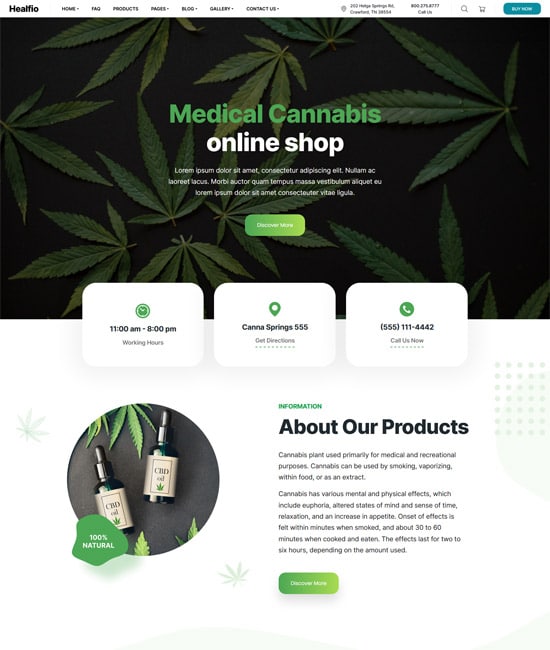 More info / download Demo
Nika
The clean, modern look of Nika is perfect for any online store medical businesses. The theme works best with Elementor, which makes it easier than ever to make a website. And most of all, your customers won't be able to take their eyes off their phones because of how beautiful the theme's mobile design is. Nika has a mobile menu that makes it easy for your customers to find the product they want.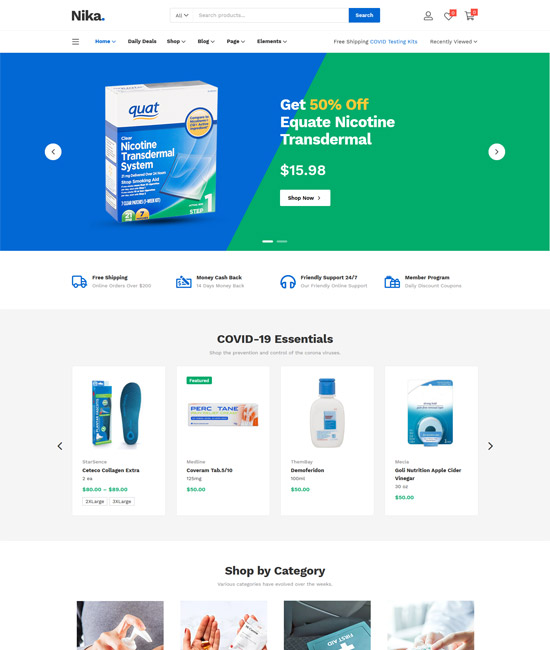 More info / download Demo
Medicoz
PharmaCare comes with a wide range of designs that can be used for any modern pharmacy, medical store, drug store, vitamin and supplement store, or website for supplement products.
Add full support for the Elementor plugin and the YITH plugin, as well as great pre-made pages for hospital supply businesses, nutrition stores, medical supply stores, and drug purchases, and you have a pharmacy theme that works for everyone.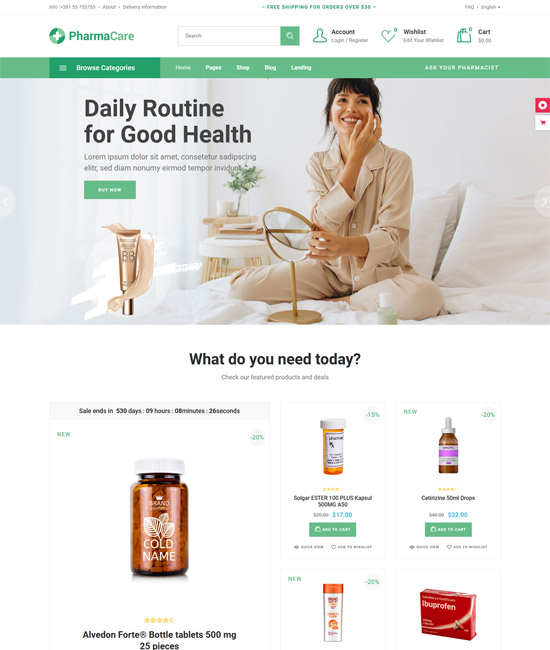 More info / download Demo
Medicoz
The Medicoz Clinic & Pharmacy WordPress theme is one of a kind and has professional designs for different kinds of medical centers. It works better in places like hospitals, pediatricians' offices, skin care, dental care, and pharmacy centers. The template is fully responsive and built with SEO-friendly design and code, which makes it easy to make a website.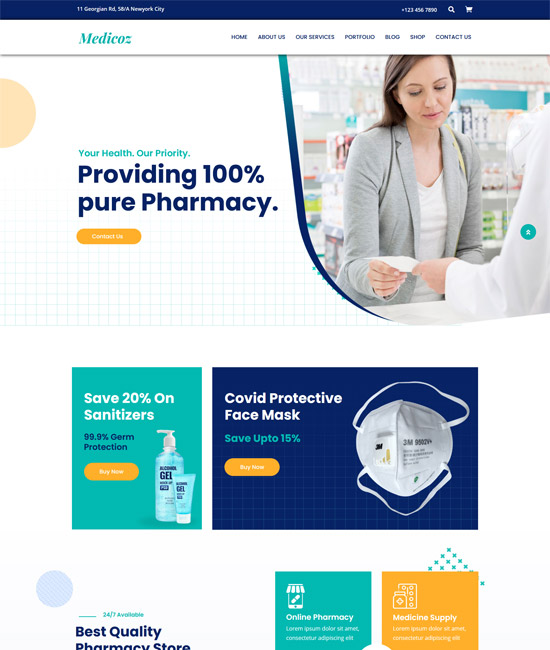 More info / download Demo
Calmes
Calmes CBD Oil and Medical Marijuana Dispensary WordPress made a theme just for recreational drugs, coffee shops, marijuana shops, CBD oil, medical marijuana shops, pharmacies, cannabis blogs, marijuana dispensaries, and other businesses.
This theme has all the pages you need for an online store that is ready for WooCommerce. So you can sell your medical marijuana, cannabis edibles, drugs, bong, recreational marijuana, marijuana rolls, and other products.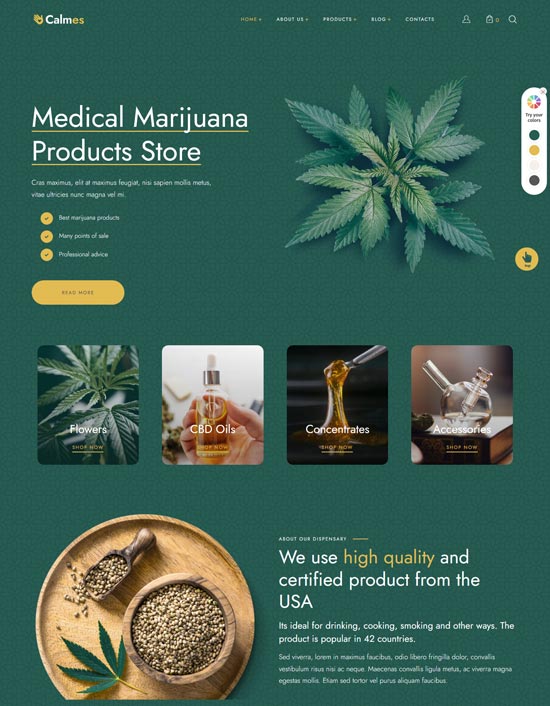 More info / download Demo
Supplero
Its original layout and design are what ultimately convince customers to buy healthy food and lifestyle goods.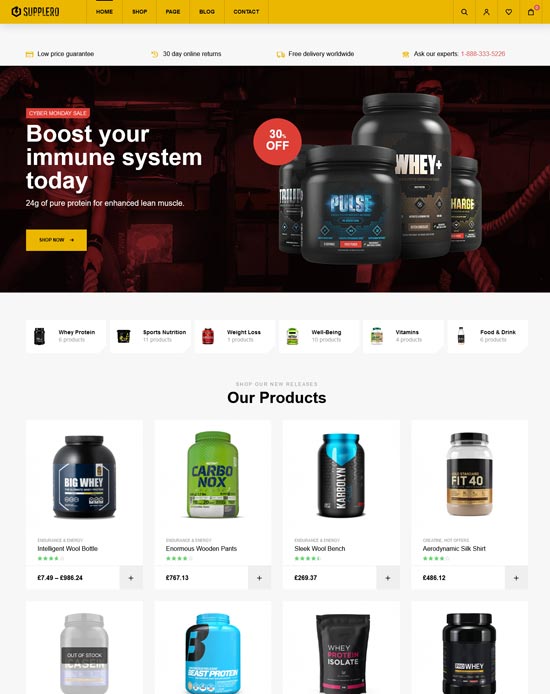 More info / download Demo
Medilazar
Themelexus Team, a well-known author on Envato, made the Medilazar Pharmacy WP Theme, which is a powerful WordPress theme for online medical and pharmaceutical WooCommerce stores. This pharmacy theme for WordPress is well made and can be used for medical and pharmaceutical purposes.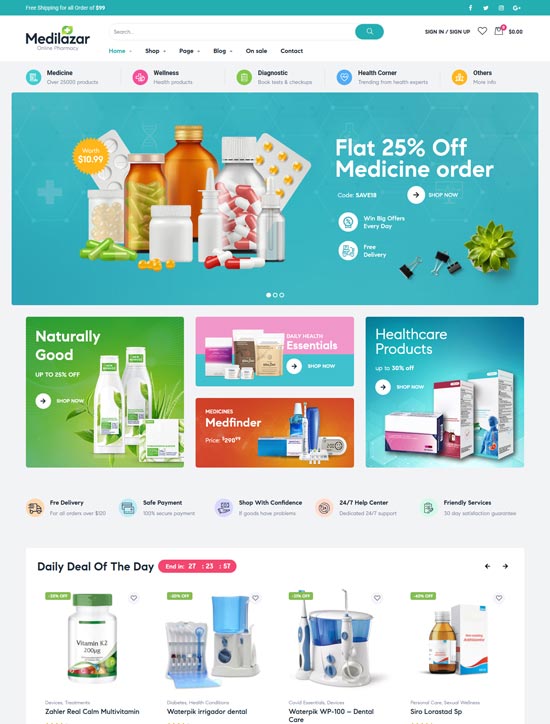 More info / download Demo
Diza
The clean, modern look of Diza works for any online store. The theme works best with Elementor, which makes it easier than ever to make a website. And the theme's beautiful mobile design will keep your customers from taking their eyes off their phones.
Diza has a mobile menu that makes it easy for your customers to find the product they want. You will get a whopping 300 pages, and you can import demo content with just one click. You can now enjoy different types of content and will soon have an eCommerce page.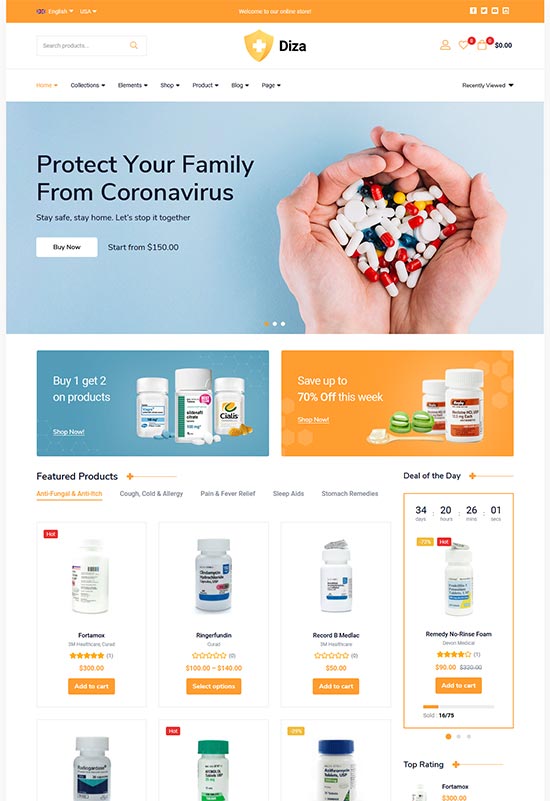 More info / download Demo
IPharm
IPharm is a clean and powerful medical and health WordPress theme that can be used for an online pharmacy, a store that sells medical equipment, or any other kind of medical store. Its fresh and clean design makes it a great response template for an online store that sells organic or homeopathic medicines, vitamins and supplements, beauty products, and remedies.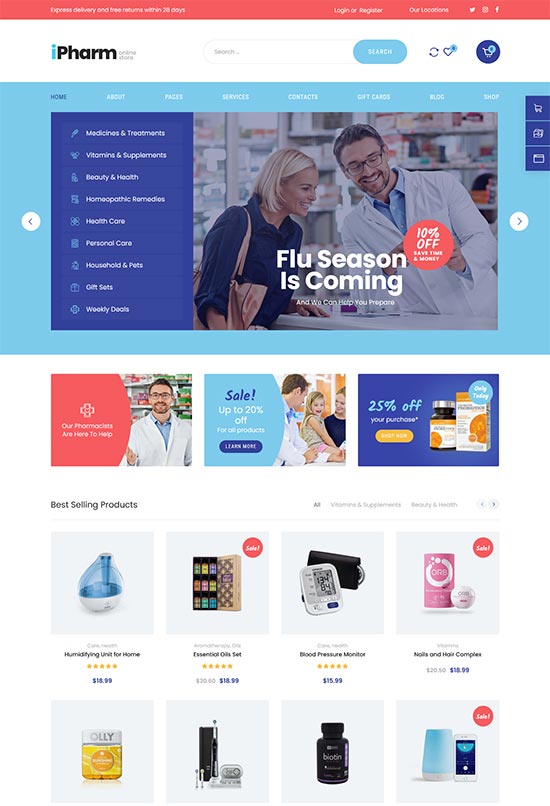 More info / download Demo
Pharell
Pharell is the classic WooCommerce theme for your next medical pharmacy or drugstore project. It is the perfect WordPress e-commerce theme for entrepreneurs, website development companies, or freelancers who want to build a pharmaceutical or medical e-commerce project quickly and well.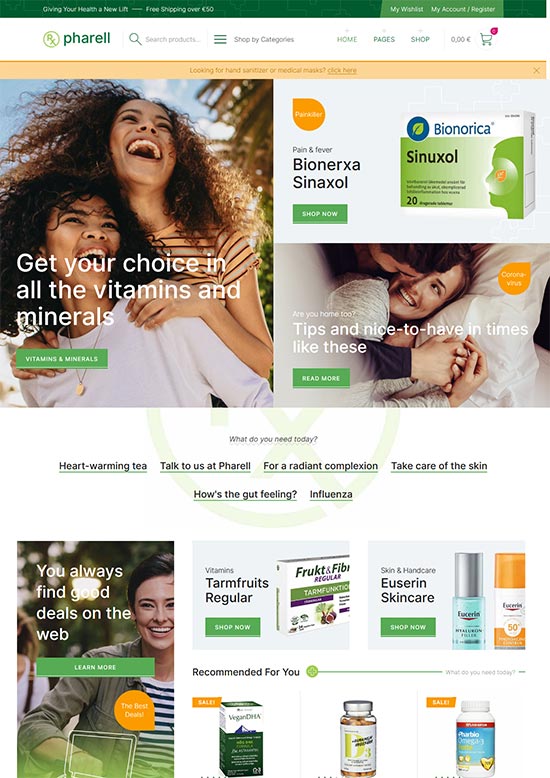 More info / download Demo
Sativaka
Sativaka is a beautiful and creative WordPress theme for marijuana dispensary, medical clinic, coffeeshop, recreational medicine, medical cannabis store, pharmacy, cannabis concentrate store, cafe, marijuana dispensary and others. It includes a shop, galleries, blogs, services to create a unique website.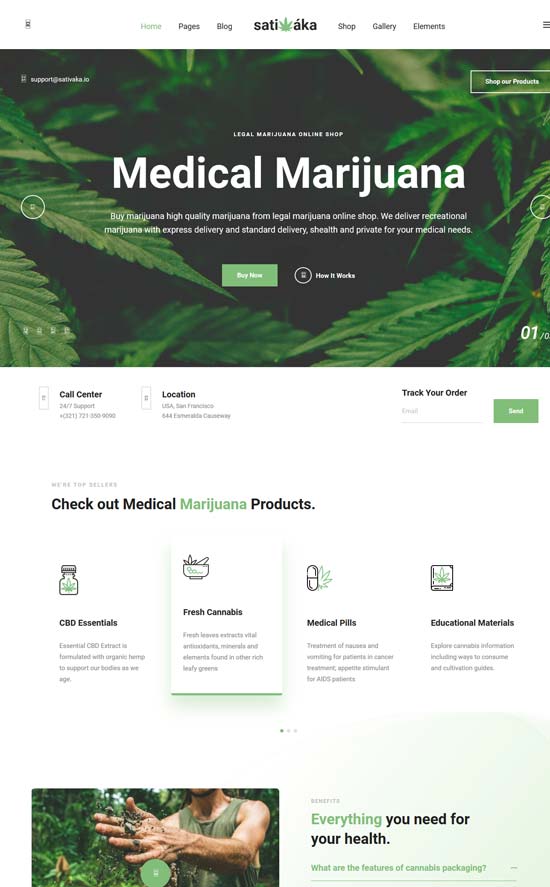 More info / download Demo
Medicor
Medicor is a WordPress WooCommerce theme of medical clinics and pharmacies that is suitable for all types of drug store, pharmacy, pharmacy. With Medicor, your many concerns about how to make medicine and pharmacy items more attractive can be solved with a number of eye-catching layouts. Your customers can easily find the desired drug via product categories.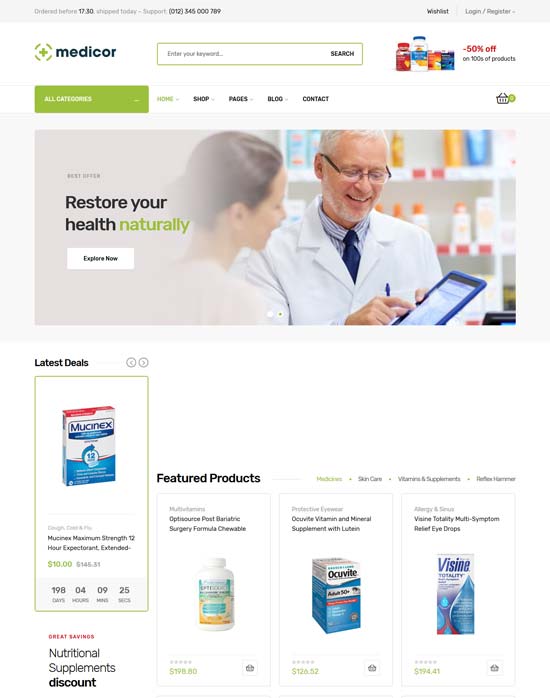 More info / download Demo
Medactive
Cannabis dispensary, medical clinic, pharmacy, cannabis concentrate shop, coffee shop, and more are all catered to in this custom-made theme. With its sleek aesthetic and relatively high functionality possibilities, this tool may help you provide your company a respectable internet profile.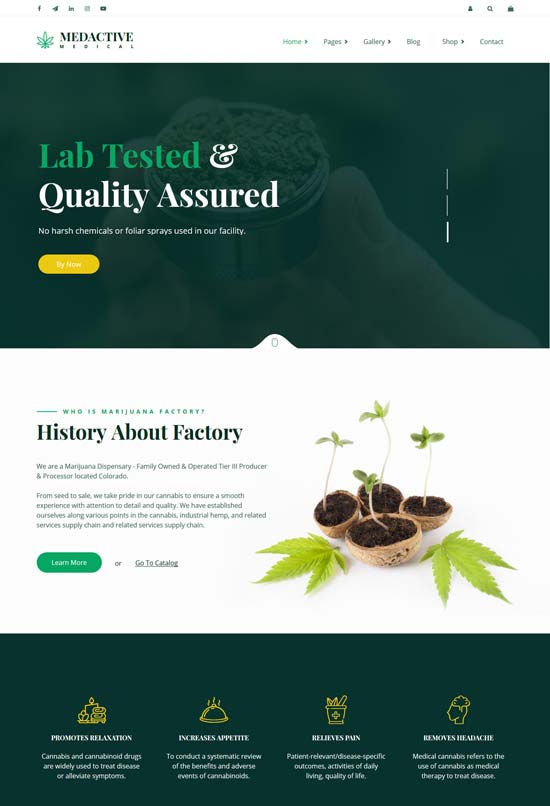 More info / download Demo
Bezin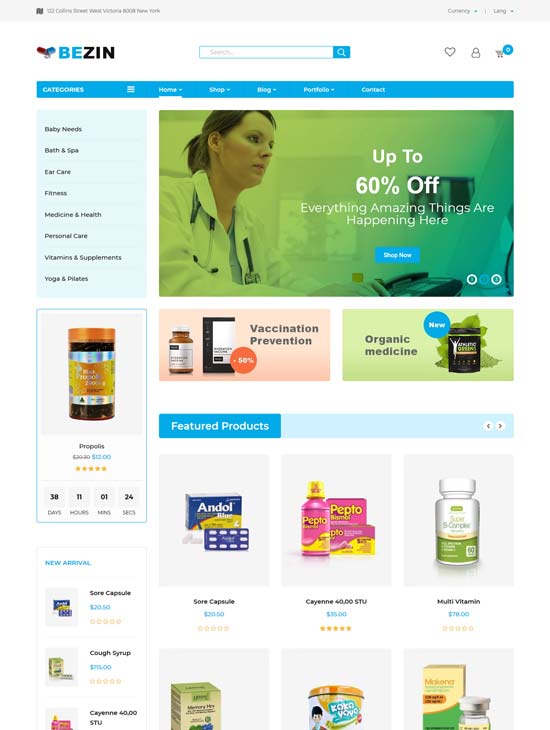 More info / download Demo
Indicana
Indicana is pre-loaded with all of the pages required to run a successful online shop, complete with support for WooCommerce. So that you may trade in your marijuana rolls, edibles, bongs, cannabis, narcotics, hemp, and more for cash.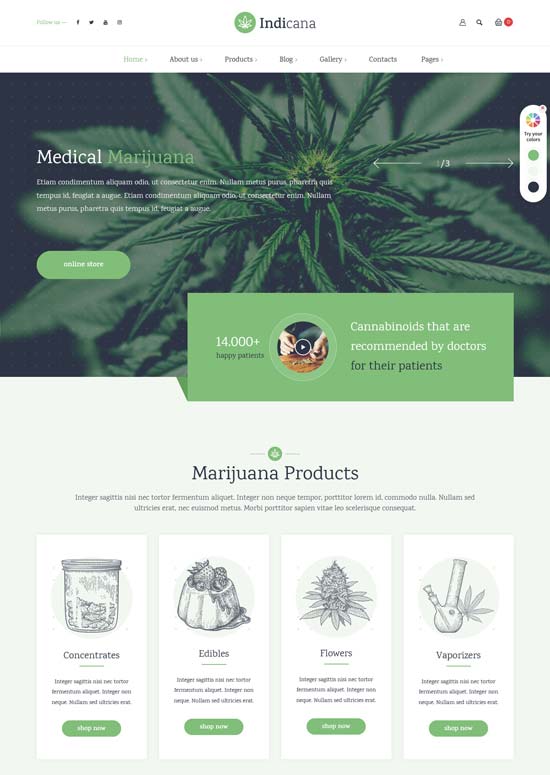 More info / download Demo
Clarivo
The versatile WordPress theme Clarivo for medicine and pharmacy is suitable for all types of pharmacy stores, pharmacies, doctors, health clinics and medical organizations to create their own work. With special features, you can build your attractive online store, online store for pharmacy.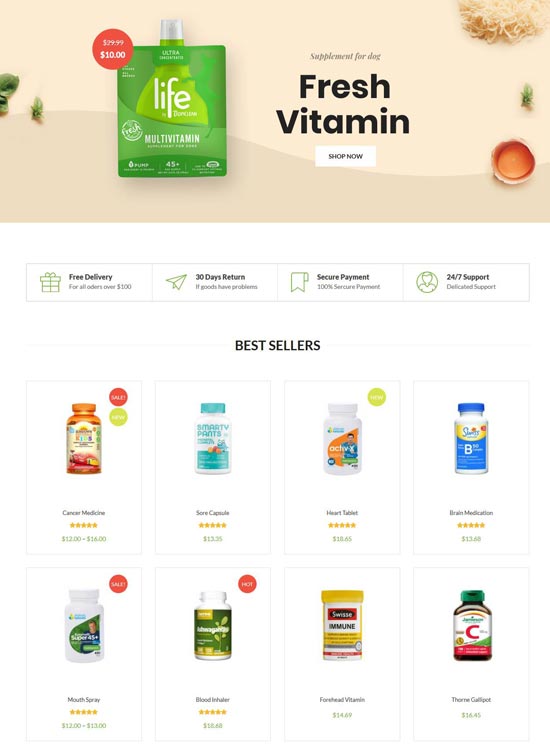 Demo More info / download
Pharmaton
Pharmaton is our new modern and responsive WordPress theme created for the website of laboratories, pharmacies, medicines and other pharmaceutical companies.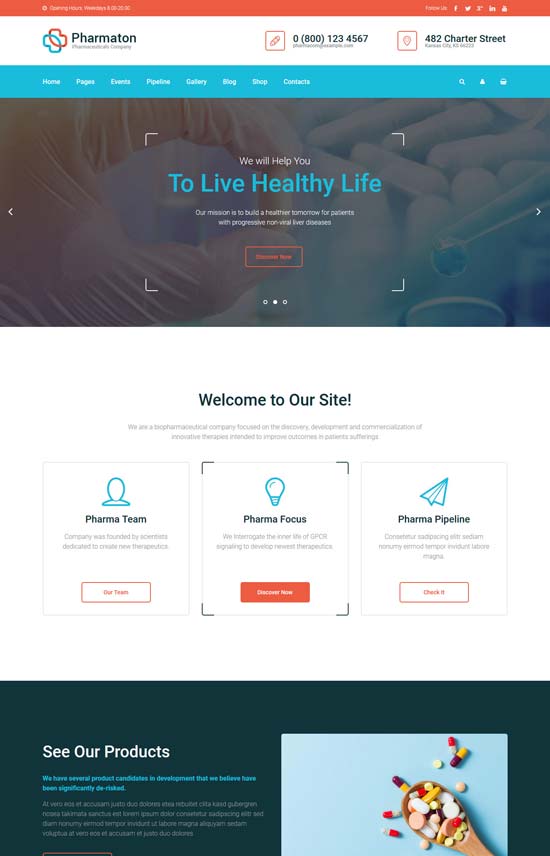 More info / download Demo
Pharmacies
Pharmacies Medicare Theme WordPress is a good ideal for you to start. It is well designed and built for hospital, clinic, doctor, dentist, surgeon, gynecologist, pharmacies, pharmacies, medical laboratories and other related medical organizations. This theme is constantly tested on all electronic devices such as laptop, ipad, smartphone or larger screens.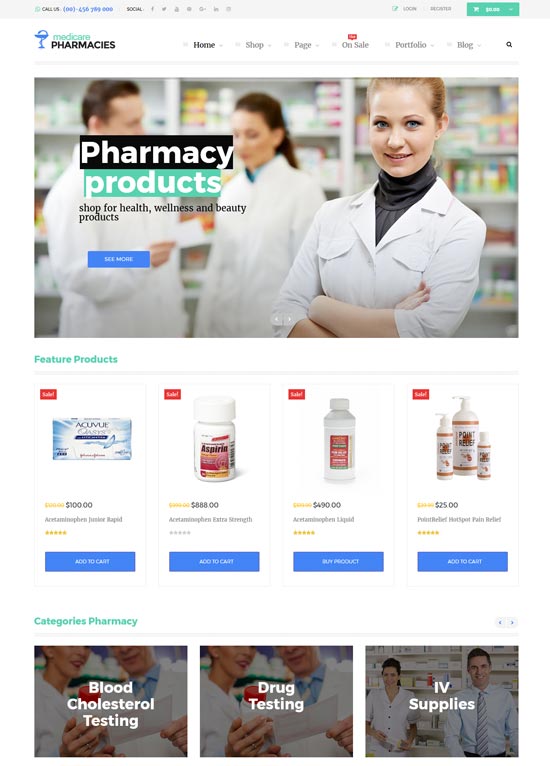 More info / download Demo
Medicine Plus
Medicine Plus – Pharmacy Medicine WordPress Theme is created for all kinds of Pharmacy & Drugstore, such as medical stores, medical research laboratories, pharmacies, etc.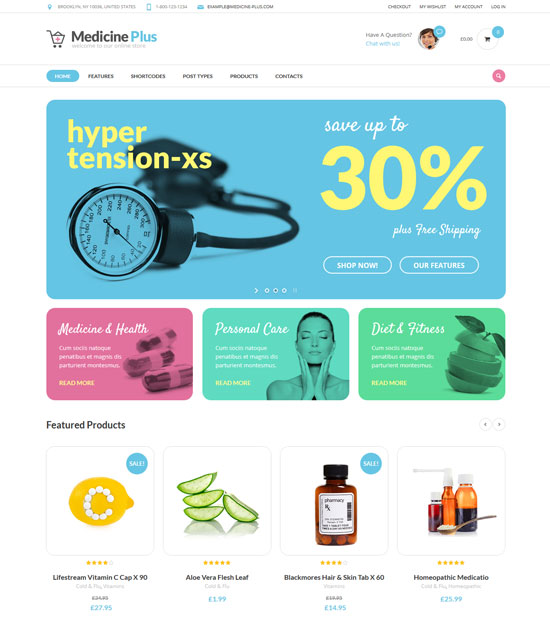 Demo More info / download
PharmacyPlus
Pharmacy is a Woocommerce Responsive Pharmacy Templates and Themes suitable for any kind of Pharmacy Shop, Mobile Shop, Computer Store, Hightech Store, Gift Shop, Electronics shop and all kinds of marketplace business that needs a feature rich and beautiful presence online with vintage and flexible design
Muscle
By adhering to the most up-to-date design and coding standards, this Free Drug Store WooCommerce Theme becomes an excellent tool for making a good impression on your target customers. This fully-responsive theme embodies the Bootstrap power and Cherry Framework rich features – the must-have components of a well-crafted website.
Ocbee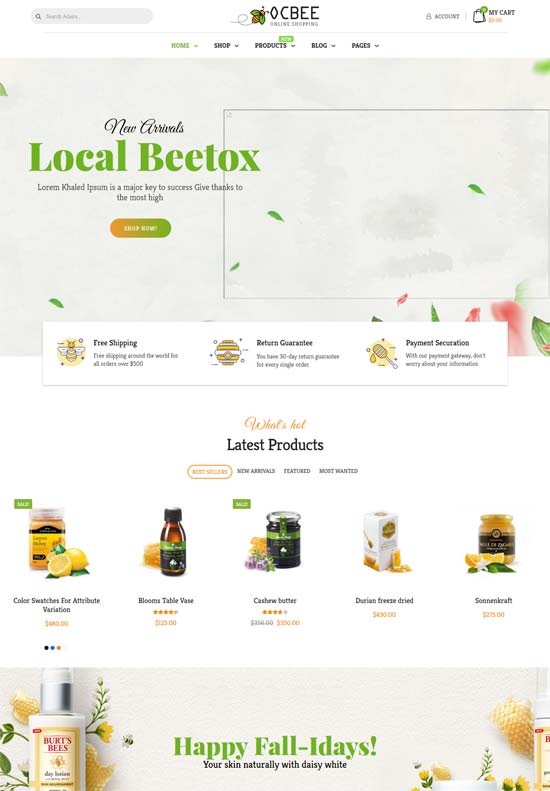 More info / download Demo
Pamid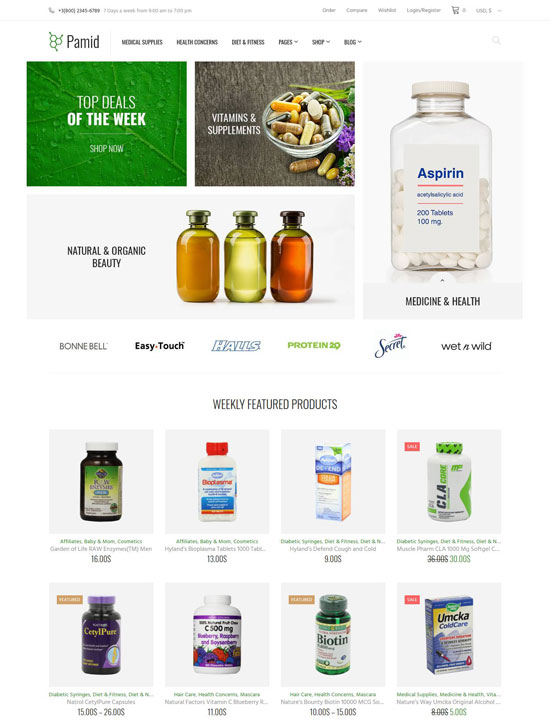 Demo More info / download
Bimedical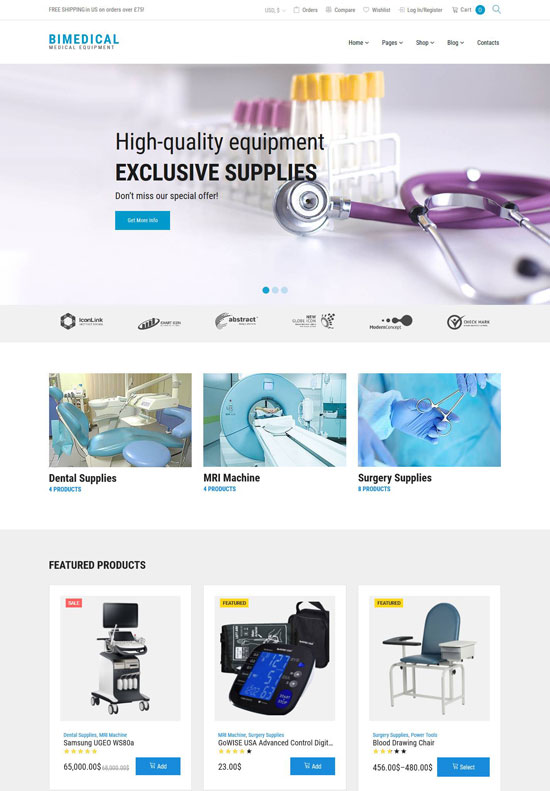 Demo More info / download
Health Shop
The layout is a great option for companies who sell supplements and health foods. The main menu and shopping basket both include drop-down menus in the nutrition store WooCommerce theme. Tooltips for the store are further provided.
Thanks to the transparent text blocks used in the slider, the store has a chic appeal. Banners make webpages easier to navigate. There are four columns with highlighted products.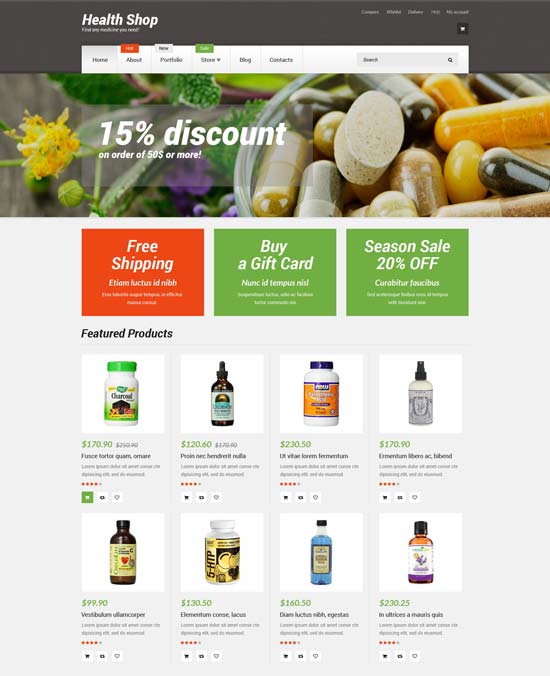 Demo More info / download
First Aid
This WooCommerce theme for medical supplies may assist you in turning your WordPress-powered website into an online shop. Numerous banners in this design encourage users to click, while sidebar categorisation guarantees easy navigation across pages with various product classifications.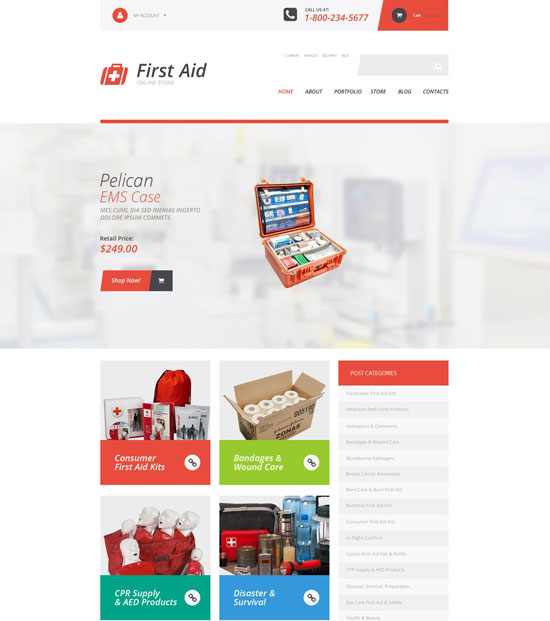 Demo More info / download
Nutrition Supplements
This Supplement Store WooCommerce Theme will draw many visitors who strive for the healthy lifestyle, either young or mature ones. Youngsters will be attracted by its current design and middle aged people will appreciate website's simplicity and usability.
DrupStore
Drugstore
Colors like green and yellow are often connected to wellness, an active lifestyle, and environmentally friendly goods. These are not random colors that our designer chose. They are just ideal for a pharmacy. When the consumer looks at them, they instantly feel happy.
Drug storePlus
People can't live without drugs as all of us fall ill from time to time. Quality drugs save our lives and preserve our health. Our template, specifically designed for drug pharmacy stores looks very clean, just as people expect it to be. Many customers prefer buying drugs online because it saves their privacy and is much more convenient.
Medical Euiq
If you want your medical store design look modern, use this template with trendy polygons in the background. We believe that it's very important for the customers to see that such kind of store is up to date, because they subconsciously transfer this attitude to the products it sells. Lazy load effect and Parallax animation prove that any theme even the most serious one can be developed creatively.
Ambulance
Optometrist