Music Club
A Band, Studio, Label, DJ or Singer WordPress Theme exclusively built for band, festival, dj or singer websites. It is fully responsive, retina ready and easy to customize.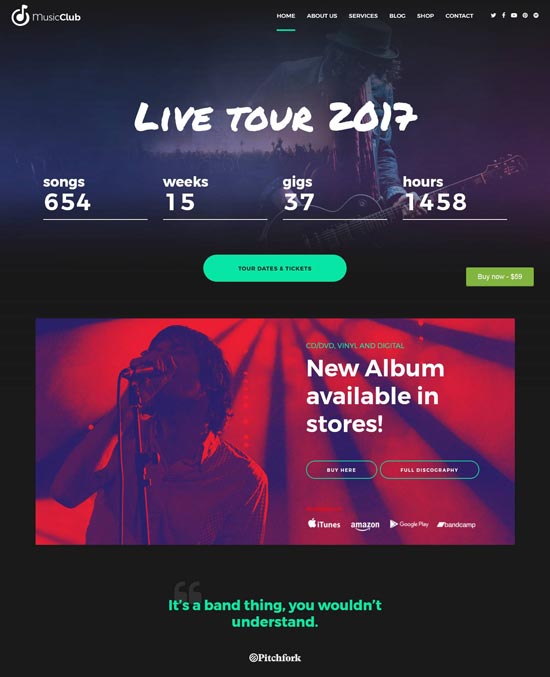 demo more info / download
Tune
A one-page music WordPress theme made to be simple and ready to use and it come with 7 creative homepage design. You can import the demo content with one simple click and edit the content directly or unleash your imagination to create your own concept.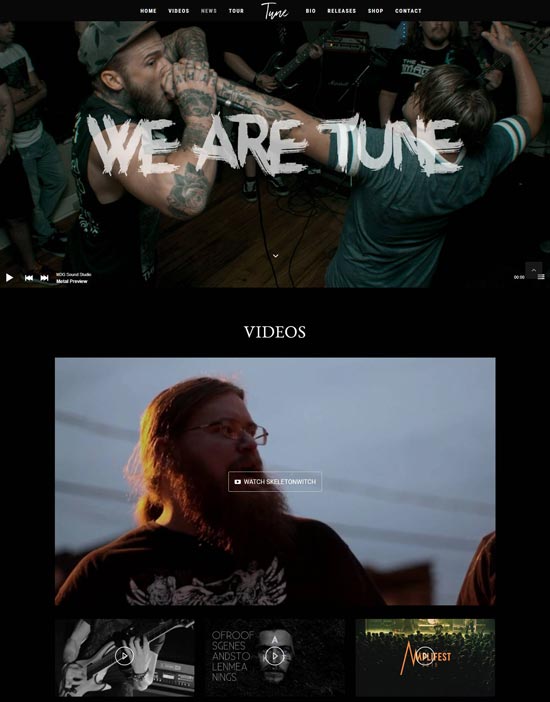 demo more info / download
SoundRise
A artists, producers and record labels wordpress theme. It come with 7 beautiful homepage deisgn and perfect theme to promote electronic press kits, online merch stores and your beautiful music.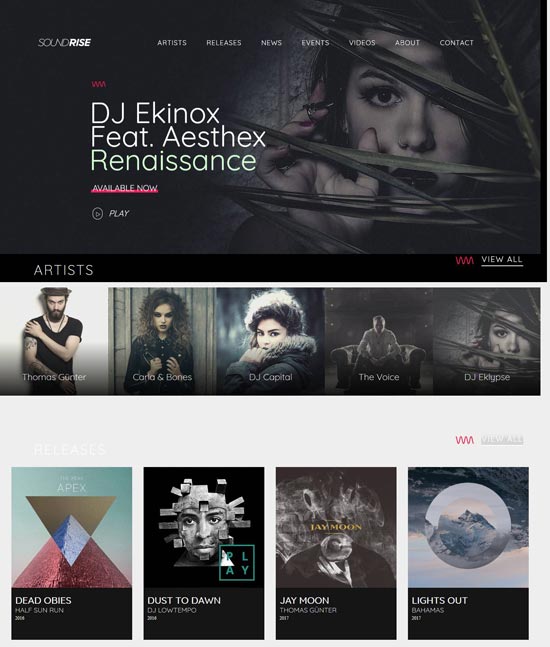 demo more info / download
Lush
Lush is a great WordPress theme complete solution for everyone in the music industry. It come with 7 home page layouts easy for you to change any style homepage on your demand. If you are a jazz master, soprano singer, punk rocker, piano player, band manager or even a webmaster, this premium themes is best for you.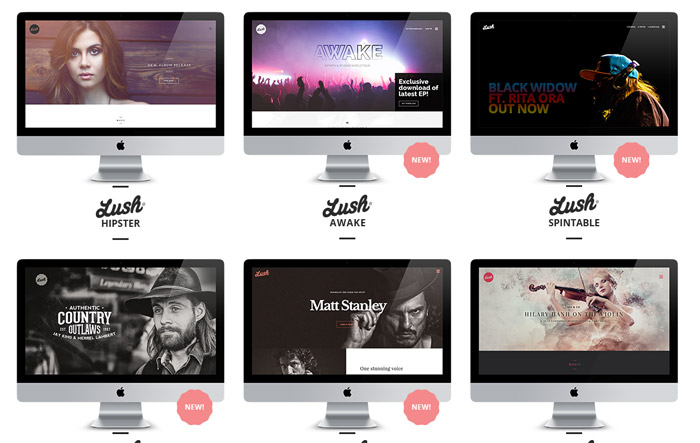 demo more info / download
Epron
EPRON is an ultimate, massive music WordPress theme suitable for widely understand music industry. Whoever you are – DJ, events producer, music producer or love the music. EPRON is exactly music theme what you need. It's ideas design for innovative, full of options suite to fulfill all of users presentation needs. It's main feature basing on short codes which gives you almost unlimited possibilities of adaptation of theme to your specific needs.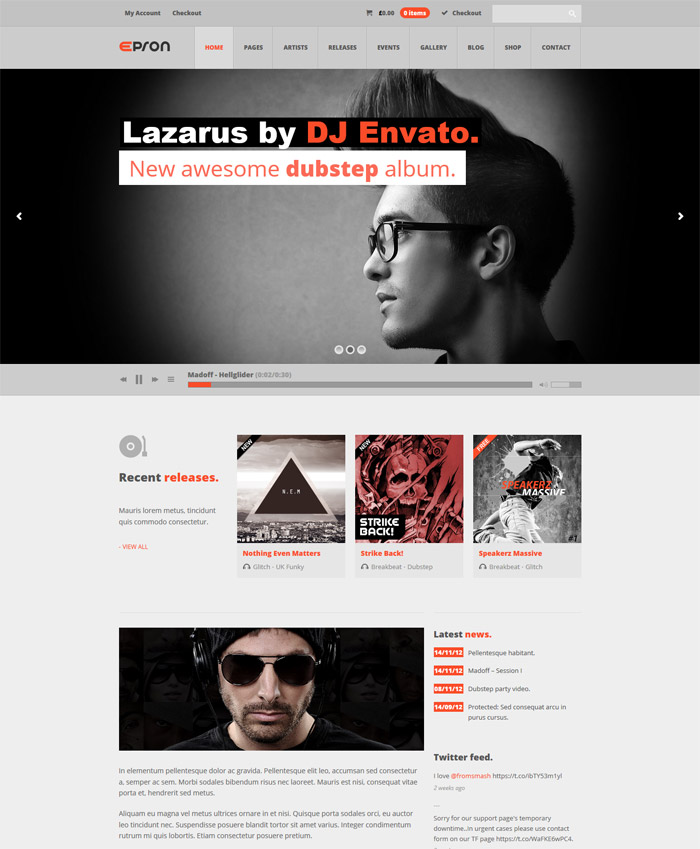 demo more info / download
Decibel
This theme has a very flexible layout and is super easy to use thus making it look great on any kind of device, from your smartphone to your desktop Tuned Balloon is flawless. It uses basic WordPress features in order to make it easy enough for beginners but good enough that even the most advanced users won't get bored of it. All theme adjustments are made through the use of a theme customizer allowing admins to see the changes they make as they make them. This themes original color scheme has a very warm, classic, western vibe making it all the more timeless.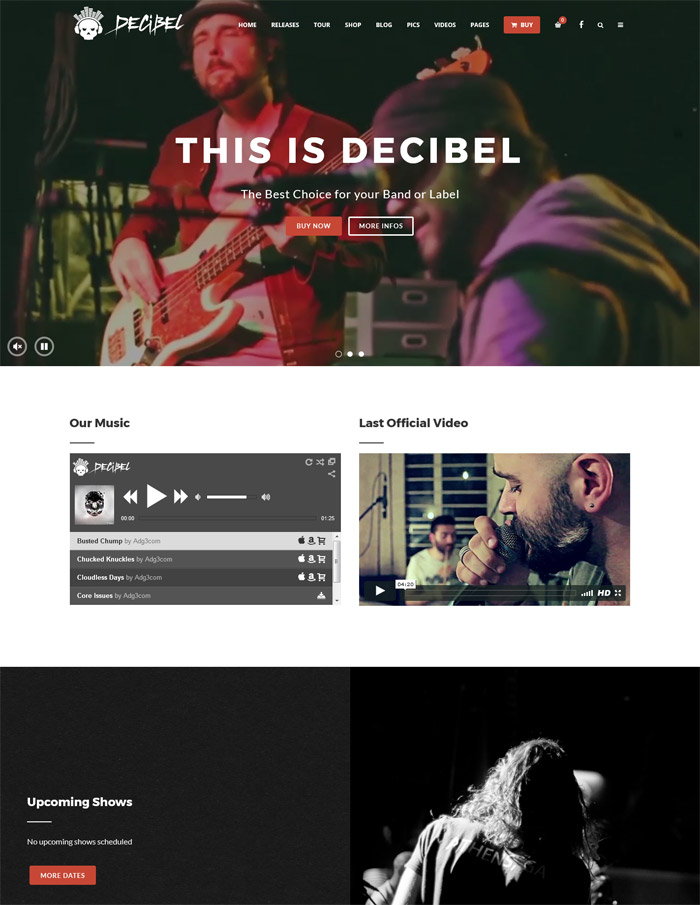 demo more info / download
Mixtape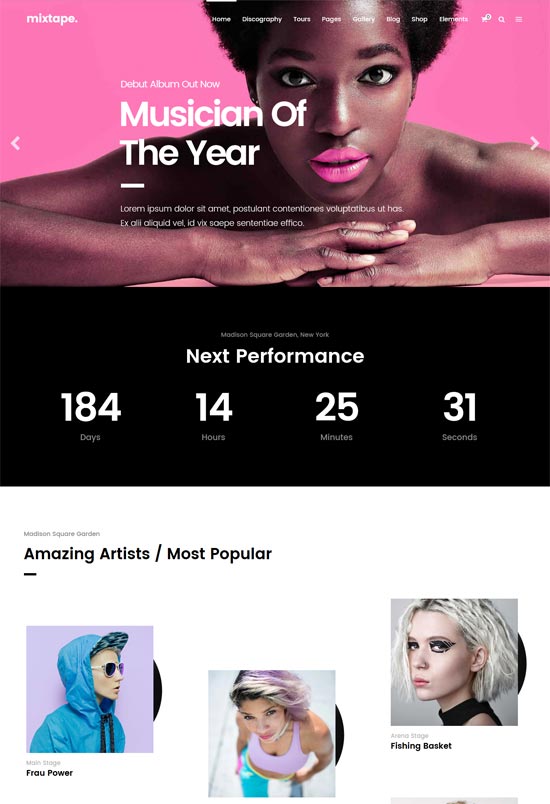 more info / download demo
Rebellion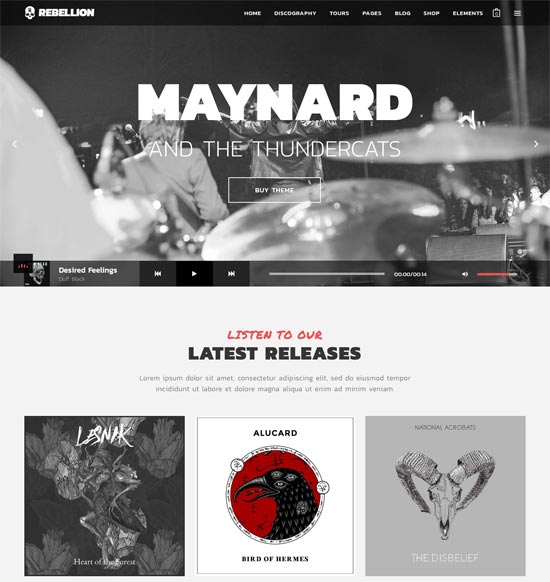 more info / download demo
Zona
ZONA is a new concept of WordPress music theme built specifically for Musicians, Bands, DJ's, Producers and other individual creative people. ZONA was created using AJAX – now you can be sure that music will not stop playing when browsing the page. Theme includes Visual Composer to easily manage your content.
This theme is filled with cool, modern vibes. Feat comes in 8 differently styled themes: Techno, DJ, Pop, Jazz, Electronic, Trance, Funky and Channel, however you can customize any of them with an unlimited array of color and layout combinations. You can build up to 12 pages, select widgets from the 5 provided and it is even music player friendly allowing you to add your own MP3 playlist to the entire site. It is fully responsive and mobile phone friendly allowing users to access all the features this theme provides. Sections include Home Page, Blog, Events, Gallery, Video, Music and Countdown. That being said you still have the option of adding your own.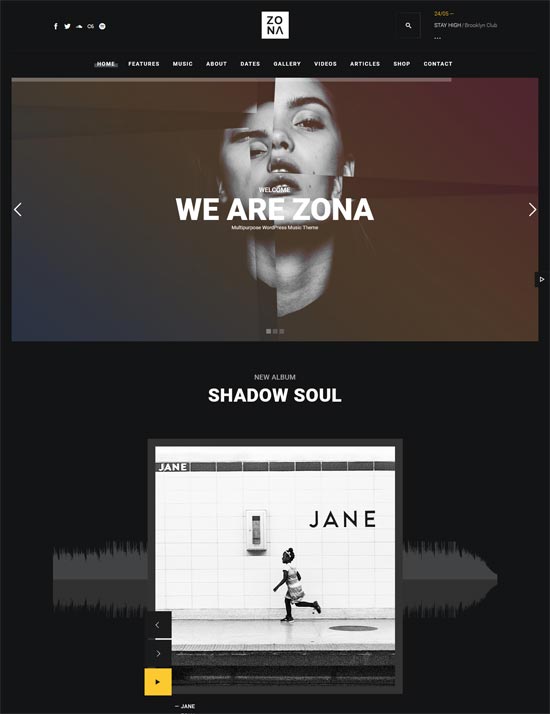 more info / download demo
Onair2: Radio Station
Onair2 is a beautiful and responsive website for a radio, look no further. We have carefully designed a comprehensive set of tools, plugins, widgets and functions to streamline your production process and create a fast and amazing radio website. This WordPress theme comes from the experience of many owners of radio stations and contains a complete list of types of publications to manage radio broadcasts and schedules, radio channels, popup players, Team, top 10 graphics and more.
The best thing about this theme is how easy it is to customize. With a responsive design, unlimited color options and more than 600 Google Fonts, Onair2 is a great option to really put your music on display. The feel of this theme has a very rock, indie vibe to it however can adapt to any genre vibe by simply editing some of the colors. It has a Home, About, Event, Discography, Gallery, Blog, Contact and Video page which does a great job at showcasing what's going on in the artists' world. Onair2 leaves a lot of space for incorporating plenty of media such as photos and videos as much as possible.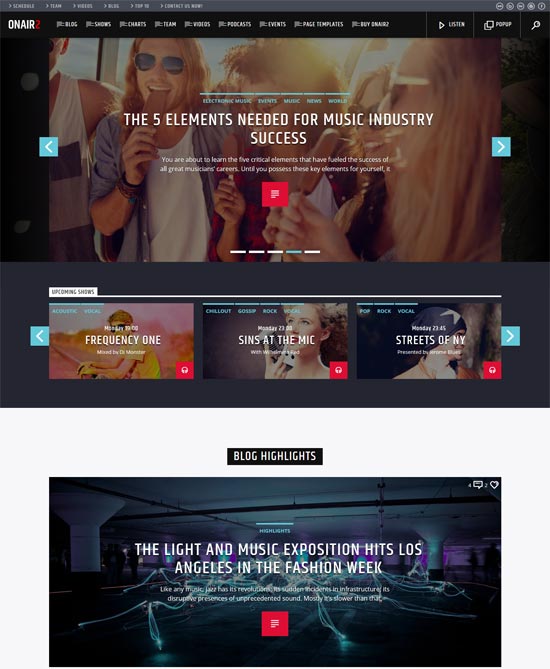 more info / download demo
Pulse
Pulse is a suitable WordPress theme, allows you to manage radio, music, audio, and sell audio files to your client. The user can create his own track and playlist to play and add a track to favorites.
Nothing screams "fun" more than this theme! Mesh includes so many amazing features that will really help launch any music or entertainment company. Definitely recommend this site for clubs or music festivals or any other entertainment group. With this theme you have the ability to sell tickets directly from your own website, allow fans to book a table or bottle service again simply just from the site, sync whatever is posted on your website to all social media sites and incorporate an amazing non-stop playlist to keep the party going. Your website can also be multilingual allowing fans worldwide to access it in whatever language and all features will still look as great on your tablet/mobile since Mesh looks good on all devices.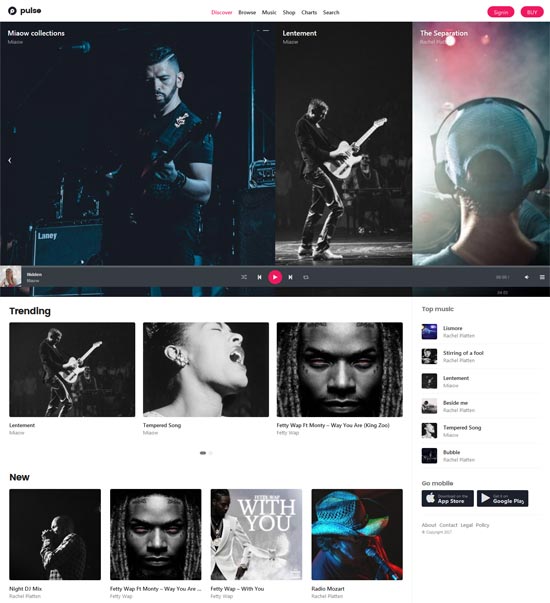 more info / download demo
Solala Music WP
This theme combines professionalism and fun with a very unique looking theme. The use of gif's all over the website makes it that much more enjoyable. Super easy to use and customize Solala is a great option for performers. Comes with interesting little widgets such as a vinyl shaped music player for the perfect combination of classical and modern, a linear music player that is in fact compatible with Sound cloud, master slider feature for smooth transitions between content and it is also compatible with the Woo-Commerce plugging so that you're able to sell band merchandise right off the site. Compatible with any device and a flexible layout, Solala is a solid choice for anybody.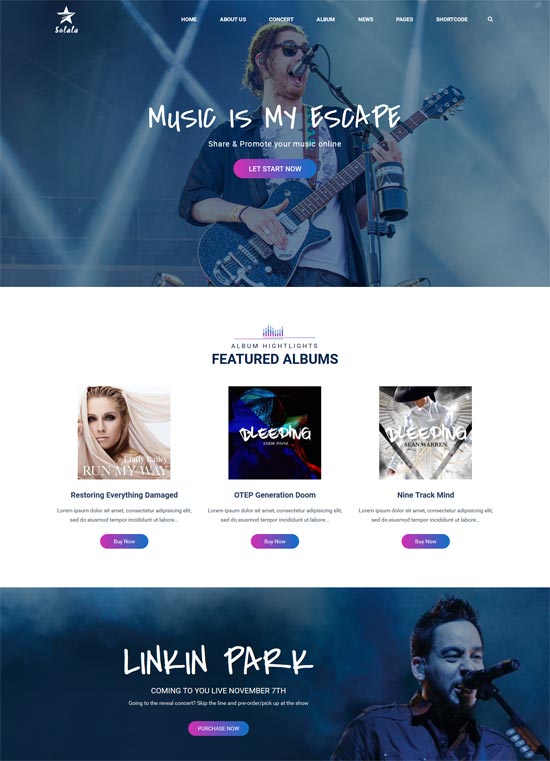 more info / download demo
Lucille
Lucille is a beautifully designed WordPress theme suitable for artists, musicians, music groups, producers or anyone working in the music industry. Lucille's theme is extremely flexible, intuitive and easy to use, featuring premium features and plugins, making it a powerful and comprehensive solution for the music industry.
The bursts of red and fuchsia in this theme make it super festive and you really get the feel of a good time. Photos on the home page are black and white but the second you move your mouse over them, the original photo breaks through color and all really bringing the site to life. The layout of this website makes it perfect for musicians who tour frequently or multi-day music festivals as it's clear from the layout alone that they made it very event friendly – it's easy to find locations, tour dates, they even integrated a calendar where you can keep track.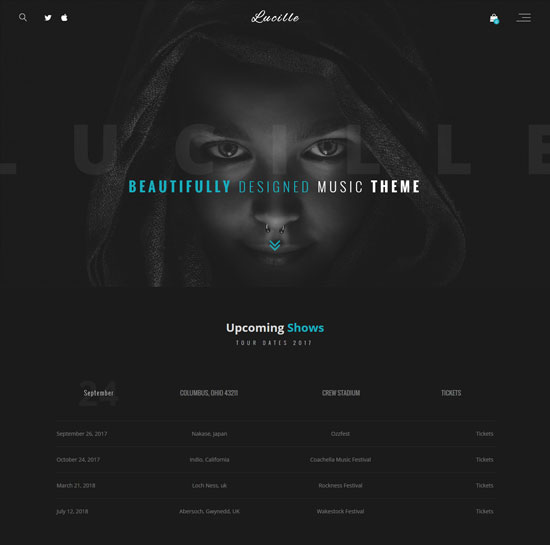 more info / download demo
Shuffle
Lush is the ultimate theme for people in the music industry. It comes in 9 different styles: Hipster, Awake, Spin table, Outlaws, Solo, Classical, Rock and Grenade. Each of them have unlimited color schemes, page builders and a 3D Menu. It also comes with an audio player, a gigs manager, event countdown for those must see shows, unique photo viewer and insane background effects with no coding experience necessary. All the Lush styles ensure a unique and beautiful experience for viewers be it on a laptop, tablet or mobile phone.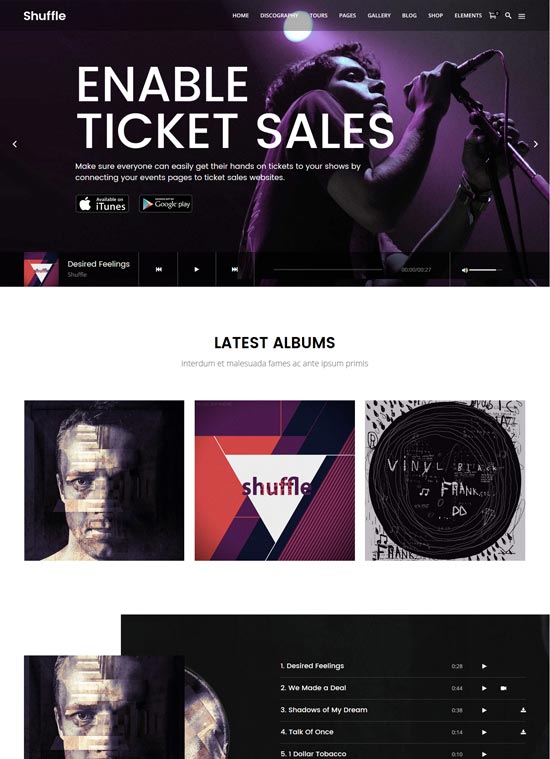 more info / download demo
AQURA
AQURA is an enchanting music and easy to use parallax, bands and DJ WordPress theme that allows you to tell your story in a dynamic, narrative and enjoyable way, making it perfect for musicians and DJs.
This single-page theme gets the job done. AQURA theme gives you the ability to update, store and display all the necessary information about any upcoming events and artists. The way information just slides in effortlessly onto the screen is a direct reflection of how effortlessly sleek this theme is. It has a crisp flat design that will leave all your majorly viewers impressed. It has an array interesting effects and is the perfect theme for the management aspect of the music industry as it's layout makes it easy to show off all the artists and talent in your roster.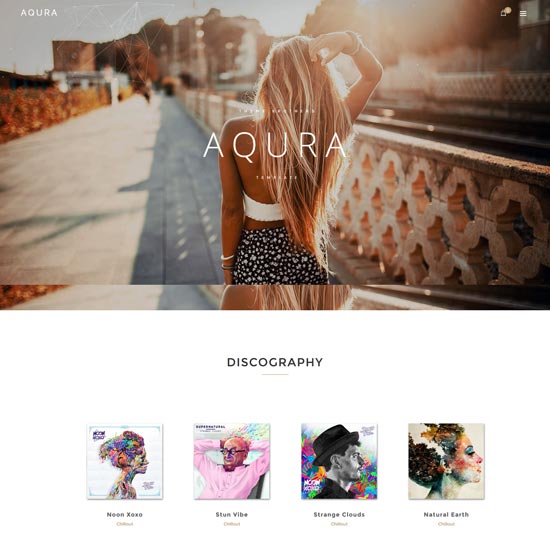 more info / download demo
Sonic Music Industry with AJAX
SONIC was built in collaboration with real musicians who know exactly what a band needs.It a lot of layout, style and appearance options. It is fully customization and requires no web development experience. Just click on customize buttons and see how your site looks in the live preview.
On your mark, get set, jam! This theme comes in 3 different styles to fit whomever or whatever style you're trying to showcase. SONIC Main has a full screen homepage with a classic menu and dark pink accents. SONIC Extended, takes a more interactive approach with a scrollable homepage, revolution slider and classic menu paired with nice blue accents. Lastly, SONIC Extended is more minimal with a full screen homepage and rather than a classic menu, there's a layout friendly menu tab. All options do a great job of making media a center piece of their websites which really gives visitors a great glimpse into their world.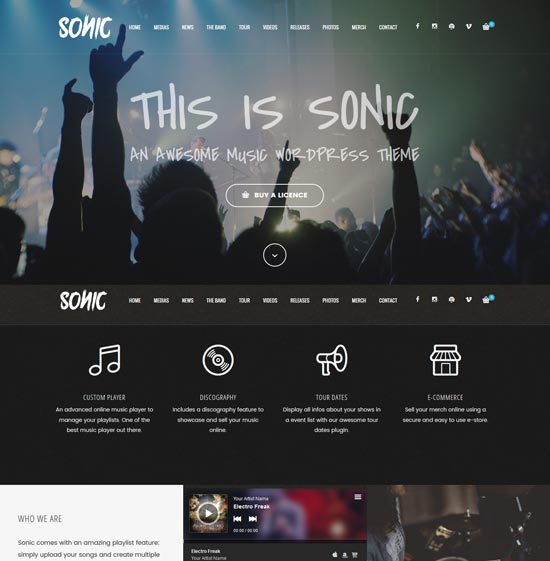 more info / download demo
SONIK
Sonik is a WordPress flexible and powerful music theme has all the tools you need to build a professional website of music. With over 12 types of custom post, it allows you to create any type of content related to the music industry.
Let clean lines and a minimalistic design set the stage for your work with this fully responsive and all device friendly theme. Greeted by a full screen homepage, you have the option of either making it an image slider or a video background for your visitors. Comes with 6 page templates and amazing widgets such as Flickr for all your interesting pics, Embedded video for those once in a lifetime moments you managed to capture and social networking widgets so fans can stay up to date at all times. This theme is professional and will serve as an amazing webpage that your guests will keep coming back to.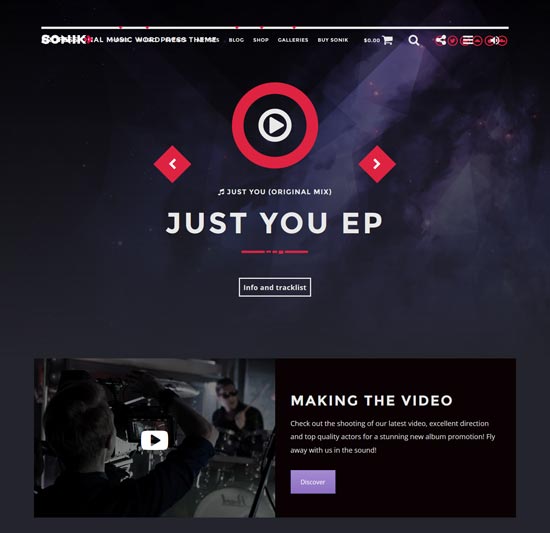 more info / download demo
Noisa
Noisa is a powerful music theme, bright and incredibly diverse WordPress built specifically for Musicans, bands, net labels, DJs, producers. NOISA was made using AJAX technique – now you can be sure that the music will not stop playing when the navigation page. It is a great way to present your music at the highest level.
The Noisa theme comes in two formats – full or boxed style; boxed being just a little narrower than the full style version. Very modern, this is a super stylish theme. The music player that comes with this theme is perfect as no matter what tab you select on the site it stays constant while the rest of the website changes…it's always there. The background customization options make this a really neat theme. All in all, it has such a clean look to it and the dark hues really give you that fun concert feel so your visitors will be sure they are at the right place.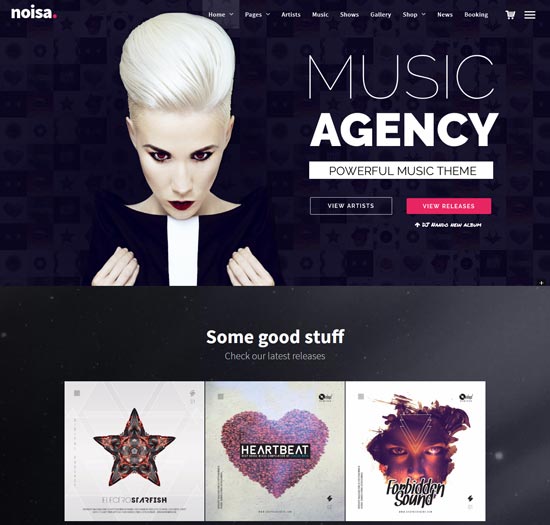 more info / download demo
Croma
Croma is a creative and responsive WordPress theme dedicated to singers, bands and musicians. With Croma, you'll be able to create a beautiful website for your music. It is an ideal theme to promote electronic press kits, online merch store and your beautiful music.
Croma is a premium music theme that caters to everyone in the music or entertainment business. It works with every kind of post type a music or entertainment theme would need to support such as audio, event management, photo galleries, videos and so much more. You can consistently update your discography using MP3 files or tracks directly from Soundcloud. You can manage an infinite amount of artists by categorizing them using their own custom taxonomy and placing it anywhere on the site using the artist widget that comes with the theme. The home page has 4 different layout options leaving you in charge of your creative destiny.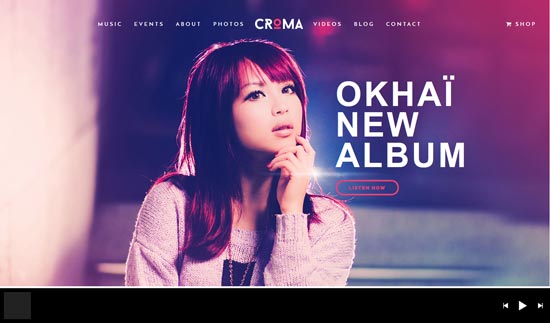 more info / download demo
MESH
MESH WordPress Theme lets you play music continuously, to sell tickets, events, books and includes six months of support. We meshed together all the key features required for entertainment sites. MESH is perfectly suited to meet your multimedia needs and innovating at all levels. Give it a try and convince you.
The name says it all, MESH is perfect for nightlife entertainers everywhere. Offering two versions of the theme: MESH Light and MESH Dark, you have the option of how you want to portray yourself to the public. Both have the urban, night life feels to them the only difference is for MESH Light the banners and detailing are white and MESH Dark is obviously the opposite with black as the accent color. They're both easy to navigate through with a single scroll blog style layout and the auto-play music player gets the party started playing awesome tunes while visitors browse.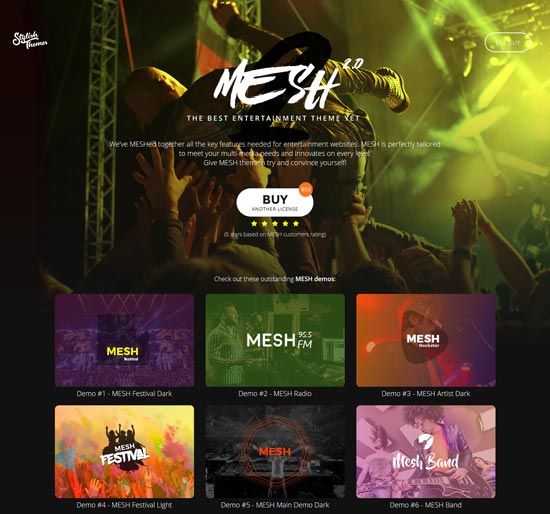 more info / download demo
EPROM
If you have a vision for your website and want to make that vision a reality, consider using Eprom. Even if it will be your first time fiddling with web pages, this WordPress theme allows you to customise your page just the way you like it. the theme can be used for different niches and it provides you with the right features to make your site attractive thereby helping you to impress your visitors. You get a template that allows you to play with headers, footers and fonts just the way you like it. Full review of this theme is available here.
Vocal
This is another of the WordPress music themes that is great for use by bands, artists and individuals who want to showcase their artistic prowess. a great feature of this theme is that it easily resizes to fit the screen of the device from which it is being accessed. this means that it will work well with mobile devices. the visual composer is included that allows the user to drag and drop as they deem fit. It comes with a lot of features that can be easily customised. The event management feature allows the users to post information on upcoming events; location and price of tickets.
FWRD
This is one of those music themes on WordPress that is technologically advanced and includes a lot of cutting edge features. this theme is perfect for those websites that deal with music news or music magazines. It includes features like collapsible menus, trending posts and more the seven styles for use with featured images.
Obviously, WordPress has become the c go to place for the numerous website owners with no knowledge of coding. over the years,WordPress themes like WordPress music themes have improved as to be attractive even to seasoned web developers. there is no need to reinvent the wheel when you can find the right theme to suit your music website on WordPress. There are hundreds of themes to choose from and one thing you can be sure of is the fact that you will not be disappointed.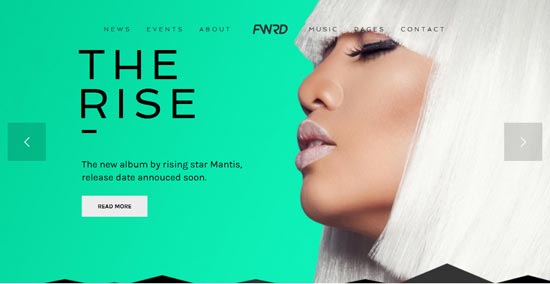 demo more info / download
Music Band
Music band live events is music WordPress theme for music recording studio, website, music bands and groups, music clubs, nightclubs, live music events, and online track showcases and music blogs and music bands such as music website, any kind of meaningful entertainment as well as night life and themed rock band theme. Topics are provided with custom master audio player that allows you to showcase your music to your website with a brilliant way. This is just yet, turn the music on the audio player, the most beautiful!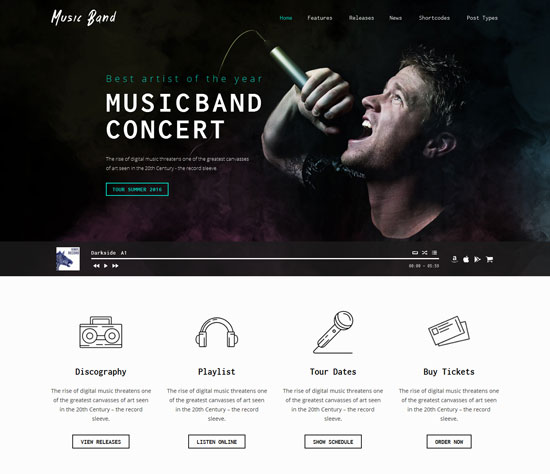 demo more info / download
WeMusic
WeMusic is simple WordPress music theme! Theme is design for music, band, music, event organizer, album, nightclub / concert DJ, the festival website, such as when finely crafted built-in solution for e-commerce, to sell event tickets online albums and other music related products. Stylish layout for Dark Light version will certainly meet your expectations! In addition, there is a count-down NOO featured short code design (5) Home, Amazing Transparent View menu, sliders and parallax background to the revolution at first sight!
Hugo
Hugo is a very simple design however it remains just as effective. Less is more with this one. Black and white with a splash of yellow do just enough to grab your attention and make sure that this site stands out from the rest. It includes an audio player, a contact form, two muse files, multipage or one-page display, social media widgets, menu and submenus and so much more. It may not be as in your face as other themes but it as every feature you could ever need as an artist, so who says you have to flashy in order to be the best.
Odio
AUDIO is a professional and use one-page / multi-page, easy-to WordPress music theme. Audio theme music lovers, music band, musician, DJ a producer, an organization dedicated to the filmmaker, labels or events and festivals. Perfect for the entertainment industry.
SPECTRA
Looking for a fresh modern way to showcase your talents – Trio is the way to go. Everything's lined up in an organized, easy to read and find manner. This theme is very professional and is great for touring musicians or festivals. Unlimited portfolios can be created, unlimited sidebars are supported, unlimited color scheme options, e-commerce ready thanks to the WooCommerce widget and it is compatible with any device.