EPROM
If you have a vision for your website and want to make that vision a reality, consider using Eprom. Even if it will be your first time fiddling with web pages, this WordPress theme allows you to customise your page just the way you like it. the theme can be used for different niches and it provides you with the right features to make your site attractive thereby helping you to impress your visitors. You get a template that allows you to play with headers, footers and fonts just the way you like it. Full review of this theme is available here.
Vocal
This is another of the WordPress music themes that is great for use by bands, artists and individuals who want to showcase their artistic prowess. a great feature of this theme is that it easily resizes to fit the screen of the device from which it is being accessed. this means that it will work well with mobile devices. the visual composer is included that allows the user to drag and drop as they deem fit. It comes with a lot of features that can be easily customised. The event management feature allows the users to post information on upcoming events; location and price of tickets.
FWRD
This is one of those music themes on WordPress that is technologically advanced and includes a lot of cutting edge features. this theme is perfect for those websites that deal with music news or music magazines. It includes features like collapsible menus, trending posts and more the seven styles for use with featured images.
Obviously, WordPress has become the c go to place for the numerous website owners with no knowledge of coding. over the years,WordPress themes like WordPress music themes have improved as to be attractive even to seasoned web developers. there is no need to reinvent the wheel when you can find the right theme to suit your music website on WordPress. There are hundreds of themes to choose from and one thing you can be sure of is the fact that you will not be disappointed.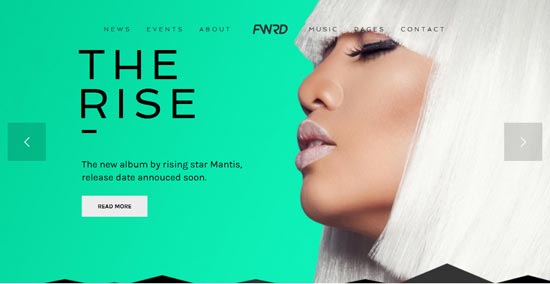 demo more info / download
Music Band
Music band live events is music WordPress theme for music recording studio, website, music bands and groups, music clubs, nightclubs, live music events, and online track showcases and music blogs and music bands such as music website, any kind of meaningful entertainment as well as night life and themed rock band theme. Topics are provided with custom master audio player that allows you to showcase your music to your website with a brilliant way. This is just yet, turn the music on the audio player, the most beautiful!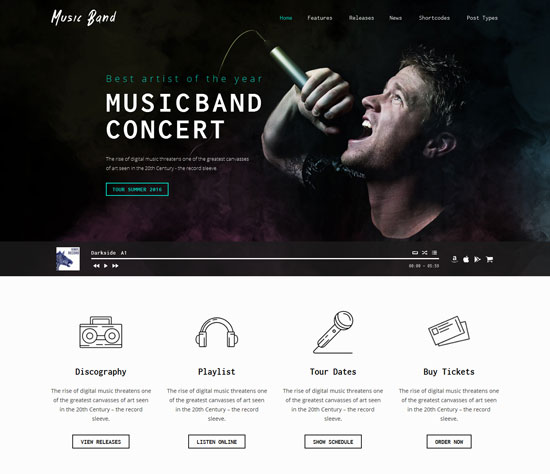 demo more info / download
WeMusic
WeMusic is simple WordPress music theme! Theme is design for music, band, music, event organizer, album, nightclub / concert DJ, the festival website, such as when finely crafted built-in solution for e-commerce, to sell event tickets online albums and other music related products. Stylish layout for Dark Light version will certainly meet your expectations! In addition, there is a count-down NOO featured short code design (5) Home, Amazing Transparent View menu, sliders and parallax background to the revolution at first sight!
Hugo
Hugo is a very simple design however it remains just as effective. Less is more with this one. Black and white with a splash of yellow do just enough to grab your attention and make sure that this site stands out from the rest. It includes an audio player, a contact form, two muse files, multipage or one-page display, social media widgets, menu and submenus and so much more. It may not be as in your face as other themes but it as every feature you could ever need as an artist, so who says you have to flashy in order to be the best.
Odio
AUDIO is a professional and use one-page / multi-page, easy-to WordPress music theme. Audio theme music lovers, music band, musician, DJ a producer, an organization dedicated to the filmmaker, labels or events and festivals. Perfect for the entertainment industry.
SPECTRA
Looking for a fresh modern way to showcase your talents – Trio is the way to go. Everything's lined up in an organized, easy to read and find manner. This theme is very professional and is great for touring musicians or festivals. Unlimited portfolios can be created, unlimited sidebars are supported, unlimited color scheme options, e-commerce ready thanks to the WooCommerce widget and it is compatible with any device.
Vice
Are you ready to party with Vice? This theme is the epitome of a good time just by the looks of it. The slideshow of photos on the homepage is a great touch followed by all the latest audio, events, photo and blog posts right after. You can enjoy music or even live radio thanks to this advanced audio player while you browse the site for upcoming events.
Colibri
Chords
Sonorama
Speaker
Using a professional speaker music WordPress theme from the easiest one page. It is very easy to customize, simple to prepare all devices and settings. Whether you gunshots, speakers are present and includes all the features necessary for a band or label in order to facilitate the online operation. Of course, the speakers may be used for other purposes, and supports multi-page.
JamSession
Music is our passion! Jam Session is a looking cool music band WordPress theme for artists, music bands, musicians or people who work in the music industry. Subject has a modern design, very flexible, so you can customize it according to your music style and needs. JamSession offers music theme music, events, photo gallery and video full-screen sliders, respond brick archive layouts, custom post types. JamSession WordPress theme is very easy to configure both the expert and novice users. Subject looks perfectly on all devices respond.
MusicClub
Clubix
MusicPlay
IronBand
SoundWave
Acoustic
Replay
Muzak
Soundboard
Thanks to WordPress creating your own site doesn't have to a headache but can actually be quite simple. With these themes only being a fraction of what's available out there for musicians, it can be an effortless process to transform your website and reach a broader worldwide audience. It doesn't matter whether or not you're the one behind a guitar or seated behind a desk in some corporate office. WordPress has themes perfect for anybody in the music industry, all you have to do is choose the one that works best for your creative vision!
Beatswave
Beatswave is a great choice for managing audio files, albums, bands, artists, musicians and selling audio files to your customers. It offers a creative and trendy design that never fails to be appreciated by users. This template can be used to help your customers and fans learn more about you and your music, or purchase your audio or other products. As you can see, this model comes with 4 versions, but two demo versions are currently available. Each demo includes more than 20 pages, or more than 80 pages in total.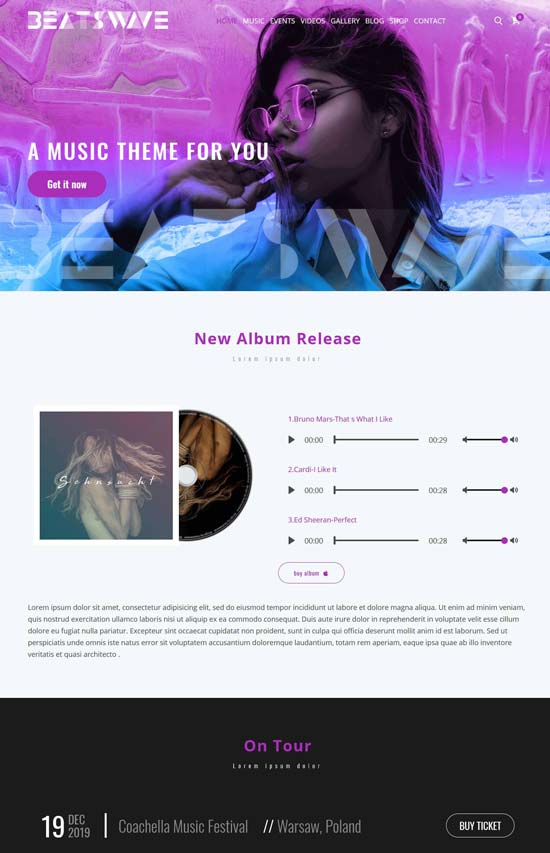 more info / download demo
Inigo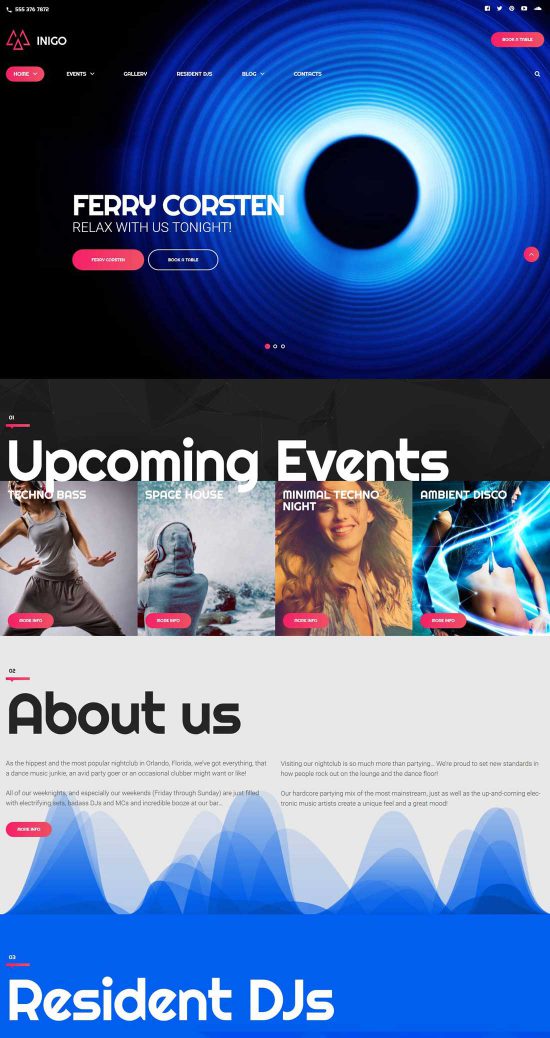 demo more info / download
Neobeat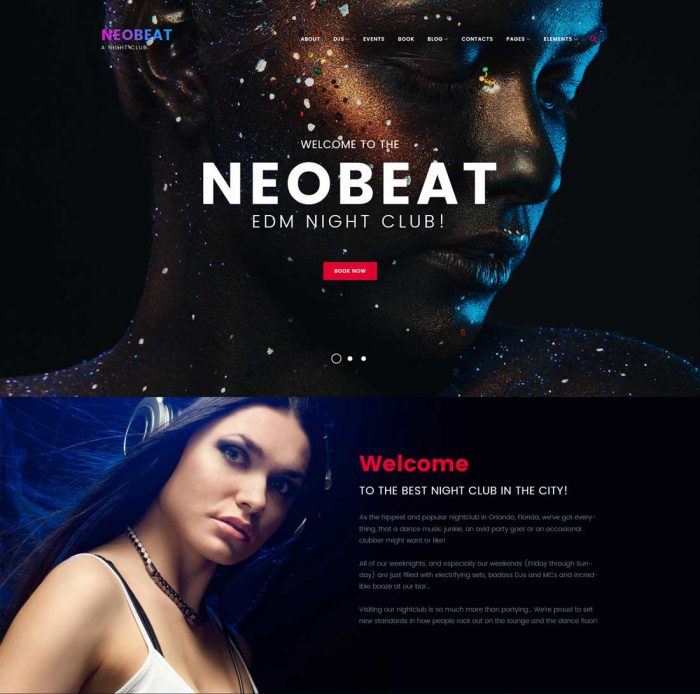 demo more info / download
StereoForce – Music Band
This theme comes with some really cool features such as an event and album management system, visual composer, slider revolution and many more. Also includes a music player and the ability to buy tickets and merchandise directly from the site. The pink accents give the website just the pop of color it needs. The blog like structure of the home page is a great way to add small blurbs of text to any media you would like to feature, each having a "read more" button attached making it easy for viewers to get to the full post effortlessly.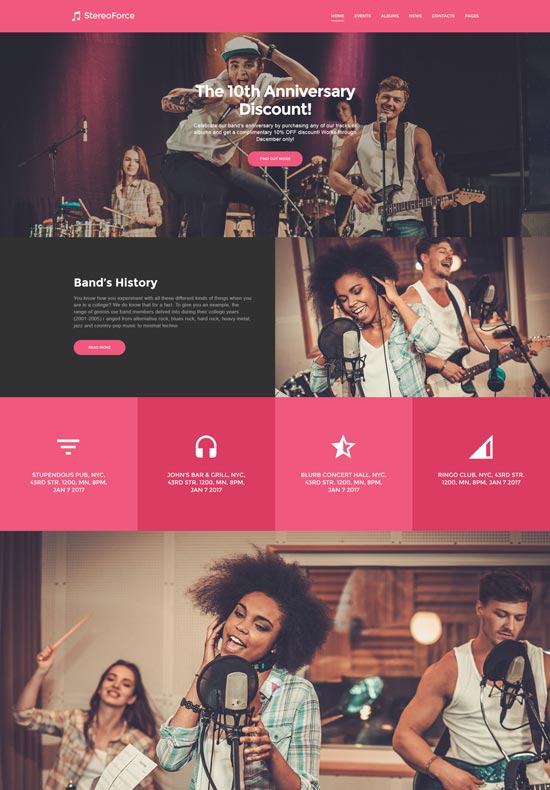 more info / download demo
DJ Sugar
DJ Sugar offers a brighter, non-typical approach to the nightlife scene. Usually dominated by dark hues and vibrant pops of color, DJ Sugar strayed from the typical look for something more daytime rave with a light background and accents. It uses a page system that makes more and more content available by simple just pressing next. It has one of the most sophisticated track and audio management found in any WordPress theme, you can have lyrics and a buy button attached to songs posted on the site, offers customer support options to fans and is translation ready.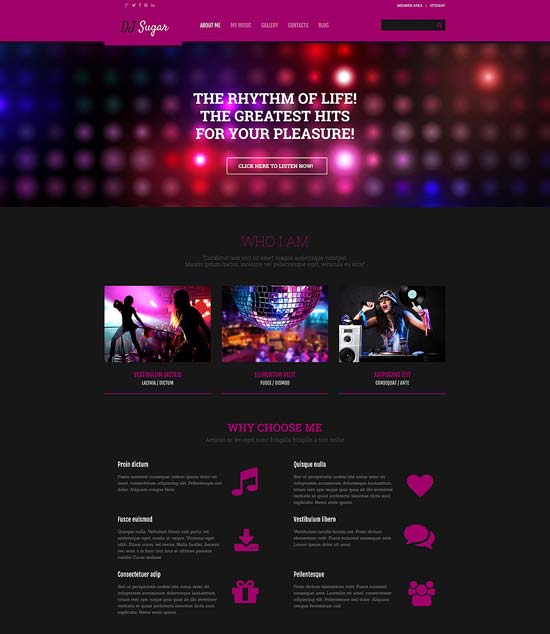 demo more info / download
MusicBand
Sungit Lite
A clean, trendy and fully responsive free music WordPress theme created especially for Musicians, Concerts, Bands, Artists, Events or any kind of music websites or Blogs. It comes with various interesting and powerful features to make a user-friendly, interactive and visually stunning website. It includes features like Custom Menu, Social Media Options, customizable Banner Slider, customizable Mid Section, multiple page layouts, Customizable Footer sections, Blog Layout, Logo color settings, footer settings, Custom CSS. It has 3 footer widgets, a default sidebar widget and tested rigorously, translation ready, highly optimized for better performance.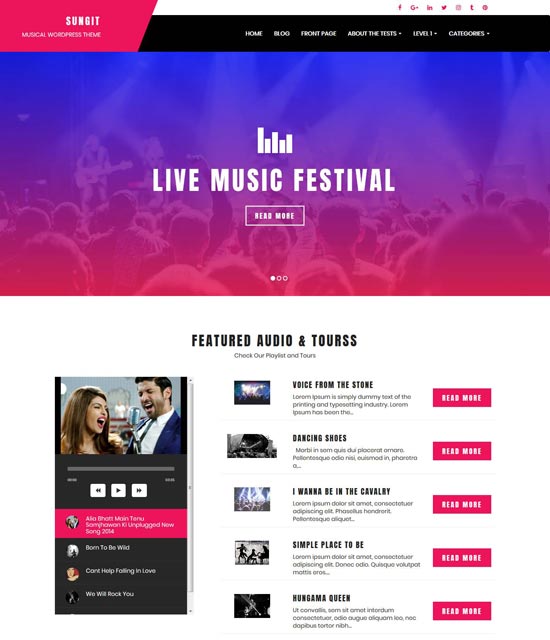 demo more info / download
TA Music
TA Music Entertainment music related web site or to build an online presence and a wealth of advanced features, the best free WordPress theme for music bands and musicians in the niche of the industry. It is noteworthy that the theme you free music will help you get a head start on the event show, DJ, no matter what it is that the post type, elegant touch, artist, album, video gallery, photo gallery do not mix. You electro artists, music and albums and display a gallery, you can create a page for the artist to play his music through the powerful audio player works on all major browsers and mobile devices can be classified into their own genre. We are intended to provide you with many cases of visitors and fans are easily superior quality of the event manager to get up-to-date information such as event overview, tour dates or events, location or venue of the event, the date of the map, ticket availability and you can purchase tickets online or band merchandise.
MusicMacho
MusicMacho is a free WordPress theme for music events, music bands and music shops. It is easily customizable through Customizer options. It is mobile friendly as it is built on top of Twitter bootstrap framework. It is search engine friendly too. The theme is supported by our professional team of designers and developers so feel free to use it and enjoy its awesome features.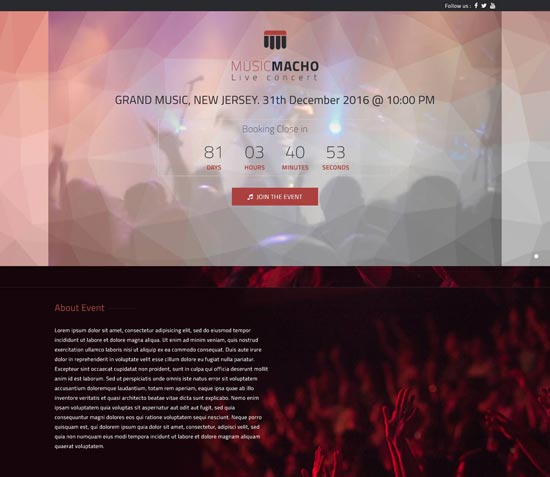 demo more info / download