Discover the latest trend in the digital world – NFTs, or Non-Fungible Tokens, with our innovative NFT Marketplace website templates. Dive into the exciting realm of blockchain-based digital assets and create your own NFT platform with ease. Our templates are designed to help you showcase, buy, sell, and trade unique digital collectibles in a user-friendly and visually captivating manner.
Whether you're an artist, collector, or entrepreneur, our NFT Marketplace templates offer a range of features to cater to your specific needs. From stunning galleries to seamless payment integration, these templates provide a complete solution for setting up your own NFT platform. Explore different layouts, customizable sections, and responsive designs that ensure your platform looks exceptional on any device.
Stay ahead of the curve and tap into the booming NFT market with our NFT Marketplace website templates. Start building your digital asset marketplace today and become a part of the revolution that's changing the way we perceive ownership and value in the digital age.
Open9
Open9 is a versatile template tailored for various applications including non-fungible tokens (NFTs), crypto-collectibles, fashion, digital art, and more. It serves as an online marketplace where you can seamlessly buy, sell, trade, and auction NFT items. Specifically designed for NFT game items, Open9 encompasses essential features such as Dark/Light Versions, Item Auctions, Item Details, Creator and Author Pages, Item Creation, Login, Signup, and Wallet-connect integration.
With a comprehensive set of 45+ screens, Open9 boasts 7 Homepages, 4 Explore Styles, 4 Blog Styles, login, signup, dashboard, and other layouts to suit your NFT Marketplace requirements. This template empowers you to effortlessly customize it to align with your NFT platform's unique needs.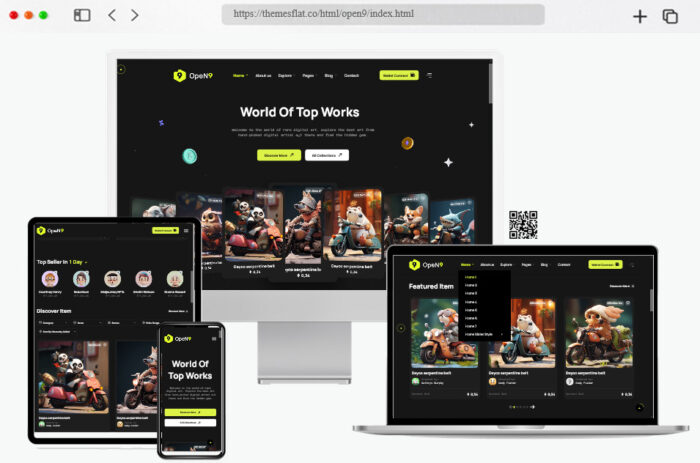 More info / download Demo
Giglink
Giglink stands as a robust React Next Js NFT marketplace template, tailored for various purposes including NFTs, crypto-collectibles, and digital items. With full responsiveness and pixel-perfect design, Giglink offers a comprehensive solution for creating websites related to non-fungible tokens, crypto-collectibles, and more.
This template boasts MetaMask Integration and a plethora of styles and elements, allowing you to swiftly build a beautiful and modern website. Crafted with precision, it is built on Next Js 13.x, React Js 18.x, and the latest Tailwind CSS v3.3.2. Giglink provides ample customization options, ensuring your website aligns with your desired look. It's user-friendly, easy to navigate, and caters to various screen sizes. Additionally, both RTL and Dark versions are available for added flexibility.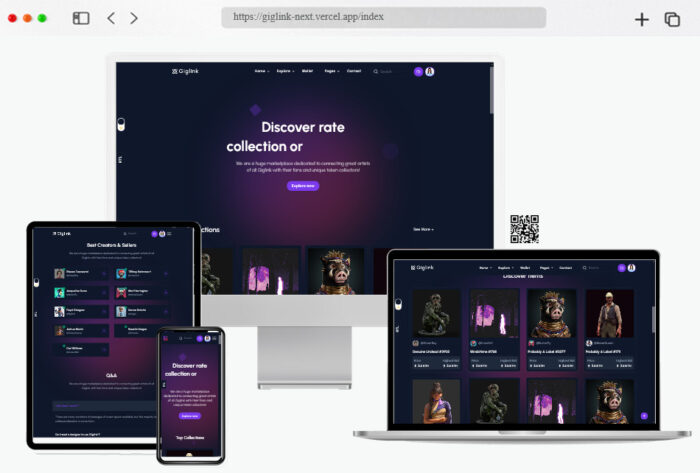 More info / download Demo
Axies
Axies is a swift and lightweight NextJS template designed for NFT marketplace platforms. Powered by modern tools such as NextJS, Typescript, and Bootstrap 5, this template is a perfect fit for NFT, digital art, cryptocurrency, and crypto-collectibles websites. With its exceptionally fast load time of under 0.5 seconds and a GTmetrix score of 99, Axies offers superior performance.
It's engineered to be nine times lighter and quicker than other available templates. The package includes essential UI components like modals, sliders, tabs, and dropdown menus. Integrated with MetaMask and featuring a dark mode, Axies offers a modular, clean, and API-ready code structure. It delivers a seamless user experience on mobile devices as well. Embrace modern and rapid website development with Axies.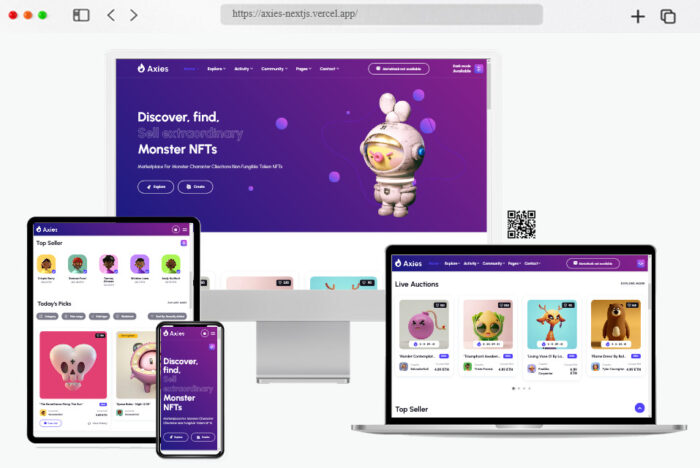 More info / download Demo
Metatech
Metatech is a cutting-edge NFT Marketplace template built on Bootstrap 5. Designed with a modern and professional aesthetic, it serves as a premier digital platform for crypto collectables and non-fungible tokens (NFTs). This marketplace facilitates buying, selling, and exploring exclusive digital items. The template is user-friendly and functional, offering high-quality and responsive designs right from the start. With well-crafted demos, it enables you to effortlessly create a new website. Metatech also boasts excellent typography to capture the attention of your audience and keep them engaged with your content.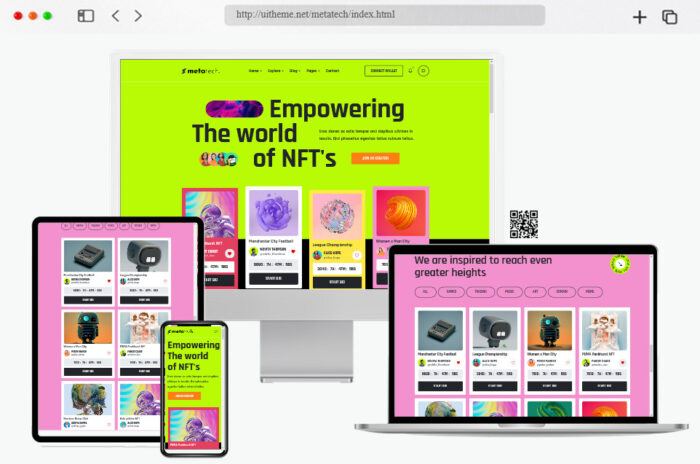 More info / download Demo
Xchain
Xchain is a modern NFT Marketplace template, built using React, that offers a fresh and innovative design. This template is highly customizable and comes with reusable components, allowing you to create your perfect NFT Marketplace, crypto-collectibles, and digital items website. It's well-suited for various e-commerce money-making endeavors.
With its unique and visually appealing design, Xchain ensures not only aesthetics but also excellent performance. It prioritizes loading speed by utilizing "lazy loading" and automatic code splitting techniques. Additionally, Xchain provides built-in authorization options through Google and Facebook, and you can easily integrate other account types for login. The template includes a variety of useful components to fulfill your specific requirements.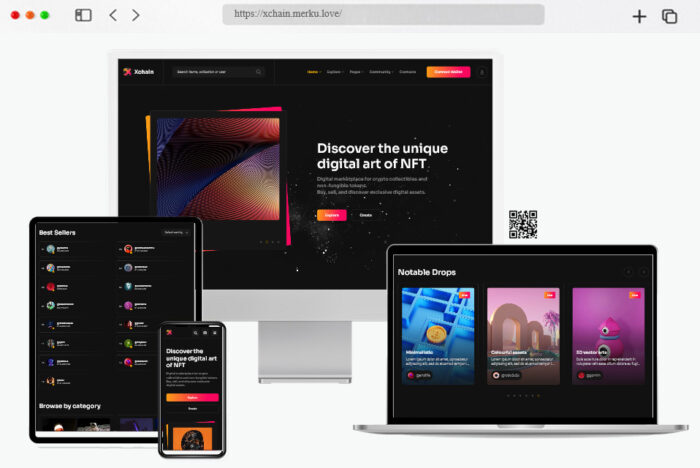 More info / download Demo
Gigaland
Gigaland is a comprehensive and responsive template designed for NFT marketplace, crypto-collectibles, digital items, and non-fungible tokens websites. With its abundance of styles and elements, Gigaland empowers you to create a modern and visually appealing website effortlessly. This template is crafted using modern technologies including HTML5, CSS3, jQuery, Bootstrap 5, and CSS3 Animation, ensuring a top-quality product. Backed by over 13 years of experience, Gigaland promises excellence and professionalism in its offerings.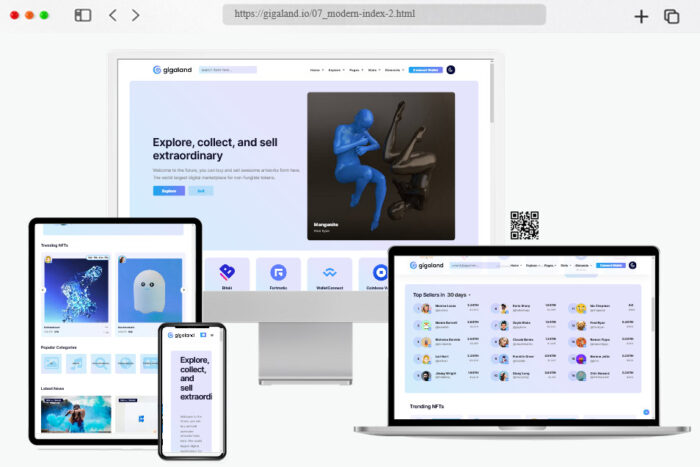 More info / download Demo
Nuron
Nuron is a versatile HTML template designed for NFT Marketplaces and has just been released with full coding in HTML, CSS, and JS. Ideal for digital marketplaces, crypto collectibles, NFT trading, digital and crypto art, as well as DeFi websites, Nuron caters to the growing demand for non-fungible tokens (NFTs) as a unique online payment method. The template is SEO-friendly, user-friendly, and comes with a comprehensible source code and detailed documentation. For those venturing into the NFT marketplace or consulting, Nuron, built on the Bootstrap 5 framework, is an optimal choice for website creation.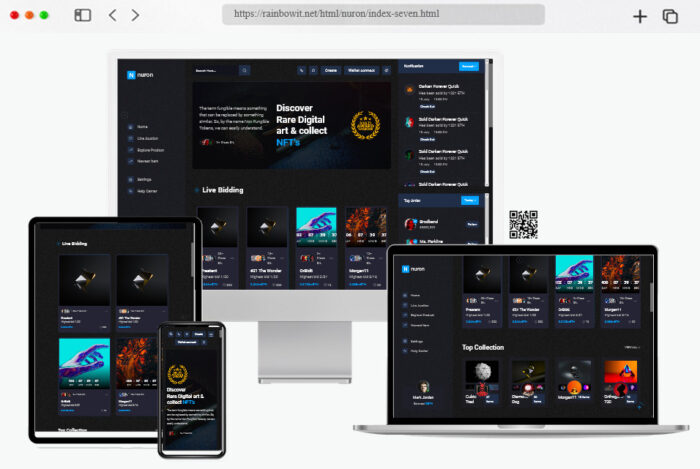 More info / download Demo
Xhibiter
Xhibiter is a swift and lightweight React template designed for NFT marketplace platforms. Utilizing modern tools like Tailwind CSS, React, Redux, and Next JS, Xhibiter caters to NFT, digital art, cryptocurrency, and crypto-collectibles websites. With an impressive load time of under 0.5 seconds and a Google score of 97, Xhibiter ensures exceptional performance, standing out as nine times faster and lighter compared to other templates.
This template includes essential UI components such as modals, sliders, tabs, charts, dropdown menus, and tooltips. It integrates with MetaMask and offers a dark mode option. Its well-organized modular and clean API-ready code makes it a fitting choice for creating contemporary and rapid websites. Experience the efficiency of Xhibiter for your projects today.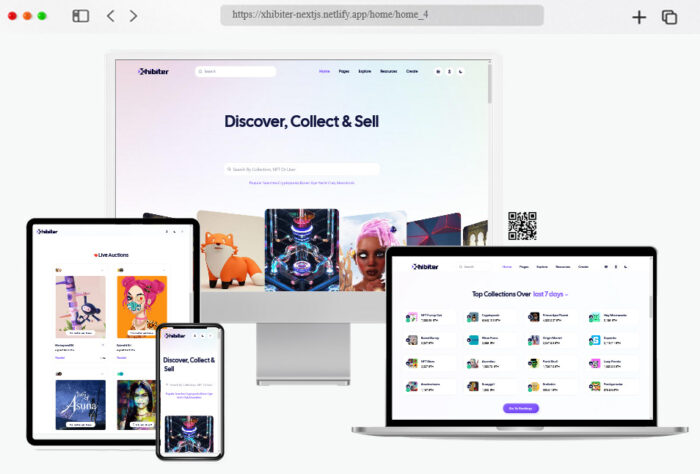 More info / download Demo
Netstorm
Netstorm is a specialized React NFT Marketplace Template that introduces a novel method of online payment utilizing electronic currency. Each NFT (non-fungible token) is one-of-a-kind and indivisible, preserved as a singular copy, with its creator's and buyer's information, along with transaction history, securely stored on the blockchain. Netstorm is tailor-made for NFT shops, NFT asset stores, crypto art markets, and digital asset bidding platforms.
This template boasts a contemporary design, modern features, and up-to-date coding technology. The intuitive interface allows users to explore NFTs comprehensively and make purchases using cryptocurrency. NFT Marketplace serves as a platform where various products, from domain names to artworks, can be bought using digital currencies.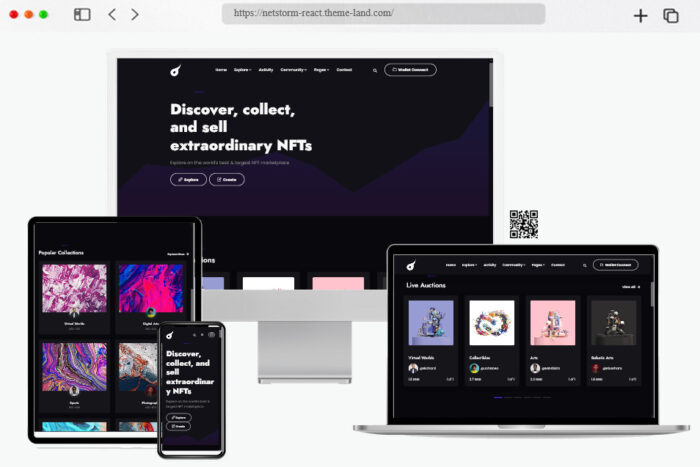 More info / download Demo
Ciscryp
Ciscryp is a responsive NextJs React Template designed for NFT Marketplace and NFTs Store. Utilizing the latest NextJs 13 (app directory), TypeScript, and Tailwind CSS, Ciscryp offers a modern and fresh design for the entire website, encompassing various functionalities such as smart search filters, collections, profile pages, item uploads, search features, and blogs.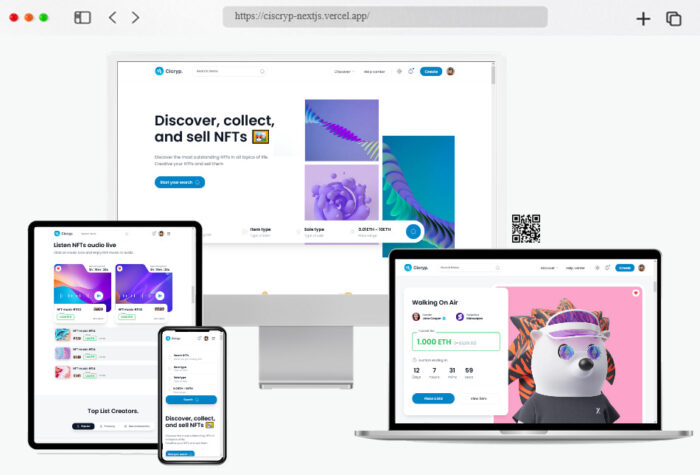 More info / download Demo