Looking for an awesome night club website template? Look no further than our selection of templates, perfect for any club or music venue. With a variety of designs and features to choose from, you'll be sure to find the perfect template for your website. So check out our night club website templates today and get your site up and running in no time!
Rockfest
Rockfest is a dynamic and responsive template tailored for music events, concerts, festivals, and nightclubs. It boasts a well-crafted design that ensures pixel-perfect precision. With its rich variety of styles and elements, creating a beautiful and contemporary website is effortless. Built using cutting-edge technologies such as HTML5, CSS3, jQuery, and Bootstrap, along with CSS3 Animation, Rockfest guarantees a seamless user experience. Backed by more than 12 years of expertise, we're committed to delivering high-quality products consistently.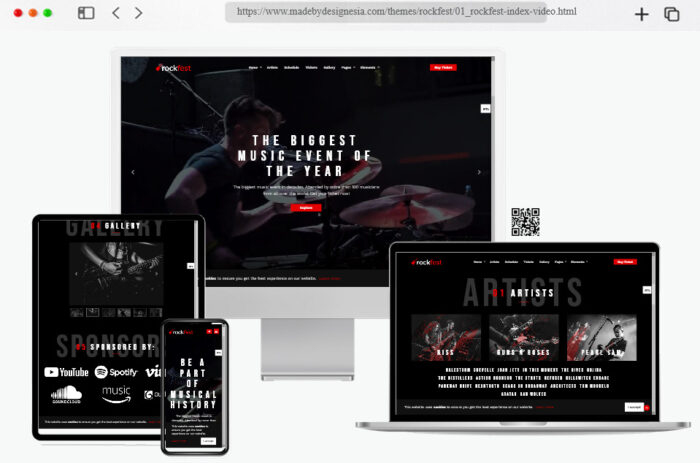 More info / download Demo
Dugem
Dugem is a creatively designed HTML template, perfect for Night Clubs, Music Events, and DJ websites. It features a modern aesthetic and is accompanied by a documentation folder that explains its code structure.
Dugem provides everything necessary for crafting an impressive event website. Its well-organized code and user-friendly documentation facilitate the creation of a captivating platform for showcasing services and information to customers.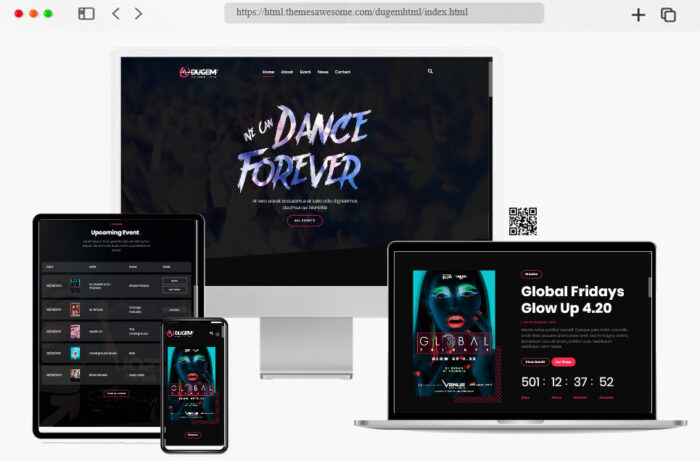 More info / download Demo
Clubio
CLUBIO is a premium HTML template that boasts retina-ready graphics, complete responsiveness, and excellent compatibility with various mobile devices. Tailored for nightclubs, disco clubs, event creators, DJs, and music clubs, CLUBIO serves as an ideal foundation for your website.
This template not only saves you time and money, but it also comes packed with essential features such as booking forms, an event calendar, gallery/Instagram widgets, and a stylish slider. Elevate your web presence today by acquiring our HTML template, CLUBIO – a comprehensive solution for creating engaging online platforms.
More info / download Demo
Domex
Domex is a dynamic HTML template designed for nightclubs and events. This versatile template caters to the needs of nightclubs, event organizers, and related businesses. It offers a range of features to create an engaging online presence, making it an excellent choice for showcasing nightlife and event information. With its modern design and functionalities, Domex provides a seamless user experience for visitors looking for information about nightclubs and upcoming events.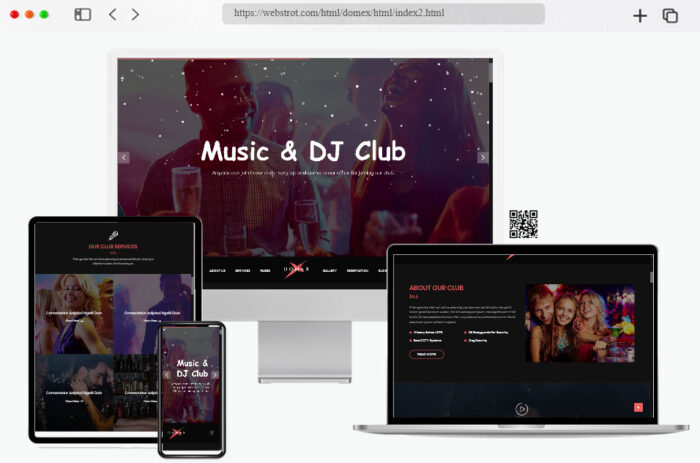 More info / download Demo
MTX Club
Dark is a sleek and distinctive HTML template crafted for Night Clubs, Bars, Parties, and Events. Its clean design and user-friendly interface make customization effortless. Developed with Framework Y, a powerful and advanced framework for modern websites, Dark offers an extensive range of components and features, elevating performance and customization possibilities. Whether you're in the nightlife or event industry, Dark propels your website to a new level of style and functionality."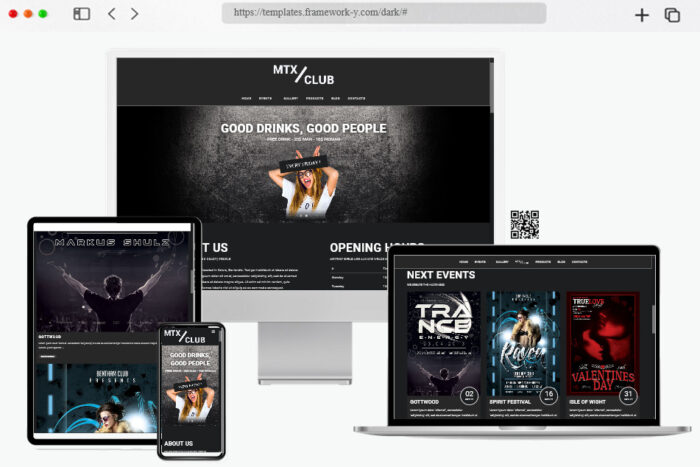 More info / download Demo
Disco
Disco Night Club HTML Template presents an exciting concept for your online night club business. It offers a user-friendly and intuitive experience for night party enthusiasts. By incorporating web development best practices, this template provides the flexibility to design a fantastic website layout using Twitter Bootstrap or Grid 1170px, ensuring a seamless and captivating online presence for your night club venture.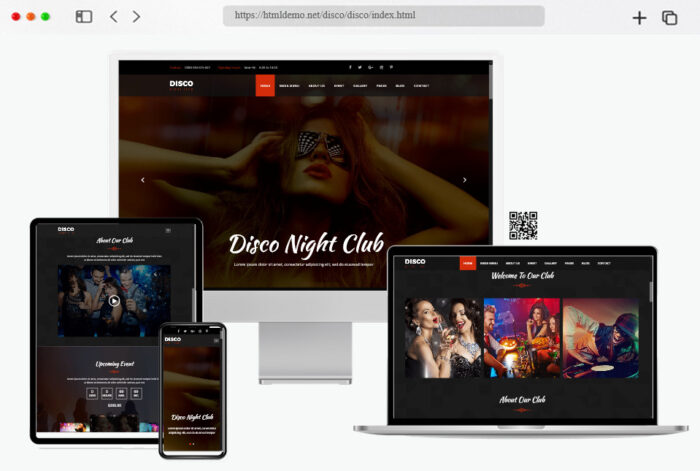 More info / download Demo
Music Club
RockON is a meticulously designed HTML template aimed at revolutionizing your club and pub business. It encapsulates a wide array of compelling features necessary for a thriving enterprise. Whether you're in the NightClub, music club, or night club industry, RockON's aesthetics are captivating, brilliance is dazzling, creativity is ingenious, and appeal is delightful.
The template offers a choice between a one-page layout, multi-page layouts for music clubs or nightclubs. It's tailored for DJs, club/pub/disc owners, concert and party organizers, musicians, and gallery managers. With 6 color and 5 background pre-options, along with 2 price table options, it boasts innovation with an animated layered slider. Compatibility extends to Google fonts, Font Awesome & Flat Icons, and all browsers.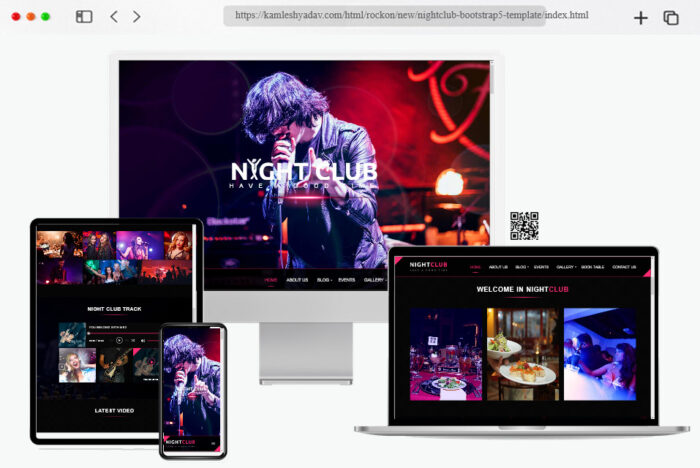 More info / download Demo