Looking to create a compelling online learning platform? Our latest blog post introduces a collection of top-notch Online Courses Website Templates that cater to educators, trainers, and organizations eager to offer engaging e-learning experiences. Discover customizable templates that seamlessly integrate course listings, user profiles, interactive quizzes, and more. Whether you're a teacher, institution, or entrepreneur aiming to educate, this blog post guides you through a range of responsive, user-friendly templates that simplify the process of building your online education hub. Elevate your teaching game with these templates designed for success in the virtual classroom.
Edura
The Edura Online Learning & Education Template offers a distinctive and appealing design ideal for establishing an impressive online presence. With four diverse homepage demos and 26+ meticulously designed HTML pages, this template provides easily customizable blocks to meet your requirements. Perfect for crafting unique educational websites, Edura is a versatile solution that combines aesthetics and functionality seamlessly.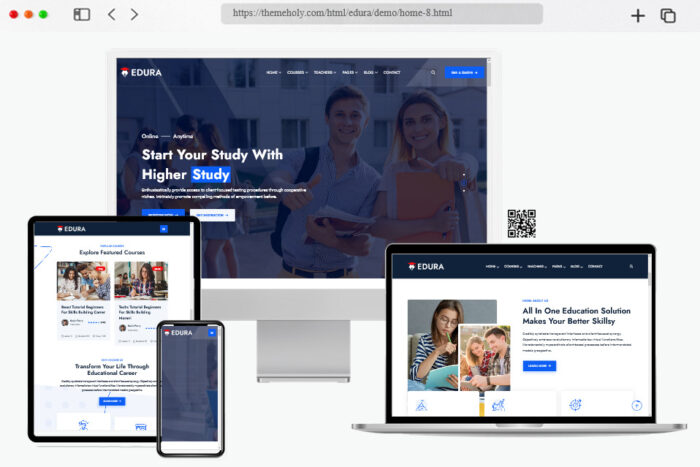 More info / download Demo
Educrat
Educrat is a professional LMS Online Courses & Education NextJS Template, designed for education institutions like schools, colleges, universities, and online learning platforms. With NextJS and Bootstrap 5.x, it offers a range of features including 75+ pages, 10 unique homepages, course and event pages, dynamic menu and filtering, and various styles for courses, events, instructors, and more. This template provides a comprehensive solution for creating an efficient and appealing online education website.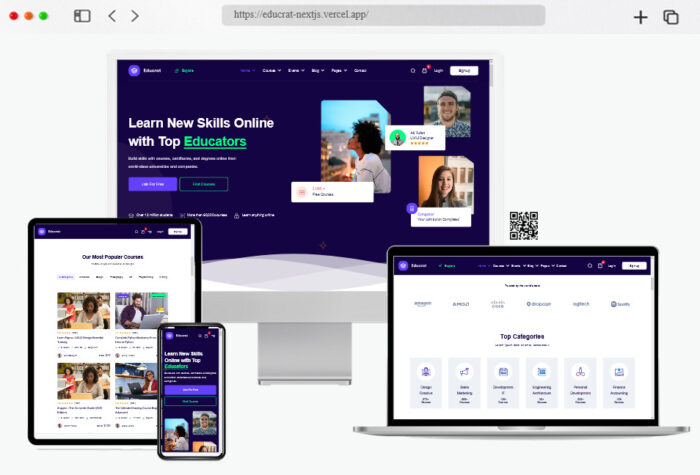 More info / download Demo
Edurock
Edurock Education & LMS Bootstrap 5 template is a top choice for creating a remarkable online education experience. With its responsive design and focus on user engagement, this template is perfect for educational institutions, including universities, colleges, schools, and more. It's built with Bootstrap 5 and offers a range of features like 20+ unique homepage demos, 100+ carefully designed HTML pages, and compatibility with various educational aspects like machine learning, artificial intelligence, learning management systems, and even eCommerce. This template empowers you to create a tailored and outstanding educational website that stands out from the rest.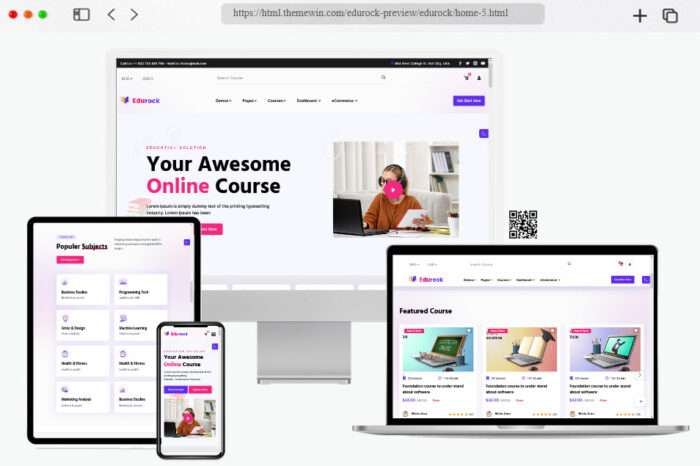 More info / download Demo
Eduvalt
Eduvalt is a dedicated Online Courses & Education Template designed specifically for websites related to e-Learning, universities, online courses, motivation, photography, schools, kindergartens, and distance learning institutions. This template offers a seamless way to kickstart your website creation process. Built with Bootstrap 5x, HTML5, CSS3, and jQuery, Eduvalt incorporates modern technologies to ensure optimal responsiveness and compatibility across various devices and browsers. With its well-structured design and commented HTML code, you can easily customize and adapt the template to meet your unique needs and preferences, making it an ideal choice for building a comprehensive online education platform.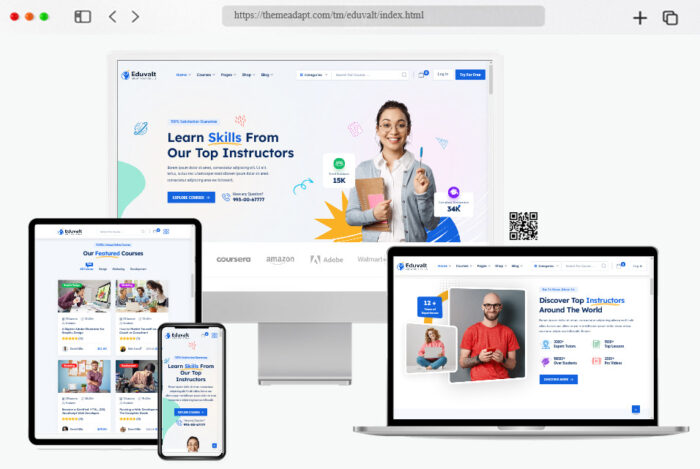 More info / download Demo
Toledo
Oledo is a pristine and responsive Angular template specifically crafted for Online Courses and Education platforms. Tailored for modern virtual coaching, learning initiatives, and edtech startups, it's an ideal choice for those offering online courses, live coaching, and training. With over 28 pages, this template boasts the latest in technology with Angular 16, TypeScript, and Bootstrap 5.3 at its core, ensuring a robust foundation. A standout feature is its absence of jQuery dependency, streamlining site speed and responsiveness. To cater to a global audience, an RTL version is included for languages like Arabic and Hebrew. Moreover, Oledo pays heed to the digital landscape's demands, being SEO optimized, W3 validated, and possessing a creative, yet lightweight layout for optimal user experience.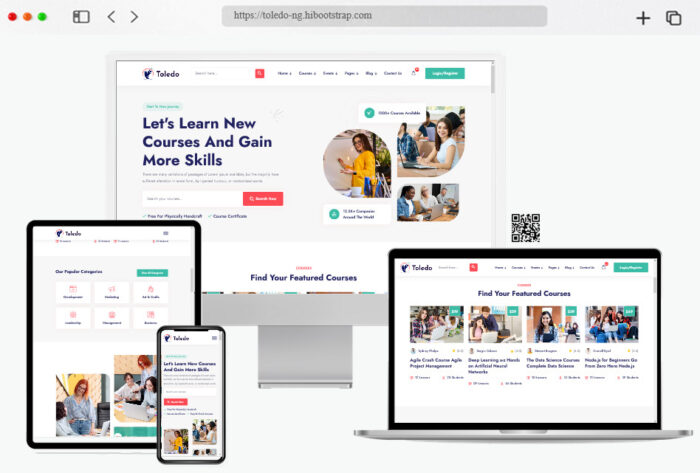 More info / download Demo
Collab
The Collab HTML Template shines as a radiant choice, purposefully tailored for online learning platforms, online schools, and educational websites with a focus on subjects like programming, marketing, and data science. Its feature-rich offering encompasses 2 distinct Home pages, Course lists and grids, Course details, Event pages, Mentor profiles, and dedicated blog sections. Drawing from the latest design trends, the template presents a visually captivating and contemporary interface.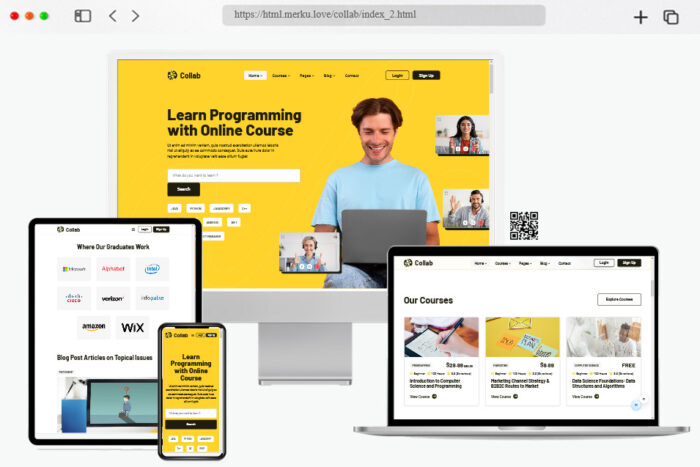 More info / download Demo
HiStudy
Histudy is a dedicated template designed for Learning Management Systems (LMS). Whether your platform operates online or offline, Histudy is tailored for e-Learning, Course Schools, Online Schools, and Online Courses. This template offers a comprehensive package including dashboard, inner, and detailed pages for a complete online education center and LMS. It's the perfect solution to efficiently manage and present courses and educational content, making it a valuable resource for educators and learners alike.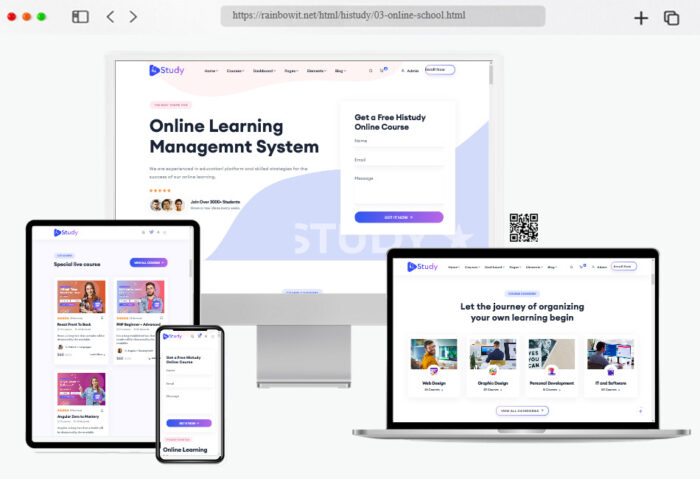 More info / download Demo
DreamsLMS
DreamsLMS stands out as a top-tier Learning Management System (LMS) platform. It offers a comprehensive range of features, including pre-designed templates for online courses and educational content, aimed at enhancing your e-learning proficiency. This versatile template serves as a hub for both online and blended learning, tailored to suit various educational websites like online schools, colleges, and universities. Its visually appealing design complements captivating educational material, providing an engaging and effective learning experience.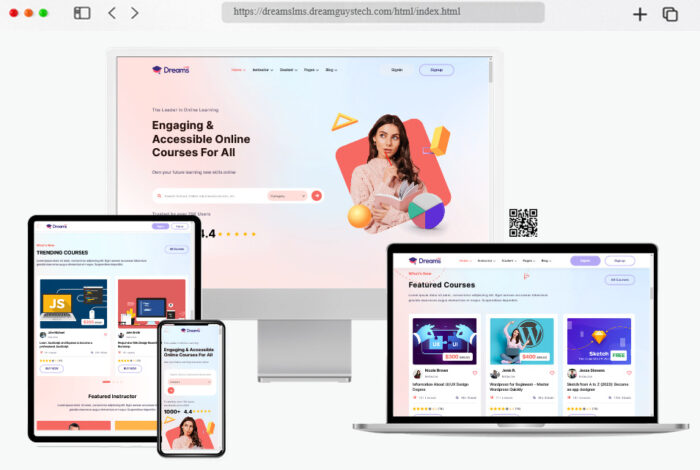 More info / download Demo
Educrat
Elevate your e-learning endeavors with Educrat, an impressive LMS template tailored for online courses, education, and LMS platforms. With over 72 meticulously crafted and organized HTML files, Educrat is the ideal choice to jumpstart your LMS project. Seamlessly adjust colors and layouts or use it as a robust foundation to develop your LMS application. Boasting a blend of sleek aesthetics, vibrant color palettes, and precise page layouts, this remarkable LMS template is not only forward-looking but also feature-packed.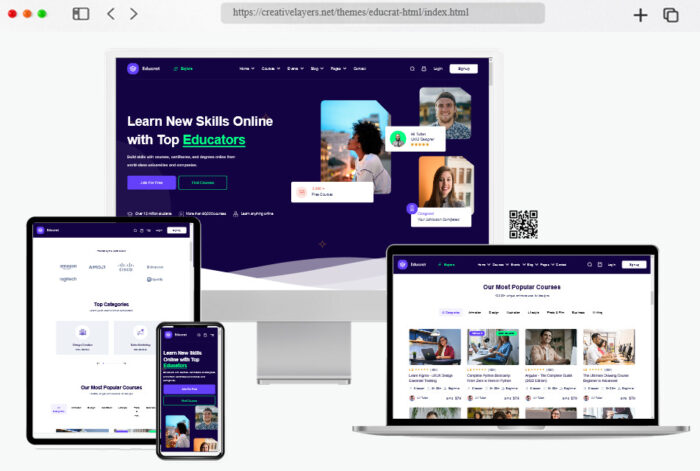 More info / download Demo
Odemy
Odemy stands as a contemporary Angular template meticulously crafted to serve the specific needs of online training and educational ventures. It caters seamlessly to a range of entities, including educational institutions, online course facilitators, learning management systems, and more. Developed using Angular, Bootstrap, and Sass, the template combines cutting-edge technology with thoughtful design. Its purposeful construction makes it an excellent fit for websites centered around online education, training, and e-learning initiatives.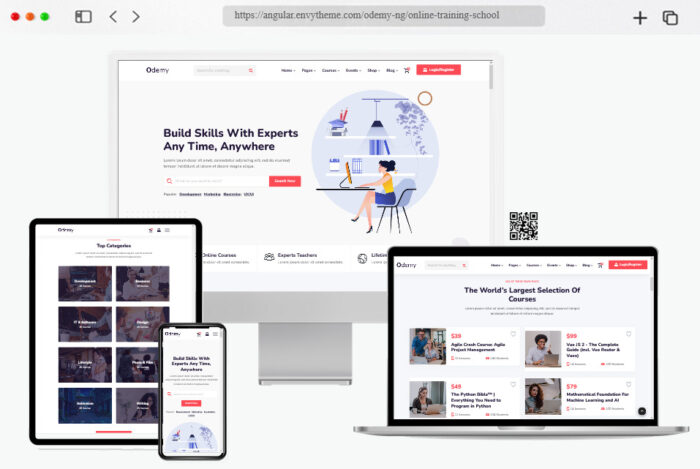 More info / download Demo