Today I'm going to share with you some of the best online courses WordPress themes and plugins. Before I get started, I want to let you know that this post contains affiliate links. If you click on these links and decide to purchase these items, I'll be paid a small commission for sending you over.
Related Article
Acadu
The Acadu Online Education and Learning WordPress Theme has a beautiful and unique design that will work best for your online web presence. This WordPress theme comes with four different Home page demos and 17+ carefully designed inner page blocks that are easy to edit and change to suit your needs. WordPress Theme is a great way to make educational websites that are one of a kind.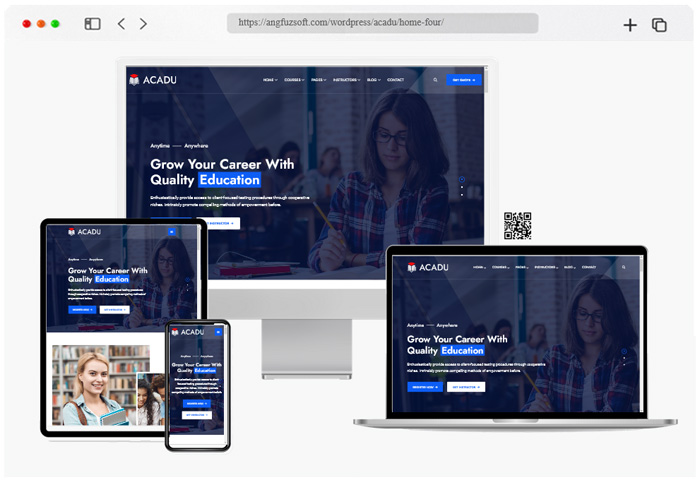 More info / download Demo
Educrat
Educrat Education WordPress Theme For online learning training that was made especially for online learning business websites. It has important features like course post type and course search, which let students look for courses.
Educrat is the best choice if you want a great education WordPress theme that can help you build a great website and has dozens of features and demos to choose from.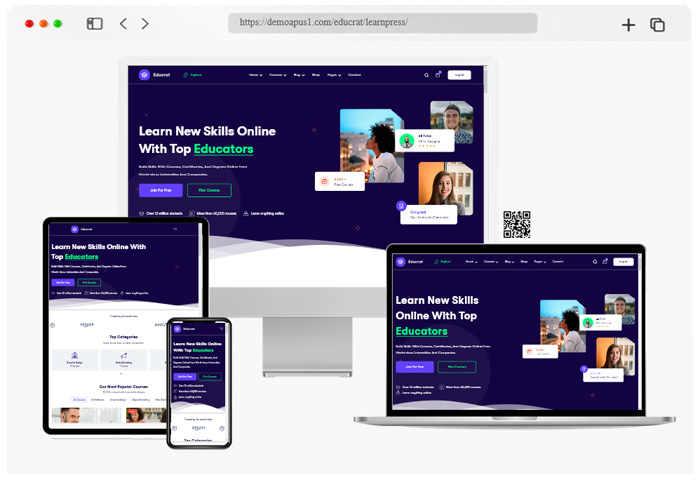 More info / download Demo
Echooling
Echooling is a clean, modern and unique WordPress theme which is a beautiful design and unique features. It will be best suitable for your website for educational purposes and your courses like online course, university, school, blog, academy, course, education, education center , HTML Education, Tuition, Tutoring, Business, Events, Institute, Learning, Teacher and much more. Continued. It comes with high quality 03 Prebuild home pages and many awesome inner pages like course pages, event pages, team pages, testimonial pages, multiple blog layouts , etc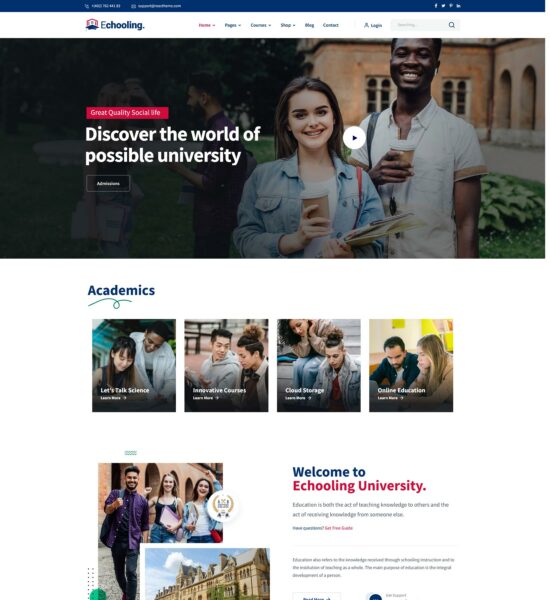 More info / download Demo
Etreeks
Etreeks is a solution that gives you a responsive, modern and professional WordPress page pack for coaching institutes, training centers, schools. It's basically getting ready to help your online courses, education, coaching, or support or landing page marketing projects. This theme has a clean structure, professional design and SEO friendly code that will make your website search engine friendly.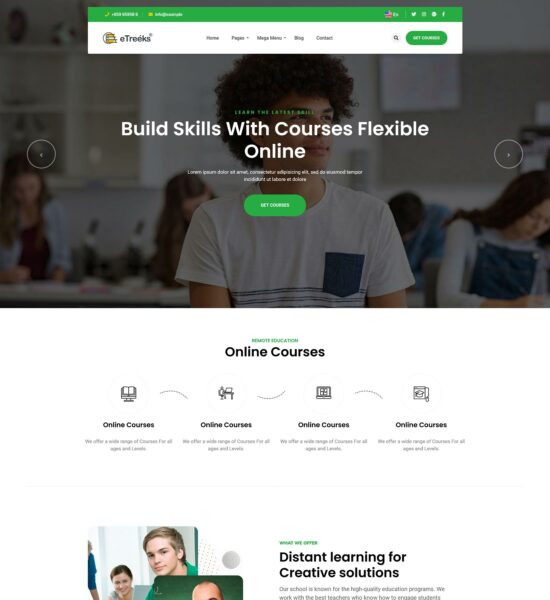 More info / download Demo
Ellen
Ellen is a new modern WordPress theme specially designed and built for online training and education websites! It is ideal for educational institutions, online course providers, online training, learning management, teachers, e-learning, instructors, kindergartens, tutors, courses, online courses, colleges, universities, schools, etc. The theme is built with Tutor LMS, Elementor, course builder, ACF Pro, Redux, theme options Bootstrap and CSS.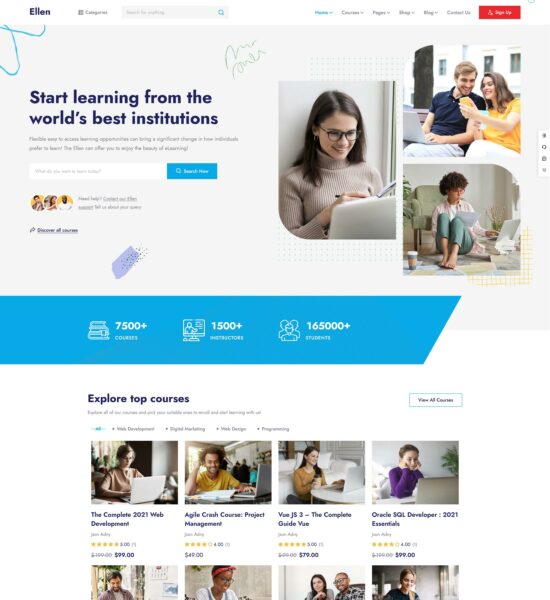 More info / download Demo
Avarton
Fully responsive, unique and modern WordPress theme from Avarton. This WordPress theme can be used for Coaching: Business Coaching, Life Coaching, Health and Wellness Coaching, Fitness Coaching, Executive Coaching, Team Coaching, Leadership Coaching, Career and Goal Coaching, Coaching Systemic Coaching, Relationship and Dating Coaching, Family Coaching, Financial Coaching, Spiritual Coaching, Parental Coaching, Communication Coaching, Creative Coaching, Image Coaching and Retirement Coaching.
More info / download Demo
Educal
Educal is a minimalist and contemporary WordPress theme that has been perfectly designed for educational centers of all kinds. Designed with your school, college, university or training center in mind, this educational WordPress theme includes everything you need for a complete online education center and LMS. Educal uses Tutor, the most popular WordPress LMS plugin because it is packed with great features for your education center, online courses, or tutorial website, but it is also very easy to use.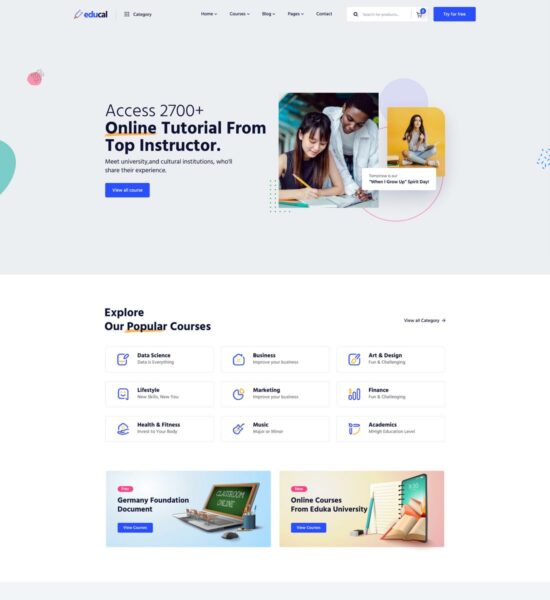 More info / download Demo
Skola
Skola is a learning management system WordPress theme. It is designed for the LearnPress plugin, which is the most popular Learning Management System plugin for WordPress. With Skola and LearnPress, you can create and manage courses, sections, lessons, quizzes, and questions for quizzes.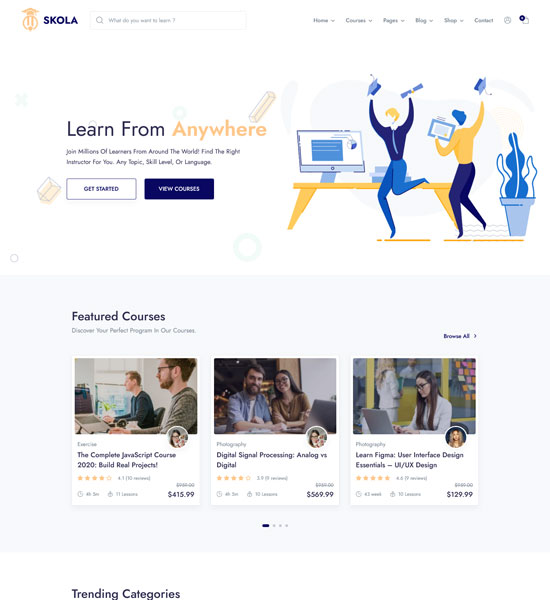 More info / download Demo
Wellco
Wellco is a WordPress theme for coaches who offer online courses. It can be used by any life coach, speaker, mentor, teacher, consultant, tutor, etc. Wellco is the theme you need to get all the important pages on your website up and running. It has three demos for online trainers courses that are beautiful and interesting.
All of these demos can be fully set up with a single click in 5–10 minutes. In WordPress, Wellco comes with the Elementor page builder. With the newest web technologies, user-friendly features, and the most beautiful design trends.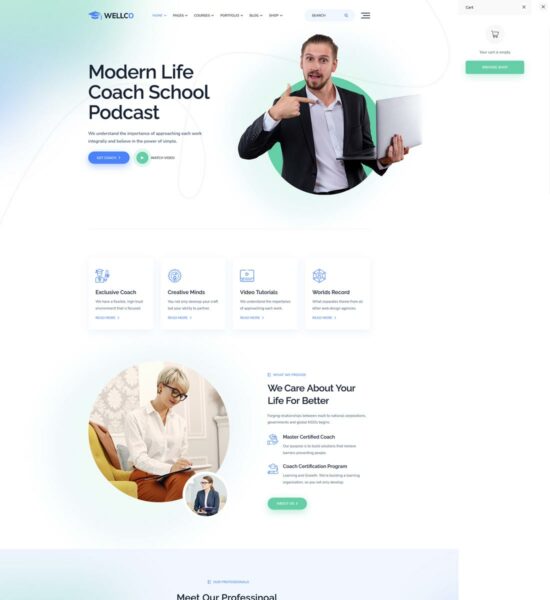 More info / download Demo
Omexo
Omexo is a new WordPress theme for learning management systems (LMS). It can be used to sell online courses, e-learning or any other educational institute.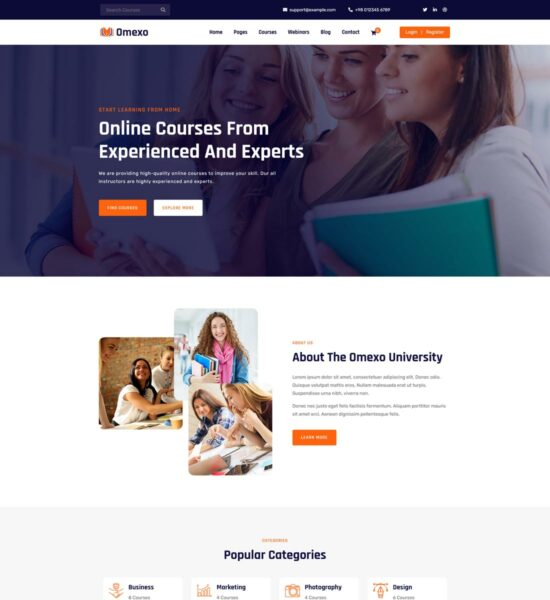 More info / download Demo
Educam
Online Education Courses from Educam WordPress Theme made especially for LMS Online Courses and others. This theme has all the necessary pages for an online store that are WooCommerce-ready. So that you can sell and rent your courses, books, private lessons, and other educational products.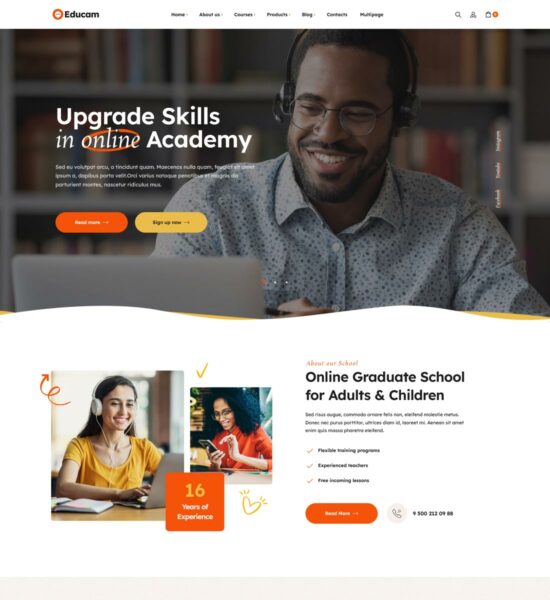 More info / download Demo
Learnify
Learnify is an educational WordPress theme that is beautiful, modern, and attractive. It was made for both online and offline schools. It works for kindergarten, elementary school, middle school, high school, and college. Also for college, university, academy, informal learning, or institute.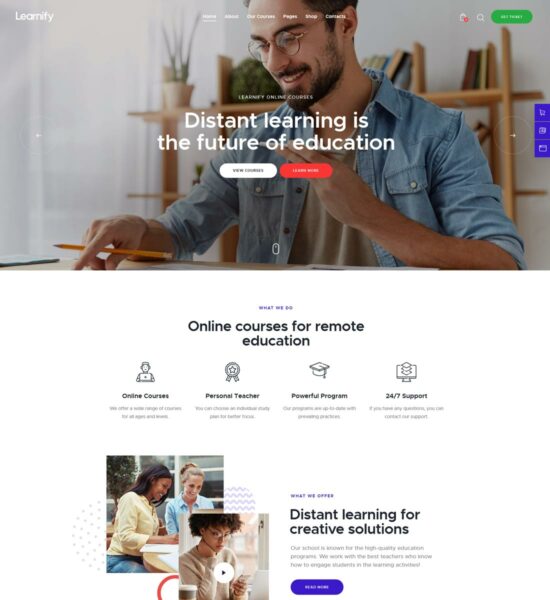 More info / download Demo
Mashura
Mashura is an educational WordPress theme that is great for online personal trainers, freelancers, and people who want to publish online courses. Mashura is made to be modern and useful. There are four different portfolio page layouts in the theme pack to help you make your website look good.
Since this topic is about education, it may work better for people who want to post online courses.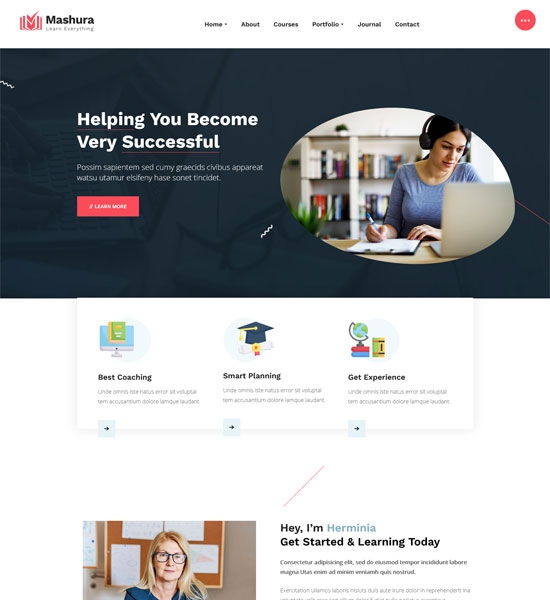 More info / download Demo
EduBee
EduBee is an e-learning WordPress theme with a strong and customizable framework that uses Elementor and LearnPress to make an engaging and interactive e-learning LMS website. You can start your own e-learning portal in minutes with EduBee's LMS demos and wide range of online course structures.
With the EduBee LMS WordPress theme, you can sell custom online courses and teach students online.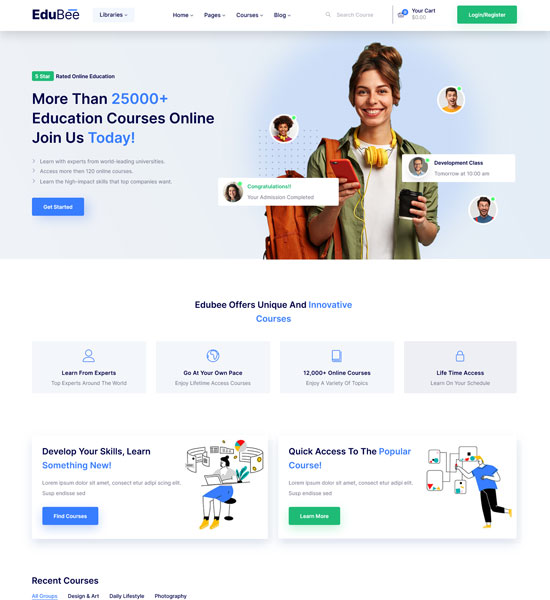 More info / download Demo
MiCoach
MiCoach is an online course theme for any school, academy, tuition center, language, eLearning, LMS, or other online education learning company, company, or platform. MiCoach has a ton of features, blocks, and elements that give your users the freedom to make a dynamic, professional website quickly.
It looks great on all types of screens and devices and is 100% responsive. Micoach is a better way to introduce and promote your new business or to improve the website for your agency.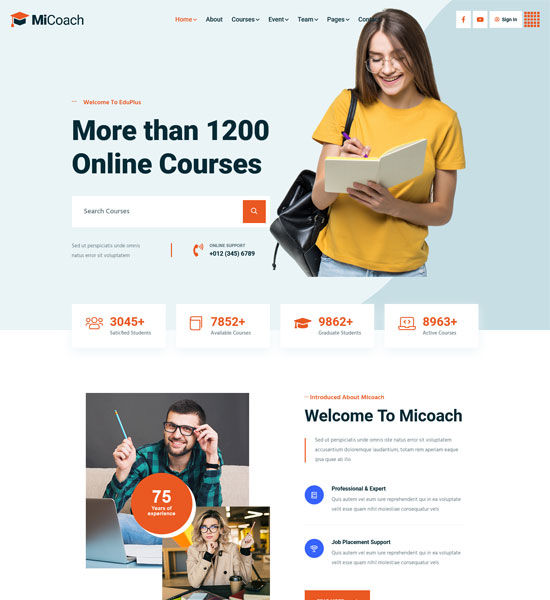 More info / download Demo
InPoint
Inpoint is Coach Courses WordPress theme for Instagram SMM specialists with 1-click install, 3 landing pages, a simple drag and drop page builder, animated sliders creator.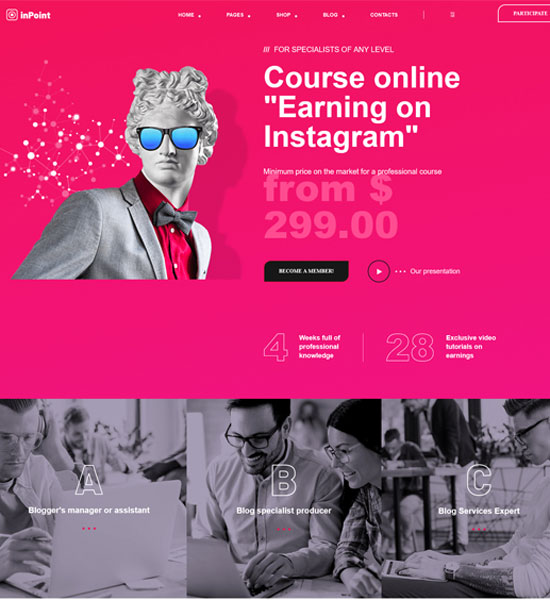 More info / download Demo
Emeritus
Emeritus is a modern theme for education websites and online courses that includes a learning management system. It can help you do better in school. We have elements and functions for universities, colleges, academies, and anyone else who wants to make an online learning platform in a professional way that is easy to use.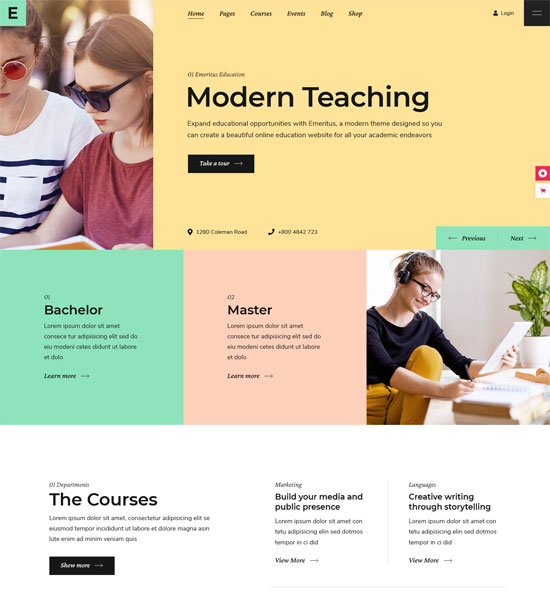 More info / download Demo
Leadership
The Leadership WordPress theme is for a business, life, feminine, and health coach. It is fully SEO-optimized, has a great design, and comes with 6 months of support. Leadership WP Theme is perfect for all kinds of training, conferences, courses, and workshops, both online and in person. It should work to promote coaching and any other kind of professional service.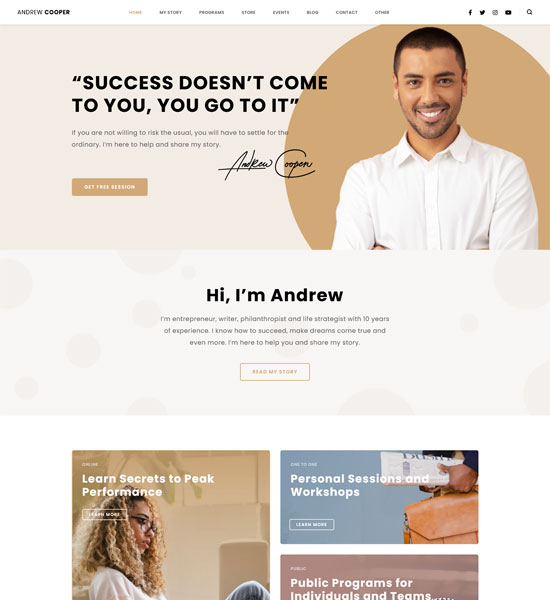 More info / download Demo
Koacher
Koacher is a beautiful WordPress theme for making a personal website for online education and training. By using flexible page builders, predefined layouts, powerful custom widgets, and useful features, Koacher proves to be the best helper for building an online portal for distance education, offering individualized tutoring and teaching/learning any subject from home.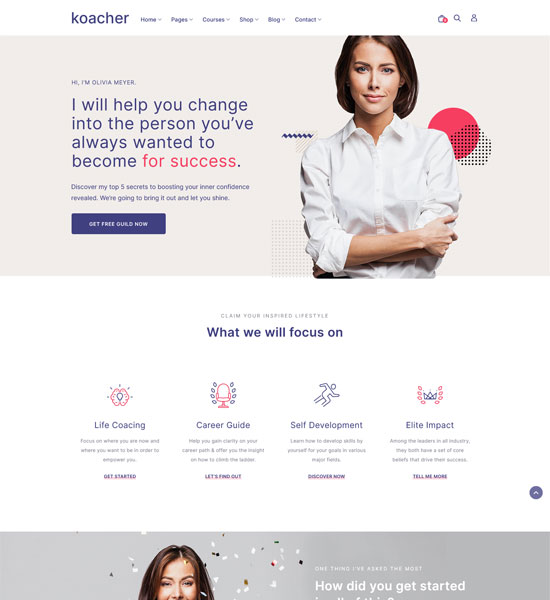 More info / download Demo
MrSkillz
MrSkillz is an IT online courses WordPress theme suitable for training and education companies with 1-click installation, 8 landing pages, 10 course pages, a simple drag and drop page builder, a slider builder animated.
More info / download Demo
Jost
Jost is a well-made WordPress theme made for online education and training. It can be used for any kind of education, such as educational institutes, online course providers.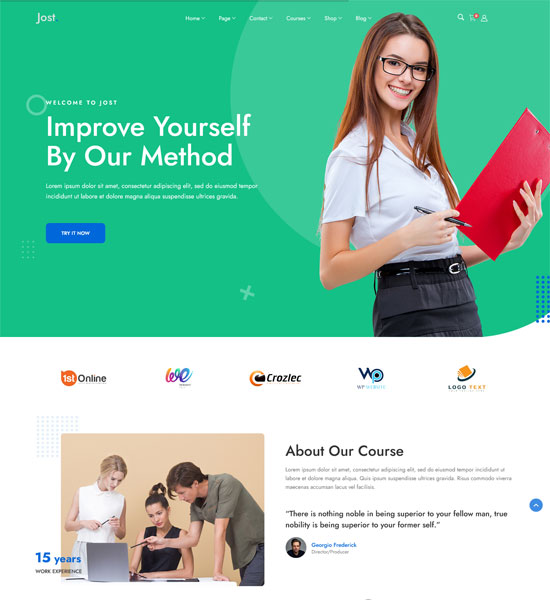 More info / download Demo
Educavo
Educavo is an educational WordPress LMS theme that is up-to-date and in style. This theme is great for selling online courses at a university, college or any other kind of educational institution. It comes with 14 high-quality homepages that are already built and a lot of built-in awesome internals like course pages, teacher pages, multiple blog layouts, etc.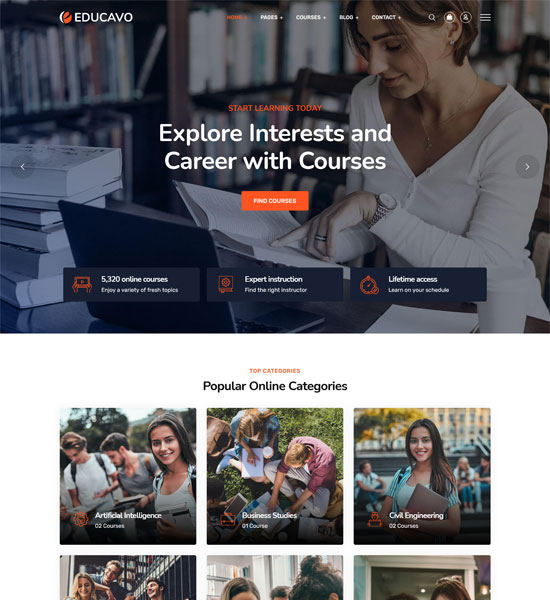 More info / download Demo
Dolife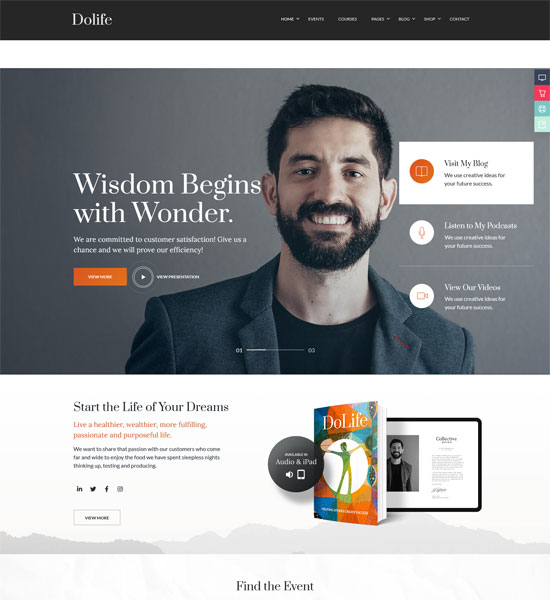 More info / download Demo
Edulogy
Edulogy is a very clean, elegant, modern, and functional Learning Management WordPress theme. Edulogy works well with the LearnPress plugin and is a great choice for websites that teach people how to do things online, as well as for online courses and education.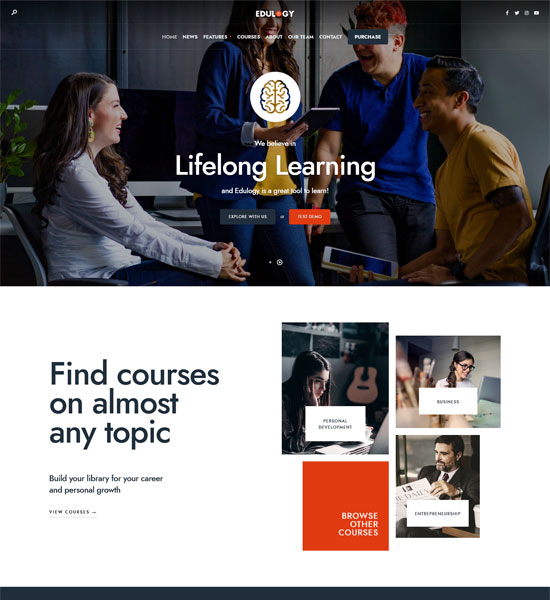 More info / download Demo
eCademy
eCademy is a modern WordPress theme that was made specifically for online education and training.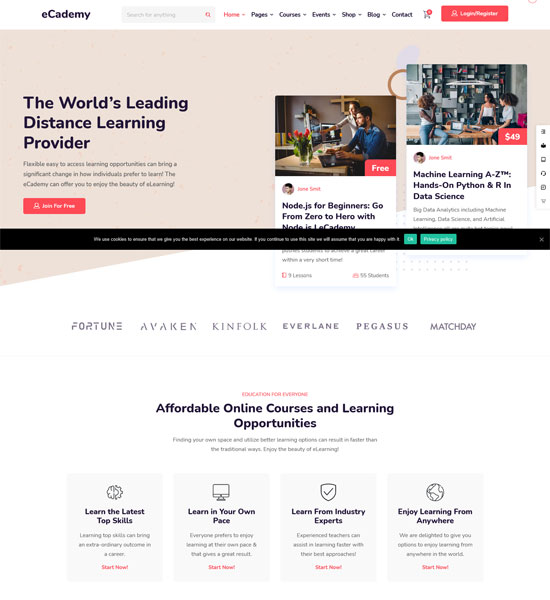 More info / download Demo