If you're looking for an high quality organic or food-themed WordPress theme, you've come to the right place. Here at our site, we have a wide selection of themes to choose from, all of which are designed to give your website a professional, polished look.
Whether you're running a small farm or a large restaurant, we have a theme that's perfect for you. And best of all, our themes are affordable, so you can get the perfect look for your website without breaking the bank. So take a look around and find the perfect organic or food WordPress theme for your website today.
Related Article
Vecna
We created the really beautiful eCommerce theme Vecna for all beauty websites and cosmetics stores. Along with complete WooCommerce compatibility, you have access to a lovely collection of store page templates and components.
Look no further if you want to construct a stunning beauty or cosmetics business website. This higher level of design is made possible by the abundance of widgets, effects, and templates available on the free page builder.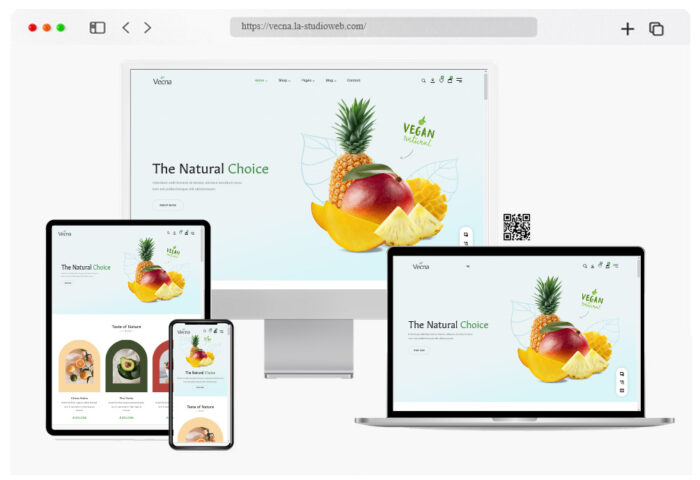 More info / download Demo
Nest
WooCommerce is a powerful and extensible e-commerce plugin that is compatible with Nest. It is now much simpler for you to create a striking online store thanks to our selection of ready-to-use shop layouts.
You acquire a lifetime of upgrades when you buy a Nest. You will have unlimited access to download new demonstrations, sites, and features. Please return often as we are always updating and adding to our theme.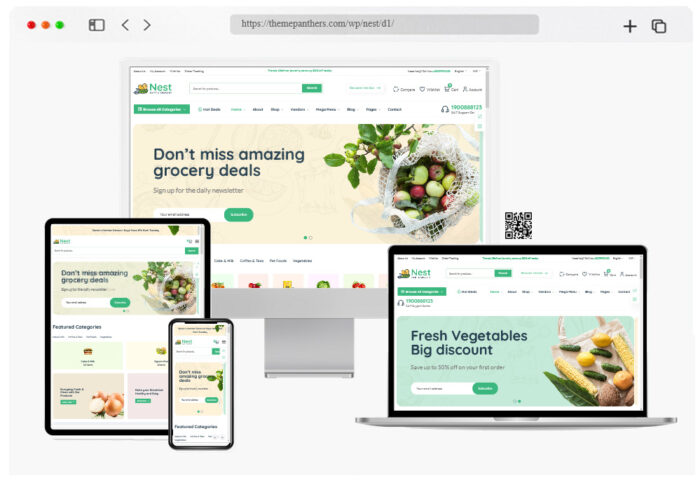 More info / download Demo
Agricola
For convenience and functionality, the fully featured theme comes with a selection of strong shortcodes and widgets. Elementor, a premium drag and drop page builder, streamlines and expedites the customizing process.
The responsive design theme is totally responsive and Retina ready, and it includes an easy-to-use visual interface and informative layout that look great on any device. Building an online store for organic food shouldn't be difficult since we included the WooCommerce plugin with complete shop design integration.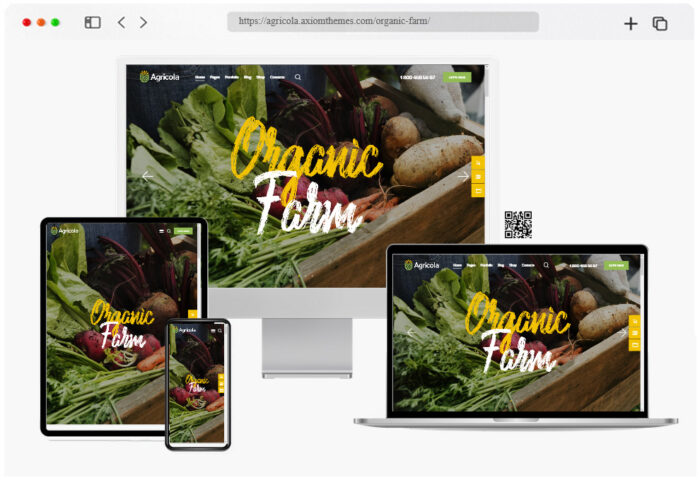 More info / download Demo
Edibles
The Edibles WooCommerce theme for an organic food store is neat, contemporary, and responsive. The theme was developed using a mobile-friendly approach, so it can look fantastic on any platform, including desktop, tablet, or phone.
Design of Edibles is good. Suitable for grocery stores, supermarkets, organic food retailers, and other food-related businesses. The Edibles theme has been created with a focus on usability and current design so that your consumers can shop in style.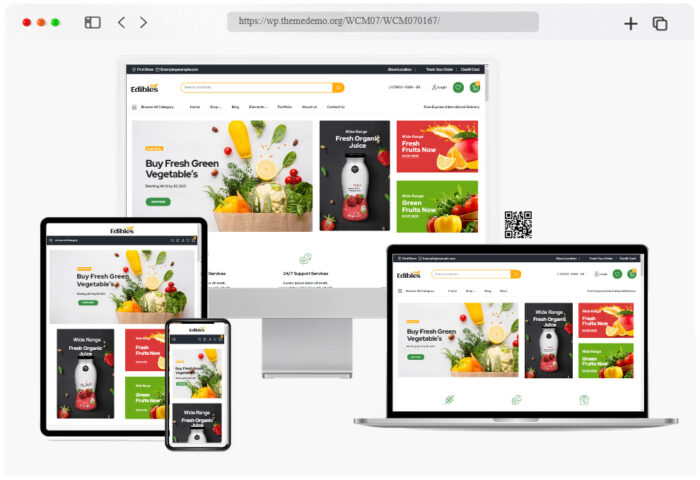 More info / download Demo
Akola
Akola by Wpbingo is a solid WordPress theme for Organic & Food WooCommerce stores. Since Akola is built on the Elementor plugin, changing the appearance and feel of the website is as simple as dragging and dropping various pieces.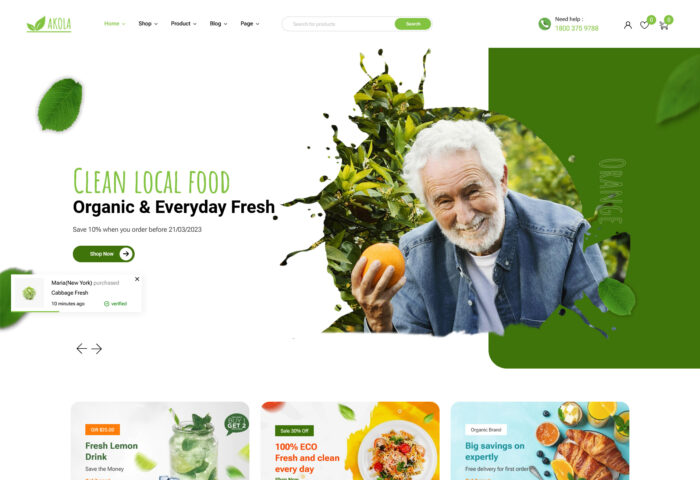 More info / download Demo
Ferme
Farm is a clean and modern e-commerce multipurpose WordPress theme that has all the features needed for farms, food stores, grocery stores, or any other type of store or business website in the agricultural sector. Along with being fully compatible with WooCommerce, this theme comes with a beautiful set of shop pages and product layouts. It is also fully compatible with Elementor and Elementor Pro.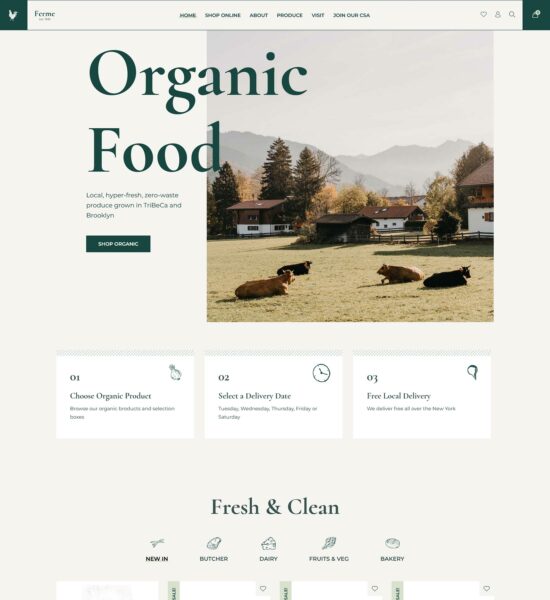 More info / download Demo
Organia
Organia is a WordPress theme made for online stores that sell organic food. It will be a great choice for a grocery store or food delivery. Modern customers often buy goods and services online, so having a website will help you get more customers and make more money.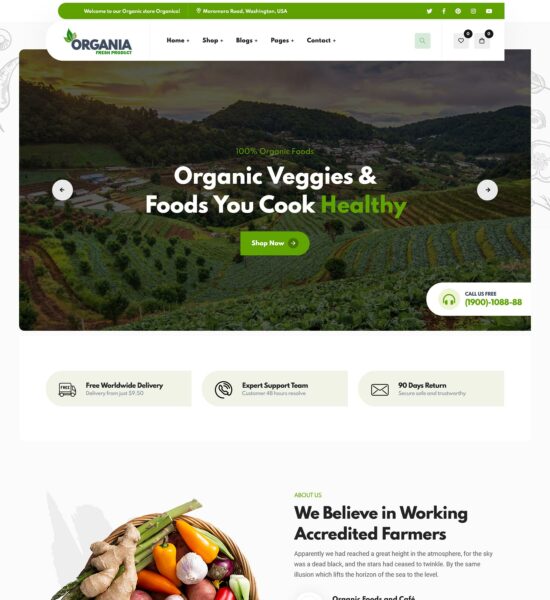 More info / download Demo
Grano
Grano is a great modern design theme for WordPress. This theme was made especially for the organic food, organic shop, and organic farm industries. It is clean, modern, and flexible. Grano Organic Food is a WordPress theme that makes your food store look beautiful, professional, and easy to change on other devices.
Grano is a theme that is easy to install with just a few clicks of the mouse. It gives customers a lot of interesting things to do. The product categories and links to the blog, a special page, and an article with beautiful images and text are shown in both a vertical and a horizontal mega menu.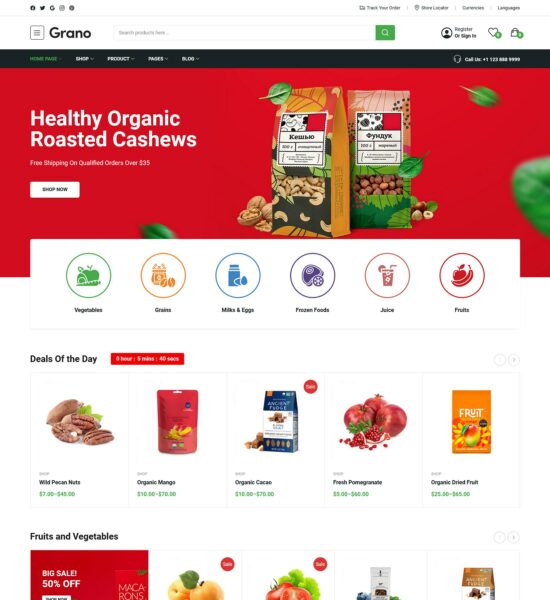 More info / download Demo
Amino
The Amino WordPress theme is for organic and food stores and will be a great choice to make your store stand out from the crowd. This organic theme supports all devices and browsers. As a result, your website visitors can have the same experience even when viewing any screen resolution on different browsers.
This amazing natural organic theme included 4 different homepage demos for you to choose from. The design that creates a fresh feeling of a natural food store will catch the first eye of your customers.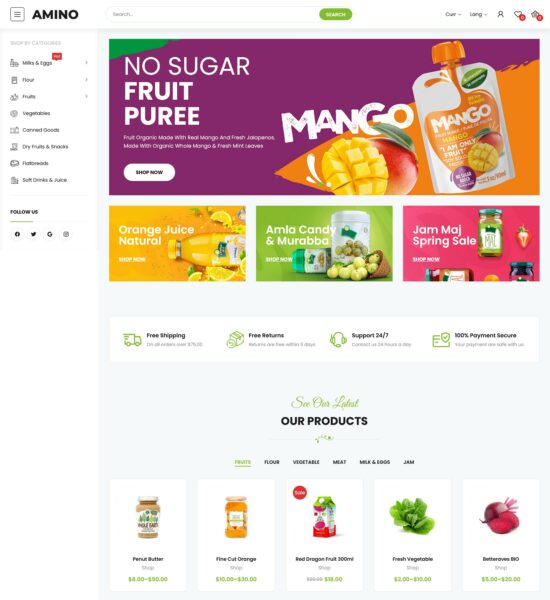 More info / download Demo
Bottanika
Experience the genuine taste of nature! Welcome to Bottanika, a theme specially designed for organic food, organic food stores, organic farms and all those who want to adopt a greener lifestyle. Bottanika comes with a perfect selection of appetizing store items for your organic store, food market, dairy farm, supermarket or grocery store, full Elementor Page Builder compatibility, and much more. You also get flavor templates designed for contemporary agriculture, food producer, agritourism, honey producer, health food, and vegetable store websites.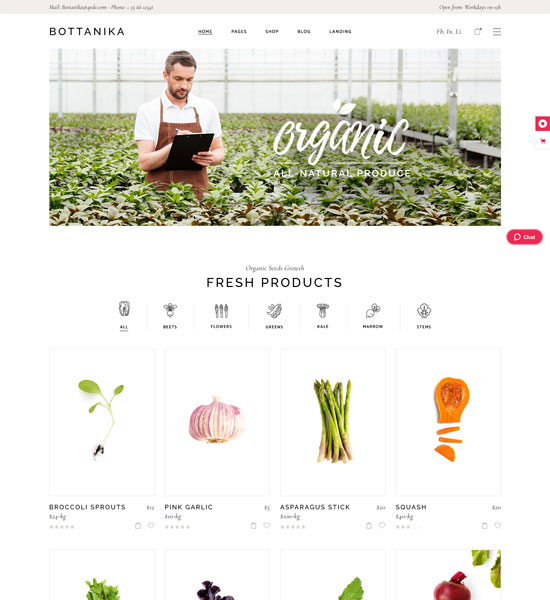 More info / download Demo
Econis
Econis by Wpbingo is a solid WP theme for WooCommerce food and organic stores. Use the latest version of Bootstrap as your backend framework, and you will easily find this awesome theme design suitable for your store. However, it also highlights how certain web components. A Design that integrates components to highlight special products.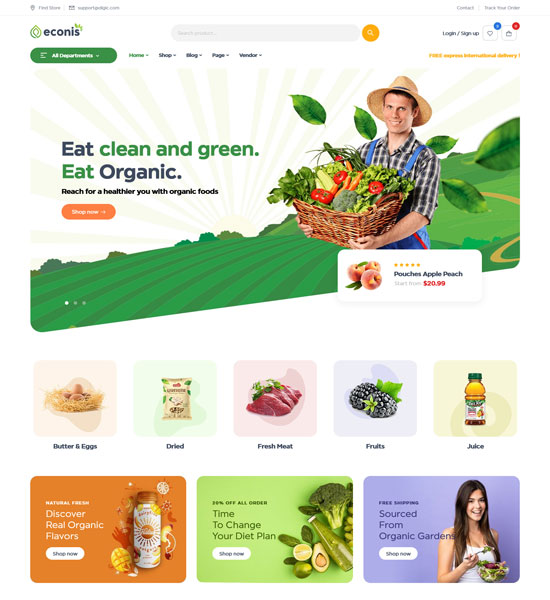 More info / download Demo
Organio
Organio is a beautiful, modern and responsive organic food store WordPress theme. Organio fits perfectly with any natural food related website like fresh grocery store, market food, grocery market, organic ecommerce website, organic food store, organic markets, supermarkets and online grocery. In addition, it is perfect for organic products stores, fresh breads, bakeries and even natural cosmetics stores.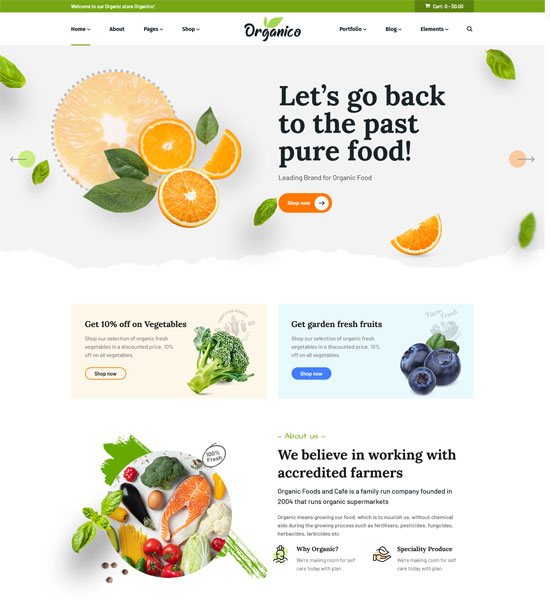 More info / download Demo
Bacola
Bacola Grocery Market and Organic Food Shop eCommerce Elementor WooCommerce WordPress Theme is what you need. This amazing theme can help you build your own grocery store, organic food store, online supermarket, woocommerce supermarket, multi-vendor supermarket, agriculture, market, multi-vendor, vegetables, food store, food business, multi-vendor, food products and food products online In hours. Thanks to the high-end and preferred components of this theme, anyone who does not even have experience in creating and managing websites can easily create their own website.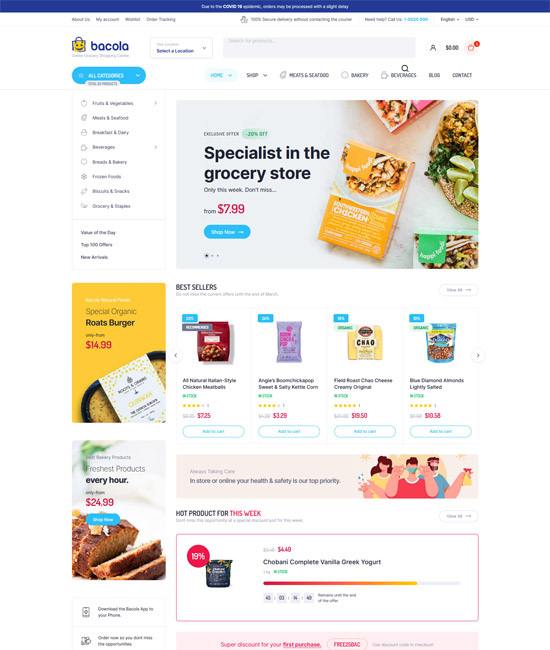 More info / download Demo
NativeFarm
Food labeled "organic" is all the rage now, and any organic farming business requires an online food store or website to deal with the organic produce, organic vegetables and fruits they grow. NativeFarm – Organic & Healthy Food WordPress Theme will be the best choice for your food store to stand out from the crowd. This brilliant organic WordPress theme includes 4 different homepage demos, so you can enjoy your choice.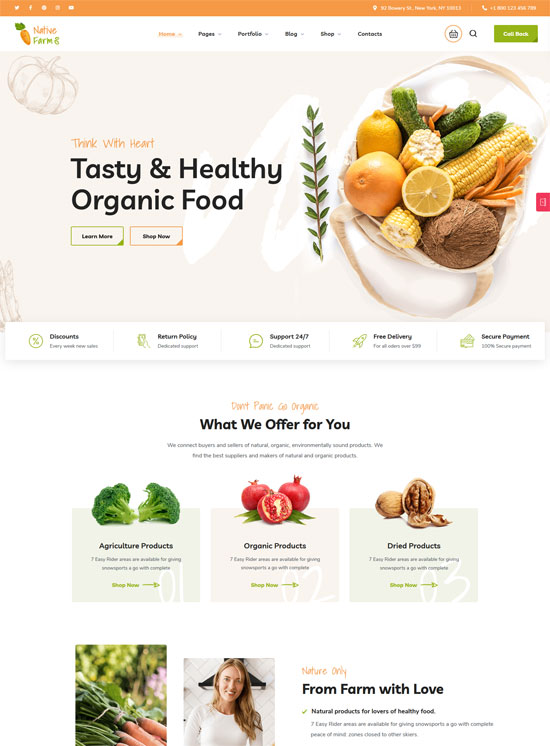 More info / download Demo
Foodsto
If you want to set up your own online grocery shop, Foodsto is the ideal theme. It is perfect for internet projects for organic and fresh produce retailers. Your website will appear fantastic on all devices if it has a simple, contemporary, and clean design.
Create a simple website for your grocery business and start selling online right away. You get a contemporary shop design, functionality, wish list, fast view, cart view, and a trendy look. An ideal theme for basic grocery shops, farmers' markets, organic producers, and other businesses.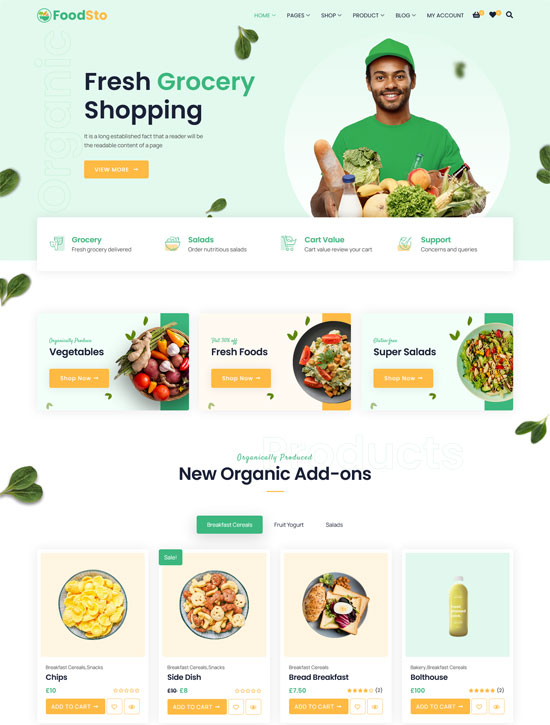 More info / download Demo
Organium
Organium WordPress Theme helps you build an online store for organic food, a healthy lifestyle, diet and nutrition, vegan products, meat, a grocery market, a fruit and vegetable store, agricultural products, and organic and natural products. People all over the world want to eat food that is healthy and made from natural ingredients.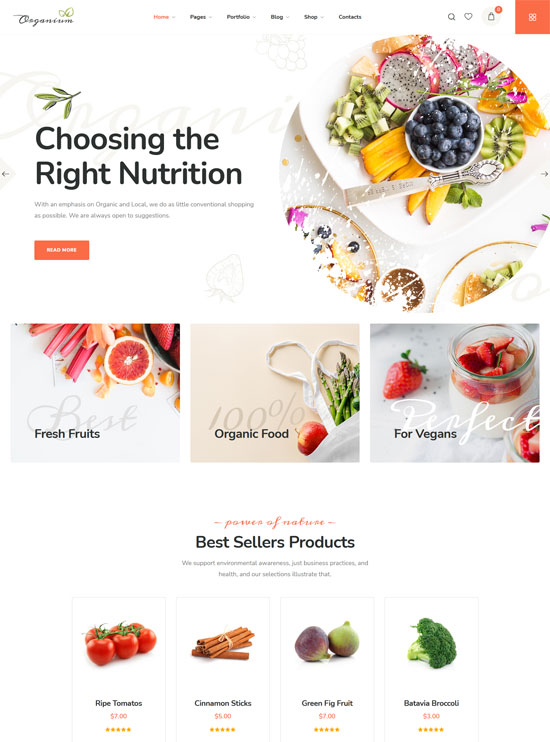 More info / download Demo
Safira
Safira is a modern, elegant and fully responsive WordPress theme, which will become the best solution for your online food stores such as: organic products, fruits, vegetables, supermarket, grocery, flowers, health products, accessories or restaurant . It has 4 different versions of home page with different headings, layouts and beautiful banners.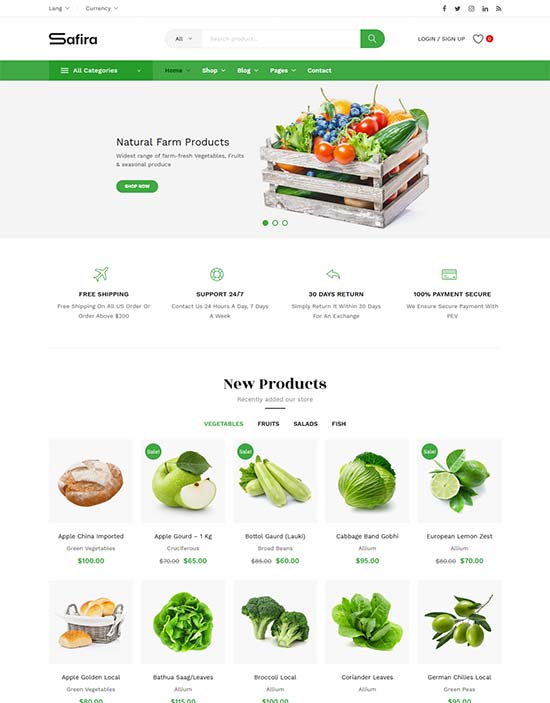 More info / download Demo
Gomoto
Gomoto Food Delivery WordPress Theme specially created for food delivery service, pizza delivery, fast food, bottled water, drinking water delivery, courier service, pizzeria, medical supplies, medical prevention, coronavirus prevention and others. Gomoto includes all the necessary WooCommerce-ready online store pages. So you can sell your food, drinks, clothes, gadgets, pizza, hamburgers, meat and fish, pills, medical supplies and other products.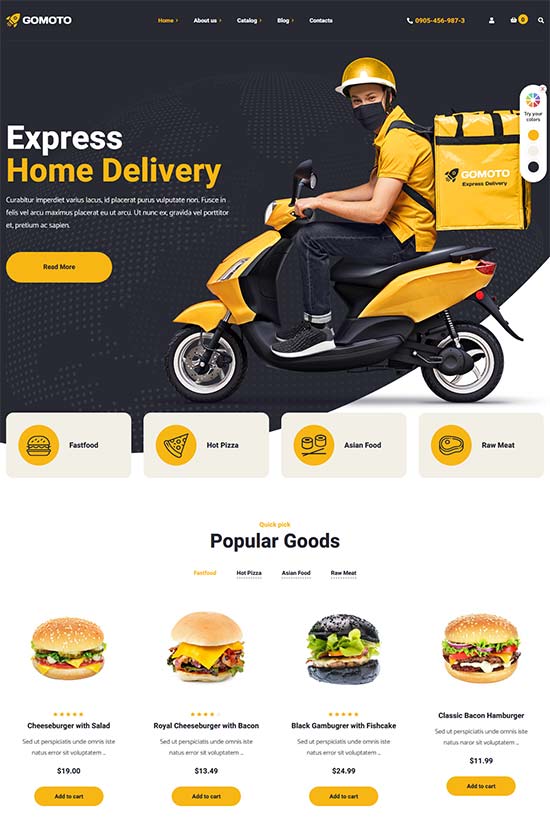 More info / download Demo
Naturally
Naturally, it is a WooCommerce online store theme based on Elementor Page Builder, versatile and clean for organic food, natural products, organic beauty, organic farming, farm and many more individual websites and d 'business. You will have a clean website with a simple appearance and powerful functionality of this theme created with Elementor Page Builder and WooCommerce. You can easily create an unlimited number of pages using ready-made blocks and widgets, without the need for coding skills and website experts.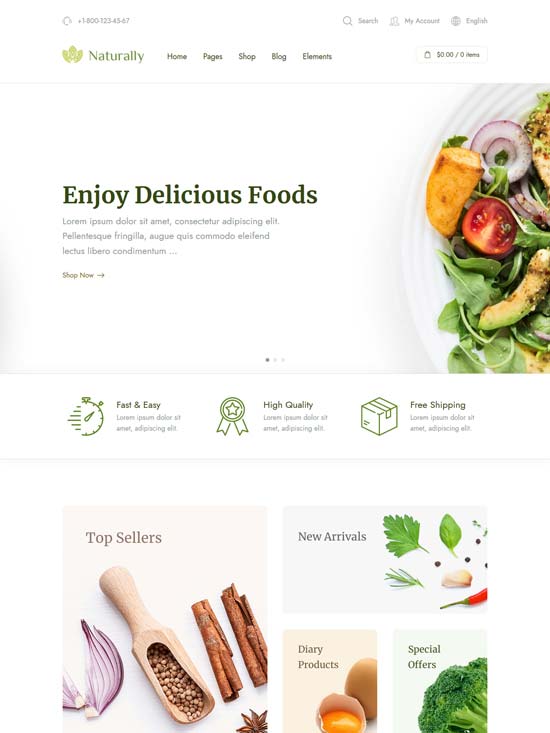 More info / download Demo
Ranna
Ranna is a beautifully clean and contemporary WordPress theme for foods and recipe blogs. We've included pre-made features and elements to give you the perfect website on which to express your passion for delicious food.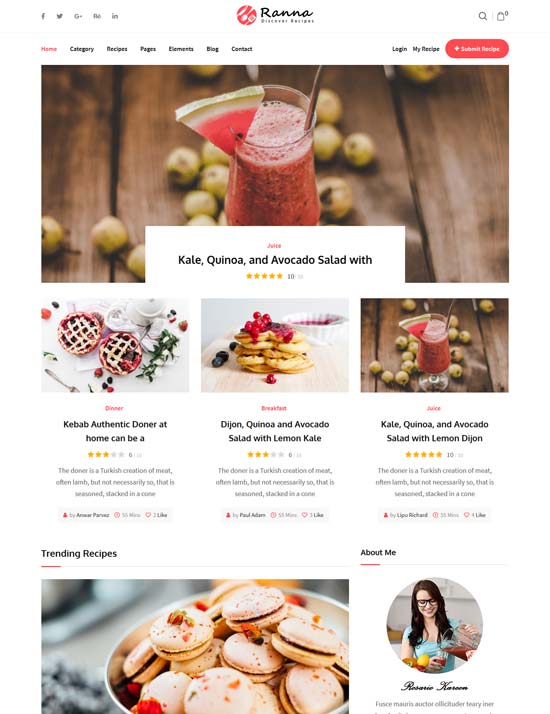 More info / download Demo
Bubulla
Bubulla Meat Farm & Store WordPress Theme created especially for Meat Farm, Seafood, Caviar Company, Food Company, Salmon Farm, Meat Food Store, Butcher Steak House, Raw Meat Shop, Pork Farm, Meat Meal and Meat Delivery. Bubulla Theme includes all the necessary pages of the WooCommerce online store ready. So that you can sell your meat, pork, beef, sausages, steaks, raw products, fish, caviar, shrimp, crab, lobster, oysters, octopus and others.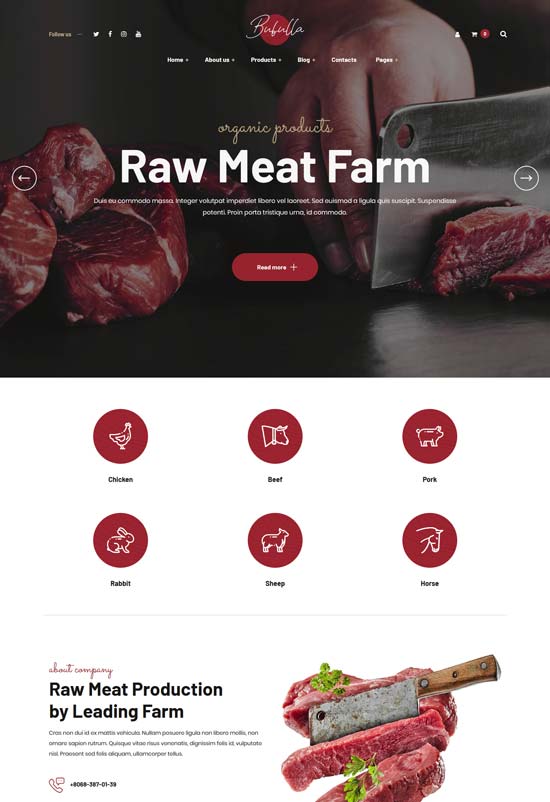 More info / download Demo
Gloreya
Gloreya Fast Food Restaurant WordPress Theme is a modern and professional restaurant WordPress theme for selling fast food, bakery, burgers, cafes, pizzerias, vegan foods. Gloreya comes with Drag and Drop Elementor Builder, Revolution Slider, Gutenberg Optimize, Woo, SASS CSS, Twitter bootstrap 4, Owl Carousel, Different Menu Styles.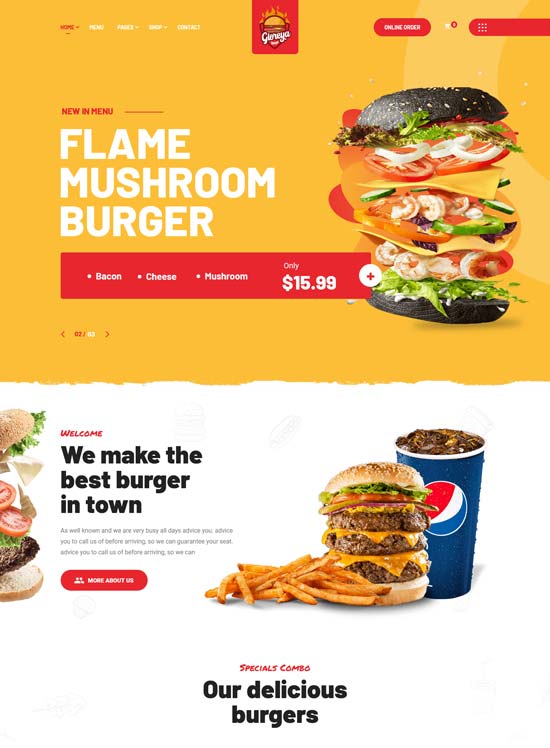 More info / download Demo
Mildhill
Mildhill is an ideal choice for all types of organic and food store websites with a modern, fresh design style and a collection of layouts that will surely cover all your needs, even if you have a farm business or a grocery store. You also have a full set of organic food store templates, all you have to do is start your organic food store website today and see your business grow.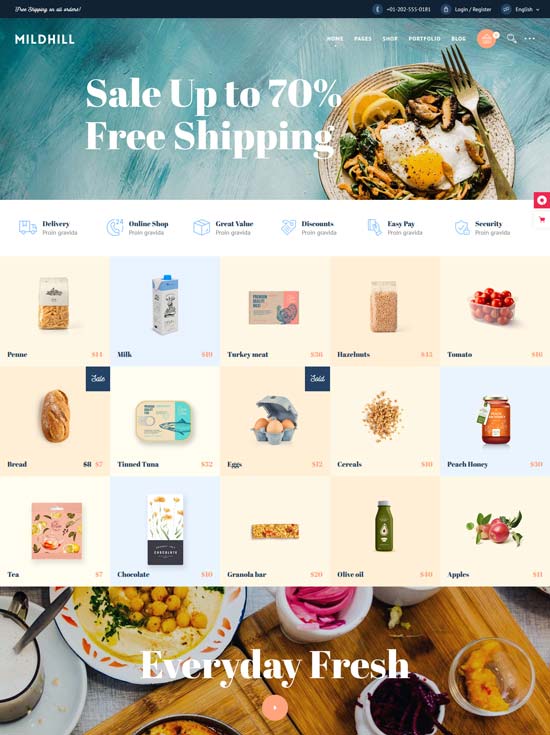 More info / download Demo
Fitmeal
Fitmeal: Nutrition and Healthy Food WordPress theme made specifically for delivery of food, healthy food, a fitness regimen, an organic food shop, and business lunch delivery. The WooCommerce online store's Fitmeal theme comes with all the essential pages prepared. This way, you may market your meals, cuisine, smoothies, juices, delivery services, and more.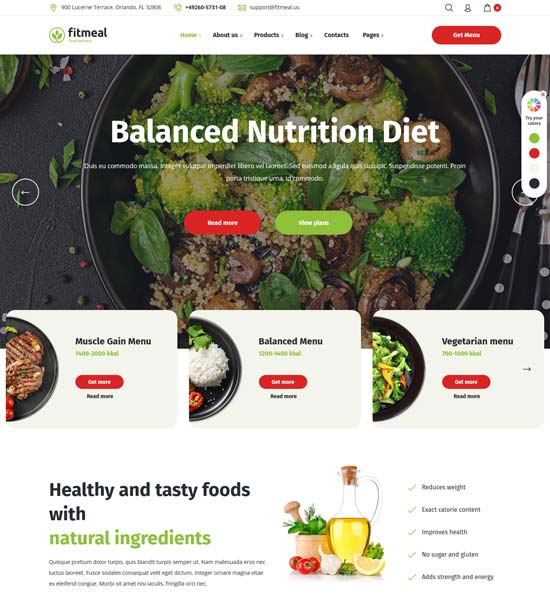 More info / download Demo
Foodmood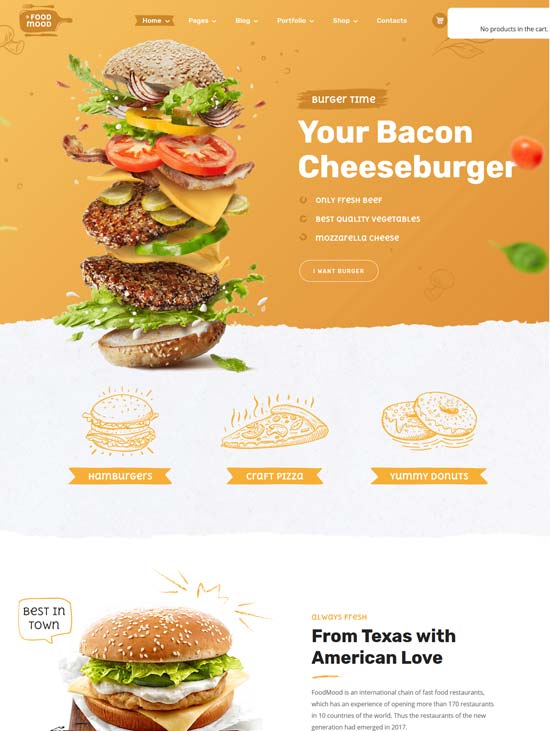 More info / download Demo
Organic Store
Made with nice decor plus readable text, the theme presents a charming and soft design for your page that is perfectly suitable for agricultural business, healthy food blog, organic food shop, organic farm, bakery. Also, it has more than 700 sales now and can be displayed in all browsers and on all devices.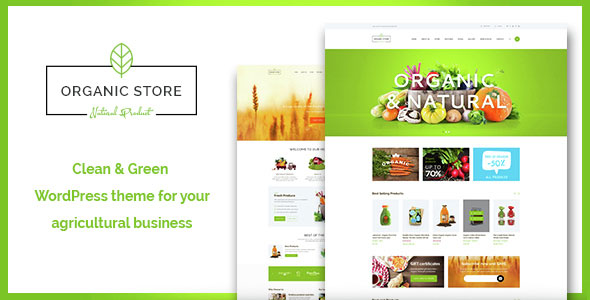 More info / download Demo
Vinegars
Powerful and easy in customization, this WordPress theme is a good idea for the creation of a shining Organic Olive Oil and Vinegars website.. As you may see in 'Details' field, the theme is based on a powerful builder plugin, so you are able to add or remove sections and modules with no effort. Moreover, Olive Oil is compatible with awesome plug-ins: Revolution Slider, Essential Grid, PO Composer, WooCommerce and Visual Composer for creating any layout at your taste.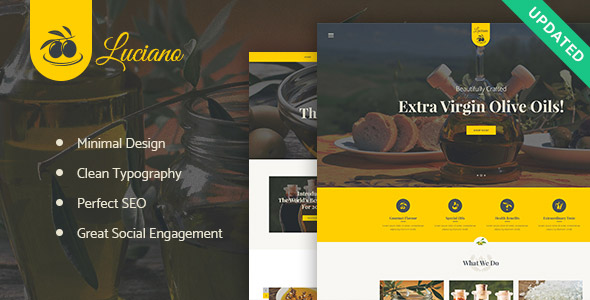 More info / download Demo
Seafood
Just take a look at these amazing deep colors! Without a doubt, this cool WordPress theme works great in all the browsers and on all the devices, so customers will be able to visit your website no matter where they go. What is more, the theme is supplied with a collection of powerful shortcodes and widgets, for easy use and capacity of your website.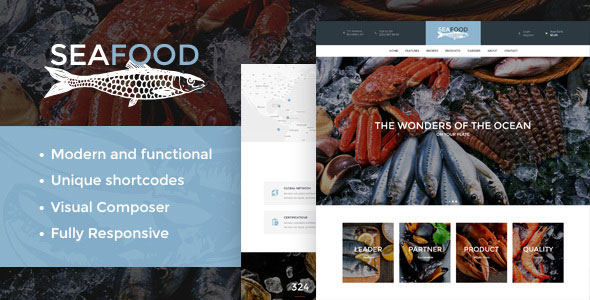 More info / download Demo
Beelove
Without a doubt, the template is a modern and well-documented example of an excellent nd well documented WordPress theme. As you can see, the theme brings you all the opportunities for creating a remarkable website. All in all, please note: price-quality rates may surprise you.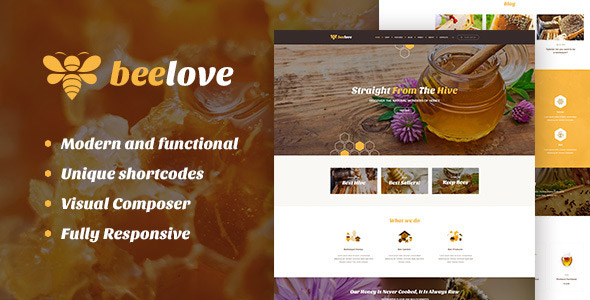 More info / download Demo
GoGreen
Still looking for a beautiful but simple in use WordPress template for the introduction of your farming, market business and organic food related services? Thus, be free to show your potential to the whole world with the help of this incredible WordPress theme!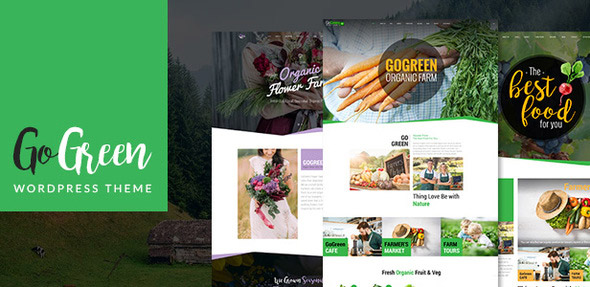 More info / download Demo
Dairy Farm
To begin with, this well structured and professionally designed WordPress theme gives an actually fast start to your online business! Made in the brilliant shades, this multipurpose template is featured with a long list of various modern and helpful options. Just add all the well-done clearly elaborated details and you will have a full picture of the 21st Century comfort.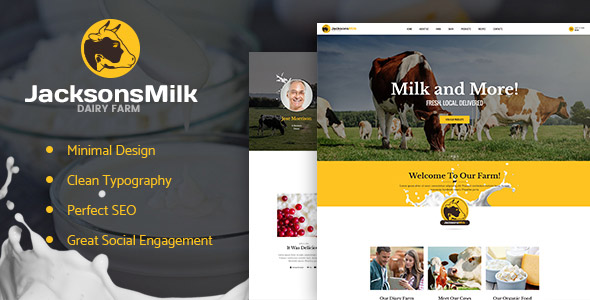 More info / download Demo
FoodFarm
As you may know from 'Details' field, this WordPress theme is your chance to quickly build a worthy of attention farming related website from a blank canvas. Needless to say, easy in use and installation, FoodFarm will definitely impress not only you, but also your potential customers with its structure and design that are stylish and practical in one package.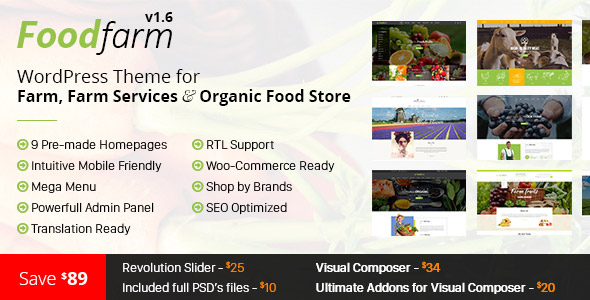 More info / download Demo
TheLeaf
This awesome WordPress theme allows you to get a beautiful and a professional website for your needs with no effort! Seeing that, dot hesitate to build a website of your dream with the help of WordPress!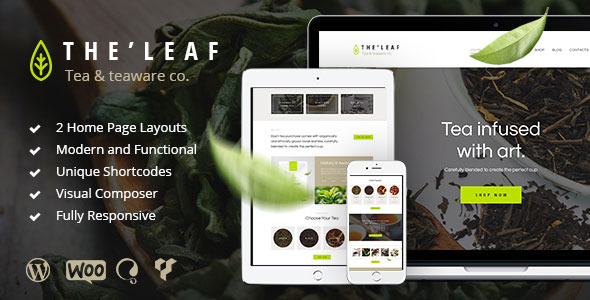 More info / download Demo
Organik
Stylish and easy to use, Organik is a powerful WordPress theme that was thoroughly designed for the creation of your future online store, related to farm and bakery! Don't miss your chance to be the best with the help of this unbelievable theme! Made for your comfort, Organik is a clear and responsive theme, which has various helpful and easy-in-use options.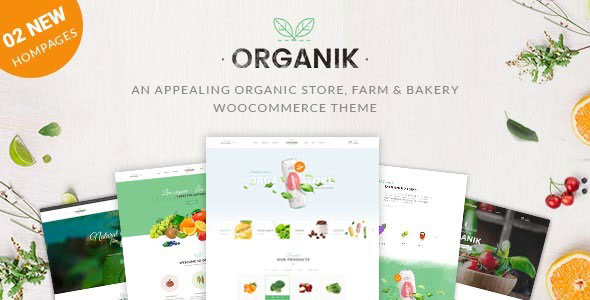 More info / download Demo
Organie
Equipped with all the needed features, this useful template ideally combines power and beauty. Needless to say, such a stylish and progressive theme will positively catch your guests' eye. Made in the beautiful, pastel shades, this WordPress template seems to be your chance to build an attractive and unique website, without touching a single line of code.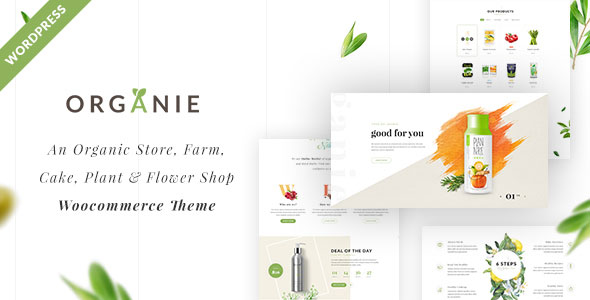 More info / download Demo
Organic Food
Needless to say, with the help of this pure WordPress template your online project will look spellbinding on any devices! Moreover, don't forget to take a look at the demo version of the theme, if you would like to see all the aspects of this adorable WordPress organic food theme!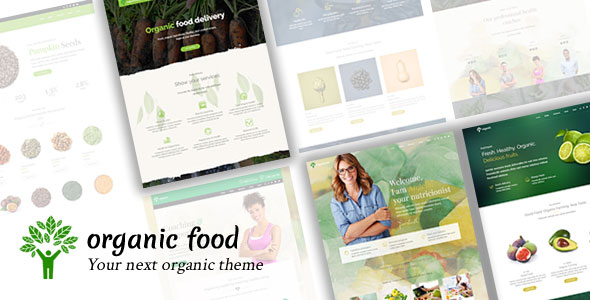 More info / download Demo
Superfood
Superfood is a sweet and cozy WordPress template, which is an ideal variant for your future online project, related to organic food and health products. Without a doubt, easy in use and installation, the theme will impress not only you, but also your potential customers with its well done structure and tasty design that are modern and practical in one package.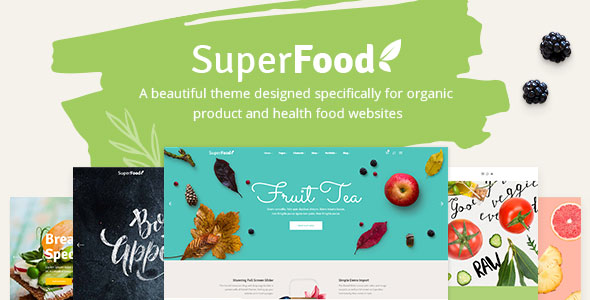 More info / download Demo