Sirius
eClipse
We would like to announce a brand new photography wordpress Theme. Three months of development, many hours of researches and hard work, liters of strong coffee and finally, the wp theme you've never seen before. Endless possibilities, fully customizable, clean and optimized code
BORDER
BORDER is a unique and easy-to-use Photography WordPress theme built with the professional photographer and their needs as the main 'focal point'.
CONTRAST
Contrast is a responsive fullscreen photography & portfolio WordPress theme. It's perfect for all creatives, artists, photographers and agencies. Give your work the best exposure possible thanks to the unique fullscreen layout you can showcase your artworks in an amazing way.
Mercury
Division
Division is premium photography WordPress theme siutable for frelancer, creative agency, art directors, illustrators, photographers or bloggers. Built in drag&drop page builder makes creating and managinig new pages, posts and portfolios a breeze. WP 3.4+ theme cusotmizer makes creating and tweaking skins so easy. Admin panel allows to change almost any color and background of page and supports uploaders for Retina HiDpi displays making Your site super sharp on devices like iPad or iPhone.
LENS
LENS is a surprising photography WordPress theme aimed at photographers in need for a solution that focuses on what matters most to them: their work. Every feature was carefully chosen and designed to ease the way to that perfect photography portfolio website.
BIG Gallery WP
BIG Gallery – WordPress Fullscreen Photography themes is an unique way to present your photos. It allows you to show your work as big as possible . With creative use of CSS3 and Javascript this theme will delight your visitors!
Cesar
Titan
SmartScreen
SmartScreen is a fullscreen responsive photography WordPress theme which offers CMS functionality to your website.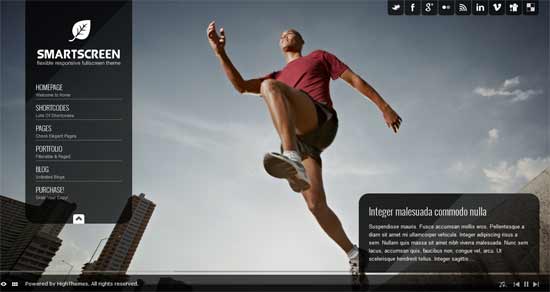 more info / download
Expression
Expression is a powerful responsive photography WordPress Theme, best suited for photographers and creatives who use portfolios to effectively present their work.
Incidental
Incidental is a premium photography WordPress theme for photographer. The theme provides a very flexible, drag drop tool to manage your gallery.
Photolux
Photolux photography is a powerful and elegant Portfolio and Photography WordPress Theme which is best suited for photographers and creatives who use portfolios to showcase their work.