When starting a new project, there are a number of technical options and things to think about that need to be chosen and thought about. When you choose to work with React, you won't be taking any chances. It quickly became the most powerful, easy-to-use, and well-known free user interface library with react admin templates.
It is a great choice for dashboards, enterprise applications, and administrative software. You can use it to show a huge amount of data and keep that data up-to-date using charts, data grids, and gauges, among other tools. You can use it to show a lot of information and change that information.
Furthermore, you can also use it to make entirely new data. On the other hand, GitHub has a huge number of free and open-source React templates, admins, and dashboards that can be downloaded right from the site. Because of this, it might be hard for you to choose the option that meets your needs the best.
We put a lot of time into making these user interface kits so that you can save time and effort and get the best user interface kits that are available right now. They can help you come up with new ideas or save you time. You can get both of these benefits. You can take advantage of both of these benefits.
Related Article
Material Kit React
This free React Admin Dashboard was made to help speed up the process of building your application by using MUI's elements and components, React, and, of course, Next.js. We also have a pro version of this product that you can buy if you want to reduce the amount of time and work you spend on the design process even more. If you buy the pro edition, you will have access to more pages and components that come together as a package than if you buy the standard edition.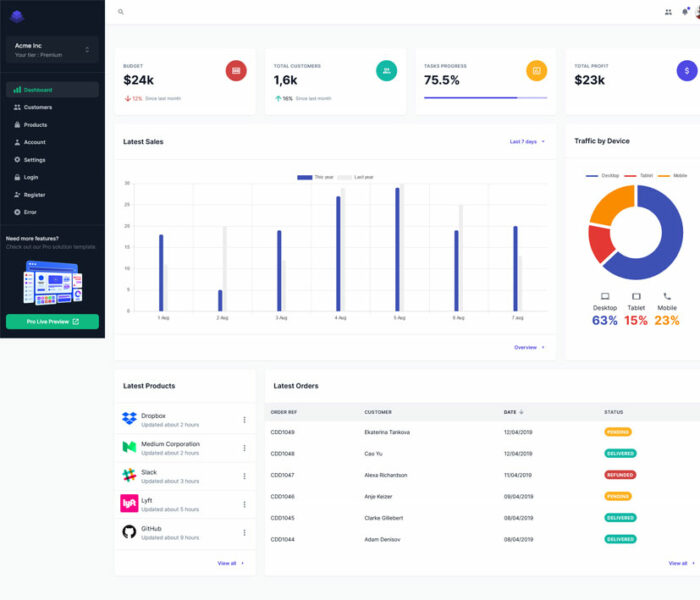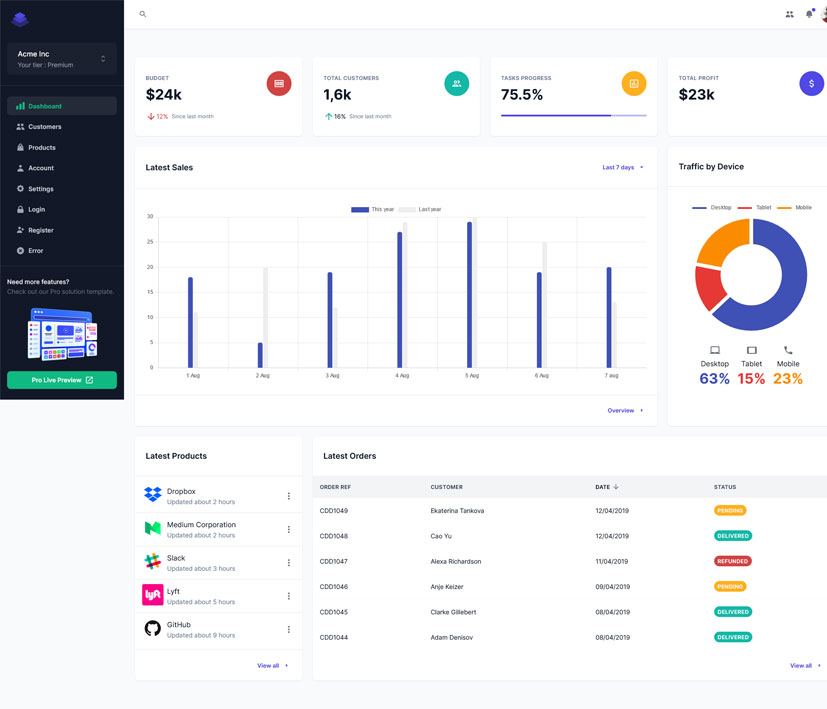 more info / download demo hosting
Material Dashboard 2 React
Material Dashboard 2 React is our most recent free React-based MUI Admin Template. Here's what you need if you're a developer who wants to make an admin dashboard that is easy for developers to use, has many features, and can be changed in many ways. Our innovative MUI and React dashboard has a beautiful design for web application that was inspired by Google's Material Design. It will help you make beautiful websites and web apps that your clients will love.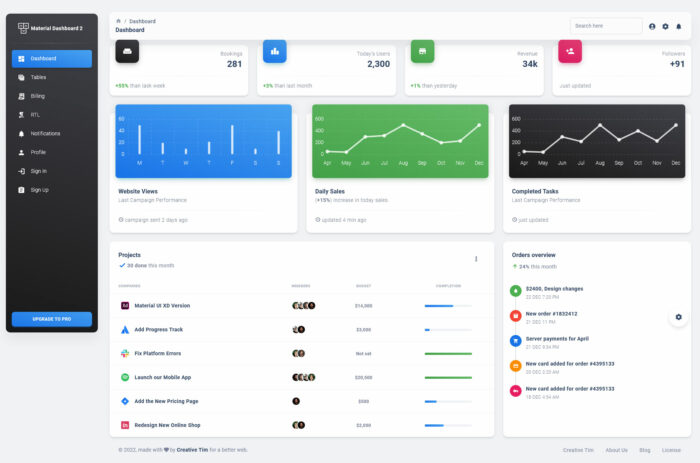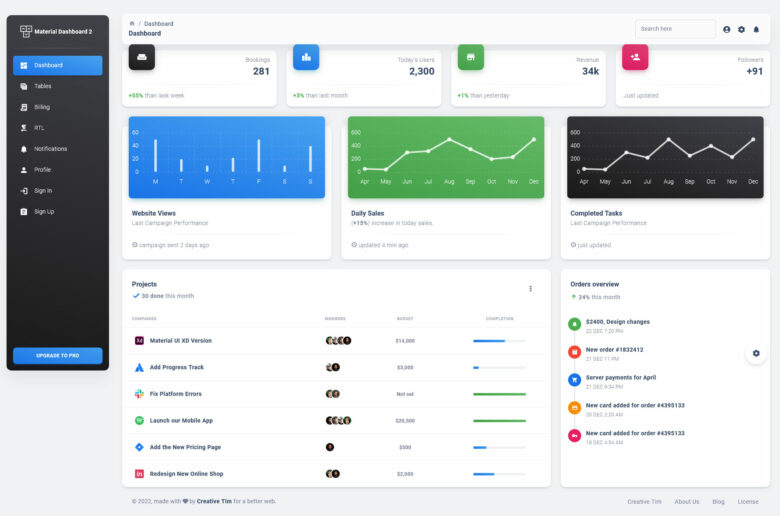 more info / download demo hosting
COREUI React Admin Template
The CoreUI Free React Admin Template is not just another set of free components and frameworks from third parties; it is its own thing. It is the first Open-Source React Admin Dashboard Template built on a hand-crafted enterprise-grade UI Components Library and backed by experts in the field. The template is being made with the help of this library, which has already been made. CoreUI shortens the time it takes to make reliable online apps, so you can do more in less time.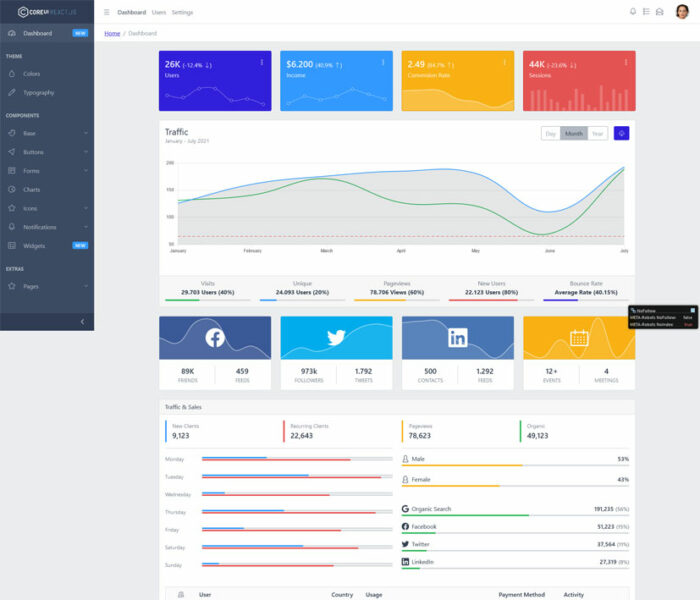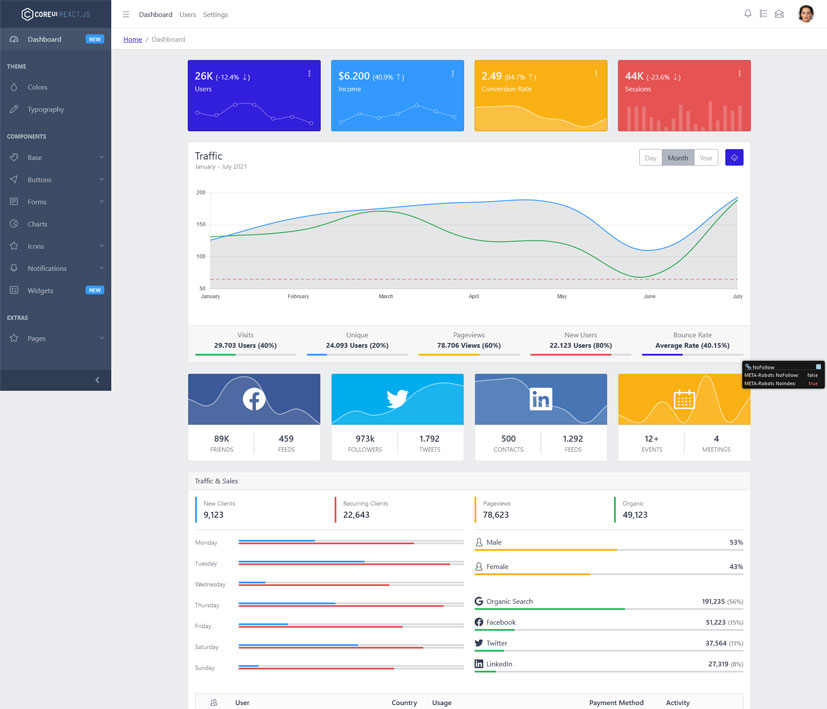 more info / download demo hosting
Light Bootstrap Dashboard React
Light Bootstrap Dashboard React is a template for a nice-looking admin dashboard that is easy to use. It was made using Light Bootstrap Dashboard and React JS, and it can be used on any device. It has many parts that give you many options for making the app that best fits your needs. It can also be used to make admin panels, project management systems, the backend of web apps, CMS, and CRM.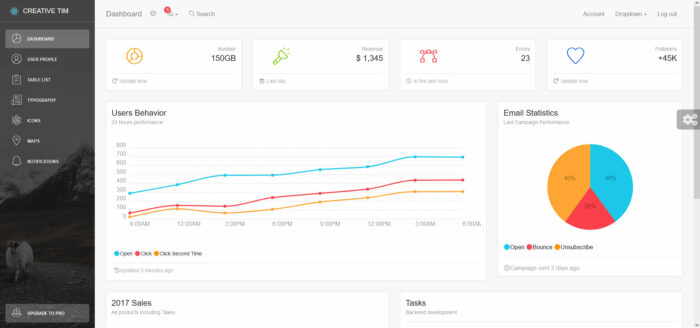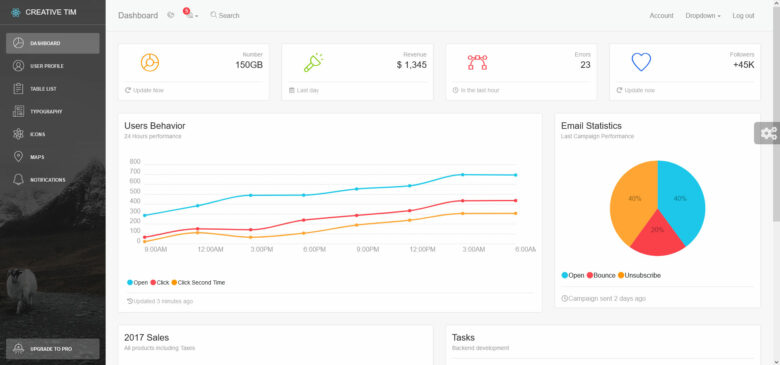 more info / download demo hosting
Argon Dashboard React
The Dashboard for Argon React is made up of more than 100 different parts that can be put together in any way you want. All components can have different color options, which are easy to change with SASS files. When you go from prototyping to fully functional code, you will save a lot of time because all the pieces are already in place.
This Dashboard comes with examples that have already been built. This makes the web development process smooth, and it's easy to switch from our landing pages to the real website.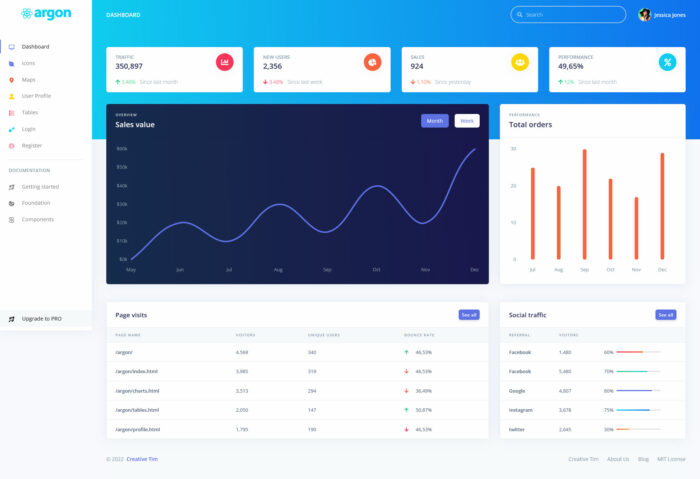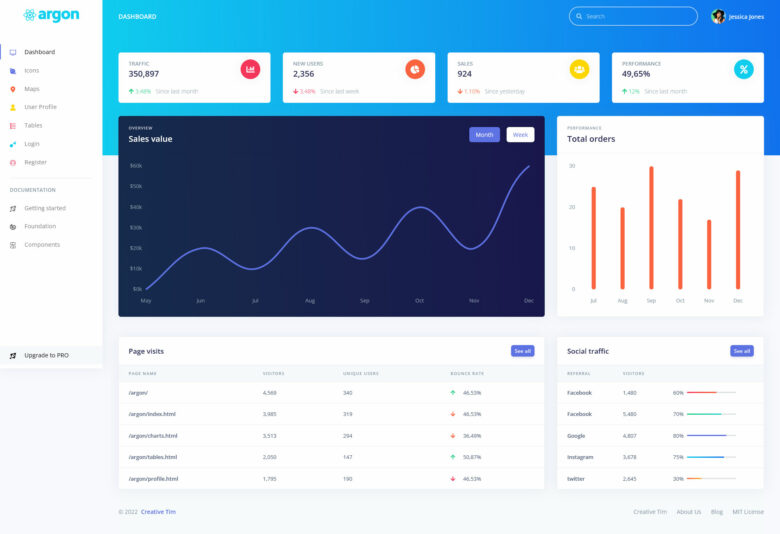 more info / download demo hosting
Tabler React
Tabler is a free open-source dashboard template with high-quality, responsive user interface (UI) design styles and user experience (UX) layouts. It can also be bought on its own if that suits your needs better.
This can now be downloaded right away and used as soon as it is installed. It is also ready to be used right now. We also give its users a free modern template, which they can only use if they have paid for Tabler's service.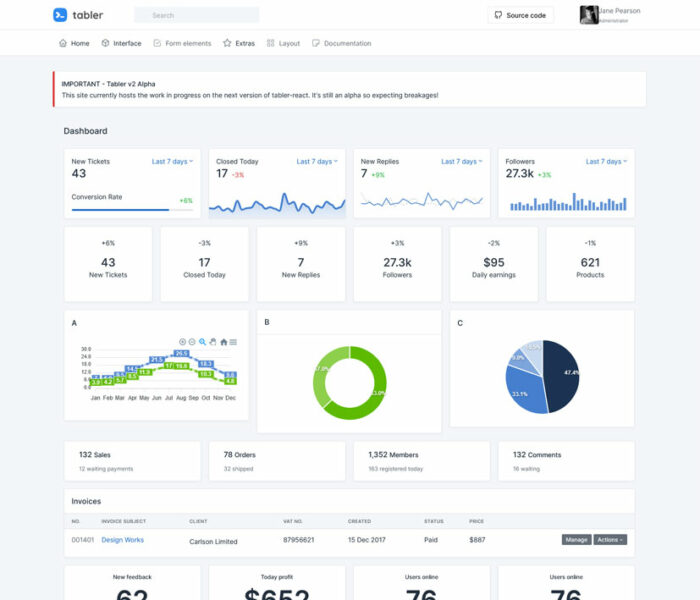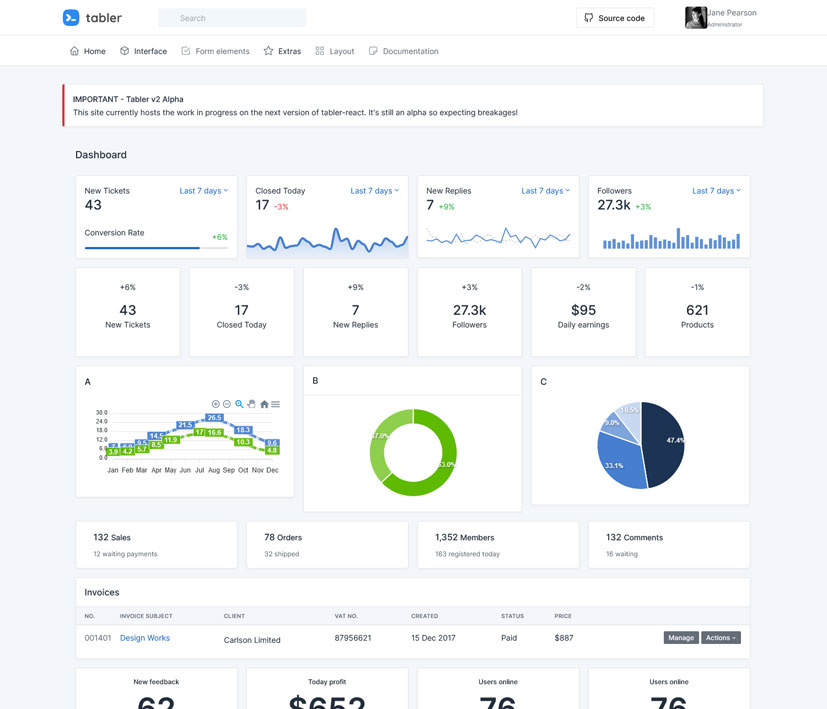 more info / download demo hosting
Shards Dashboard React is a free set of templates that can be used with the programming language React to make admin dashboards. It takes a more modern approach to design and gives users a large library of different layouts and components to choose from.
If you want to get more features and functions, it's a good idea to think about upgrading to Shards Dashboard Pro React. This version comes with a lot of extra template bases and components that can be changed by the user. You are free to use them.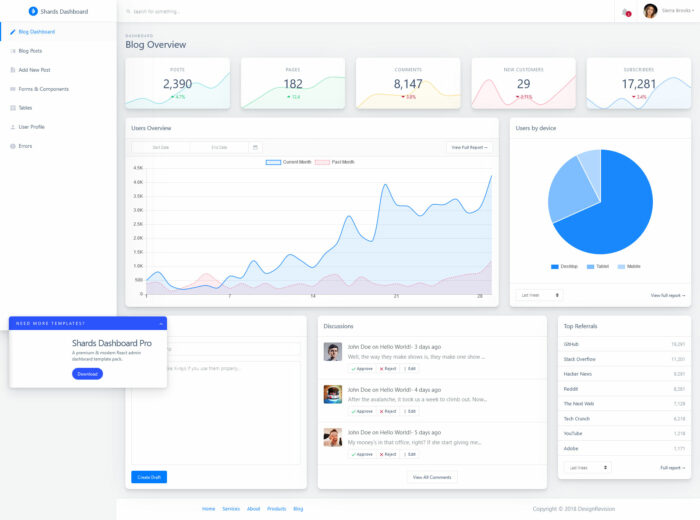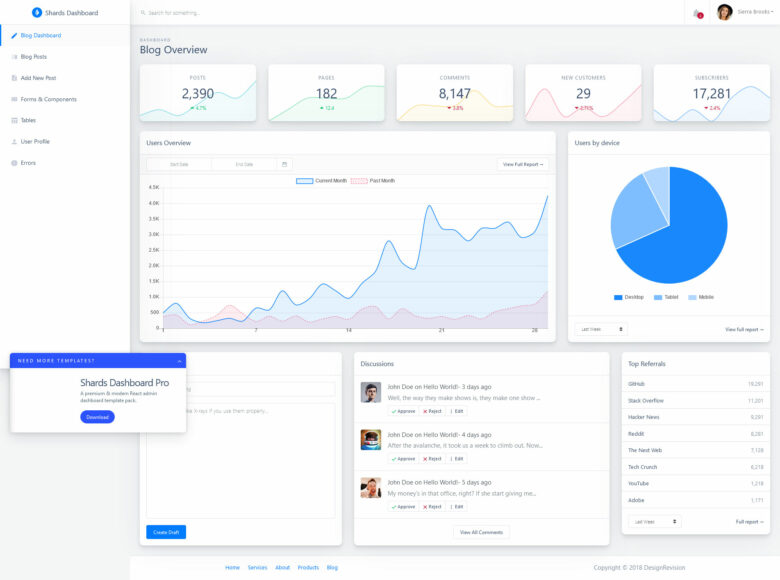 more info / download demo hosting
React Reduction
Because React Reduction is built on top of Create React App, which is the foundation for React Reduction, users will have access to all the features that create-react-app offers. This is because create-react-app is what React Reduction is built on. To put it another way, users will be able to use all the features that the Create React App offers. This is because create-react-app is what the React Reduction project is built on, so it is the foundation.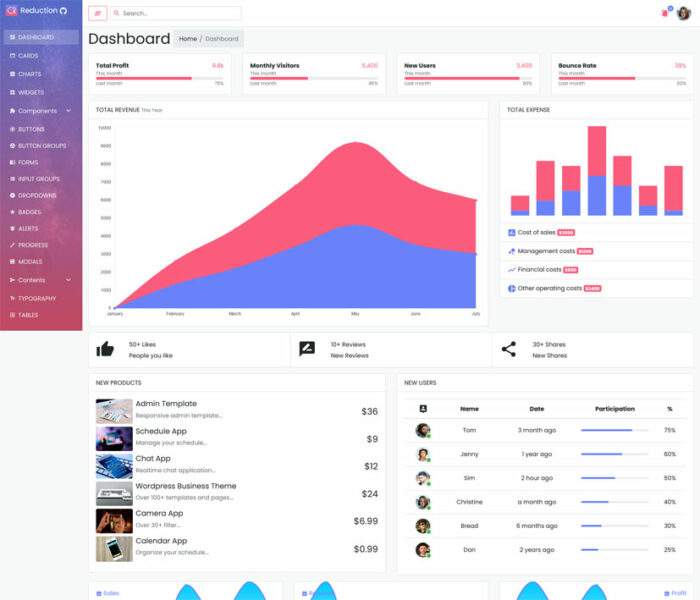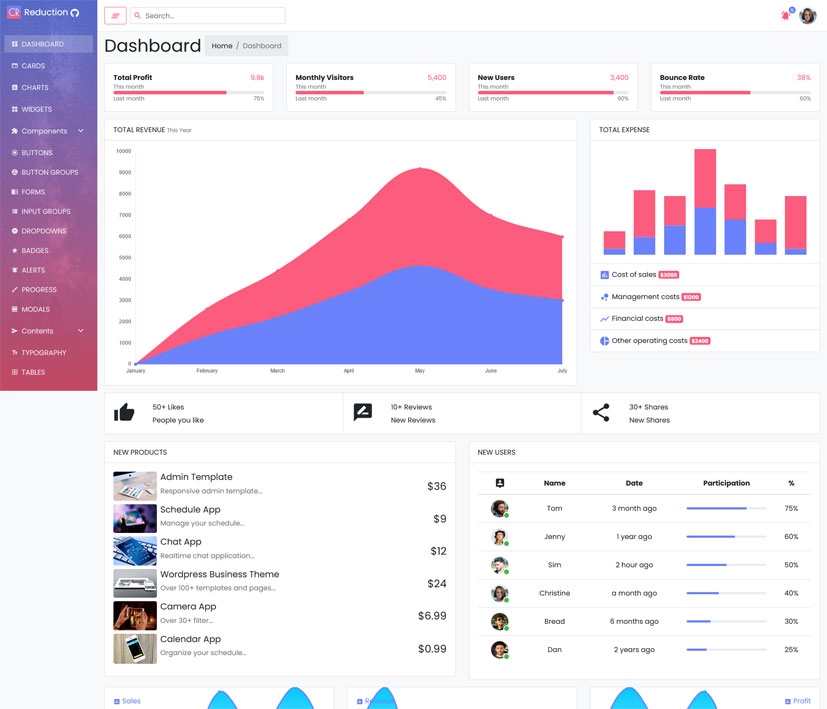 more info / download demo hosting
React Admin
With the help of a frontend framework called React Admin, you can build data-driven applications that are built on top of REST or GraphQL APIs and can work in the browser. With the help of this framework, these applications can be built. This framework was made with the help of ES6, React, and Material Design, all of which were important parts of the process. Marmelab was in charge of designing and making the product, which is licensed as open source and can be downloaded for free because of this.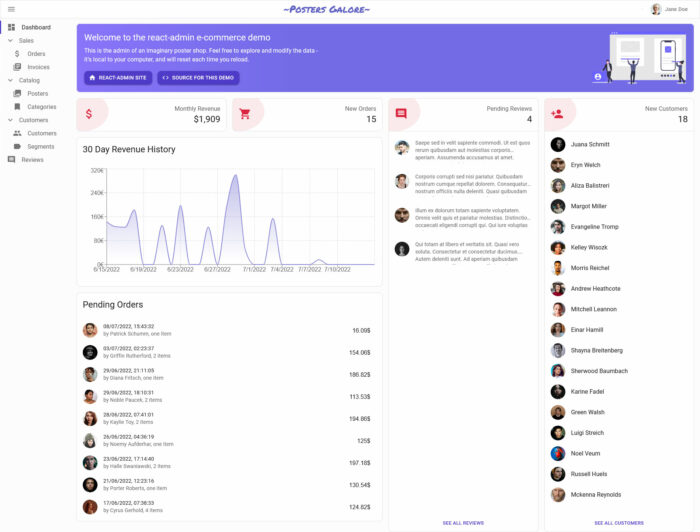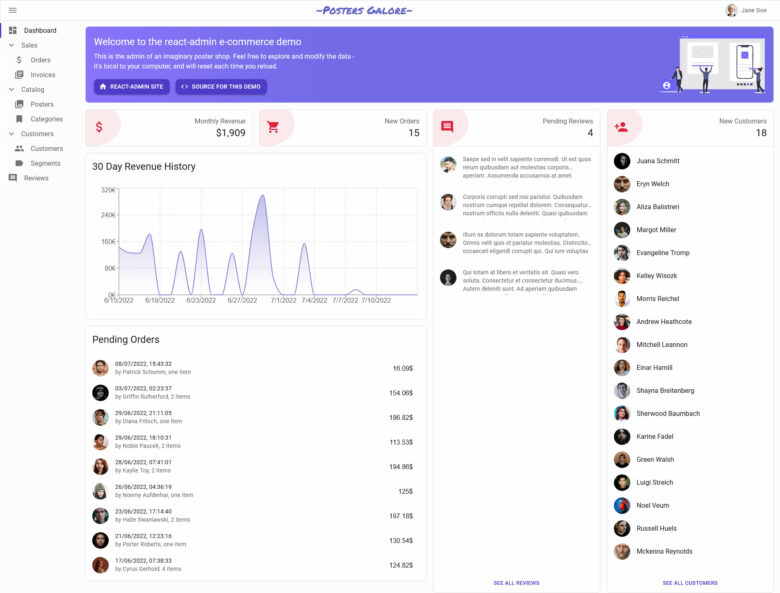 more info / download demo hosting
Airframe React
Airframe React is a high-quality dashboard admin analytics template that works great on any phone, tablet, or desktop computer. On the Airframe React site, you can find this template. There is both an open-source version and a version licensed by MIT.
Using Airframe Dashboard, which has a simple layout and its own unique user interface (called Light UI), you can make an awesome, powerful app with a beautiful user interface. It is perfect for use in large-scale applications and comes with detailed documentation that explains each step of the process in great detail.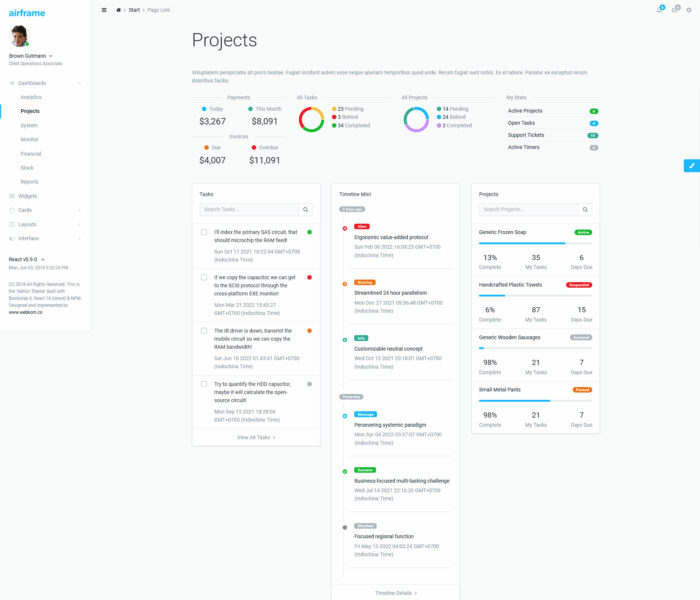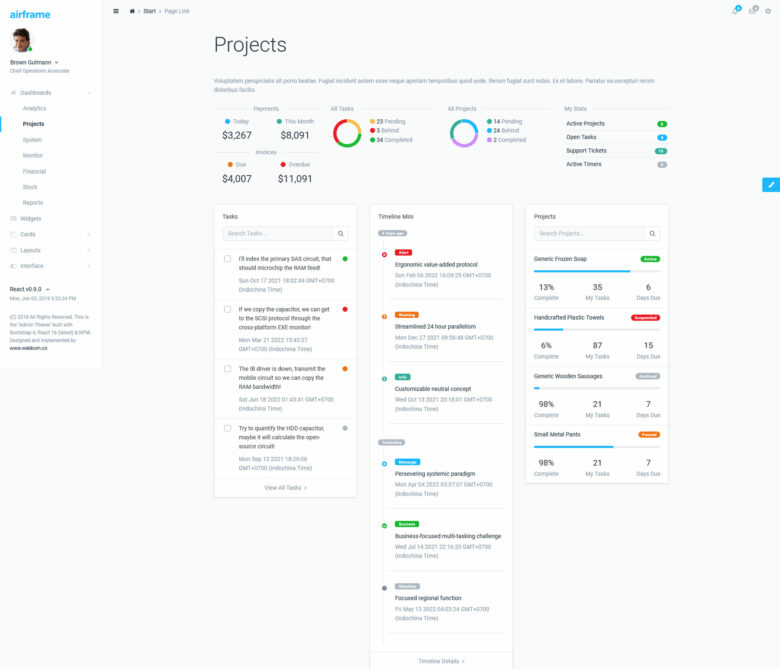 more info / download demo hosting
Volt React
Volt React is a template for an admin dashboard. It was made with React.js and is free and open source. It was made by the team working on the Volt. Furthermore, it can be downloaded from the internet, and it was built using the most recent version of the Bootstrap 5 CSS framework.
You can download Volt React from GitHub whenever it works best for you. This bundle comes with more than 100 user interface UI elements, plugins, and example applications built with React components.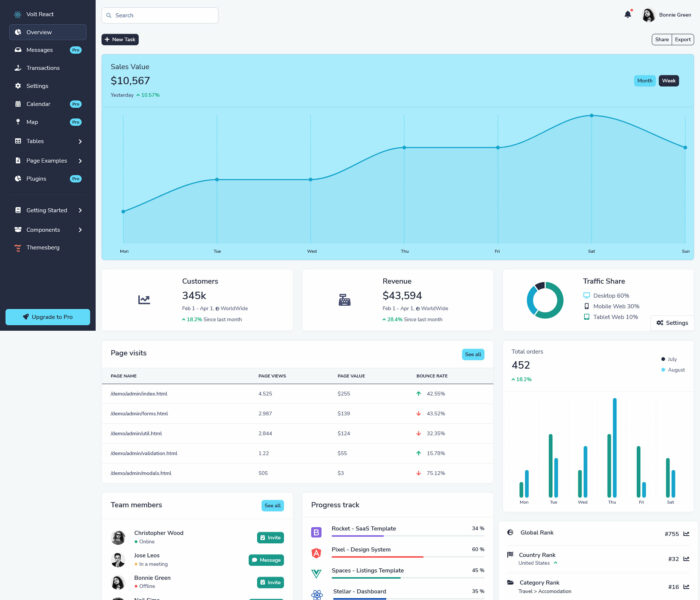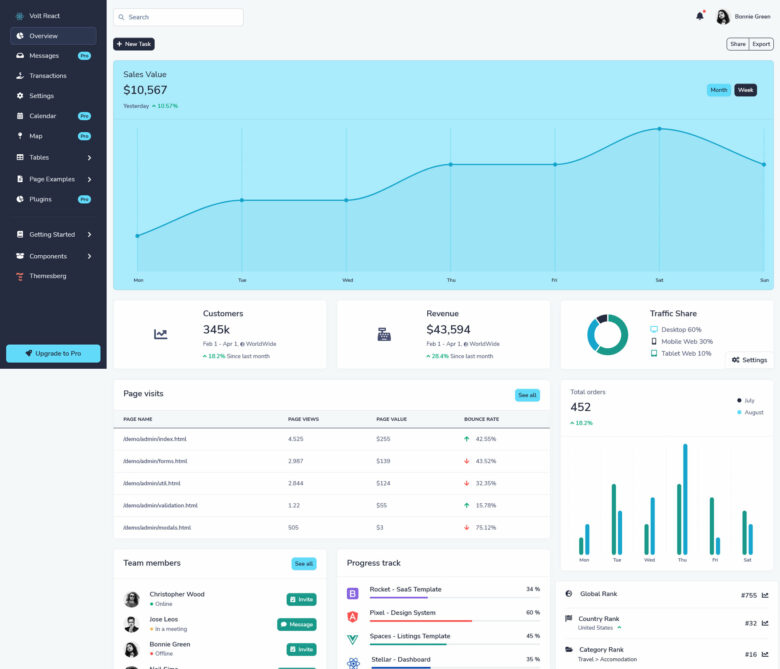 more info / download demo hosting
Corona React
Users have the option of using the Corona admin dashboard instead of the default dashboard. Corona is a free dashboard tool that administrators can use. The customization and the installation can both be done with little to no trouble.
Because the free version gives you access to the basics, you should be able to get your idea off the ground thanks to these features. If you like what you see, you might also be interested in the more complete version of this React admin template.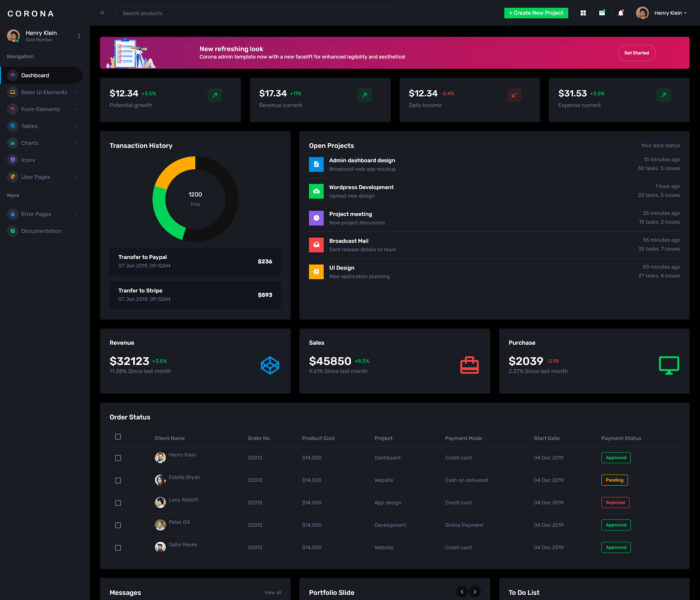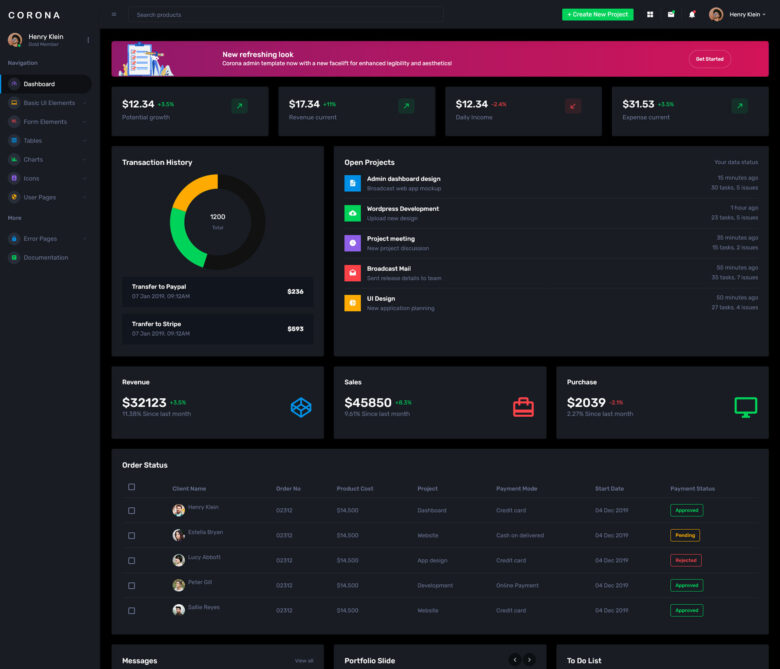 more info / download demo hosting
Boss Lite React Redux Material
Boss Lite is a framework for a dashboard for administrators that is built with React and Redux. It also has the Boss Lite logo on it. It looks modern and clean, and it gives you access to a high-performance React app that comes in a different color scheme.
This template was made to make the whole development process easier and faster for you. It works with Material UI version 1.x, jss (also known as CSS in JS), immutable js, webpack, ssr (also known as server-side rendering), npm modern workflow, and flexible layouts that use flex boxes.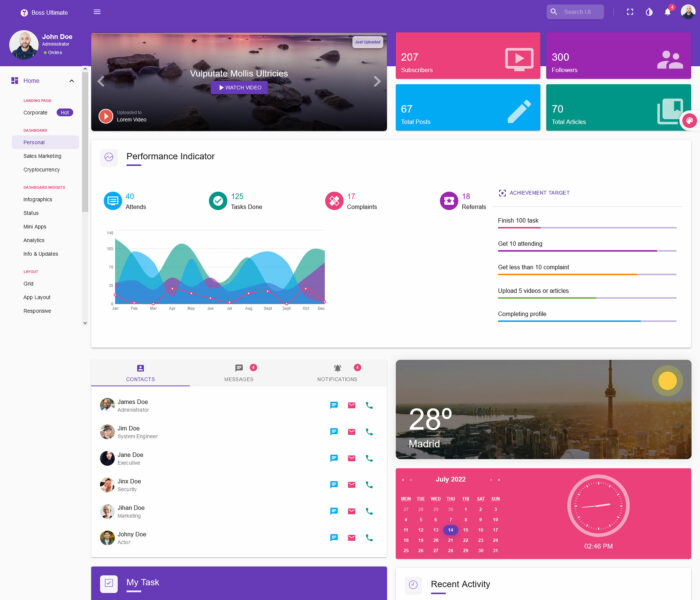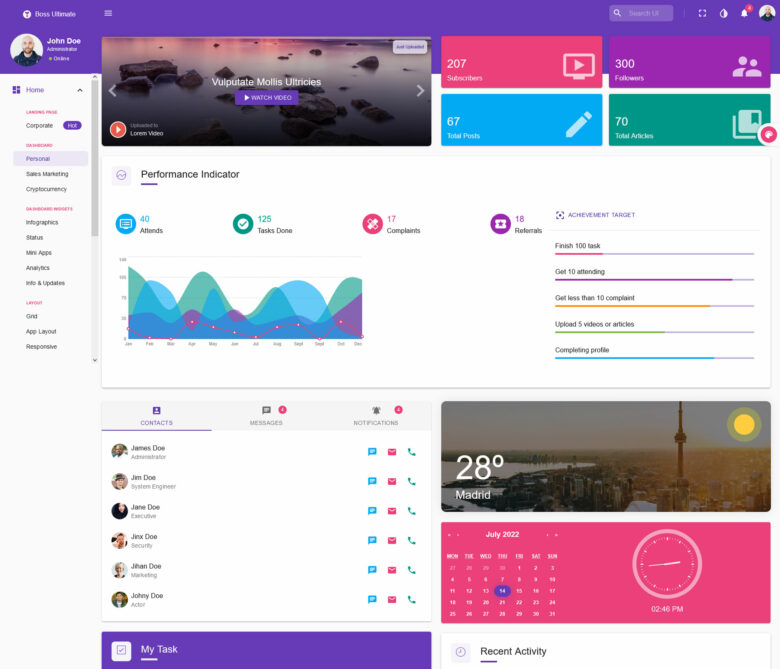 more info / download demo hosting
Premium Admin Templates
Metronic React
This is the basic layout that all other Admin themes are built on top of; in other words, it is the core design. Given how much work they do, it is especially impressive how quickly the staff at Keen Themes answers all comments and questions. They also help a lot in working toward this goal. This theme is a "must-have" either because of how it looks or because of how much you can change it.
Because of both of these things, it is an important piece of software. It has to be bought because either of these two things is true. Because of these two things, going forward with it is a smart decision. Because of these two things, going through with it once you've decided to is a very smart thing to do.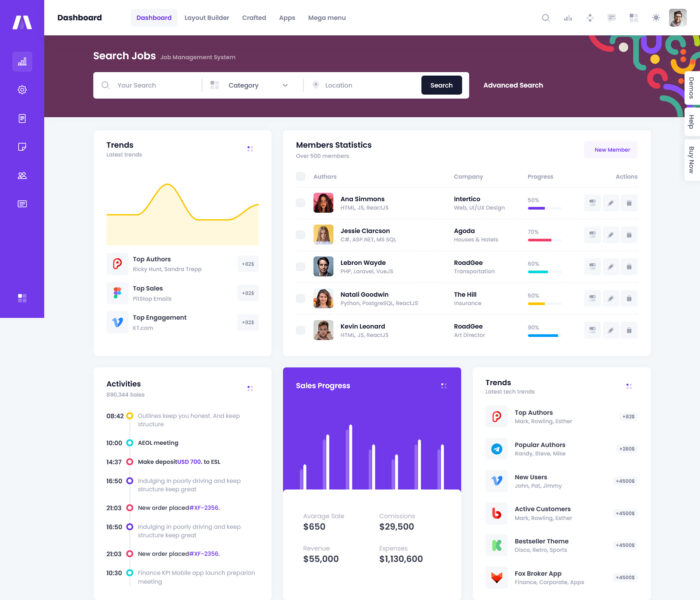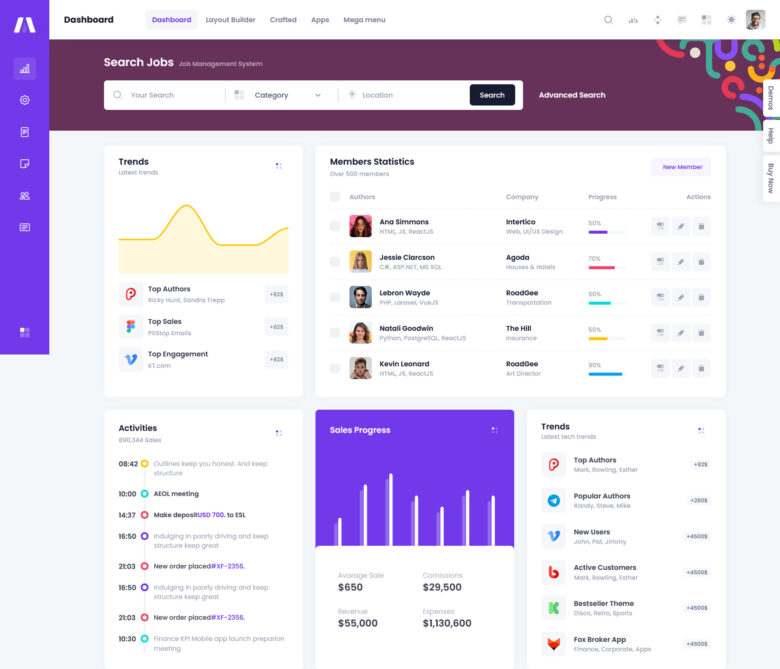 more info / download demo hosting
Fuse React
Fuse React is an app that was made possible by the work of the React Hooks team. Users can now use React's state and other features without having to first set up a class. This is a new feature that has been added. Because of the feature, this can be done.
The Fuse React admin template is a complete example of React that follows the rules that Google's Material Design set up. The Fuse React team is responsible for putting together the template. The Material UI V5 user interface framework is used a lot in the Fuse React admin template.
It is the main user interface solution. The Redux Toolkit is used as part of the way the application manages the state of the application. It gives you parts like authentication, routing, and page layout that have already been made. Also, it has more than twenty pages, a lot of reacted components that can be used more than once, and five examples of fully working apps.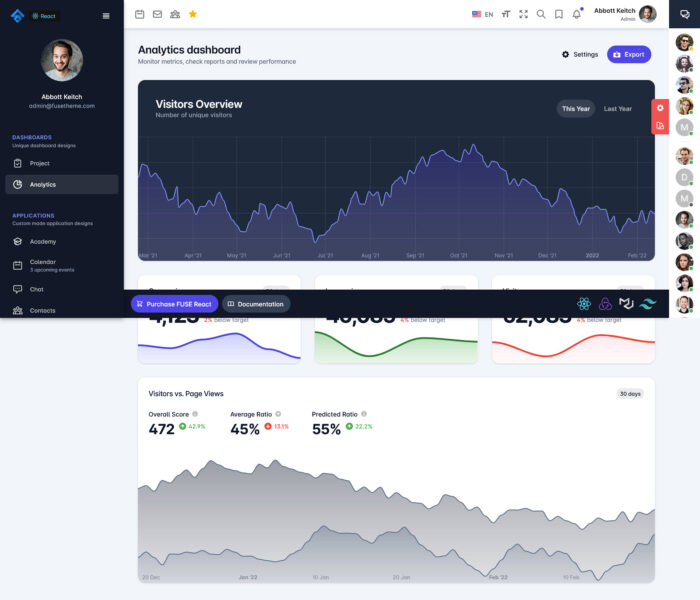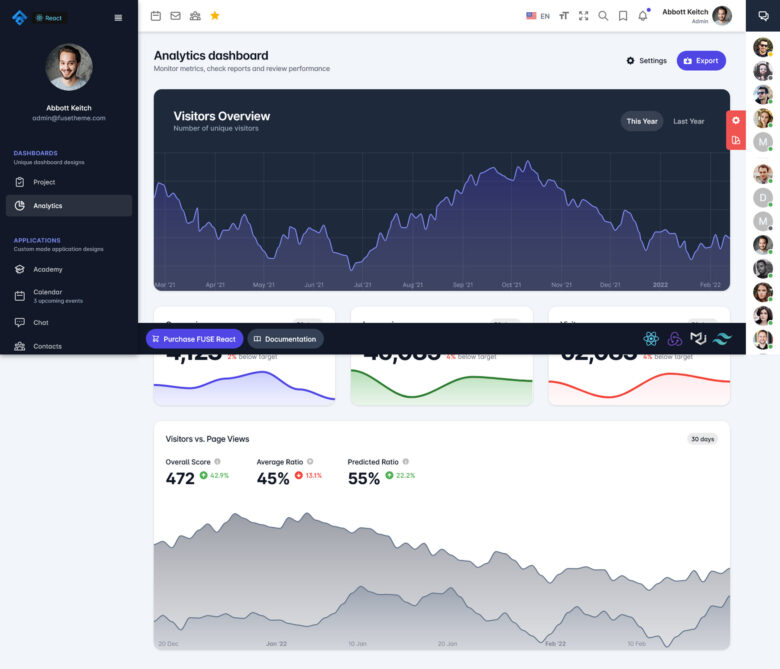 more info / download demo hosting
Materialize MUI React
Materialize is the most popular choice for customers who want an admin template with a material design. The fact that it has a user interface that is influenced by Google Material Design, a responsive design, and great customer service all contribute to the fact that consumers generally like the product.
Because of this, it is the most reliable and complete Material Design Admin Template that is currently available on the market. Materialize gives you access to a huge library full of widgets and user interface elements that use material design. These widgets and elements work with most of the most popular web browsers, mobile platforms, and tablet computers. Not only is it entertaining, but it is also easy to use and makes perfect sense.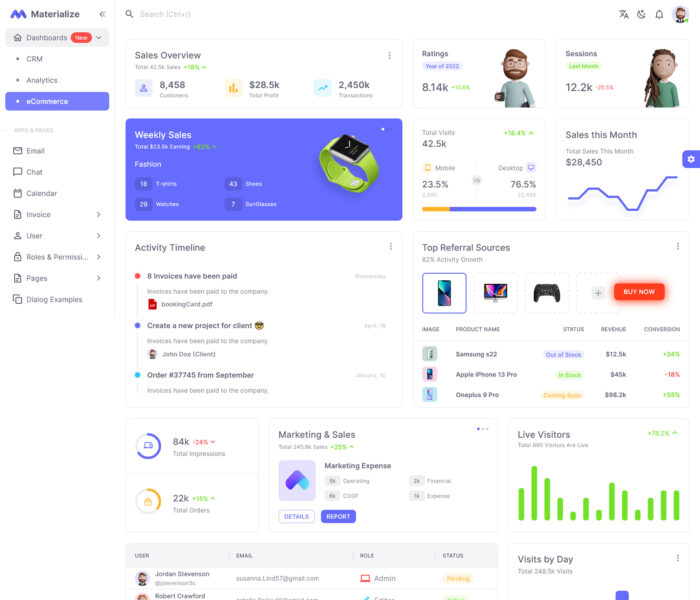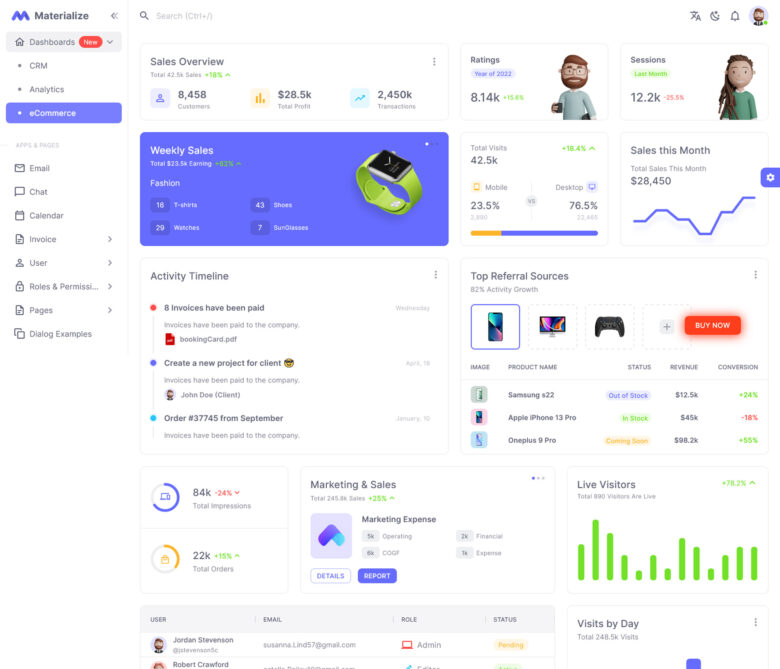 more info / download demo hosting
Cuba React
Cuba Admin is a premium Bootstrap admin template. It was made using the Bootstrap 4 Framework, HTML5, CSS, and JQuery. This person is also known by the name Cuba Admin.
It has a lot of features and can do many different things. Cuba Admin was the first person to set up Cuba Admin as a separate organization. It comes with a wide range of UI components that can be used again and again, and the latest versions of jQuery plugins are built right in.
It also comes with a very large number of UI components. It also works without any extra work with the most recent versions of the jQuery plugins. In addition, it works with the most recent versions of jQuery that are on the market right now. This technology can be used for any kind of web application, such as a custom administrative panel, an application backend, content management systems, or customer relationship management systems.