Hand pick up best real estate joomla templates with excellent features for joomla and being equipped with property component, users can easily manage properties by agents, locations, categories, price and map positions. Here is a new, creative take on building accommodation-related sites. Those real estate Joomla templates provides an engaging visual experience by means of a large header image, gallery, backgrounds and flamboyant color accents. There are also multiple elements enhancing the content presentation, namely tabs, accordions, toggles, tables, progress bars, counters, and icons. Next, a section with a full-width video can make your site even more interesting by showing your services in action. The template's navigation is optimized with a mega menu comprising a social login option, list of offerings, categories, promo banner, and call-to-action button.
Hompark Real Estate Joomla Template
Hompark is a high quality luxury real estate joomla template for real estate agency. If you want to present your property in best way soo with Homepark you can create your own website very easily and quickly.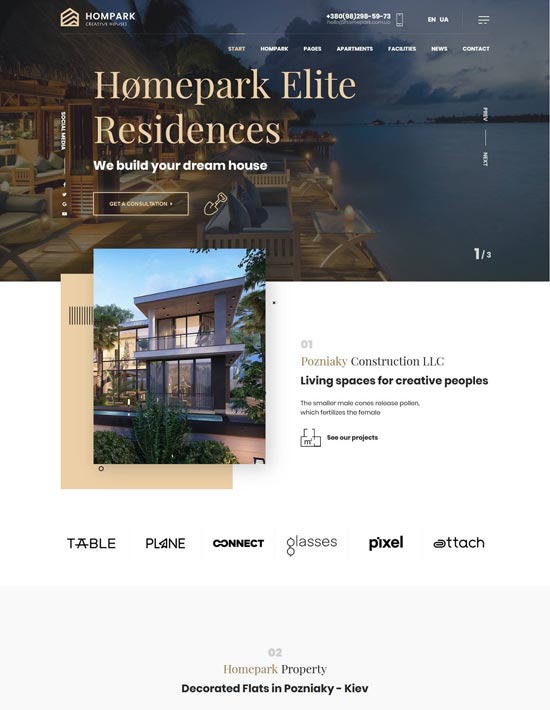 More info / download Demo
JSN Reta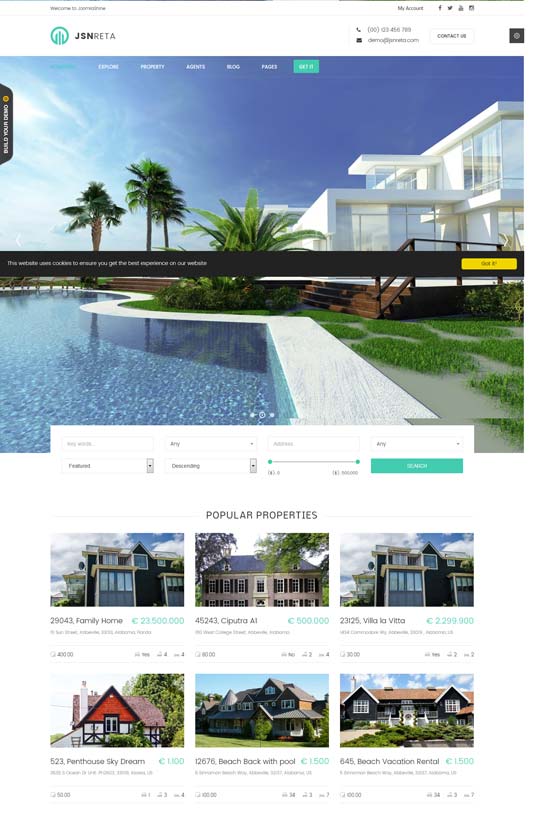 demo more info / download
Flat RealEstate Responsive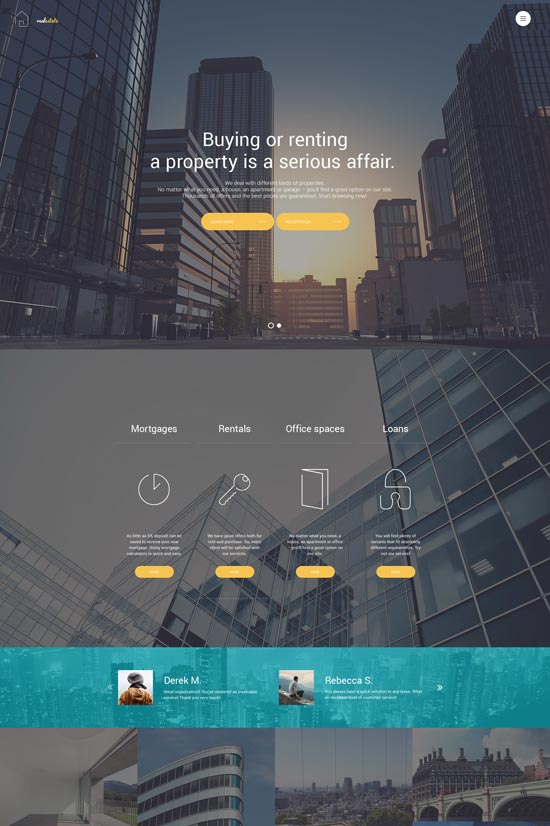 More info / download Demo
Holiday Homes – Real Estate & Rental Services
Holiday Homes is a Joomla template Real Profitability, produced for real estate agencies, real estate agents, and rental services websites. The advanced theme options allow seamless customization of your website. Give your customers free freedom by allowing them to keep an eye on your business with a blog, discuss it on a forum, contact you via a contact form, and leave a comment with the feedback system.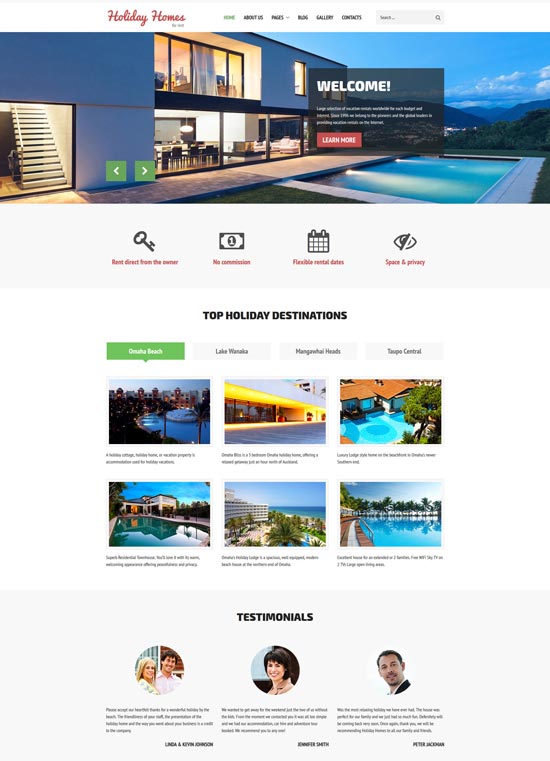 More info / download Demo
7agency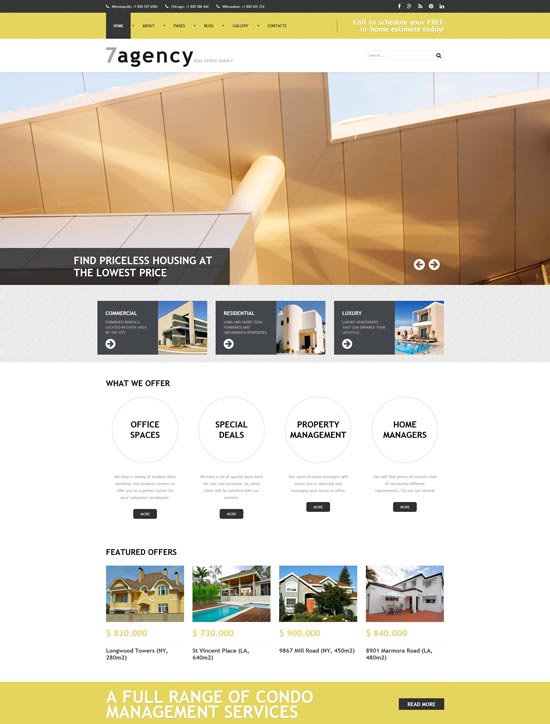 More info / download Demo
New House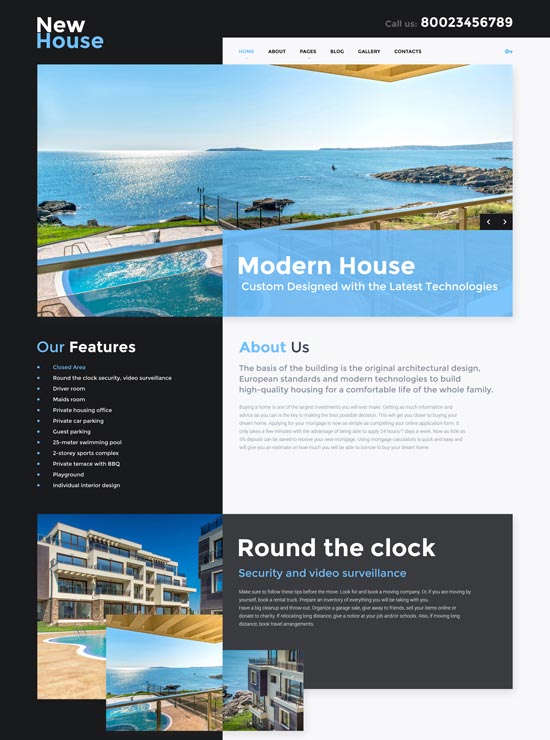 More info / download Demo
Apartments for Rent Joomla Template
Apartments for Rent is a beautifully designed Real Estate Agency Joomla Template that shows off product catalogs to your potential buyers in the most favorable light. This is a flexible and dynamic solution that will suit for real estate, interior and exterior design, hotels, and travel businesses. The theme was built using 1170 Grid System, Joomla engine 3.3.6 and Bootstrap 2.3.1. Thanks to the emphasis on photography, huge sliders, retina-ready images, and full-width photography, people will get interested in your offers. Its contemporary look, the fully responsive layout with intuitive navigation provided by MegaMenu are just what you need to offer your site visitors a pleasant browsing experience and make them come back.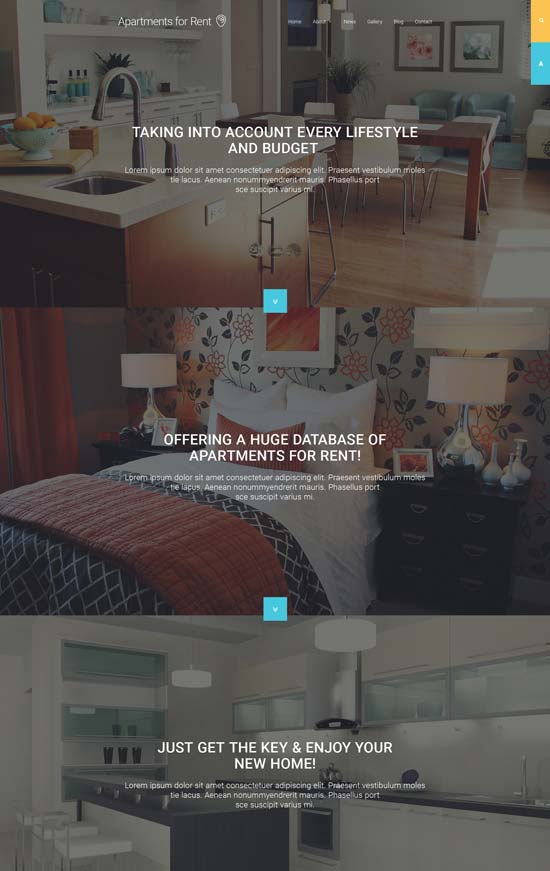 Demo More info / download
Perfect Rent Joomla Template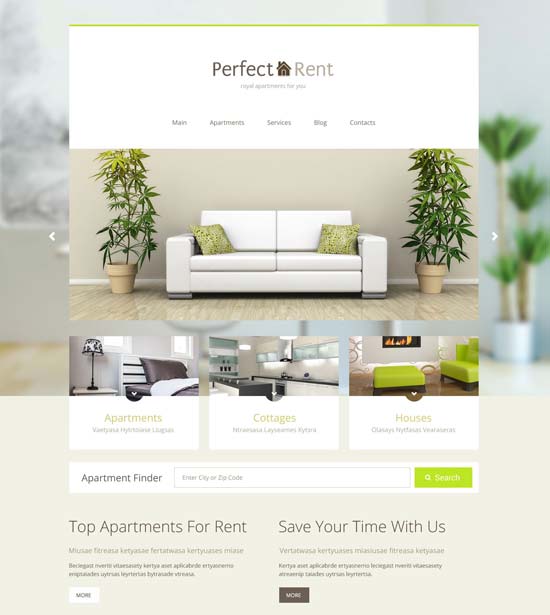 Demo More info / download
Apartment Rent Joomla Template
Renew your site with Surpriso, an apartment rent Joomla template incorporating the latest trends of web design. One of them is a large hero area allowing you to express your business ideas effectively. Next, material design traits are applied to backgrounds of some content blocks, which can make the screen image feel more realistic. Due to a mega menu, your site will have a large navigation panel, where many options can be displayed at once. They include lists, images, buttons, login and registration forms. Today, a lot of customers come from social networks, that's why this template is supplied with social media icons and sharing buttons.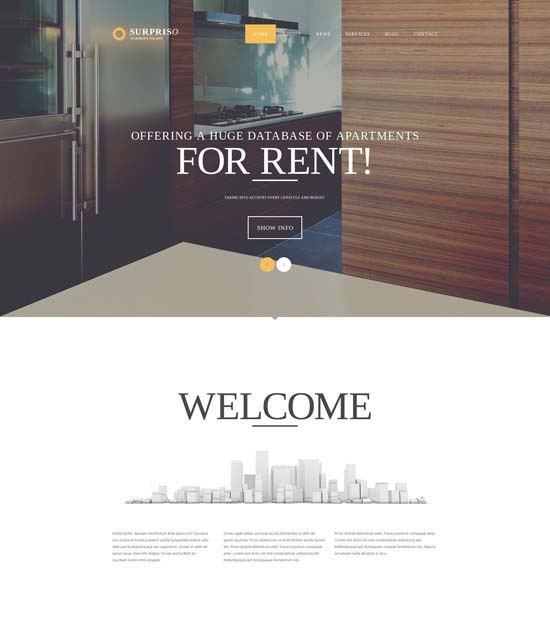 Demo More info / download
eListing – Responsive Real Estate Joomla Template
eListing is a stunning premium Real Estate Joomla template with clean, modern and responsive design, that works well on any all kind of devices and screen resolutions.
eListing supports for SobiPro component which allows you to easily manage, custom any entries and content system. With SJ Geomap for SobiPro integrated in, you can immediately search for real estate entries right on the Google map. Moreover, the template is built on the powerful YT Framework v3 making it completely customizable, having all great features of YT Framework v3 such as: responsive layout, RTL supported, lots of useful shortcode, Bootstrap 3, many awesome Google fonts, powerful Mega menu, HTML 5, convenient Front-end Cpanel, 6 color schemas supported and many other.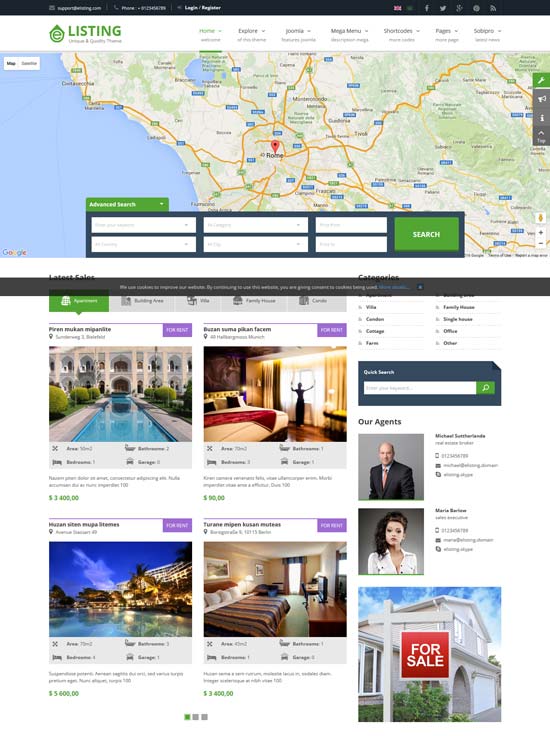 Demo More info / download
Property Selector Joomla Template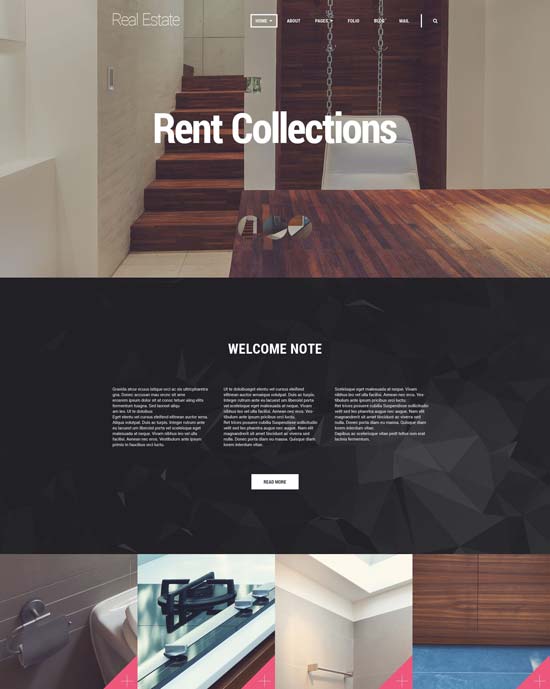 Demo More info / download
Real Estate Business Joomla Template
Use this responsive template to make your business more profitable. It makes your content visible on any device by automatically adjusting it to any screen resolution. The theme comes loaded with large hero areas and full width images in the body section and in the footer. It will be a perfect option for real estate agencies and companies that want to to get more customers. It features a gallery where you can place photos of apartments you offer for rent. You can also customize this real estate joomla template directly for your business.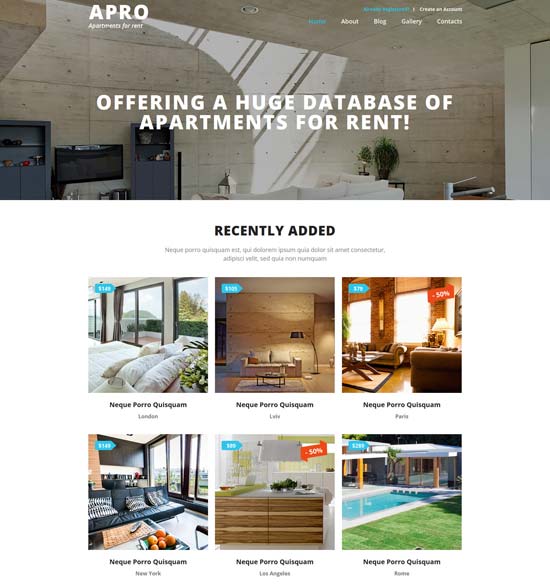 Demo More info / download
Zoner | Solution for Joomla Real Estate website
Zoner is a responsive property template with excellent features for Joomla 2.5 and 3.x. Being equipped with BT Property component, users can easily manage properties by agents, locations, categories, custom extra fields and map positions. Zoner also supports advanced search, OpenStreetMap, GoogleMap, and various impressive effects such as Parallax Map Scrolling, Fullscreen Map and Masonry. Zoner is a wise choice to make a professional real estate site.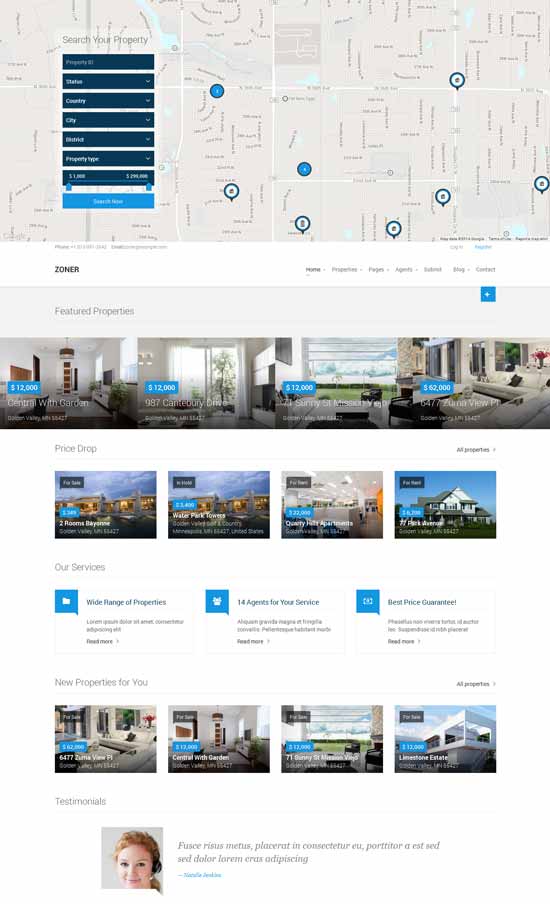 demo more info / download
Real Estate Agency Joomla Template
This gorgeous template is a perfect tool to put your real estate business on the track. The design combines fashionable minimalist background of white color and mild salad fonts. The email subscription option, integration with social media, responsive layouts would improve interaction with your customers.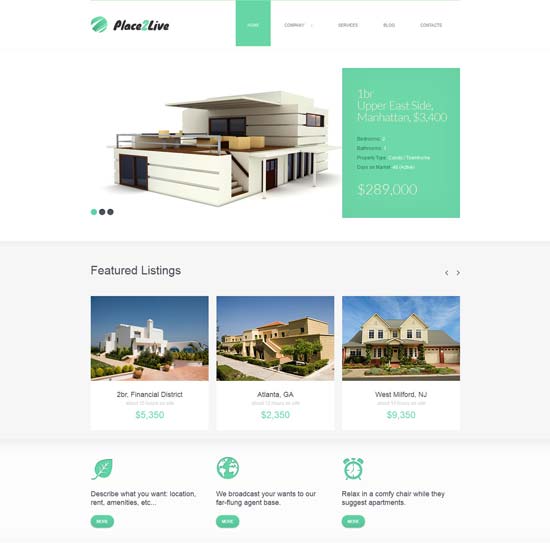 Demo More info / download
BT Real Estate – Responsive Joomla Template
BT Real Estate shows off product catalogue to your potential customers by special Bowthemes filter module. This is elegant and flexible solution for real estates, vacation rentals, automotive sale with 6 colors options and responsive layout.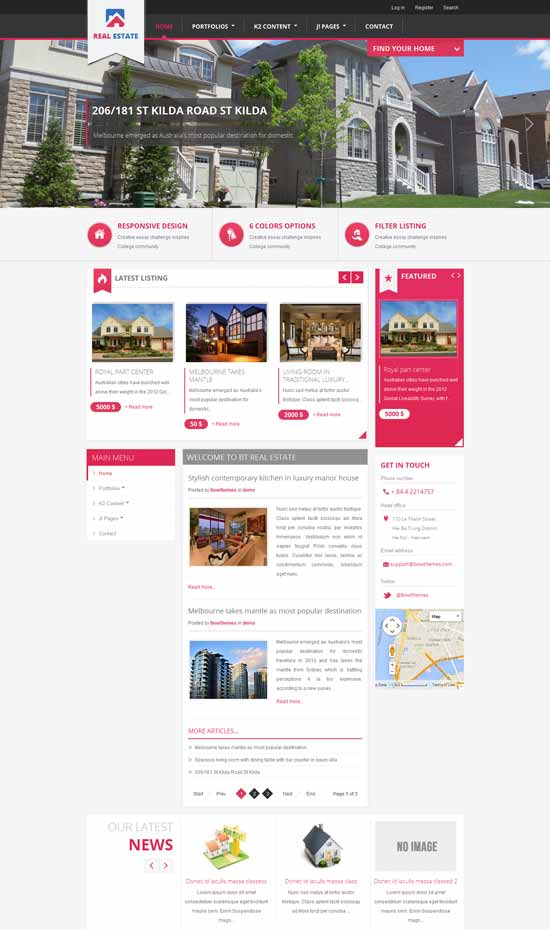 demo more info / download
Mj Real Estate Joomla Template
Mj Estate is responsive Real Estate joomla template based on K2 extension and designed for mobiles, tablets and desktops. It is compatible with Joomla 2.5 onwards. Display list of properties for selling and buying. Mj Estate is built using Solid grid system and Bootstrap framework. It's suitable for Real-Estate and Property listing websites.
Renting Apartments Joomla Template
Looking for apartments for rent some people address to real estate agents, while others do this on their own, and in this case you can't do without a good estate agency. Users find most of these companies online, and it points out the importance of setting up a profound web presences to expand business reach. Here is a professional theme perfectly tailored for presenting such an agency online and making people interested in its services. Its contemporary look, well structured layout and intuitive navigation are just what you need to offer the site visitors pleasant user experience and make them come back.
Apartments for Rent Joomla Template
It's a brilliant idea to showcase your apartments for rent on the internet. But you should take care of good imagery as this is the sales drive here. Our template will help you feature a large portion of your visual content in the most lovable manner. Both slider and gallery photos are supplied with captions, where you can briefly state benefits of the offered premises. Company advantages as well as happy customers' testimonials are marked out with a nice coral red color. 'About us' section is right between these blocks. Newsletter subscription form is placed over the blurred image in the bottom of the page, which looks very unusual and inviting.
Home Bureau Joomla Template
Stunning contemporary homes that fit modern lifestyle are the main point of real estate business. Agencies working in this sphere are always ready to offer a variety of buying, selling and renting solutions, and the way they present these offers matters. An inviting website that welcomes people in, tells about the company, its services and showcases a nice gallery is a must have starting point for this business.
Real Estate Agency Responsive Joomla Template
Real Estate Agency Joomla Template
This real estate joomla template offers you a stylish layout without compromising on content. Well structured content blocks are ready for comprehensive displaying of all business points of your real estate company.
Real Estate Agency Joomla Template
Square Real Estate Joomla Template
The front-end of this template can be characterized with square forms of its layouts. It creates an original look, which represents your real estate agency from the best side. In addition to that the design is incrusted with pictures demonstrating incredible and fashionable interior. Besides, your clients will be attracted by comfortable animated menu and the ability to watch the website from the handheld devices with no problem.
Apartments for Rent Joomla Template
Simplistic design with wisely arranged content blocks makes this theme suitable for content-heavy real estate companies. Green accents add the vibe to the clean look of the theme. The home page features large gallery with several categories where visitors can browse all offers of the company. All images go with nice hover effect.
Modern Real Estate Agency Joomla Template
The template meets a viewer with screen wide high-quality illustration of the houses. These sliding photos show an attractive example of real estate you are working with. Down on the page we can see the certain home offerings and other important details. The theme is enhanced by Bootstrap, which gives a plenty of benefits to the admins for example additional HTML elements, CSS sets, JavaScript components.