In this blog post, we'll explore the top 24 HTML real estate website templates, offering a blend of functionality, aesthetics, and user experience. The top HTML real estate templates offer a blend of design aesthetics and practical features, catering to the diverse needs of real estate professionals. Whether you prioritize responsive design, advanced search options, or unique features like property comparison tools, these templates provide a solid foundation for creating an impactful online presence in the real estate industry.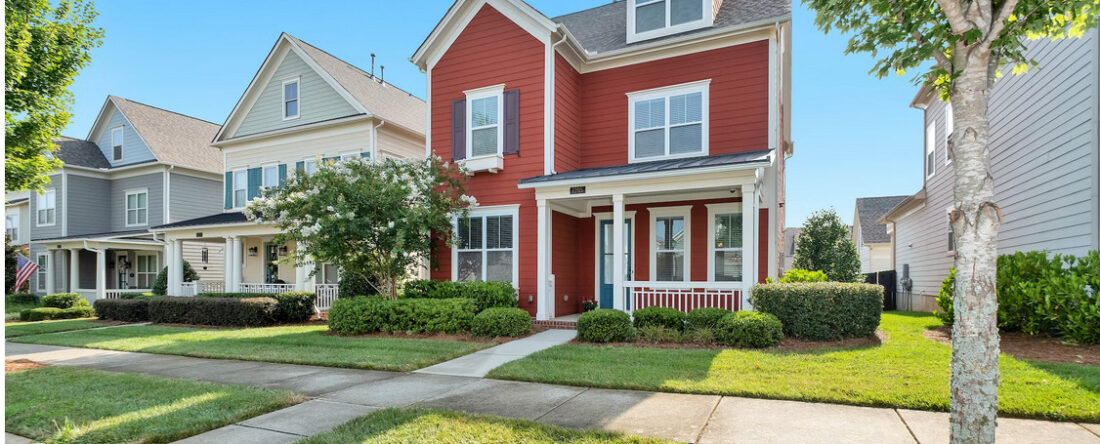 Image source by (https://unsplash.com/@zacgudakov)
Top Free HTML Real Estate Website Templates
EstateAgency
EstateAgency is a user-friendly and contemporary solution crafted for building professional real estate websites. It utilizes the Bootstrap framework to guarantee a mobile-friendly experience. The template includes dedicated sections for property listings, customizable search and filtering options, along with contact forms to facilitate effortless client communication.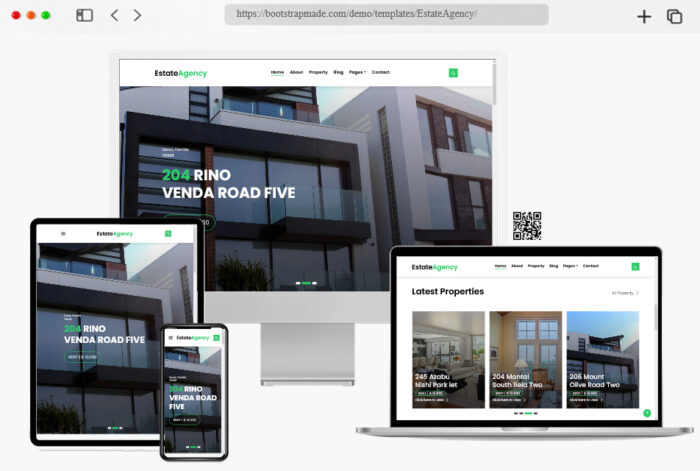 More info / download Demo
Makaan
Makaan is an HTML template specifically tailored for real estate purposes. This template is designed to provide a user-friendly and visually appealing platform for showcasing real estate listings. With a focus on simplicity and functionality, Makaan offers features that make it suitable for property presentation, including customizable layouts and sections.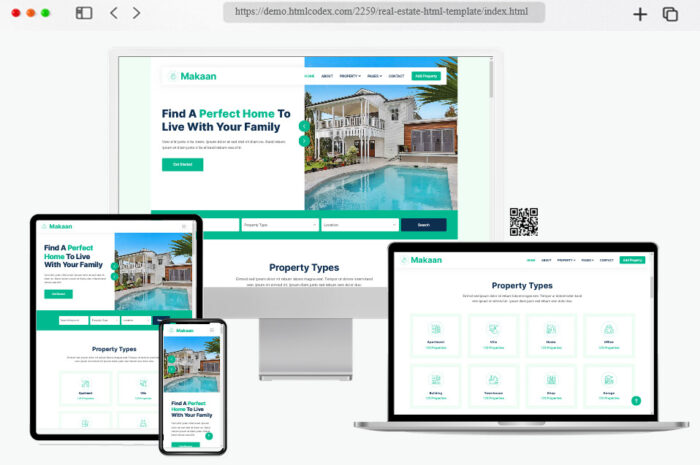 More info / download Demo
EstateBit
EstateBit is a free HTML template designed for crafting real estate websites. With a focus on providing a cost-effective solution, EstateBit offers essential features for showcasing property listings. This template is built on HTML, making it accessible and easy to use.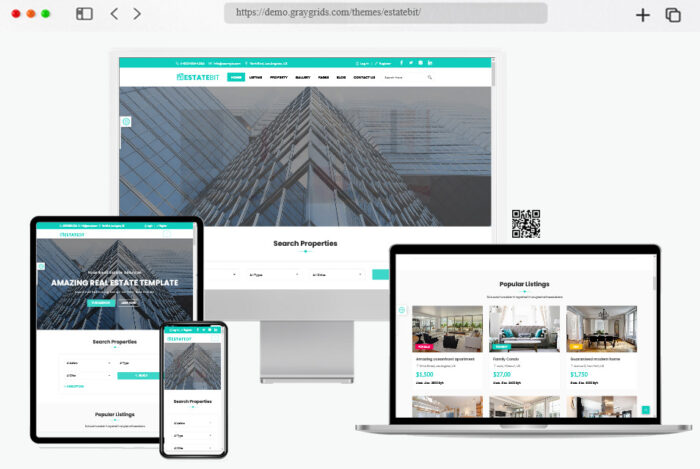 More info / download Demo
Redat
Redat is a Real Estate HTML Website template crafted to meet the specific needs of real estate professionals and businesses. With its HTML foundation, Redat ensures accessibility and ease of use. The template features a clean and purposeful design, making it well-suited for showcasing property listings and related information.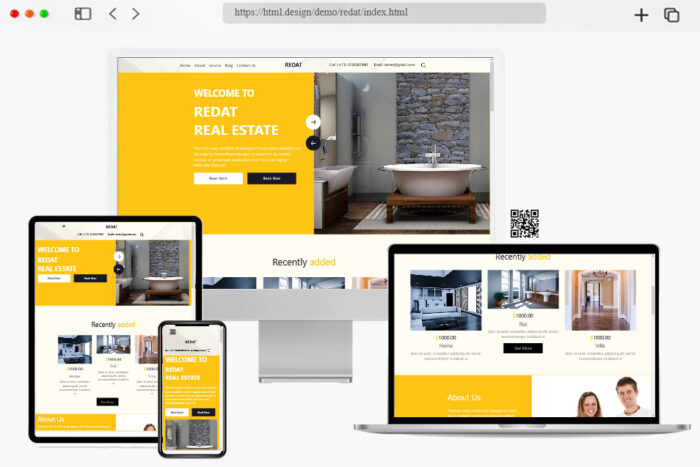 More info / download Demo
Property
Property is a free bootstrap real estate template designed for building responsive and accessible real estate websites. With a user-friendly approach, this template provides essential features for showcasing property listings. Built on the Bootstrap framework, Property ensures a mobile-friendly experience and straightforward customization.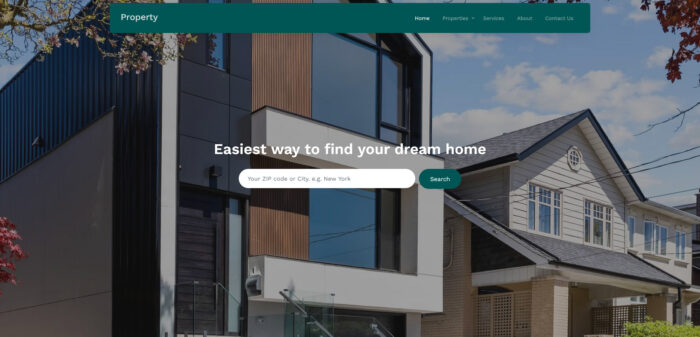 More info / download Demo
Dwelling
Top Paid HTML Real Estate Website Templates
FindHusly
FindHusly is a contemporary and feature-rich HTML-based real estate template crafted specifically for property listing websites. Whether you're a real estate agency, property broker, or individual seeking to showcase properties, FindHusly serves as an ideal real estate directory listing template. It caters to creating a striking online presence, attracting potential buyers or renters. This versatile template can be customized to meet user requirements.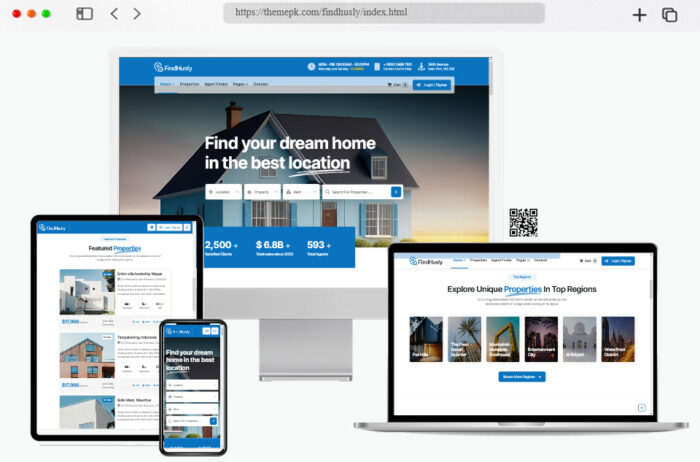 More info / download Demo
DreamsEstate
DreamsEstate is an HTML Template tailored for properties sale and rent purposes, catering to estate buy and rent platforms. Featuring a clean and responsive design, it's well-suited for a variety of real estate-related entities such as Real Estate Agencies, Agents, property listings, rentals, houses, apartments, and brokers.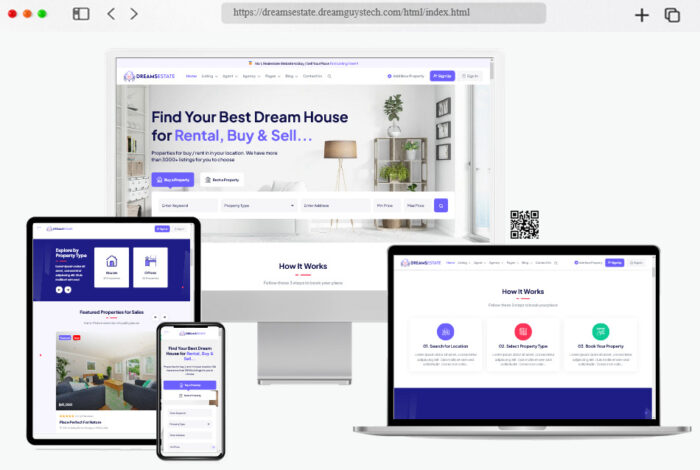 More info / download Demo
Homez
Empower your online presence with Homez – a comprehensive multipurpose template designed for real estate. With modernity, responsiveness, and user-friendliness in mind, Homez offers a platform to showcase your real estate listings effectively. Tailored for Real Estate Agencies, Realtor Companies, Agents, and more, it's optimized for various real estate needs, from properties to rentals.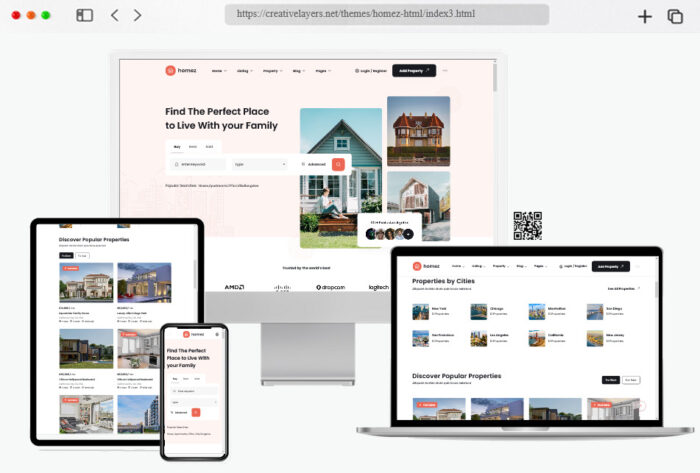 More info / download Demo
Veshm
Veshm stands out as an excellent Real Estate HTML Template for residential websites. With its 7+ home page variations, advanced search capabilities, creative UI designs, and distinctive features, Veshm empowers you to create a smart and professional website. Built on the latest Bootstrap 5.3, the template ensures 100% valid code, aiding easy customization.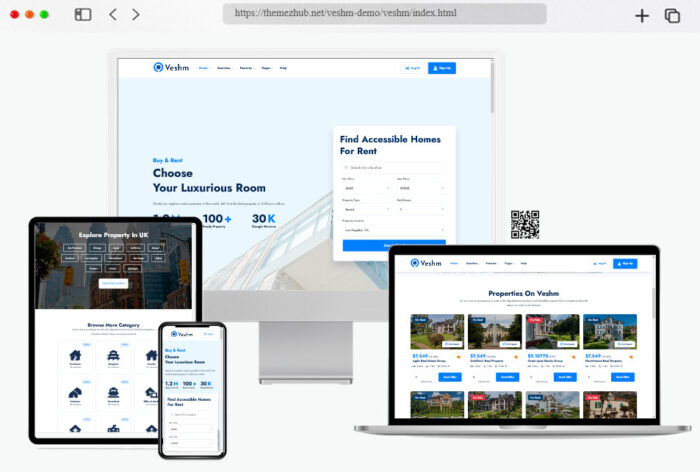 More info / download Demo
Revest
Revest is a contemporary real estate investment template crafted with modern web technologies like React and Next.js. Tailored for creating a striking online presence, it's ideal for real estate businesses. Featuring a sleek and user-friendly interface, Revest simplifies property showcase, lead management, and client interaction.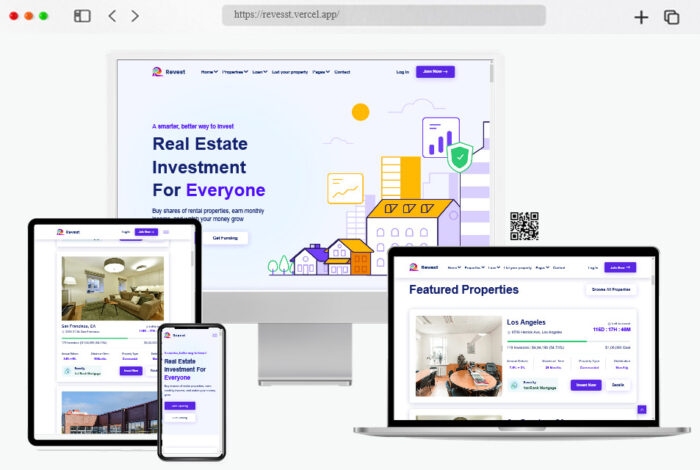 More info / download Demo
Reland
Reland is a Real Estate Group HTML Template designed for selling properties like villas, land, apartments, houses, and more. It's optimized for showcasing single properties, rentals, apartments, and various real estate businesses. Developed with Bootstrap 5.1x, HTML5, CSS3, and jQuery, it ensures compatibility with modern technologies. The template is responsive, tested on multiple devices and browsers, and functions seamlessly.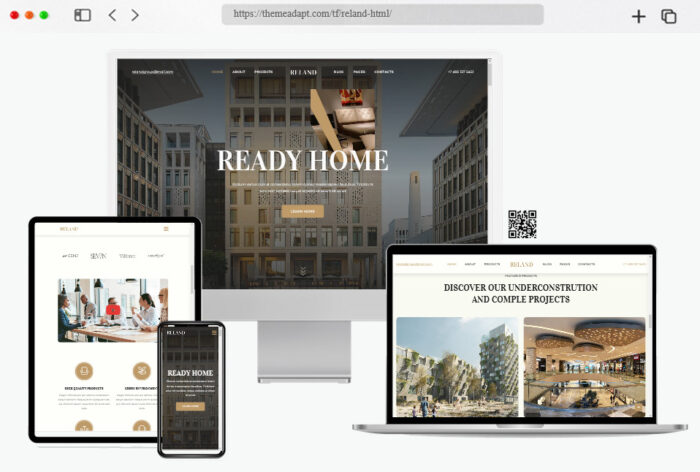 More info / download Demo
Hously
Using the Tailwind CSS framework, Hously is one of the best real estate responsive HTML5 templates. The template's sections can be be completely customized to meet your needs. Hously is a premium HTML template that has been thoughtfully put together to meet all the requirements of a real estate business.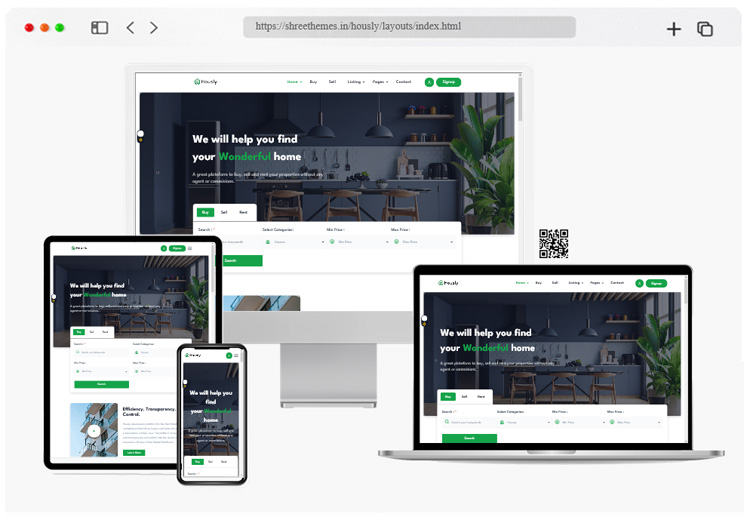 More info / download Demo
Sheltos
Sheltos is a modern Real Estate template built using React Next Js. It integrates Redux Toolkit for state management, React Hooks for enhanced functionality, and API Routes for seamless data handling. The template is tailored for real estate businesses, offering advanced features and a user-friendly interface.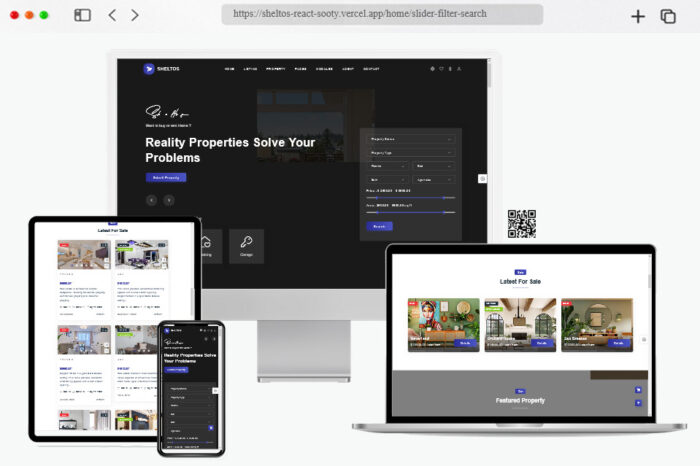 More info / download Demo
FindHouse
FindHouse is a top-quality Real Estate React Next JS Template meticulously crafted to cater to the demands of real estate businesses. Incorporating the latest tools like Bootstrap 5 and React Next JS, it offers a diverse range of custom pages and 10 unique Homepages. With an abundance of design options, this template empowers users to build their own website layouts.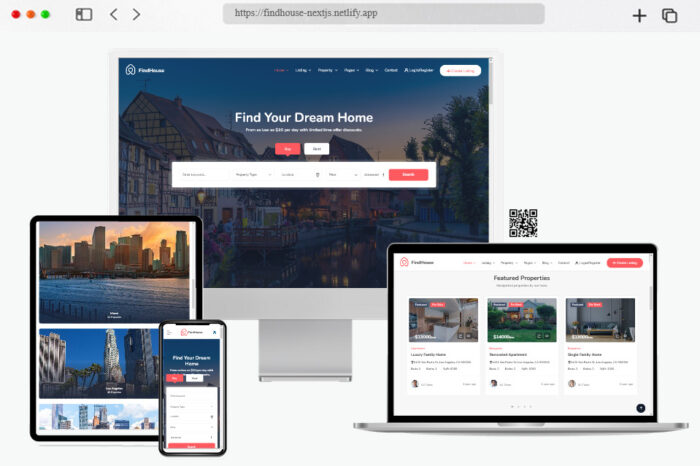 More info / download Demo
Homeradar
Homeradar is a Directory Listing Real Estate Template with a clean and modern design. It's ideal for those who appreciate sleek aesthetics. Townhub, the listing directory template, is designed to facilitate the creation, management, and monetization of directory sites, whether they're focused on local or global listings.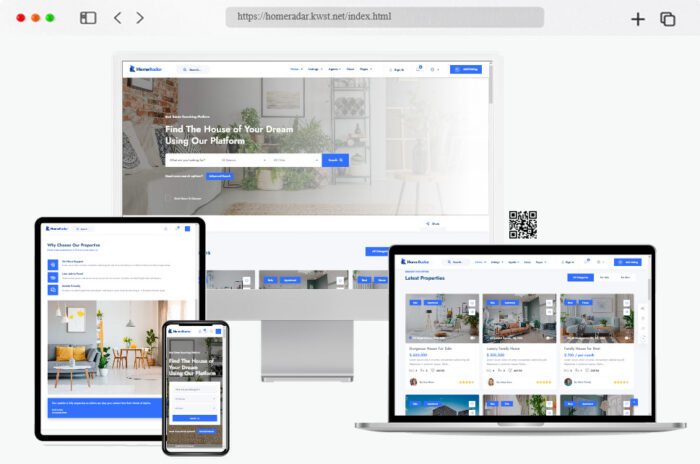 More info / download Demo
Quarter
Quarter is a versatile React Template catering to Real Estate, Architecture, and interior design needs. It serves as an excellent solution for real estate websites, directory sites, agencies, E-commerce platforms, and apartment services presentations. The design is creatively unique, offering ease of customization and use.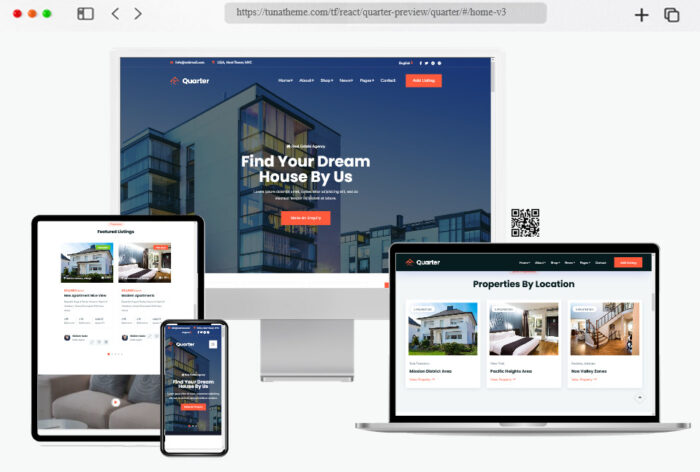 More info / download Demo
Resido
Resido is a high-quality HTML5 template tailored for real estate websites, utilizing the latest version of Bootstrap. It's well-suited for agencies, agents, properties, rentals, corporations, and apartments. The template boasts excellent responsiveness and offers various home page layouts. It includes numerous HTML pages, each with 100% responsive and W3C HTML validated coding. With clear HTML and CSS comments, customization is made easy.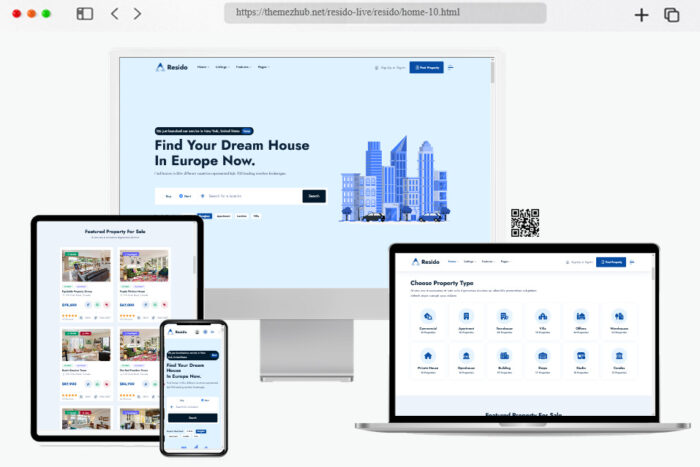 More info / download Demo