Homely
Homely brings flawless user experience, flexibility, and beauty to real estate. Homely is a creative, mobile-friendly real estate template suitable for a wide range of sites. Anything from large, to local real estate agencies, robust property listing sites, Homely is a perfect fit. Use pre-made templates to quickly get up and running, or easily mix and match modules to create unique pages.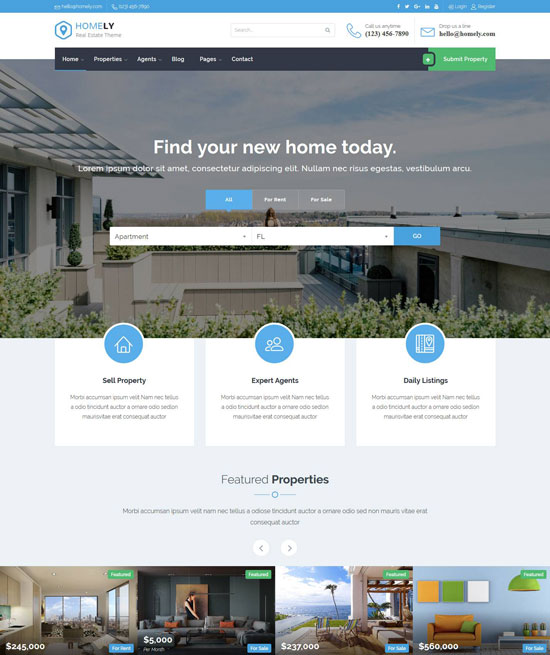 demo more info / download
HomeSweet
HomeSweet, It is able to manage their own listings without accessing admin dashboard. They can manage their profile, password and payment backlog too. By using HomeSweet you can start charging your users and earn money. Pay per post and packages are industry standard but you can use our new "extras" earning tools (including pay per featured or pay for TOP) to increase your monthly wage.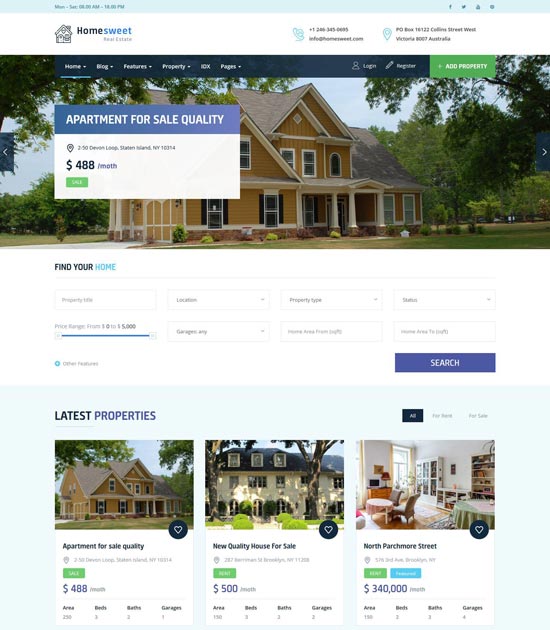 demo more info / download
ApusHome
ApusHome allows to add properties by your users. Create the property directory by few clicks. If you want you can review newly added properties before publishing. Of course it is possible to charge users for using your website. Plugins has builtin pay per post and package system.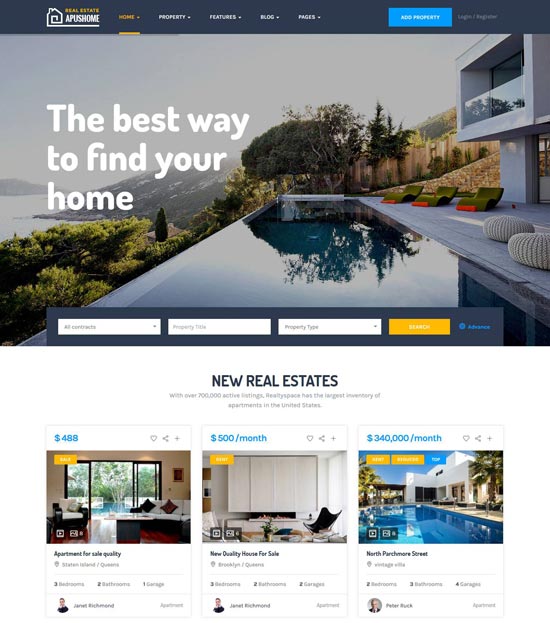 demo more info / download
Real Homes
Real Homes is a great WordPress theme for real estate websites. It offers purpose oriented design and 2 home page purpose layouts with all the useful features a real estate website needs.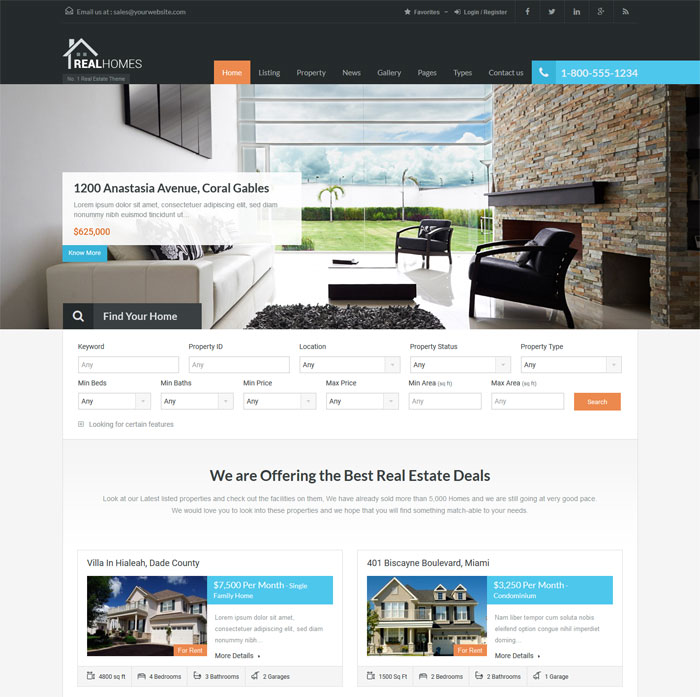 demo more info / download
Residence Real Estate
This is premium WordPress theme designed for real estate websites and any sites related to it. It come with 11 pre-made demo home page layouts, if you are an independent real estate broker or a large real estate company, then you can use this theme. You also have the liberty in allowing others to submit their properties for a free or on a subscription in a monthly basis. This can also be done without charges, it depends on you.
The overall design of the theme is clean, which makes it professional looking. It is easy to use, which enables you to do whatever you want for your website in an easy manner.
The features of Residence WordPress theme include Google Maps with markers for property location, Ajax filters for property list, front end property submit and edit, Properties Advanced Search, WPML plug-in support, easy theme options and a lot more.
There was an update done to this theme just recently and the new features include Email Customization Interface, Property page, Attach PDF to property, Add floor plans, Date field calendar, Footer background image control, places short-code and agent's short-code.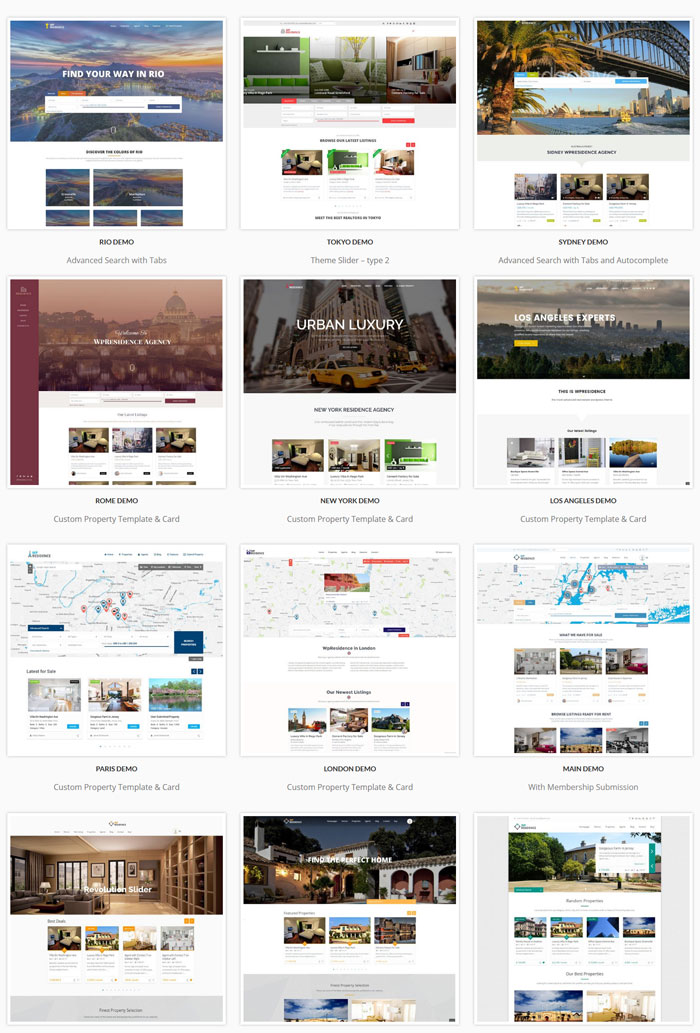 demo more info / download
Realia
Realia is Real Estate word press themes to help you create your own property portal in easy way. Realia is to change the design live dsIDX supports the new API custom WP themes and WordPress plugins! Without access to the user Realia Manager Dashboard, you can manage your own list. They can manage their own profile, password, and billing backlog. Using Realia start charging users and make money. We're ready to focus on the theme of strong revenue generation. Pay per post and package industry standard, but you can use our new "extra" income tools (including pay per pay endorse or TOP) May increase wages. Realia combination of revenue and our statistics, a strong theme.
The theme is highly salable and you can use it for a large real estate portals or small organizations with just a few clicks. Do you need custom changes in your website? Not a problem at all. Addicted to the behavior of all WordPress can be easily removed or added. You have to choose our extended article or video channel if there is a problem. At the end you can help you can always have our dedicated support staff.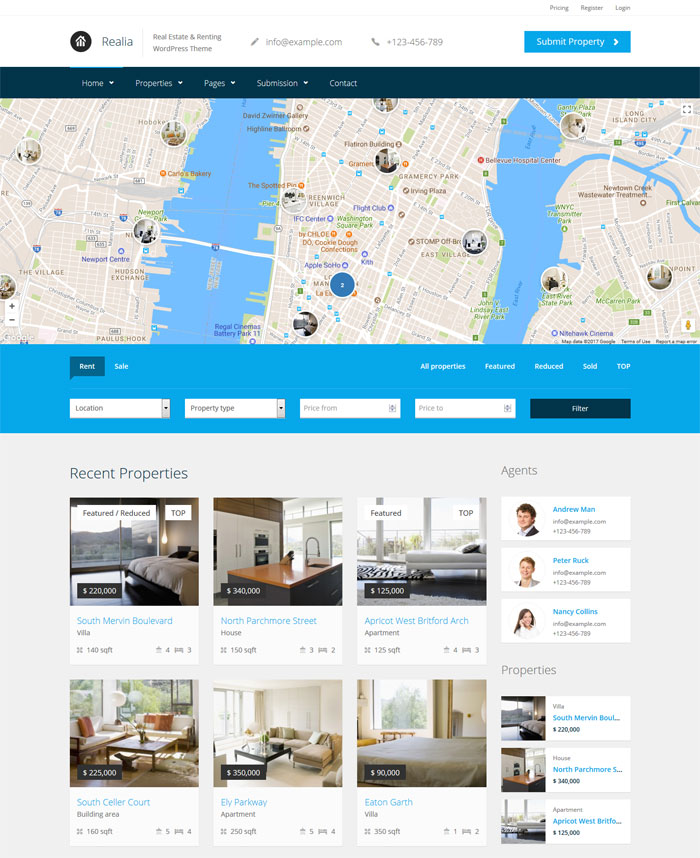 demo more info / download
MyHome
MyHome is one of the premium real estate WordPress themes that you can use. Its design is purpose-oriented with a lot of beneficial features for your real estate website. This was created August 2013 and recently updated in April 2016. Some of its features include Google Map with markers for properties, Advance search for properties, payment incorporation with PayPal, custom widgets, different templates for pages and customizable options, user-friendly meta boxes, supports WPML plug-in and Google reCAPTCHA.
MyHome real estate WordPress theme offers a template for pages to present properties in a list or grid layout. What's beneficial to you is that each template is being supported with meta boxes to sort out properties depending on your requirements.
If you're planning to go worldwide, MyHome theme is also translation ready, which means that it can automatically translate any language without even needing a plugin. However, if you want to create a website that's multi-lingual, then you can use WPML plugin which is supported by this theme.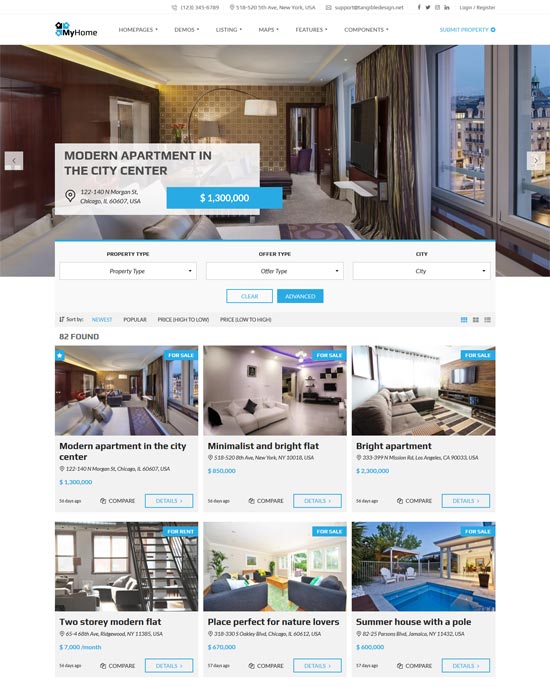 more info / download demo
BEYOT
BEYOT WordPress Theme is a premium theme designed for independent agents and agencies or on front-end as well as on admin-side and makes property management a breeze, but you can also use it to allow users to submit their properties Free, for a fee or on a subscription basis.
BEYOT by Greg Priday is available for both free and premium purchase. This is a real estate WordPress theme that you can use for your real estate website. This them can also be used for any other professional-themed and oriented blog site since it is a clean and flexible theme. Additionally, it is just perfect for any blog or website that pertains to business and portfolio.
The integration of Page Builder is probably Estate's most valuable feature. After installing Page Builder, you can freely create distinctive page layouts in just a few clicks. The drop and drag interface are user-friendly, which you can also take advantage in creating just anything from restaurant menus to marketing and sales for a real estate website.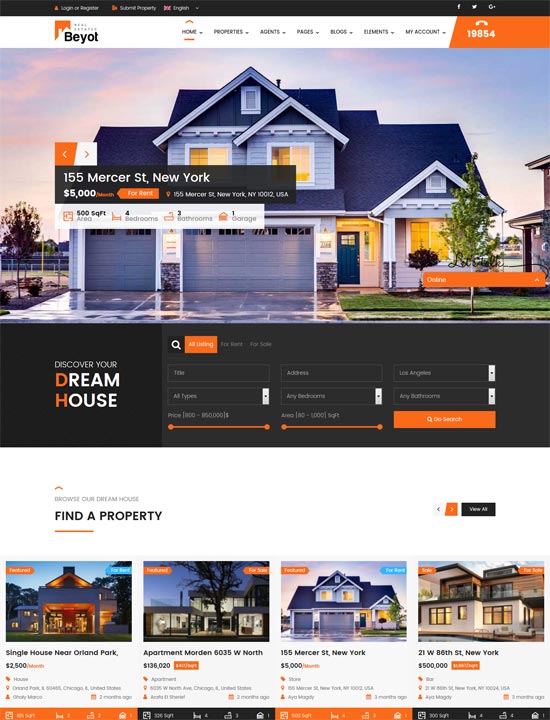 more info / download demo
Home Villas
HomeVillas Real Estate is a complete responsive WordPress theme specifically designed for real estate. Attract real estate sellers, visitors and potential buyers to your website with the full freedom to choose the layout of your choice for your website, make stylish headers, lists and ownership templates. – Real Estate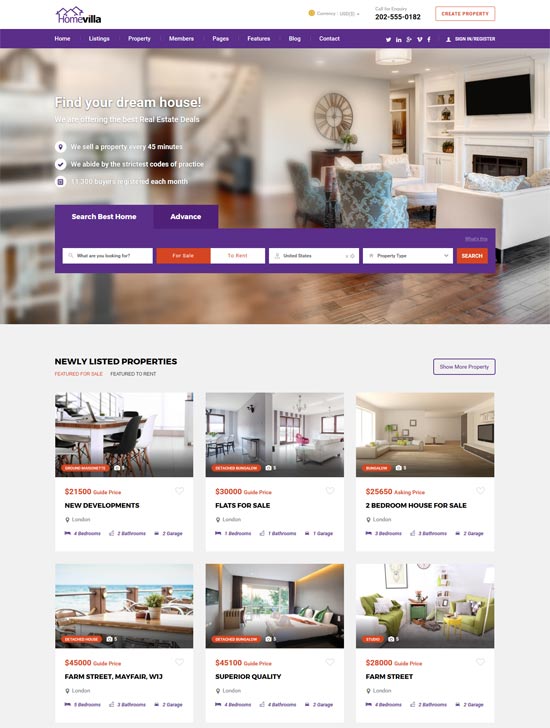 more info / download demo
Opalhomes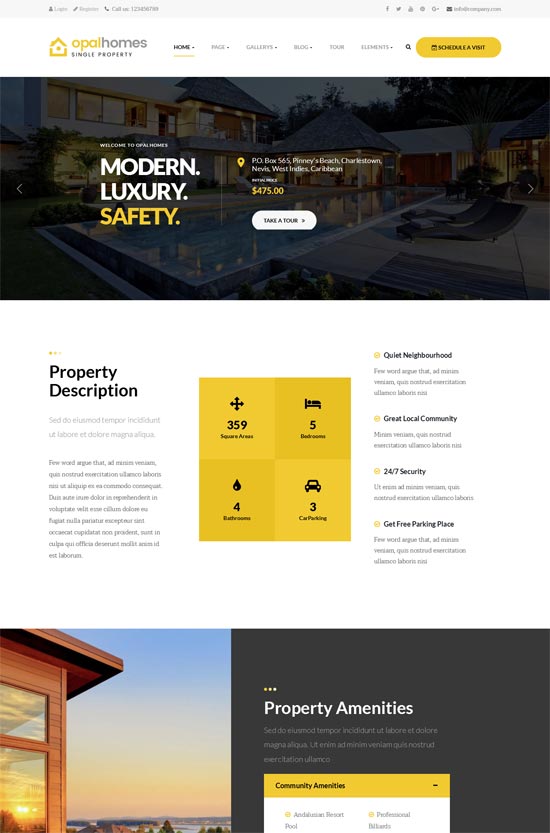 more info / download demo
Windsor
Windsor is a splendind solution for the online presentation of a newly built apartment complex, office or home center. You can use the theme to sell the unique property of object or the change as a business page for Estate. We are sure, the theme goes beyond the fields of your initial expectations and provide more features than you might imagine.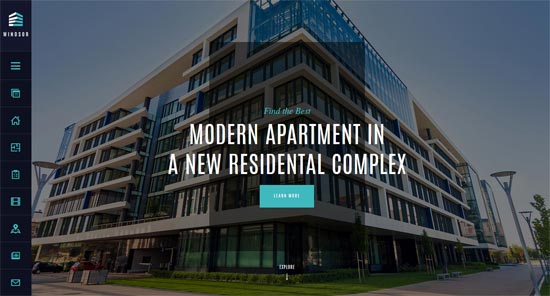 more info / download demo
FullHouse
FullHouse WordPress theme is a real solution for real estate site with pages devoted to real estate: Property, agents, etc. and systems dedicated to manage property – Opal Property, manage Agents – Opal Agents. The theme comes with flexible layout system with 3 unique demos, creative design and the ultimate essential features to build outstanding real estate website. The powerful search and filtering system allows the user to easily find his best property.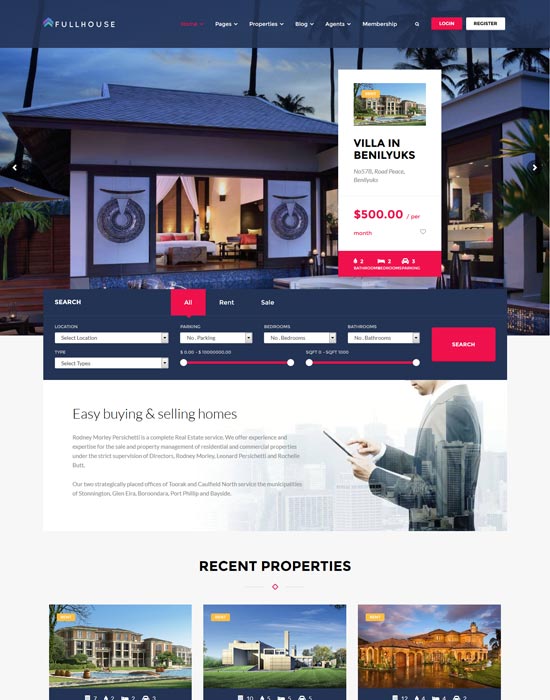 more info / download demo
Realtyspace
Realtyspace is the WordPress theme for real estate agencies. It has an object-oriented design and it is loaded with tons of useful features. With custom currency, custom area units and fully translatable text, you can use it to build a real estate site for any country in the world, from North and South America, Europe, Middle East or any other place.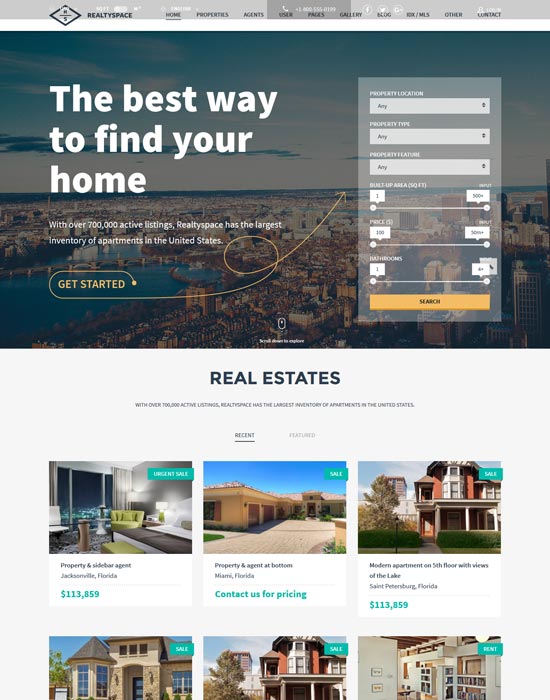 more info / download demo
Houzez
Houzez is a professional WordPress theme designed for real estate agents and companies. Engage visitors and potential customers with custom Visual Composer modules, header options, different lists, and property templates.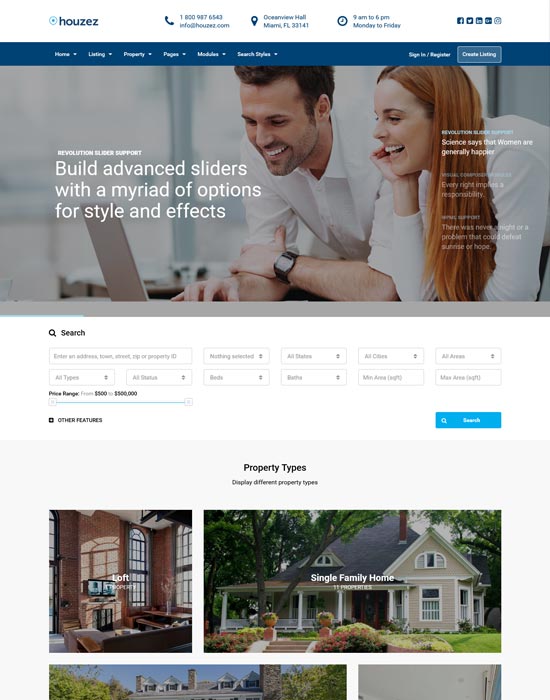 more info / download demo
DREAM LAND
DREAM LAND is a unique Property Estate best solution for both real estate agencies and homeowners. Today, the sale of property by the most popular owner and Apart Villa is specially designed for these sites. This theme has Multi-Pages option as well as very useful for real estate companies.
This real estate WordPress theme is the best to answer for real estate agencies who are going to start a website, as well as property owners. Not only that real estate companies and agencies are gaining an increased rate of bringing the industry into blogging and site-building, but also owners of certain properties are gaining popularity in the industry. Thus, this theme is specifically created for such real estate blogs and sites.
Real estate companies will absolutely benefit from this theme because it has a Multi-Pages option. Specifically, this theme is suitable for those agencies that are selling properties such as land, villas, houses, apartments and even raw house. The DREAM LAND theme provides an unparalleled details page, as well as tour page for customers and website visitors. In this way, properties can be described as detailed as possible, which can lead to a sale.
Some of this theme's features include Once-click demo install, Visual composer, Powerful theme option, various Google fonts, a generator for short-codes, valid HTML 5 and CSS3, WPML support among others.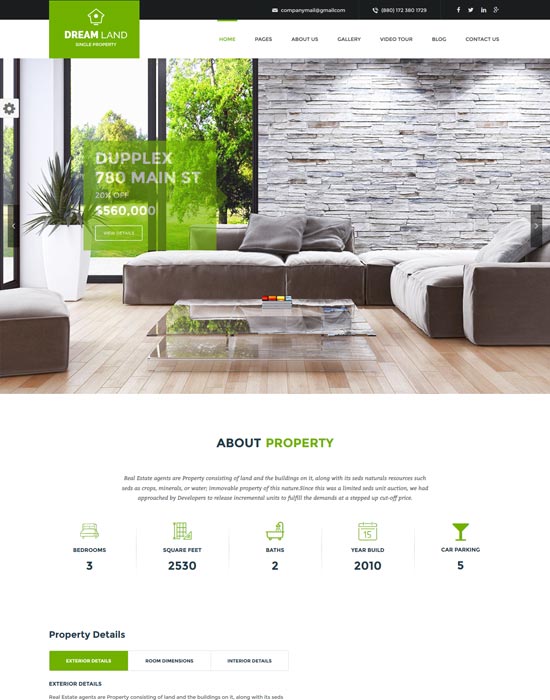 more info / download demo
WP Rentals
The start offering rental and leasing real estate theme reservations platform that can be registered. While making each submission or fee for each confirmed booking you join the affiliate program owners can post your own list. WP Rental is a real estate theme with multi-functions. You can register through Facebook, Gmail, or Yahoo, they posted or you can rent a property from your dashboard. When submitting a new property, you can set up or manage your availability calendar for each property for a discounted price of installing a custom long period of time, depending on the period.
The administrator (administrator can go to the hotel invoice% commission) to publish new properties and / or booking confirmation can accept payment via Paypal or stripe on. By the real estate WordPress theme that handles all messages between registered users and administrators are provided with personal monitoring internal message system. Until they are at least one confirmed booking you will not be able to see the owner's contact information (phone, email).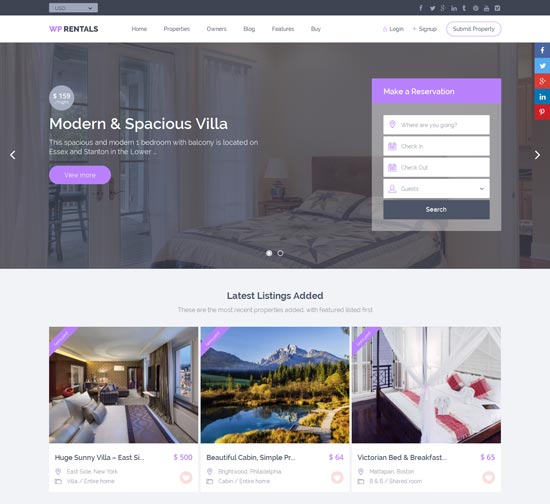 demo more info / download
Real Places
The Real place is a powerful theme for real estate websites. It has purpose oriented design, it offers the flexibility and customization to meet a variety of needs and a decent design variations. This theme can learn about the capabilities and through the detail provided in real-time view t load of useful features about this property offers below Preview.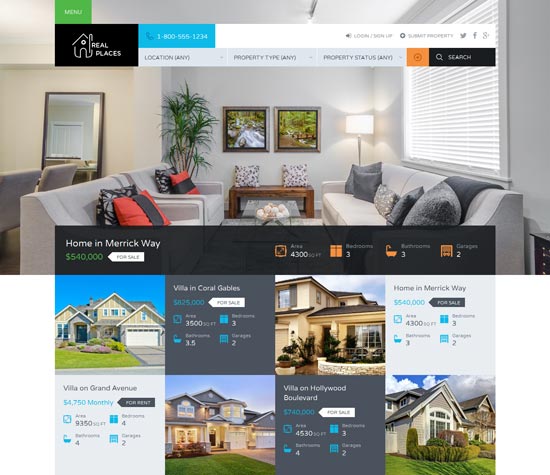 demo more info / download
WP Pro Real Estate 7
The professional real estate (7) can all end all live viewer with endless definitions of powerful options and tools, advanced search and mapping, five pre-built demos (scheduled later), 3 header layout, jointly, WordPress Real Estate Theme -listing support, reservation systems, sub-lists, front-end management, revolution slider, favorite lists and much more!
You are a single property, such as vacation rental site Airbnb, WP Pro Real Estate (7) to pay a real estate listing portal that lists the site's landing page or apartment rentals site, you can build anything! This is literally the end all be all of the real estate theme. So you know I'm getting the highest level since 2008, I've been a theme leading edge real estate theme hand craft thousands of five-star support, experts from elite author! + Demo includes all the plugins. Free updates and highest levels of support.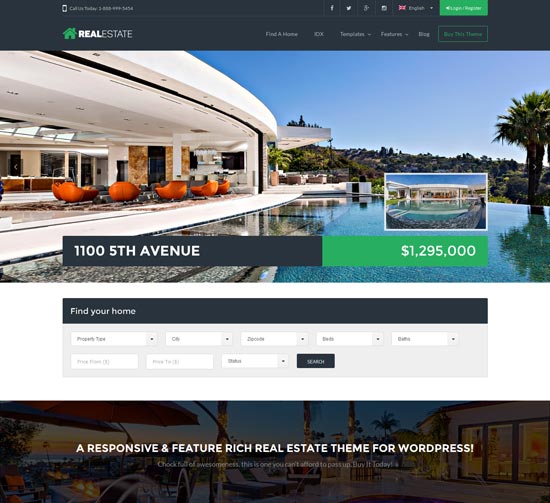 demo more info / download