Quick Sale
The premium WordPress theme produced both quick sale real estate agencies and property owners. This trend is the owner specializes in real estate theme to get more popular these days of sales are made specifically for this website.
Reales WP
Reales WP is fully visible, modern, clean and intuitive fully responsive design WordPress theme for real estate agencies on tablet or mobile screens sizes. Google Map integration, and much equipped with features such as advanced properties filters, useful shortcodes, custom colors, Facebook and Google accounts, front-end agent registration and submit additional Front End Properties Properties login and editing, advanced autocomplete search favorites, and more.
Solus
ExpertEstate
The ExpertEstate theme is the best real estate WordPress theme you will need to create your own real estate rental website. The ExpertEstate theme includes Google Maps integration, advanced search and sorting criteria, a dynamic presentation, and an easy-to-use dashboard. It is a clean and complete solution for all kinds of agencies and real estate agents, real estate companies and companies that deal with real estate in different ways. With the ExpertEstate theme, trading properties of all kinds and all markets is now easier than ever.
more info / download demo
Homelist
Homelist is a professional WordPress theme for real estate companies, real estate agencies, agents and homeowners. If you want to sell properties or provide rental services, Homelist is the right choice for you. We take care of all the needs of real estate agents, agencies and companies. With easy-to-use and powerful front-end features, this theme will make your property management easier. It includes four stunning home pages and a rich user interface kit containing a wide variety of carefully designed and coded website elements.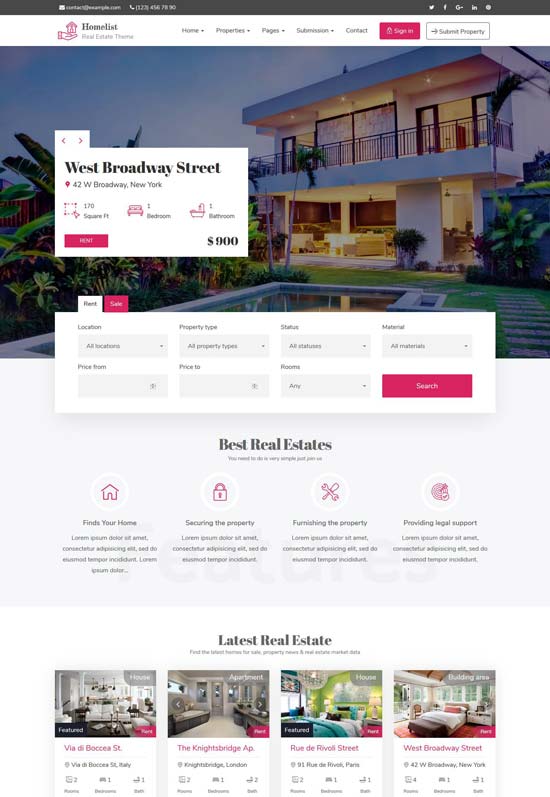 more info / download demo
AlpenHouse
AlpenHouse is a holiday rental WordPress theme designed to help you build a profitable vacation rental business. The theme offers a feature-rich PMS and a toolbox for booking accommodation: booking forms, real-time availability search form, directory of rooms with photo galleries and equipment, flexible booking rules, rates and seasonal rates, rebate system, integrated international payment gateways, optional synchronization with OTAs, taxes and fees for proper accountability and more tools for managing your hosting.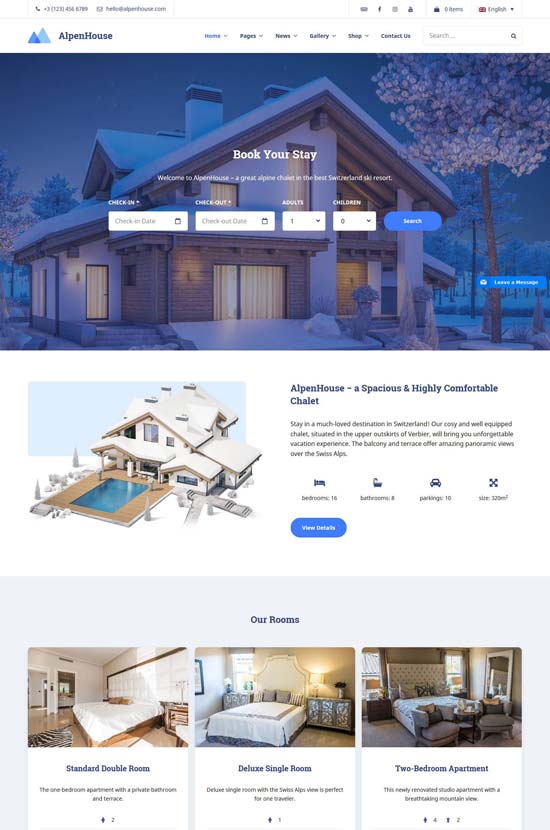 more info / download demo
Qhub
QHub is a great WordPress theme created for creative co-working and shared desktops, meeting rooms, podcast studios and conference space rentals. sections of the page in an optional order so that your pages have exactly the way you envision them. The customization panel allows you to choose between the boxed and wide presentation variants and between three predefined color combinations. In addition, you have several options for the header and footer of the theme. The theme includes fonts from the Google Font Library and FontAwesome icons.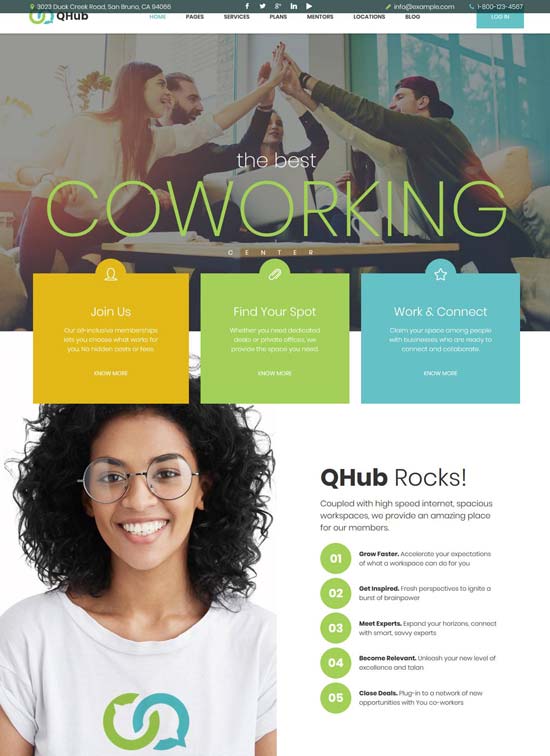 more info / download demo
Addendum
Build a website for your mortgage company and add many plugins and elements to it with the Addendum WordPress theme! You will be able to use highly functional plugins such as TM Photo Gallery, TM Timeline, a family of Cherry plugins and many others. With Addendum, you'll be able to manage and personalize your content with the powerful Elementor page generator. It allows to set up information without any coding skills.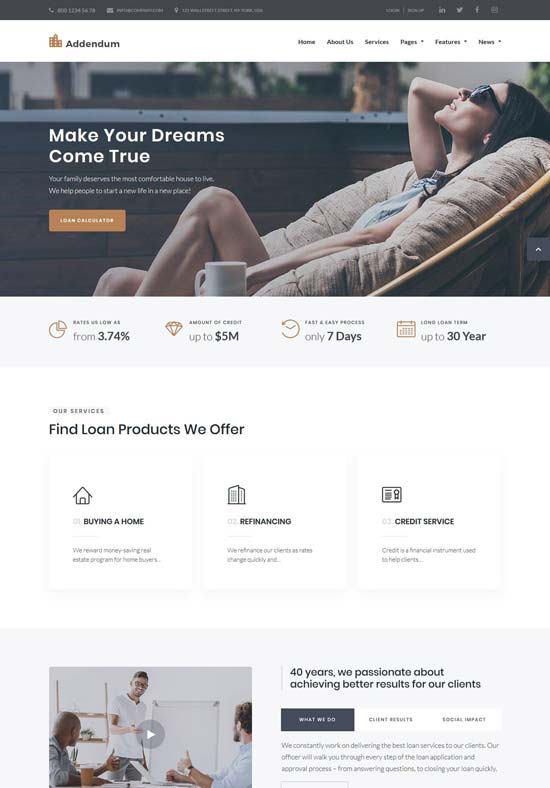 more info / download demo
At Home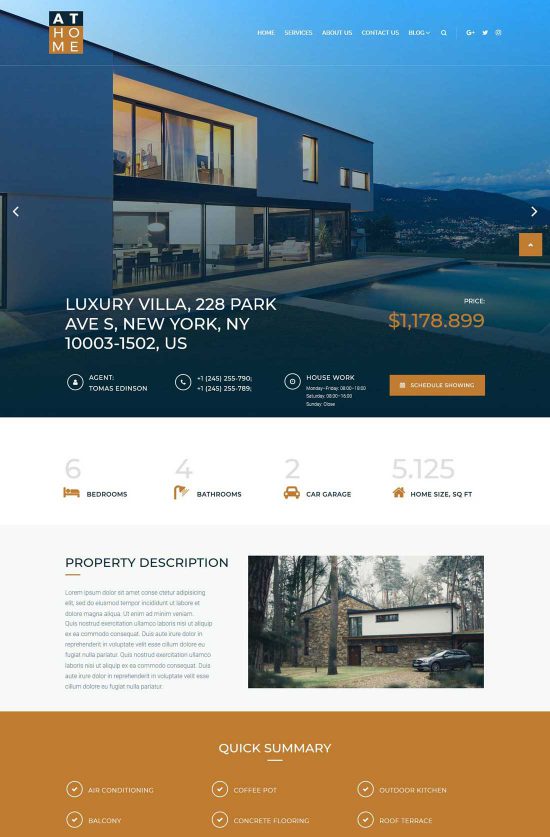 demo more info / download
Villagio
Villagio is maximum easy in terms of customization: edit the front page without coding via the visual WordPress Customizer and add your properties with all details and photos via the integrated Hotel Booking plugin. The theme is ready to accept online payments via different payment systems (PayPal, Stripe, etc), or charge guests after arrival. The system of seasonal pricing and rates is very flexible, too – set different property cost when you want, block booking for chosen dates, set minimum days to stay, charge a full or deposit price, create discount coupons, etc. The theme is not overwhelmed with redundant plugins, making it lightweight and attractive for search engines.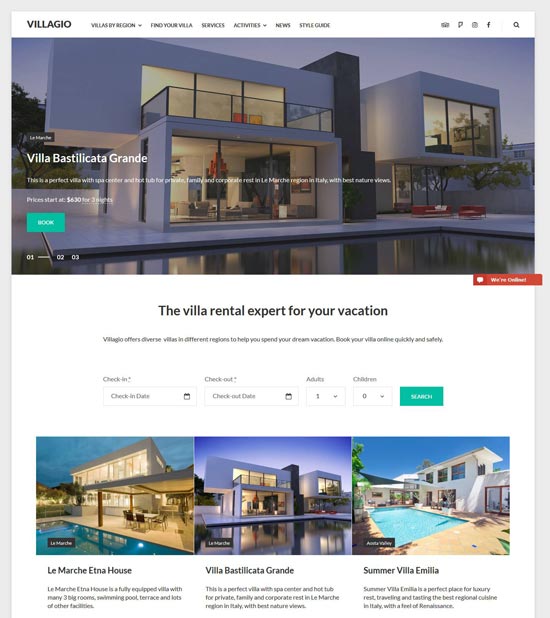 demo more info / download
Emilia Warren
Build pages easily and without touching a single line of code with our flexible power builder. Take advantage of more than 25+ modules, library of presets, and drag-and-drop functionality. With and advanced set of configuration options you can easily cusomize the design of your theme. Take control over your site with Power.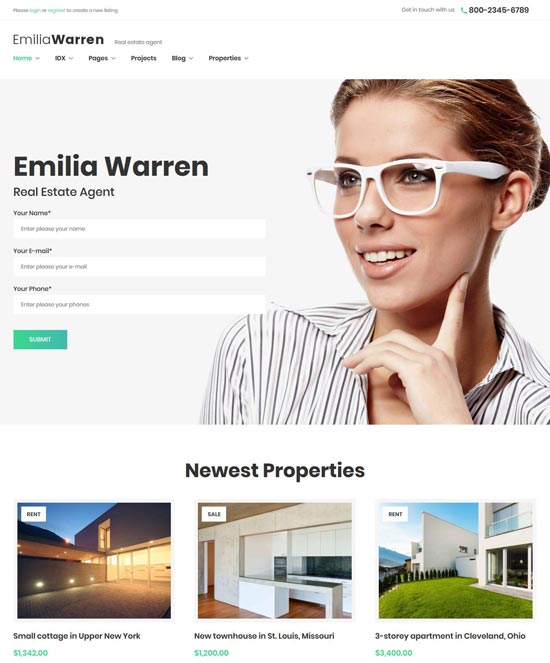 demo more info / download
CozyHouse
CozyHouse is considered as a Single Property Real Estate WordPress Theme, which comes in two varied preferences: (a) Single Page Parallalex version and (b) Multi-Pages. If you are selling your properties such as land, villa, house and apartment, then this theme is the best fit for you. This theme is also a good choice for large real estate companies.
One of its main features is the customizable Powerful Theme options. Just recently, there are additional features integrated to CozyHouse theme called Nearby Places section. This feature provides a vibrant option which is grounded on Google Maps.
It is also a mobile friendly design, which is a plus factor for property owners and real estate companies. This can help them rent or sell their properties even when they are outside the office. Furthermore, it is also beneficial to website visitors and would-be customers, since they can use their mobile phones and tablets to view the website.
Some of CozyHouse's premium features include unlimited font variations, Translation ready and WPML support, 2 homepage variations, sortable gallery, SEO ready, Google Web fonts, short-code generator, the slide with bulleted points, regular theme updates.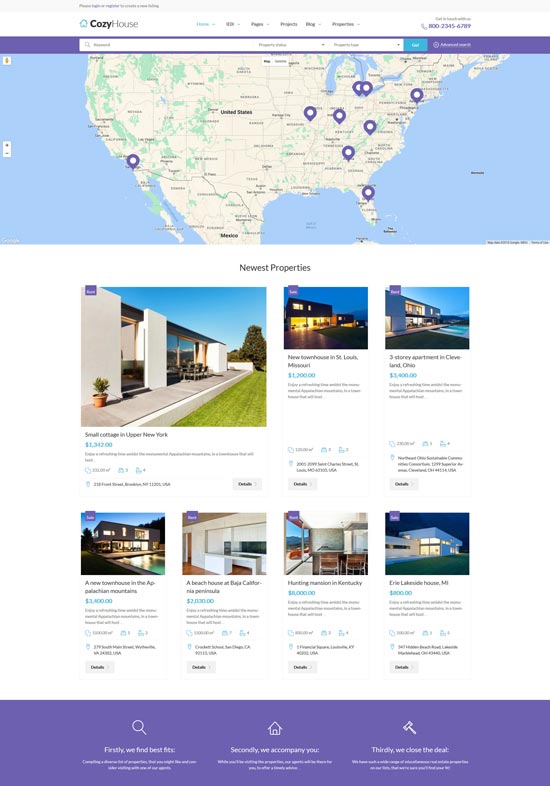 more info / download demo
Bellaina
Bellaina is a good real estate site should make finding a customer as easy as possible. The design should be intuitively understandable, it should have a simple search box, present a wide range of real estate properties available and, equally importantly, it should prove to the customer that your agency is trustworthy. All these features of this real estate theme reactive WordPress has. Take a look at the image-oriented design that allows you to place the best homes or apartments to grab the attention of a viewer.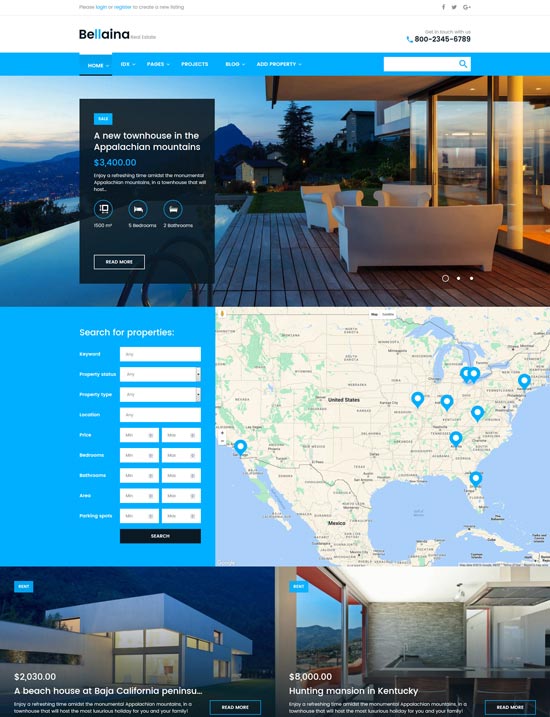 more info / download demo
HomePro
HomePro is a successful real estate agency website with WordPress, you will need a powerful and full-fledged theme that supports specific forms and plugins such as the IDX list of the box. It comes with revolutionary drag-and-drop Power Builder page introduced by tons of content modules; Advanced search focused on providing your visitors with unmatched usability; A pack of predefined layouts, including the personal page of the agent, a variety of blog layouts and gallery styles, and many more.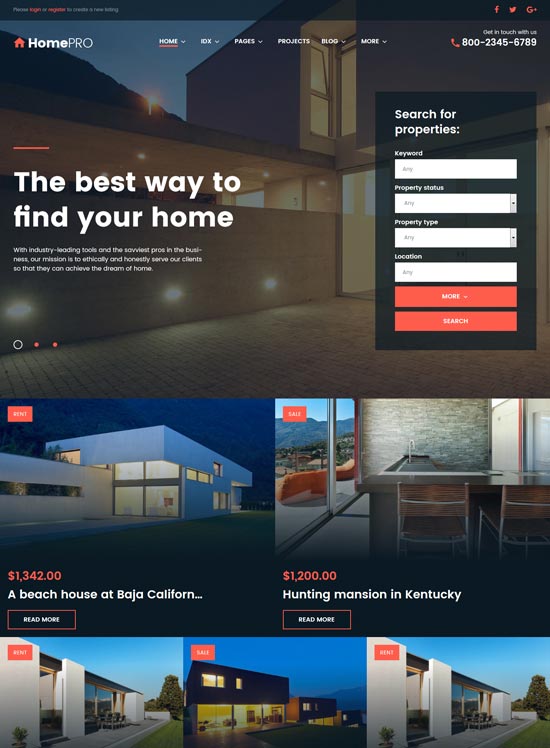 more info / download demo
PerfectRent
Enjoy stylish design in pastel colors and looks elegant real estate theme. Get several popular introduces the visitor to the banner easy carousel slider just below the event. Built-in real-time search much faster and easier to find what you need with just a few clicks.
Realtor
This Realtor Company WordPress theme is for the real estate business, but is also flexible enough to be used for websites of outdoor interior design. different images galleries allow you to create a wonderful presentation of your business. Presented on the bottom of a light canvas and soft imagery, content just to concentrate.
CitiLights
This is a premium theme in WordPress that is dedicated to Property listing sites, and as well as Agent and Agency related website. This is also considered a fully responsive theme, which is one of the considerations among real estate website owners.
With the understanding of the demands and requirements, an online real estate business needs, the developers of this WordPress theme have included workable functions. For instance, the theme has Membership subscription, front-end submission, advanced search, dsIDXpress IDX Plug-in support, property features, integration of Google Maps and a lot more.
When it comes to the design of the theme, the developers made sure that the overall look is as professional as it can be in order to start and maintain a credible image to potential and returning customers. The premium look and design of CitiLights provide website visitors a glance of the kind of business they are looking at.
Either you are creating a website for renting or selling of a property or an agent/agency aiming to extend its business to the social media, CitiLights is the right fit for a WordPress theme.
It is 100% user-friendly and it is optimized ready for all gadgets including mobile phones, tablets, and laptops. It sleekness and sharpness are vivid in all of the devices it can reach. Its frontend submission and agent profile always lets the user create their very own profiles. The user can also put in the company's or agency's date base in a very easy-to-use interface.
Zoner
This is considered as the newest real estate WordPress theme. With its exceptional functionality, beautiful design and key features, you will surely love this WordPress theme for your real estate business.
If you want to receive personal, local, or even global real estate website, then Zoner theme is the best fit for you. Whether you are an agency owner or an independent real estate broker, you should give this WordPress theme a try in creating your real estate website.
Zoner is practically made using WordPress 4.5, which is the latest version today. It also was built using the robust Redux framework plug-in for theme options and Bootstrap 3 1170px grid that is responsible for its excellent responsiveness.
It also features Google map and OpenStreetMap support so that it is easier for you to make your map suitable for the entire design of your real estate website. It has Page Builder which is a drop and drag builder allowing you to handle all the control on your website, from its layouts per page to its contents. To add, it has a social networking site login so that it is easy for users to log in by just using their Google profiles or Facebook accounts.
Other features include payment integration with PayPal and Stripe, currency online converter files, membership login, agency invitation, email templates, bookmarks, compare property, translator, ready and a lot more.
Real Spaces
Real Spaces is a WordPress theme created purposely for real estate business and real estate agents websites. This can also be useful for websites leaning towards business and the corporate world.
One of the key features of Real Spaces theme is its front end property submission, which is vital to a real estate website. This serves as a form limited only to the website's agents. In this way, it will be easy for agents to submit the properties they have along with the details, which includes the photo of the property, amenities if there are any and other important information about the property. Using this feature, agents can also make updates or edit their properties.
Some other features of this WordPress theme include search filters, save your searches, multiple type user accounts, easy property management, add properties to favorite and compare favorites, working contact form, SEO optimized, multiple page templates, Google fonts support, latest Twitter feeds widget, Isotope galleries and a lot more.