If you're in the business of recruiting, you know that first impressions are everything. That's why you need a WordPress theme that's professional, polished, and easy to navigate. Our selection of recruiting agency WordPress themes have all of those qualities and more. With sleek designs and powerful features, our themes will help you put your best foot forward and land those top clients. So take a look and see which one is the perfect fit for your business. You won't be disappointed.
Rekroot
RekRoot is a staffing firm. The WordPress theme is a comprehensive and effective tool for human resources departments and recruiting firms. Our job board theme was created using the well-liked and robust WP Job Manager plugin, which boasts more than 100,000 active users, is packed with features, and provides a ton of extensions to further its functionality.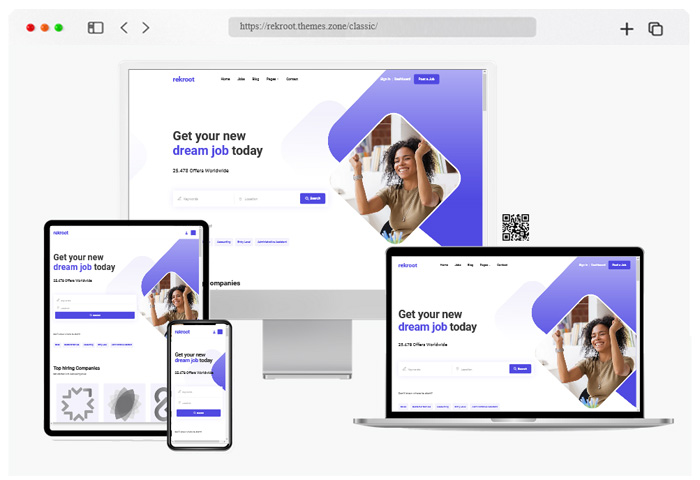 More info / download Demo
Eazy Recruitz
Easy Recruitz is an Elementor based WordPress Theme created for HR & Recruitment Company and Recruitment Manager. It is also suitable for advisory advisors, accountants, consulting firms, insurance, loans, tax assistance, investment companies, on-the-job training companies, leadership training offices, law firms recruiting and job seeker websites.
You can easily modify and customize the default homepage to suit your specific content layout using the Elementor page builder… Easy Recruitz offers professional, pixel-perfect and clean layouts for almost all website needs.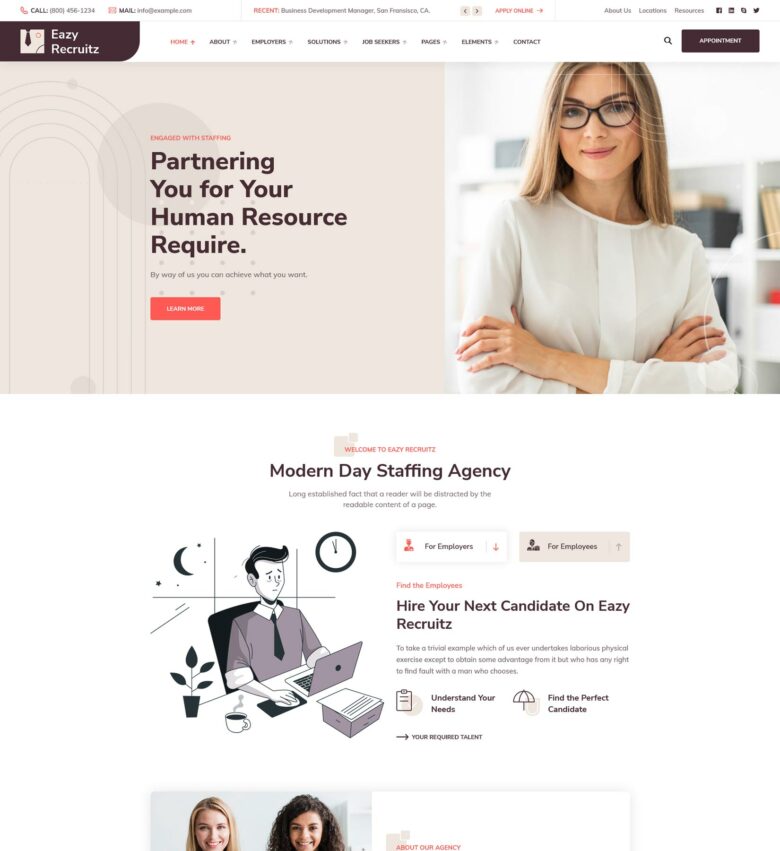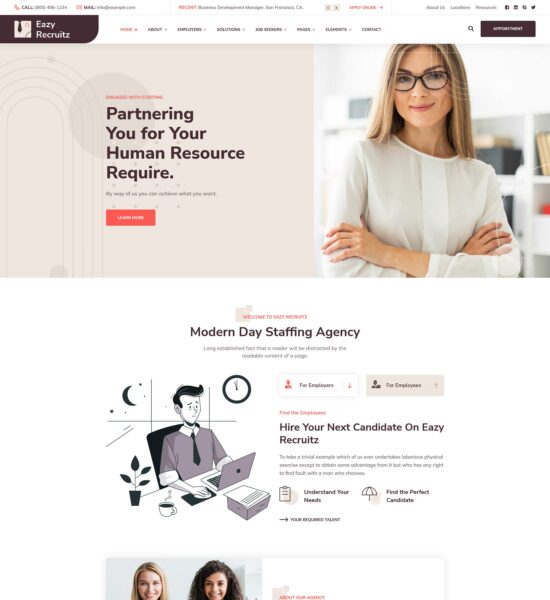 More info / download Demo
Emphires
A HR and Recruitment WordPress theme that is highly customizable, easy to use, and fully responsive. It has a revolutionary theme setup wizard and demo process engine that gets your site up and running in just 5 minutes with the selection of your preferred preview.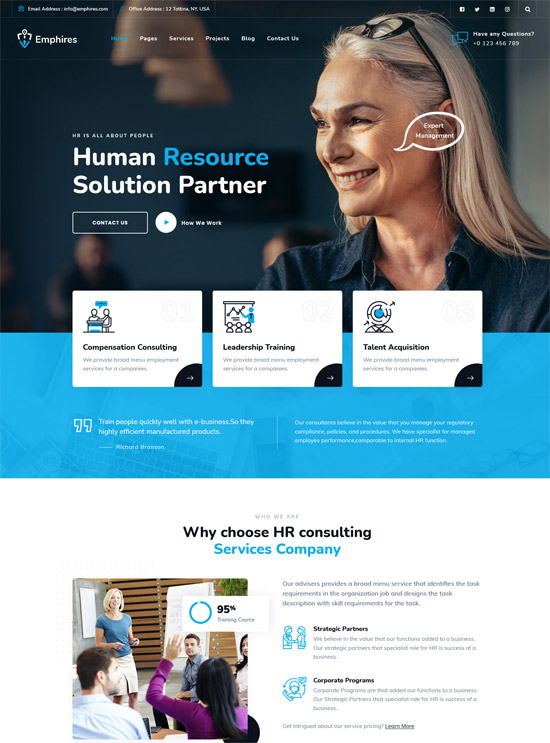 More info / download Demo
HR Human Consult
HR Human Consult is our light and airy WordPress theme designed specifically for HR consulting services, including HR recruitment companies and HR solutions companies. It will also be a good website for HR outsourcing companies looking for a high quality website with the Simple Job Board plugin. The theme contains 4 beautifully designed demo contents: Human Consulting Agency, Lawyer and Law Firm, Psychologist and LifeCoach Trainer, Entrepreneur and Business Consultant.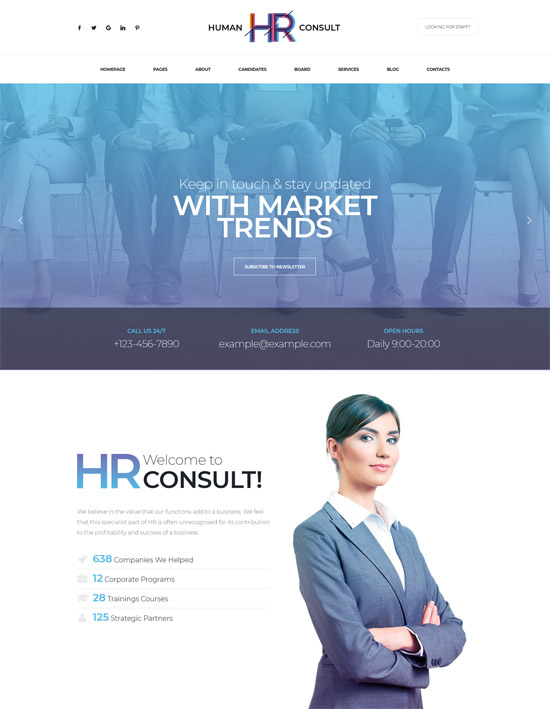 More info / download Demo
Meraki
Meraki is the perfect solution for companies and job listings. It comes with our in-house created Job Listings plugin: ModelTheme Listings Manager.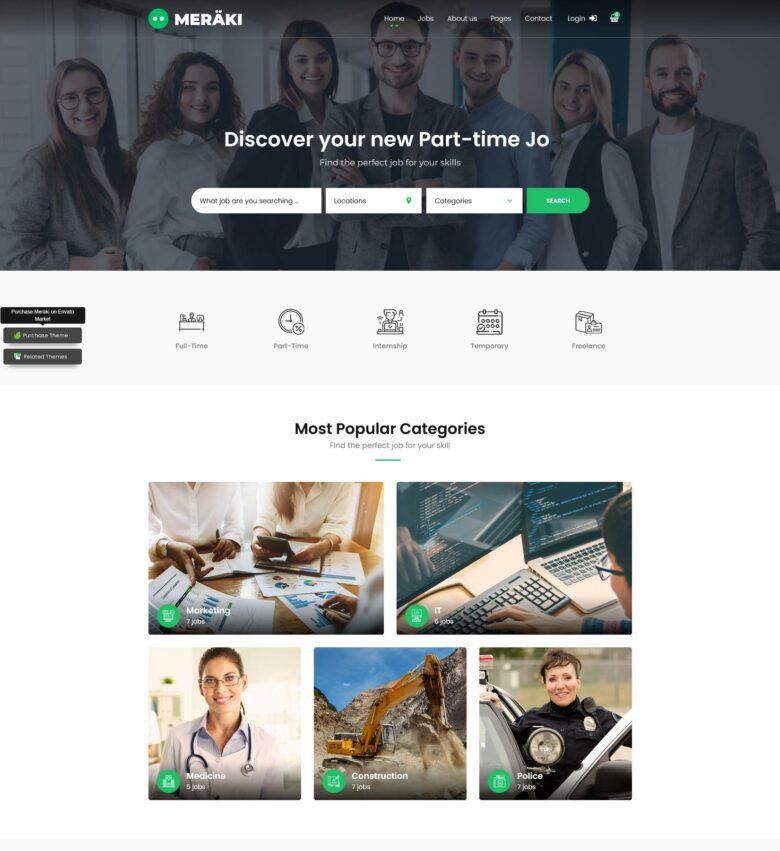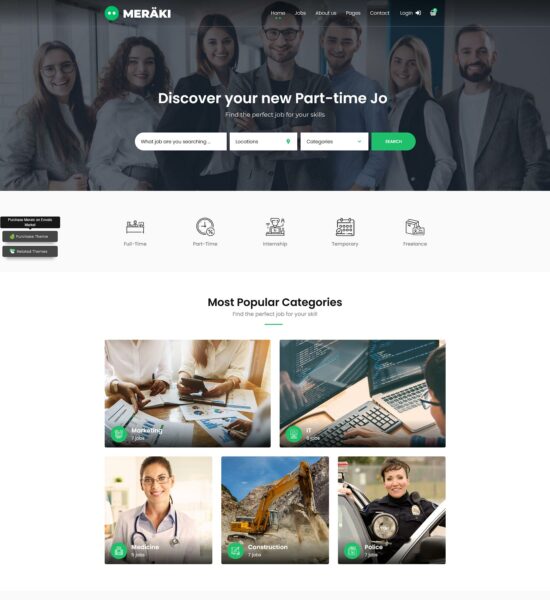 More info / download Demo
Recvite
Staffing Agency built Recvite as a clean and modern WordPress theme. This theme is perfect for any kind of staffing agency, etc., because it is well-designed and organized. You can easily change and add to the layouts of your themes. The theme comes with two clean home page layouts, each with a different header style, as well as more than 10 different inner pages.
With Elementor's robust Drag & Drop Page Builder, you can create your website and see the changes as they happen in the front-end live editor. Recvite theme is the best choice if you're looking for well-designed themes with more extra features for your service. It will help you get your website up and running quickly. Next, you'll learn about the main reasons why Recvite fits your website.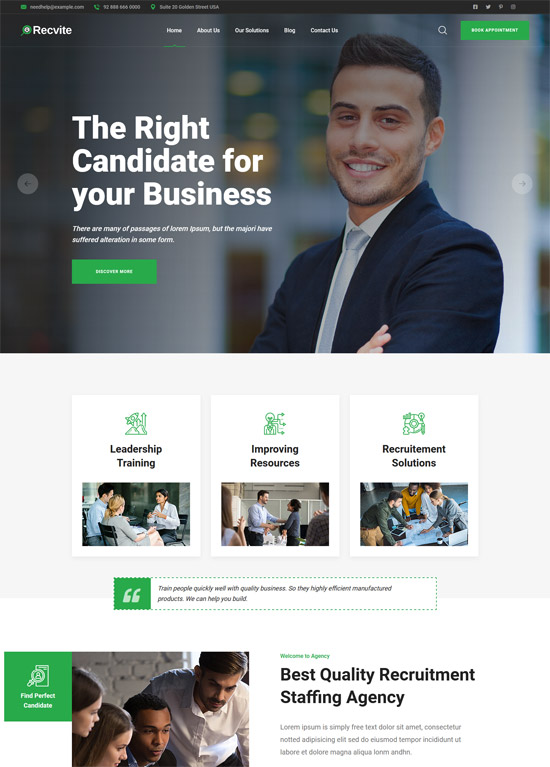 More info / download Demo
Nokri
Nokri Job Board WordPress Theme is a high-tech WordPress theme for a job board. It has everything you need to make a successful website for a job portal. Nokri is a full job board that is easy to use.
Using the Nokri WordPress theme, you can make a full-featured job portal, career platform, or job posting website for HR management, recruitment, freelance work, or job posting. A full WordPress theme for a job board, with separate panels for employers and job seekers.
Panels are useful search filters that make it easy to keep track of everything. The Nokri WordPress theme has apps for both Android and IOS. Get apps and you'll be ahead of your rivals.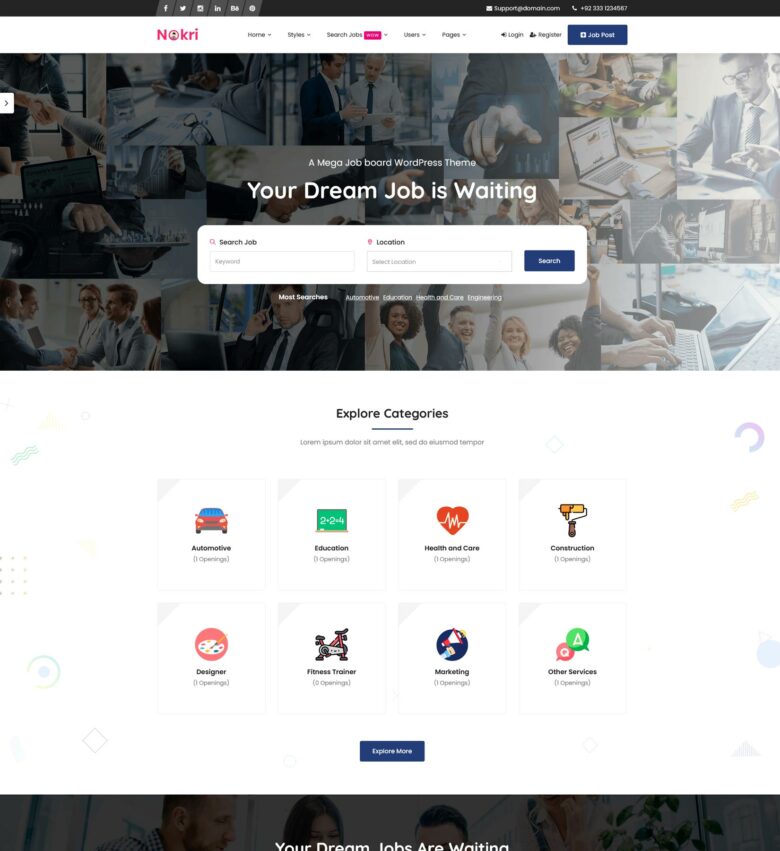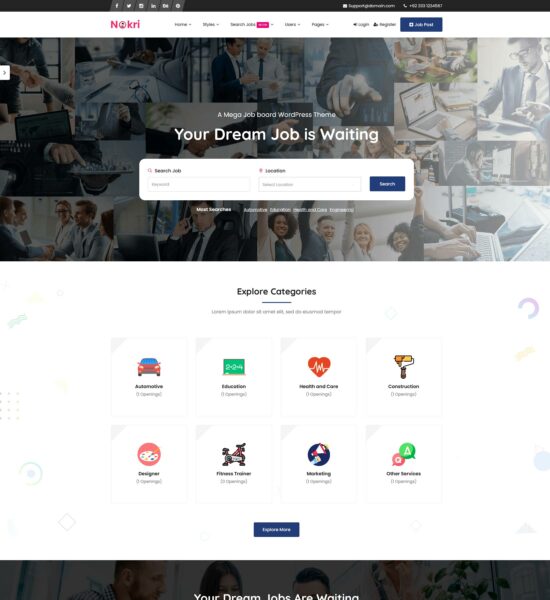 More info / download Demo
Jobhunt
jobhunt is an easy to use, cleanly coded and fast WordPress Job Board theme built on the principle of separation of concerns for WP Job Manager. It supports all features of WP Job Manager such as filterable job listings, job submissions, employer dashboard and job submissions. Jobhunt also supports WP Job Manager Core Add-on Bundle which includes features like Resume Manager, Job Alerts, Indeed Integration, Job Tags, Paid Listings, Job Applications, etc.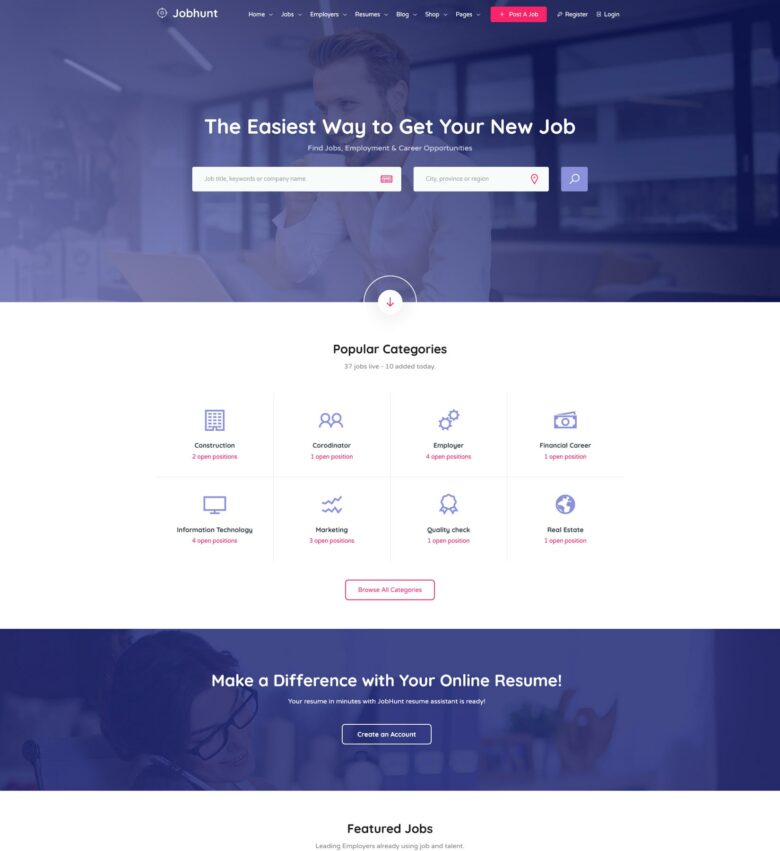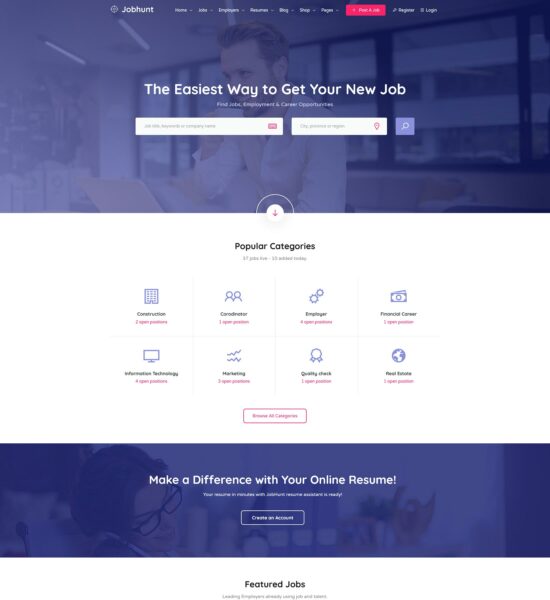 More info / download Demo
InJob
One of the finest job board WordPress themes, offering a full solution for HR and recruiting firms. There are a ton of alternatives available, for both recruiters and prospects. We ensure that both the admin and visitor experience on your WordPress job posting website is as seamless as possible.
The job registration, posting, and application procedures use custom forms rather than the WordPress backend since the Job Board theme supports front-end submission forms. Anyone using your site will benefit from a consistent user experience thanks to this.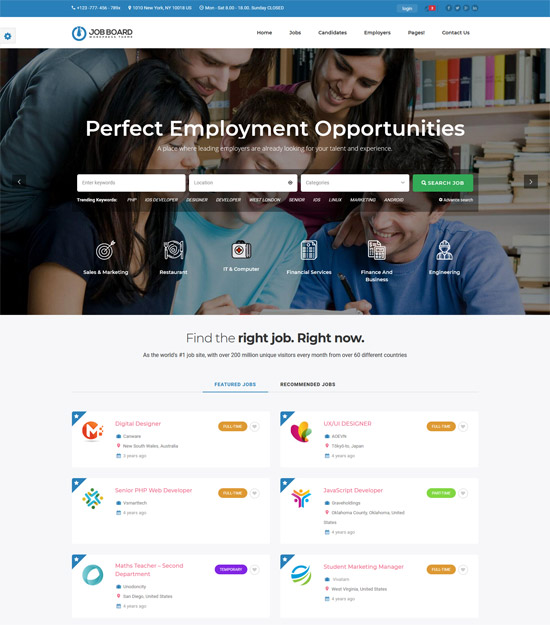 More info / download Demo
Cariera
Cariera is a professional oriented WordPress theme based on WP Job Manager. It is a complete solution for employers and candidates offering different job layouts, advanced statistics, a premium dashboard for each user role and advanced search options. By purchasing and fully importing the theme, you will have the exact same website as the live demo in minutes!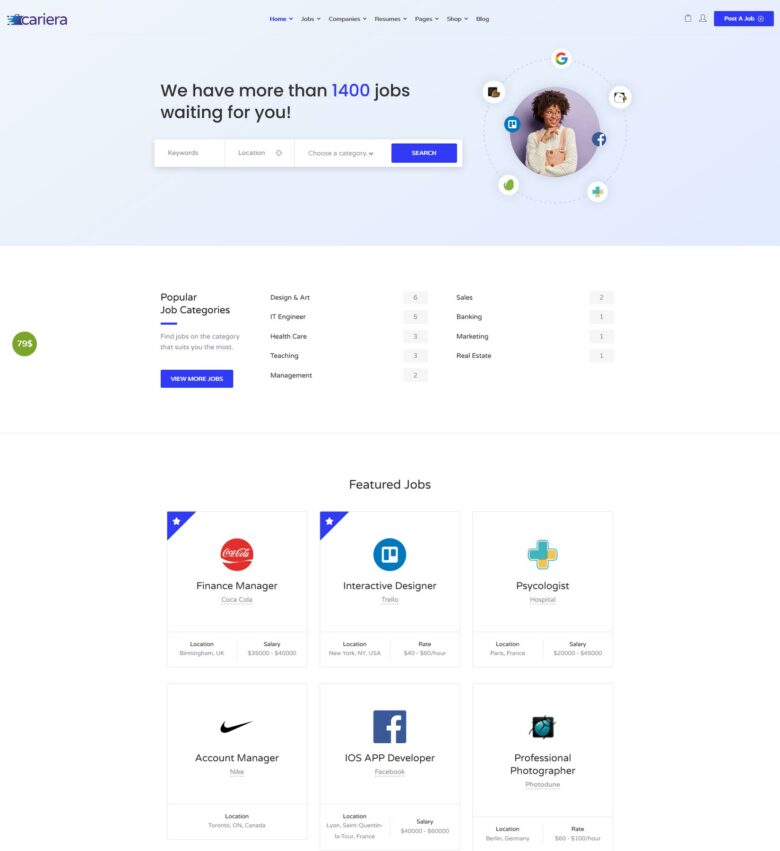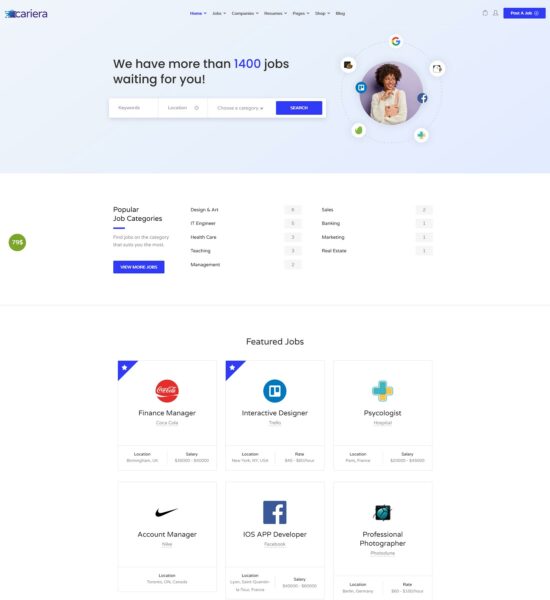 More info / download Demo
Careerfy
Job Board at Careerfy An powerful WordPress job board theme called WordPress Theme offers you the simplest way to post jobs on any kind of website. You may already be aware of the opportunity to leverage their database and expand your website with job posts that some truly large job board WordPress themes provide.
The WordPress theme for your job site can handle everything automatically, and some employers may even pay you a commission when a visitor clicks on one of the job links.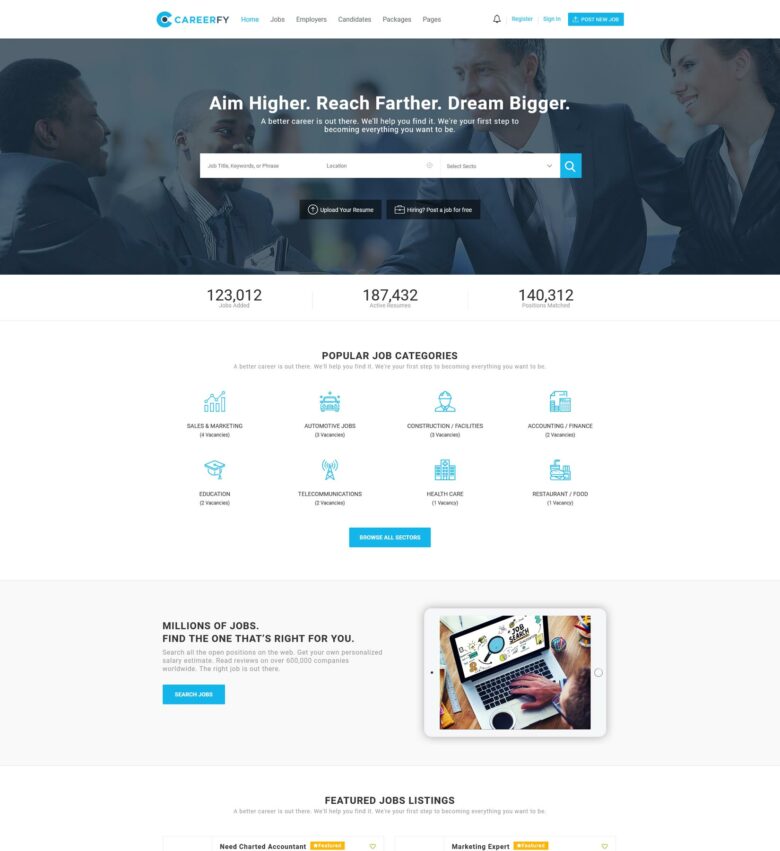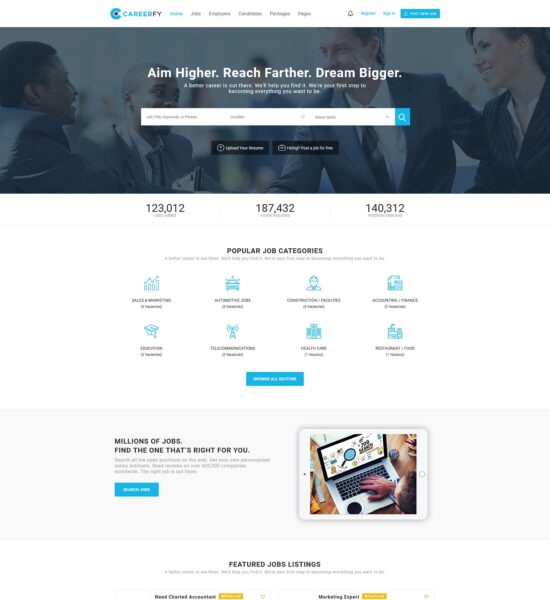 More info / download Demo
Entaro
The Entaro job portal WordPress theme is designed for job boards or larger sites that require a job board. This is a content-driven to-do directory theme. It lets you manage job types, categories, and postings from the familiar WordPress user interface. Entaro comes with full "WP Job Manager" integration to manage its job directory functionality.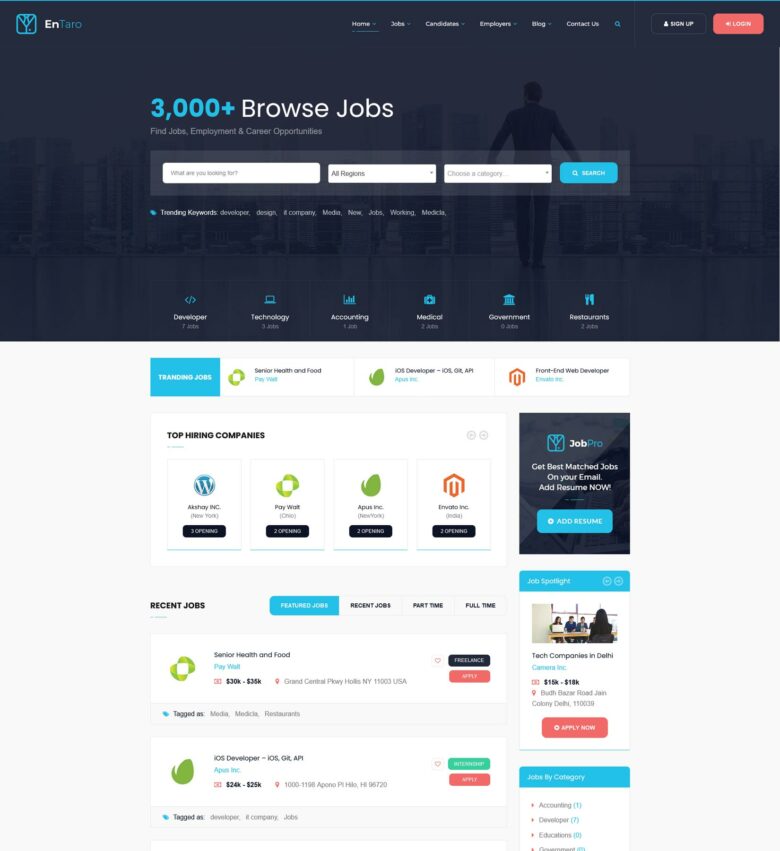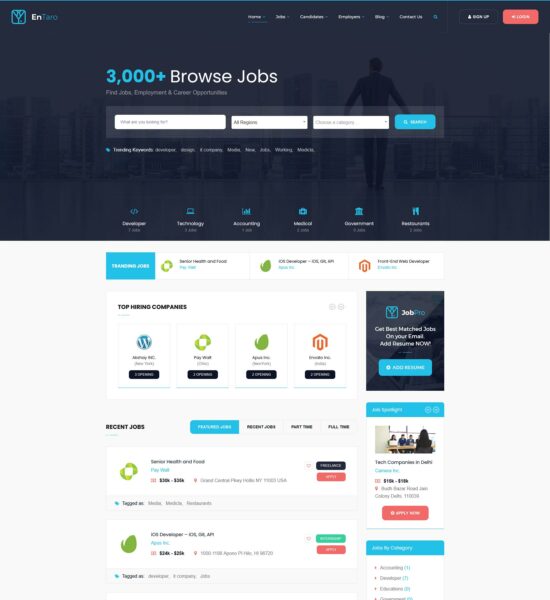 More info / download Demo
StaffScout
This powerful theme lets you create job listings and singles, giving your visitors an overview of each job listed, as well as the ability to learn more about each job opportunity (including salary, place of work and type of job offer). Visitors can also create personal profiles on your website, add their CVs, upload job postings, enter their qualifications and other information. With its beautiful features, pre-designed homepages and highly customizable elements, StaffScout is the perfect choice for you!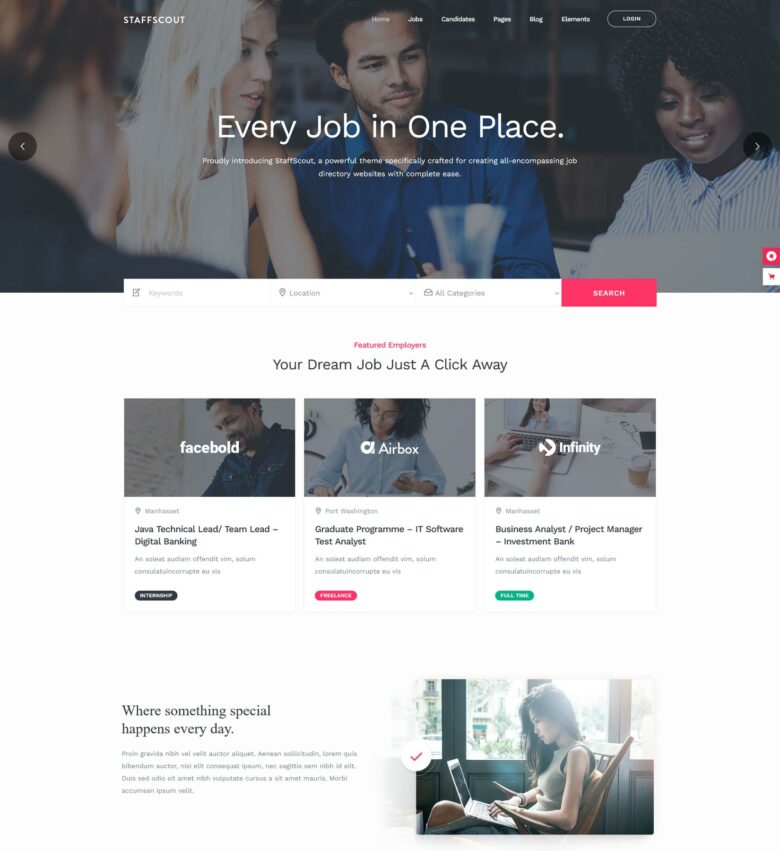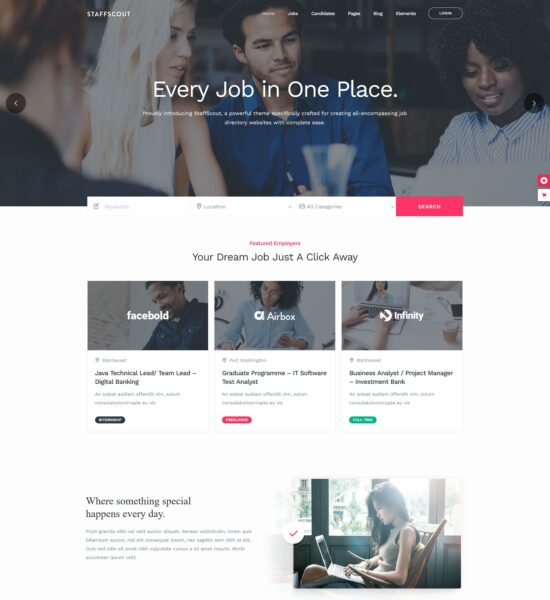 More info / download Demo
Recruitment Agency
a completely responsive job listing theme that lets employers post openings and invites applicants. The theme also has a front-end user account area that enables users to establish candidate accounts, upload CVs and resumes, see their application histories, set up job notifications, and more.
The job basket is a feature of the theme that enables applicants to add as many jobs as they choose to their basket and apply for them all at once using the data they supplied in their profile.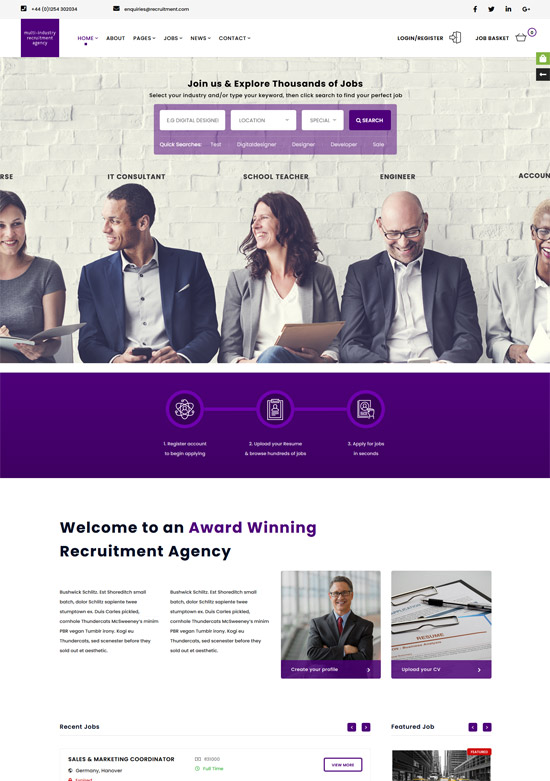 More info / download Demo
HR Advisor
Responsive and Modern HR WordPress Theme. It has a fresh and clean design, designed for the contemporary HR and recruiting company and recruiting manager. It also suits business consulting agencies, career courses companies, leadership training offices, recruitment firms, and career guides. The HR Advisor template is ideal for services of financial advisors, corporate recruiters, headhunters, outsourcing, and tax departments.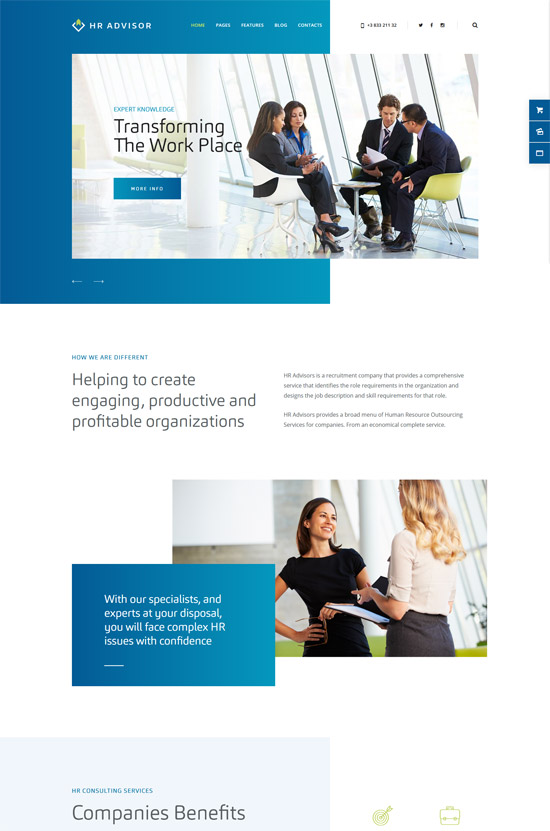 More info / download Demo
Hryzantema
Manager of hiring and human resources at a company. It is also good for business consulting firms, companies that offer job courses, leadership training offices, recruitment companies, and career guides.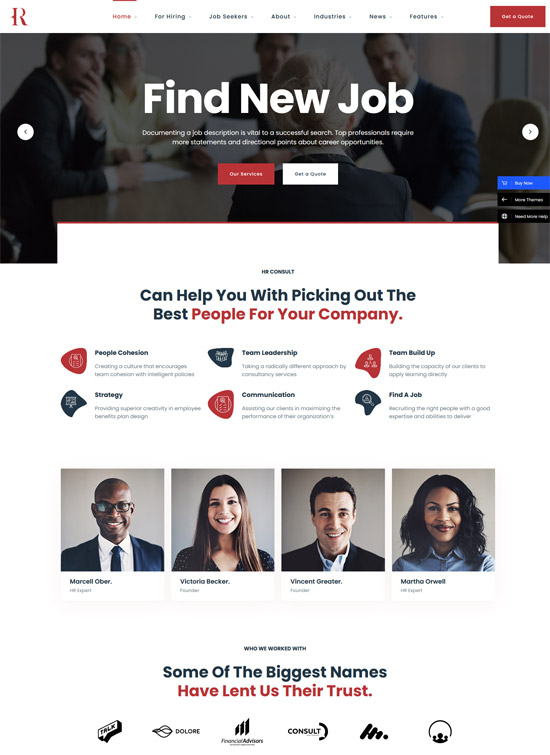 More info / download Demo
Easy Recruitz
An based WordPress theme built for the HR & Recruitment Company and the Recruitment Manager. It also suits advisory advisors, accountants, consulting firms, insurance, loans, tax aid, investment firms, employment course firms, leadership training offices, recruitment firms, and job seeker websites. The theme comes with a creative 03 home page layout. You can easily edit and customize the default home page to be in line with your specific content layout using Elementor's page builder.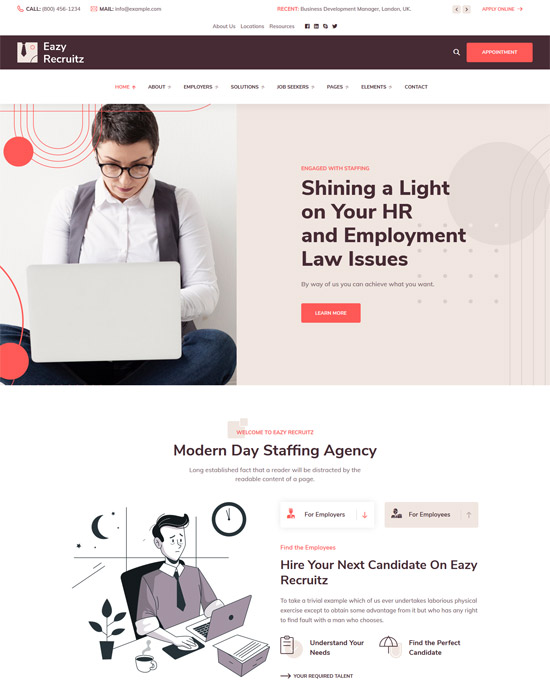 More info / download Demo
JobCareer
Chimp Studio's WordPress Job Board Theme is a complete WordPress Job Board theme that allows you to create a useful and easy-to-use job listing website and also offers a free mobile app. With the JobCareer theme, you can create a complete and fully responsive job portal, career platform for managing HR, recruiting or job posting website. JobCareer is not just a job board theme, it is the best WordPress job portal theme choice for anyone who wants a simple job script that makes money.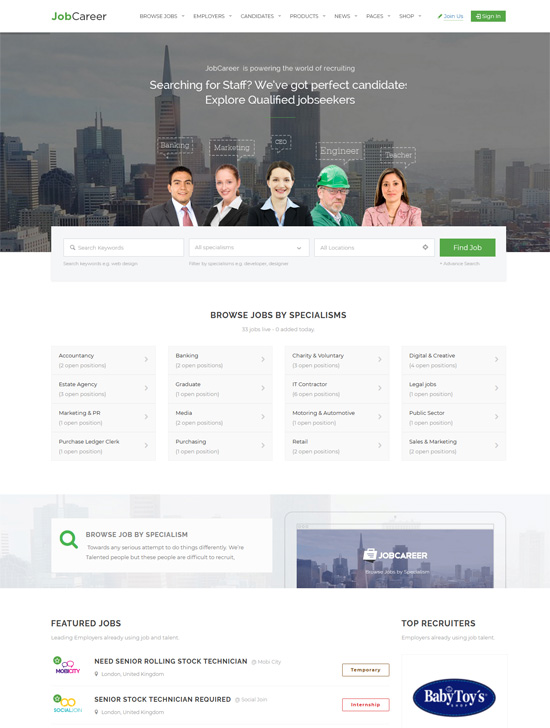 More info / download Demo
Staffing
Become a leading human resource agency on the web with our top-notch recruitment agency website template.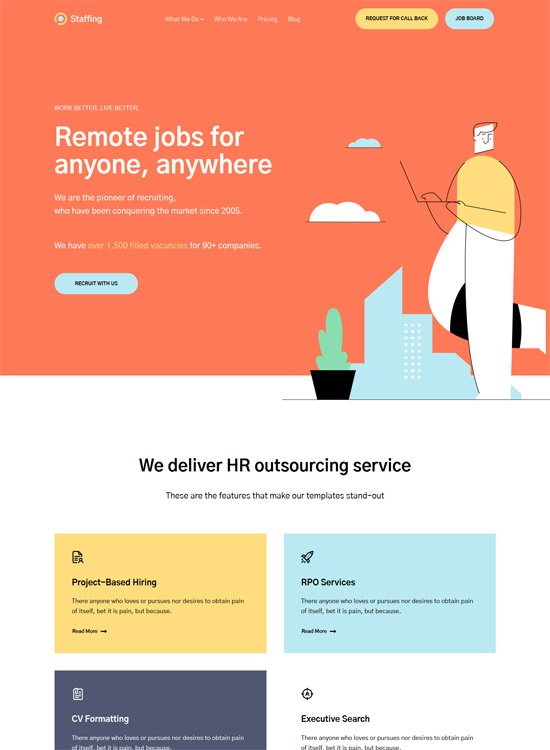 More info / download Demo
Adverom
With the Adverom theme, you can make a website that looks as professional as your PR company. You'll be able to show off your company's services, team members, successful projects, and a lot more in the best way possible.
This theme is bright and modern, and it works very well. With the help of a powerful Jet plugin toolkit for Elementor page builder, your website will look the way you want it to.
The JetElements plugin will give you a lot of useful widgets that can be added to your content with just a few clicks. By using the JetTabs plugin, you can put content in well-organized accordion blocks and tabs, making your pages look clean and professional.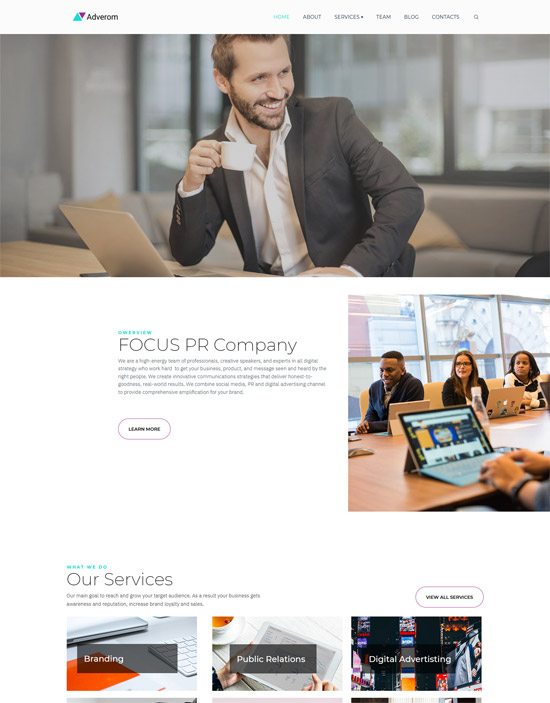 More info / download Demo
HR Recruiting
The PR WordPress theme is just what you need to properly promote yourself online. The drop-down menu and translucent logo provide a striking visual impact. The design is simple to look at because to its grid-based structure, light backdrop, square photos, and readable text.
Promote consumer loyalty by including the logos of your partners on the homepage. A space for signing up for the newsletter, a map, contact information, and other important data are all included in the footer. The theme is also cross-browser compatible, SEO friendly, and Bootstrap driven.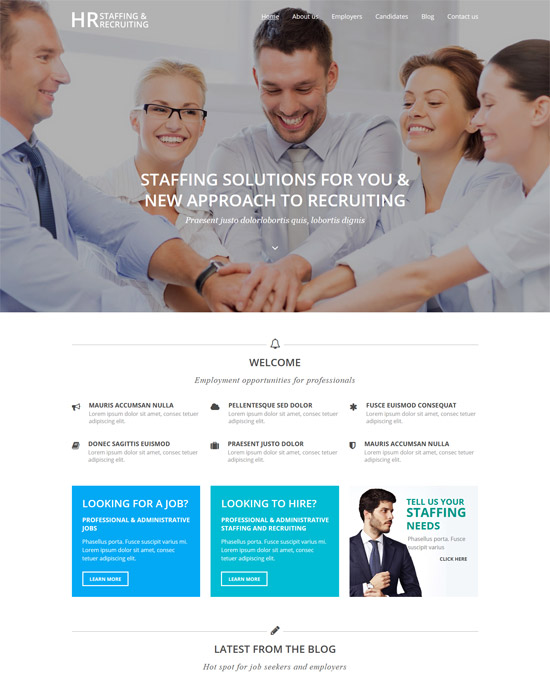 More info / download Demo