If you're looking for a reliable and affordable WordPress theme for your computer repair business, look no further than our collection of Repair Electronics themes. With a variety of designs to choose from, you're sure to find the perfect fit for your website. Plus, all of our themes are responsive, so they'll look great on any device.
Repairon
Repairon is a responsive professional WordPress theme. It is an appropriate website for an Electronics Company, Computer Repair, and Mobile Phone Repair & Services business. Create your own website using our fantastic industries. Please review the details listed below.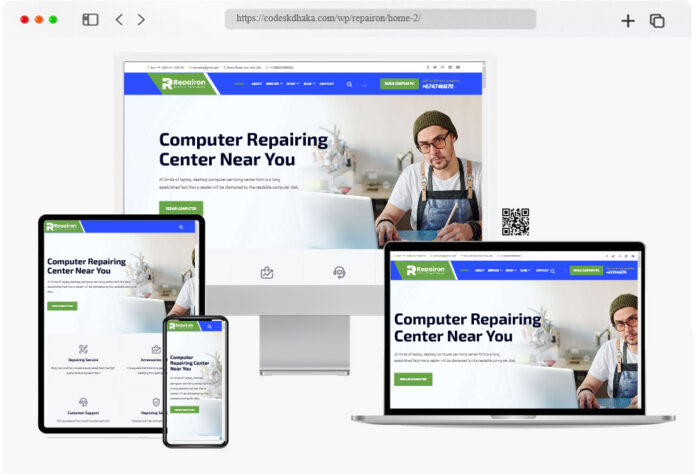 More info / download Demo
Airvice
Airvice is a new clean and polished solution perfect for companies offering repair, replacement and installation of heaters and air conditioners. It can also serve as an air conditioning and air supply store, but in addition to that, it will also make a good home maintenance website and cooling / heating ventilation services website.
An attractive and professionally made website is a must for a modern business. So to save you a lot of time and money, this website is your best option for creating a specialized website.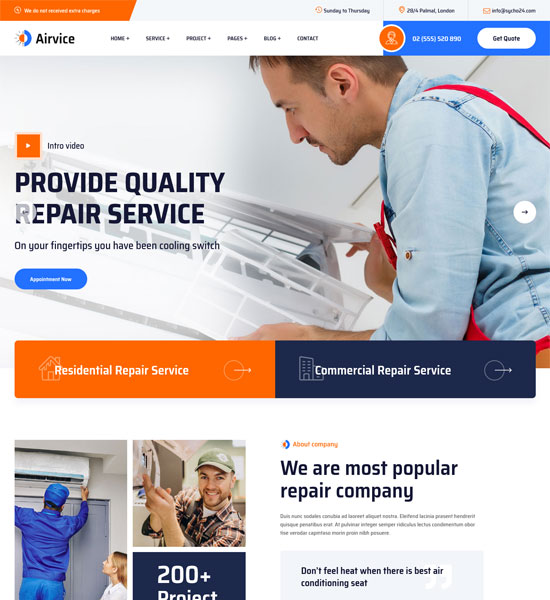 More info / download Demo
MrFix
MrFix is a home appliance repair services WordPress theme suitable for an electronic repair company and appliance repair specialists with 1-click install, 3 home pages, 5 service pages, a simple drag and drop page builder , a generator of animated sliders.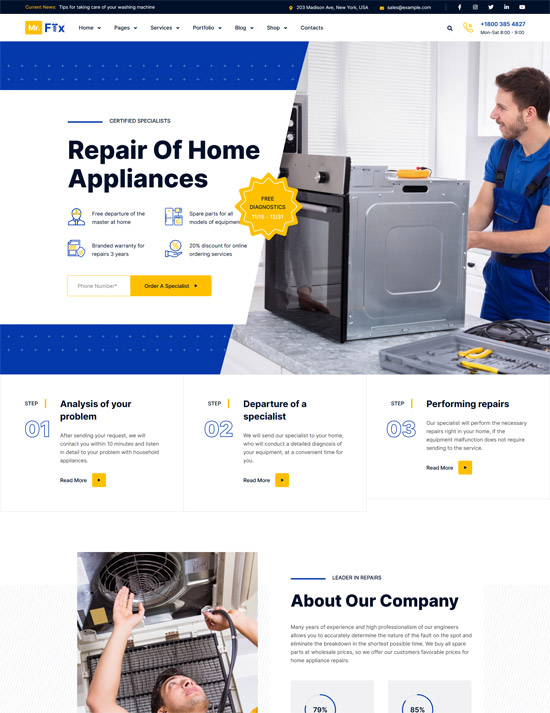 More info / download Demo
Sparki
Sparki is a WordPress theme specially designed for repair services, computer repair, tool repair, and engine repair and machining services. The Sparki theme has a beautiful and unique design that will best suit your online web presence.
It has a 100% responsive design and tested on all major portable devices. Sparki comes with the necessary features for your online presence such as Projects and Project Details, About Us, Services and Service Data and Blog and Contact Pages, etc.
More info / download Demo
Repairer
Repairer Handyman Services & Maintenance WordPress theme is a perfect solution to create a professional website for renovation and maintenance services such as plumbing, electrical work, carpentry, home repair, remodeling, window and door installation and all kinds of sites home maintenance website.
Repairer Theme has a beautiful and unique design that will best suit your services (business) Online web presence such as our services, our jobs, testimonials and team pages etc. It is 100% responsive and tested on all major browsers and devices. Theme based on Codestar WordPress Framework, Elementor, Slider Revolution Plugin.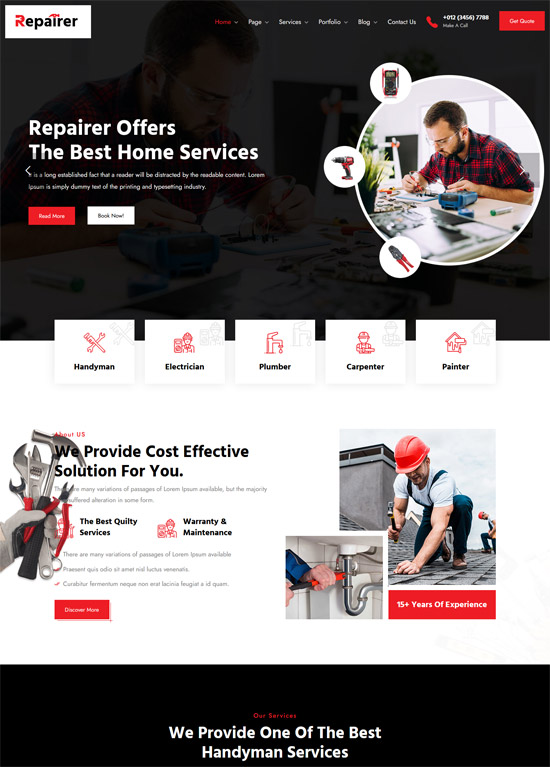 More info / download Demo
Electrico
Electrico is an electrical, computer and computer repair WordPress themes.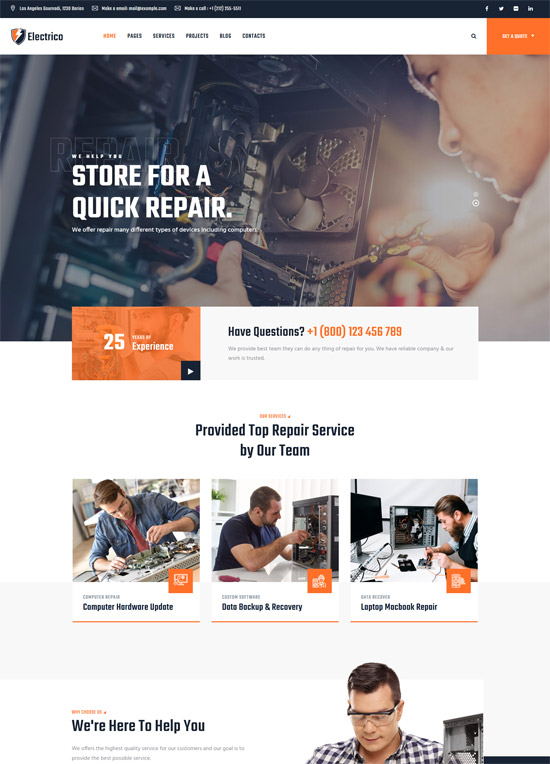 More info / download Demo
Fixtech
Fixtech is a clean, powerful, and modern design that lets you make a website for your Computer, Mobile, and Repair Shop Business that looks great. Fixtech is a great deal if you own an electronics repair shop or a company that does repairs and maintenance on electronics and you want to show off your business online.
It works on all major devices and browsers and has been tested on all of them. Fixtech has 3 or more pre-made landing pages, unlimited design and color options, flexible RTL-compliant layouts, and very powerful functionality for portfolios, services, and other items. It has everything you might need to make a beautiful website.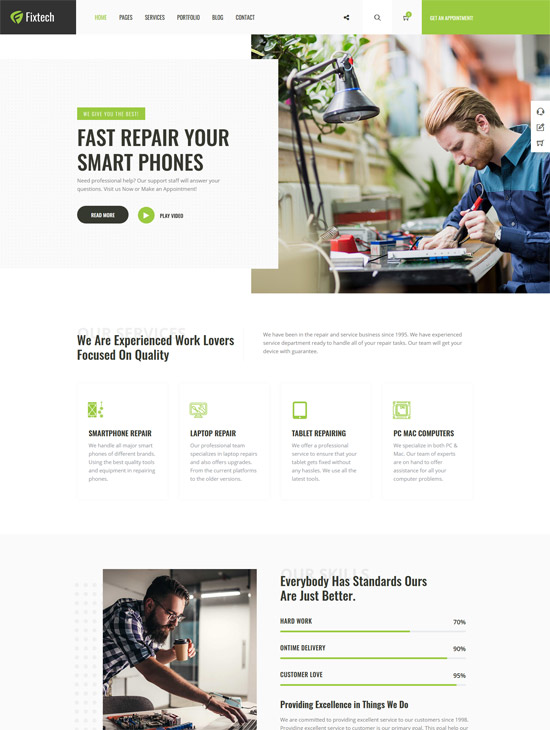 More info / download Demo
TekhFixers
TekhRepair is a new, modern WordPress theme that is great for shops that fix phones and other electronic devices. It's also good for businesses and people who sell gadgets and accessories.
Because it was made with a responsive design, it will look great on any device. The Book a Fix feature makes it easy and quick to schedule a repair for your device. Just choose the type of device, the repair you need, and any extras you want, and pay.
It is easy and quick, and it will also help you keep track of your work.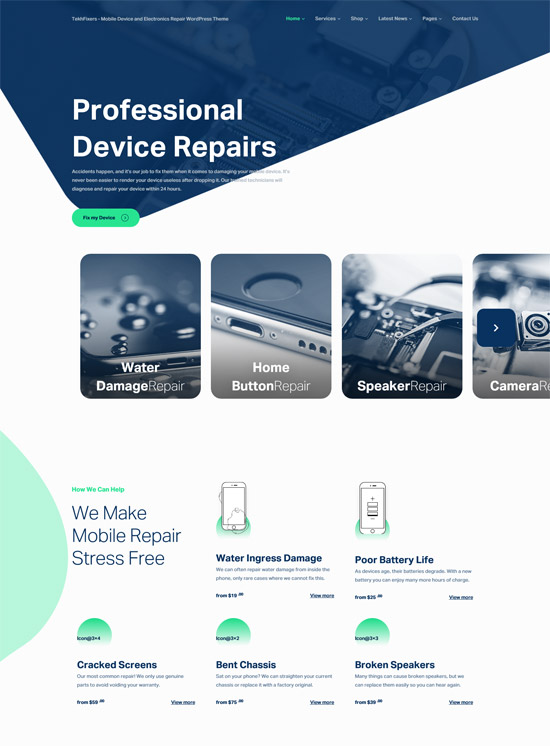 More info / download Demo
Fixar
Fixar is fully responsive and looks great on any desktop or laptop as well as tablets and smartphones. The theme contains a bunch of professional premium plugins like Wp Bakery and Slider Revolution. You also have access to the visual CSS style editor called YellowPencil, with which you can make adjustments to your website easily and quickly. You can choose from different header styles and page layouts and there are 100+ items and 550+ options to play with.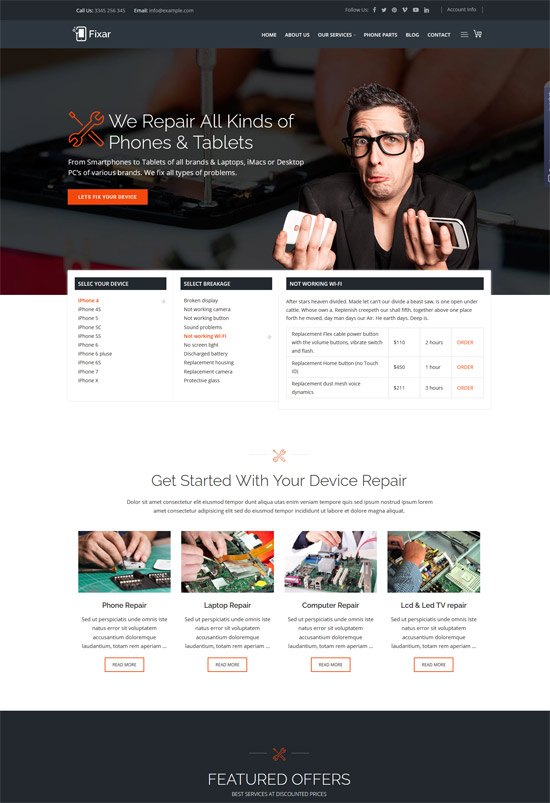 More info / download Demo
Sharai Khana
Sharai Khana is a WordPress theme for electronics that can be used for many different things. It has all the features you need to make a site for your computer and laptop repair business or any other tech site. Also, this theme works for many different kinds of services.
Such as a Computer and Laptop Repair Center, a Mobile Repair Center, or any other type of website that can be used for more than one thing. This theme was made with the Bootstrap and Redux options panel frameworks, which give you a lot of ways to customize your website without having to know much about coding.
It also comes with the premium drag-and-drop page builder WP Bakery Page Builder (formerly Visual Composer) and a pack of 20+ custom plugins that help you build different parts of your site quickly.
More info / download Demo
FixTeam
FixTeam, powerful, modern and flexible electronics wordpress themes for the repair of electronic devices. If you own an electronics repair shop or electronics and maintenance service business and are looking for a great option to present your business online, FixTeam is certainly a good deal.
It has an excellent quality and a fair price. With this attractive premium design, netizens will definitely be willing to fix their smartphones, computers and tablets (and even game consoles) at your store.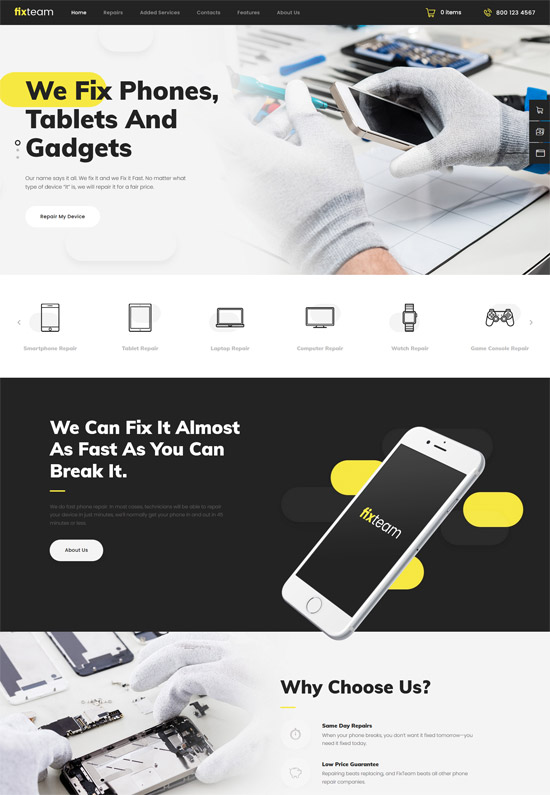 More info / download Demo
CoSolu
CoSolu is a multipurpose service and repair WordPress theme designed for all kinds of computer repair service, desktop repair service, laptop repair service, Mac repair service, iPad repair service, repair service iPhone Repair Service, iPod Repair Service, Tablet Repair Service, Mobile Phone Repair Service, Auto Repair, etc.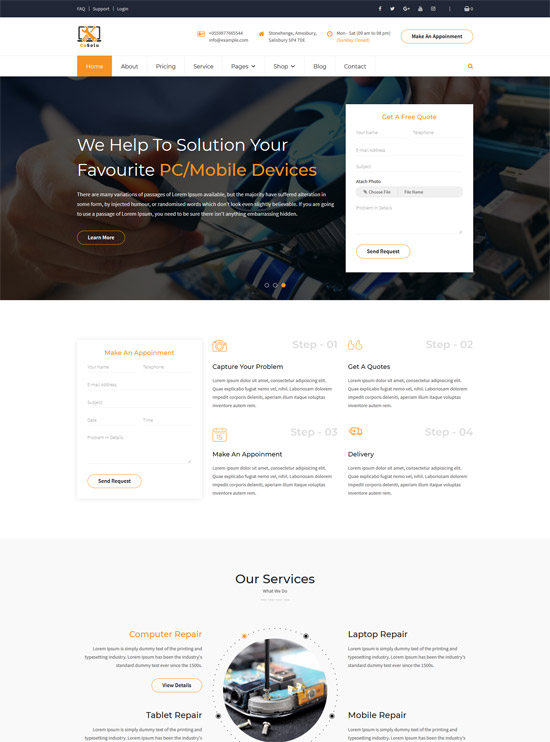 More info / download Demo
Re:bytes
Re: bytes is a powerful and elegant multipurpose WordPress theme. It provides you with all the functions to create any corporate website for your computer repair services, business web hosting services, creative / photography agency, hardware repair or any technology website. The theme is quite versatile and can be used for any corporate, commercial and business site.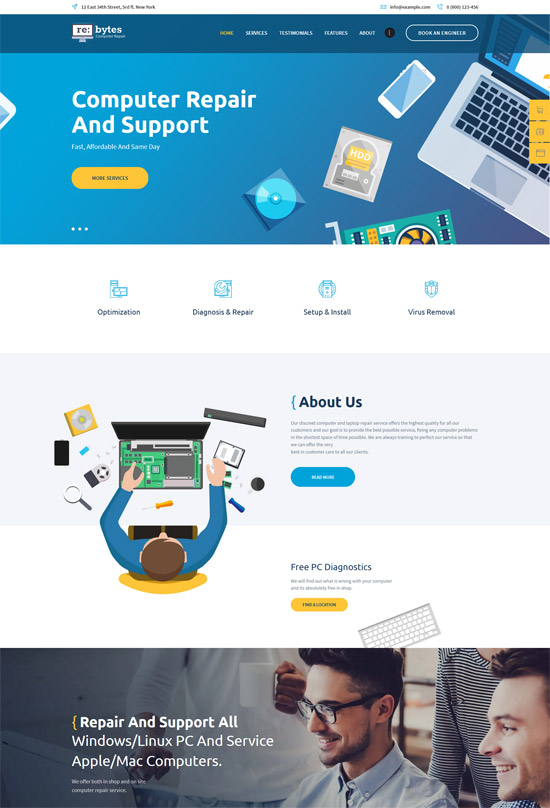 More info / download Demo
SmartFix
SmartFix WordPress theme is suitable for all repairs such as smartphone repair, desktop computer repair, iPad repair, tablet repair, printer repair, data recovery and game console repair. SmartFix promotes your business online. It is a very professional, clean and high quality design. If you are planning to redesign your online repair shop website, you will be glad to know that this best repair shop build will help you make a great impression on all browsers and smart devices.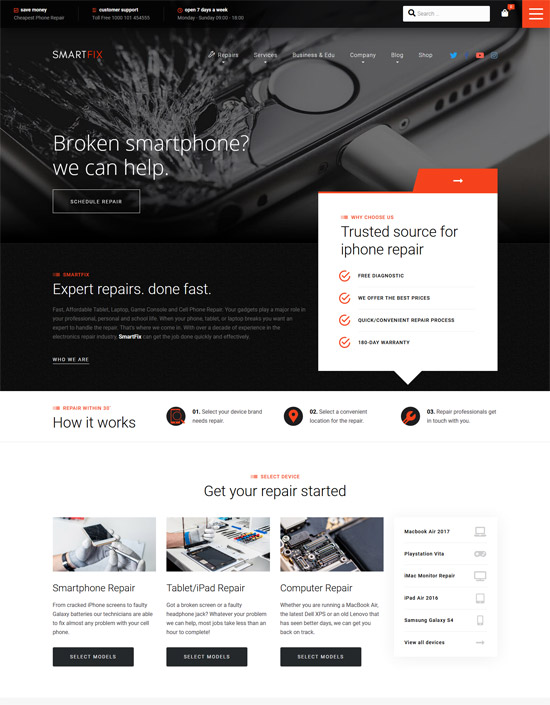 More info / download Demo
Repair Plus
This theme has all the features you need to have an online presence, such as a "about us" page, a "team" page, a "404" page, filterable gallery pages, multiple blog layouts, an online store, a "testimonials" page, a "FAQ" page, Giving to charity is a great way to build your online presence.
With Drag and Drop Page Builder, it's easy to make a website for your business. If you have any questions that this article doesn't answer, you can send them to the support email.
The layout is very sleek and modern, and with a 1170px grid, it is also very easy to change. With Drag and Drop Page Builder, it's easy to make a website for your business.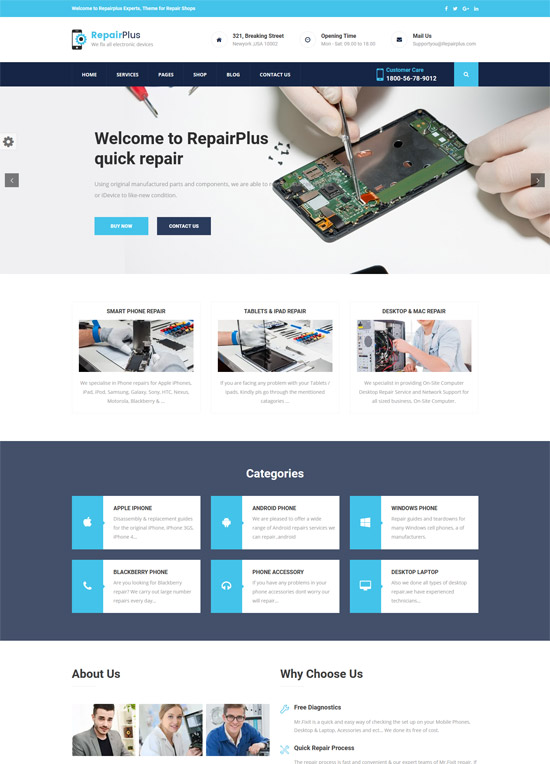 More info / download Demo
Computer and CellPhone repair
The Computer, PC and Laptop Repair Services theme is a modern, clean and professional WordPress theme; It comes with many easy-to-use and customizable features that will help you create a strong website to represent your computer, PC, and laptop repair business. It is based on the Visual Composer page builder, which will help you create new pages and rearrange the layout structure as desired. It is fully responsive and looks attractive on all types of screens and devices.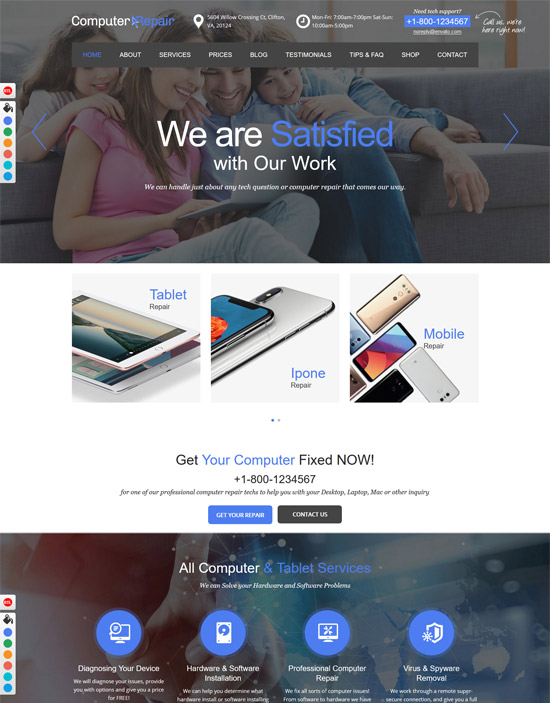 More info / download Demo
MobRepair
MobRepair is a premium niche WordPress theme designed for entrepreneurs in the smartphone repair service industry and is ideal for computer, smartphone, mobile device, laptop, and appliance repair shops, this template is the perfect match elegant design and useful content that will make it become the hallmark of your company in the market. All photos are included in the stencil price, no need to buy illustrations from photo stocks. All you need to do is install the template, download the demo content, and the site is good to go.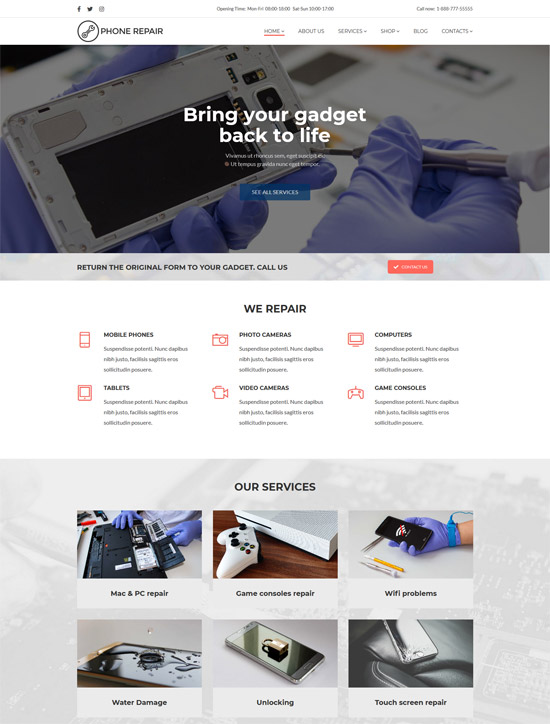 More info / download Demo
The Repair
The Repair is a premium WordPress theme developed for any electronics, computer, mobile phone, tablet, Mac or PC repair company that wants a professional online presence. Simple one-click installation allows you to create a modern website in minutes.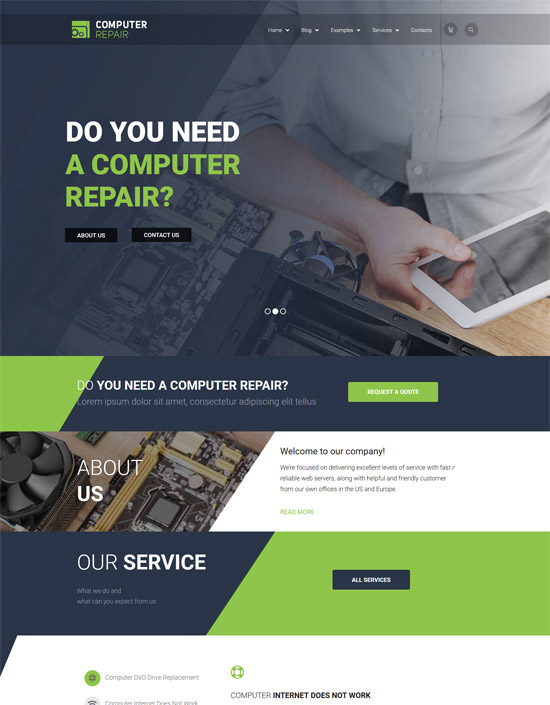 More info / download Demo
Fixit
Fixit is Phone, Computer Repair Shop WordPress Theme is a perfect responsive Bootstrap solution for a website dedicated to phone repair and device repair services. The Fixit – Computer Repair Shop WordPress theme is a short and affordable way to attract new consumers with an informative website. This theme is packed with features and an excellent design. Fixit is the most attractive and modern template to attract customers.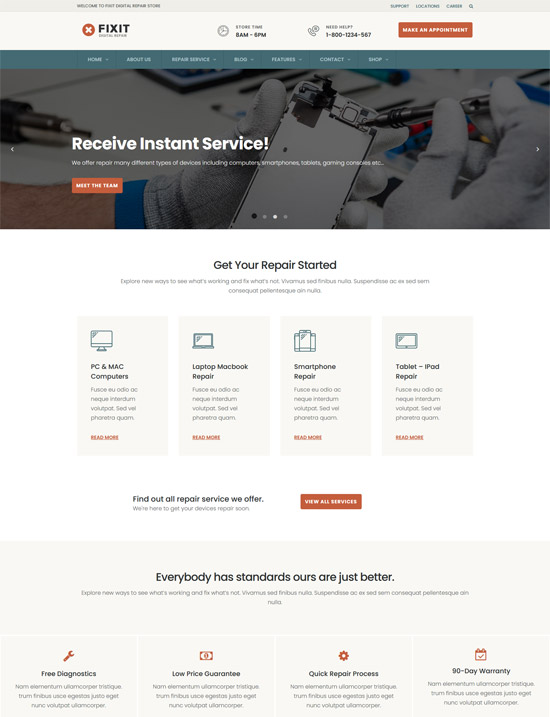 More info / download Demo
TechLife
Tech Life is a premium niche WordPress theme made especially for shops that fix mobile phones and tablets, computers and laptops, cameras, printers, TVs, and other systems. stereo shops, electronics stores, and any other shops and stores that fix or sell tech.
Tech Life is powered by Bootstrap 3 and has a responsive design that works well on all devices. Tech Life is full of features that will help you run your repair shop or electronics store.
Such as a list of services and team members, different types of galleries and items to show photos or banners of products, testimonials, and hours of operation.
More info / download Demo
iRepair
iRepair modern WordPress theme dedicated to mobile repair of electric smartphones, laptops and computers, game consoles and household appliances. The theme can be easily changed and it is easy to use.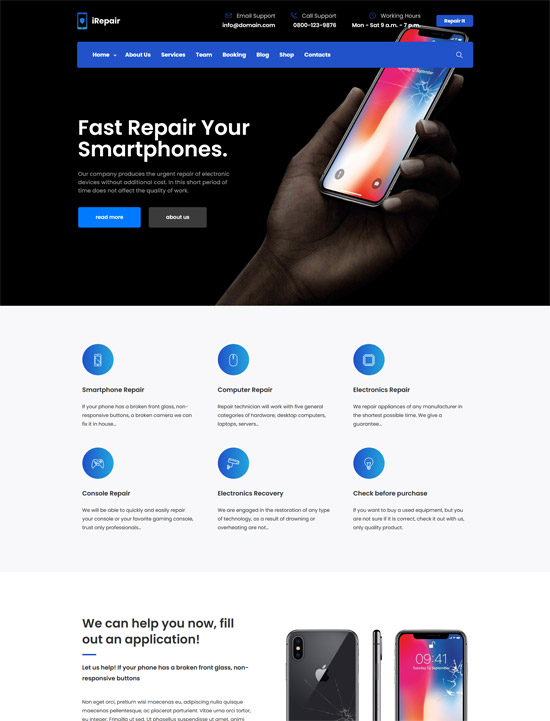 More info / download Demo
PhoneRepair
PhoneRepair is a WordPress theme designed for phone repair and computer repair shops powered by elite author, PhoneRepair provides many functions to create your own company website easily without writing any line of code.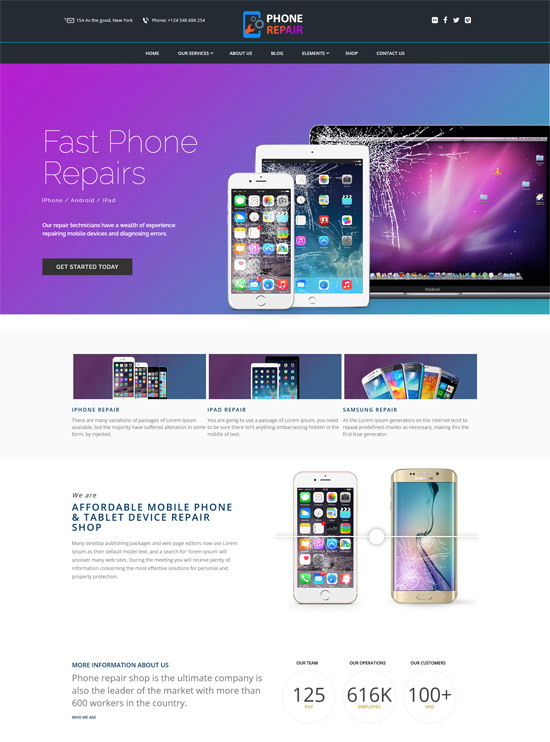 More info / download Demo