The premium cafe restaurant and food templates built on Joomla. Those themes is ideal for any restaurant, bakery, catering company, deli, or other food website. A well done restaurant cafe joomla templates is essential for driving more visitors in, and here is the design that is ready for this purpose. This tasty layout works up an appetite, shows sappy dishes from the restaurant menu and tells about the cozy atmosphere of the place. If you want to show a restaurant in the most favorable light, make use of this gust able professional design.
Cafenod
Cafenod – Joomla template for coffee shop. It is a modern, beautiful and coffee shop template, specially designed for cafes, bars and coffee shops. If you want to create an amazing website for your restaurant, cafe, coffee shop, etc. Cafenod – Coffee Shop Joomla Template is the best choice! Cafenod is based on Helix Ultimate with SP Page Builder and J2store for Shop system with booking table form. Cafenod: Coffee Shop is built with 3 home pages and the inner pages are easily customizable and perfectly suitable for your website.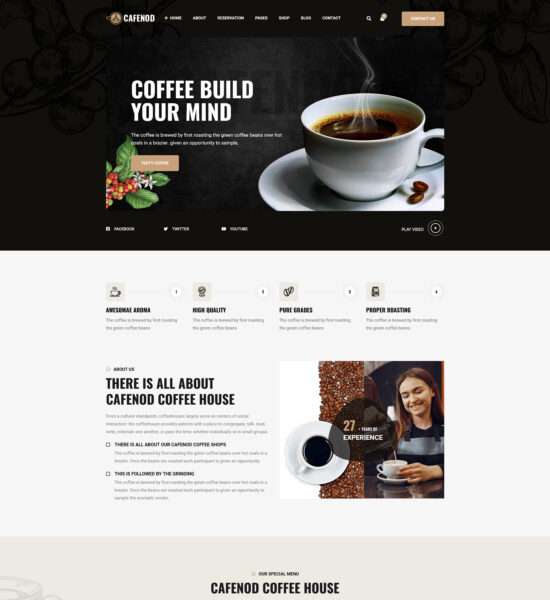 More info / download Demo
Madison
Madison is a restaurant joomla template. The layout is beautiful at any size, be it a laptop screen, iPad, iPhone, Android Mobile or tablets. In addition, anyone can update its need by using the Page Builder drag and drop.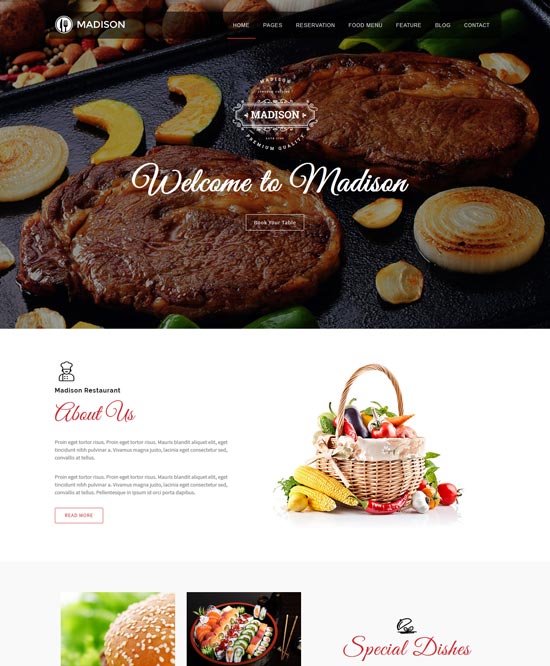 More info / download Demo
Blossom
SJ Blossom is a responsive Joomla template and well structured that is perfect for any website of restaurant. With clean and stylish design, this stunning model will bring wonderful experience for users through luxury moments.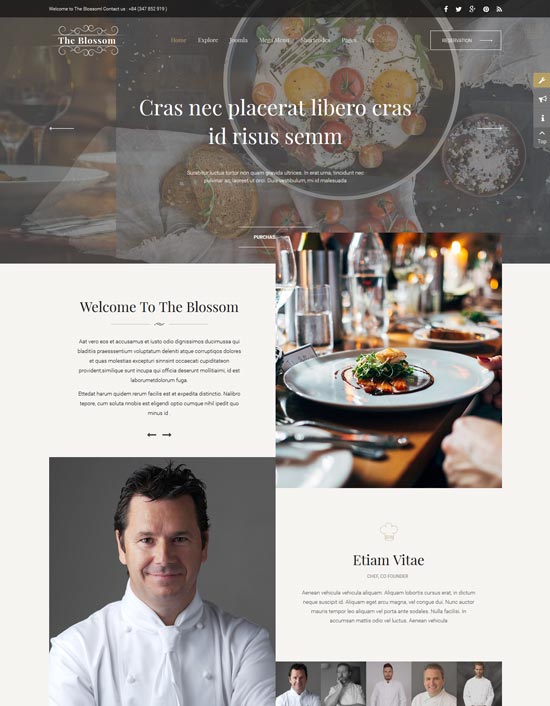 More info / download Demo
Cafe and Restaurant Responsive Joomla Template 58368
Extra clean, stylish theme is meant to be used for dressing up cafe and restaurant websites. Try it to welcome people in and offer pleasant user experience which includes intuitive navigation, easy on the eye look and ability to browse the site on screens of various sizes. The layout of this theme will suite a variety of business spheres, whereas clean valid coding will facilitate the customization. All those factors turn this Joomla theme into hyper modern and extremely effective.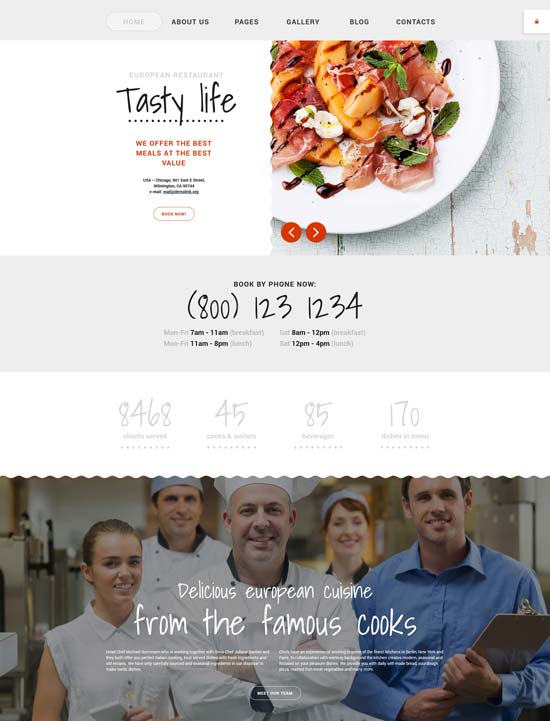 Demo More info / download
Veronica Joomla Template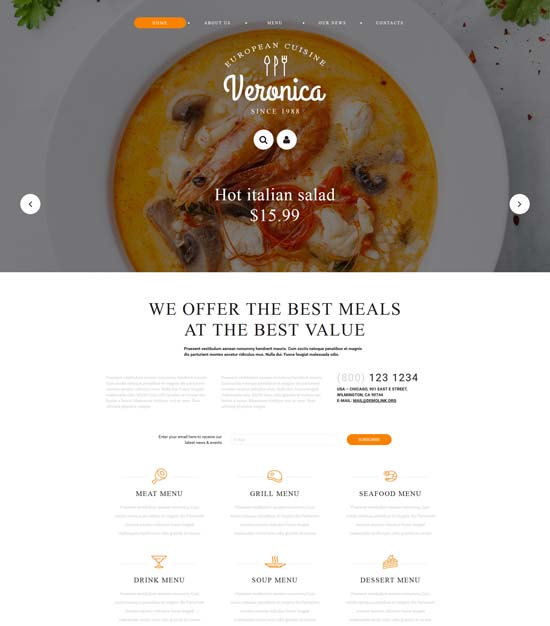 Demo More info / download
Euporean Restaurant Joomla Template 54955
This is an ultimately clean and professionally designed European restaurant Joomla template to showcase all the information that you have to send out to the target market. You can use it for cafe and restaurant, food and drink, fashion, beauty, and business web presences. The layout of this multipurpose theme will suite a variety of business spheres, whereas clean valid coding will facilitate the customization. As a result, the site visitors will enjoy pleasant web browsing formed by highly aesthetic contemporary look and intuitive navigation.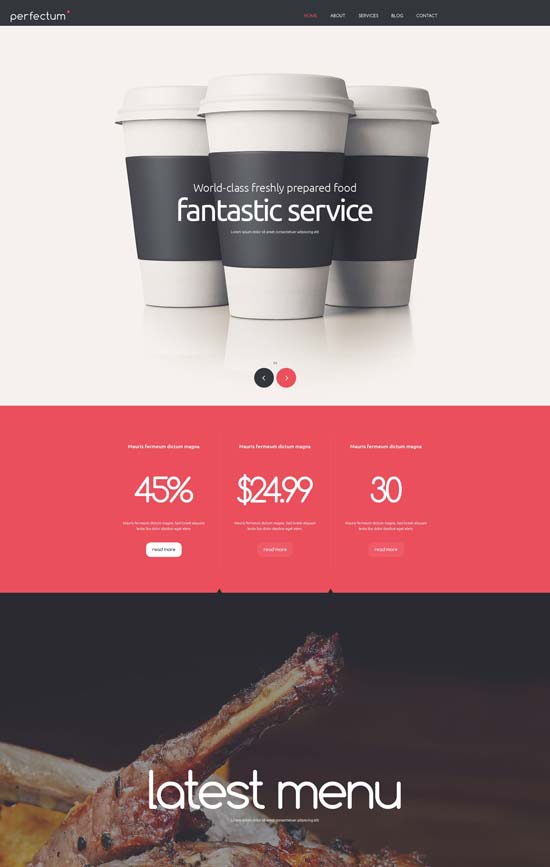 Demo More info / download
NRGrestaurant – Restaurant & Catering Template
NRGrestaurant is a professional one-page restaurant and catering Joomla template, perfect for luxury restaurants, premium catering companies, and other food and beverages firms requiring a powerful, attractive web presence. This restauranteur template is cross-browser compatible, fully responsive, and retina ready.
NRGrestaurant is easily customizable and easy to maintain, making it a pleasure to work with. The template performs beautifully on all devices, with smooth animations and optimum speed.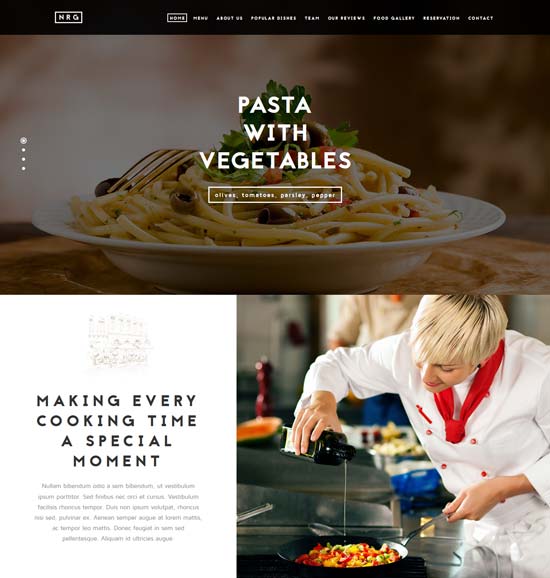 Demo More info / download
Harvest Restaurant & Food Joomla Theme
Harvest restaurant theme is a premium restaurant and food template built on Joomla 3 CMS. This theme is ideal for any restaurant, bakery, catering company, deli, or other food-themed website.. It includes 15 pre-installed extensions in the quickstart package and has almost 50 module positions. This three column layout is built on Bootstrap, responsive, and will dynamically scale many of the module positions equally depending on the number of modules published.
Foodz – Restaurant, Spa & Salon Joomla Template
Foodz is a Joomla Template for food business companies or individuals. It will help you present your drinks and food (cuisine, burgers, fries, pizzas, meals, hot dogs, bakeries, sweets etc.) in an easy way so that visitors see your amazing food. No matter if you use it for websites on spa and salons.
It is also responsive in order to suit to all devices (mobile, tablets, etc). If you like a clean and modern design, it is an absolutely perfect template helping you to build a unique website with little time. Foodz comes out with tons of meaningful features, plus glorious design and the vast amount of options for configuring this template. Let's have a walk through and experience this outstanding template!
Jonathan Co Joomla Cafe Template
Cozy Restaurant Joomla Template
Zaga – Responsive Onepage Restaurant Joomla Template
Zaga is an impressive Joomla template with one page theme design that perfectively represent your website as delicous as your food and drink. The template comes out with a dynamic homepage slideshow upon an extraordinary background video without being heavy to load. This clean template will reflect your restaurant through a vertical scrolling single-page which allows you to show the focussing information such as: About me, Special dishes, Menus, Testimonials, Blog, Contact
Italian Restaurant Responsive Joomla Template
Steakhouse :: Responsive Retina Joomla Restaurant
Cafe And Restaurant Joomla Template 53087
European Restaurant Responsive Joomla Template
Cozy Restaurant Joomla Template 52305
SJ Lotte – Responsive Restaurant Joomla Template
SJ Lotte – A completely new design is used specifically for the restaurant, hotel theme or tourism… With responsive web design layout, this template will convince any dimensions of popular display devices. With this, we integrated both Content and K2 component into the core, allowing you to choose between simplicity and cleanliness of default Content component, OR sophistication and power of K2!
 Indian Restaurant Responsive Joomla Template
European Meal Joomla Template
Everyone looking for a mouthwatering theme for presenting restaurant business on the web should consider this design. Its clean, minimalist layout with sappy images will work up an appetite of your existing and prospective clients from the first encounter with your website. Photos of dishes in menu occupy the central part of the theme, which allows better introducing the audience to your business.
Fancy Restaurant Joomla Template
A restaurant is the best place to dine out when you have a special occasion, a business lunch or simply want to spend time with your friends enjoying a pleasant talk in a quiet atmosphere. This web design has a really outstanding look, with family type of feel going on. If features lots or colors and graphics paired with mouthwatering photos that would definitely get your visitors interested in what you offer. When mouseover happens on images, your clients will see the detailed information about the product or category they are interested in, without having to go to another page. In a word, this would be the perfect choice if you need an easy to navigate, yet effective design for your refined food restaurant.
Sports Bar Joomla Template
Watching significant sport events in the circle of singleminded fans while eating a grilled meat and drinking beer is an incomparable pleasure. Many people let off the steam in such a way or refresh their energy resources. If you own a sport bar and want to draw more customers, use this incredible theme for the purpose. First of all, its logo is very memorable.
Fast Food Restaurant Joomla Template
Cafe Responsive Joomla Template
Italian Cuisine Restaurant Joomla Template
Gourmets' love for the Italian cuisine makes restaurants rival with each other in order to draw their attention. A great way to entice clients away from competitors is to build a website with a tasteful design, which is peculiar to the template presented here. Just give this offering a try and you'll see how quickly individuals will get interested in the advertized place. Once visitors of your website cast a glance at a delicious Italian dish depicted on its background image, they'll whet their appetite to such a great degree that it'll make them count minutes till they can taste it.
Cafe House Joomla Template
This minimalist design for cafe or restaurant is the result of a fusion between visual warmth, trendy look, and userfriendliness. Featuring tasty images from the menu, it invites all those who have a passion for delicious food. Entering a site based on this theme, the viewers will start a kind of virtual tour around the place, learn about its history, services, read the menu, and testimonials of the previous visitors.
Steakhouse Responsive Joomla Template
Refined Cuisine Restaurant Joomla Template
Sushi Bar Responsive Joomla Template
Cafe Restaurant Joomla Template
Trendy design with the restaurant's name in vibrant yellow type is perfectly tailored for starting or redesigning solid web project with great ambitions behind. Its contemporary style with fullwidth visuals, blurred images, large calltoaction buttons works great to welcome clients in. They will certainly visit profiles sugested via social media links in the footer and get all the necessary information about thre restaurant.
Cafe and Restaurant Responsive Joomla Template
Food Cafe Responsive Joomla Template
Cakes Responsive Joomla Template
Fast Food Restaurant Responsive Joomla Template
Coffee for Freshness Joomla Template
Fresh, fragrant coffee is the first thing most people enjoy in the morning. And most of them seek for this bracing product through the internet so to fulfill their need and get profit you should just demonstrate your product attractively. Our template will help you with that customers will love its elegant look while seeking for the product they need.
Indian Restaurant Responsive Joomla Template
European Restaurant Responsive Joomla Template
Pizza to Kill Hunger Joomla Template
Pizza originates from Italy, but in a modern world it became the international dish 1. In any place on the Earth people will be glad to find your pizza services. So, if you need to represent your company well, this pizza theme gives a wonderful opportunity to do it appropriately. With simple yet elegant design and intuitive structure of the content area, your customers will be able to reach you anytime, anywhere. Hurry up and take the template to kill the world's hunger.
European Bar Joomla Template
Marzipan Cafe and Restaurant Responsive Joomla Template