Do you like discounts on the quality products as much as we do? TemplateMonster celebrates the arrival of the warm and sunny season with the Spring 2018 promo campaign. What are your preferred types of products? Are those WordPress, Joomla, HTML5, Magento, Shopify or PrestaShop themes? The digital marketplace provides you with the unique chance to save 35% on the purchase of any item from the collection of their ready-made themes.
Terms & Conditions of Spring 2018 Sale
It doesn't matter if this is the first time that you hear about the digital marketplace or you have already bought something there for your own web projects, you can feel free to participate.
The offer is valid on April 9-11. The digital marketplace will slash the cost of all items in the inventory by 35%. There is no need to look for the promo-codes or fill in any sort of the nasty forms during the checkout. Simply browse the collection of themes and pick the ones that come to your liking the most.
TemplateMonster is proud to have one of the most numerous collections of the digital products on the web. There are more than 26,000 of items available. Whatever type of theme or category of items come you your liking, there is always the optimal ready-made solution that will meet your personal or business demands ideally.
Top Reasons to Go Premium
When it comes to the launch of a new website, the major decision that business owners need to make is in what way they would like their site to be built? Some businesses give preference to custom-made designs. The majority of brands choose ready-made themes as the foundation of their online resources. Although freebies are cost-effective, they do not offer the desired sets of tools for your site and do not guarantee that you will launch a unique web resource. Premium website templates of various types and for different categories have a range of advantages over free web themes. Let's enumerate the top 5.
Premium themes include free 24/7 technical support.
As a rule, premium digital products are loaded with custom extensions of the premium quality, which are included in their cost.
Building a site with a theme makes it more likely that it will have a unique design.
Premium themes that are suite for multiple purposes are likely to contain sets of additional skins for niche-specific web projects.
Special bonus features like GPL license, images, visual pages builders, etc. can be also found inside the themes packs.
If premium website templates are your best choice for the launch of your future web project, then you will enjoy the Spring 2018 discounts from TemplateMonster. The digital marketplace lets you save 35% on any item from their collection. You can download as many themes as you need and save $30 or even more on every item. For example, you can grab any of the following flagship designs for your own collection.
WordPress Themes
Monstroid2 – Multipurpose WordPress Theme
Monstroid2 is a WordPress template intended to be used for multiple purposes. This is a feature-rich web solution containing a growing collection of niche-specific skins. This template works on a totally responsive framework, which will adjust effortlessly to any display size. Choosing Monstroid2 for creating or enhancing your website you will ensure the buyers that you are a specialist in how to bring balance, harmony, and comfort together. Richly documented and featuring free of charge 24/7 tech support, the actual web theme will help you get moving with your web project in no time.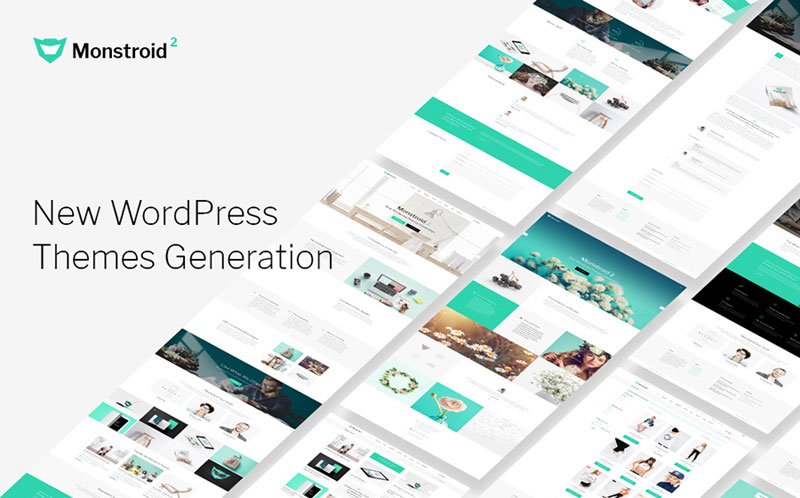 more info / download demo
EasyJet – Multipurpose WordPress Theme
Consider using this WordPress theme for a range of personal and business purposes. This is a multipurpose and easy-to-handle template offering all the functionality to adjust to the needs of a site owner. The built-in Elementor page builder allows you to modify the theme code-free. A collection of 12+ ready-made home pages is provided for the quick launch of the niche-specific online projects. The content blocks make the overall design user-friendly. Owning a website such as this, there won't be any problem with developing trust with your online guests. In the event of any trouble with this website design, you can communicate with one of the skilled support managers and they will resolve the issue of any difficulty for clients.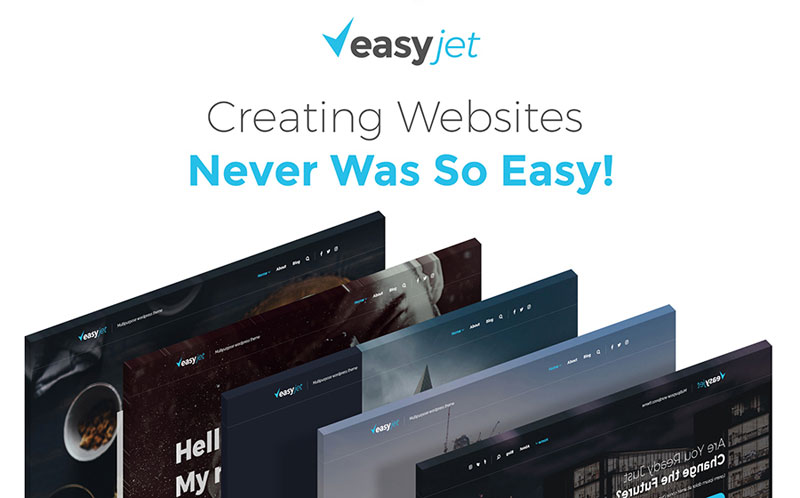 more info / download demo
Building Company WordPress Theme
This WordPress template looks usable and trustworthy, just the way all construction web pages should look like. It is integrated with the intuitive drag-and-drop Power page builder, which allows you to create unique pages layouts code-free. The theme includes 25+ content modules and a library of presets, which allow you to bring changes to content organization effortlessly. Today, search engines and social media sites are the biggest providers of traffic, that is why this theme is integrated with social media and has a valid, SEO-optimized code. A welcoming customer support staff is accessible 24/7 for free.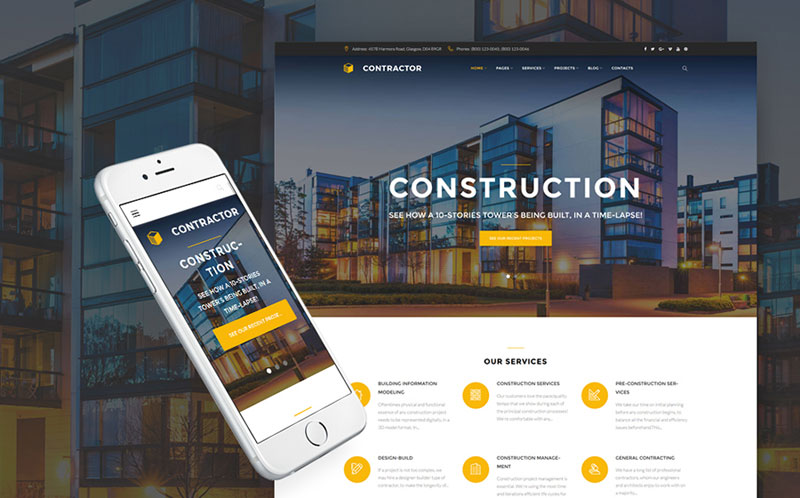 more info / download demo
HTML5 Themes
Intense – Multipurpose Website Template
Intense is a feature-rich and multipurpose website template. It is intended to become a rock-solid starting point for a range of personal and business projects. A range of the theme settings can be tweaked immediately through the advanced dashboard. The theme includes a rich selection of pre-designed layouts, ready-made pages, and niche-specific skins that are intended to speed up the way you personalize the theme in accordance with your own preferences. A comprehensive documentation directory, as well as free round-the-clock support, are bundled.
more info / download demo
Starbis – Business Website Template
Here is one more usable multipurpose HTML5 template that is ready to become a reliable foundation for a range of business projects. Awesome visual effects make the site exciting to surf around. SEO-optimized and cross-browser compatible, this theme is a perfect solution for establishing an impressive web presence for your business. The fully responsive design of the theme is intended to adjust all elements to a range of screen sizes. A polite customer support squad is available round-the-clock absolutely free.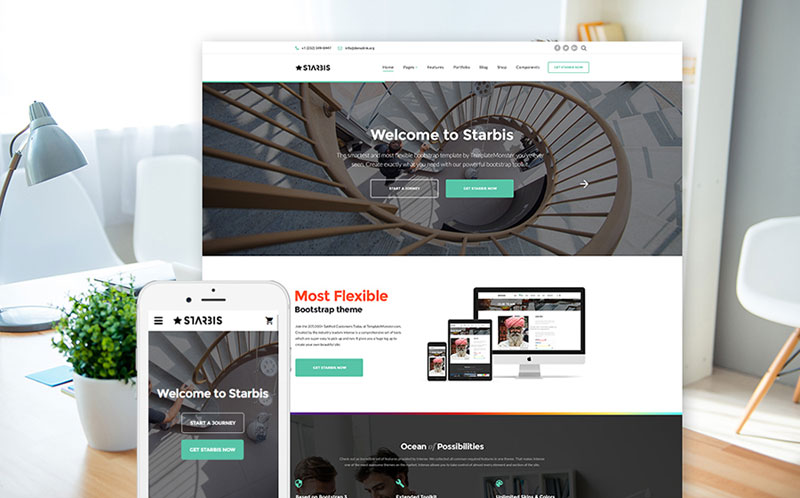 more info / download demo
Brave Theme – Multipurpose HTML Website Template
This specific website template may become a solid foundation for small to a large-sized business site. This is a multipurpose theme that is intended to be tweaked by the users of all skill levels effortlessly. It is integrated with the Novi page builder, which allows you to bring changes to the theme's design in the visual mode. Its 100 % responsive nature will appear flawless on any screen size. Optimized for major search engines, the template can help you improve your site's search engine ranking positions. A range of pre-designed pages and UI blocks are included to personalize the theme's layout without the need to code or design anything on your own.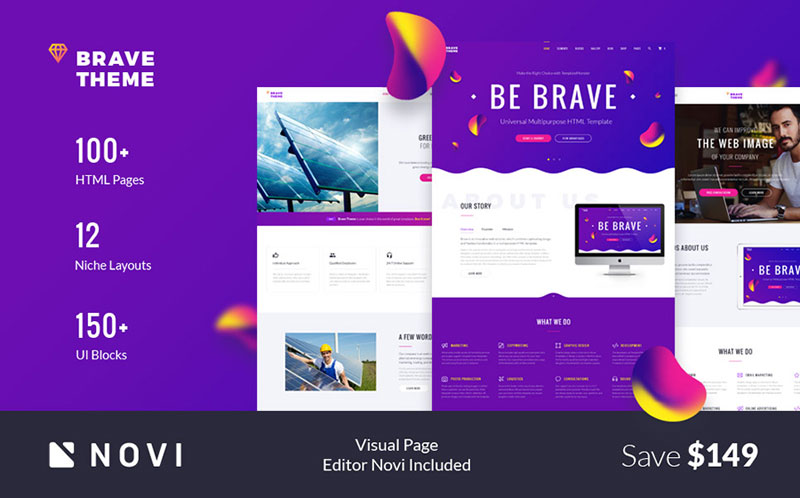 more info / download demo
Joomla Themes
Jumerix Multipurpose Joomla Theme
Jumerix is a multipurpose Joomla theme that combines blogging, business and eCommerce functionality under the hood. The website template is cross-browser compliant, fully responsive and offers every option you may require to create a competitive internet resource. The content areas help make the design user-friendly. In a nutshell, using the offered theme you will be able to introduce the audience to your venture quick and easy. It shouldn't cost you a lot of time and effort to customize the theme because it comes stuffed with advanced functionality as well as beautiful font and color varieties.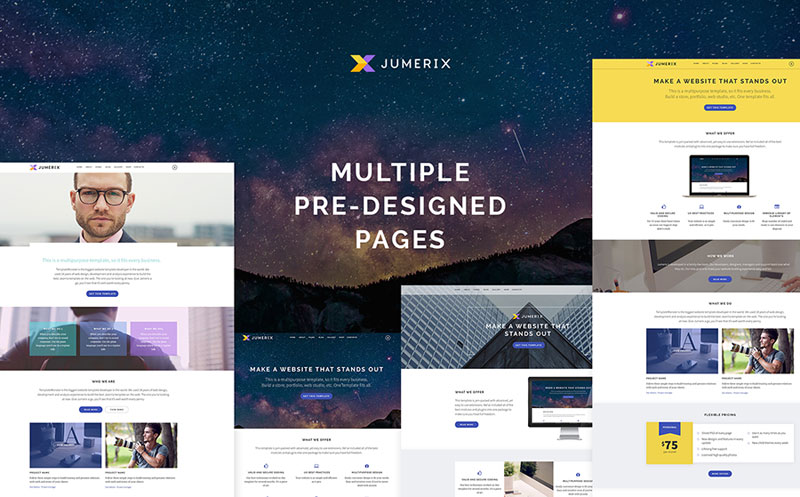 more info / download demo
Jedi – Multifunctional Joomla Template
Jedi is a fully-fledged blogging Joomla theme. The fully editable layout lets you feel the ease of its adaptation as per your own requirements. Being responsive, it guarantees amazing feel and look at any device and any screen resolutions. The template is designed with readability and best user experience in mind. Your site will look exactly like the live demo of this template. Check it out and start! In the event of any issue with this website layout, you can communicate with one of the well-trained assistance managers and they will resolve the issue of any nature for clients.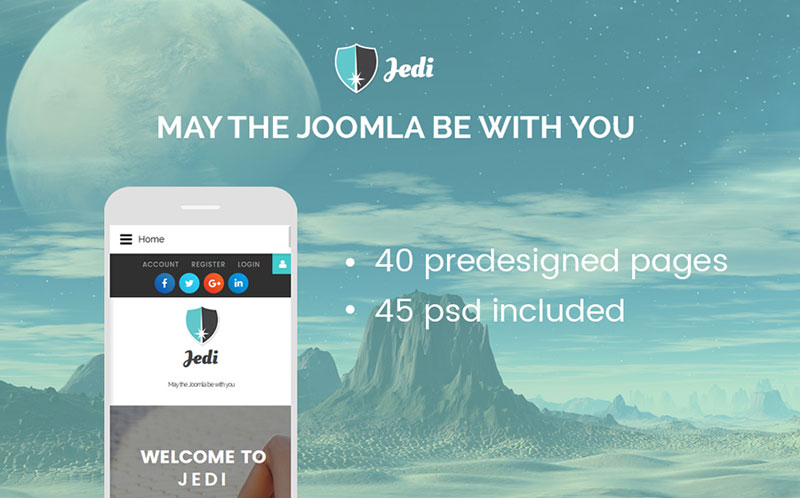 more info / download demo
PrestaShop Themes
PrestaShop Multipurpose Responsive Theme
Eveprest a functional and feature-rich theme that is intended to be used for a range of eCommerce purposes. This concise 100% responsive template was thoroughly designed for selling fashion, beauty, electronics, and other items on the web. This template boasts advanced features for smooth maintenance. Supplied with numerous features and fully responsive, it incorporates every component that you require for an effective demonstration of your enterprise online. Due to custom post types, each page of your online project will have an exceptional look. A descriptive documentation file, as well as free round-the-clock support, are provided.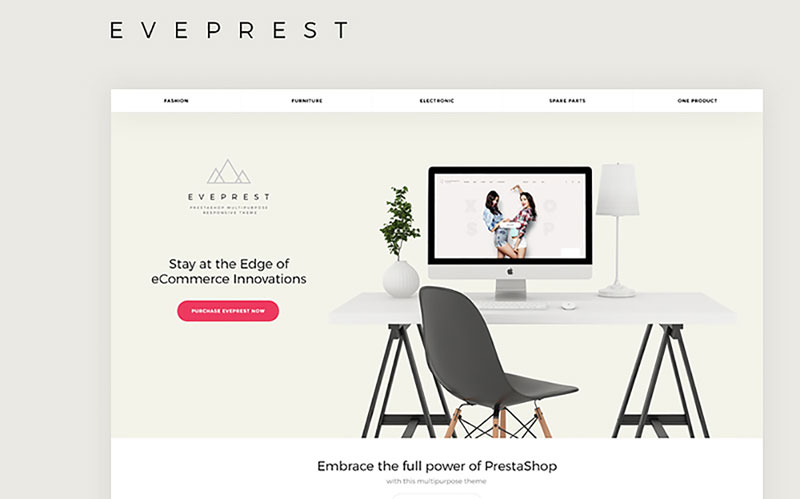 more info / download demo
imPresta – Multipurpose PrestaShop Theme
Fine-tune your web site style using this PrestaShop template with a visually attractive color scheme. This design is spacious and easy-to-scan. A range of niche-specific skins is included for free, allowing you to the select the perfect style for your future web store. The easiness and consistency of design convey a message of your business trustworthiness. If you're looking for a high quality and credible design for an online resource, look at this one.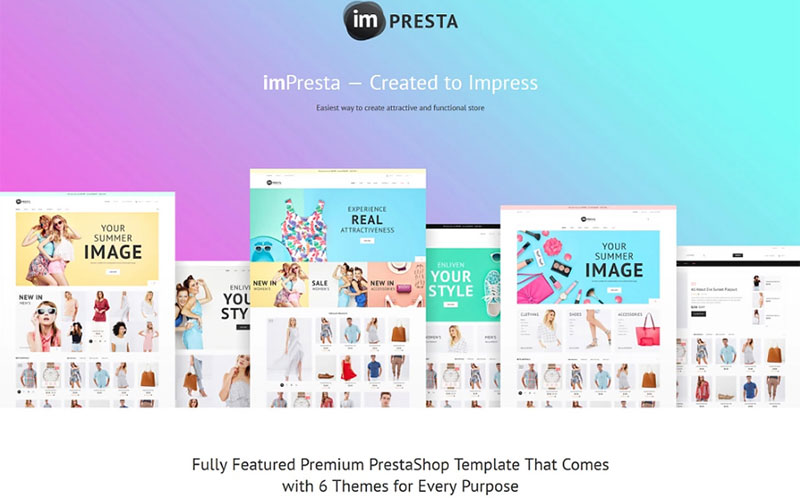 more info / download demo
Online Art Gallery PrestaShop Theme
ArtWorker is an art gallery PrestaShop theme coming enhanced with eCommerce functionality. As you can see, the template is made for photographer and creative artist portfolios. A trendy design with well-organized design and user-friendly navigation make this web design easy and pleasant to operate. Both Catalogue and Store modes are included to enhance the usability of your website. Thanks to the integration with Mega layout Builder, tweaking the structure of the theme's pages will be really quick and easy.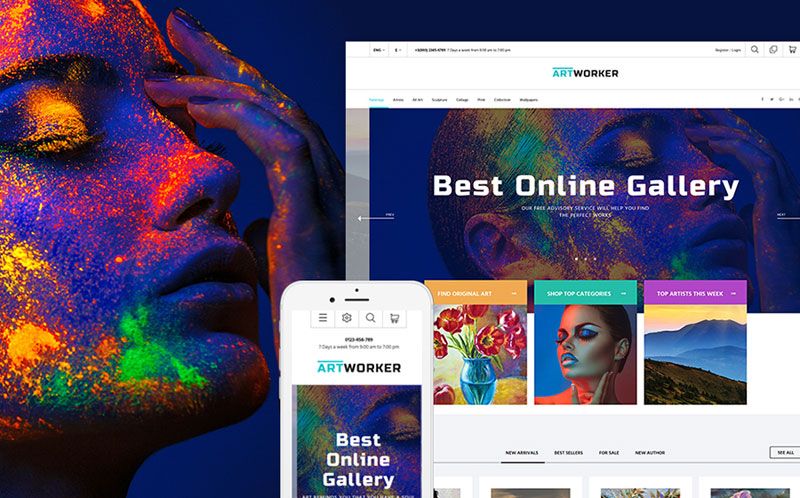 more info / download demo
Magento Themes
Magetique – AMP-Ready Multipurpose Magento 2 Theme
This rich in features multipurpose Magento 2 design is a wise option for everyone enthusiastic to have an expert look on the net. The theme includes a number of the pre-designed niche-specific skins, all of which are ready to go live straight out-of-the-box. If you are looking for a reliable solution for fashion, beauty, sports, tools, medical, cars or any other web store, you need to try this perfectly designed template. When properly developed, your website can supply a great value for your dollar. Website content will be really easy to read due to lots of negative space and clear structure. This theme is 100% responsive that means that a lot of people get the chance to reach your website from their mobile phones and tablets because it will automatically adjust to any screen resolution.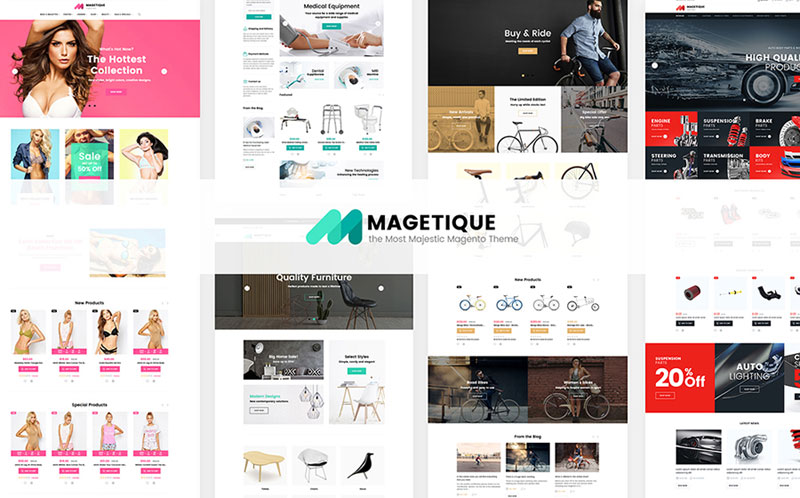 more info / download demo
Jewelrix Magento Theme
Created with sleek code, Jewelrix is most effective for jewelry and accessories web stores yet it can be customized for almost any other website. This design facilitates the productive demonstration of your business in a storytelling manner. Adding more interest and style to the website's look, this web theme maintains equilibrium with well-positioned blocks and sections that enable focusing on the content. The concept was made in accordance with the main SEO standards, that will let you enhance your positions is search results. If you have any queries regarding template use you can take a look at the detailed documentation, also you get round-the-clock priority assistance helping to settle any problem.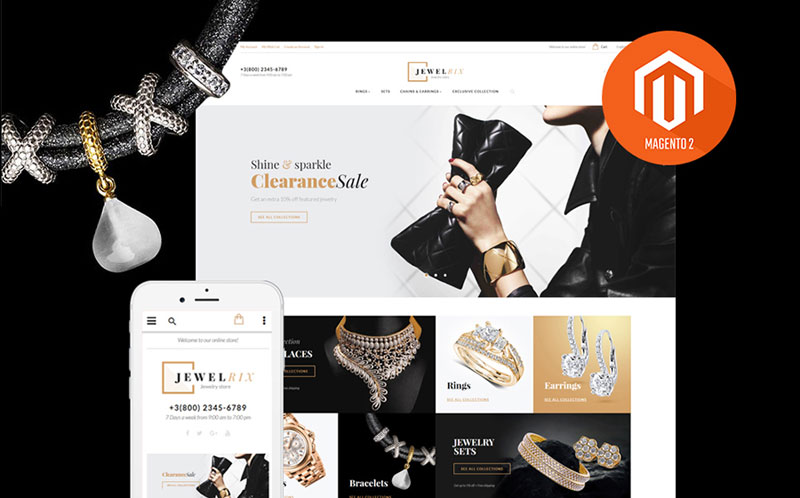 more info / download demo