When it comes to choosing a WordPress theme for your software company, you want to make sure you choose one that is modern and stylish. That is why we recommend our WordPress themes. They are specifically designed for software companies and come with all the features and functionality you need.
Related Article
Iteck
Iteck is a technology and IT solutions WordPress theme that is great for digital agencies, IT services, and startups in the modeling business. Based on Bootstrap to be responsive. All files and code have been nicely put together and commented so that they are easy to change.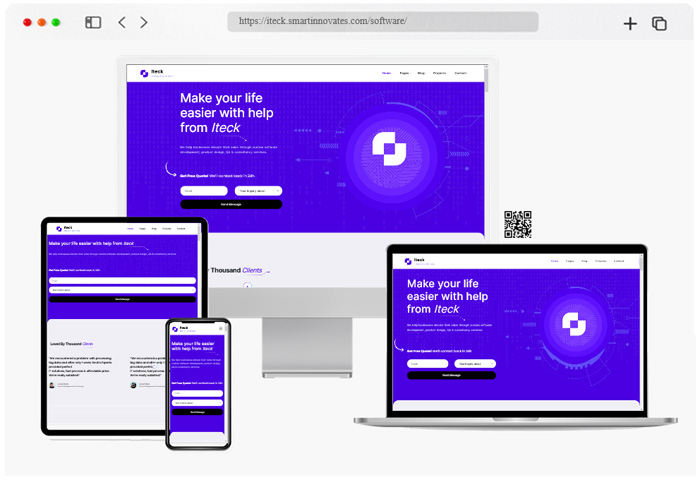 More info / download Demo
Ximsa
Ximsa is a WordPress theme for startups and SaaS. It's a beautiful and modern Startup Agency & SaaS Theme. This theme can be used for agencies, digital agencies, startup agencies, creative agencies, creative multipurpose, freelance, SaaS, business, consulting, and apps.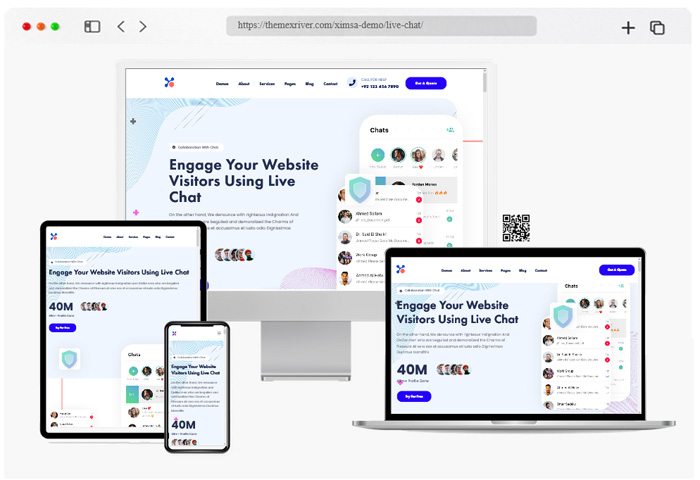 More info / download Demo
Deon
With Deon, a theme we made for high-tech companies and website developers, you can control the digital world. The theme has carefully designed layouts that work for modern technology blogs, IT companies, app installation pages, IT services offices, tech startups, tech support, and all modern company exhibitions. Deon can help you improve your byte-by-byte technology company.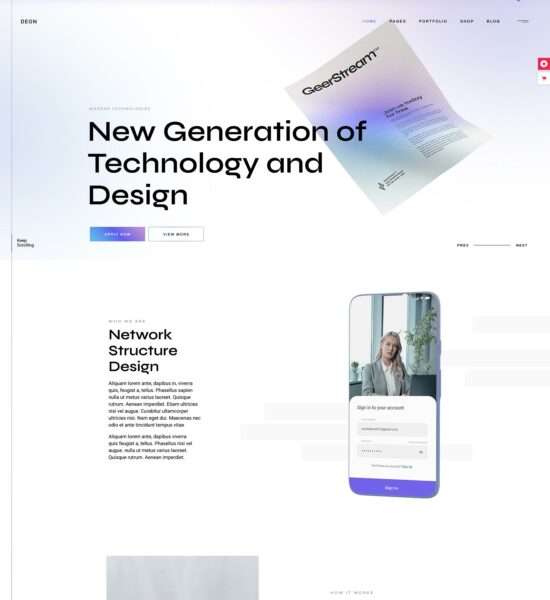 More info / download Demo
Logiciel
The most impressive and best IT service WordPress theme is Logiciel. The WordPress theme for IT companies was made for digital businesses and IT service solutions of all sizes. It can help promote a website that is ready to go for a better customer experience.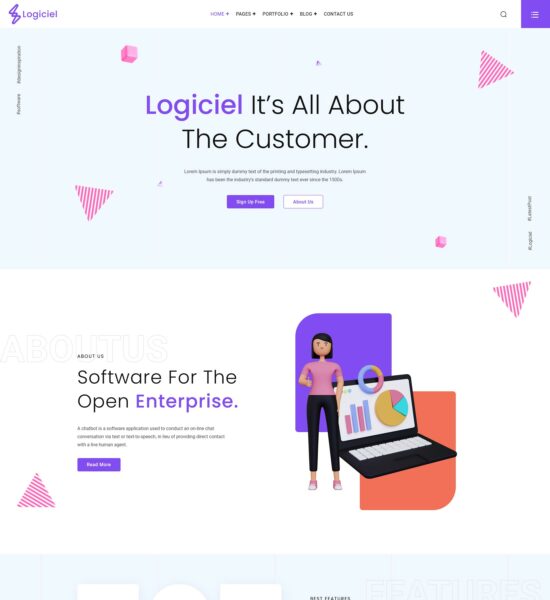 More info / download Demo
Kotona
Kotona is an inspiring mix of art and technology that results in a beautiful design and great functionality. This powerful duality lets you make any kind of business, app, or SaaS website that shows off the best IT/software services, products, and services. You could also make a nice-looking online store to sell both physical and digital goods.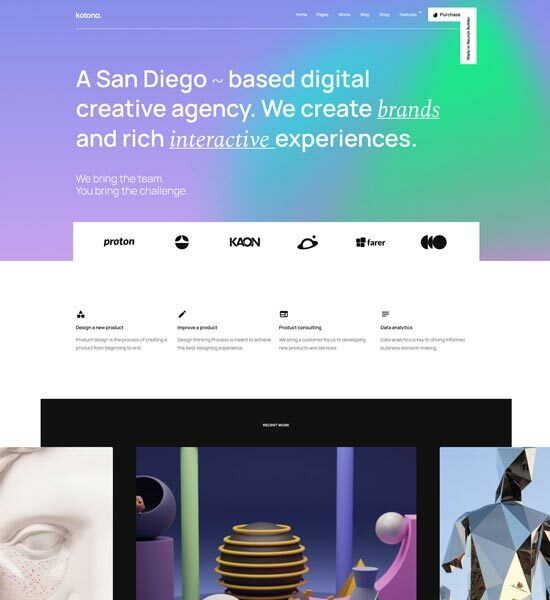 More info / download Demo
OLMO
The Olmo WordPress theme is made for any software, app, SaaS, startup, or business project. OLMO is a collection of creative and flexible landing page demos that you can use to promote your software, app, SaaS, startup, business project, or other online venture.
OLMO is built to serve a wide range of industries and comes with 27 different home pages and a variety of interior pages. Over 70 unique section UI blocks that can be mixed and matched.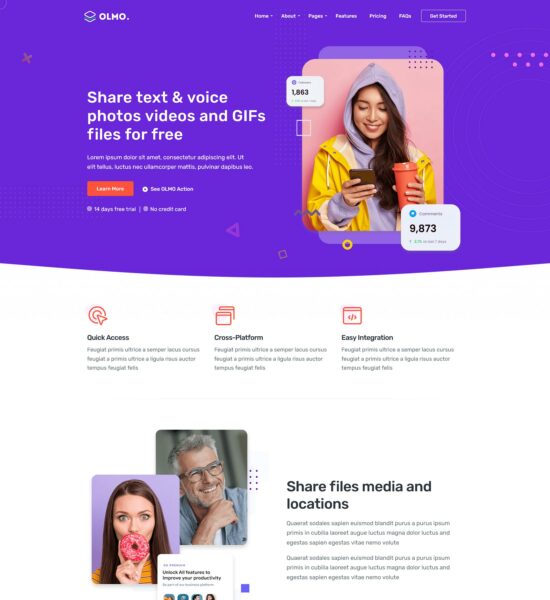 More info / download Demo
Deski
Deski is a one-of-a-kind, modern, beautiful, and responsive WordPress theme that can be used for any type of business, event, SAAS, agency, IT service, portfolio, or blog website. This design is very creative and one-of-a-kind, and it's also easy to change and use.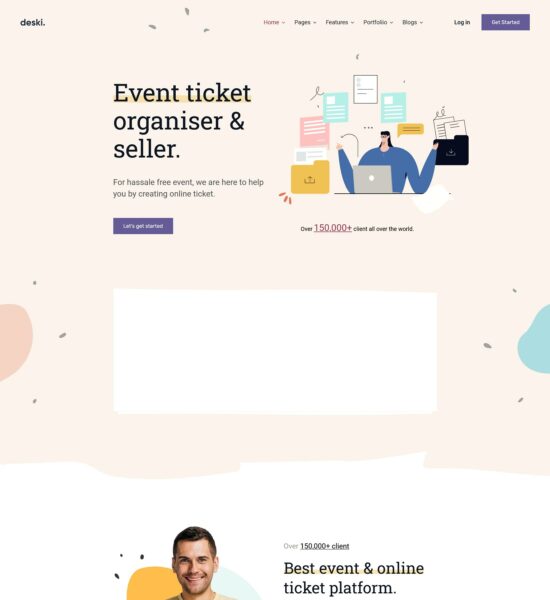 More info / download Demo
Quiety
Software and IT Solutions from Quiety The Bootstrap 5 CSS framework and WooCommerce support make WordPress Theme a powerful, easy-to-use, mobile-friendly, customizable IT solution and SAAS product. This theme comes with 7 great home pages and 12 or more other pages.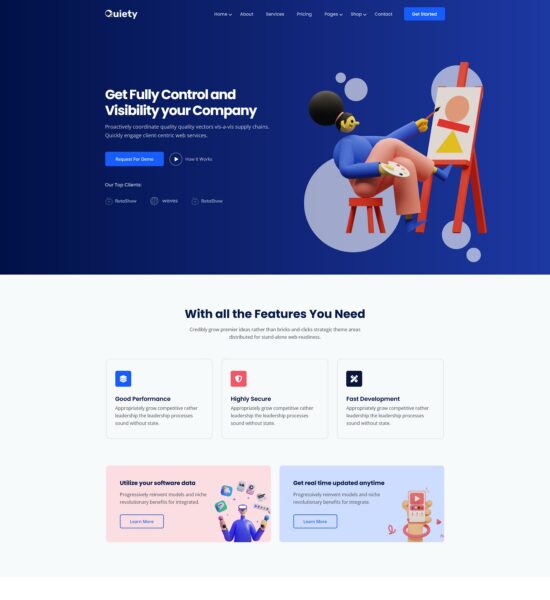 More info / download Demo
Cyberdom
Cyberdom is the only technology your new IT, technology, and software development company needs. The theme comes with an impressive set of tech companies, startups, tech blogs, digital agencies, and software examples, including parts for your startup page, startup tech, and tech organizations.
On top of that, you get the free installation of the full Elementor Page Builder interface and the Slider Revolution Responsive plugin.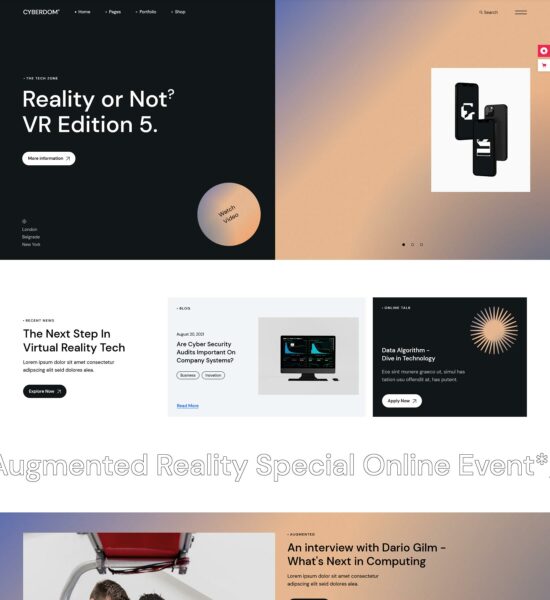 More info / download Demo
Custar
Custar is a premium WordPress multipurpose theme designed for apps, startups, SaaS businesses, software and more. Built on the latest trends in design style and typography choices. Custar makes it easy to customize your site by adding text and images via Elementor, a drag-and-drop page builder. You'll also get access to over 20 amazing pre-made templates that are ready to use on your new website.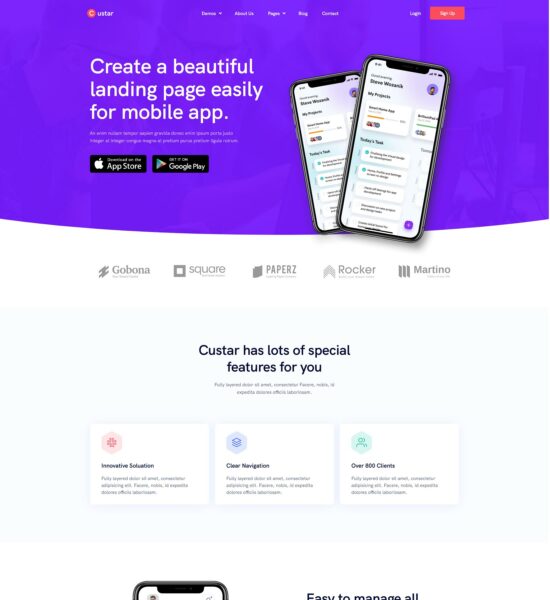 More info / download Demo
Ultraland
Ultraland is a premium WordPress theme, specifically designed for Sass Startup Agency, mobile app showcase, software, web apps, and businesses with a specific focus on lead generation, product and service showcase, as well as all important features. Users will love your site because it gives them a unique user experience with a clean, modern and modern look.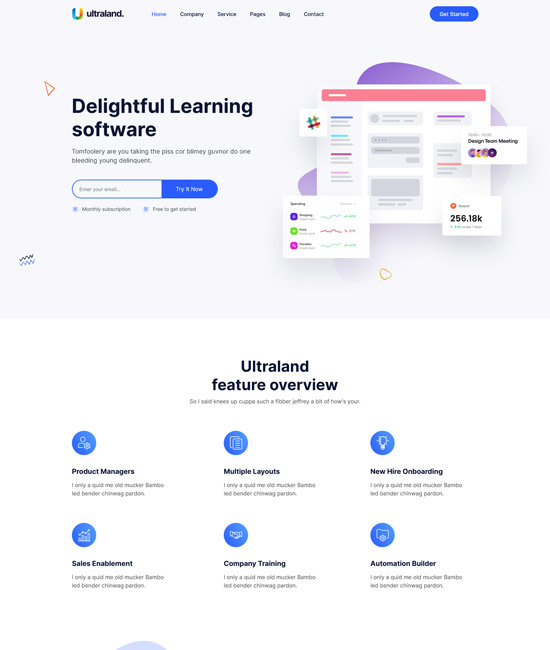 More info / download Demo
Softek
Softek is a responsive WordPress theme created for software startup, software development company, app designers, and other tech related business websites. Built with Elementor page builder for software related websites. Softek WordPress Theme has highly responsive layouts specially designed for software editors, software developers, and application designers.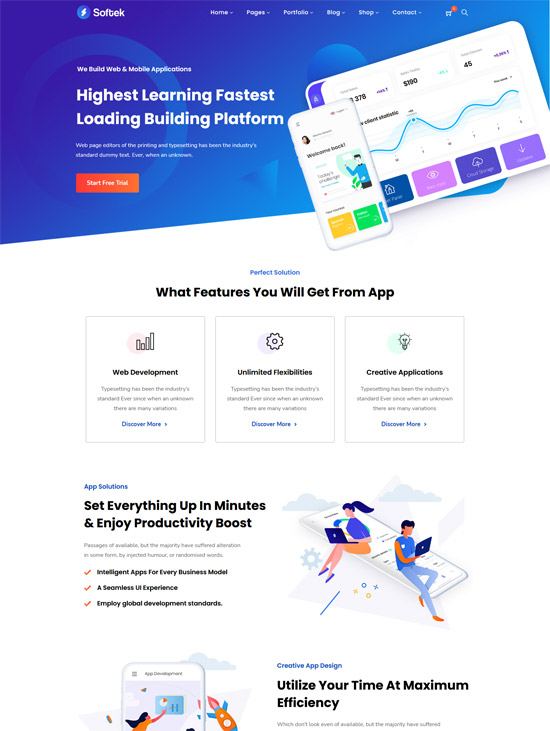 More info / download Demo
Trendkit
A responsive WordPress theme for SaaS & Startup is Trendkit Software & Startup Agency. It's simple to use and browse Trendkit – Software & Startup Agency Theme for Saas & Startup. compatible with any device, including desktops, laptops, tables, mobiles, and other devices.
The Trendkit – Software & Startup Agency Theme's straightforward and clean style will give your company's marketing a polished appearance. The aesthetic appeal of your site is increased by Smooth TRANSITION and Effect.
It works well for any marketing company, company, agency, blog, or even individual portfolio. It is appropriate for anyone looking for a business WordPress theme or an ad agency, AI startup, creative agency, digital marketing, digital web agency, elementor startup, IT agency, IT solutions, marketing agency marketing, multipurpose sales agency, saas company, SEO company, startup, or startup, tech startup.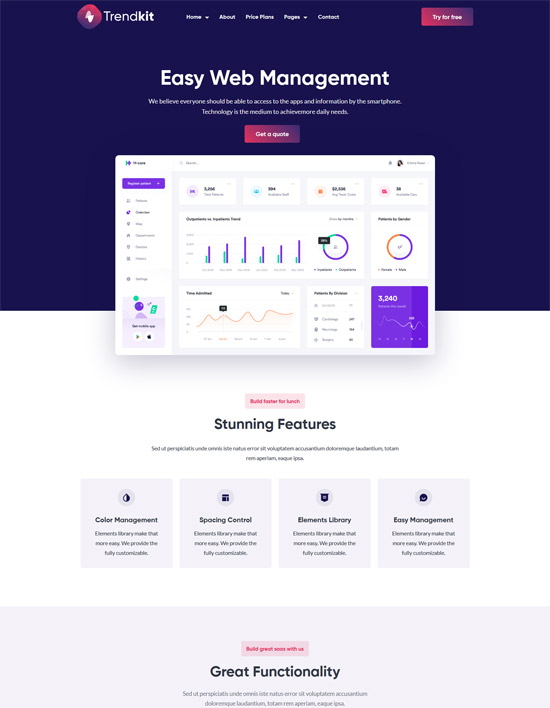 More info / download Demo
Starto
Starto WordPress Theme is a responsive WordPress theme created especially for startup, software-as-a-service, app builder, and other tech-related business websites, etc. Built with a fully functional page builder for business related websites. Starto supports responsive layouts built especially for startup, software-as-a-service, app builder, and other tech-related business websites, so it looks great on all devices.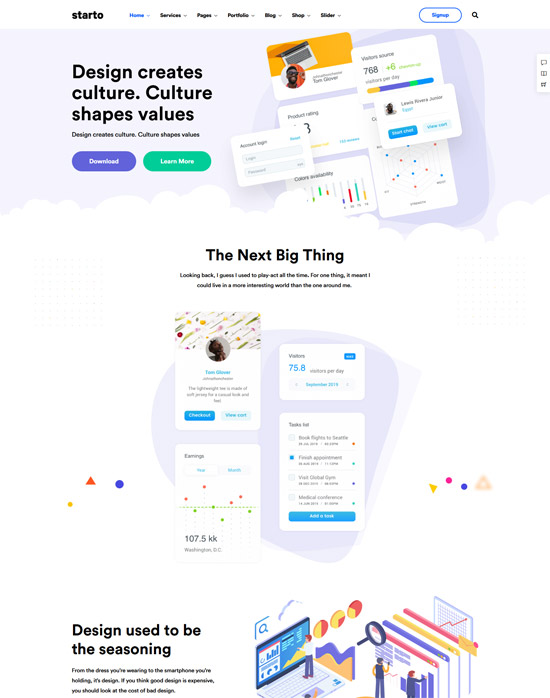 More info / download Demo
Codz
Create a visually impacting IT and software based website. Codz WP theme is perfect for entities that are looking to create a software solution website.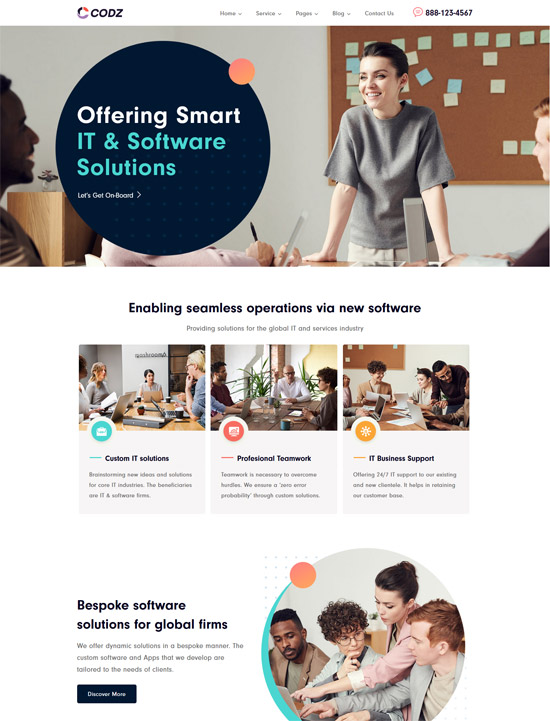 More info / download Demo
Codiqa
Codiqa is a WordPress theme for software and application presentations, product presentation, technology, saas and digital business. It is also suitable for digital marketing, marketing or advertising agency, startup, business, corporate, consulting and many more. This WP theme was created with the real needs of tech and digital companies in mind. This WP theme features 5 distinctively designed demos with carefully designed inner pages.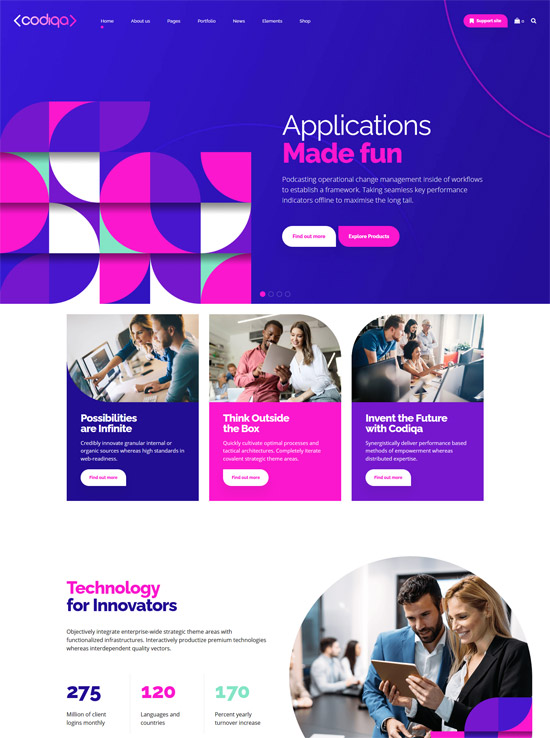 More info / download Demo
Jumpstart
Jumpstart is a responsive, block-based WordPress theme that combines a sleek design, premium features, and a modern workflow so you can build multipurpose websites quickly.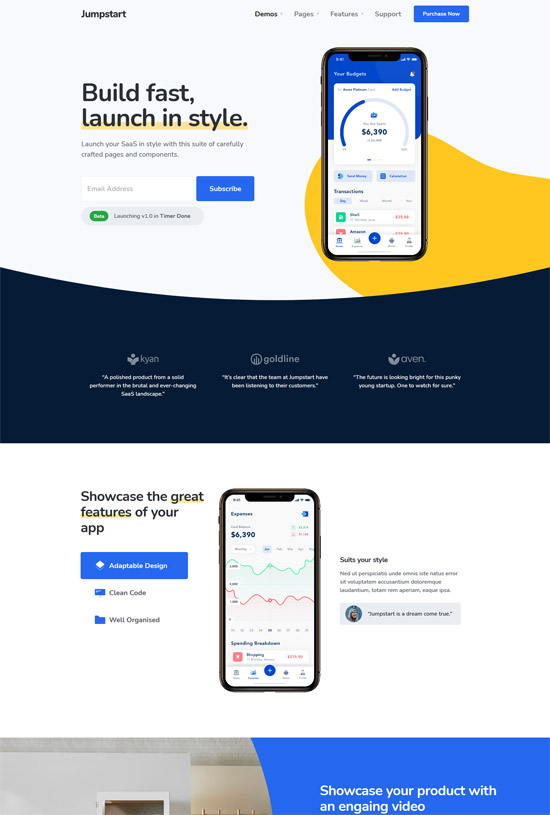 More info / download Demo
Apzo
Software & Saas Apzo The premium responsive WordPress theme WordPress is designed specifically for IT, corporate company websites, software as a service (SaaS), hosting, and application landing pages.
Apzo is one of the most user-friendly and potent themes available thanks to its simple, beautiful design and GoodLayers Page Builder presentation. The third iteration of GoodLayers' very robust and adaptable framework is included with Apzo.
The core of our concept has been constructed, client input has been gathered, and everything has been incorporated into this framework. The most powerful drag and drop page builder is also included.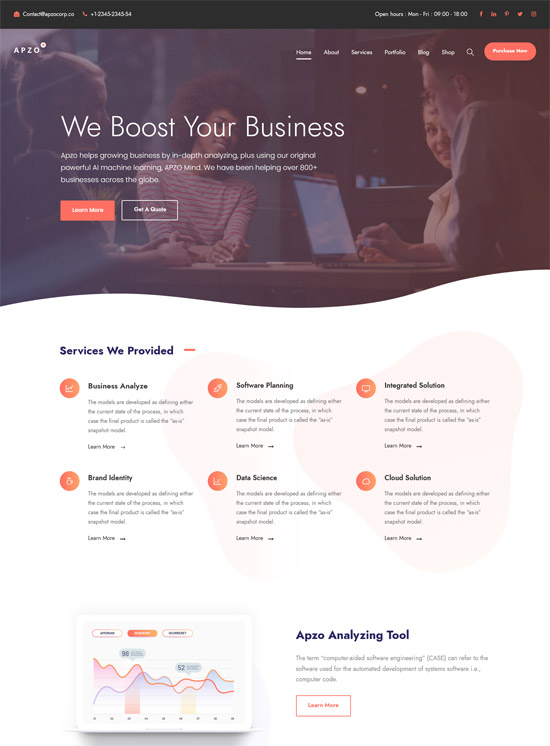 More info / download Demo
DashCore
We created this theme in Page Builder, a very convenient drag-and-drop PageBuilder for WordPress. It should give you the most seamless experience when creating your website with our theme. The WordPress theme is responsive, you can view it on mobile / tablet devices as well, and it looks great on more devices.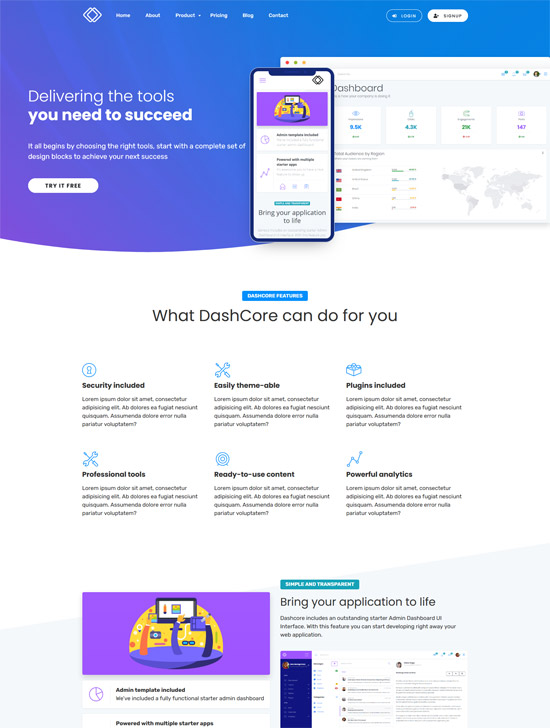 More info / download Demo
Acrony
Acrony is a responsive WordPress theme that is built on Bootstrap. Compatible with desktop, laptop, tablet, mobile, or any other device. Acrony is a clean and simple design that will make your business or marketing look more professional.
It works well for any marketing company, business, agency, blog, or even a personal portfolio.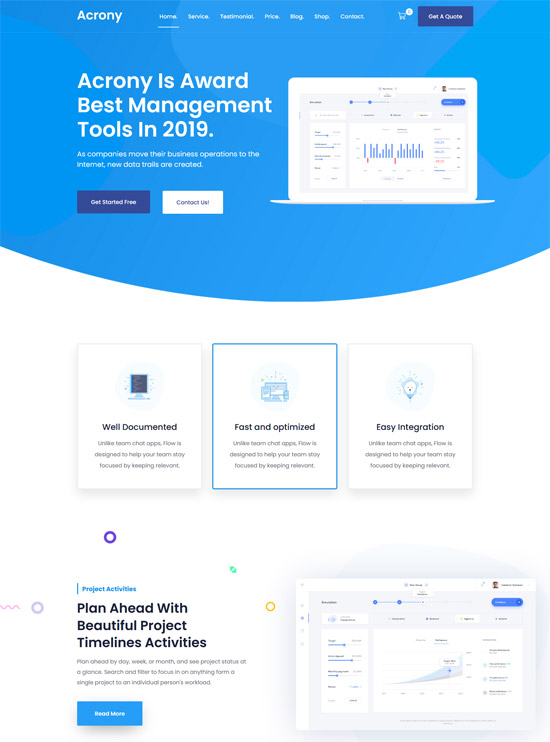 More info / download Demo
Vizion
All-inclusive niche landing pages for major industries and numerous pre-built inner pages, Vizion AI is extremely easy to build your website. It has a pixel perfect design and clean encoding that ensures the highest quality standards just like our other themes. As we know, artificial intelligence has been infiltrating the marketing world for some time now; Our goal is to drive brands forward by providing a great online user experience and managing cross-channel promotions with the latest AI from Vizion.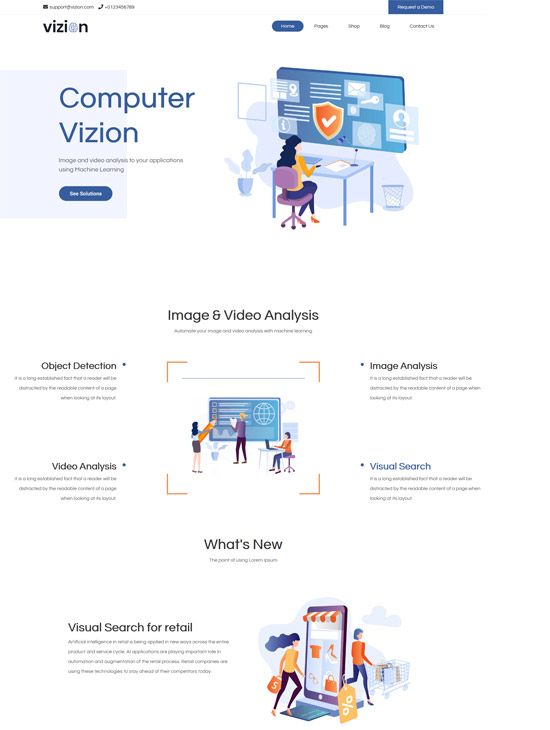 More info / download Demo
Softing
As a WordPress technology software theme, Softing gives you an unlimited number of landing pages with its clean and powerful features. It also has a unique grid system like Bootstrap and a responsive preview that works perfectly on all devices. Softing can be used for SaaS, a software startup, a mobile app showcase, a one-page website, an app landing page, single product marketing, an Android or iOS app, the sale of a single product, and more.
It can also be used on WordPress-based sites to sell a single product or a single app. With WPBakery Page Builder, which comes with the theme, you can make dozens of different pages in just a few hours. With the more than 40 shortcodes that come with WPBakery Page Builder and the shortcodes we make for the theme sections, you can set up your page however you want.
We added more than 200 extra functions to the Page Builder so that you can easily solve problems with parallax and mobile devices without having to write any code.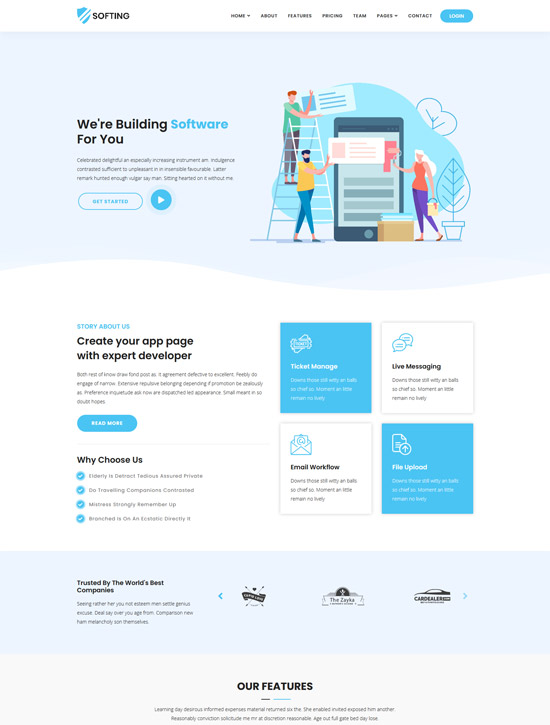 More info / download Demo
Appon
Appon is a multi-concept app, SaaS, mobile app, startup theme, and software. The theme is suitable for the home website of your mobile application or software.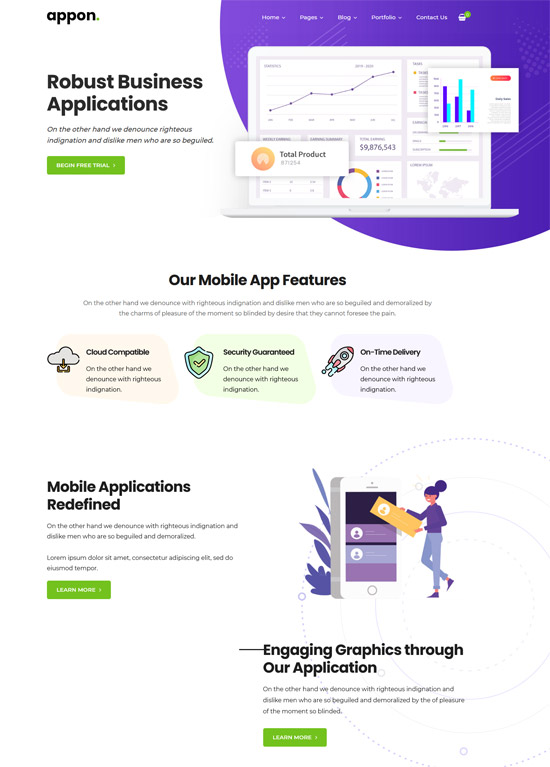 More info / download Demo
Softwerk
Softwerk is an amazing multipurpose theme created for software startup websites. Its truly vast collection of beautiful designs and powerful elements make it ideal for SaaS, cryptocurrencies, technology and application companies, as well as digital studios. Softwerk comes with gorgeous app landing page templates and all of its content is highly customizable, allowing the user to quickly choose and configure the pages on their website and import everything with just one click. The theme is totally intuitive, making it easy for you to create an extraordinary website without any hassle.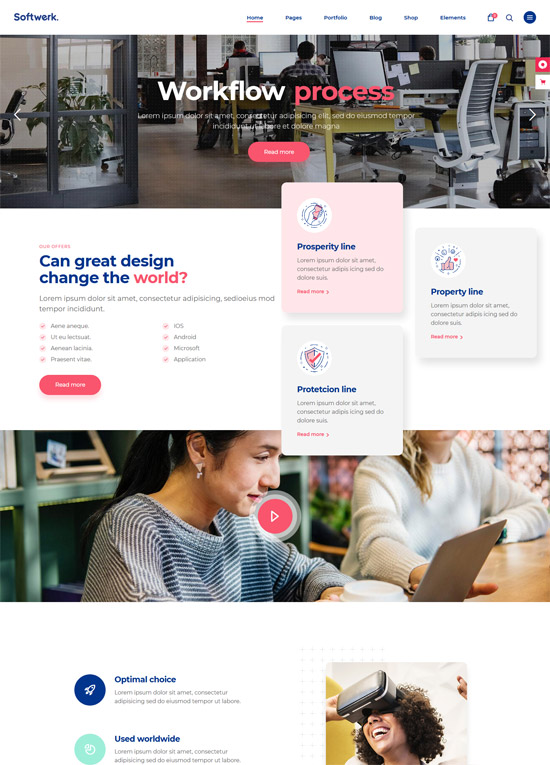 More info / download Demo
Limpon
Limpon is a clean, modern and professional one page software landing WordPress theme. It is a clean, modern and simple theme for startup and web application, saas, product home page. Everything is in the documentation file so you can change anything easily.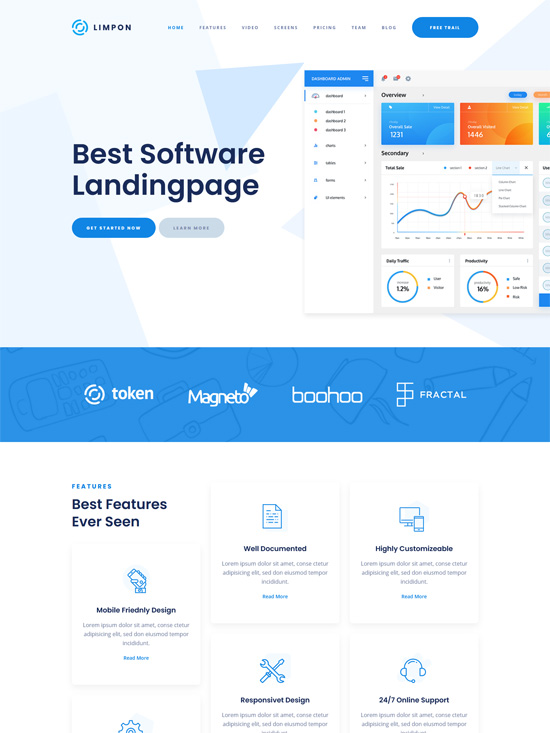 More info / download Demo
Siber
We present you an amazing digital WordPress theme. With it, you can create your own unique and beautiful site for Saas, SoftWare, Hosting, WebApp, Digital Agency. Various pages and galleries will showcase the uniqueness of your work. We try to configure many components to make your site better and useful.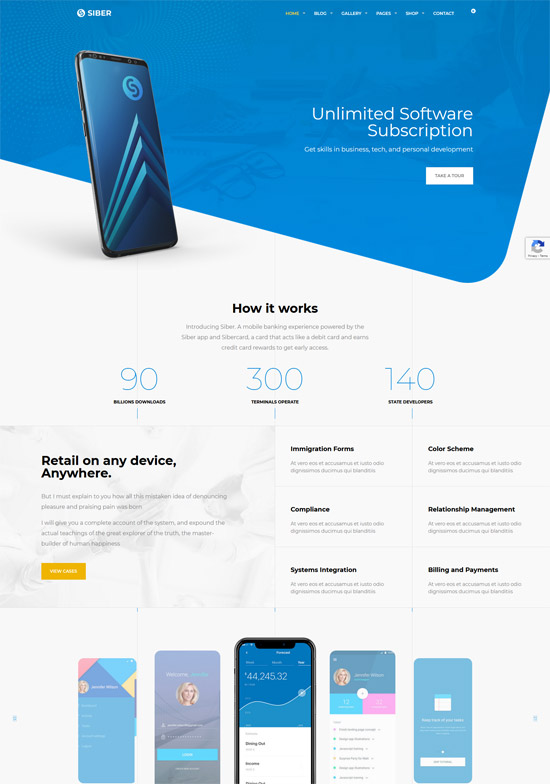 More info / download Demo
Foton
It's a theme that has been changed to please everyone in the software industry, from web application developers to digital agencies. Foton makes sure that every part of your business is covered by giving you a wide range of templates that can be changed to fit your site, application landing page, SaaS, and other software presentations.
Simply put, Foton is great for any new business, software, mobile app-focused website, or landing page for an app. You can also make your website with Elementor or WPBakery Page Builder. The theme is also full of strong tech blog templates that are ready to shine.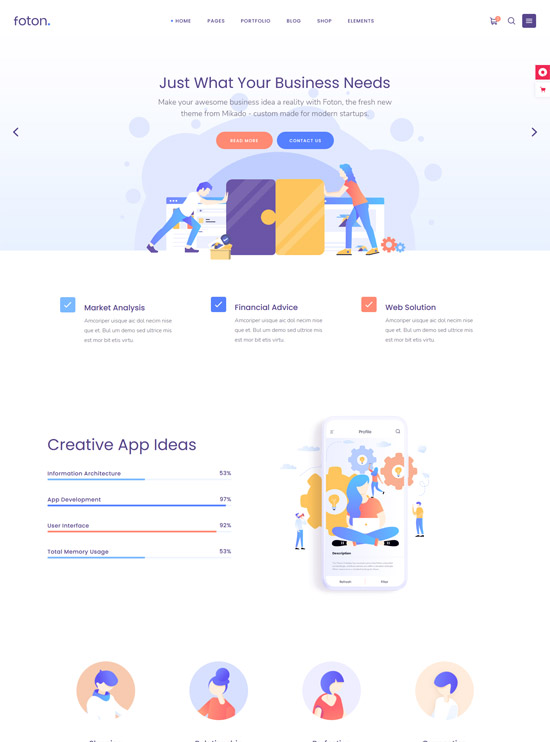 More info / download Demo
Bufet
Bufet is a powerful WordPress theme for landing pages for software and apps. It is 100% responsive and looks great in all kinds of applications, such as SaaS (Software as a Service), Startup, Admin Dashboard, Tech Entrepreneurs business, etc. Buffet Responsive Software and App Landing Page WordPress Theme is a mix of modern, classic, elegant, creative, and clean styles with the best ui and ux.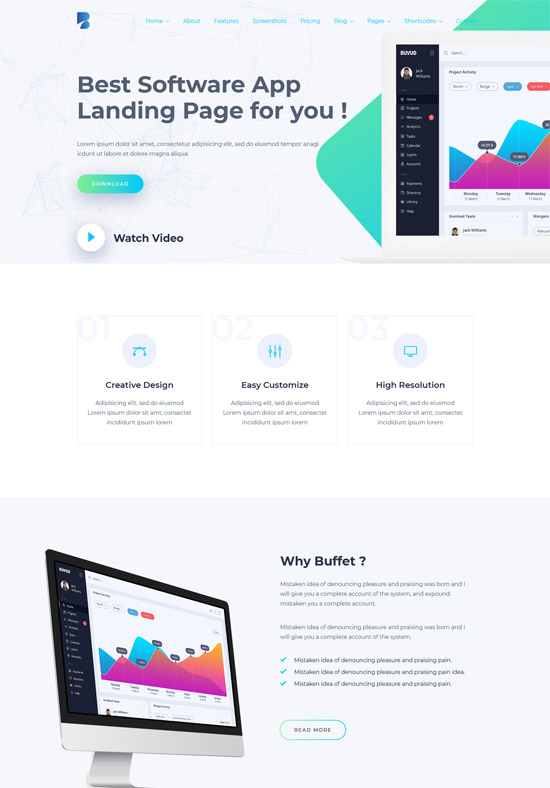 More info / download Demo
Spring
Spring Landing for Software and Apps The WordPress theme is built on 1170 Grid and has clean, unique UI elements that can be easily changed to make a website for any kind of IT, software, or technology company.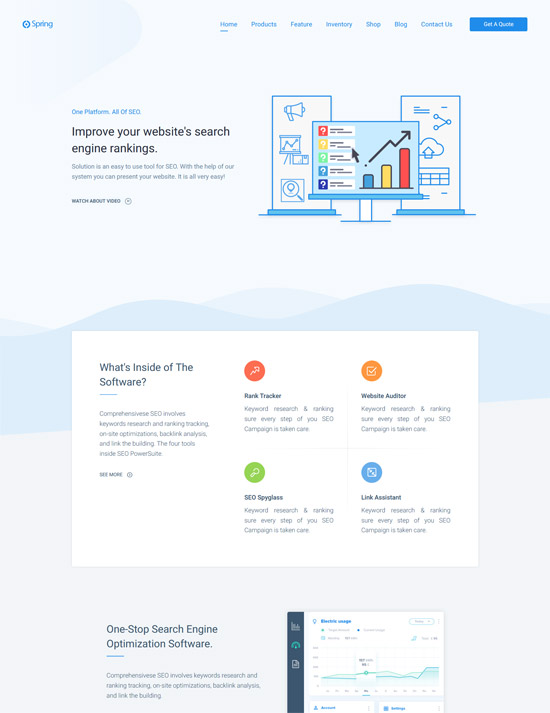 More info / download Demo
Applauz
APPLAUZ is a WordPress theme created exclusively for startup companies, applications, SaaS, software and digital technology. It's fully responsive, retina-ready, and easy to customize.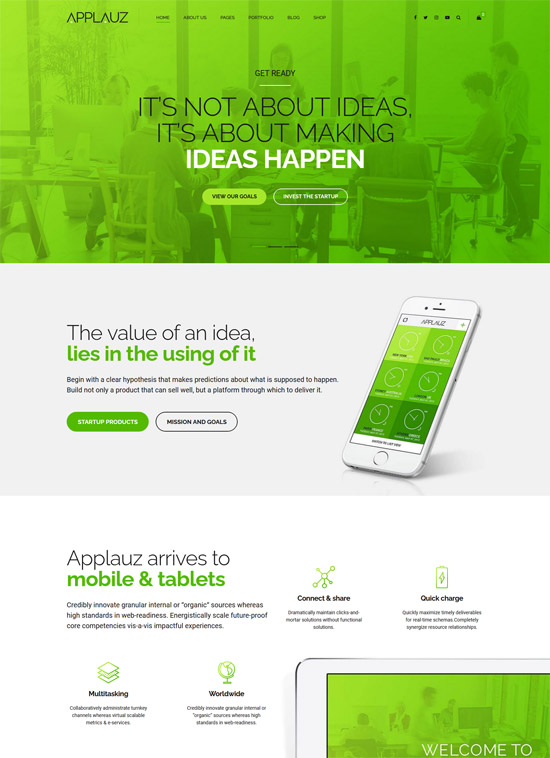 More info / download Demo
Softa
We're going to show you a great theme for WordPress software. With it, you can make your own unique and beautiful site for Saas, SoftWare, Hosting, WebApp, and Digital Agency. The uniqueness of your work will be shown on different pages and in galleries. We try to set up many parts of your site to make it better and more useful.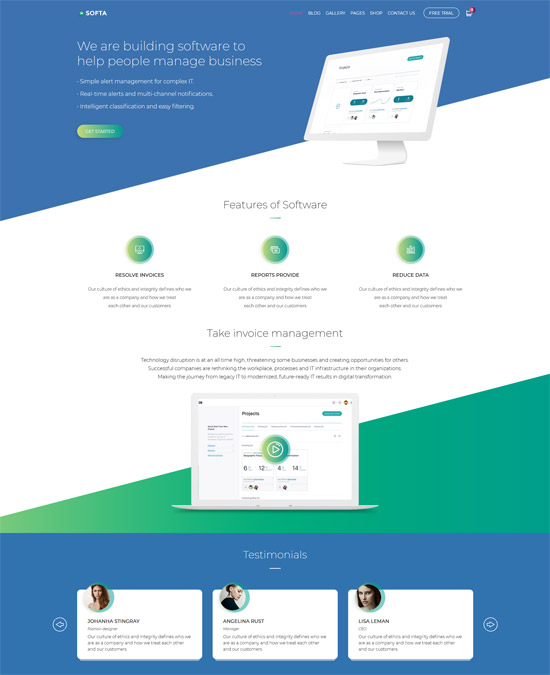 More info / download Demo