The best premium sports WordPress themes for gold sport, soccer sport club, baseball sport, billiards, football club, tennis club and basketball club! All you need to start it is a nice responsive sport themes like the best one, with comfortable accommodation of content, easy navigation, and nice photos that are so inviting for viewers. You can also kindle their interest with blog news, chronicle of major club events, bright photos of cheerleaders, and gallery neatly organized within this clean modern design. Choose it to attract more visitors and become the number one people's choice. Use those sports WordPress themes to assure potential clients that they will have a nice time with a cue and balls in the billiard club you advertise.
Gofo
Gofo is a modern WordPress theme designed for golf clubs and golf courses. Present your services, display your golf courses and events!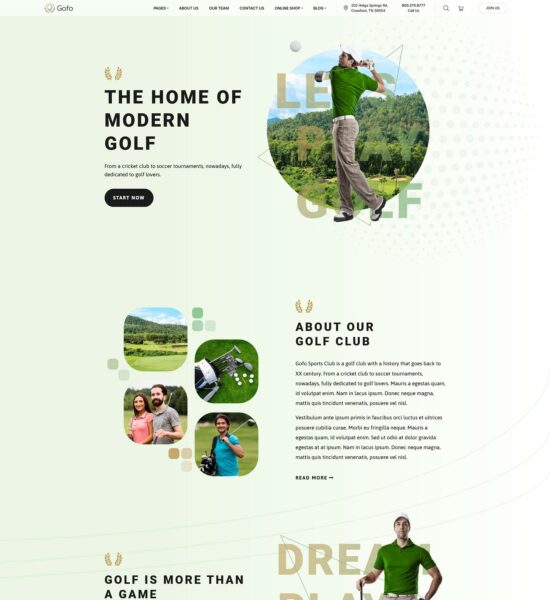 more info / download demo
Marinio
Marinio is the theme designed for water sports, especially for surfing and scuba diving! Showcase your services, post surfing or scuba diving courses and events. Create a stunning surfing, kitesurfing, wakesurfing, windsurfing or water sports website with the Marinio theme!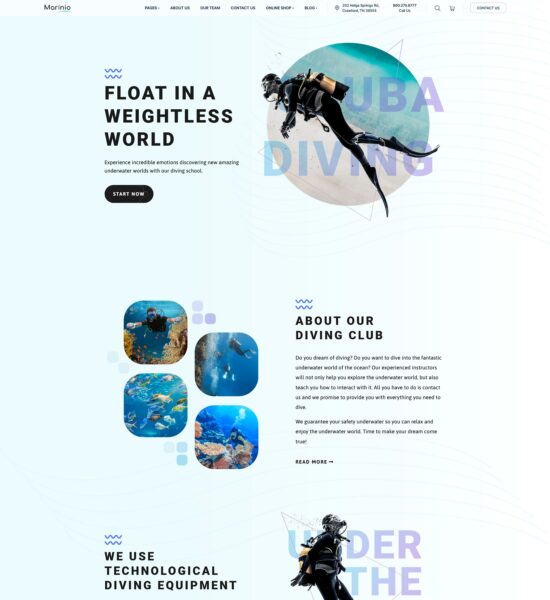 more info / download demo
SwimAcademy
SwimAcademy is an attractive and brightly colored WordPress theme perfectly suited for swimming school, training center, lesson center, even for a playroom, kids campsite or kindergarten. You can create and manage your courses and lessons as a coach through the online booking system built into the theme.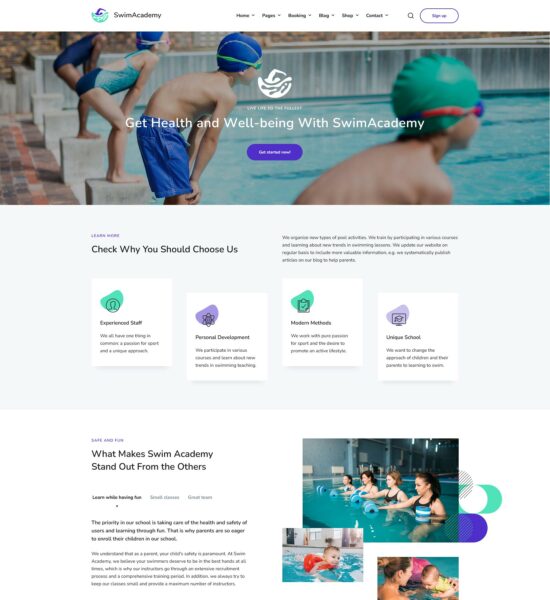 more info / download demo
FairwayGreen
Your new website is sure to be a hole in one with FairwayGreen, a modern golf club, golf resort, and clubhouse theme. You'll get everything you need to present your golf or country club events, including thoughtfully designed accommodation, reservations, golf, miniature golf, sports club, and tournament elements and layouts, plus full compatibility with the Elementor Page Builder plugin.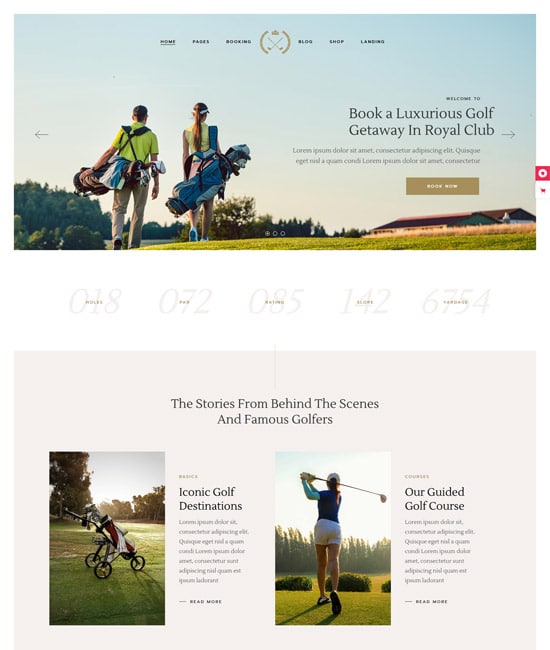 more info / download demo
Rodiar
Rodiar is a factory and industrial WordPress theme that is highly customizable, easy to use, and fully responsive. It has a revolutionary theme setup wizard and demo process engine that gets your site up and running in just 5 minutes with the selection of your preferred preview.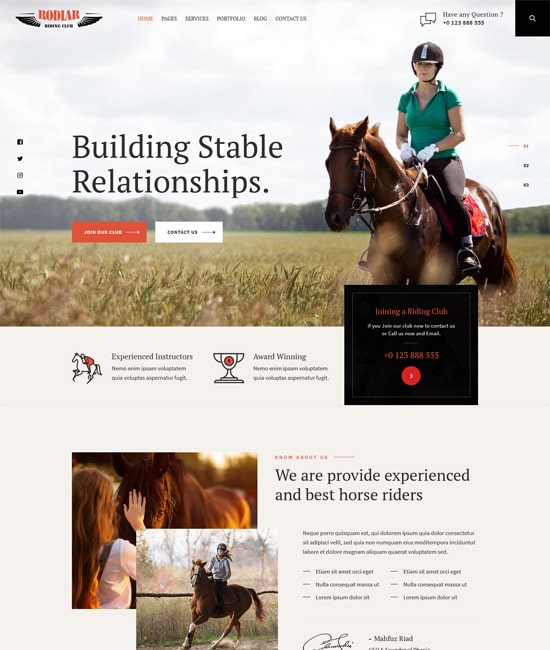 more info / download demo
Spyn
This theme designed for all sports activities, it includes the amazing Elementor page builder. You can add different pages with all the tennis club information and add custom sports components to receive complimentary bookings. The spyn tennis WordPress theme is perfect for all sports like tennis, paddle tennis, sqash, ping pong and many other sports.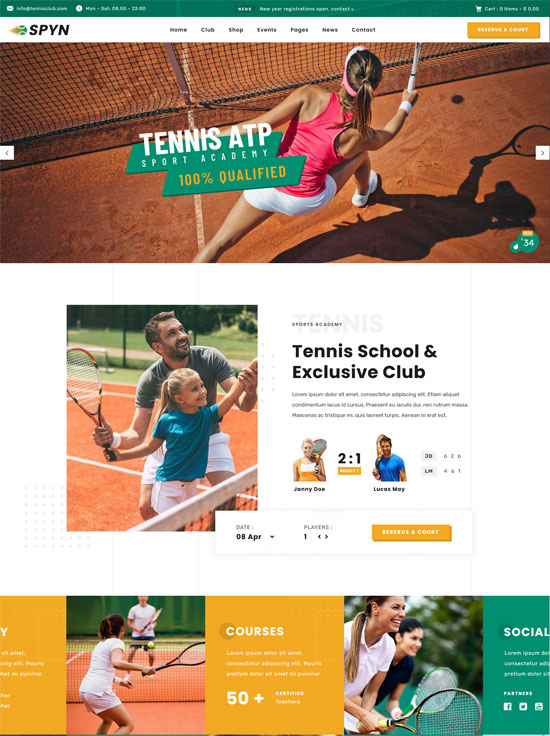 more info / download demo
Paritime
Tennis Club WordPress theme specially created for Tennis Club, Personal Coach, Table Tennis, Ecommerce Store, Pool Club Tennis Courts and others. This theme includes all the necessary WooCommerce ready online store pages. So you can sell and rent your limousines, cars, luxury vehicles, commercial products and others. Paritime contains everything you need: professionally designed landing pages, amazing animations, creative headers, 20+ unique shortcodes, galleries, blogs, testimonials, product catalog, product page, 404 page, shopping cart, order and others.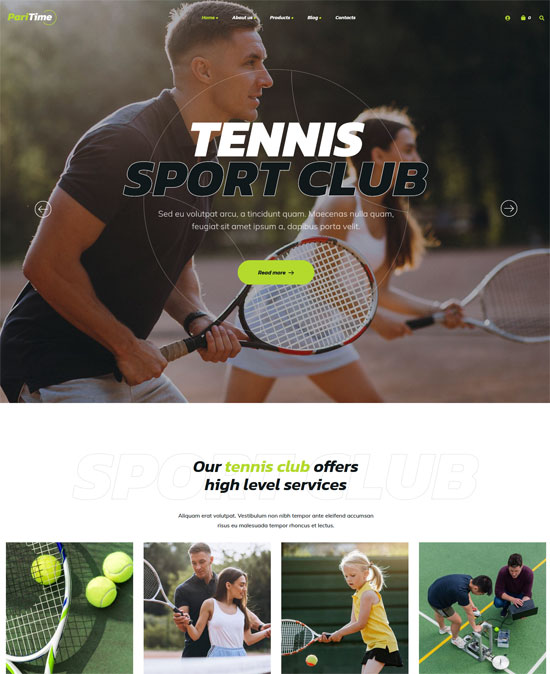 more info / download demo
Atlets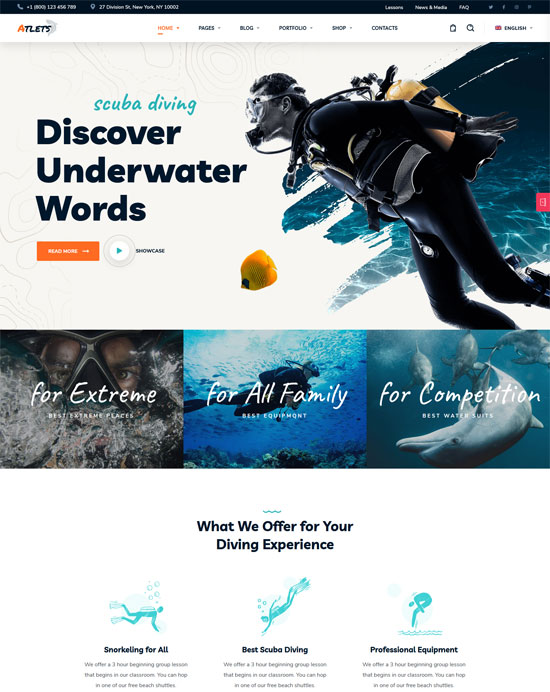 more info / download demo
Yokoo
A modern and stylish WordPress theme that is designed for bike shops, bike repair, and bike rental services. It is good to create a website dedicated to city tours with shared bikes and reservations. Yokoo is perfect for an online store, a cycling store for sportswear, accessories and equipment. You can open WooCommerce Store and sell sportswear, gear, cycling special gear for everyone: amateurs, professionals, kids, adults, novices, or kids.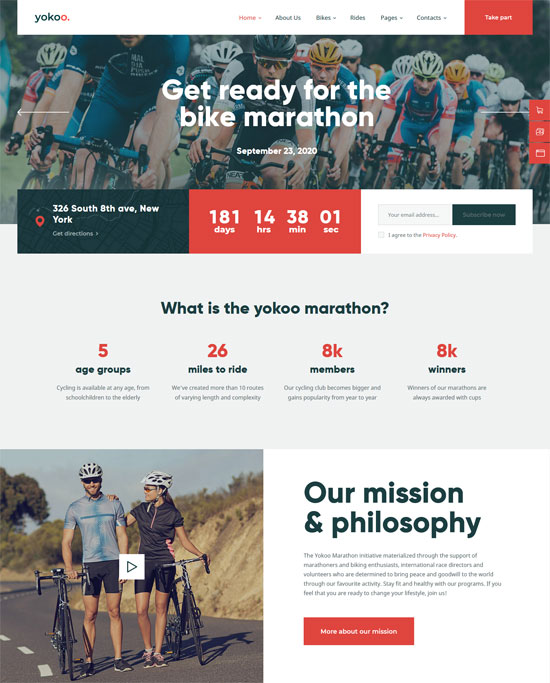 more info / download demo
Winwood
An outdoor activity hub WordPress theme designed for backpacking, nature, parks, vacations, hiking, high ropes, hiking, camping, boating, tents, mountis, outdoor sports, hunting, fishing. It comes with more than 03 demo landing pages that contain a number of great features. Mega Menus support makes this theme super simple and easy to use in terms of website navigation. Such seamless functionality makes it much more plausible that customers enjoy exploring your content. Also, it is a responsive theme, which means you get a lot of mobile traffic.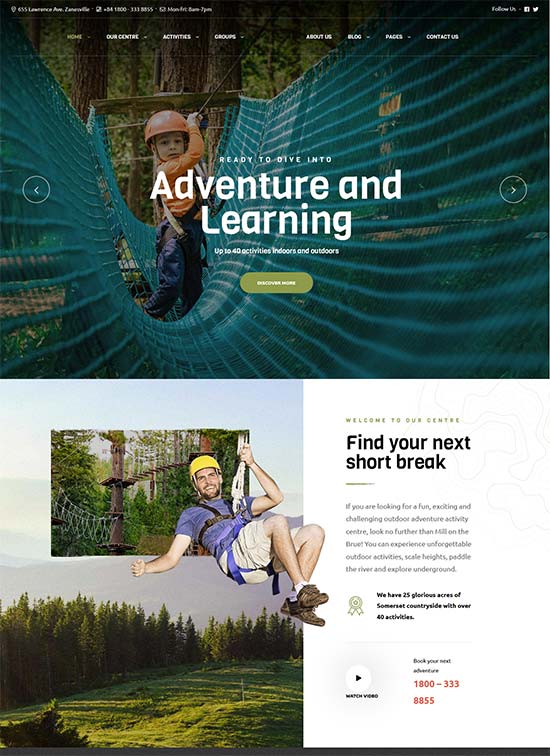 more info / download demo
TopScorer
The theme comes with full SportsPress integration, which is ideal for managing sports clubs and leagues. You also get designs for soccer, baseball, hockey, and rugby, but that's not all – we made sure each of the templates can be easily customized for whatever sport you choose! Join the winning team and build your sports website with Top Scorer.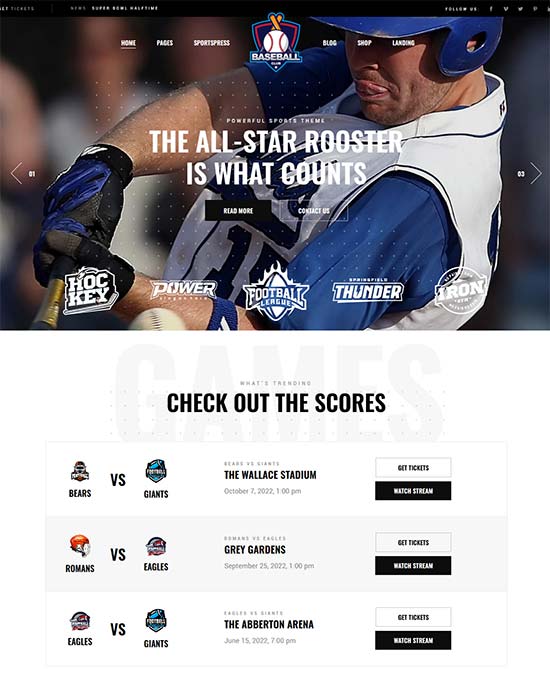 more info / download demo
WaveRide
A theme designed for all surfers and water sports fans! Present your services, show surfing or water sports classes and events at tidy schedules, enable the reservation directly on your pages and much more. Build an awesome surf or watersports website with WaveRide and ride the perfect wave to your success!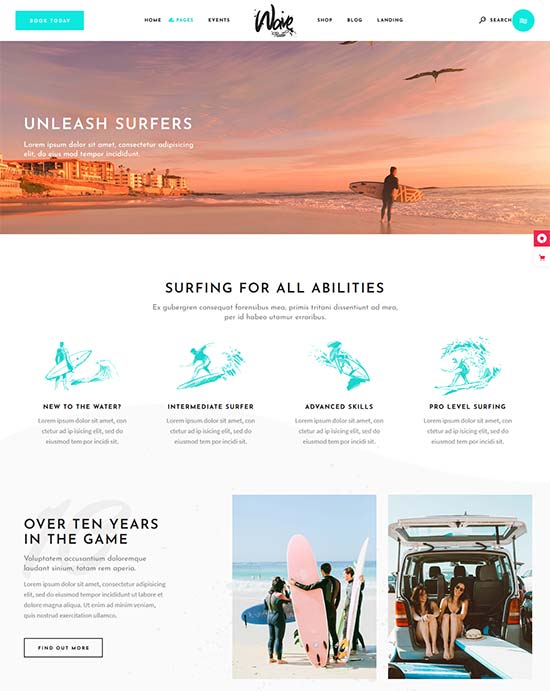 more info / download demo
Briny
Diving School WordPress theme has a contemporary and functional design. It is created specifically for scuba diving school, lessons, courses and the center. With many customizable features, the theme will be an ideal solution for any outdoor activity website. The theme can be interesting for the sea adventure agency, offering diving, snorkeling, surfing or hiking activities.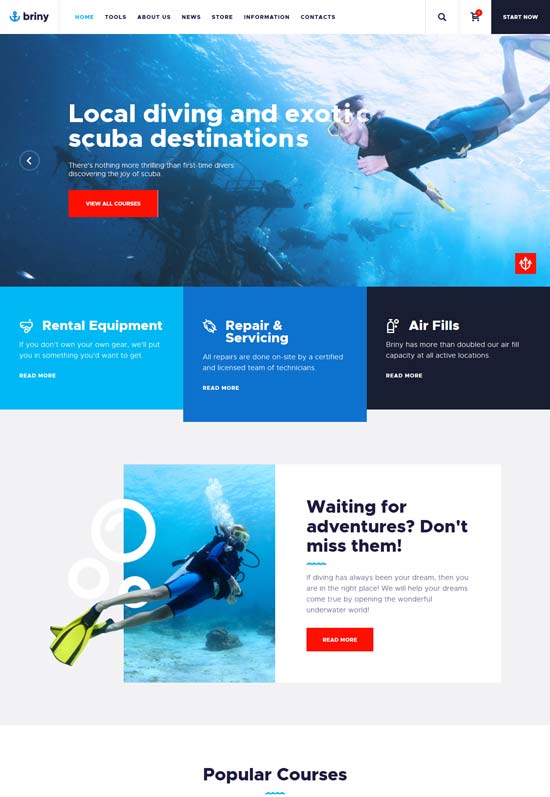 more info / download demo
SkyCaptain
A beautiful WordPress theme for extreme sports and parachuting for various activities such as parachuting, paragliding, tandem parachuting, parachuting, free fall, bungee jumping, zip line, piloting of sailing and even more. Whether you want to provide services for extreme sports or tourist activities, our theme would be a great choice for you.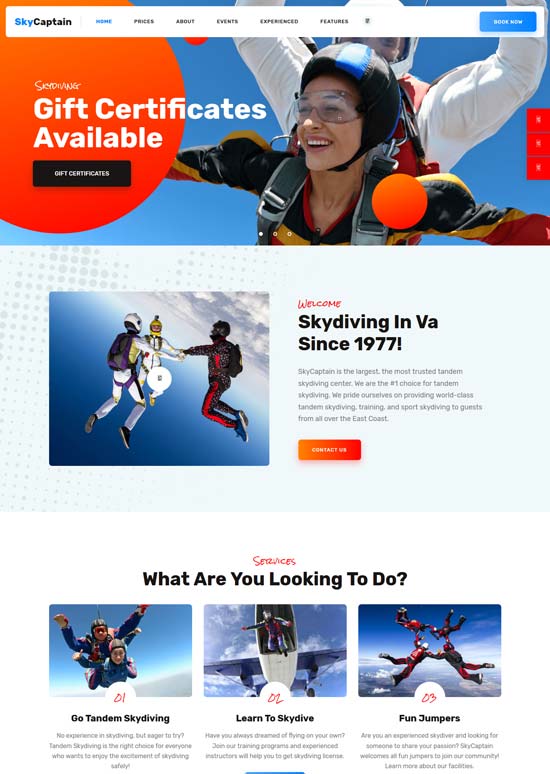 more info / download demo
Xtrail
A WordPress theme for extreme sports, adventure and the outdoors. You get tons of extreme sports and adventure travel layouts, powerful options, a user-friendly admin interface, 4 premium plugins provided for free and everything you need to build your extreme sports website, Adventure travel or adventure sports made easy.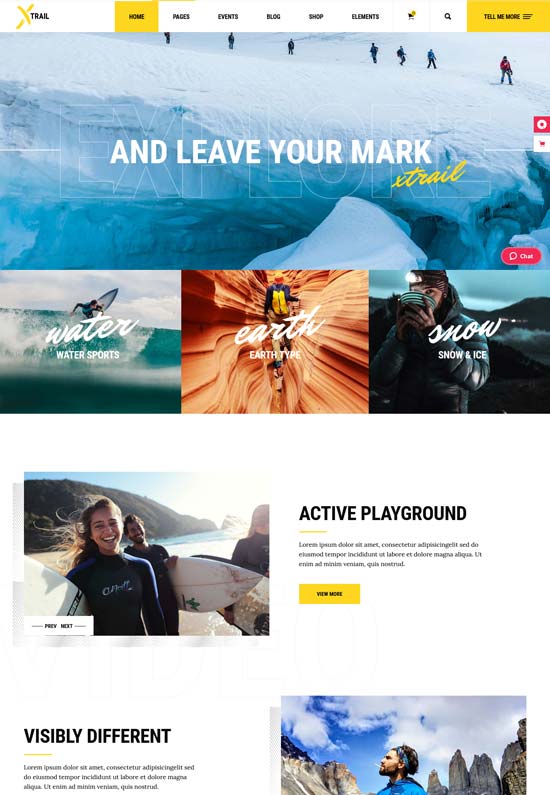 more info / download demo
Corredo
A responsive and colorful sports WordPress theme, designed for all kinds of sporting events: motorcyclists athletes, cyclists, sportsmen, coaches, runners, sportsmen and all lovers of healthy lifestyles. It will also be suitable for contemporary blogs, magazines, marathon runners and motorcycle companies, a healthy lifestyle coach, and more.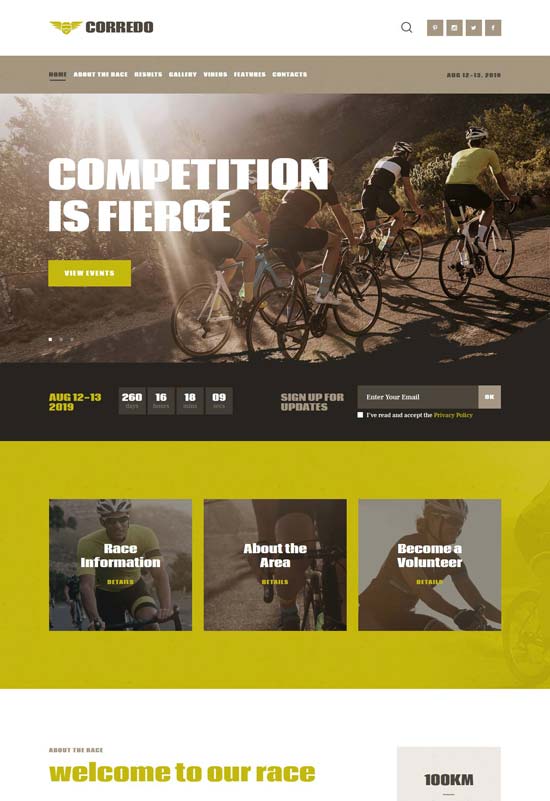 demo more info / download
Art Kombat
Art Word Boxing School and Martial Arts WordPress theme created specifically for boxing schools, boxing coach, kickboxing, martial arts, fighting club, boxing day, boxing match preview, gym, WBO tournaments and other Art Kombat includes all the necessary pages of the WooCommerce online store. So you can sell your boxing gloves, kickboxing equipment, sports products, dumbbells and more.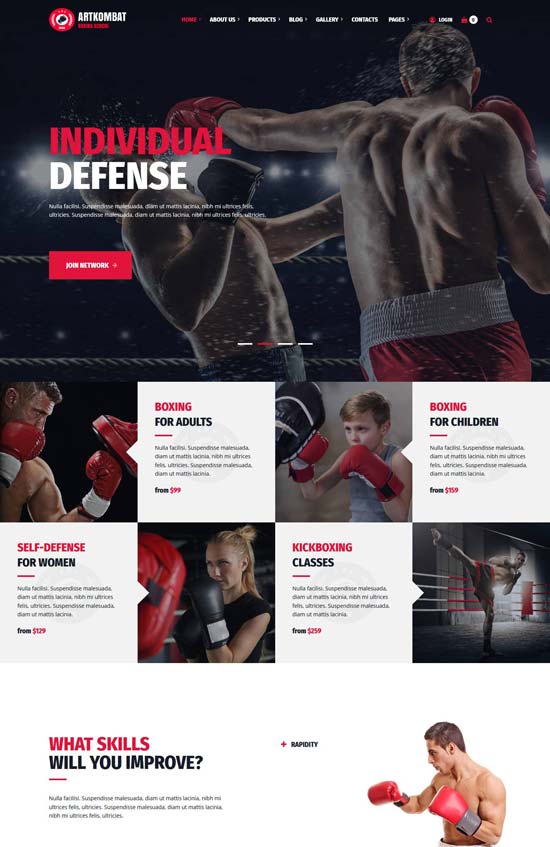 demo more info / download
Uplands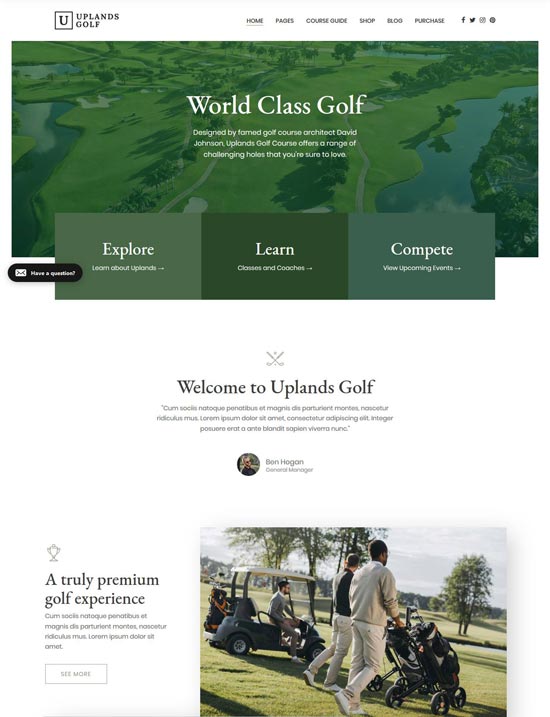 demo more info / download
Surfy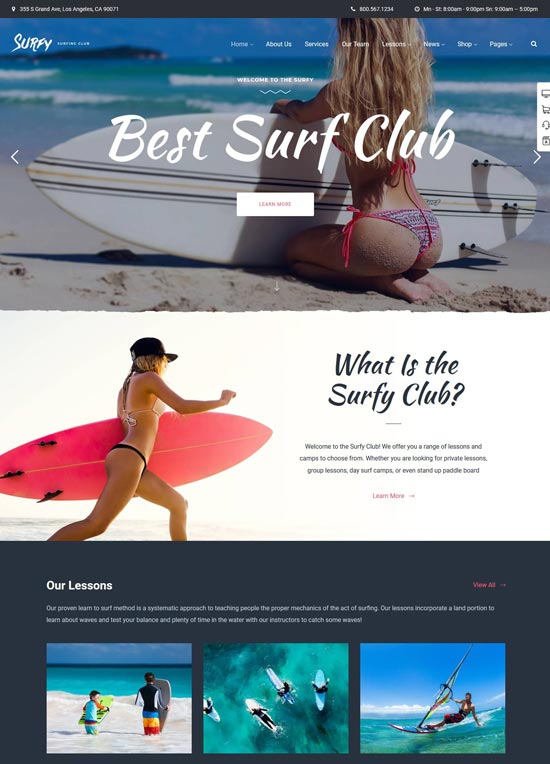 demo more info / download
Redy
A responsive and colorful sports WordPress theme designed for all types of athletes, sportsmen, coaches, coaches, runners, sportsmen and all healthy people. It will also be suitable for a contemporary blog, a magazine, a marathon runner company, a healthy lifestyle coach, a jogging trainer or a Fresh & Clean sports store, store.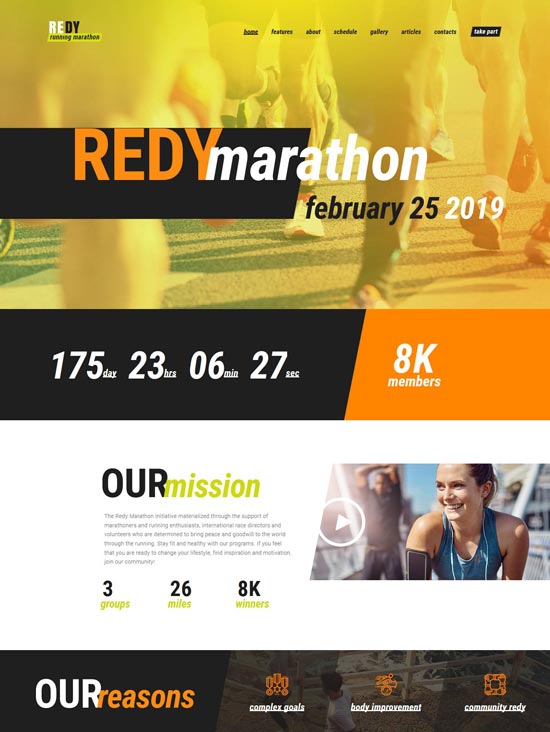 demo more info / download
Endurer
A sports club and running theme, created to leave a strong impression! Featuring a modern set of sports and leisure presentations, as well as portfolio, boutique and blog templates, this theme has everything to please your running club. Introduce team members, share news, announce events, sell undercarriage, etc., with ease. Run an extra mile effortlessly with Endurer!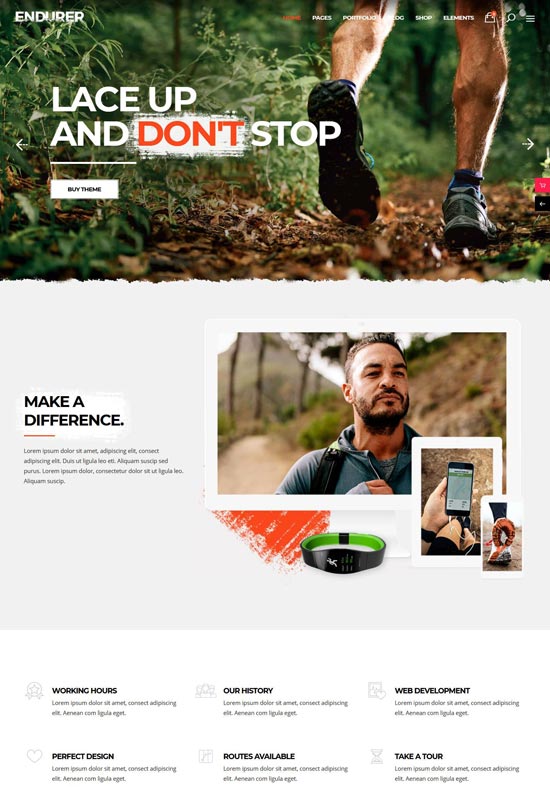 demo more info / download
Oxigeno
A WordPress theme exclusively designed for sports clubs, sports teams and local sports leagues, taking into account the needs and interests of fans. It is fully responsive, ready for the retina and easy to customize.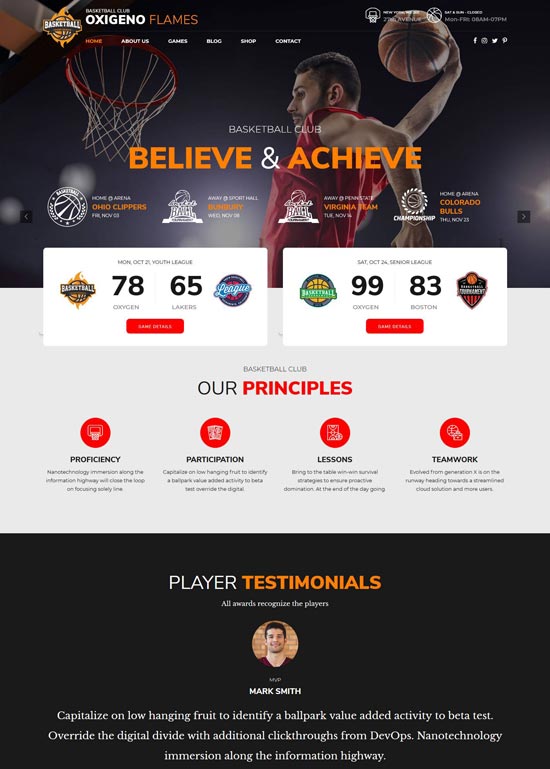 demo more info / download
Triompher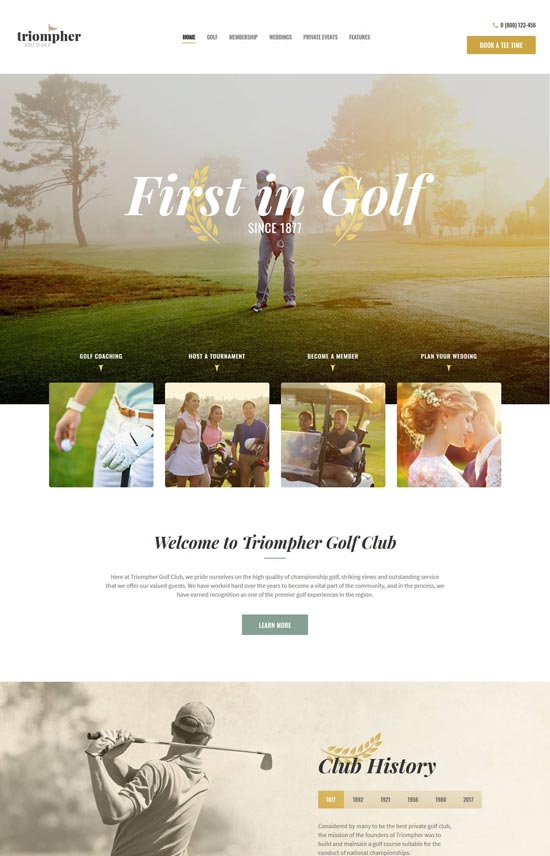 demo more info / download
Conquerors
New sports theme ready-made solution to present your American Football Club. It is extremely versatile and highly customizable, fully responsive and cross-browser compatible. The design was built specifically for American football club, but it also can be used for soccer, basketball, volleyball, cricket, rugby, handball, hockey, and any other team sports. The major feature of Conquerors our own awesome shortcodes to display match results in a detailed way, as well as lists of players and their profiles, and upcoming matches.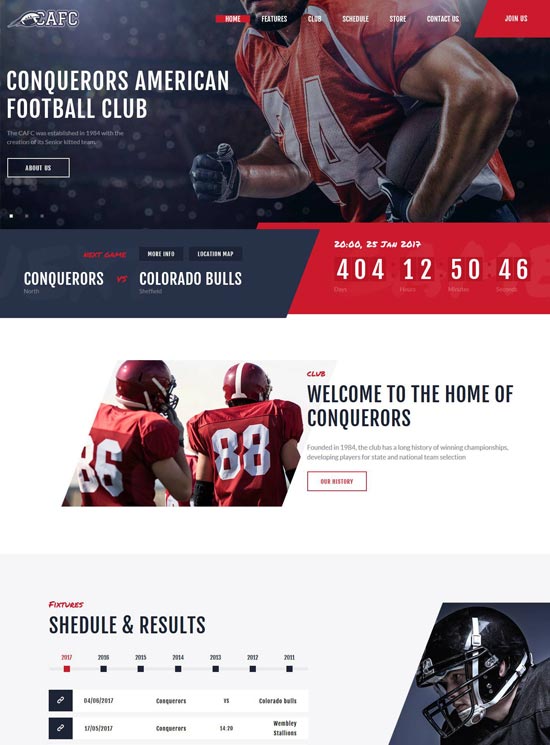 demo more info / download
Snow Mountain
Modern and functional design crafted for ski and snowboarding industry. The theme will perfectly fit for creating websites for ski resorts, ski and snowboard schools or classes, or personal ski / snowboard trainers. Due to its WooCommerce compatibility, one can turn the theme into a great online store of ski and snowboard equipments and accessories. Snow Mountain features Booked Appointments plugin to manage reservations at you resort, and Events Calendar to inform your users about what's coming up. The theme also provides numerous pre-built page layouts to display the services you provide, your personnel, show galleries and latest news, etc.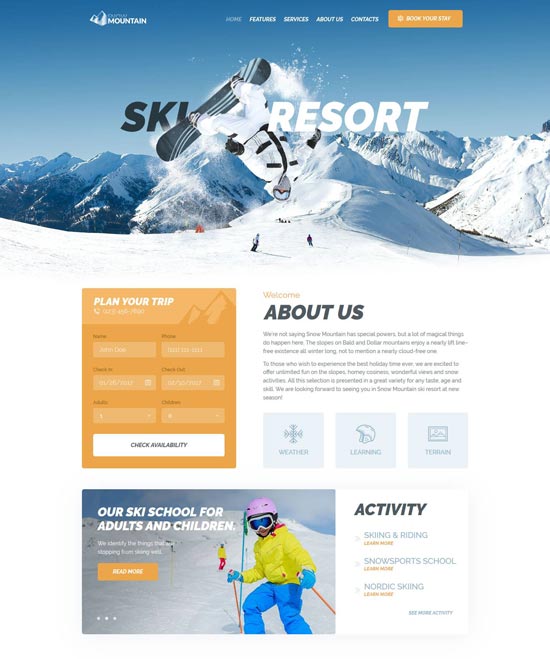 demo more info / download
SPORTIX
A WordPress theme for sports clubs powered by Sports Club & League Manager plugin. You can easily build a modern, professional, data-driven sports website for your team. Supports most team sports with a scoring system like Soccer, Basketball, American Football, Baseball, Cricket, Golf, Handball, Table Tennis, Volleyball, CS:GO, Darts, Dota 2, Ice Hockey, Rugby, Squash, Tennis, Esports (gaming), Floorball, Lacrosse, Netball, Snooker, Softball, League of Legends, Water Polo etc. All pages and widgets are designed with care.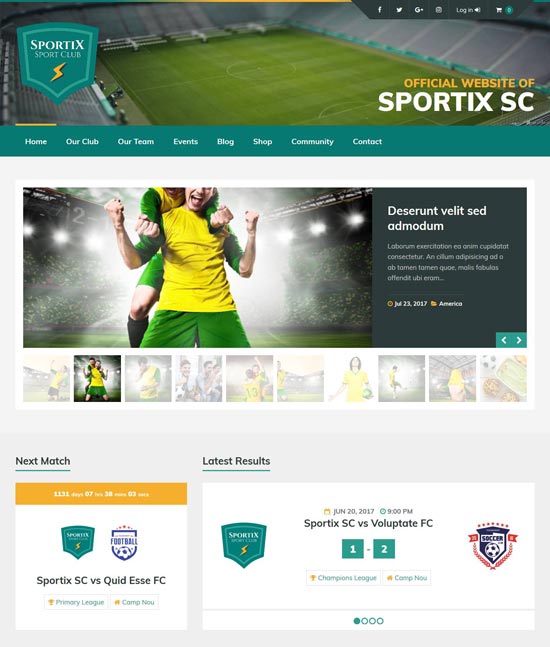 demo more info / download
Alchemists
Best solution for Basketball, Soccer team, club, league and sports news sites. It have included several versions of post pages, info blocks, game results and more so you can choose the one you like the most!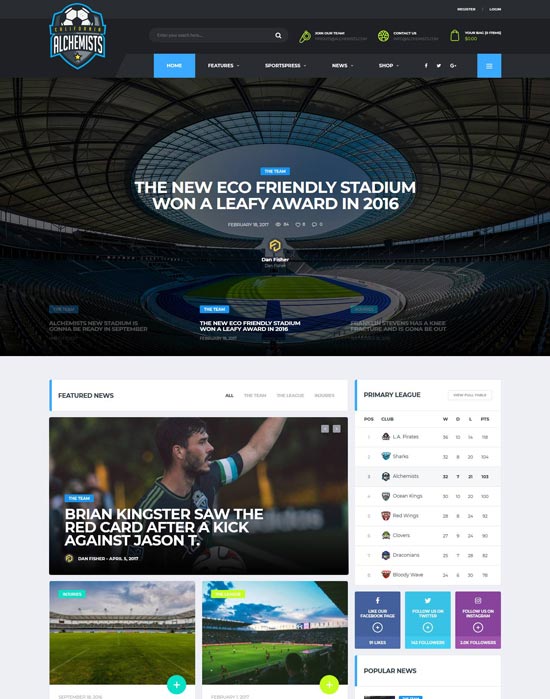 demo more info / download
Hobby
Fishing and Hunting fishing or hunting club, or online store of fishing and hunting accessories and equipment.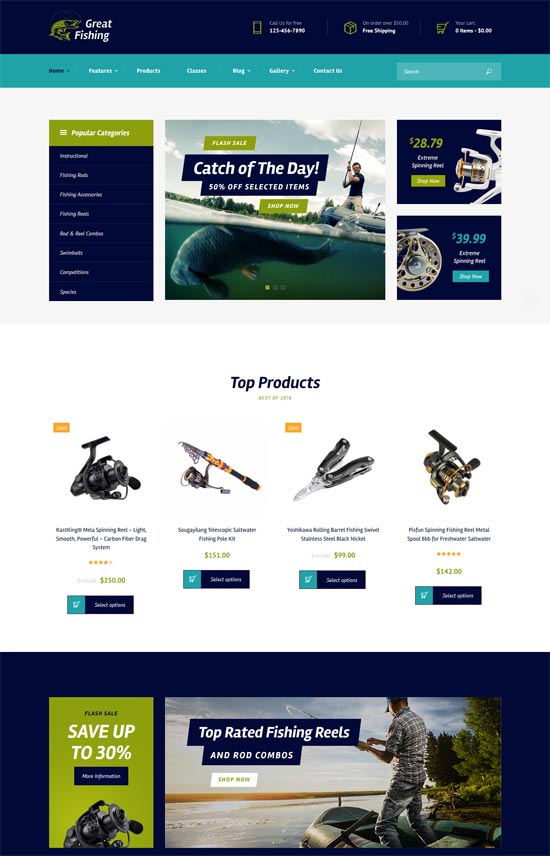 more info / download demo
Adrenaline
AWordPress theme for companies that make the heart of the race beat. Whether it's bungee jumping, rock climbing, paintball, or kayaking – we all love the euphoria of coping with our fears.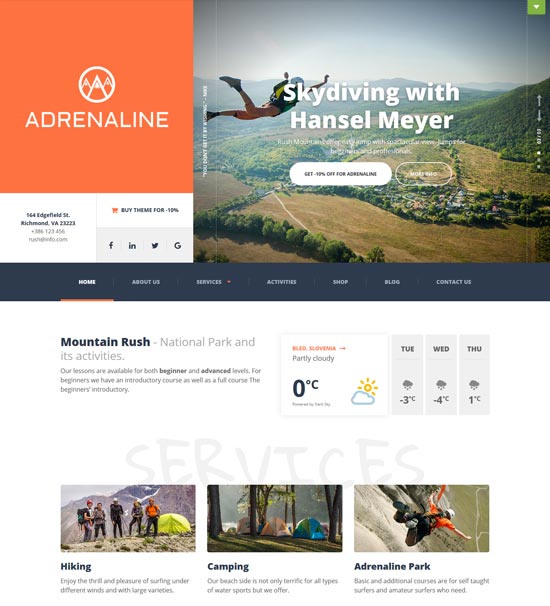 more info / download demo
Freestyle Extreme Sports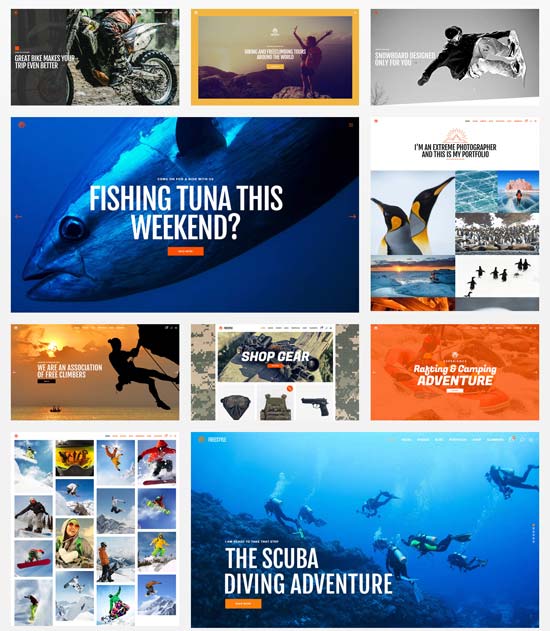 more info / download demo
Kayaking
kayaking theme, with its minimal design is ideal for Kayak & Paddling school club for outdoor activities or sports section. If you want to create any website sports school, tourism and travel community, kayaking will be much for you. The theme focuses on the presentation of information about events, classes, competitions, calendar / schedule and tutorials.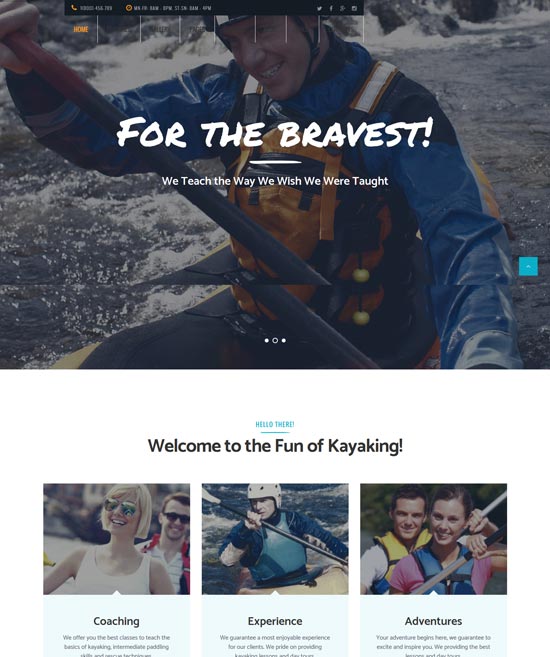 more info / download demo
Splash
Splash basketball WordPress theme was designed and built specifically for sports clubs, basketball teams, soccer teams, sports news and other sports organizations. This WordPress theme robust, powerful and flexible invites you to submit your club, your players and your achievements in an impressive and professional style!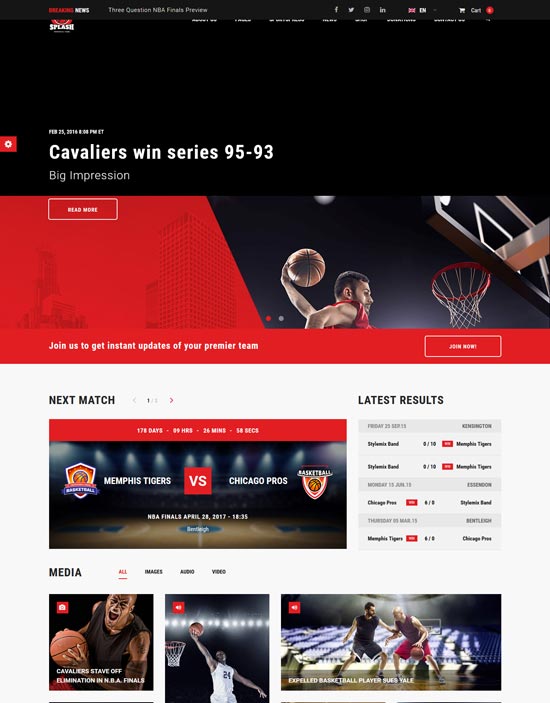 more info / download demo
Soccer Sport
This sporty theme has an extremely versatile design and is highly customizable. It is fully compatible and compatible with browsers. The design was created for football / footbal but it can also be used for basketball, volleyball, cricket, rugby, handball, hockey and any other team sport. We packed the theme with our own short codes to display the results of the games in a detailed manner, as well as lists of players and their profiles, and uplcoming matches.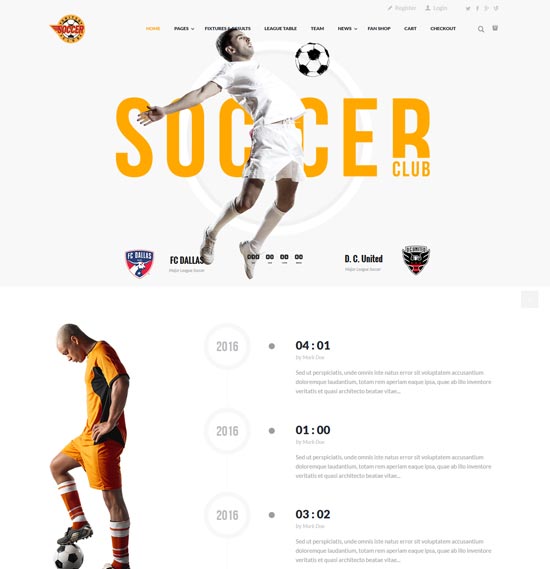 more info / download demo
RunCrew
RunCrew has a modern and functional design best suited for Running Club website. RunCrew has a lot of customizable features to present running events or Marathon information from the city. The theme has an intuitive visual interface and various informative layouts that looks wonderful on any platform because it is fully reactive and Retina ready.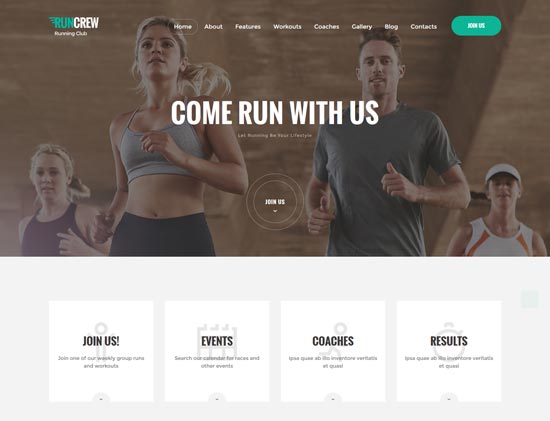 more info / download demo
N7
N7 is a perfect option for tennis clubs, personal trainer page, sports centers, tennis / sports review magazine and sports shop. This theme has an extremely versatile design and is very versatile. It is fully reactive, Retina compatible ready and cross browser. We have integrated the theme with our own shortcodes to display the results of the games in detail, as well as lists of players and their profiles, and golf games.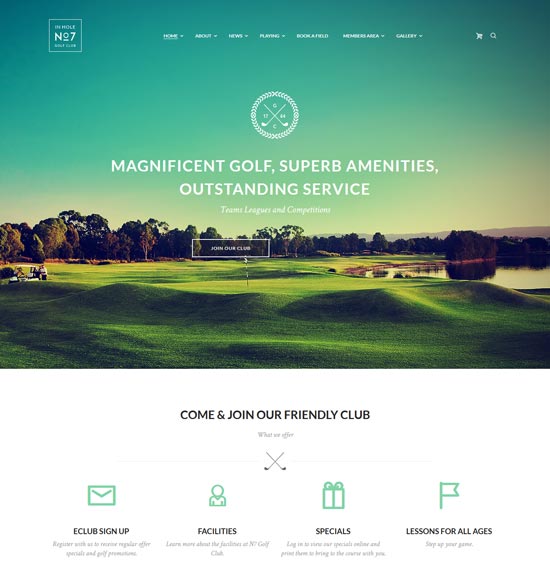 more info / download demo
Sports Club – Football, Soccer, Sport News Theme
Sports Club – Football, Soccer, Sport News WordPress Theme is a best ever solution for a sports website, like a football, baseball or soccer team site, sports events and games, sport news online magazine, children's sports clubs and sections, etc.
The theme features a dynamic, sports-oriented design, it fits perfectly with all sorts of sporting content. A handful of fantastic shortcodes work as a charm to help you display game shots, sports videos, showcase your football team players, show sports stats, sell sport equipment and goods.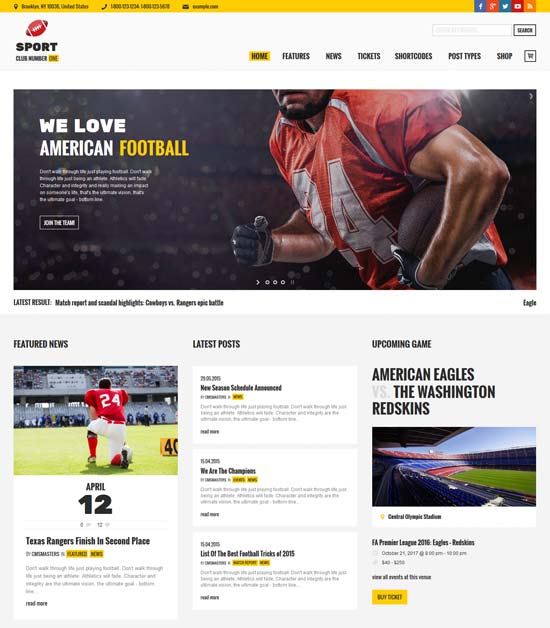 demo more info / download
Real Soccer
A responsive sport WordPress theme, especially, for football, soccer, sport clubs. It comes with great soccer features such as List of Player, League Table, Player profile, Fixtures & Results etc.
SPORTY
A responsive sport WordPress theme. It's suitable for soccer, football, american football, basketball, baseball, rugby, cricket, volleyball, ice hockey, handball etc sport clubs.