Embark on a digital expedition as we present a comprehensive guide to the world of transport and logistics website templates. In this blog post, we'll introduce you to a curated selection of templates designed to optimize the online presence of your transportation, freight, or logistics business.
Explore the dynamic blend of responsive layouts, sleek visuals, and user-friendly interfaces that empower you to convey reliability and efficiency. Whether you operate a shipping company, a freight brokerage, or a warehouse, these templates provide the perfect platform to showcase your services, track shipments, and engage potential clients.
Discover how these templates can help you streamline operations, provide real-time updates, and bolster your online visibility in the competitive transport and logistics industry. Elevate your brand, simplify customer interactions, and drive business growth with these exceptional website templates. Join us on a journey through the transport and logistics website templates and transform the way you navigate the digital landscape.
RUSHX
The Logistics – Transport Service HTML5 Template is a responsive and robust template tailored for logistics and transport businesses. Designed to offer a compelling online presence for businesses such as cargo, corporate logistics, localization services, and more, the template serves as an effective landing page. Using the Logistics template ensures that businesses can benefit from a plethora of online opportunities.
This customizable template offers a modern design optimized for both mobile and tablet devices. With its foundation on the Bootstrap framework, it ensures a contemporary layout. The template includes 15 pages in total, with three distinct home page designs and incorporates elegant blog pages. All essential files like HTML, CSS, JavaScript, SCSS, and PHP are neatly organized, ensuring ease of use and customization. For any assistance or queries, users can contact the creator through the provided contact form.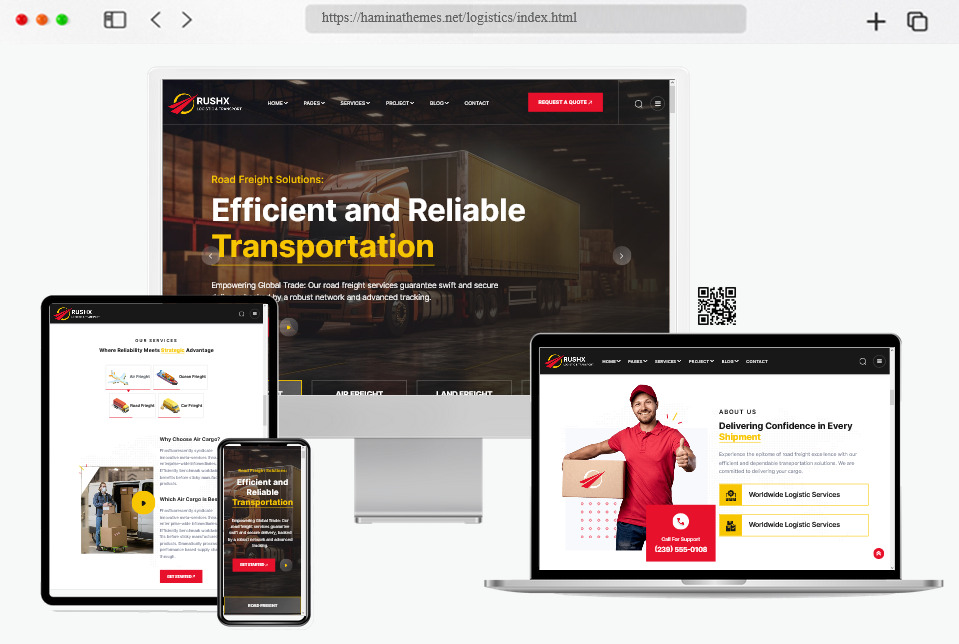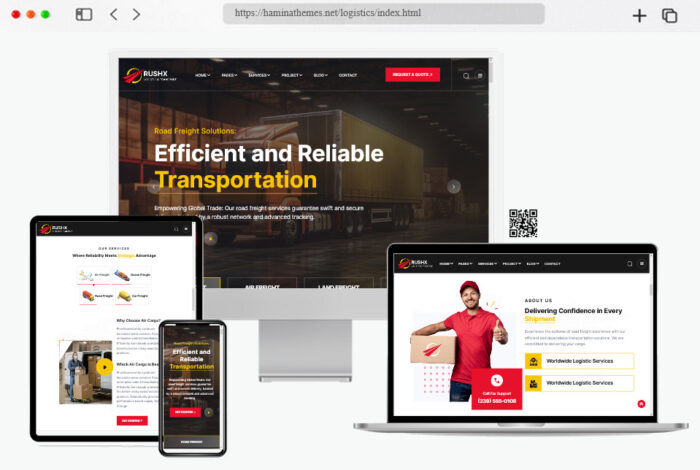 More info / download Demo
Portx
Portx is an HTML template tailored for businesses in the logistics and transportation industry. It's designed to cater to cargo delivery, freight transport, logistic warehouse, shipping companies, transport providers, and more. Portx boasts a fully responsive layout, ensuring it adapts seamlessly to various screen sizes, from desktop monitors to tablets and mobile devices. This template offers a comprehensive solution for creating a professional online presence for logistics and transportation businesses.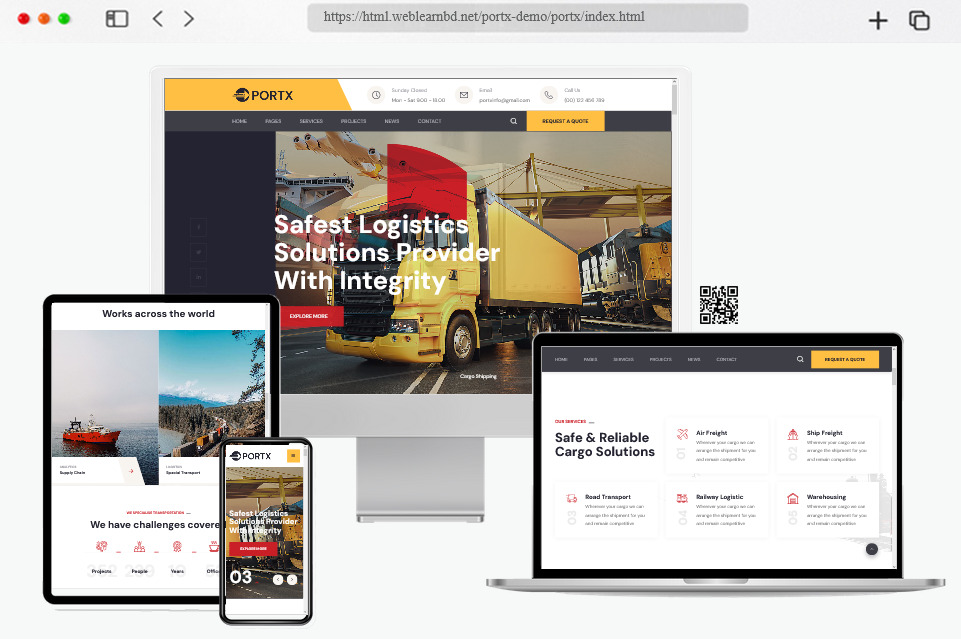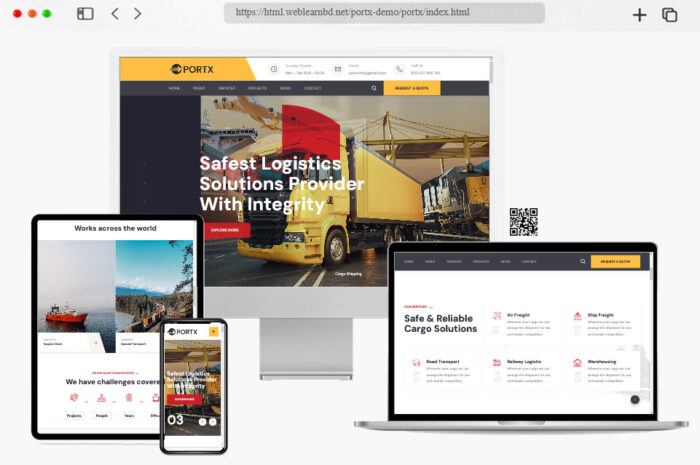 More info / download Demo
Logistik
The Logistik HTML Template is designed specifically for businesses in the transportation, logistics, cargo, and freight industries. It offers a variety of homepage layouts suitable for companies of any size within these sectors. Whether your company specializes in air freight, ocean freight, supply chain management, overland networks, or a combination of these services, the template provides layouts that cater to your specific needs. It is a comprehensive solution for businesses involved in delivery, storage, moving, packaging, shipment, and warehouse services.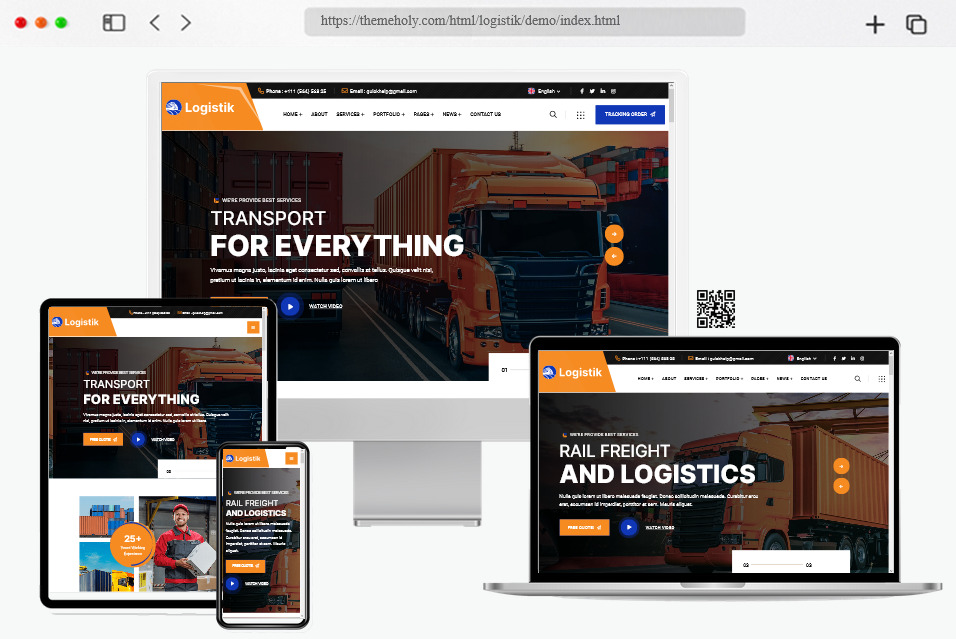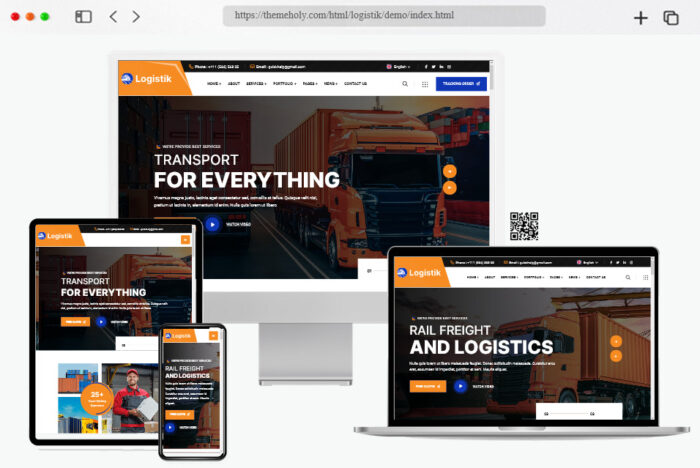 More info / download Demo
Logtra
Logtra is a modern and customizable Transportation & Logistics Template built on the Bootstrap5 framework. It utilizes HTML5, CSS3, JavaScript, and jQuery to create a visually appealing and responsive website. The template is designed specifically for transportation and logistics websites, providing a professional and functional layout. It is highly adaptable and optimized for viewing on tablets and mobile devices. With the included documentation folder, you can easily understand and customize the code structure. Logtra incorporates best practices in web development, ensuring that you can create a great website layout based on Bootstrap5.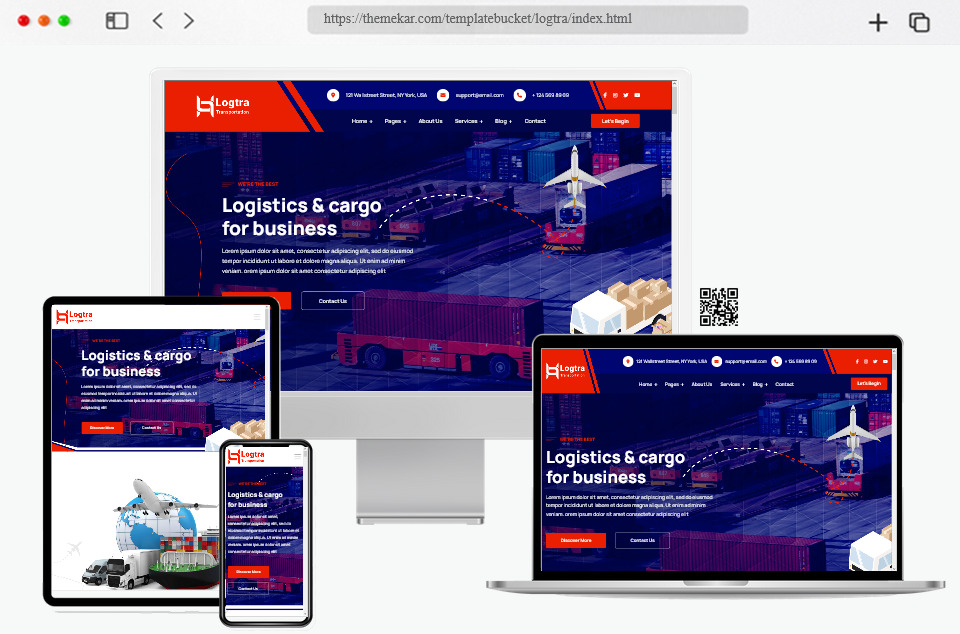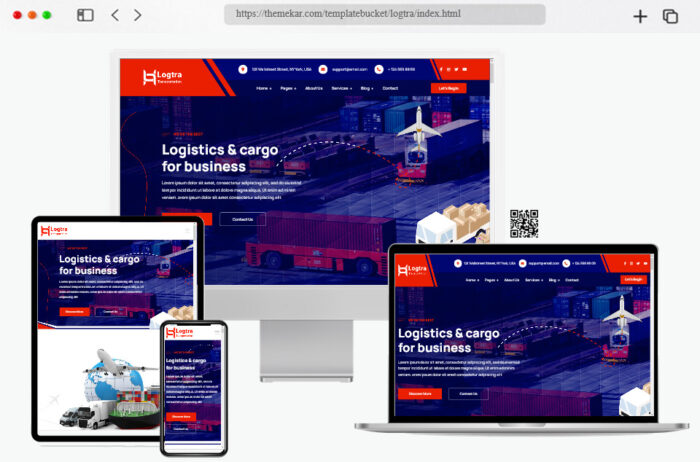 More info / download Demo
Logitrago
Logitrago Transport & Logistics React Template was designed specifically for Logistic based on in-depth research into the cargo, transport, logistics, and transportation business fields, your needs, and your clients' expectations. You may utilize this lovely template. The template is based on the 1170 Bootstrap framework, making it fully seamless and responsive on any device.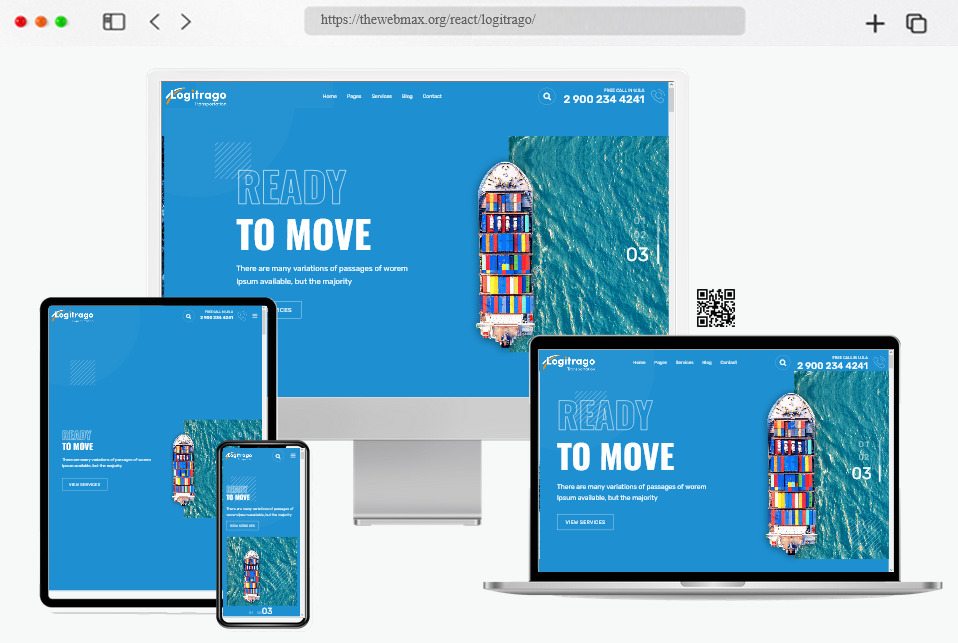 More info / download Demo
Transpress
Transpress is a transportation and logistics HTML template library with predefined web elements that can be used to create your own website. The layout of Transpress Template is entirely responsive. It works flawlessly on a variety of displays and resolutions, including desktop monitors, tablets, iPads, iPhones, and tiny mobile devices. Transpress enables you to create the most effective business, cargo, corporate, ecommerce, logistics, shipping company, and transportation templates with 100% responsive layouts.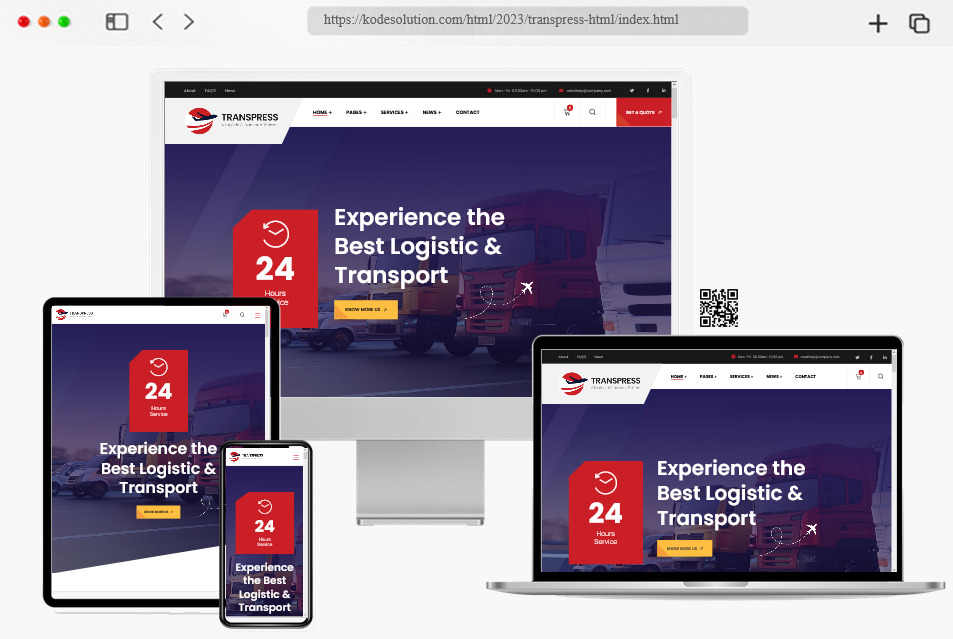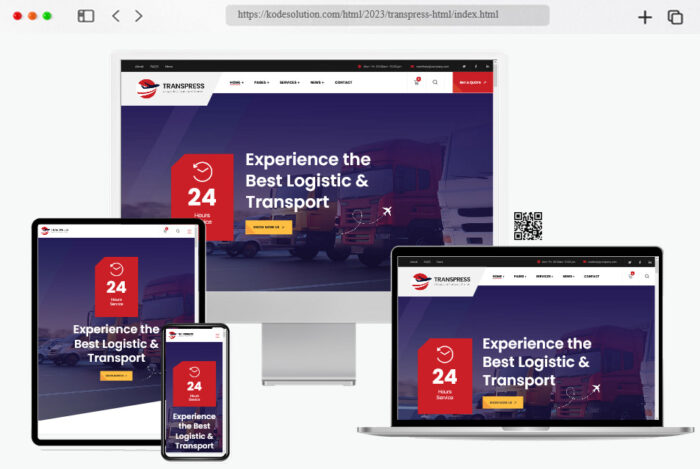 More info / download Demo
Transp
Transp is a Figma template with a distinctive appearance and tidy layout. It focuses on constructing websites for companies in the Transport, Courier, Transportation, and Logistics markets. You can use this design to create a website for businesses such as Cargo, Transport, Logistic, Courier services, etc. This figma file contains comments on each section of the template, allowing you to simply adapt it to your needs.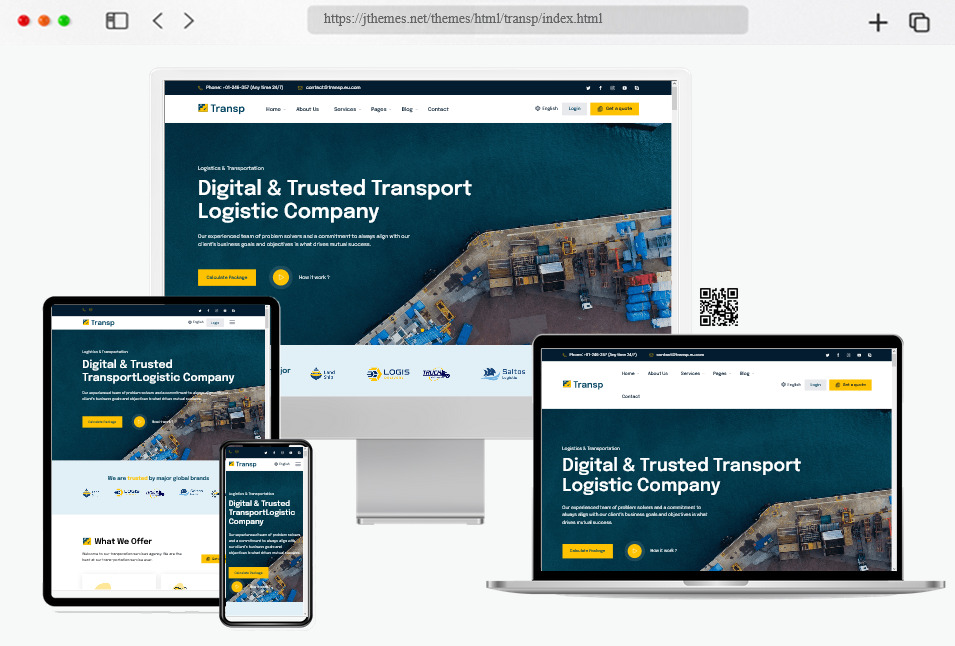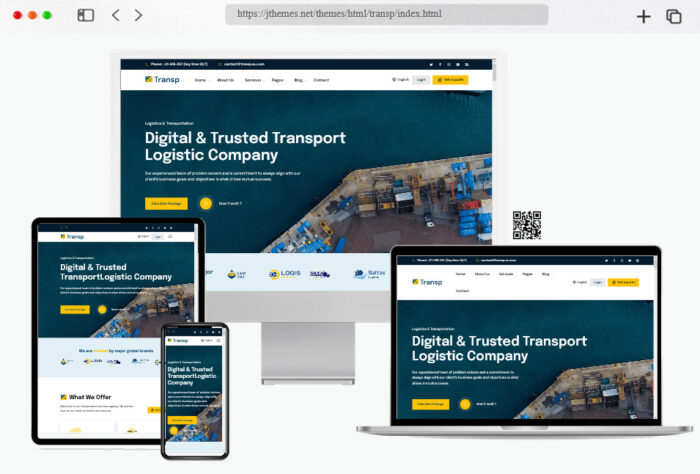 More info / download Demo
Vervoer
Vervoer Template is specifically designed for logistics, trucking, and transportation companies to create an online presence. It caters to various aspects of the transport industry, including trucking, shipment, fleet management, moving companies, shipping, warehouses, delivery services, and more. It is a versatile and multipurpose template suitable for both large corporate entities and small freight businesses.
With Vervoer Template, you can quickly launch your website and take advantage of its numerous features. Its main highlights include a responsive design, creative portfolio showcasing, fast loading times, and flexibility to adapt to your specific website needs.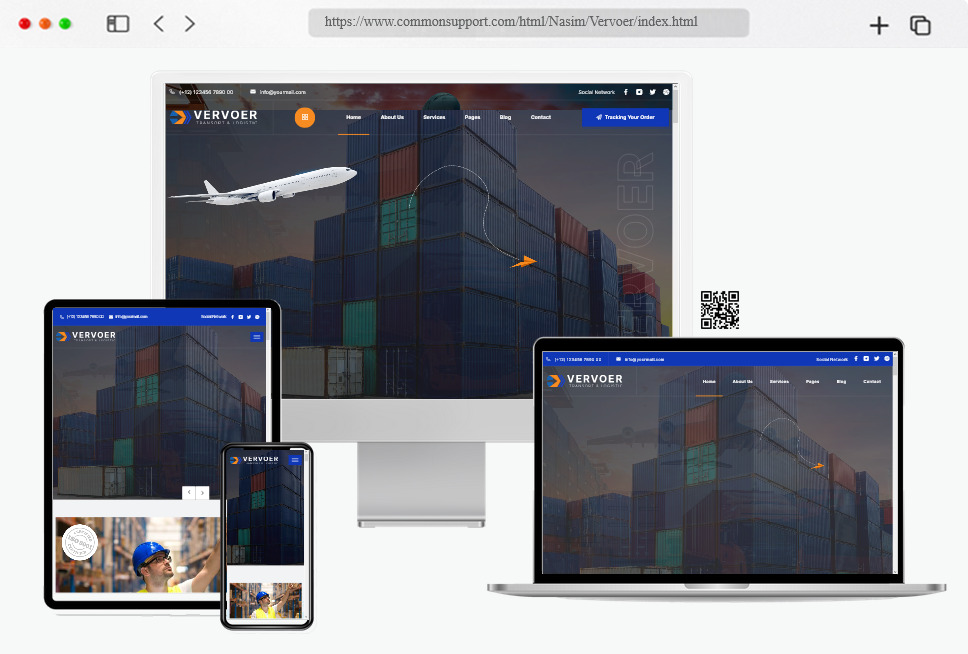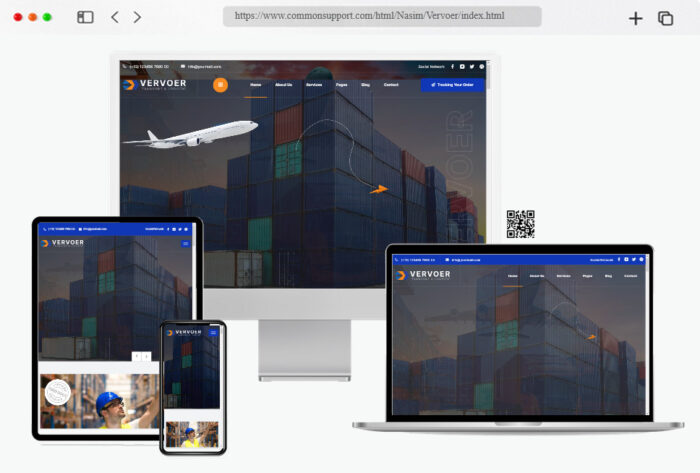 More info / download Demo
Logixs
Logixs Transport & Logistics is a highly effective and flexible HTML website template for transportation companies and logistics, who would like to present their services in the form of a highly functional website. It includes support for several graphs and statistics, automatic loading of Google maps and integration with PayPal payment gateway.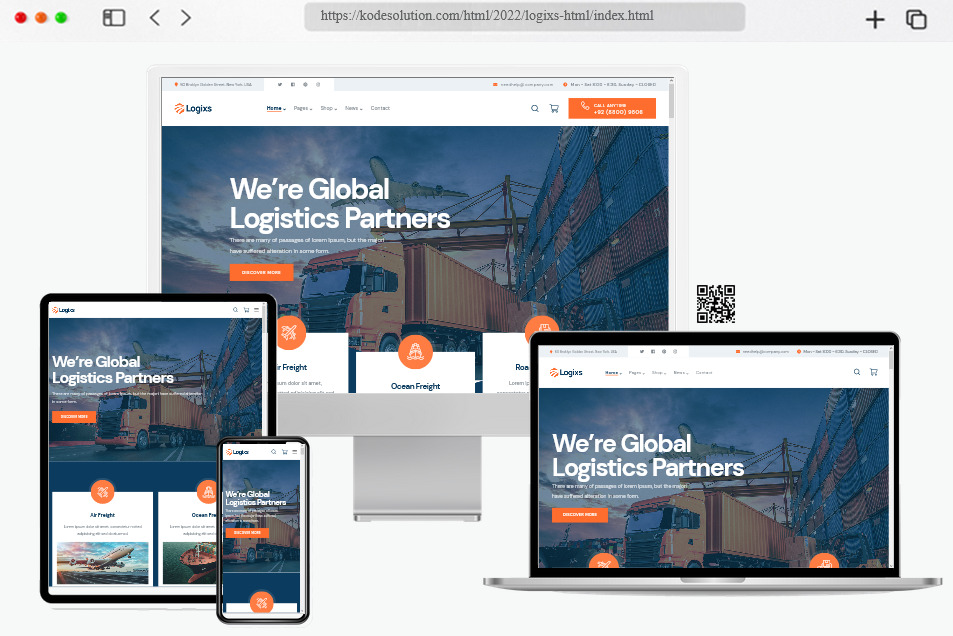 More info / download Demo
Tronis
Tronis Transport & Logistics HTML website template is a magnet for your customers. With its intuitive navigation, smooth responsive design and stunning visual effects it will be the first stop of many more potential clients as well.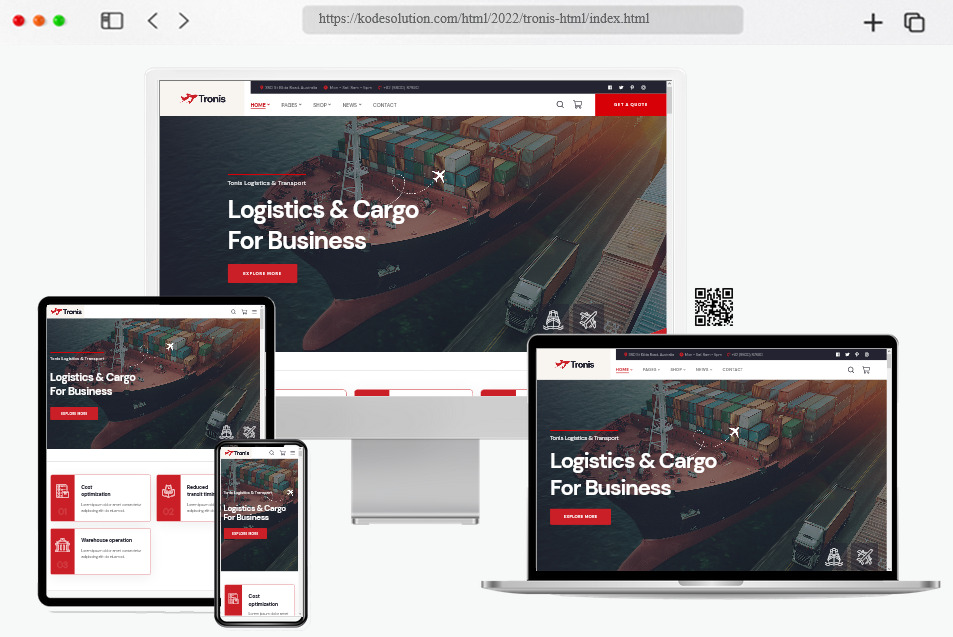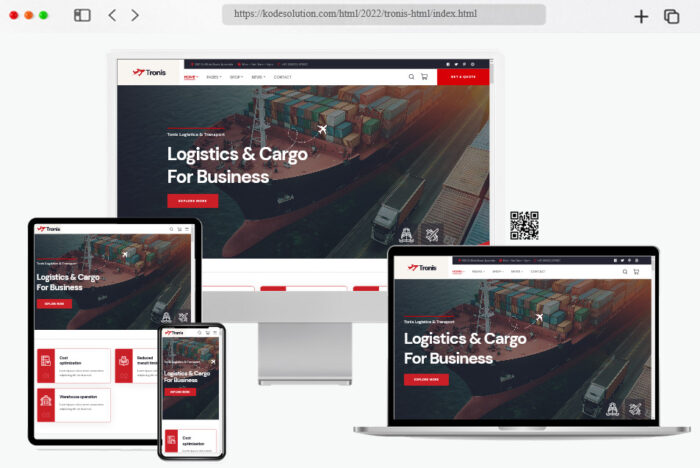 More info / download Demo
Delport
The Logistics & Transportation Business React, Next.js Template is a ready-made website template designed specifically for businesses operating in the logistics and transportation sector. It is constructed using React and Next.js, two widely used frameworks for building contemporary and responsive web applications.
This template offers a complete and adaptable solution for establishing a modern and sophisticated website for your logistics and transportation company. It boasts a user-friendly interface, visually pleasing design, and essential functionalities tailored to the requirements of the industry. Overall, it serves as an efficient tool for creating a professional online presence for your business.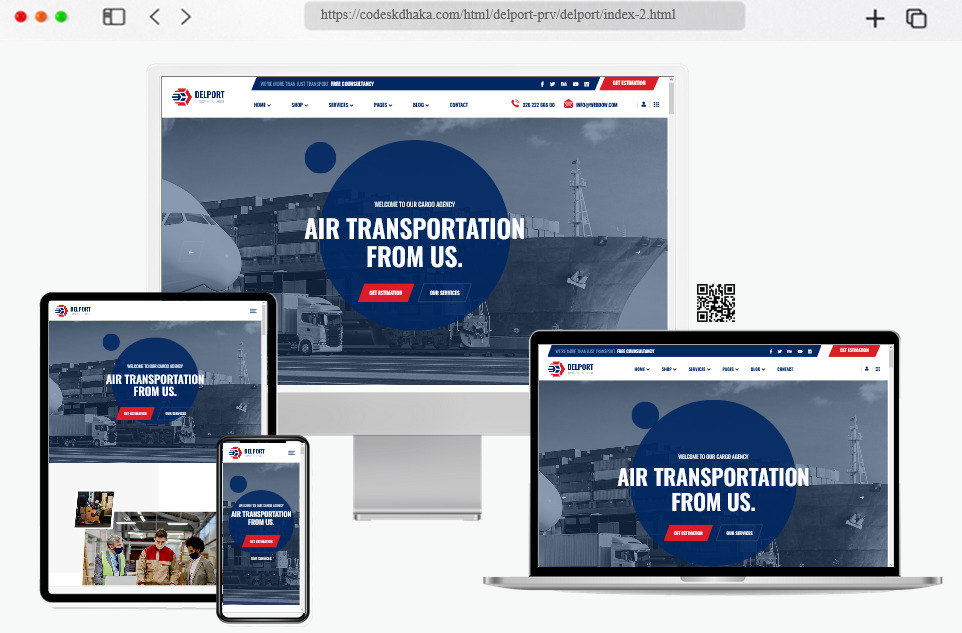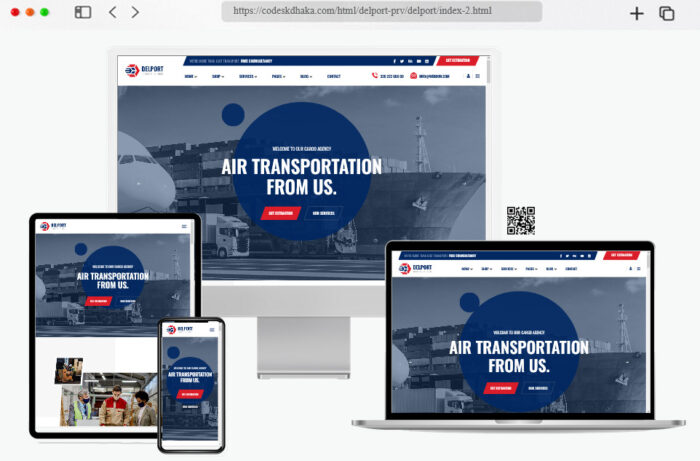 More info / download Demo
TransPro
TransPro is a clean and modern HTML template designed for various transportation and logistics-related websites. It caters to industries such as transport, logistics, cargo, courier, delivery, moving, shipping, storage, warehouse, and transportation services.
The template's HTML files are well-structured and customizable, with elements organized into groups for easy identification and editing. Customization is made simple, as each HTML file is carefully layered, and an overview of group and layer hierarchy is provided for easy access. Replacing images with your own is a breeze, requiring just a few clicks. TransPro offers a flexible and user-friendly solution for creating a customized website for your transportation or logistics business.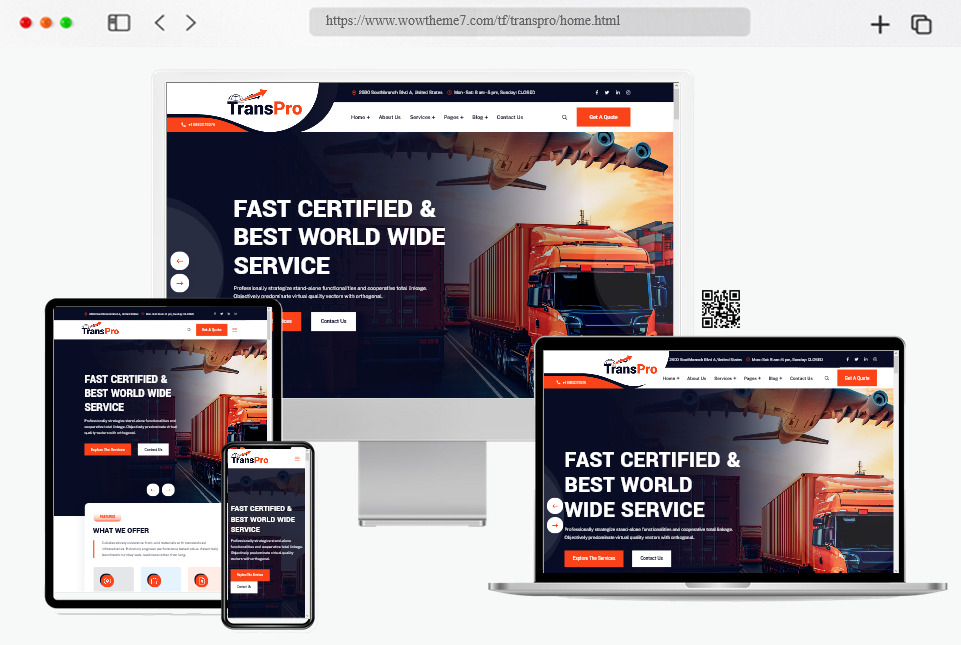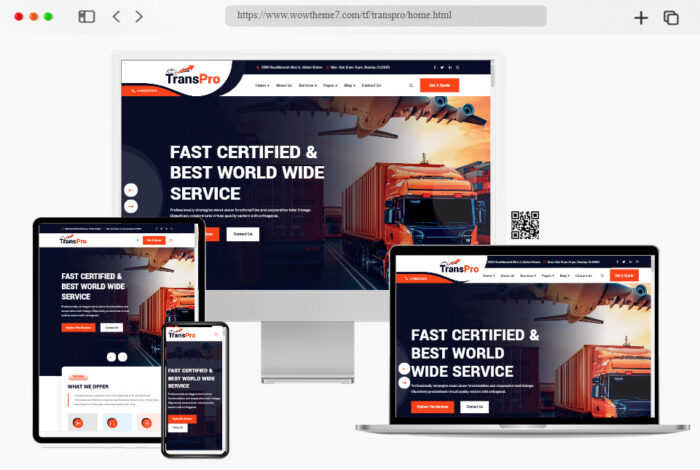 More info / download Demo
Upfront
Upfront – Transport and Logistics HTML Template: is a modern, responsive and fully customizable template for transportation, logistics or delivery service business. We have designed this website template full of features that you can use to make your website more dynamic, interactive and user friendly. Stay focused on your core business while we take care of the design for you.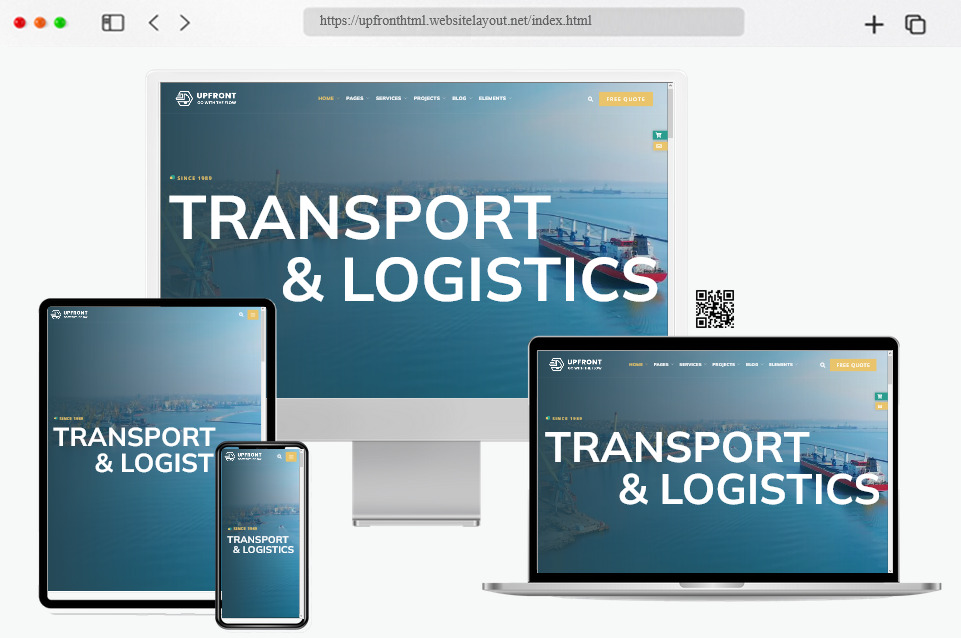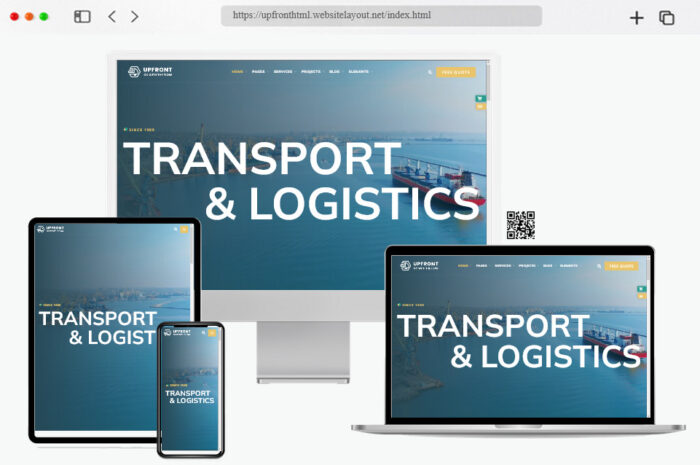 More info / download Demo
Transland
Transland is a clean, modern and multipurpose HTML Template suitable for any kind of transportation business. This template comes with a number of features such as responsive design, easy to customize codes and build in Pages so that you can get started right away!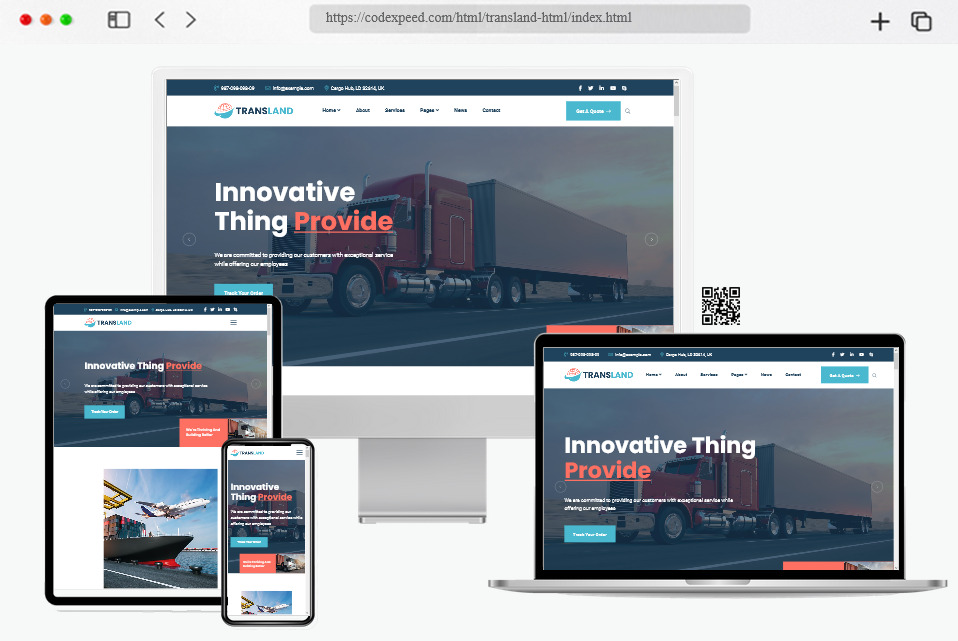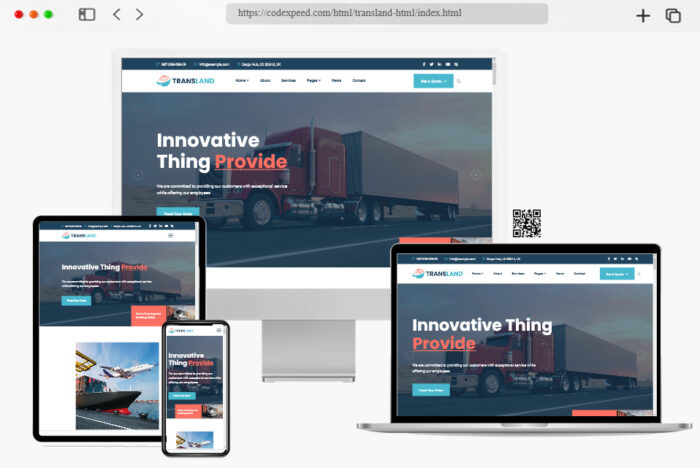 More info / download Demo
Fastrans
Fastrans – entirely responsive, unique & modern designed HTML template.This HTML template is suitable for cargo, transport, transportation, freight, packaging, warehousing, logistics, multipurpose, and corporate organizations. This code is well-commented and arranged in an orderly fashion, making it simple to modify. This bundle includes an HTML documentation file with an accompanying image. All images are for demonstration purposes only and are not included in the download.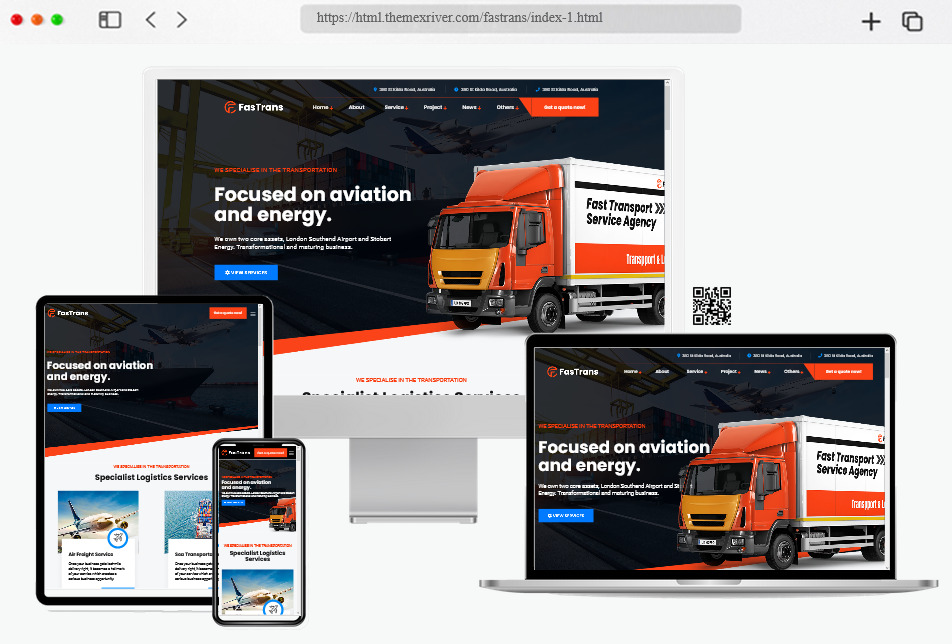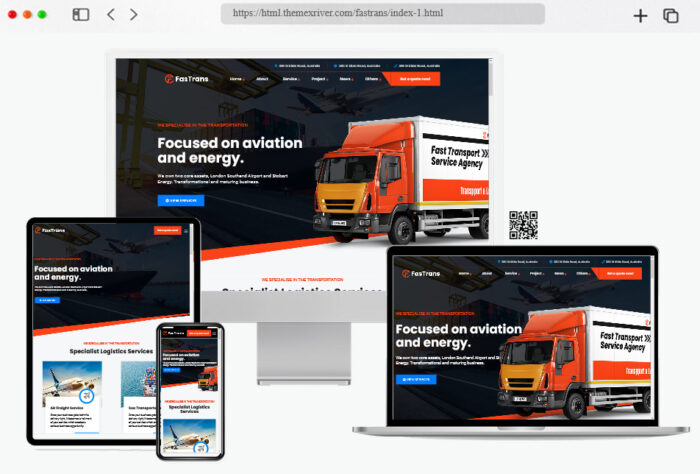 More info / download Demo