A visually appealing and user-friendly website is crucial for businesses in the travel industry. Whether you're running a travel agency, a tour operator, or a blog sharing travel experiences, the right website template can make all the difference. In this blog post, we'll explore 10 stunning travel website templates that will captivate your audience and enhance their journey through your online platform.
Your travel website is often the first interaction potential travelers have with your brand. Choosing the right website template can significantly impact their perception and engagement. Whether you're promoting adventure, relaxation, culture, or luxury, there's a template to suit your needs. Selecting one of these 10 stunning travel website templates will set the stage for a captivating online journey that mirrors the experiences you offer in the real world.
Gowilds
Gowilds is a contemporary Adventure Tours and Travel HTML5 Template designed for presenting tours in a stylish manner. The template includes impressive pages to showcase various tours and destinations. It is an ideal choice for travel agencies, tour operators, and booking companies seeking a distinct and user-friendly search feature. The template helps establish an online presence, allowing users to exhibit travel tours, rates, special offers, an availability calendar, testimonials, and a Google map.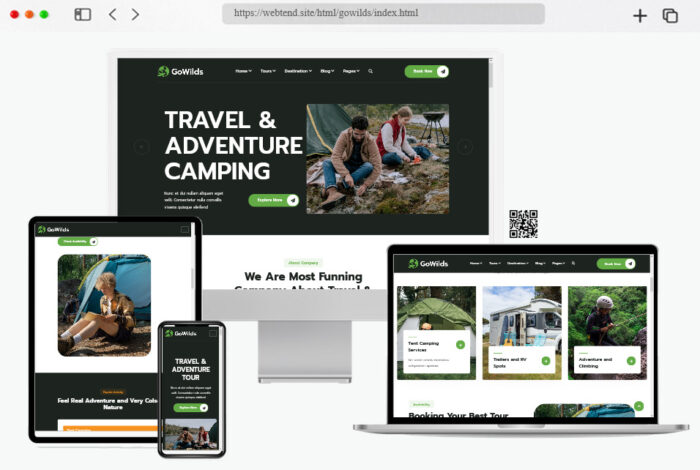 More info / download Demo
Travilo
Travilo is a stylish, modern, and elegant HTML template designed for Tours & Travel agencies. It offers a range of excellent components suitable for various types of travel websites. With Travilo, creating a functional and unique-looking travel website is effortless, allowing easy promotion and sale of tour packages.
The template is well-designed, equipped with essential features for a complete tours & travel website experience. Customization is simple to tailor Travilo to specific needs, and the template is optimized for mobile devices. It's designed with the latest UI trends for an exceptional user experience and is built on the Bootstrap 5 grid system for future-proof compatibility.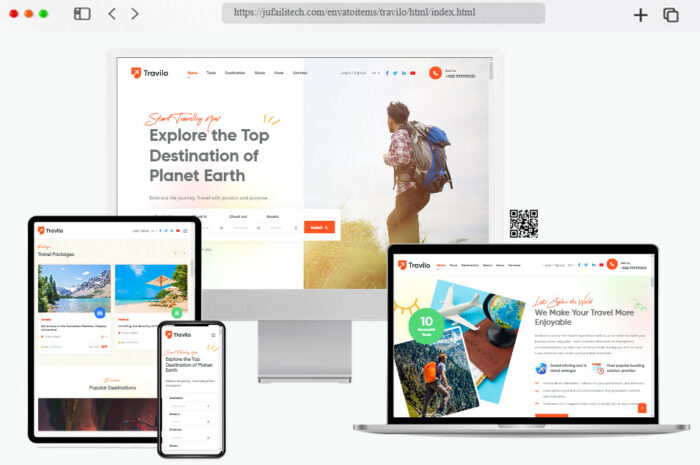 More info / download Demo
GoTrip
Create dynamic and interactive websites with Gotrip HTML, the most comprehensive multipurpose travel agency template. Gotrip is web design template for travel agency's content to the next level, since it includes over 63 pixel-perfect HTML files. Engage effectively with your consumers and provide them with an enjoyable experience.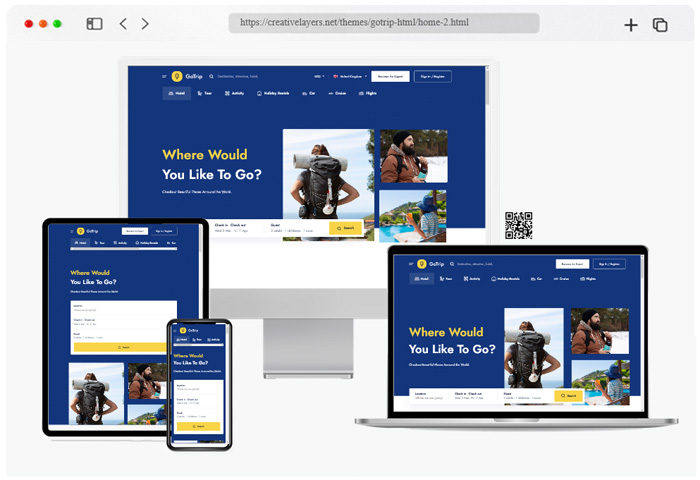 More info / download Demo
Chisfis
Chisfis is a responsive NextJs template theme that offers online booking functionality, listing features, and a booking system. The template caters to various industries such as accommodation, tours, travel experiences, cruises, car rentals, real estate, and travel agencies. It's designed with the latest technologies including Nextjs 13, Typescript, and Tailwindcss, ensuring modern and efficient development. Chisfis provides a versatile solution for businesses in the mentioned sectors, with its combination of online booking capabilities, listing functionalities, and a booking system.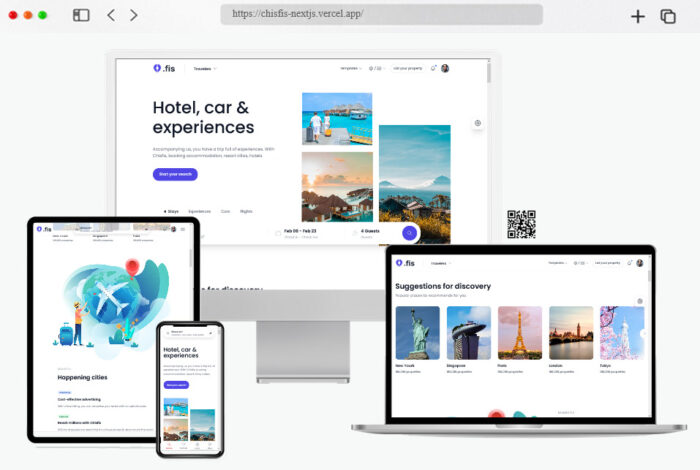 More info / download Demo
Travelin
Travelin is a professional travel tour booking HTML template made for building travel agencies, tours, travel websites, and all other travel and tour websites and businesses that use the latest BOOTSTRAP 5 and SASS integration.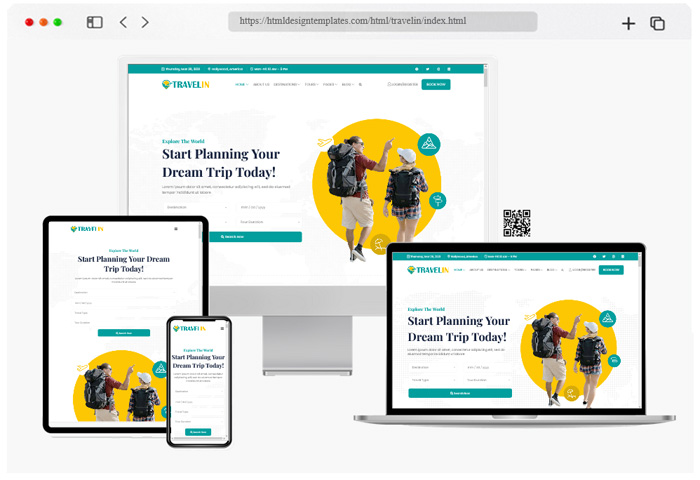 More info / download Demo
TRAVOL
If you want a clean, modern, and creative template, TRAVOL Travel Agency Template is a great choice. This template is great for a travel agency, tour, travel website, tour operator, destinations, adventure, etc., and for people who want an easy, attractive, and effective way to show clients their work.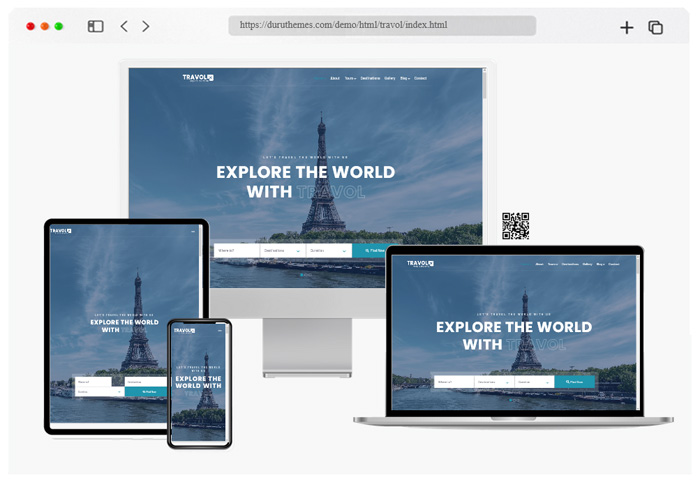 More info / download Demo
AndTour
AndTour Travel Agency HTML Template is a responsive travel system for travel and tourism agency websites. Travel templates that can be used for many different things are made for Travel Agents, Travel Companies, Tour Guides, and Tour Packages.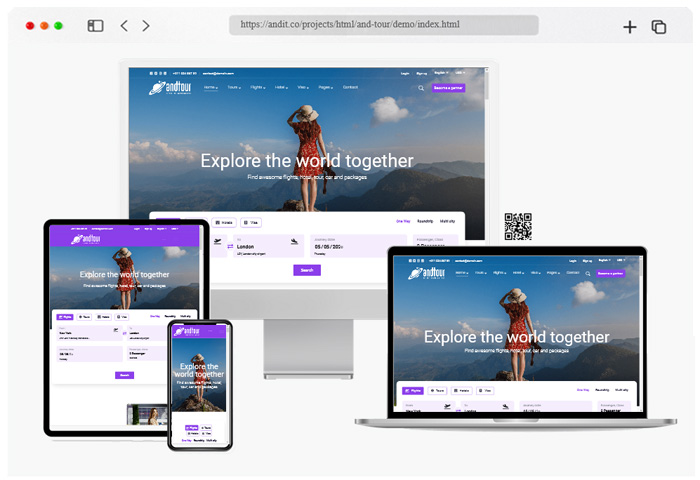 More info / download Demo
Emprise
This template is made for modern tour and travel companies that care more about what their customers want than about all the bells and whistles. Here are a few reasons why you should really think about using Emprise UI for your next project.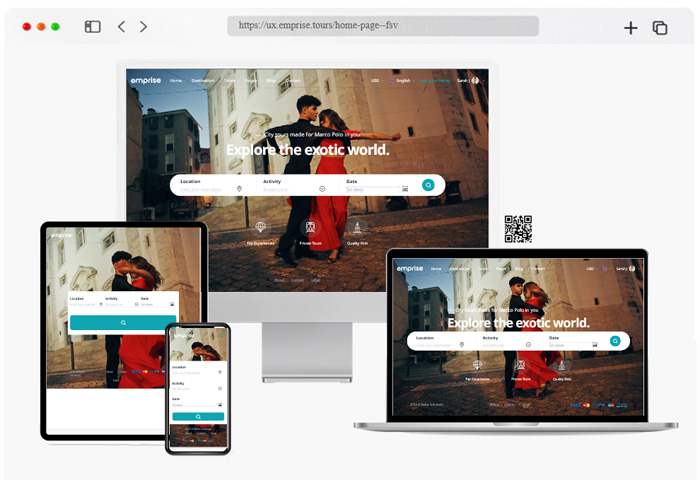 More info / download Demo
Panagea
PANAGEA is a modern and clean HTML5 travel site template designed for companies and agencies in the tourism industry. The template is versatile, catering to businesses offering various tourist services. It serves as a platform to share general attractions information, facilitate travel bookings, purchase tours, search for and reserve hotels and restaurants.
The design is aligned with current web design trends and prioritizes mobile-friendly layouts. The template offers four preset color schemes and allows easy customization through SCSS or CSS files. Additionally, "PANAGEA" can be repurposed for other directory or listings-based websites."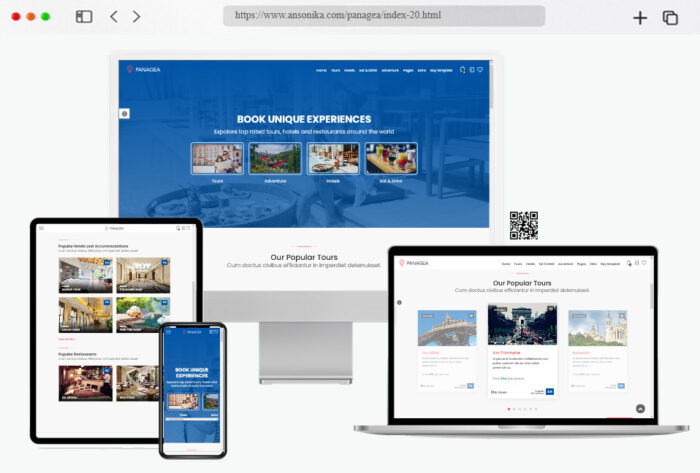 More info / download Demo
CityTours
CityTours is an HTML5 site template designed for companies and agencies in the tourism sector. It's ideal for businesses offering tourist services and can be utilized to share general information about city attractions. The template includes features to facilitate various bookings and services such as purchasing tickets, tours, hiring tour guides, booking hotels, arranging transfers, and planning travel.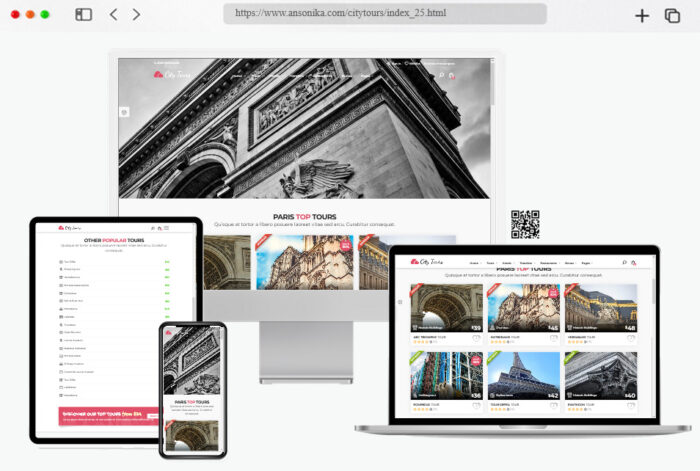 More info / download Demo
Tour & Travel Package
The Travel is a top-notch hotel booking and travel & tour booking template that's highly regarded globally. It's tailored for travel companies and agencies offering a wide range of services including hotels, car rentals, flights, cruises, tours, and more. The template suits various aspects of the travel industry, such as vacations, transfers, listings, and marketplace functionalities. It includes 24 Valid HTML5 & CSS3 Pages based on the Bootstrap grid system, making it a versatile choice for creating websites related to accommodations, leisure, flights, and more.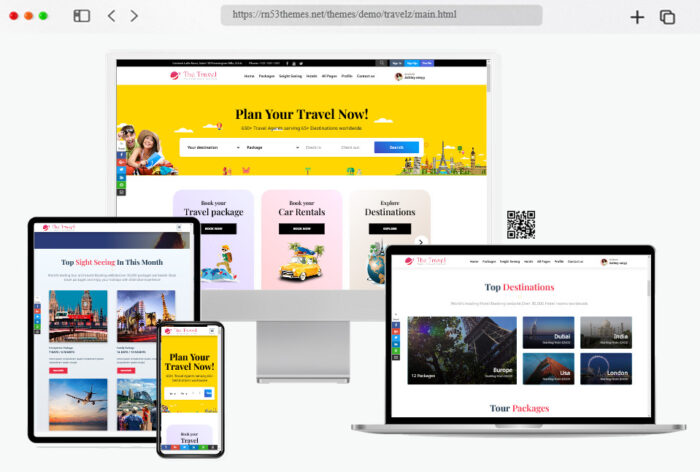 More info / download Demo