We choose the best travel WordPress themes that help you create a website for your traveling business, blog, or personal travel blog. Modern Travel WordPress Themes is a collection of the best responsive, modern travel themes and websites. Travel themes are designed for a variety of travel-related websites and blogs. These themes contain a large number of options for customizing your site, including easy navigation, booking systems and built-in maps.
Related Article
Wilder
Create your own travel agency website with this unique design that perfectly combines the functionality of a booking system, the convenience of WordPress, and other travel-related features. Wilder themes are extremely customizable and easy to use. You will be able to create your own travel agency website that matches your brand identity in no time!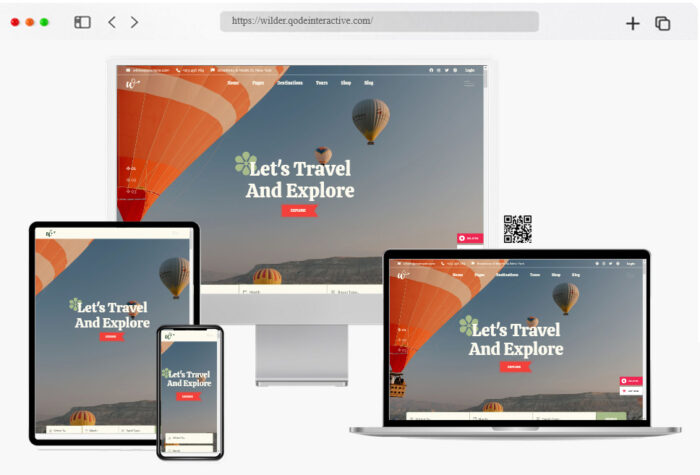 More info / download Demo
TRAVOL
TRAVOL is a suitable travel WordPress theme for tour agency business website. This theme is highly customizable with tons of options and built with the latest web technologies. The layout is clean and easy to read, so you can add a powerful information without losing the aesthetics of your website.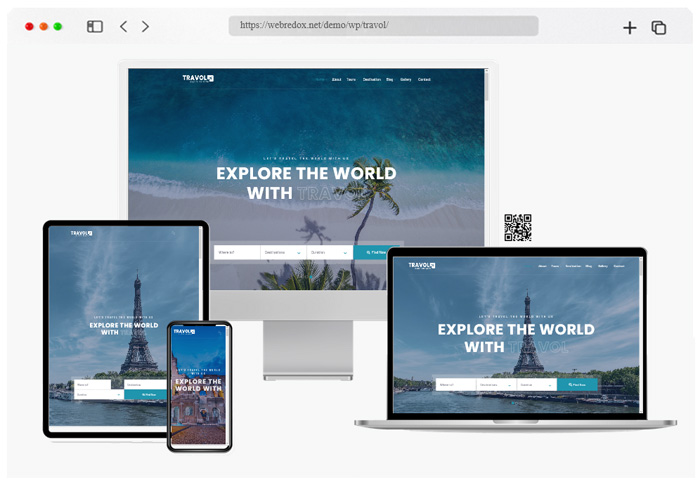 More info / download Demo
Tripgo
Tripgo is a fantastic WordPress theme for tour operators, travel agencies, and other businesses that arrange tours. It has beautiful features and a design that will make it easy for you to launch your tour trip website swiftly. A set of designs for tour listings, tour single details, travel locations, a travel blog, and other inner pages are included with the Tripgo travel agency WP theme.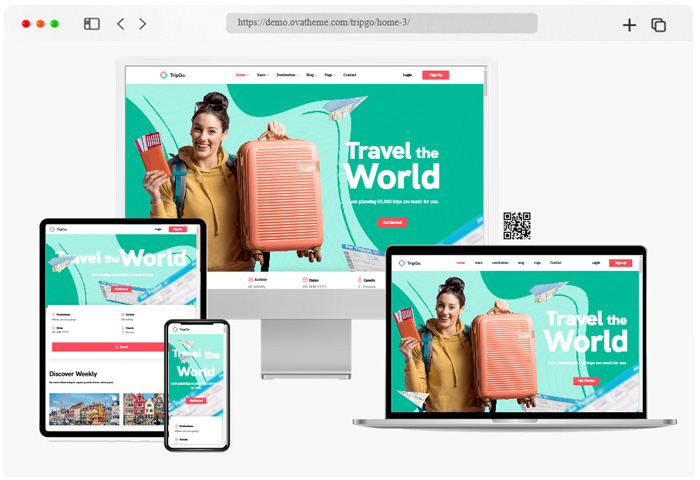 More info / download Demo
MyTravel
The MyTravel theme is built using WooCommerce. The essential elements, including hotels, holidays, rentals, automobiles, yachts, and activities, are constructed as WooCommerce items. The MAS Travels plugin is compatible with the WooCommerce Bookings plugin and the WooCommerce Easy Bookings plugin. It also introduces the Product Format custom taxonomy. Product Format determines how a product is presented and which custom fields it has. The custom fields are supplied by the ACF plugin.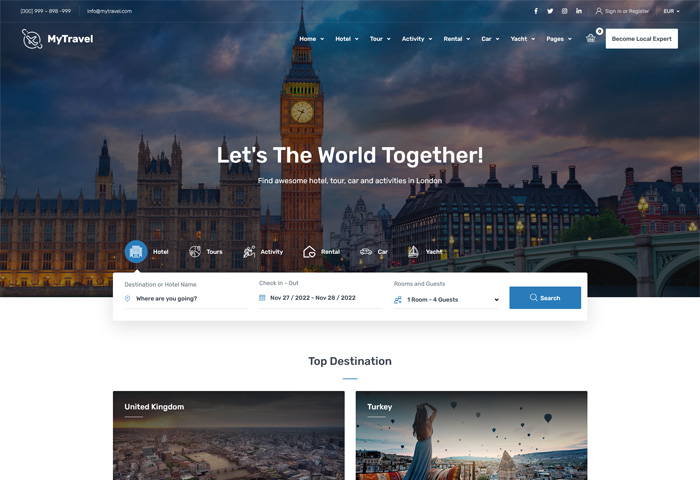 More info / download Demo
Zourney
Zourney is an intuitively designed and fully responsive travel agency WordPress theme. It is built on the latest HTML5 & CSS3 technologies, and compatible with all major browsers including Internet Explorer 6+ , Firefox, Safari and Chrome.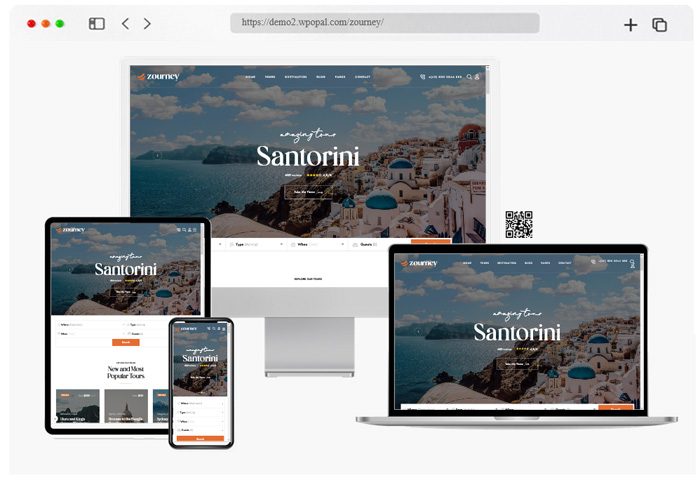 More info / download Demo
Chalet
Chalet is a powerful travel agency WordPress theme designed to make your travel agency website look attractive, sleek and professional. It's a great way to showcase your services and products as well as provide useful information about them.
For example, you can publish various useful materials as widgets like flight tickets details, travel tips and articles. The theme also comes with a homepage slider that allows you an easy way to display customer testimonials and testimonial quotes.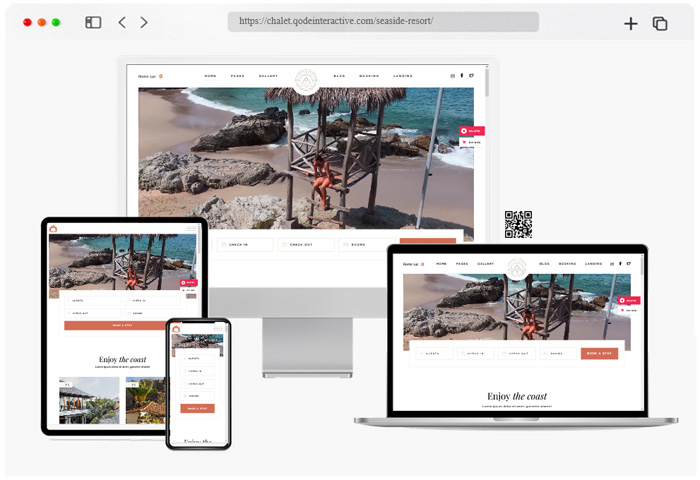 More info / download Demo
Tevily
Tevily travel booking WordPress theme is suitable for displaying your travels in style, offering remarkable pages to display your travels and destinations. It is perfect for travel agencies, tour operators, travel and vacation booking websites, booking companies looking for a unique and intuitive search function. This is a truly innovative and comprehensive wordpress travel theme created for the tourism sector and ideal for tour operators and travel agents who specialize in day trips, tour packages, vacations, hiking and camping, city tours, travel packages. cruises, etc.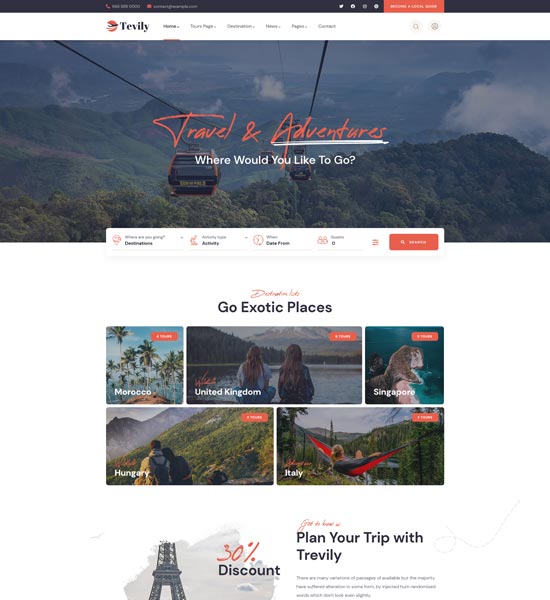 More info / download Demo
Kamperen
Kamperen is a travel agency WordPress theme that is designed to be used in the online travel business world. If an agency wants to grow, then it needs a website that can attract new customers and communicate properly with existing ones.
More info / download Demo
Travio
A clean and modern travel agency WordPress theme. This theme is perfectly designed and organized for any type of travel work, etc. You can easily modify and expand your theme layouts. The theme included three clean home page layouts with two different header styles and over 10 variant inner pages.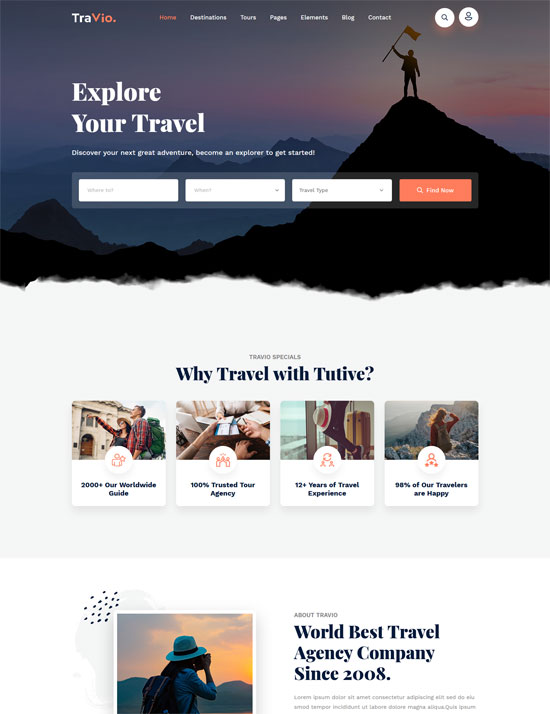 More info / download Demo
Triply
The Tour Booking WordPress theme is designed to display your tours in style, offering remarkable pages to display your tours and destinations. It is perfect for travel agencies, tour operators, travel and vacation booking websites, booking companies looking for a unique and intuitive search function. The theme is responsive and retina-ready so everyone can see the site seamlessly.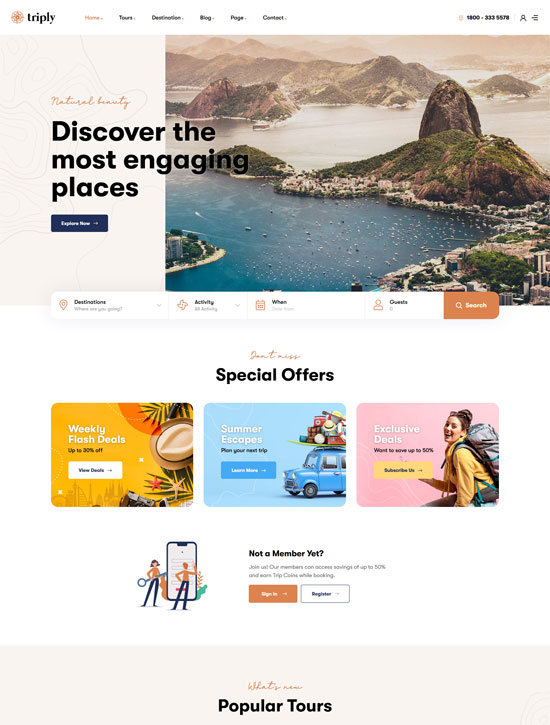 More info / download Demo
Lanong
Lanong is a travel agency and tourism WordPress theme crafted to help you start an online business. With our 5 star rating and huge collection of features, we've got you covered. If in doubt, ask the over 12 million satisfied customers that come to our website every month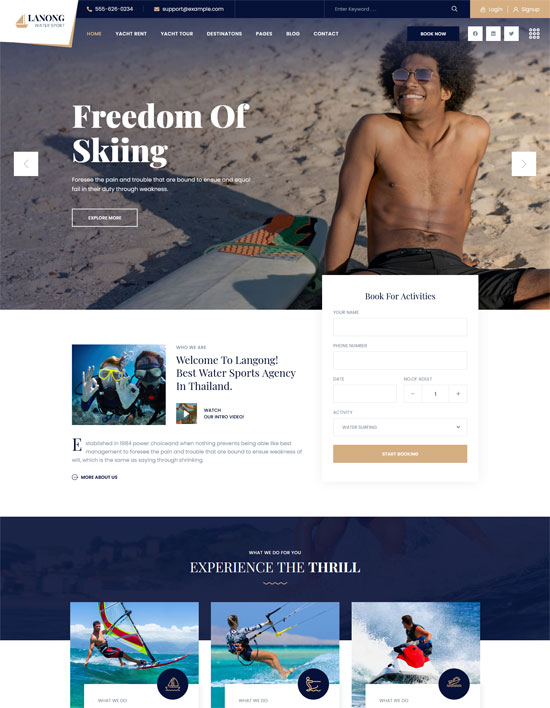 More info / download Demo
Tourimo
A booking wordpress travel theme for travel agencies, tour operators and travel companies that gives you an integrated online booking, scheduling and payment system. The theme would be an excellent solution for walking tours, hiking trips, guided excursions, private or free tours.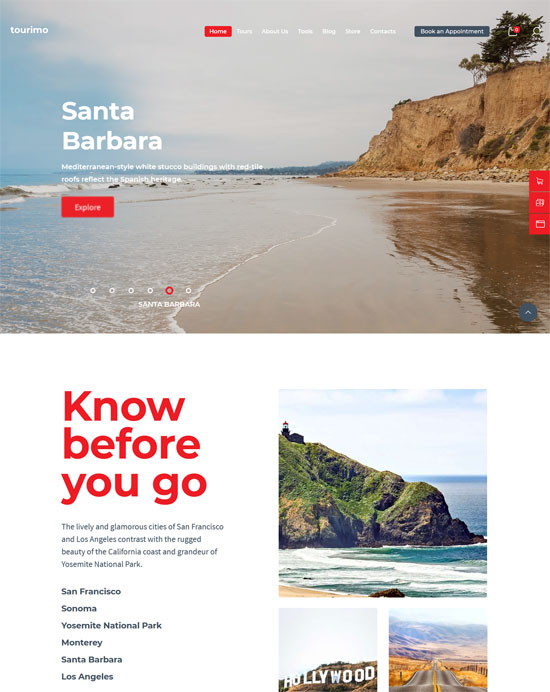 More info / download Demo
Alavion
Private Jet Charters and wordpress travel theme created especially for airlines, aircraft charters, private charters, plane flight, airport, jet service, air taxi, business transfer, l flight school and others. Alavion includes all the necessary pages of the WooCommerce online store ready. So that you can sell your flights, plane tickets, planes, piloting equipment, airport services, helicopters and jet planes.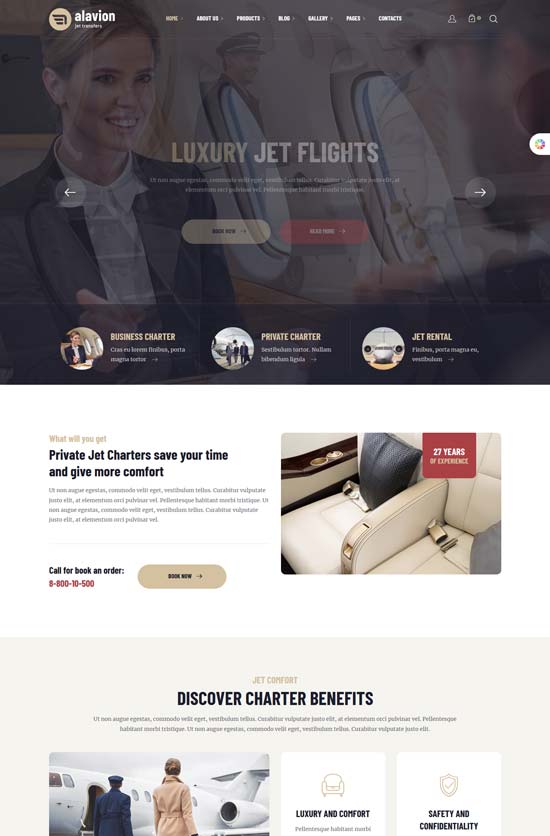 More info / download Demo
Lamaro
Yacht Club travel agency wordpress theme created especially for the yacht club, pleasure sports, yacht charter, boat and boat rental, maritime services, water taxi, sea travel blog, sailor, shipping company, water taxi and others. Lamaro includes all the necessary pages of the WooCommerce online store ready. So that you can sell your yachts, boats, boats, catamarans, cruise ships and marine equipment, yacht trips and others. This theme contains everything you need: professionally designed home pages, over 20 unique shortcodes, galleries, testimonials, product catalog, product page, about, cart, order and more.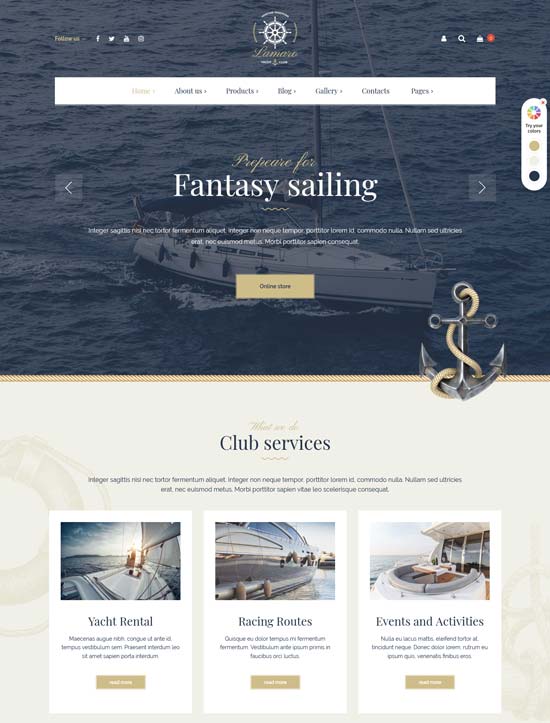 More info / download Demo
Sirene
Travel tour theme is compatible with WPBakery (alias Visual Composer). It is also compatible with Revolution Slider for a beautiful visual representation. It also works with Essential Grid so that you can create an exceptional gallery of your boats and yachts. Above all, it is compatible with WPML for multilingual sites and reserved for the management of boat reservations.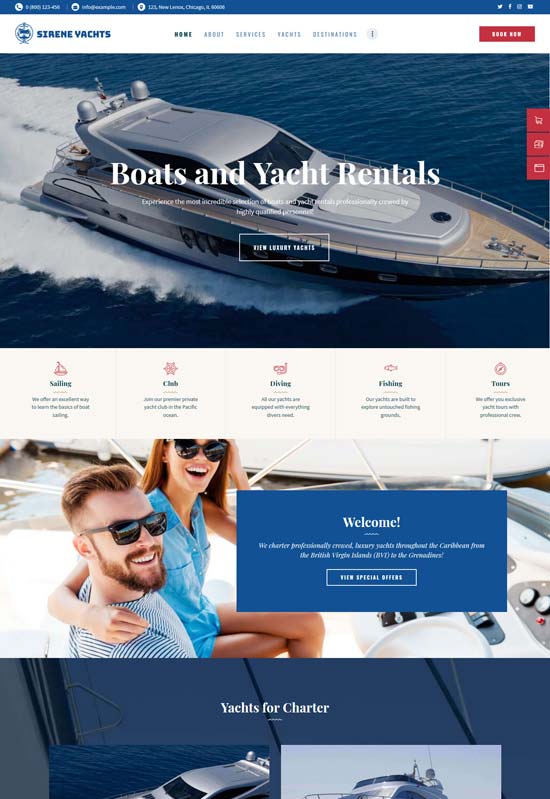 More info / download Demo
SetSail
We have created the perfect theme for travel agency websites with amazing features that are ideal for showcasing your tourism projects! You can present your tours and destinations in detail and ask people to book trips online using the powerful online booking system that comes with the theme. SetSail comes with a collection of great, predefined home pages that can be modified to meet the needs of your travel business.
More info / download Demo
Travelicious
Discover the ultimate WordPress theme for travel reservations and tourism websites. This easy to use, fully customizable theme features a responsive design, custom headers and footers, a booking calendar, hotel reviews integration, payment gateway support and much more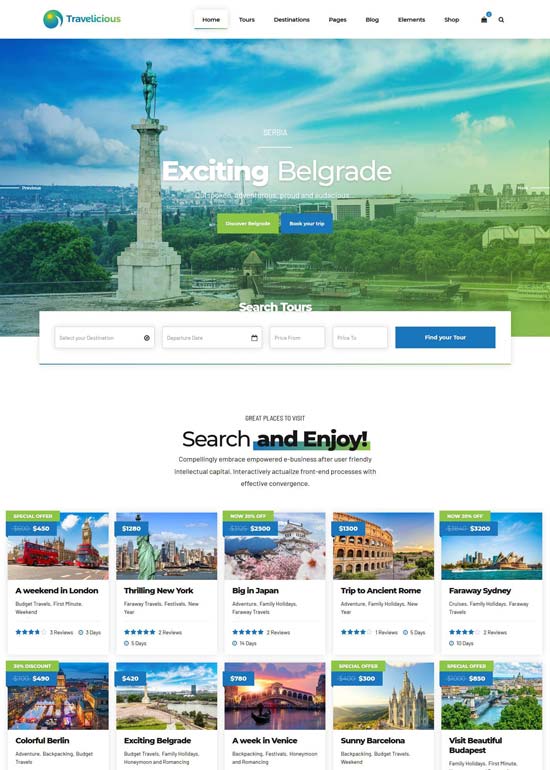 More info / download Demo
Vagabonds
A modern, attractive and responsive travel blog WordPress theme. If you are a writer or blogger and write travel articles, stories, lifestyle news, have a travel blog or entertainment blog, share your article or lifestyle with Vagabonds! It also works for a viral blog, a personal travel blog. It is suitable for entertainment blog projects, professional magazines, niche blogs, etc.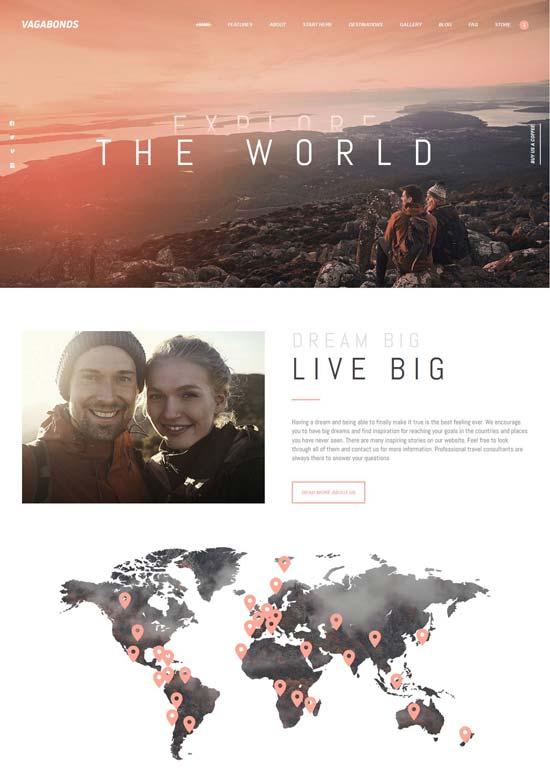 More info / download Demo
TourPress
A professional WordPress theme designed for travel and tour companies. It will help you to represent all the important information about your business in an impressive and effective way, which will generate more leads for your business.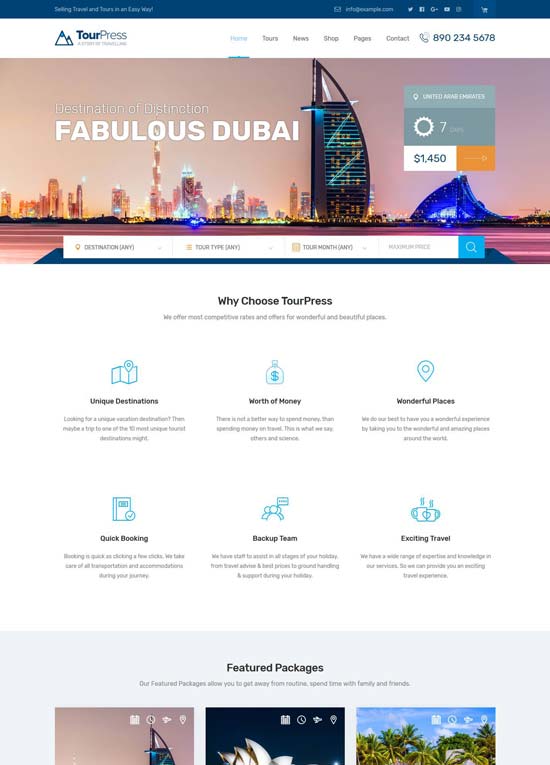 More info / download Demo
Goto
A good deal for travel agency websites: powerful and flexible enough, thanks to its features. By associating with this travel agency theme, you get full control over the layout options and the slide show output directly from the convenient page builder. Since most travel agencies offer tours and excursions directly from the website, the plug-in has been designed to help you create an online tour in minutes.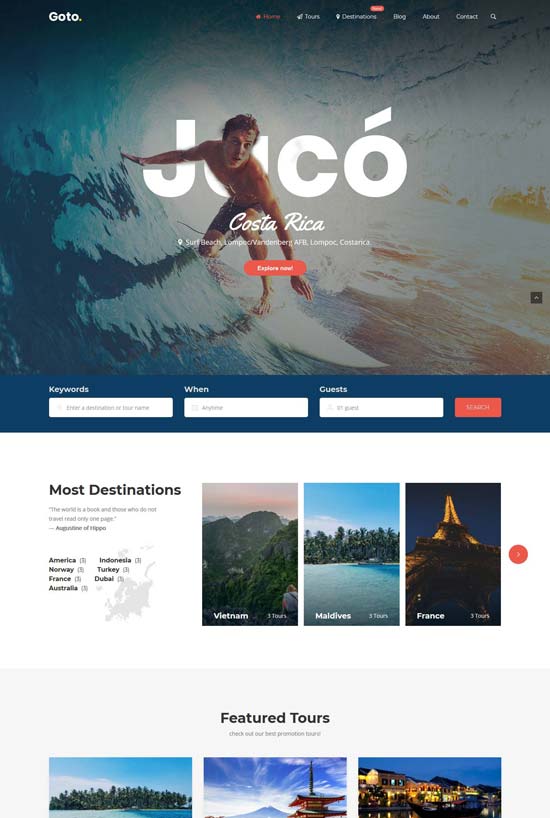 More info / download Demo
Wanderers
Everyone can easily plan their trip or visit and book them directly on your website! You can display all the destinations in an elegant way and even classify them, which will facilitate the organization of the holiday booking. Wanderers lets you embark on a journey you'll never forget!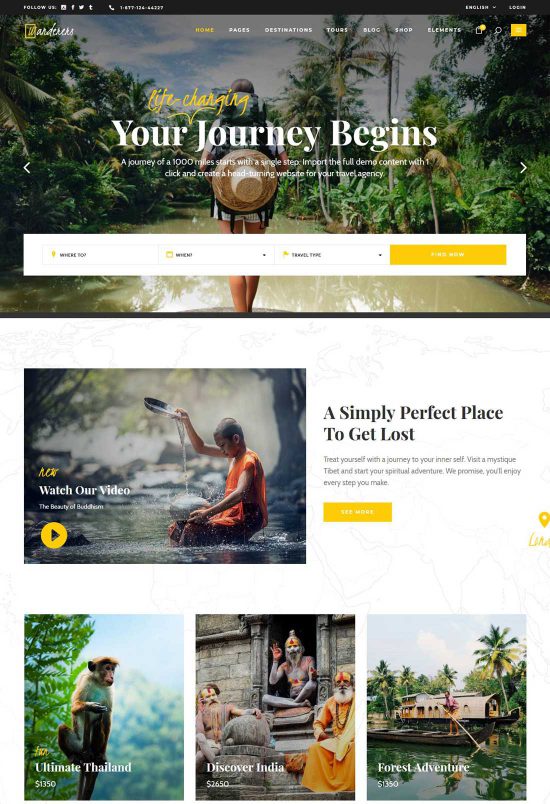 Demo More info / download
BonVoyage
Passionate about traveling, it's time to celebrate! BonVoyage is a great wordpress travel blog for travel agencies that allows you to effortlessly launch your travel and travel booking website. In just a few steps, you can create a modern travel blog and tell stories of travel and adventure, create a stunning online presentation for your travel agency and more.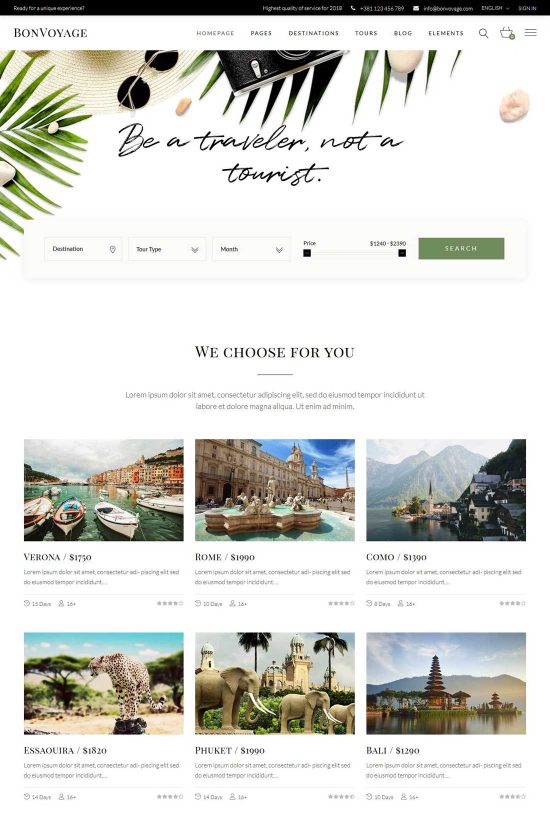 Demo More info / download
Getaway
Packaged with the travel wp theme, you get a variety of awesome layouts for vacation destinations, travel agency, summer vacation and travel presentation, tour packages including destination list and single destination templates. Another thing that every travel and tourism business needs is an easy-to-use search filter, as well as travel booking functionality and PayPal payments integration. This will make booking travel a total pleasure so that any explorer in the world can start the adventure with just one click.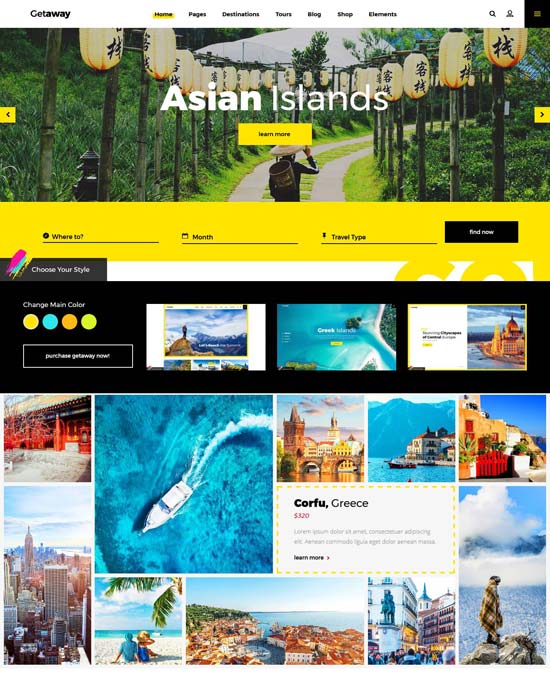 Demo More info / download
Roam
A modern travel WordPress theme, perfect for searching and booking a tour or vacation. With a wide range of travel designs and flexible options that every travel agency may need, such as travel filters, booking forms, travel descriptions and more, Roam is ideal for all travel companies. Inspire your website visitors with travel stories from exotic and far-flung destinations, and share all your adventures on Roam's stylish travel blog.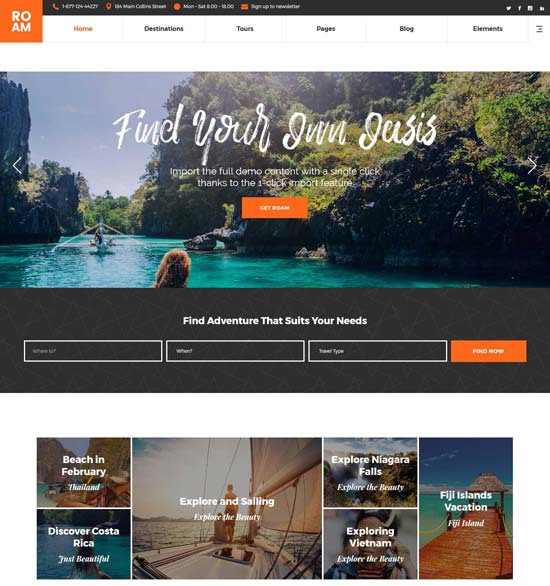 Demo More info / download
Aventura
A WordPress theme for travel and tour booking that was created for websites for local travel agencies, adventure parks, and tour operators. The entire range of specialized travel and tourism niche features is offered. Aventura offers a complete booking system solution.
Customers can use PayPal and other payment services to pay for tours right on your website. You can create a fantastic travel website for your company by using Visual Composer, Aventura, and the Revolution Slider plugin in addition to its stunning beauty, trendy clean look, and proper execution.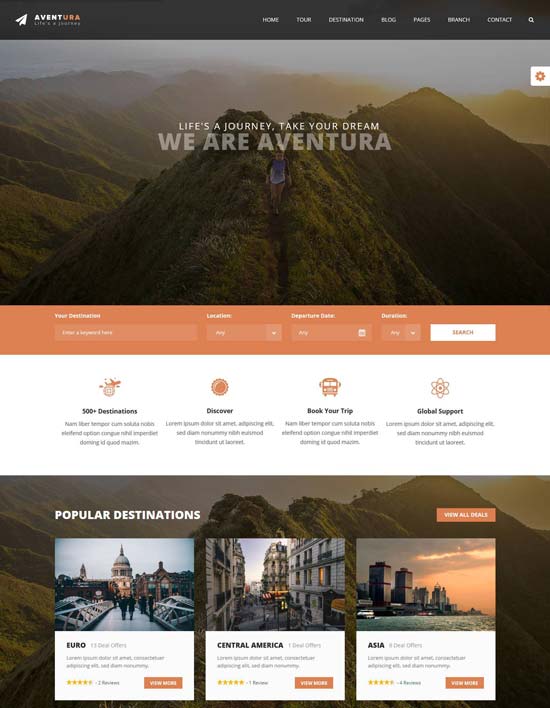 Demo More info / download
Embark
a theme for travel blogs appropriate for the travel and tourism sector. It is versatile and can be applied to any type of tour, including hiking tours, sea tours, biking tours, and travel tours. There are 3 premade demos and 3 color schemes included for the museum/attraction tours, travel tours, and adventure tours.
A booking form with a price is included with the item. It is based on Bootstrap 3 and includes robust contact and booking forms, among other features. The theme was designed with everyone in mind, down to the last animation effect. It's equally simple to replace images and texts to suit your needs.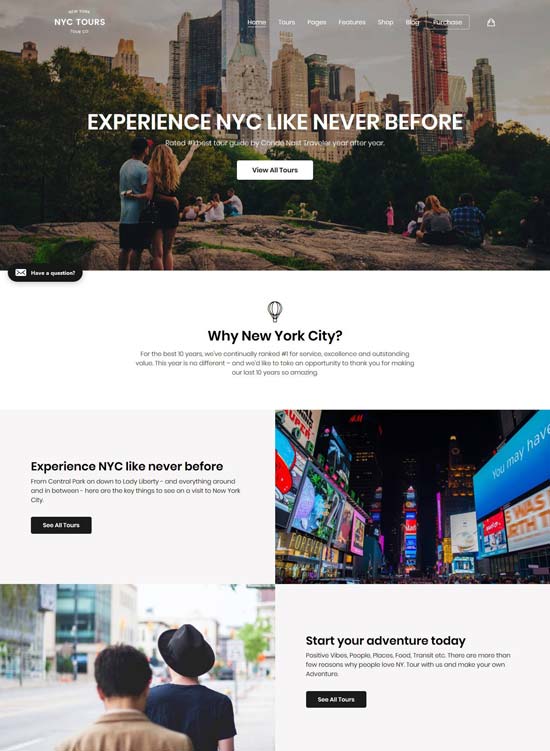 Demo More info / download
Tour Package
This is the best WordPress theme for a travel agency. The included package post type lets you showcase all available packages in one place, making it easier for customers to shop. Moreover, it has a filtering system for packages and a booking form (Contact form 7 is required).
Each of these WordPress themes has a mobile-friendly layout and is optimized for retina displays. The experience of using your website across a variety of devices is seamless.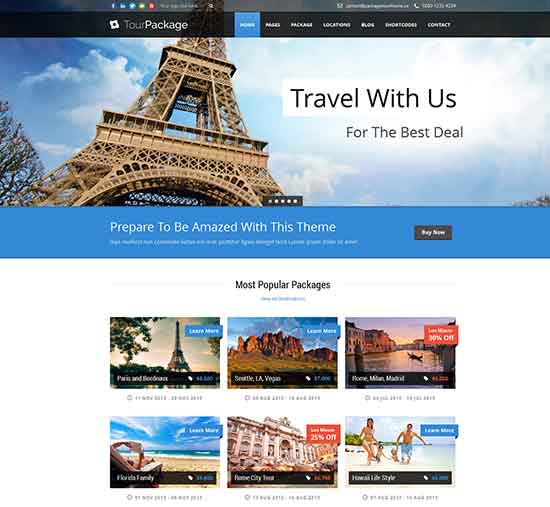 Demo More info / download
Book Travel
A responsive travel WordPress theme ideal for booking portals, travel agencies etc. or travel blogs, but it would suit for any business with slight customizations. This fully responsive tourism wordpress theme is design and develop specifically for tour operators, travel agencies and others in the tourism niche. A fully translatable theme, It boasts features such as powerful and completely integrate booking system, an advanced filtering, availability checker, front-end management for partners, review and much more.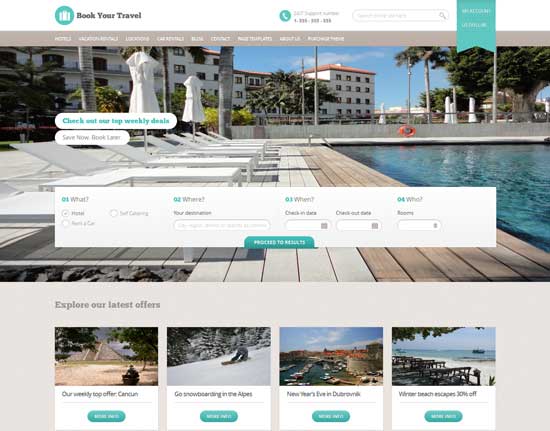 Demo More info / download
Traveler
One-Stop Booking WordPress themes designed specifically for personal websites and travel agencies. The most well-known travel booking websites, including booking.com, tripadvisor, priceline, expedia, travelocity, kayak, and orbitz, were thoroughly researched for this article.
This guy cannot be mistaken. You should unquestionably try it. It includes hotel, car, rental, activity, and tour booking, among many other features that will be updated in the future. We integrated payment options so that you could use our site for your business more easily.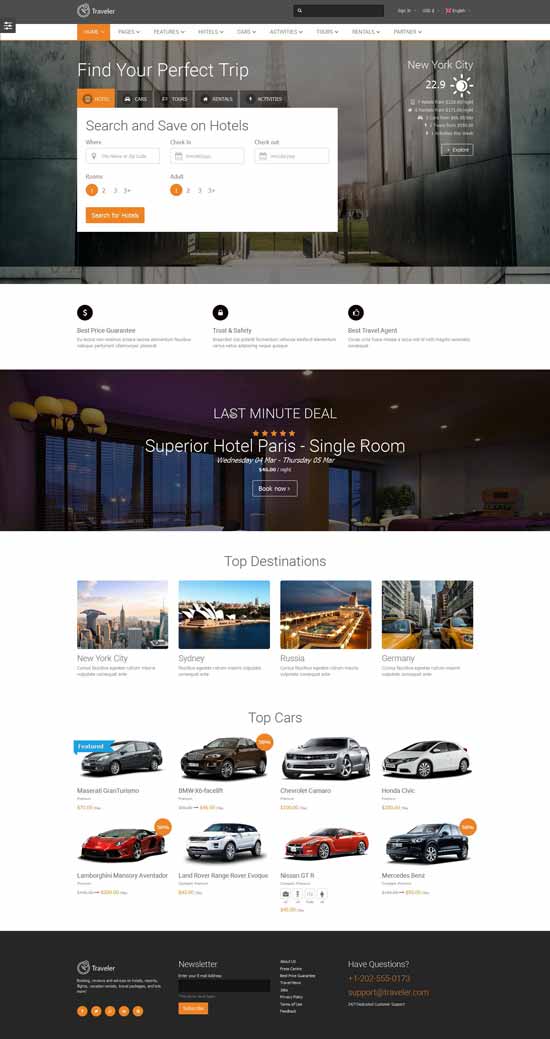 Demo More info / download
Travel Tour
Travel Tour is a best travel agency wordpress theme that comes with the most comprehensive tourist management system. This theme is specially designed for tour operators, travel agencies, tourist packages, travel blogs. The system is integrated with many necessary features.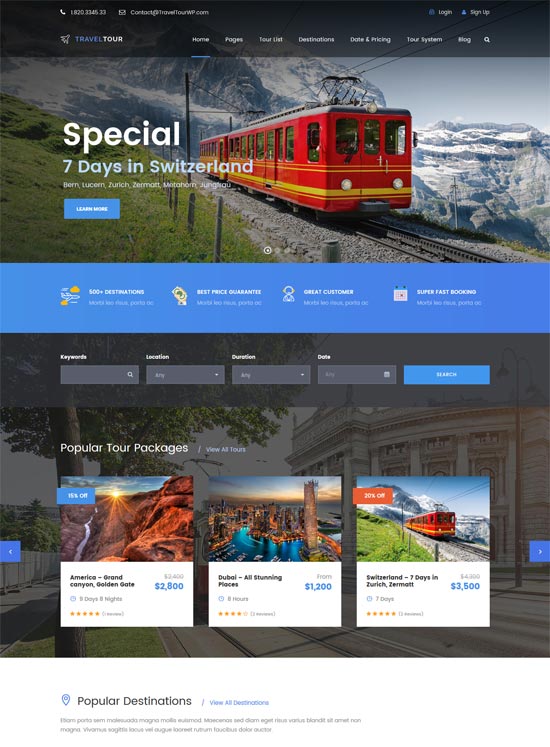 More info / download Demo
Travel WP
A Travel / Tour Booking WordPress Theme developed for travel agencies and tour operators of all sizes. It offers a lot of flexibility and possibilities in setting up visits. You can specify as many tour attributes as you want. These attributes can then be used to create a search form.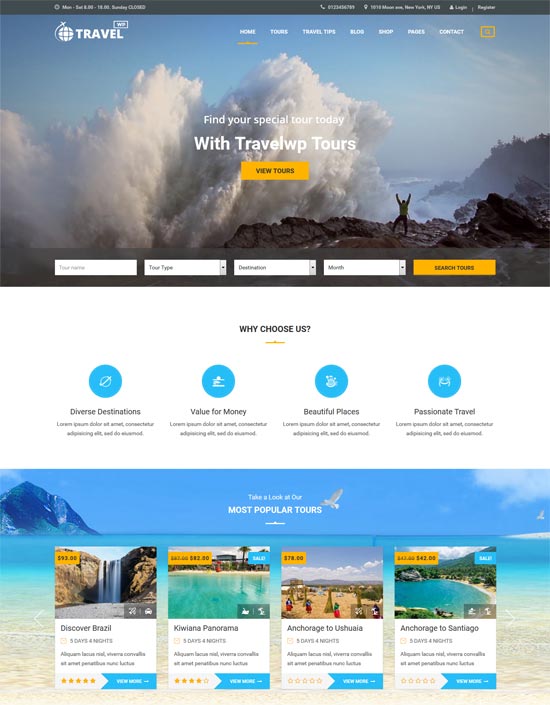 More info / download Demo
Grand Tour
A responsive and modern WordPress theme, Grand Tour is used on the website of the Grand Tour travel business. Built using the newest WordPress technologies. Thanks to its responsive design, Grand Tour displays correctly on a broad range of mobile devices. It has several features tailor-made for tour operators, travel agencies, and travel bloggers, and can be imported with a single click.
There are at least 20 sample itineraries and travel plans to choose from. Because we know how crucial it is for you to present your tour's information in a way that is completely original, we've put a lot of time and effort into creating a wide range of predesigned tour and destination templates that can be tweaked to fit your specific needs. Also, it takes only a few easy steps to make something new with our pre-defined templates and content builder.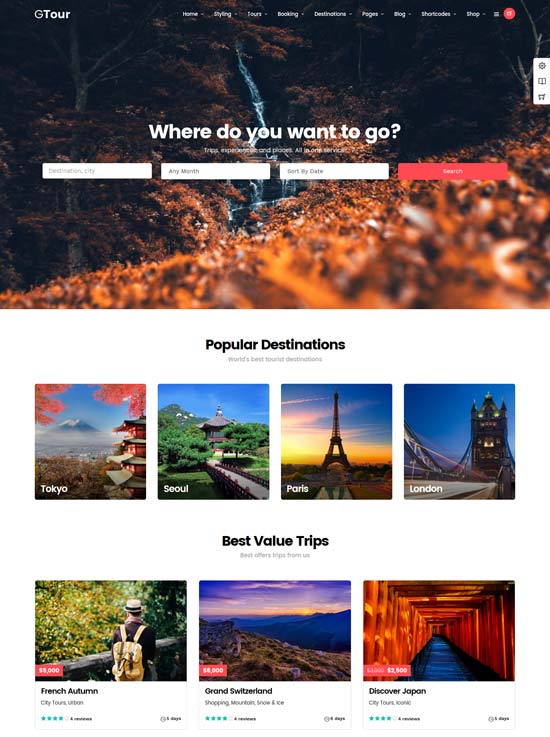 More info / download Demo
GoTravel
The moment has come for vacationers to celebrate! It's easy to get your travel agency off the ground with the help of GoTravel, a fantastic WordPress theme focused on the tourism and travel industries. The process of creating a cutting-edge travel blog, an eye-popping online presentation for your travel firm, and many more online projects is simplified to a few easy steps.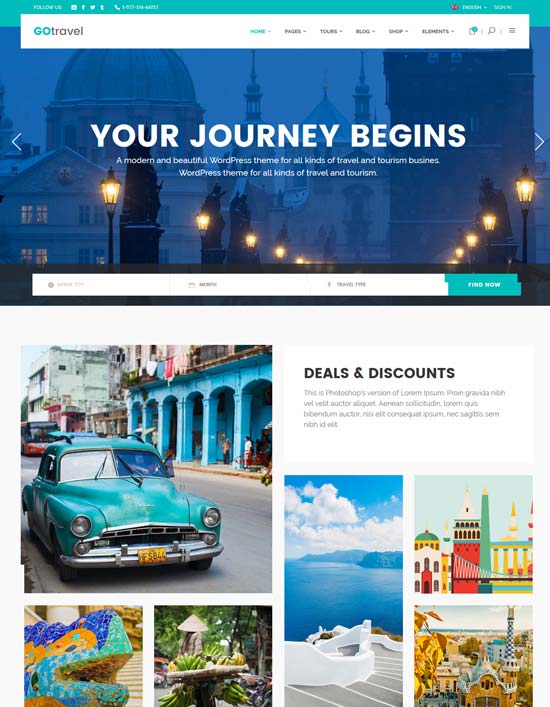 More info / download Demo
Entrada
Adventure travel tour WordPress theme developed with elegance, simplicity and functionality in the heart of the theme. It's really innovative and complete WordPress theme designed for the tourism sector and ideal for tour operators and travel agents specialized in day trips, tourist packages, vacation, hiking and camping, city tours, cruise packages, etc.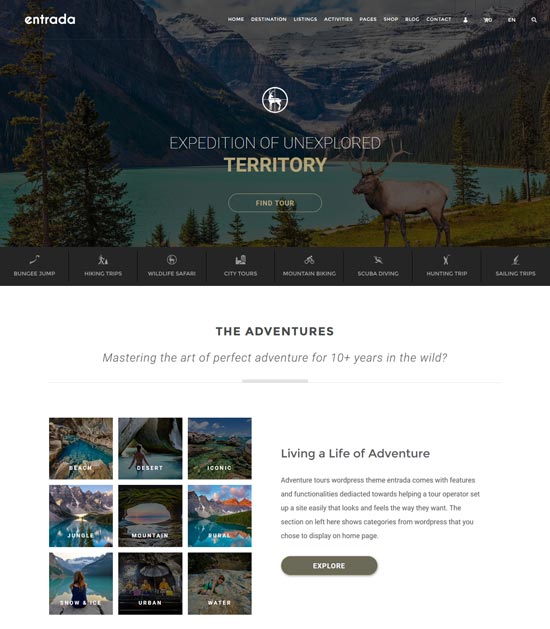 More info / download Demo
Voyage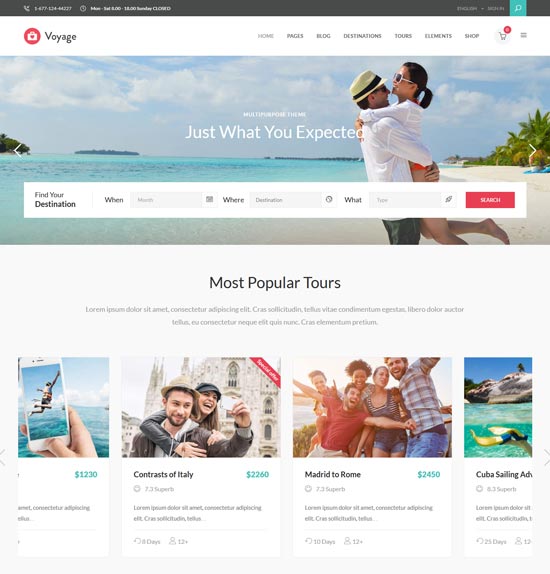 More info / download Demo
CityTours
Tour Booking WordPress Theme is one of the best tour booking theme in the world. This travel template wordpress has not only great skin and layout, but also wonderful booking module which allows you to use for any type of tour booking. This provides tons of features and you will like it.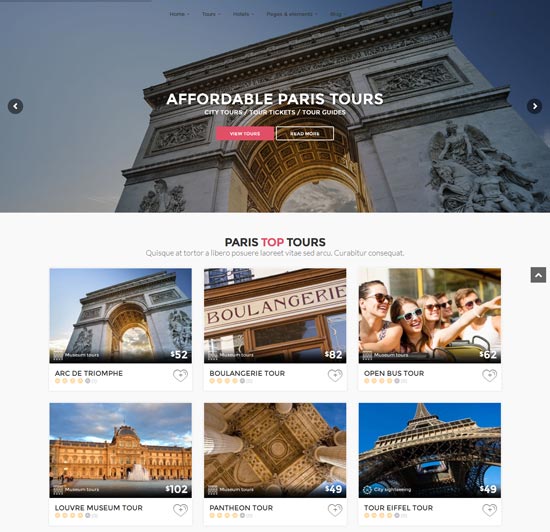 Demo More info / download
Adventure Tours
A WordPress travel theme made for tour operators and travel agencies of all sizes. It gives you a lot of freedom and options for setting up tours. You can give as many details about the tour as you want. The well-known WooCommerce plug-in is built into the Adventure Tours theme. So, WooCommerce makes it possible to pay for visits with PayPal and other payment services. You can also set up and run a store where you can sell different things.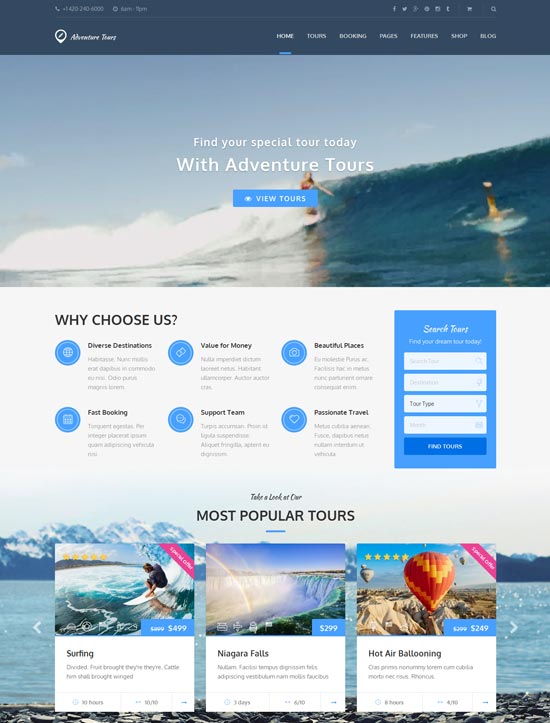 Demo More info / download
GoExplore
Create your travel agency, lodge, club, blog or destination website the quick and easy way. The GoExplore trip themes can manage any travel website, from a personal travel blog to a world travel guide book.
Altair
Trendy Travel
When user ratings and reviews, a fully functional blog, a gallery, a fully responsive design, a Mega Menu, unlimited layout options, a bbPress forum, and a lot of short codes are added to the mix, there are almost no limits to what can be done.
It comes with a package post type that is powered by WooCommerce and lets you show your customers all of the different package types in a layout with multiple columns. Packages can be sorted and searched for using more powerful search and sorting tools.
Love Travel
Love Travel is an excellent app for people who enjoy traveling because it enables you to share tales and images from your trip between the sea and the mountains, whether you go in the summer or the winter. The Love Travel brand might be useful to your advertising agency. The theme was designed using a 1200px grid with 12 columns.