Are you looking for a responsive design WordPress theme for your video and movie website? If so, you've come to the right place. Our collection of video and movie WordPress themes are perfect for creating a professional and stylish website for your video movie business.
With a range of features and options, you can easily find a theme that suits your needs and preferences. So browse our selection and find the perfect WordPress theme for your video and movie website today!
Movflx
A contemporary and responsive WordPress theme is Movflx. It has a unique design, two home page variations, and many catalog and detail pages. It is appropriate for online movies, movie reviews, online television, TV programs, and TV series. So feel free to construct whatever using this.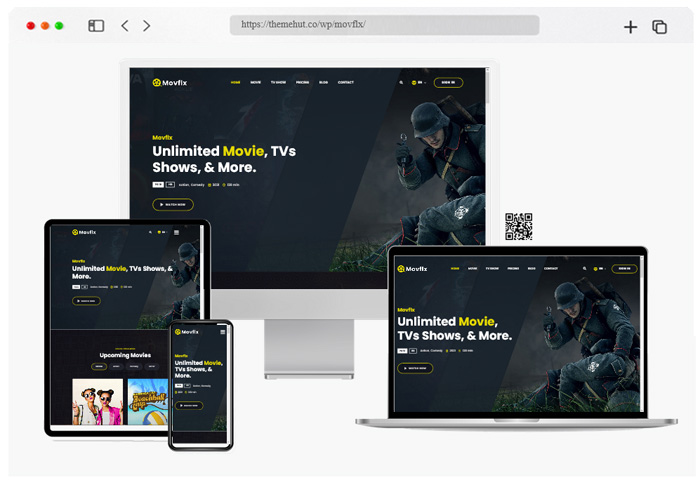 More info / download Demo
Mirel
For movie studios, filmmakers, film agencies, film festivals, and cinema, use the Mirel WordPress theme. Create a stunning website for yourself or your video business by starting with us.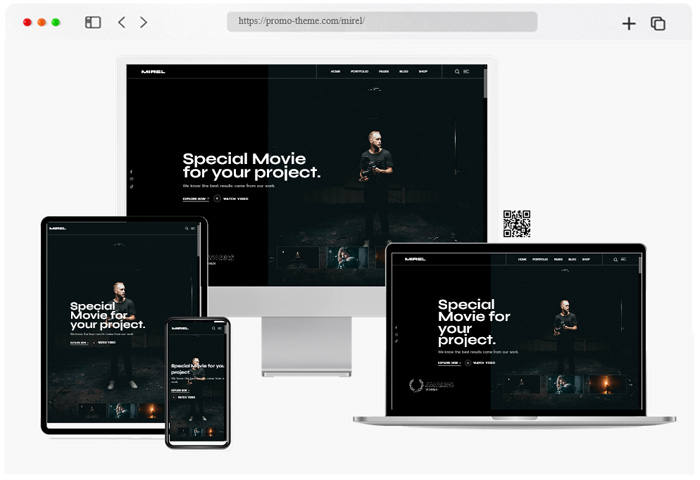 More info / download Demo
Coppola
The Coppola theme, which we developed for websites for movie theaters, directors, and film production firms, makes it simpler to locate your target audience, which is crucial for the success of any movie.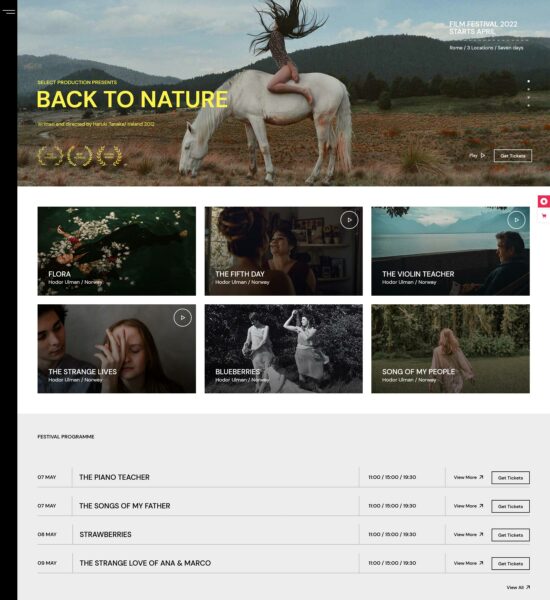 More info / download Demo
Nextbit
NextBit is a premium responsive wordpress theme with a cutting-edge design that is also fully original and optimized for mobile devices.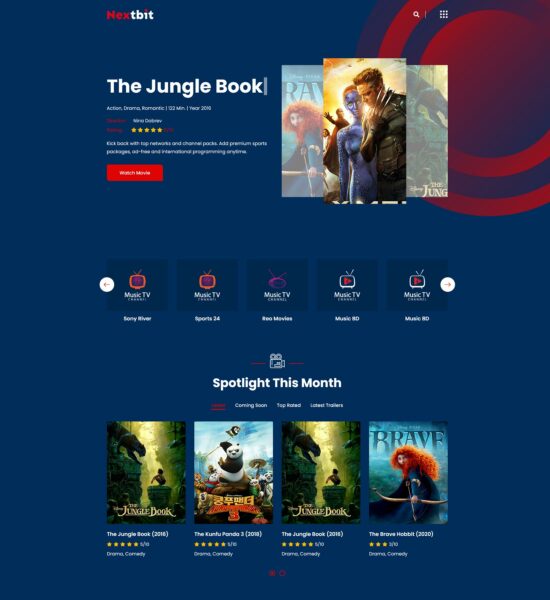 More info / download Demo
VidMov
With the aid of VidMov, a wordpress movie theme that concentrates on video and audio, streaming and playing video on a website is simple.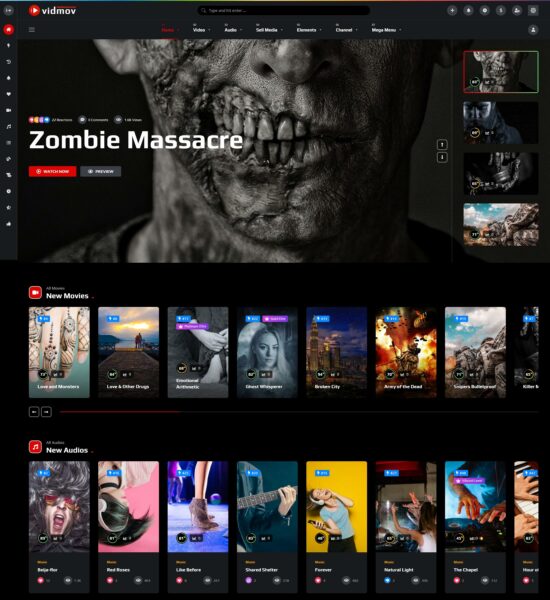 More info / download Demo
StreamTube
You might establish a Video Sharing and Upload website with other writers, publish your own work on the online, or share your favorite movies with the world over the web. Utilize StreamTube if you want to view videos.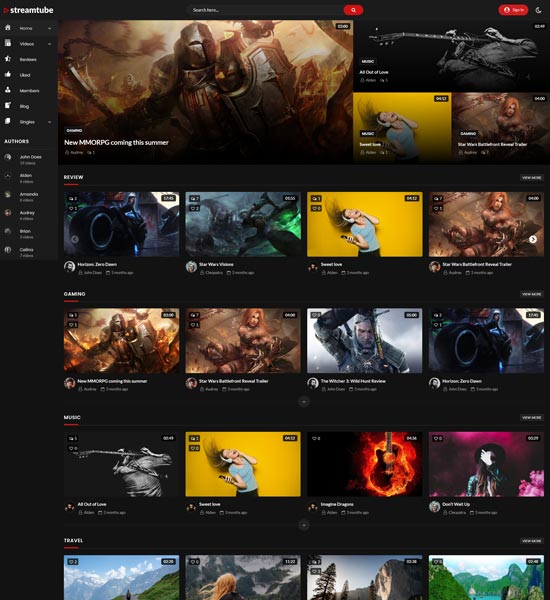 More info / download Demo
Aztec
Automattic's Aztec movie themes makes it much simpler to stream audio and video on your website. This is simply one of the many benefits of using the movie and tv shows.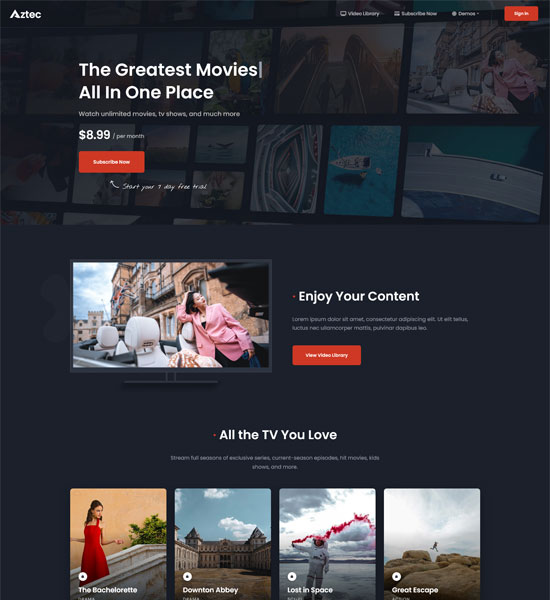 More info / download Demo
Frames
Frames is the perfect option if you need a Filmmaker WordPress theme, a movie studio theme, or a theme designed just for filmmakers. It may be used by any creative firm, organization, or individual.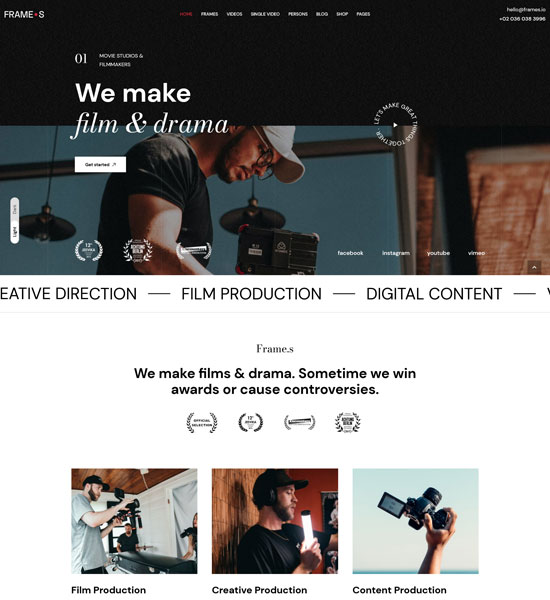 More info / download Demo
ViewTube
Automattic designed the ViewTube theme for WordPress. It emphasizes video-based content. When using this, streaming, videos, films, and reviews will be the most useful.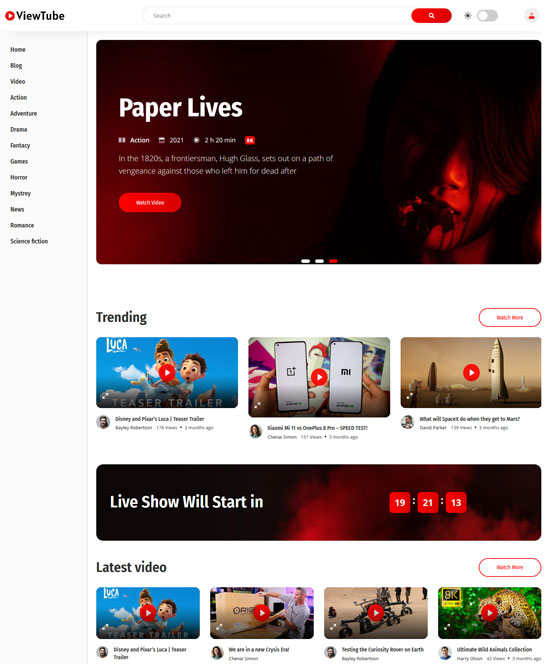 More info / download Demo
Streamlab
Streamlab is now the most powerful and comprehensive Responsive Video platform available on the market. A WordPress theme designed with the thought that WordPress would be used for video websites in mind.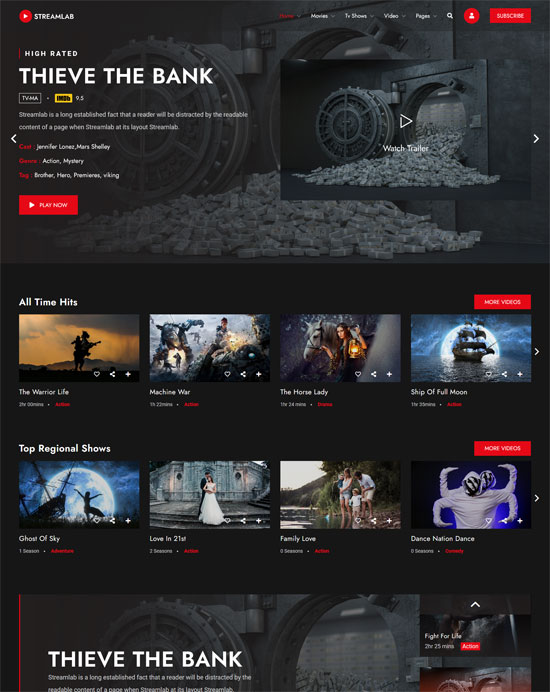 More info / download Demo
Streamit
Streamit is a WordPress theme that may be useful for over-the-top (OTT) video streaming services. This design exudes a feeling of sophistication and order.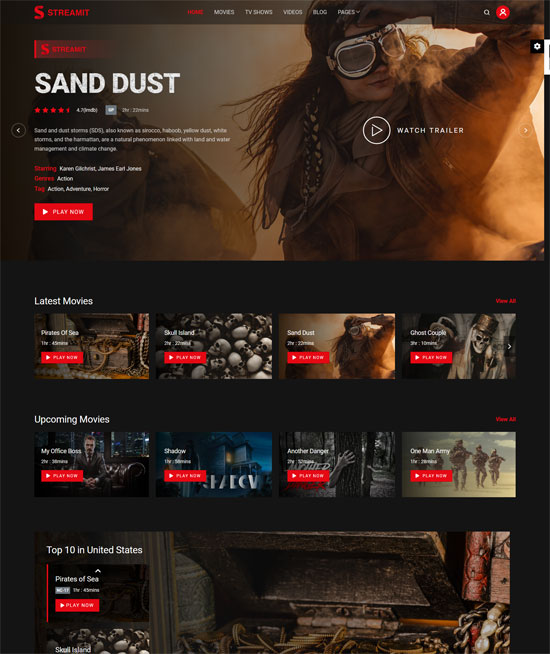 More info / download Demo
Noxe
 You may quickly create your own website by importing demonstrations of already-made websites. These websites are currently accessible through the Internet.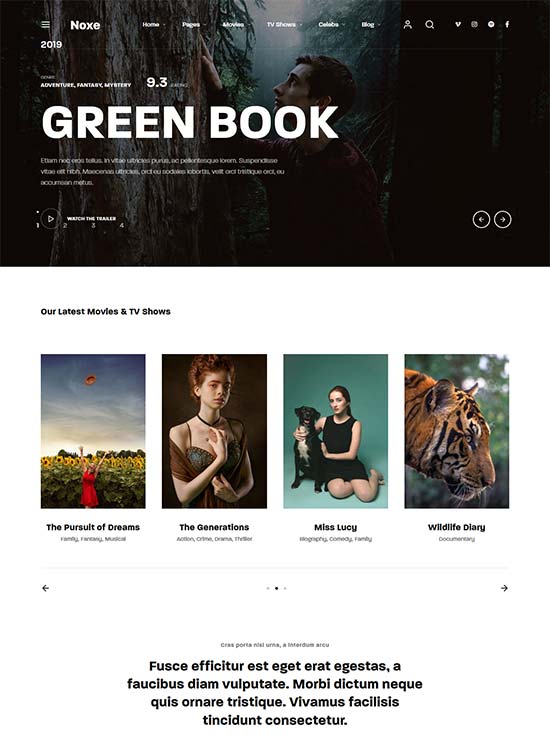 More info / download Demo
Pelicula
You will get a complete collection of templates for displaying films and movies, full compatibility with the Elementor page builder, and anything else your video production firm might ever require. You should immediately begin producing your next great film.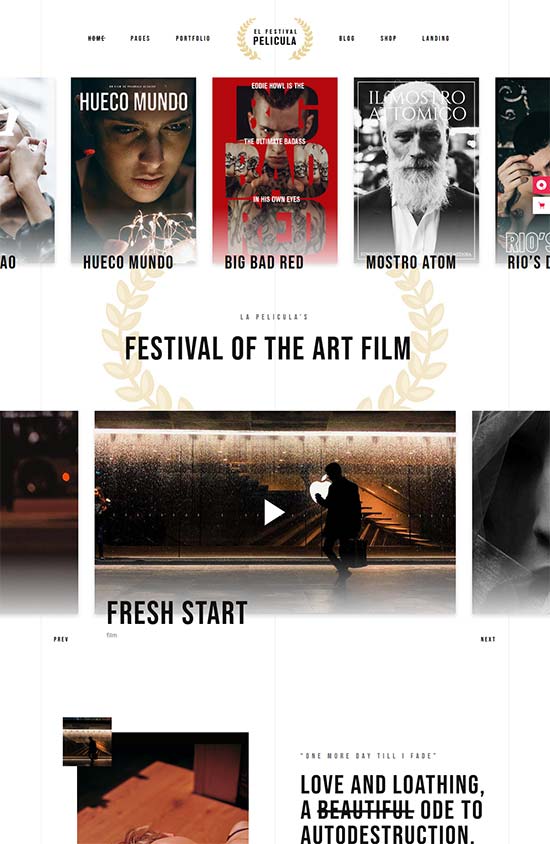 More info / download Demo
Leitmotif
Leitmotif is a movie, theater, and film production theme that is created, framed, and timed so that you may acquire a stunning website for your studio or anything else related to movies right now.
More info / download Demo
Mirasat
Internet service and satellite television providers Mirasat gives out The WordPress theme was created from the ground up to be compatible with high-speed Internet, streaming television and movies, and online video.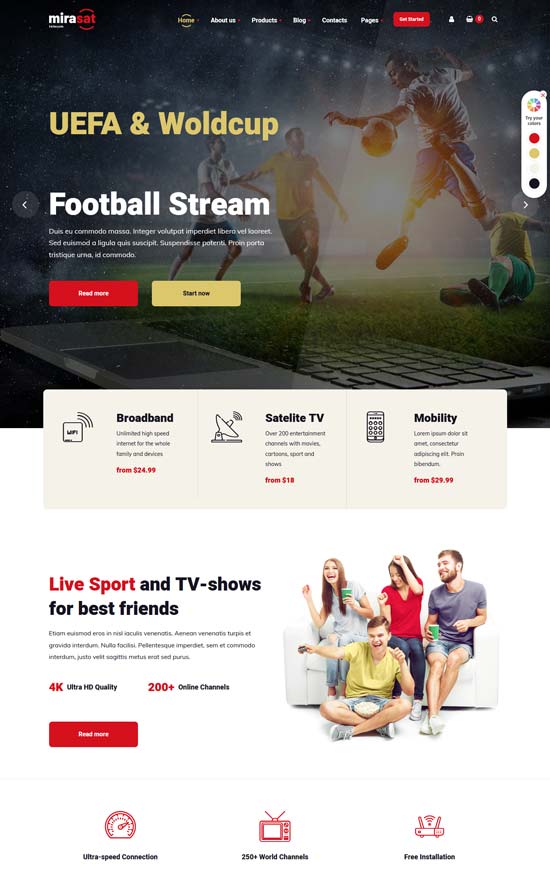 More info / download Demo
Mato
The Mato WordPress theme is a great option that might be very helpful for individual filmmakers, film companies, and film festivals in addition to the film industry as a whole.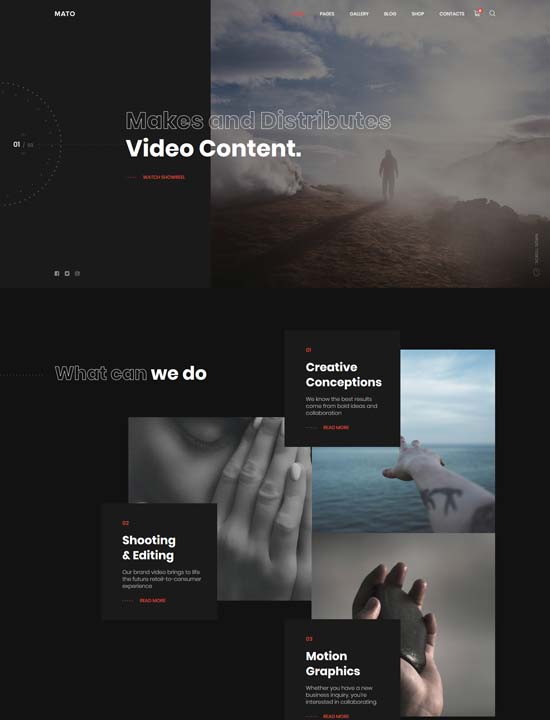 More info / download Demo
Vodi
Vodi Video is a WordPress theme designed for websites that discuss films, television programs, movie review, videos, streaming services, critiques, and entertainment in general.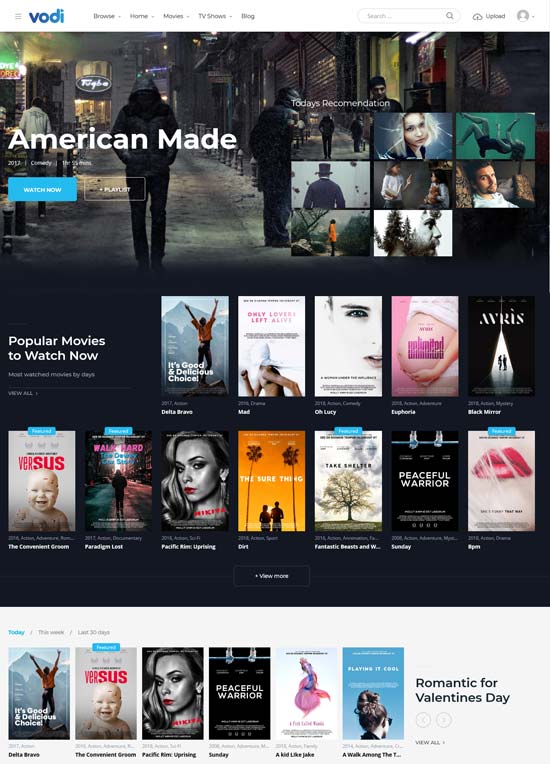 More info / download Demo
Vayvo
Using the free Vayvo theme for WordPress simplifies the process of streaming audio and video on a website. This theme may be downloaded from the WordPress theme library at any time.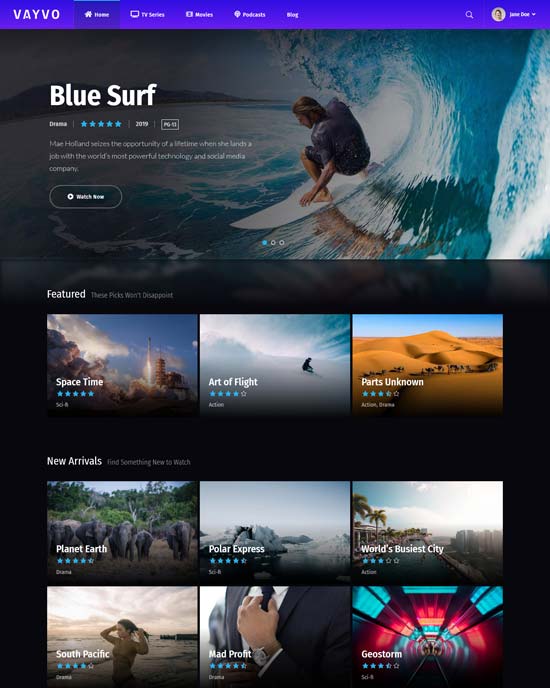 More info / download Demo
Spool
We're going to show you around a great WordPress theme that was made with movie studios and filmmakers in mind, and we're going to do it right now. We can help you make a website that is both unique and in style.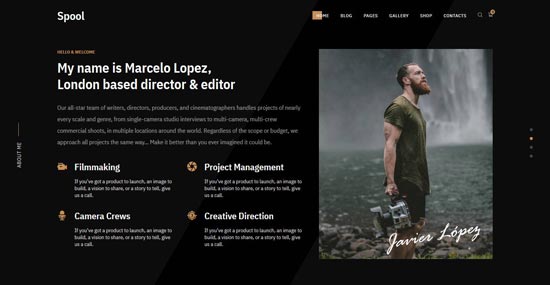 Demo More info / download
Formota
If you want to find a theme for a movie studio or a Filmmaker WordPress theme, just type "filmmaker" into the search engine.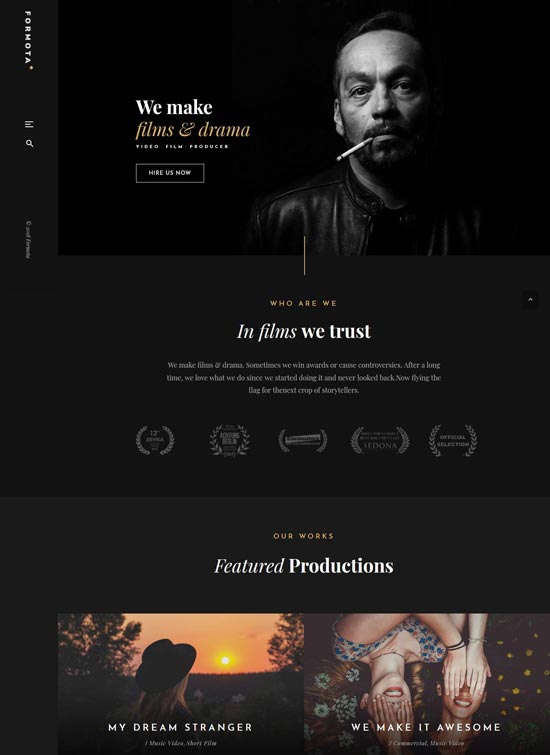 Demo More info / download
Viem
Elite Video Player, a popular plug-in, is what makes Viem work. You can use this advanced and one-of-a-kind video player to show off your videos on your website.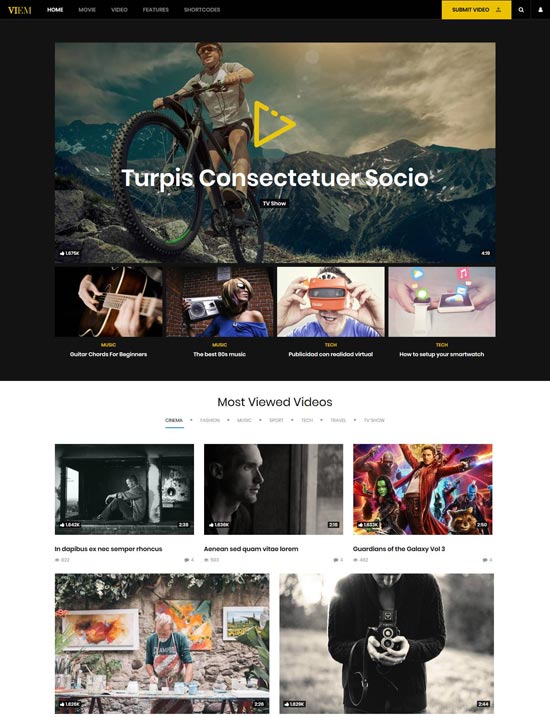 Demo More info / download
Cinerama
Build a great website for movie fans that will blow their minds and change the way they think about movies forever.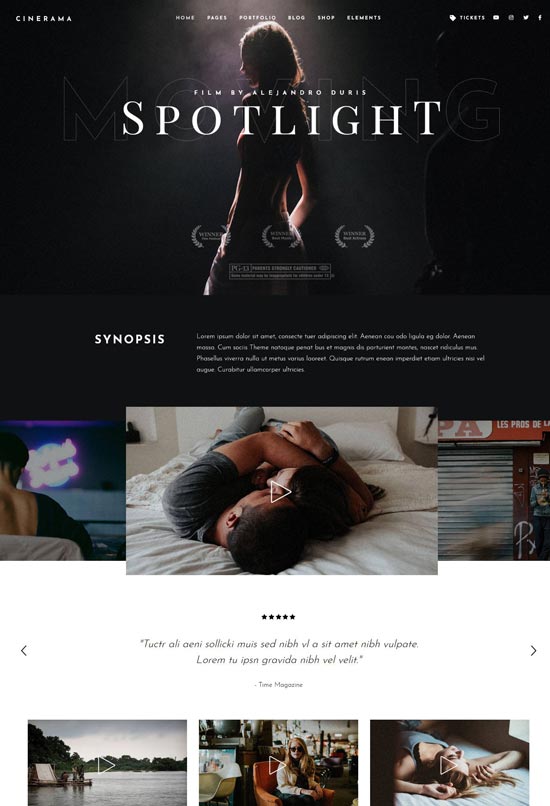 Demo More info / download
VidoRev
VidoRev is a WordPress theme that works well for video and film blogs, online magazines, and other types of online publications.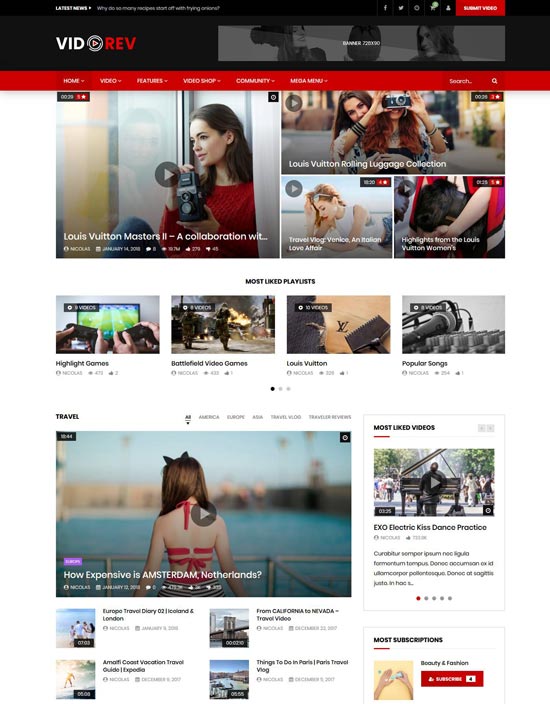 Demo More info / download
Superflick
Superflick is a modern and visually appealing WordPress theme that is perfect for movie studios, video artists, filmmakers, vloggers, agencies, and anyone else who wants to show their video work online.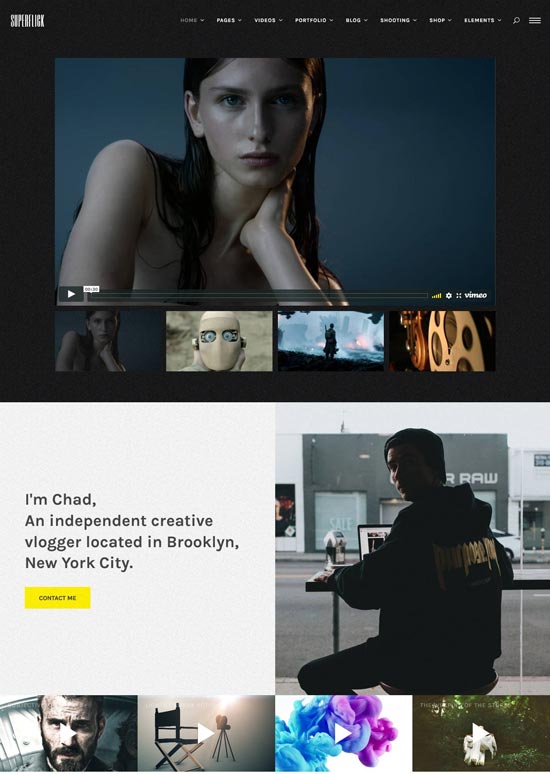 Demo More info / download
Filmic
Filmic can be used by any creative company, group, team, or person to make their own film studio, filmmaker center, film production site, or other film-related website. Filmic is free for creative people to use because it is open source.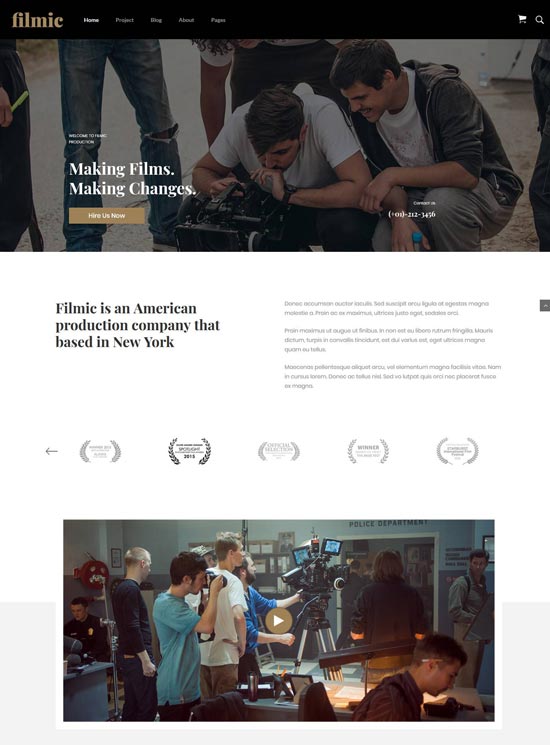 Demo More info / download
Circle
Circle is a multipurpose film, video themes for wordpress that suitable for any creative agencies, Film Actor, Film Studio, Film Director. It come with 7 beautiful homepage and special functions you can choose source for video, film from Youtube, Vimeo or from your Self Hosted to help you can easy manage your work.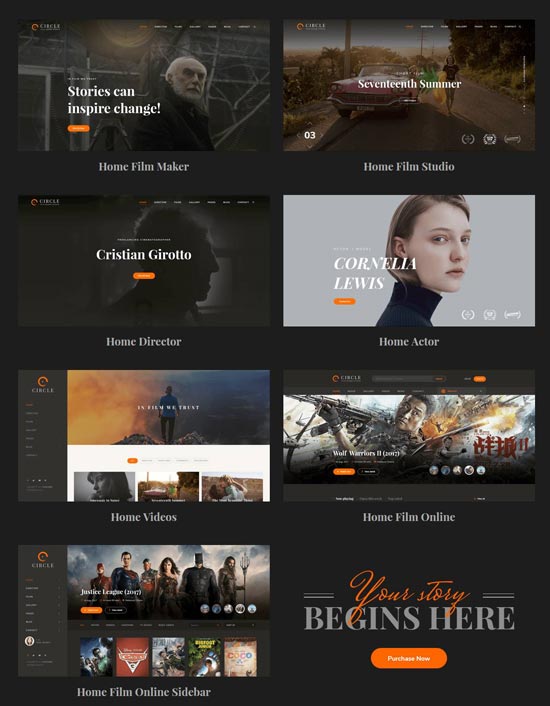 Demo More info / download
Vlogger
Vlogger is a professional video & tutorials wordpress theme perfect for Video Tutorials, YouTubers, Online Courses and video blogs. It is easy to monetize every type of video content, from fun videos to professional tutorials.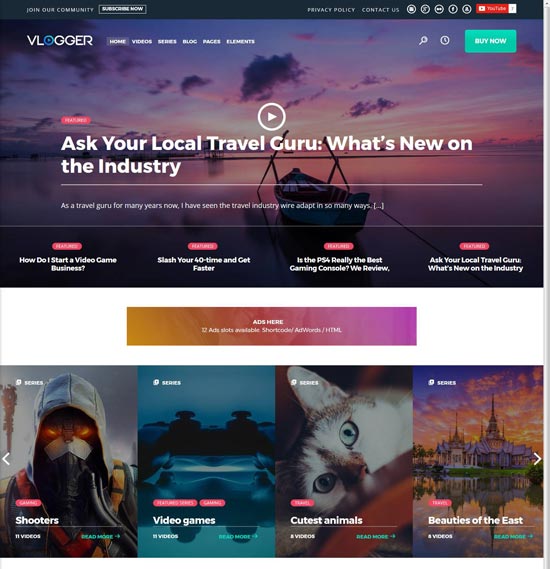 Demo More info / download
Huber
Huber is a multi-purpose review theme. It is powerful, interactive, and cutting edge. Huber has a hub system that sets it apart from other themes. Hubs contain a post or a page that has details about a movie.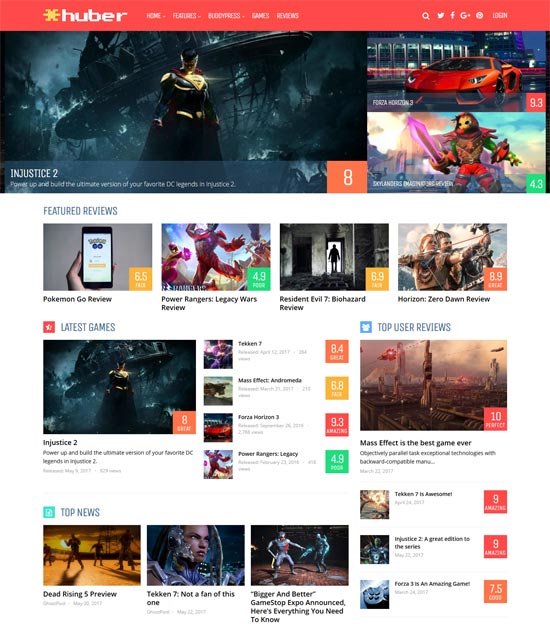 More info / download Demo
Viseo
Viseo is another theme ideal for movies. This theme can be easily customized and it has many features for you to use to show off your movie. Viseo comes with many features like Drag and Drop Page builder and you have unlimited colors to pick from. It has built-in audio and video player that supports all devices.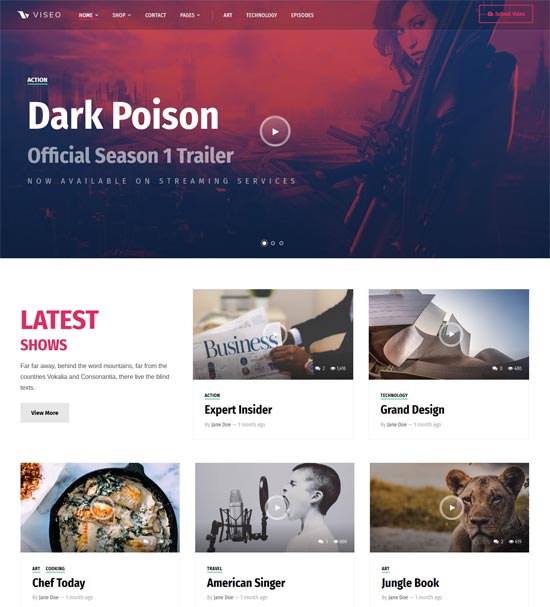 More info / download Demo
NineStudio
Nine Studio is very suitable for any creative agency / company / team / person to build their own movie studio / Film Center / Film Production / Vlog sites and any type of movie website can use the WordPress video theme.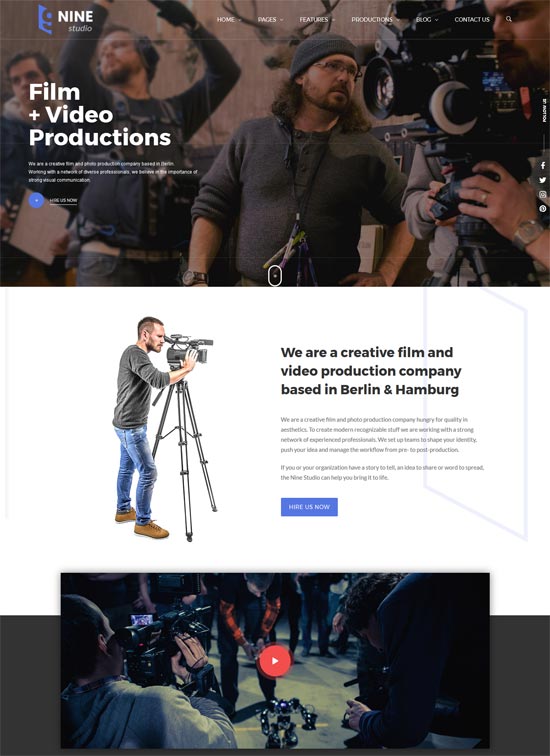 More info / download Demo
AmyMovie
AmyMovie is a flexible and easy-to-customize movie and theater theme that can be used on a wide range of websites.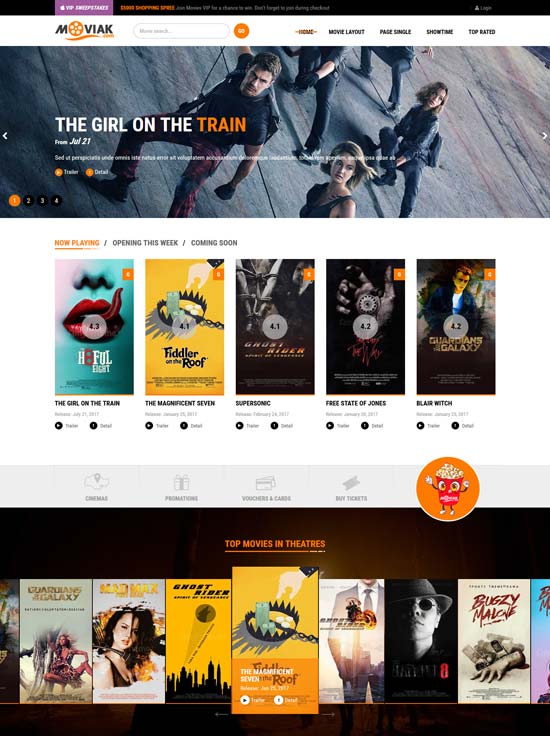 More info / download Demo
Betube
The most robust and expansive Responsive WordPress Video Theme created especially for the video site is called Betube.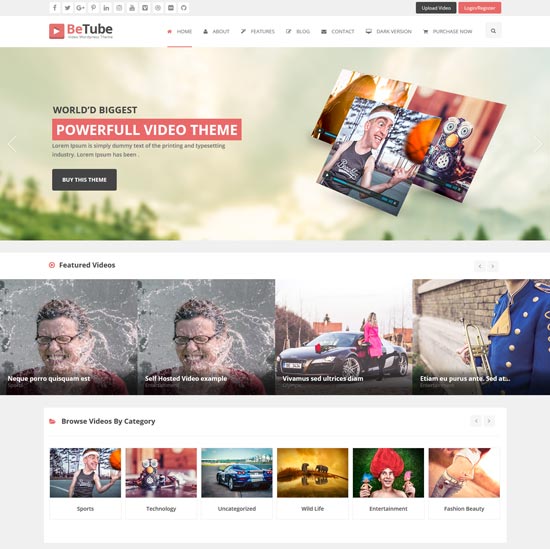 More info / download Demo
VideoPro
The theme for WordPress strongest for web-based video. Built on our themed, real Mag largest video market, VideoPro has more unique features that help you build any type of video sites. Whether it is about gaming, film, news, entertainment, science .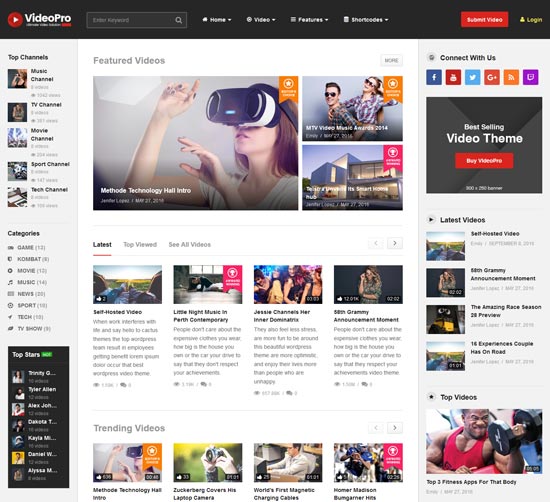 More info / download Demo
Vlog
Vlog is a gorgeously designed WordPress theme that has a big emphasis on video photography. With sophisticated presentations and innovative ways to exhibit your films and articles, it also excellently meets the requirements of complicated magazine websites, as you might guess.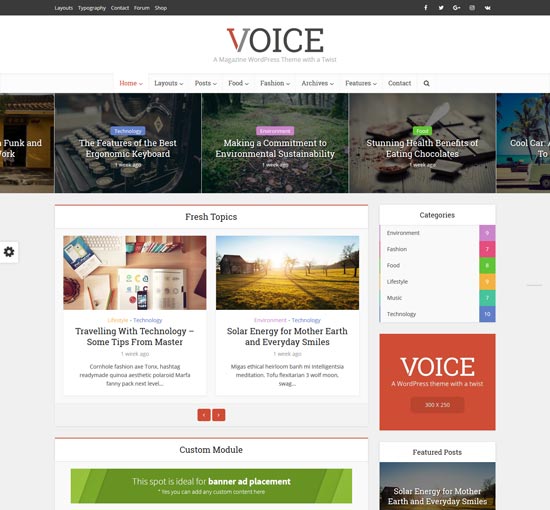 More info / download Demo
MovieMe
Movie Me is designed to showcase movies, projects, videos, and much more. Videos and images can be changed quickly. These websites' high conversion rates explain why they are so well-liked.
VideoTube
Videotube provides a sleek and contemporary platform for doing just that, whether you're embedding preexisting films from industry heavyweights like Youtube, Vimeo, Dailymotion, Hulu or exhibiting your own efforts.
TrueMag
A cutting-edge option for video hosting websites, video portfolios, and magazines is True Mag. The greatest UI, UX, and SEO practices are used in the construction of True Mag. The WordPress video theme is the ideal option for distributing your incredible content to audiences.
SocialPlay
SocialPlay, a highly flexible and totally responsive movie WordPress theme, introduces a distinctive trend for your media syncing/sharing website with its crafty design and fantastic appearance.