Filmic
Filmic is suitable for all creative agencies / companies / teams / personal use, in order to create their own film studio / director center / film production site / vlog and any type of movie site. With a sleek, stylish and modern design, you and your partner (s) no longer need to rely on other sites like YouTube or other web magazines to promote and showcase your own workplace / products. With Filmic, you can have an extra way to showcase your creativity to the world.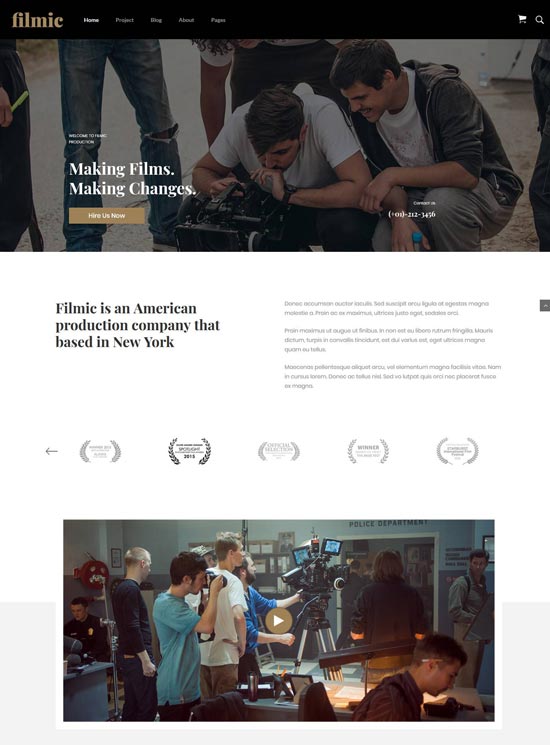 demo more info / download
Silverscreen
A new wordpress theme for filmmakers, movies, and production companie. It come with 9 home page design layouts that perfect for you choosing on your demand.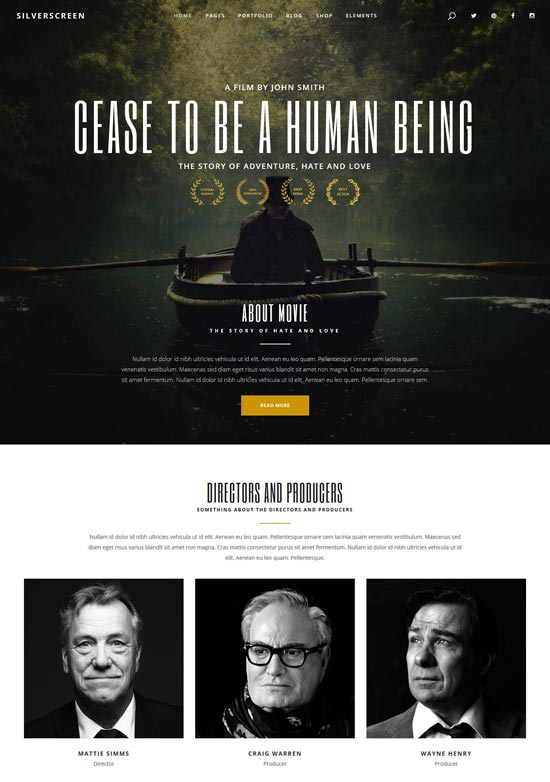 demo more info / download
goWatch
goWatch is a video community & sharing wordpress theme. This theme built-in mega menu, contact form, 12 column layouts, with custom fields, custom posts like video, portfolio, gallery, slider and more, makes it very easy to categorize your content and showcase it in a beautiful way. It is fully translatable and WPML ready, 8 included sliders that can showcase posts, galleries, videos or custom slides, and fully responsive down to mobile.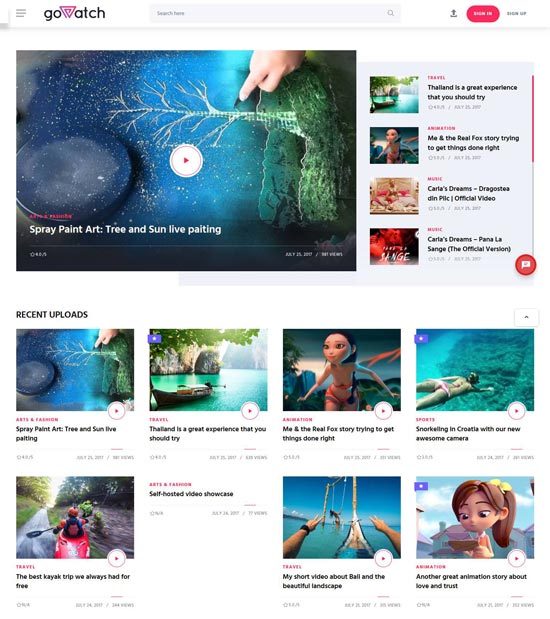 demo more info / download
VisuaFX
VisuaFX is a film video production studio wordpress theme. This theme has a stunning design with a background video and Parallax animation, therefore, your clients will never leave your website. A powerful TM Gallery together with Projects plugin allows you to build a stunning presentation of your video artworks in a stylish manner. You can install it in a matter of few clicks thanks to a well-faceted documentation. Hit the demo to explore the full features list of this video production studio WordPress theme!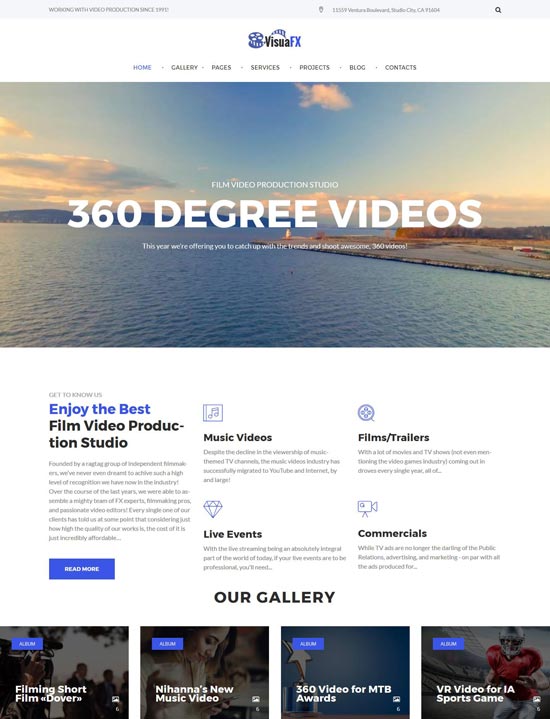 demo more info / download
Circle
Circle is a multipurpose film, video wordpress theme that suitable for any creative agencies, Film Actor, Film Studio, Film Director. It come with 7 beautiful homepage and special functions you can choose source for video, film from Youtube, Vimeo or from your Self Hosted to help you can easy manage your work. And with super clean, elegant and modern design your site will more attractive with customer and perfect to promote yourself, your own work.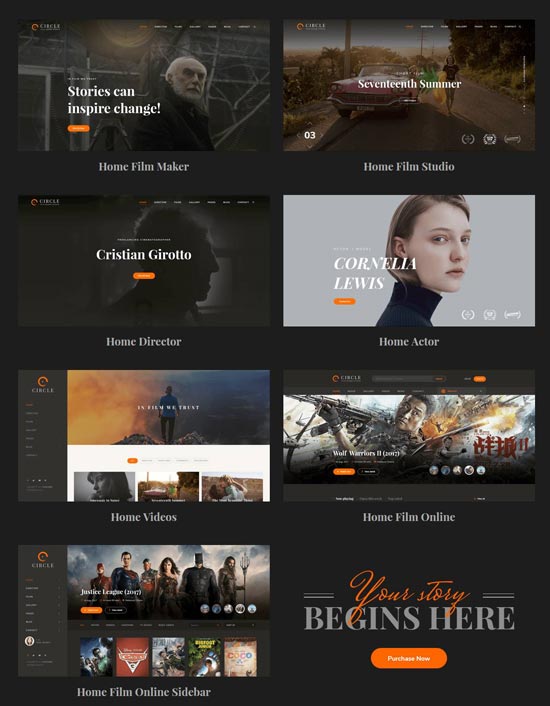 demo more info / download
Vlogger
Vlogger is a professional video & tutorials wordpress theme perfect for Video Tutorials, YouTubers, Online Courses and video blogs. It is easy to monetize every type of video content, from fun videos to professional tutorials.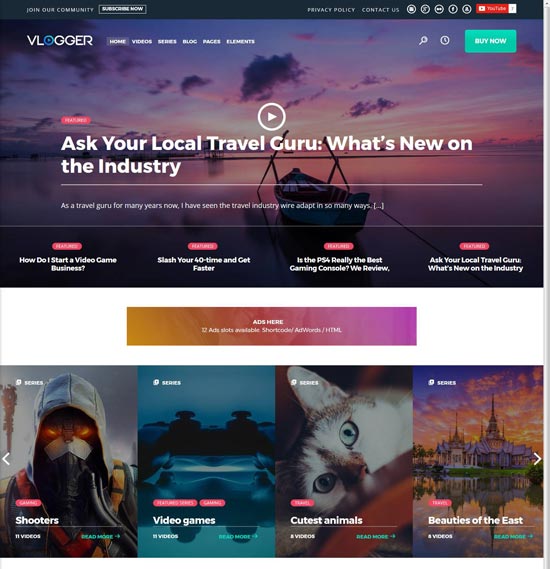 demo more info / download
Huber
Huber is a multi-purpose review theme. It is powerful, interactive, and cutting edge. Huber has a hub system that sets it apart from other themes. Hubs contain a post or a page that has details about a movie. Hubs have tabs for reviews, news, image videos, and forums. Information like reviews, news, videos, and images will display under the tab it pertains to.
Huber has a review system that allows you to assign ratings on posts or pages. Huber enables users to rate movies. You can also assign multiple reviews to each hub and ratings will show up in Google results. This video theme has a release dates section that allows the user to assign release dates and you also have options for filter posts by future dates or specific date ranges. Huber is the best movie template because it has all of these dedicated features that can help you teach your audience about your movie.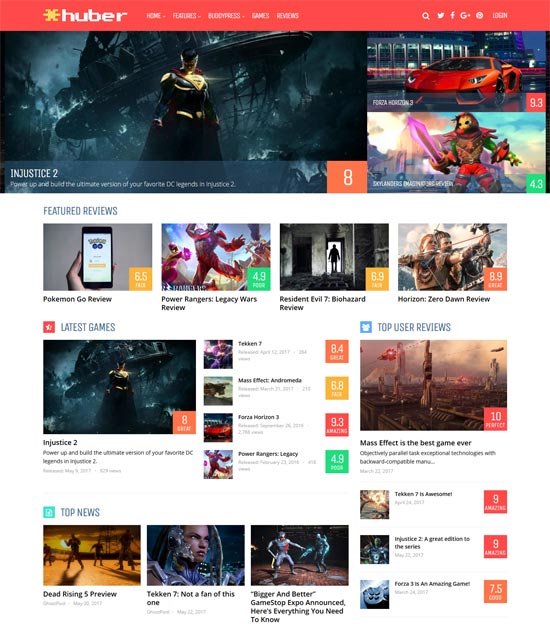 more info / download demo
Viseo
Viseo is another theme ideal for movies. This theme can be easily customized and it has many features for you to use to show off your movie. Viseo comes with many features like Drag and Drop Page builder and you have unlimited colors to pick from. It has built-in audio and video player that supports all devices.
Viseo's premium slider will let you add slide shows. It will be very easy with its built-in slider element. This video theme also comes with demo content so you can your website up in minutes. This is a beautiful theme you can pick for you movie.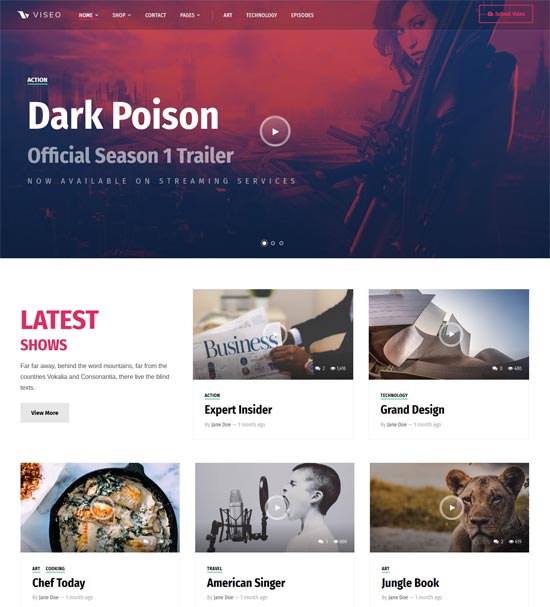 more info / download demo
Videoly
Videoly is a great movie theme and it is very affordable. Right now it is priced at $39. It is a WordPress theme that is perfect for bloggers, Youtubers, and vloggers. With this movie theme, you will have many choices. It comes with nine beautiful templates you can choose from.
Videoly has a page builder you can use to change how your site looks. You also have an admin panel that can help you bring your own style to your site. It comes with a homepage demo feature that will help you inform your audience about your movie. With this movie theme, you have 9 homepage variations you can use.
Videoly also has 6 different hero sliders you can use. The layers and sliders are different from each other and they are customizable. It is a very responsive site even with all the content you will be putting in. You can easily view it on any device and the navigation is also intuitive.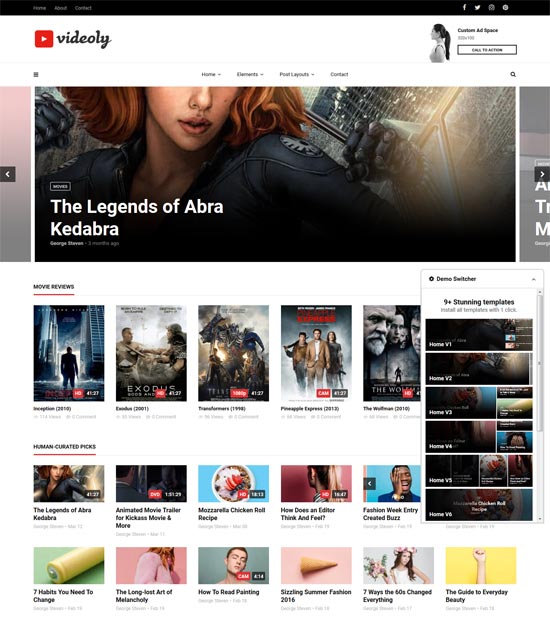 more info / download demo
NineStudio
Nine Studio is very suitable for any creative agency / company / team / person to build their own movie studio / Film Center / Film Production / Vlog sites and any type of movie website can use the WordPress video theme. With a super clean, stylish and modern design, you and your team no longer have to depend on other sites like YouTube or magazines to make marketing for your products or your reputation.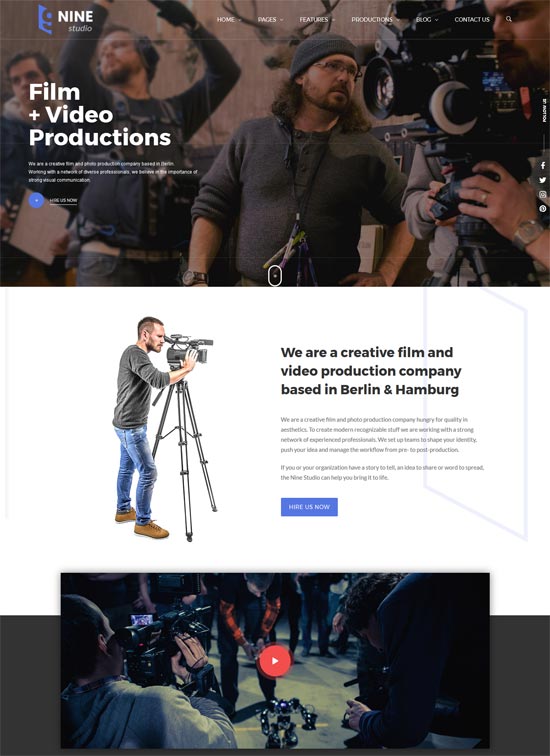 more info / download demo
AmyMovie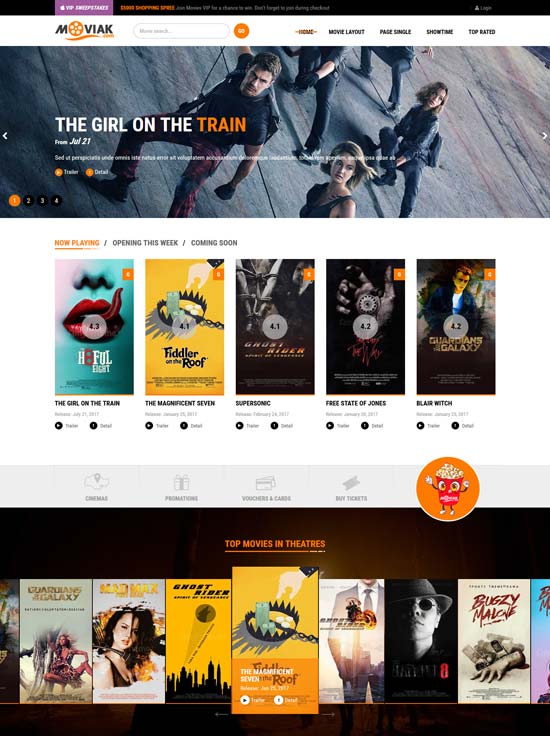 more info / download demo
Betube
Betube is the most powerful and largest Responsive WordPress Video Theme developed specifically for the video site. Betube brings you the latest design trends in the video site with beautiful templates page full-width fixed and oozing with elegance and charm, you will have a video site ground breaking fully functional within minutes of purchase. With more than 10 unique designs Homepage we are confident you will find a design that meets your needs.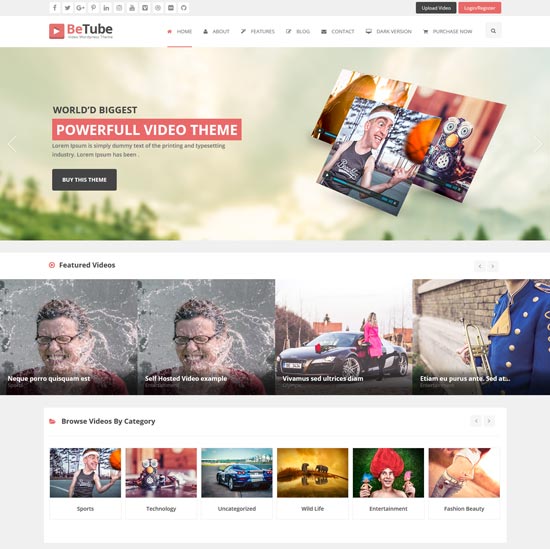 more info / download demo
THEPASSION
The passion is multipurpose movie WordPress theme by working with many clients of the entertainment industry, we made the movie theme that is suitable for official websites of cinema, Movie Studios, the music industry, and our last demo is for video . We included many features so people can use the theme for multipurpose use, eg Blogs, Blogs, official sites, company sites, Magazines, wallet, and other ways.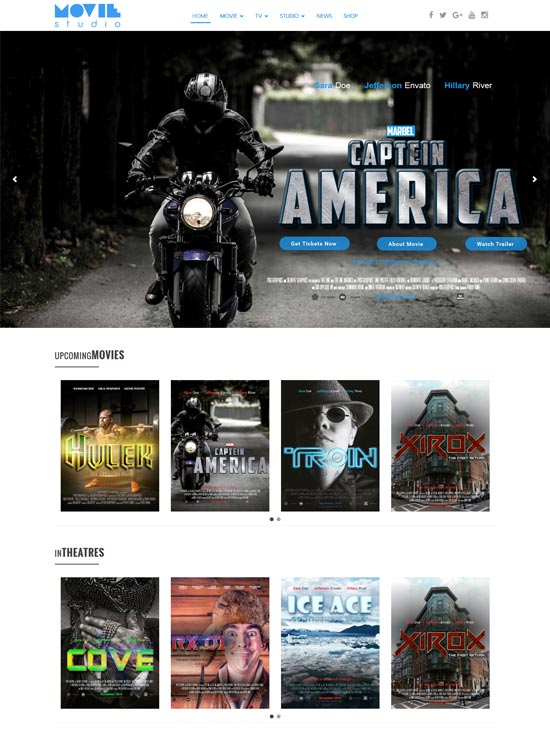 more info / download demo
VideoPro
The theme for WordPress strongest for web-based video. Built on our themed, real Mag largest video market, VideoPro has more unique features that help you build any type of video sites. Whether it is about gaming, film, news, entertainment, science .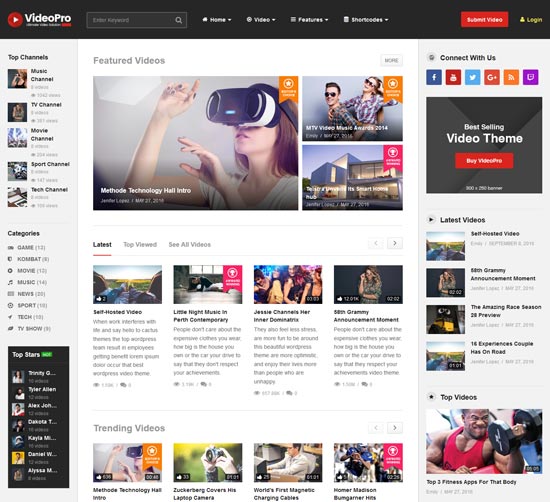 more info / download demo
Vlog
Vlog is a WordPress theme beautifully designed with a strong focus on video photography. It also complements perfectly the needs of complex magazine websites with sophisticated presentations and dynamic ways to present your videos and articles as you can imagine.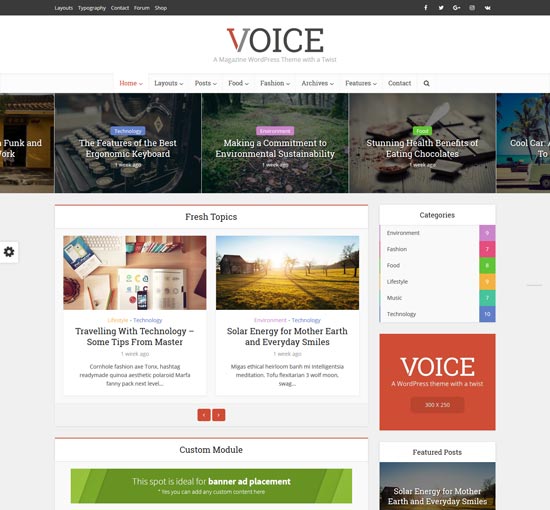 more info / download demo
FilmMaker
Movie Maker is extremely film studio – movie production – video blog WordPress theme suitable for any organization / company / team / creative person to build their own film maker center studio / movie / film production / Vlog site and any site can use the movie WordPress theme video. With a very clean, elegant and modern design, you and your team more have to depend on other sites like youtube or magazines for marketing your products or reputation.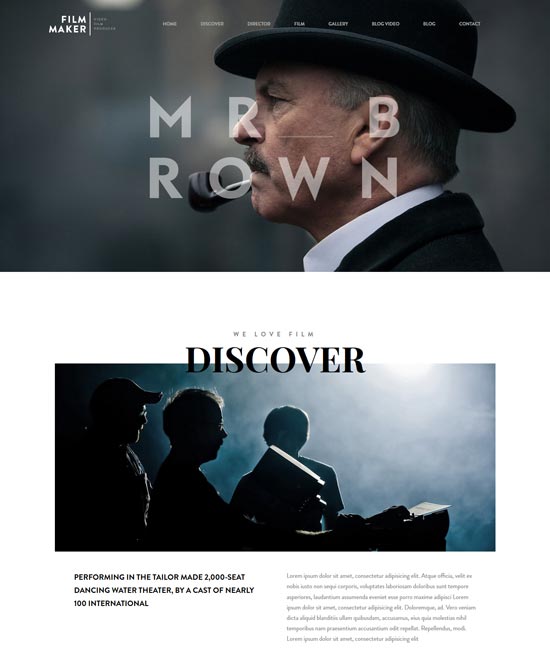 more info / download demo
Moview
Moview is a responsive film/video db & review theme WordPress to create a site similar to IMDb, Rolling Stone, CinemaBlend, TMDB, Rotten Tomatoes or NDTV Movies. Using the theme Moview with proposed extensions allows you to build the movie database with reviews for new and recent movies in theaters, DVD releases and Blu-ray, and classic films. Your site can be a place where everyone will discover new movies, video games, TV shows and music albums.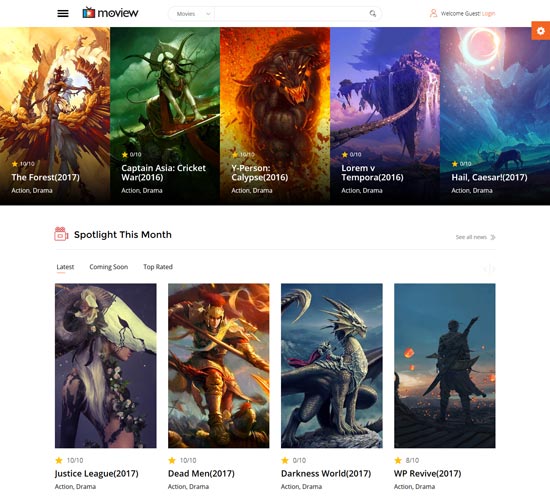 more info / download demo
Videofly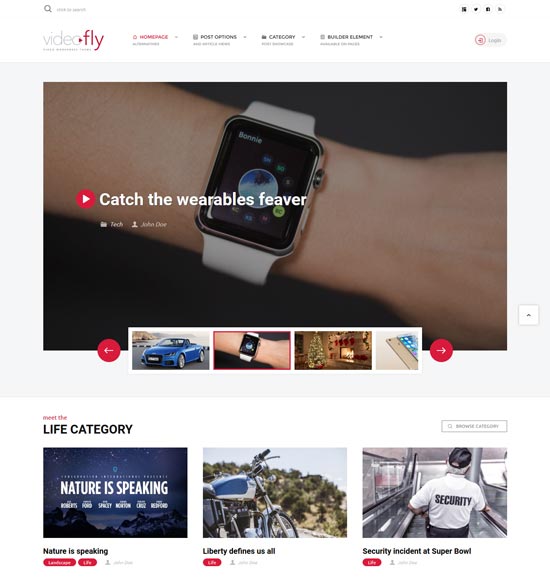 more info / download demo
VideoNews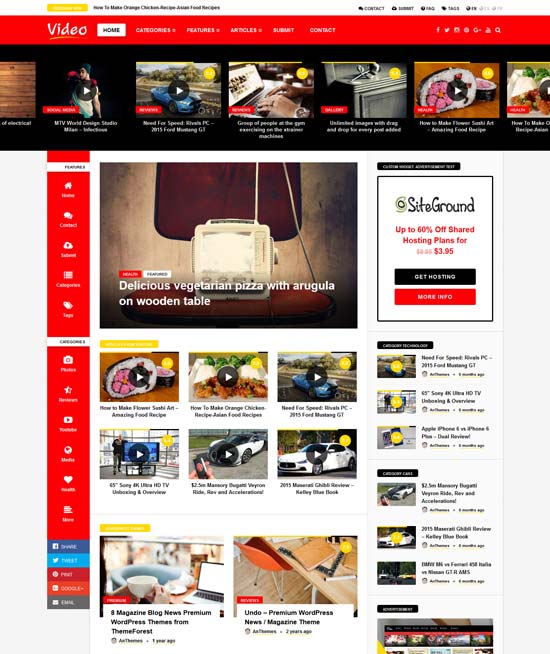 demo more info / download
Slimvideo
VideoTouch
VideoTouch it ultra responsive video WordPress theme with Twitter Bootstrap framework. It features a clean, modern and interesting design, packed with the super powerful TouchSize Layout Builder which offers unlimited possibilities and options. it is best for video theme
Sculpture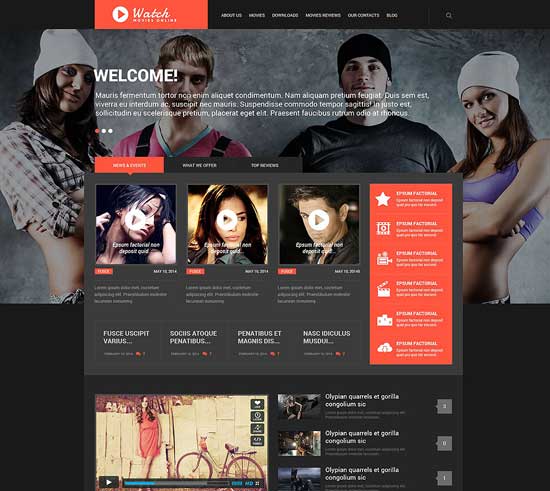 demo more info / download
VYSUAL
VYSUAL is a movie and video WordPress theme for film campaigns and movie marketing (i.e. "Official Movie Site"). This theme utilizes built-in features of WordPress, making it really easy to use and setup
MoviesTrack
The site visitors will watch movies with great pleasure on a site with contemporary responsive design. Movies WordPress Theme will help you start or redesign the existing one to meet your requirements. Its textured black layout is softened with bright full width images in the slider, and white blocks pushing the content in the focus of attention look contrasting against it.
MovieMe
Movie Me is intended for the presentation of films, projects, videos, movies and much more. Pictures and videos easily change. These sites are very popular because they have a very large conversion. All content is used to attract attention to details of the products.
Snaptube
Snaptube is a powerful, feature-rich video WordPress theme that lets you customize a wide variety of features from the comfort of your Dashboard.
Seatera
Seatera is a powerful, feature-rich seat reservation movie WordPress theme which is suitable for any type of cinema, movie promotion, theaters, blogs and movie communities. Seatera lets you customize a wide variety of features from the comfort of your Dashboard.
VideoMag
VideoMag is a Powerful Responsive Video WordPress Themes designed for video magazine, video blog or video portal. VideoMag supports Vimeo, Vine, Youtube DailyMotion, Twitch and self-hosted videos. VideoMag will auto generate thumbnails for the video from pupular video site like Youtube, Vimeo etc and saves it to your server to speed up your page load speed..
VideoTube
Have you ever wanted to collect and share your favorite videos online? Interested in uploading your own work to broadcast across the web? Videotube is a clean video WordPress theme for video hosting website!
Whether you're embedding preexisting videos from giants like Youtube, Vimeo, Dailymotion, Hulu …(Supported Video Sites) which is supported oEmbed protocol or showcasing creations of your own, Videotube offers a clean and modern platform to do just that.
TrueMag
True Mag is an advanced solution for Video hosting websites, Video portfolio and Magazine. We build True Mag with the best practices of UI and UX as well as SEO. This video WordPress theme will be the perfect choice to deliver your amazing content to viewers.
SocialPlay
SocialPlay, With crafty design and magnificent look, this super flexible and fully responsive movie WordPress theme introduces a unique trend for your media syncing/sharing website. If you don't want to upload miscellaneous audio and video files directly to your own website, it is just fine! Simply, upload media files on any of the gigantic media sites, viz. YouTube, Vimeo, DailyMotion, Blip.tv, uStream, MetaCafe and SoundCloud and play the same on your own website!