Do you run a web design studio or work as a freelancer in the field? Then, take your time and read this article. It will show you the way to gaining more credible online image, growing your customers list, and increasing your income.
We will talk about one of the multiple TemplateMonster's projects. It's their Web Studios Catalogue.
Do you know what is the best thing about Web Studios Catalogue? Both web developers and their customers can benefit from it. In fact, it is aimed to help them find each other and start to cooperate.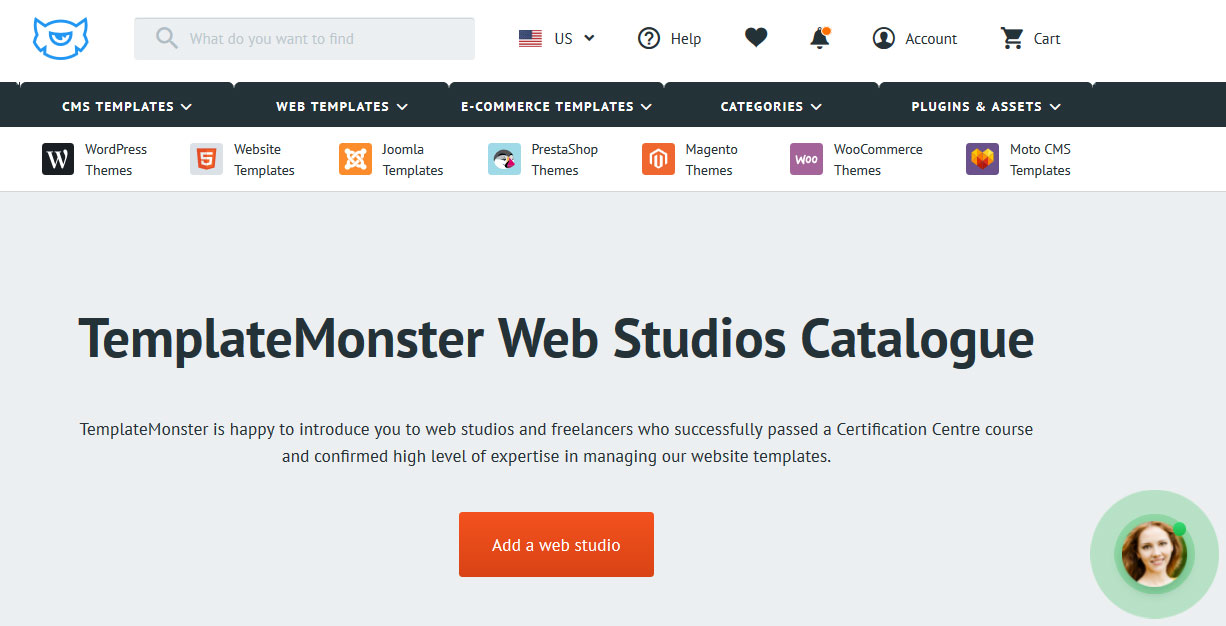 For example: an entrepreneur has purchased a beautiful ready-made design for their brand new online resource. However, the customer gets upset because they have no idea of what to do with it next (we mean template customization and project launch). As a rule, all templates are delivered with extensive documentation. Besides, lots of text and video tutorials can be found on the Internet. But not all businessmen have time and desire to study all these. All they are interested in is just their up and running website, built and launched quickly and cost-efficiently. That was the reason why they have chosen a template instead of custom design.
What do you think they are starting to do? Yes, surfing the Internet in search of some decent local web design studio or freelancer who will settle the issue.
But that's not an easy task. There are many web design studios and gifted geeks ready to offer their services out there. But how would you know that they are able to meet your requirements? That's where TemplateMonster Web Studios Catalogue becomes really handy.
When people see a web design company located near the place where they live on the list of developers recommended by one of the industry leaders, it appears much more trustworthy to them.
Would you like to get on this magical list? Well, then, read on and know more details about the project.
Firstly, TemplateMonster Web Studios Catalogue includes only those web studios that have successfully completed their certification and proven to be real experts. It is requisite for the studios to be able to work with company themes.
That's what Web Studios Catalogue is about. Since it features only certified agencies, customers can fully rely on it and they do this willingly.
We will come back to the certification process a little bit later.
The next huge advantage of Web Studios Catalogue is the fact that it allows all TemplateMonster's partners and freelancers get a steady flow of site development and theme customization orders from company customers. The competition on web development market is tough, so it's a serious edge.
TemplateMonster is a large company. They have nearly 46 000 items in stock. They offer WordPress, HTML5, Joomla, PrestaShop, Magento, and a number of other templates created for the most popular engines.
Because of that, TemplateMonster has equipped Web Studios Catalogue with advanced filtering options. They give the users the possibility to search for a web studio in their region or somewhere nearby.
What's more, different studios offer different kinds of services, so the company also added an option of filtering the catalogue by CMS.

The filtering is very usable. For instance, the owners of Magento themes from, say, Los Angeles, will be shown a list of companies working with Magento sites in that specific area.
The customers will also be able to see a list of all CMS agencies work with at the Web Studios Catalogue. This is especially serviceable when they acquire several different templates and want to launch more than one project at a time.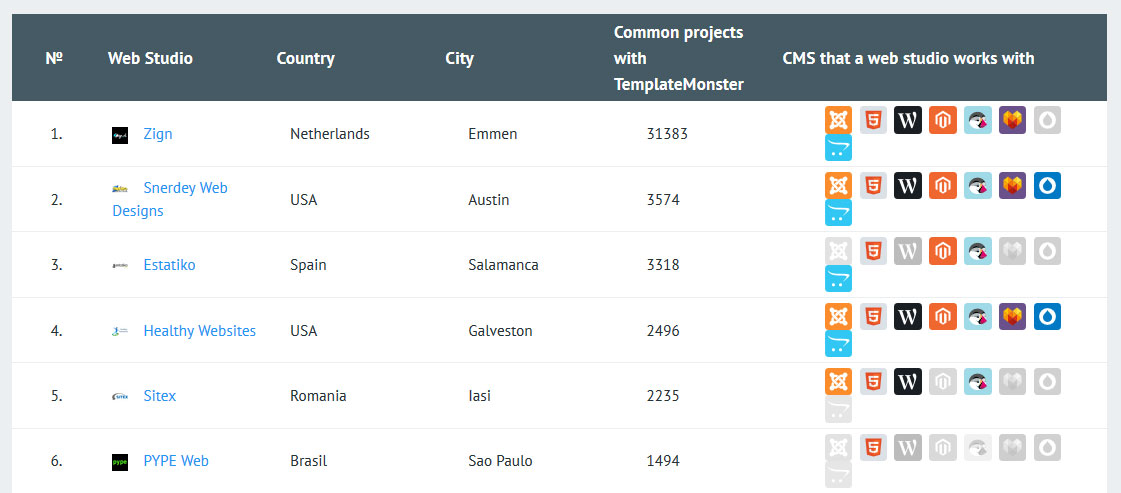 The customers can take a decision whether to contact one web design studio that works with WordPress, Joomla and Magento (for example) or send a request to 3 different agencies.
Are you ready to read about the next cool feature of the catalogue? It is the rating of web design studios. The rating is based on the number of successful projects completed by the agency with the help of TemplateMonster's themes. I.e.: the more experienced agency is, the higher rating it has.
As you see, TemplateMonster provides web studios with a brilliant opportunity to expand their product market, attain more credible online image, find new clients, and earn more money respectively.
But that's not all. In addition to being stated on the chart, each partner gets a separate profile page. There they can share more detailed information about their services, staff, contacts, a list of CMS they work with, pricing plans, and many more.
An agency profile page contains TemplateMonster's feedback about its activity and its rating as well.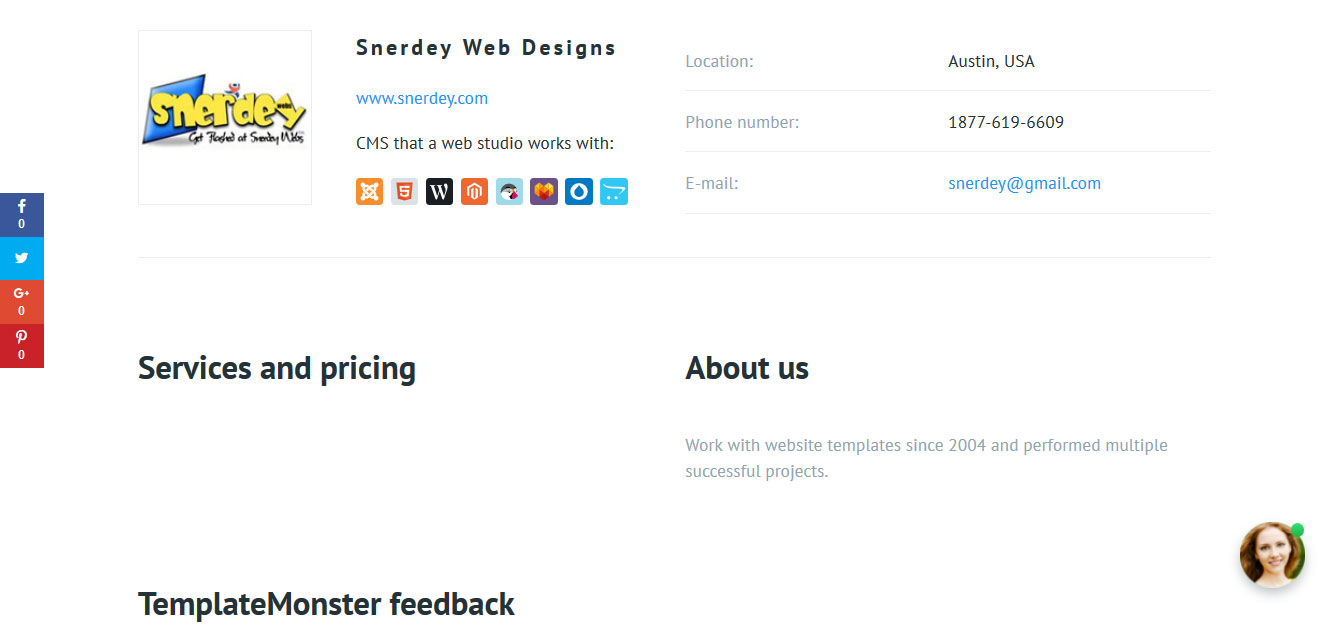 This information will help the customers choose the best web design agency according to their requirements.
The customers, who are ready to place an order can use a comfy built-in request form. This form allows the customer contact a web design agency, give them a brief review of the services they would like to order, project deadline, budget limit, etc.
Well, we guess now you know pretty much of it. We have told you about all major points of the TemplateMonster's Certified Partners Catalogue.
Here is a short video. It will make things even clearer for you.

Would you like to be added to Web Studios Catalogue after everything read above? Now we'll tell you how to get there. It's simple and absolutely free.
You can get there via TemplateMonster Certification Center.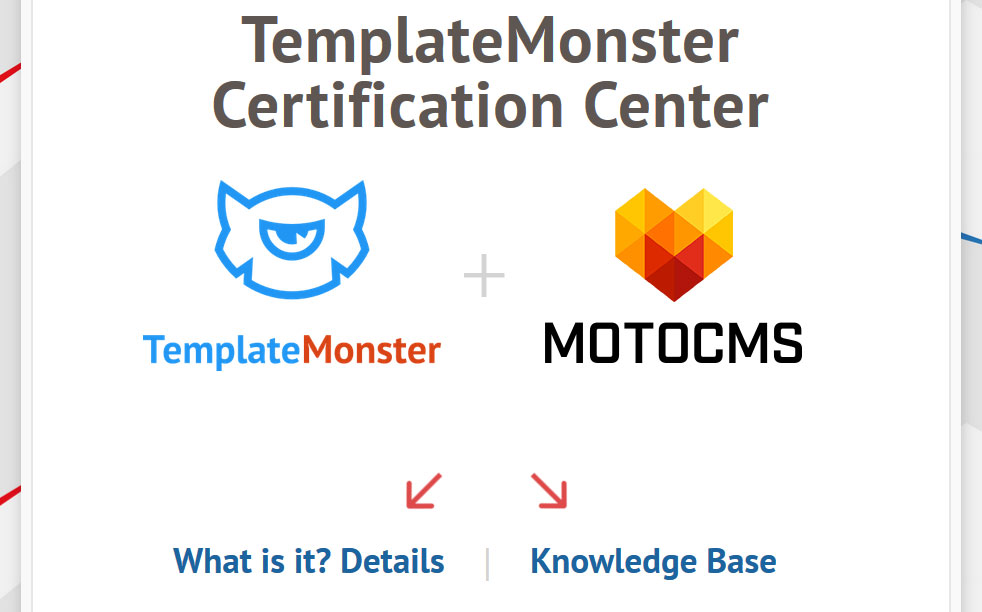 Please note, only the agencies that successfully pass courses and certification test get a right to be added to Authorized Web Studios Catalog.
TemplateMonster prepared tutorials and tests for the most popular website creation CMS: WordPress, Joomla, MotoCMS, and others.
Who can get benefit from the project?
Web Studios
Freelancers
Anyone who wants to learn how to build websites
What will you get after finishing classes?
Once you pass courses and certification test, you receive official certificate from TemplateMonster company, which confirms your skills and knowledge of each particular CMS.
The certificate will look great on your office wall or among your portfolio works and will weigh heavily in the negotiations with the customers.
If you are a skillful web developer, you can go straight to the test without learning the lessons.
Study, learn new CMS, and remember that TemplateMonster team is always here to help and support. Why not? The service won't cost you a dime.
Conclusion
Dear entrepreneurs, use Web Studios Catalogue to find a reliable web design agency that will help you get started with your web resource in the short run.
Dear freelancers and web studios, pass the certification process and get listed on the chart, become TemplateMonster partners. You'll notice that reaching out the new clients and building your customers base will become much easier for you after that.
Please share your thoughts as to this offer from TemplateMonster. What benefit can it bring to your business? Are you going to study and pass the quiz? Would you like to be listed in the catalogue? Please, leave your feedback at the comments section. It will be much appreciated.