Shine Your Boots! Bootstrap Hornbook Twitter Bootstrap is a set of free tools for creating websites and web applications. Twitter Bootstrap includes HTML and CSS base design templates for typography, web forms, buttons, labels, navigation units, and other components of web interfaces, including JavaScript extensions. Bootstrap uses the latest developments in the field of CSS and HTML, so you must be careful to support older browsers.
But What's Exactly Twitter Bootstrap?
The fact is lots of people do not even know why they need Twitter Bootstrap, what it is, and how to use it. To demonstrate the most of the opportunities Twitter Bootstrap has TemplateMonster team prepared a cute interactive guide about Bootstrap framework. Below you can see the preview or the static version of the guide, click it to see full version.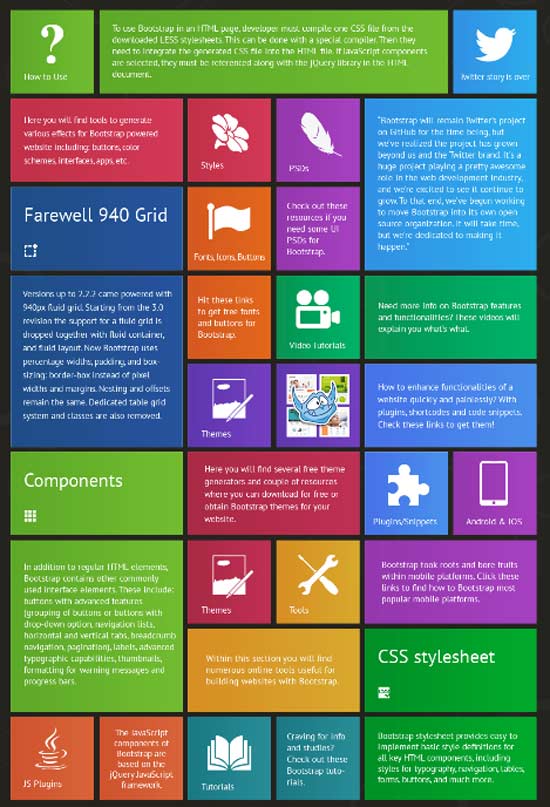 Why Twitter Created Bootstrap?
Lots of people involved into designing ask this question, here's a direct answer from its father – Mark Otto:
I made Bootstrap because I wanted to help awesome people make awesome things. More than anything else, that's entirely why Jacob Thornton and I work on Bootstrap whenever we can. It started off as a resource to help make better looking and more usable internal tools at Twitter and all along the development process, we knew others could use this to do cool shit, too. Since Twitter is a huge proponent of open source tools, we wanted to give back to the community with this one, too. I had tons of engineers pushing me to open source it from the very beginning. Honestly, the only reason it finally got released when it did was from the help of Jacob pushing me super hard on it. There is no strategic goal here. We work on Bootstrap almost exclusively in our spare time (nights and weekends) in addition to our normal full-time roles at Twitter. This isn't an issue of mass plagiarism, either—we released it knowing folks would take it and use it. After all, that's what it's for 🙂
Here link to see twitter bootstrap examples
*** As you can see from the screenshot below the guide was given the look of Windows 8 Metro interface. The choice of the looks was quite straightforward, this interface is extremely intuitive and easily comprehensible. So check out the interactive guide on Bootstrap and don't forget to share it with your friends across social medias (such as Facebook, Twitter, Google+, Pinterest, StumbleUpon). Also the Copy button at the bottom of lets you save the code of .JPG version to incorporate it into your web page or somewhere else.
If you would like to buy website templates or WordPress themes using Bootstrap tools please looking out link bellow:
YellowProject is perfect solution to present your business on the web. This multifunctional responsive template provides several layout options to take care of any possible screen resolution. Be sure it will fit any viewing device.
demo | more info / download ($15)
Touch Twitter Bootstrap – Responsive WP Theme. Unlimited combinations on any page. Very powerful theme which suits both, creative and business users with no programming background, as well as advanced developers.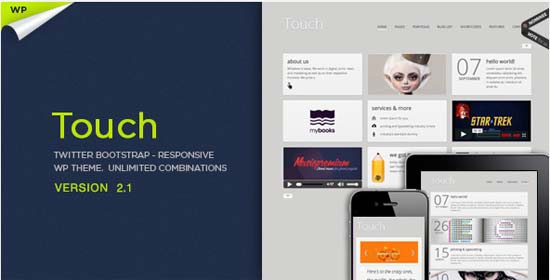 demo | more info / download ($40)
Frenzy Responsive Bootstrap Template is clean & flexible HTML front end template based on Twitter Bootstrap framework, Frenzy is suit for any blog, magazine and news site. Easy to customize and deploy, lot of features.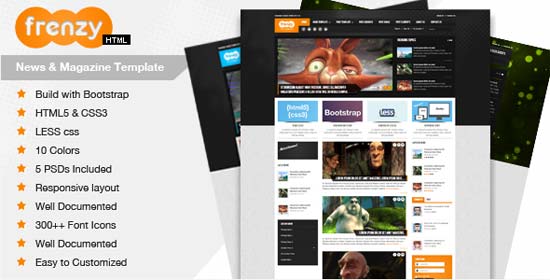 demo | more info / download ($15)
Skifi is all new modern style responsive Drupal 7 theme loaded with no.1 slider on planet, the Layerslider 3 and twitter bootstrap 2. It has plenty of theme options to make it your own crafted theme.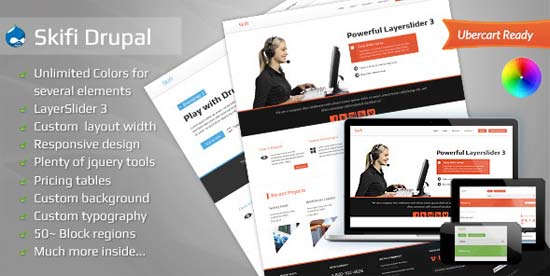 demo | more info / download ($45)
Fully Responsive Layouts and Bootstrap Integration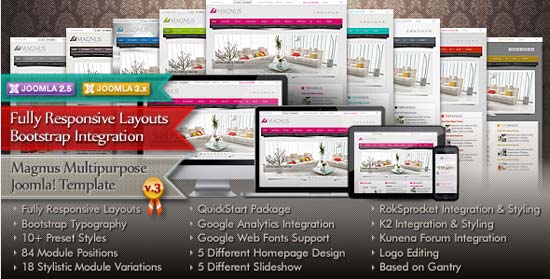 demo | more info / download ($45)