If you are one of the 100 000 people who decide to build their website on WordPress daily, this post is going to help you make your website look amazing.
Is WordPress really that popular? Yes, and it's easy to understand. WordPress originated as a blogging platform, but quickly became one of the most popular content management systems on the web, powering websites of global organizations like CNN and National Football League. No wonder – WordPress is fast, easy to use even if you're not a pro, and search engines love WordPress-powered websites. Besides, there is a variety of ready-made designs for WordPress that will make your website look amazing and hardly take any time to buy and install.
TemplateMonsterIs the Home of Best WordPress Themes
No matter what field you operate in, you'll get a great match of a design theme on TemplateMonster.com . This is the number one location to get a ready-made, but fully customizable WordPress theme, with over eighteen hundred designs for this CMS.
Over the 10 years that TemplateMonster has been on the market, it has accumulated the largest collection of commercial designs. Buying a design template from TemplateMonster, you get a lovely customizable theme with licenses on all images in the demo, plus 24/7 support.
Cherry Framework – Based Themes Are Even More Flexible and Simple
Some of the themes we selected for this post are based on Cherry Framework, a unique framework by TemplateMonster. It is absolutely free and very easy to use, with regular automatic updates. The power of Cherry is that it allows creating even more flexible themes that are fully responsive (adapt to the screen size of any mobile device) and easy to modify according to the needs of your business.
"Clean and White" Designs Are the Popular Trend
Remember those ridiculous web designs of the previous decades, crammed with flash animation, gaudy colors, and ComicSans font? Probably they are the reason why so many people today are typing in the word "clean" as they search for a web design template. In this post, we have selected 25 white, clean designs with a lot of space that will make your WordPress website a worthy competitor to Apple's and Google's. Plus, most of these will look great to mobile users! So let's take a look and pick the best clean design for your business and your website.
White
White – Multipurpose Responsive WordPress Theme is a fully configurable and easy to use responsive WordPress theme with a lot of great features. It is the ultimate and most professional way for you to present your portfolio or the very best starting point for your own creative website.
White is fully responsive – resize your browser window to see it in action. All the layouts are built with responsive design in mind. It works well on desktops, tablets, and mobile devices. The template is perfectly adapted to various screen sizes, and its attractive fresh design makes it look great.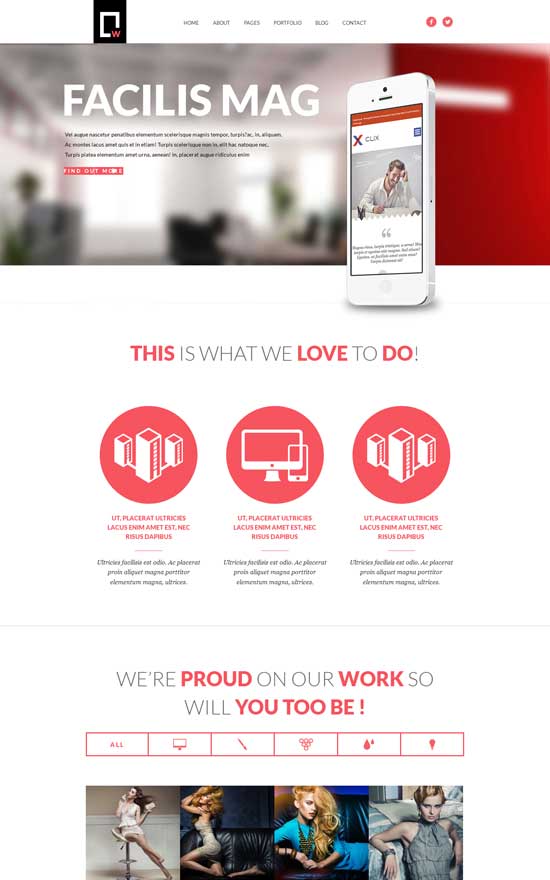 demo more info / download
WHITE – Creative One Page Theme
WHITE is a One Page Creative WordPress Theme and can be used for Personal Portfolio, Creative Agency, Designer Portfolio and more. Template has a universal design, it thought every detail and animation effect. Its just as easy to customize to fit your needs, replace images and texts.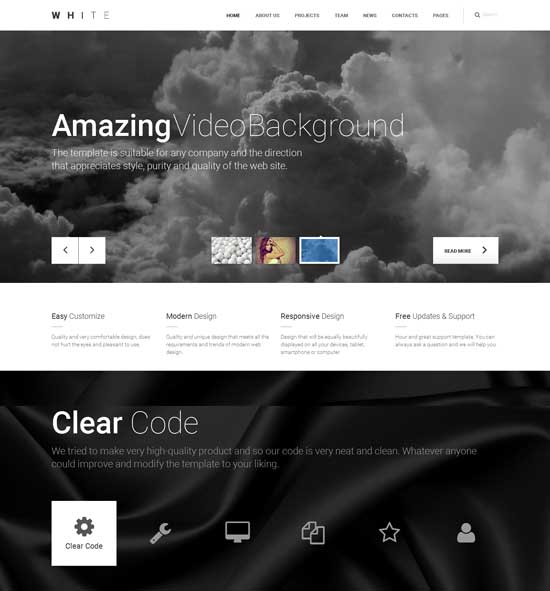 demo more info / download
Free Theme White Paper
It is a free template White Paper created for WordPress CMS, one of the most popular blogging platforms. Light, easy-to-use, functional template White Paper is perfect for personal blogging.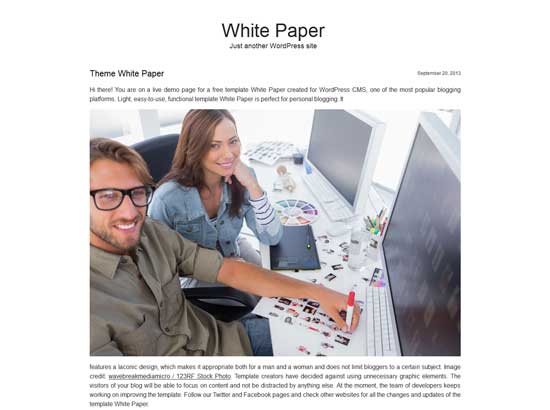 demo  more info / download
Creative Business
This design looks fresh and clean, using lots of white, black-and-white images, and some cyan accents. Nice fonts and social media icons add a creative touch to it.
Colorful Computer Services
No fancy fonts, but the basic red, green, blue, and orange on a white background make this design look really nice. This responsive theme is perfect for a computer services company, but easily modifiable for just about any business.
Clean & Soft
Softly colored – both the coral color of design elements and the shade of photographs used – this responsive design is a treat to the eye.
Traditional Business
Using red, black, and white, this design is perfect for a corporation with traditional values. Being WPML ready, it is a great choice for a multinational business that needs a website in several languages.
Clean Corporate
Stylish and reserved, this design is great for a serious business with great ambitions.
Stylish & Neutral
The simple black-and-white WordPress with a big lightboxis great for showcasing interior design, architecture, landscape design projects. It's also fully responsive and looks great on mobile devices.
Neutral Business
This design has a pleasant neutral background, bright red details, and an emphasis on the lightbox. It is fully responsive and good for nearly any business.
Classy & Reserved
Another great black-and-white template with color accents and some handy elements, like a sign-up form and customer testimonials on the home page.
Classic Colors
Using soft, classic colors in the header menu, this responsive WordPress theme looks clean, but not blank.
Clear & Slick
This clear white design for WordPress uses a prominent lightbox and unconventional fonts, which make it neutral and fit for any business, but also give it some individuality.
B&W Business
This responsive design theme looks classy and reserved, with a home page that is pretty information-rich. With the right images, this theme could work for almost any business nicely.
Light Weight
This light and spacious design is perfect for a website on diets and healthy eating. Colorful images in the lightbox look especially vivid on the white background of the theme.
Clean & Professional
This responsive theme looks fresh and clear, using light and cold shades.
Architecture & Construction
This WordPress theme uses neutral gray shades with dull red details, and the accents in it are on the impressive black-and-white photographs and original fonts. The design is great for an architecture- or construction-related business.
Fresh & Clear
This responsive theme looks fresh, with a lot of white space, light photographs that fit in the design nicely, and light cyan accents. It is pretty neutral, and could be a nice choice for a variety of businesses.
High End Architecture – Clean and Glossy WordPress Theme
This template is perfect for an architectural company, with an elaborate lightbox that showcases black-and-white photos of their previous work.
Clean Portfolio – Bootstrap Cherry FrameworkWordPress Theme
This responsive design theme is generous with white and is a perfect choice for a creative portfolio.
Clear Gray – ResponsiveWordPress Theme
This design theme, based on Cherry framework, is great for big-resolution screens (which is one of the latest trends), and uses subtle white and gray along with prominent, colorful images.
Creative Studio – Original WordPress Theme
This clean theme has an original image grid that can be used to showcase projects of a creative studio.
Delicious Pastel –Fully Responsive WordPress Theme
This cute theme, based on Cherry framework, uses pastel colors and pretty fonts, creating a sweet and likeable design. This can be a good choice for a variety of businesses, from a party planning agency to a hand-made cards store.
Global Corporation – Bootstrap Cherry Framework Theme
This WordPress design looks fresh and clean, and can be used for a beautiful corporate website.
Pretty Kitty – Responsive WPML Ready WordPress Theme
This theme, based on Cherry framework, looks clean and nice, with bright custom-designed graphic elements and lovely photos that make it a great match for a website on cats and other pets.
Bright & Techy – Cherry-Based WordPress Theme
The combination of white, black, and bright colors make this responsive theme look clean and techy.
Delicious Beer –Responsive Bootstrap Cherry Theme
The theme will look great on a website of a brewery or any other business, related to beer, with the gorgeous images it uses. On the other hand, with the right images the theme can become perfect for any other business.
Cinema – Cherry Framework WordPress Theme
This responsive design theme is just made for a movies-related website. It is clean and white, but information-rich.