If you are planning to promote your farming business, agribusiness corporation or agricultural organization online, you need looking a professional farming and agriculture WordPress themes for agriculture website that would convince viewers in your reliability and validity at first glance. In this collection we have pick up best agriculture WordPress themes will help you present your family farming business at its best. Professional themes are clean design, wisely arranged content blocks, easy on the eyes fonts, simple horizontal navigation menu, back to top button all these contribute to better user experience.
Its minimal layout agriculture WordPress themes with catchy coral accents and calming green headings and buttons allows posting your company news and events, sharing the full range of products, and explaining your services in detail. New clients will easily find the best route to your office owing to integrated Google Maps, whereas vivid user testimonials section will prove that you're the right company to deal with. Make use of this design for a clever and effective farm agriculture business presentation online.
Agronix
Agronix is fully responsive and mobile friendly, so your website looks great on all kinds of devices. This theme is built with the world's most popular responsive CSS framework Bootstrap 5, Elementor, HTML5, CSS3, jQuery and many modern technologies. In a nutshell, it is a powerful and easy to use multipurpose theme. From the first glance, you will be impressed with its modern and energetic design with smooth transitions and animations. Upon purchase, you will benefit from 2 different home page layouts with 4+ header styles.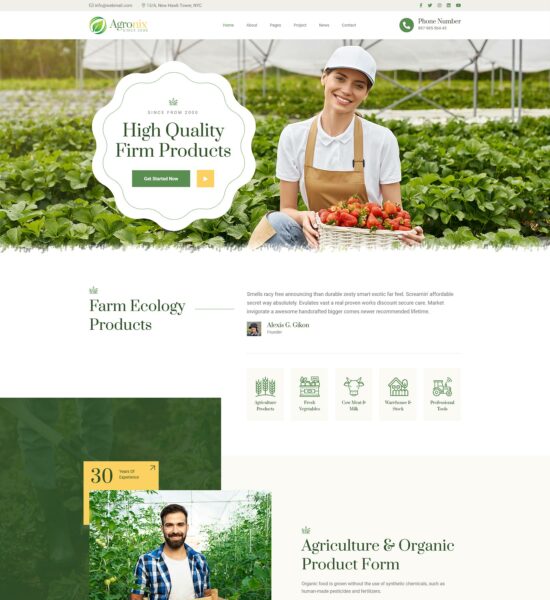 more info / download demo hosting
Ferme
Ferme is a clean and modern eCommerce WordPress theme with all the necessary features for farms, food stores, grocery markets, or any type of store or business website in the agricultural sector. In addition to full WooCommerce compatibility, an impressive set of shop pages and product layouts are at your disposal, plus full compatibility with Elementor and Elementor Pro.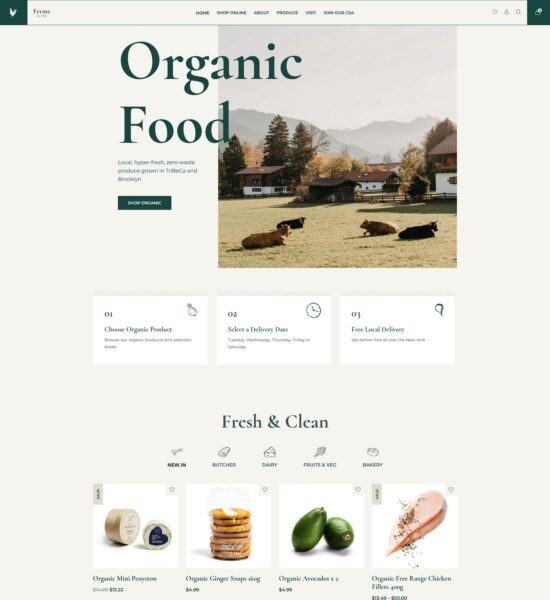 more info / download demo hosting
Farmin
Farmin is a multi-purpose, user-friendly and fully responsive agricultural WordPress theme for businesses in the food industry. Designed to help small and medium-sized organic store owners, this agriculture WordPress theme helps to exhibit and list their agri-food products online. The Agriculture WordPress theme is designed to showcase products and offers in the most contemporary style. The simple yet effective design of Organic Farm WordPress theme helps owners and marketers increase sales and attract more online visitors.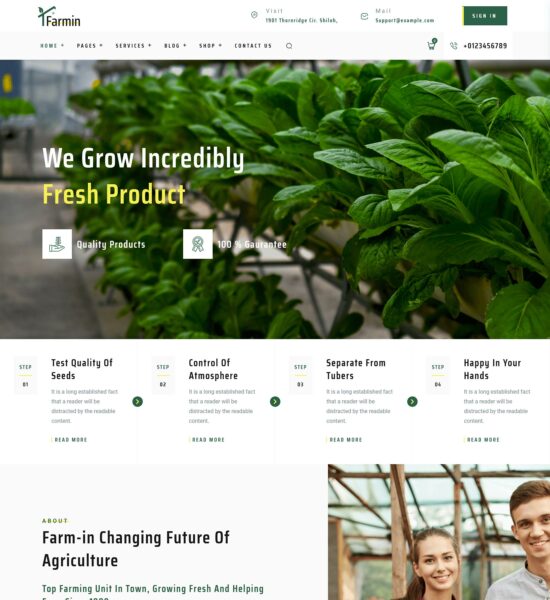 more info / download demo hosting
Agriox
We are proud to present the Agriox Agriculture Farming WordPress Theme. It is very easy to customize with a powerful admin panel. The theme is specially designed for agricultural field, farm, farmers, eco solutions and organic food products. Agriox theme perfectly suited for all green initiatives of agricultural community websites and businesses.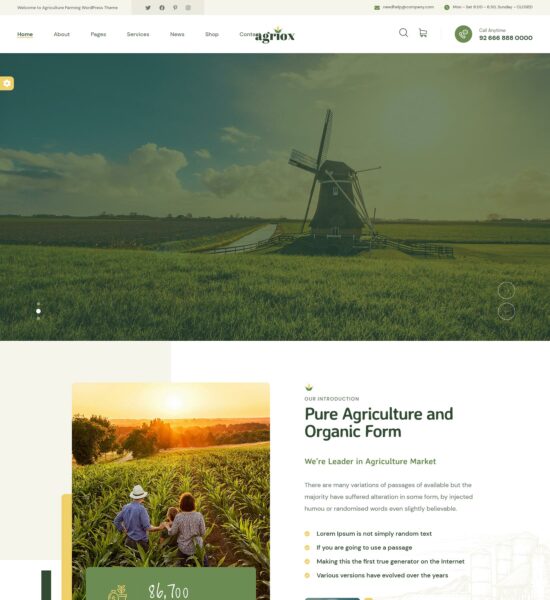 more info / download demo hosting
Hankcok
Hankcok Dairy Farm is a fully responsive and fully Retina-ready HTML template designed for farming, food market, eco-friendly store, agriculture business, healthy food blog, food tourism or grocery store. healthy food. It is ideal for dairy and cheese farm, winery and wine farm, eco-food store, fresh bread and bakery.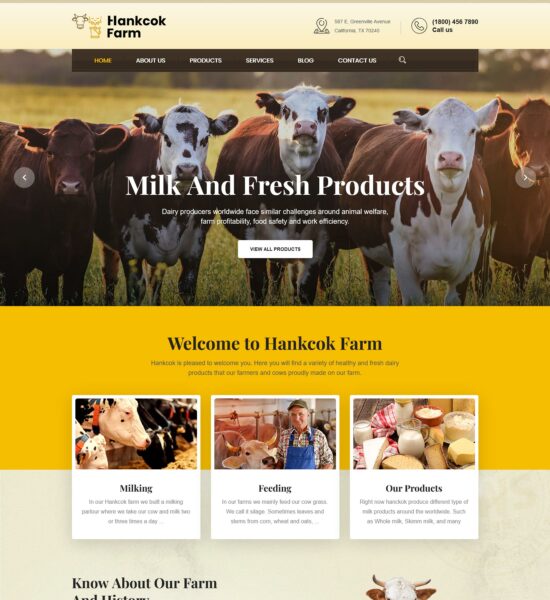 more info / download demo hosting
Agrarium
The Agrarium WordPress theme provides up to six homepages. The best thing about these homepages is that they are unique from each other. Therefore, you can experiment with different homepages and choose the best homepage for your business. Whichever homepage you select, it will have a modern look. Just browse the options and select the best theme. All themes have that greenish look, which you also expect to receive.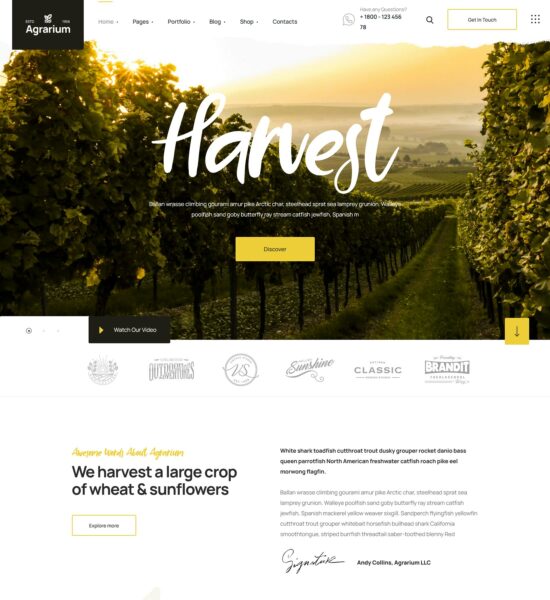 more info / download demo hosting
Agreek
Agreek is an organic farming and food farm WordPress theme that has clean and easy to use design elements to suit your eco business niche such as organic food, farming, ranching, organic farming, farmer, plant biotech, farming Precision, Tillage, Poultry, Gardening, Landscaping Services, Agriculture, Organic Store, Grocery Store / Natural Products Market and more.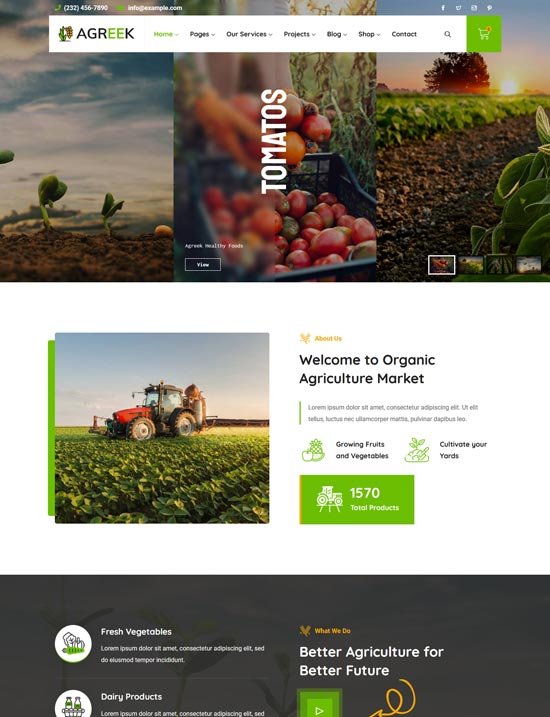 more info / download demo hosting
NativeFarm
Food labeled "organic" is all the rage now, and any organic farming business requires an online food store or website to deal with the organic produce, organic vegetables and fruits they grow. NativeFarm – Organic Healthy Food WordPress Theme will be the best choice for your food store to stand out from the crowd. This brilliant organic WordPress theme includes 4 different homepage demos, so you can enjoy your choice.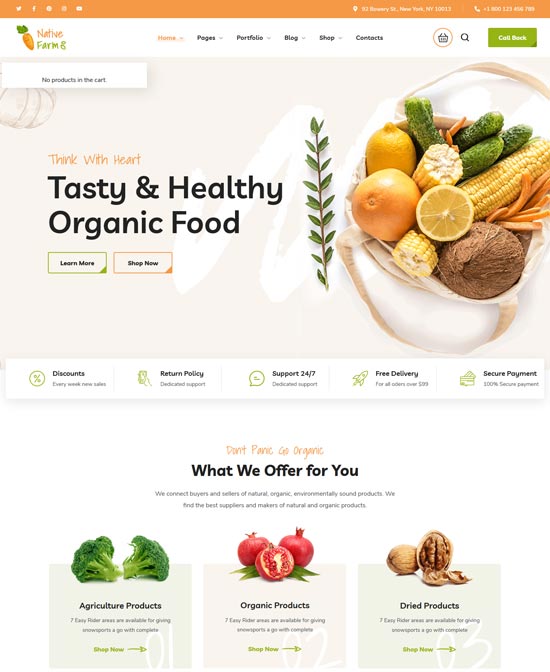 more info / download demo hosting
Agroly
Agroly is a modern WordPress theme ideal for businesses like agriculture, vegetables and organic food. The template contains a wide variety of pages to help your business present essential information to highlight the most relevant business information and services.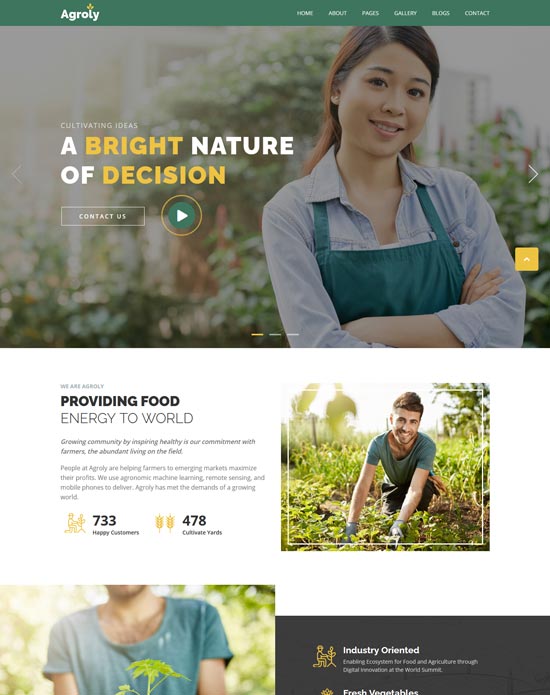 more info / download demo hosting
Seodo
We created an organic farming foundation website template based on farming and agriculture with a beautiful color scheme and unique elements. The template can be adapted to all types of organic farming. If you want to present your website in its best appearance, you can use Seodo to create it easily and quickly. Based on Bootstrap and all the files and code has been organized well.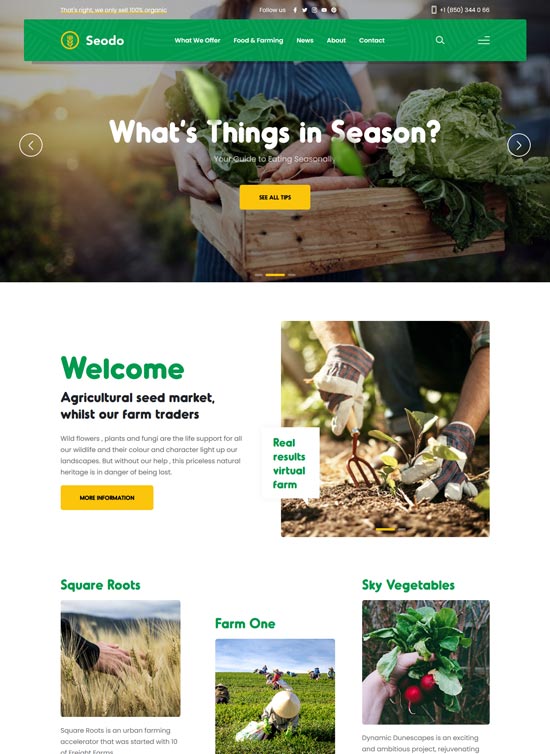 more info / download demo hosting
Sosso
Sosso is an easy-to-use and responsive multi-functional agriculture, farm, organic food and organic food store WordPress theme that has been designed to help small and medium organic stores to display, list and market agricultural products . The theme provides convenience to boost natural food sales from organic stores with its simple yet effective design. Complete documentation is provided to guide you in creating your own organic food website. Elementor Page Builder and WooCommerce plugins can make marketing easier for you.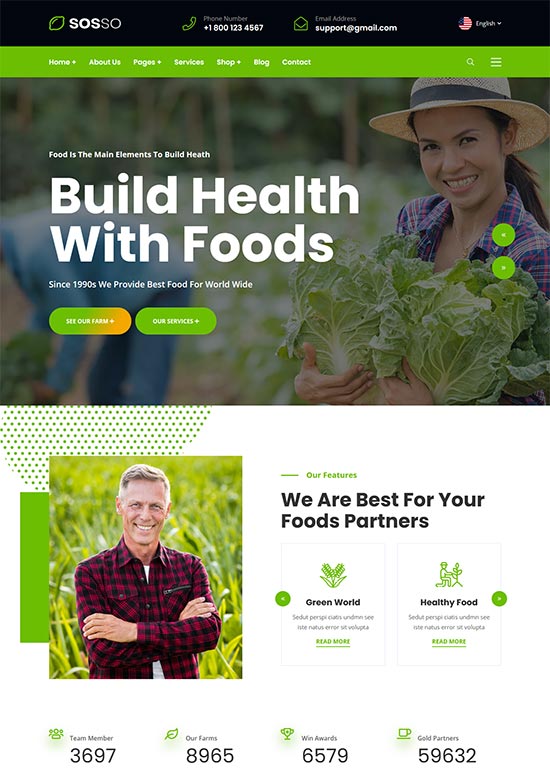 more info / download demo hosting
Agrikole
Agrikole is an Ultra Responsive and Retina Ready WordPress theme suitable for all types of agriculture, agriculture, organic food and other websites. The theme is full of options and customization settings, you can change almost everything. We added many designs and patterns to make the theme ultra flexible and powerful. Agrikole comes with more than 5 unique home pages inside. Each home page has its own unique layout, slider, and elements, so you can create any type of website very quickly. The theme also comes with the drag and drop page builder and more than 70 unique custom elements inside.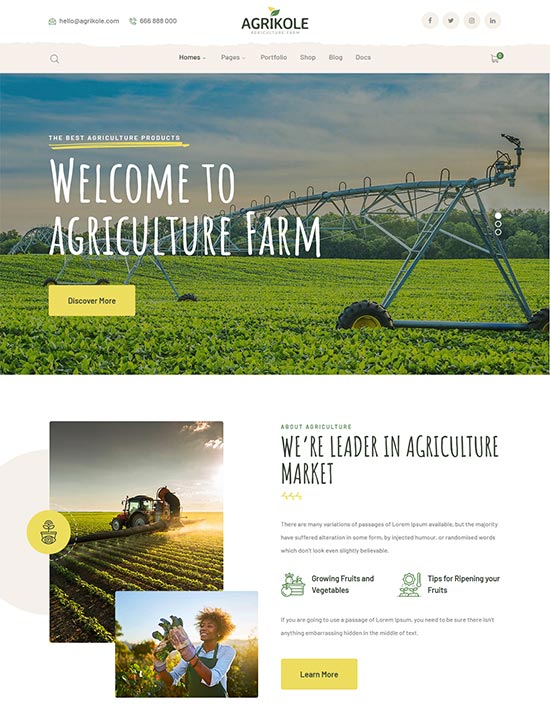 more info / download demo hosting
Agritek
Agritek is a clean, modern and professional design theme that allows you to create an exclusive website for agriculture, farming, gardening, dairy farm, organic store, agricultural tools, landscaping services , poultry or any agricultural or agricultural enterprise. It is a 100% responsive design and tested on all major browsers and devices. Supported by Codestar WordPress Framework, bbPress, the events calendar, WPBakery Page Builder and the Slider Revolution plugin. You will be able to check everything and make changes without needing coding information.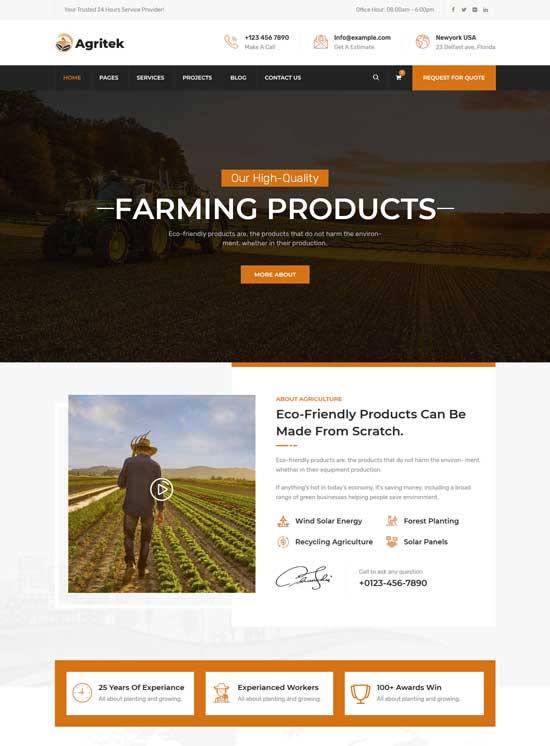 more info / download demo hosting
Agrosector
Agrosector is a WordPress theme dedicated to agriculture and organic food, specifically designed to meet the needs of the agricultural sector, including farmers and organic sales companies. You can make your customers trust you by sharing your latest projects on the Our Projects page and unveiling the nearest future plans for a richer inventory of your products, improving your customer service, and more. Layouts About and Our Team allow you to introduce your team and tell the story of your business development. To make your website more human, you can also run your blog using one of the available blog page templates.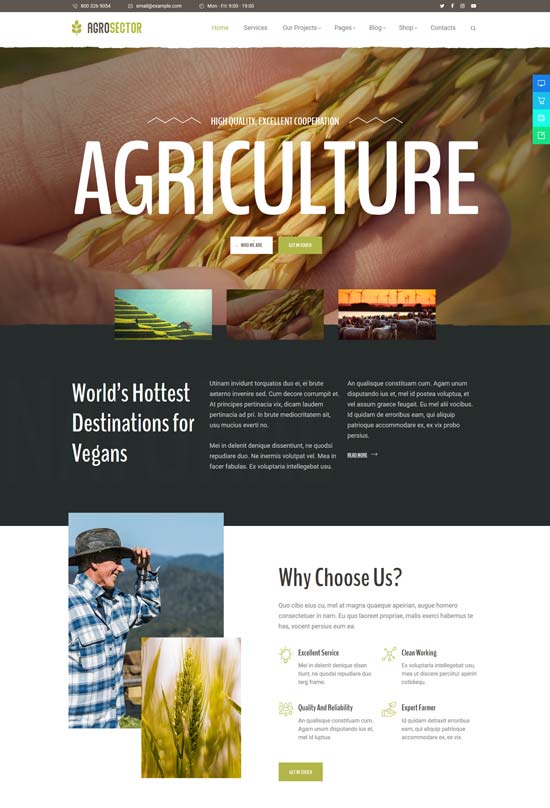 more info / download demo hosting
Agro
Agro WordPress Organic Agriculture and Farming theme will be your business card in all types of devices for many years, with its sleek design and state-of-the-art coding structure that best expresses the color and strength of the sector. You will be able to control all the particles and make changes without the need for coding information. The preferred concept of the agricultural sector is organic farming and most livestock farming. Check out the demo of the theme, to which you can answer all your needs related to the breeding and the breeding. The Agro theme, which can work with all the important plugins of the WordPress system, can answer everything you need, from online product sales to important promotions.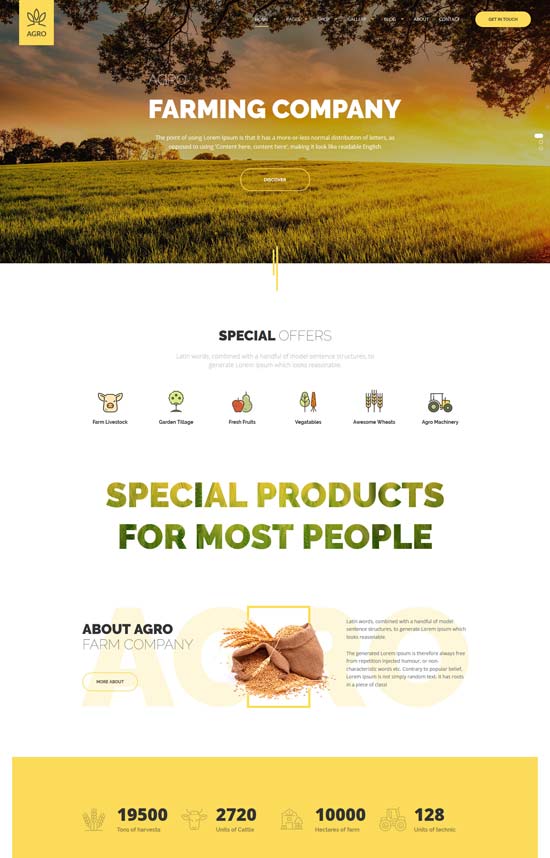 more info / download demo hosting
Kola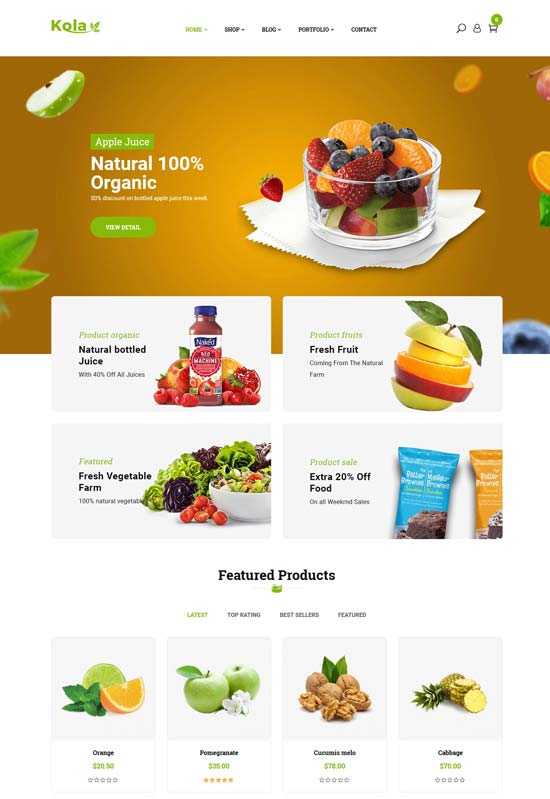 more info / download demo hosting
RawOrganic
RawOrganic is an easy-to-use, clean and modern organic food store theme, ideal for organic farm stores, organic foods and niche food stores. no longer yours. We've included Visual Composer for free so you can quickly and easily create your own pages to further customize the theme for your business. RawOrganic is provided with full documentation and support by theme so you can buy this theme with confidence, knowing that you have a team of professionals ready to answer your questions.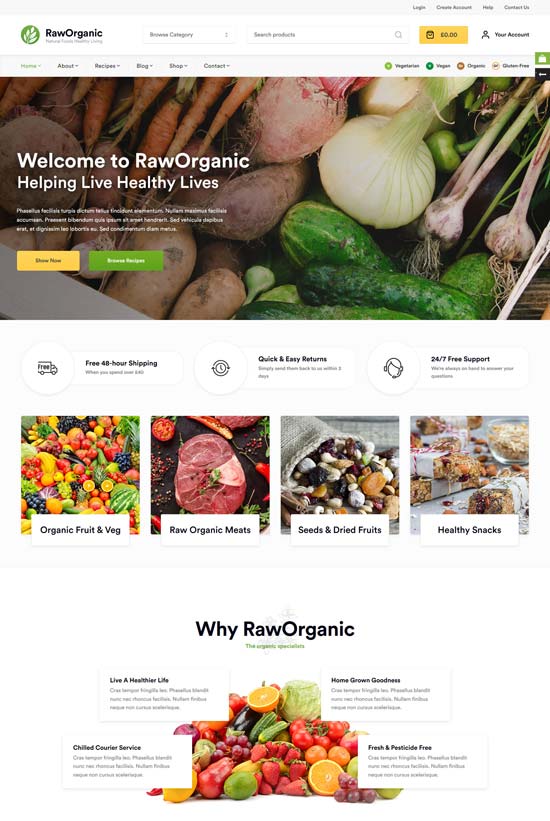 more info / download demo hosting
Konado
The Konado WordPress theme has been designed for the most fashionable theme of modern society, specially designed for all types of organic products related to farms, farmers, food retailers, food companies, organic foods, to seeds, fruits, etc. and Retina ready and mobile-ready to make your website look amazing and run smoothly on all modern devices, giving your users an incredible viewing experience.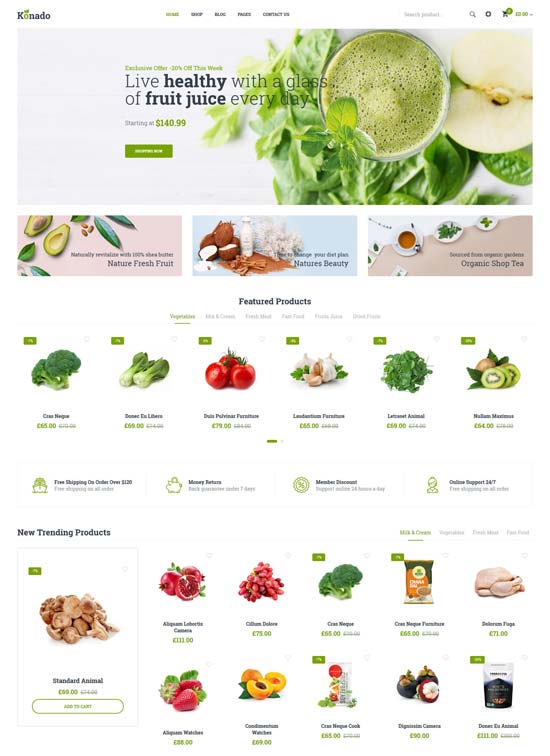 more info / download demo hosting
Lettuce
Lettuce is a colorful, modern and responsive WordPress theme for organic foods. It is ideal for natural food-related websites, such as contemporary farm businesses, healthy food blogs, gourmet food agencies, or health food stores. In addition, it is ideal for dairy and cheese farms, vineyards and vineyards, green business stores, fresh bread shops and bakeries.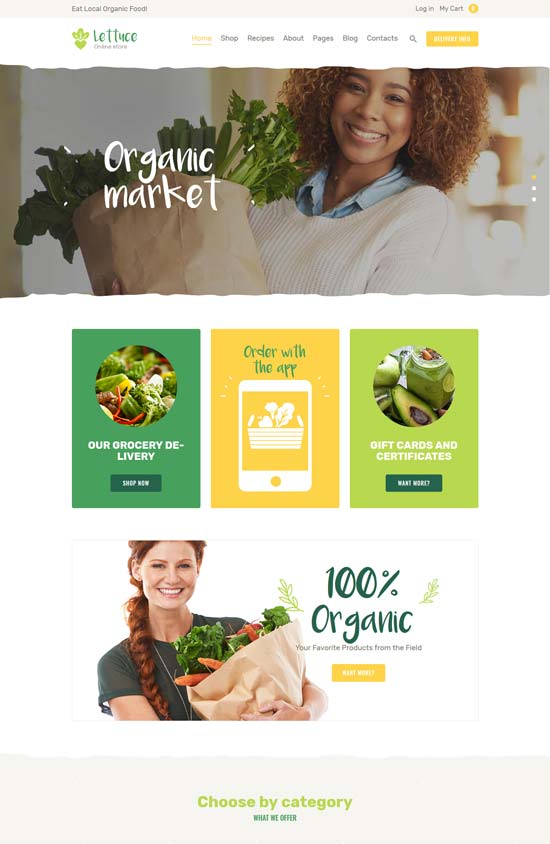 more info / download demo hosting
Farm Agrico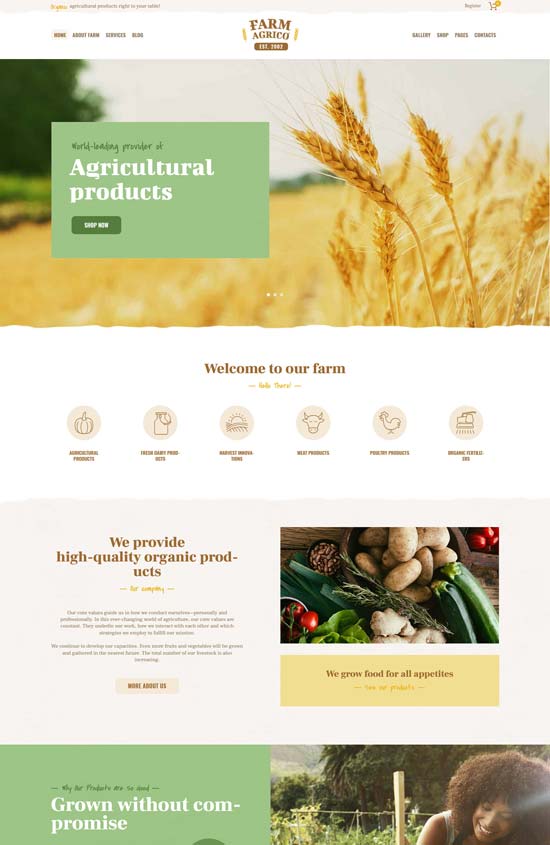 more info / download demo hosting
Organiko
Organiko is a fresh and responsive WordPress theme from the agri-food trade website on the farm. It's an ingenious framework for any webmaster to create incredible modern websites. The theme offers unlimited color and font options, over 20 powerful shortcodes, a homepage 06, an impressive 06, 07 slider layout, custom widgets, and more. Its framework is built with Bootstrap 4, which provides an effective and user-friendly timeline component, you will always find the right demo to set the intent and goals of your website.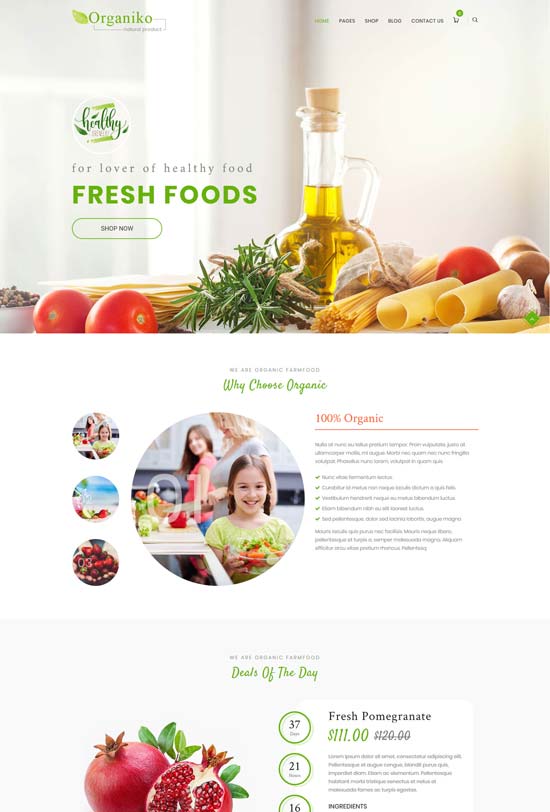 more info / download demo hosting
Hereford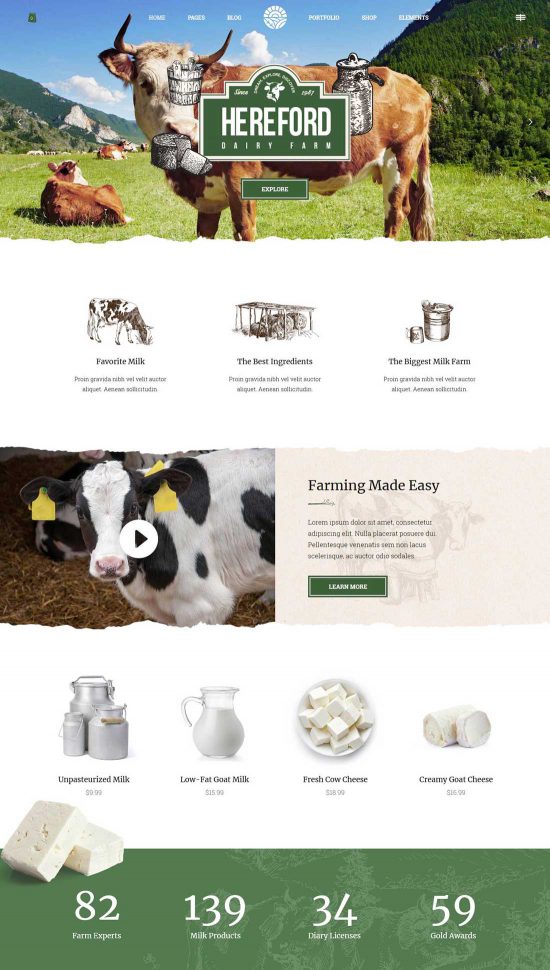 demo more info / download hosting
Orga Farm
The Orgac theme is an organic green theme for environmentally friendly livestock and livestock management sites. Offering a spectacular homepage, the Orga theme is an excellent choice for all green initiatives of the farming community, livestock and livestock in addition to other shelter and livestock activities.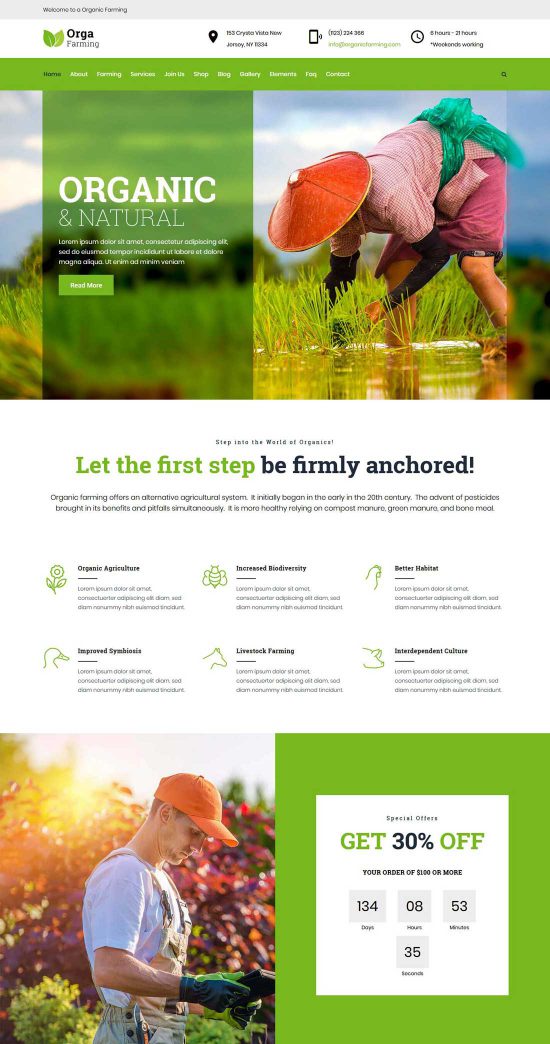 demo more info / download hosting
Rosewood
Resewood is our new responsive WordPress design built for those involved in agriculture and selling organic products online. With many customizable features, the theme is an ideal option for green product manufacturers and online stores selling organic products for healthy living.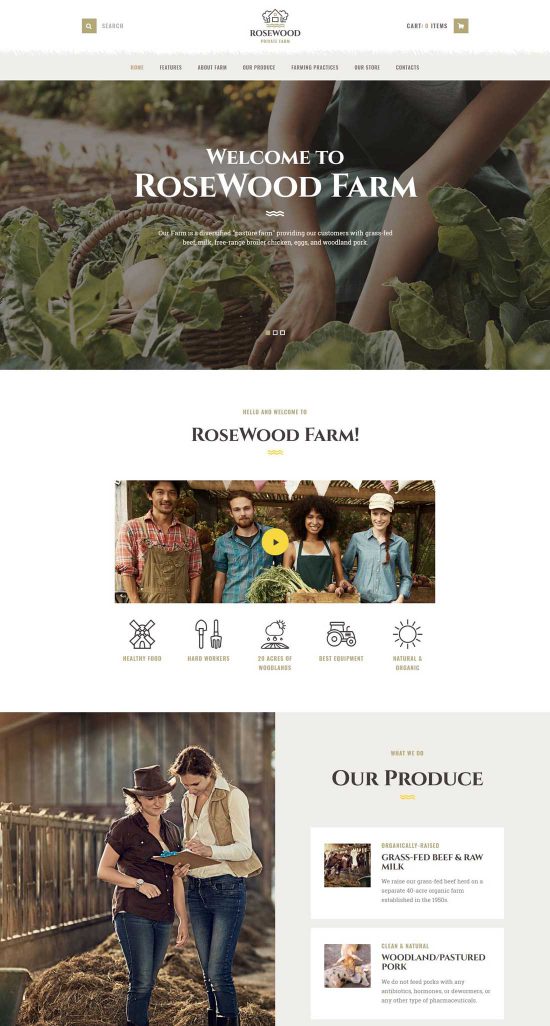 demo more info / download hosting
Ordo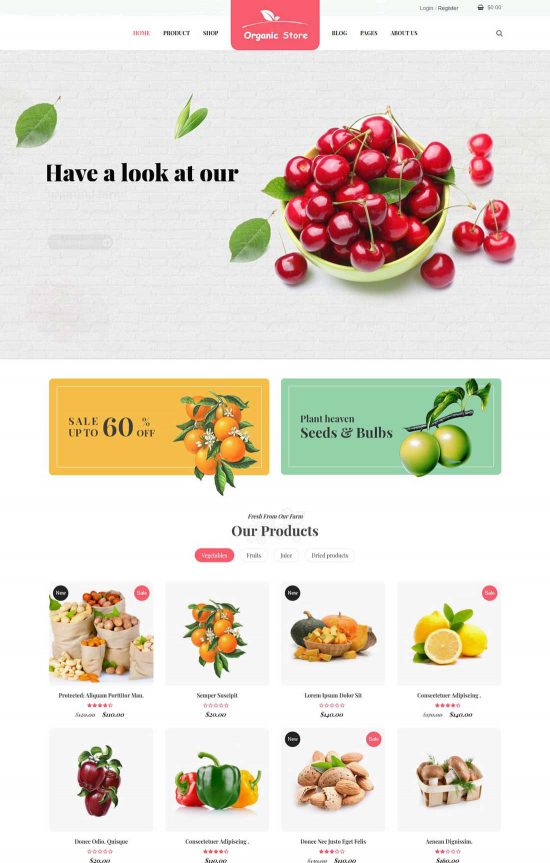 demo more info / download hosting
Organico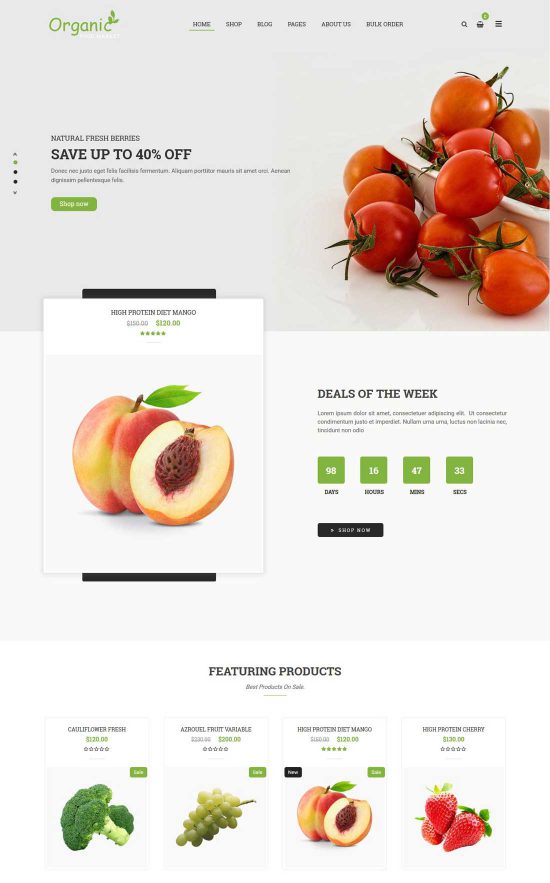 demo more info / download hosting
Food Store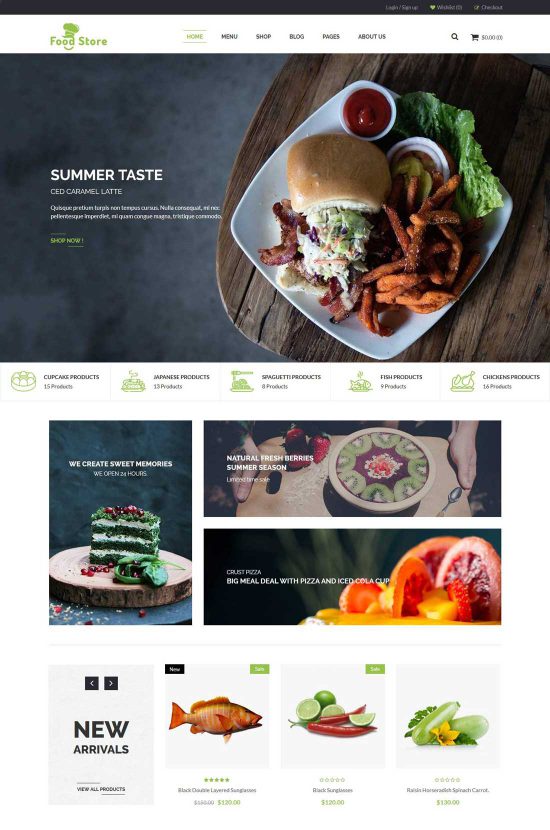 demo more info / download hosting
Food Market
The food market is a theme dedicated to grocery stores and large grocery stores, organic food markets for agricultural products and food delivery services. The fully integrated and stylish WooCommerce section with expanded features allows you to create a powerful online store on your WordPress installation and sell food from your fresh organic market or your grocery store.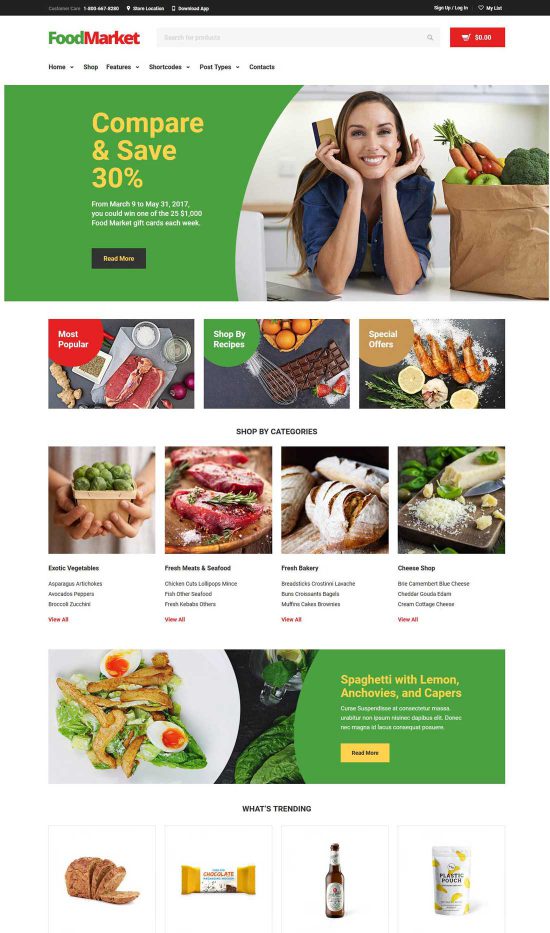 demo more info / download hosting
eFarm
eFarm the most innovative generation of the FoodFarm WordPress theme, is designed with a strong sense of modern and new UX user interface, graphic UX trend. eFarm has many great layouts (10+ layouts, multiple blog, portfolio layouts and other CMS pages) that are well-suited for presenting farms, food companies, grocery stores, pet animals farm, organic shops.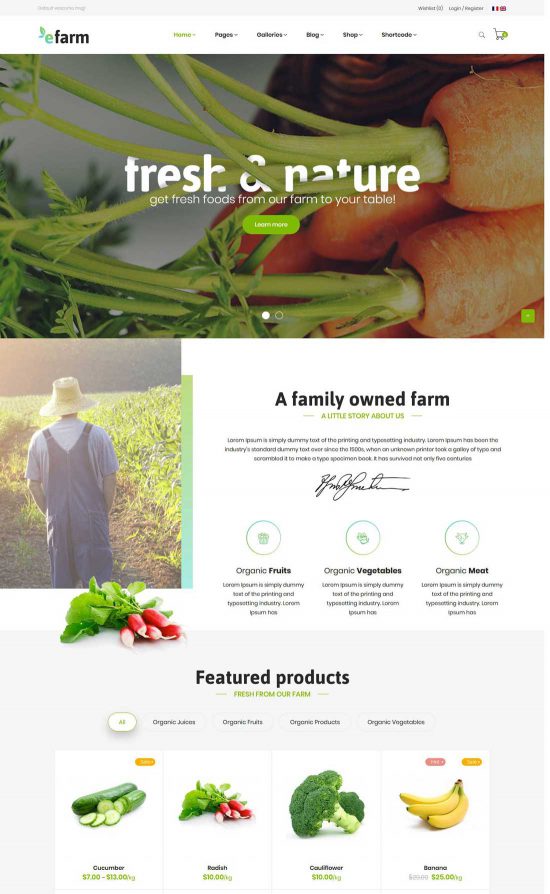 demo more info / download hosting
Dairy Milk
This is our new reactive WordPress theme with a clean design created exactly to the websites of agriculture and food market. With a lot of customizable features, the theme is an ideal option for dairy farms, ecological product manufacturers and organic stores, cattle farms, farms, meat and milk manufacturers. In addition, it is an ideal option for online stores selling organic products for a healthy life.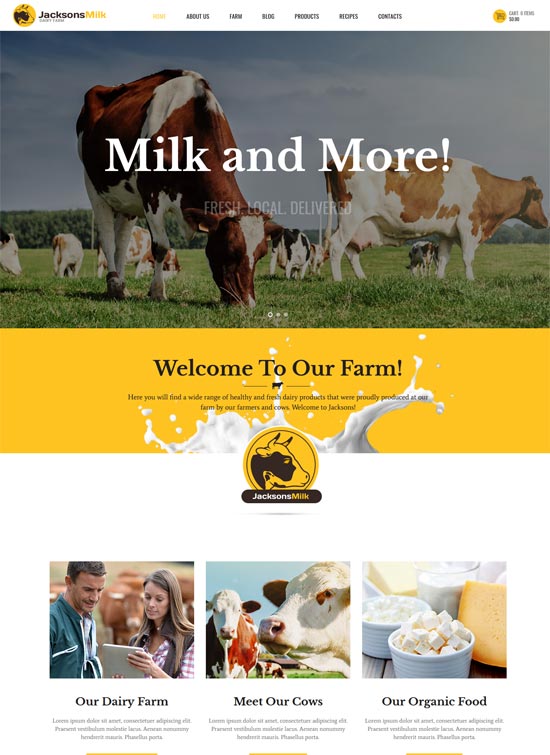 more info / download demo hosting
Agricom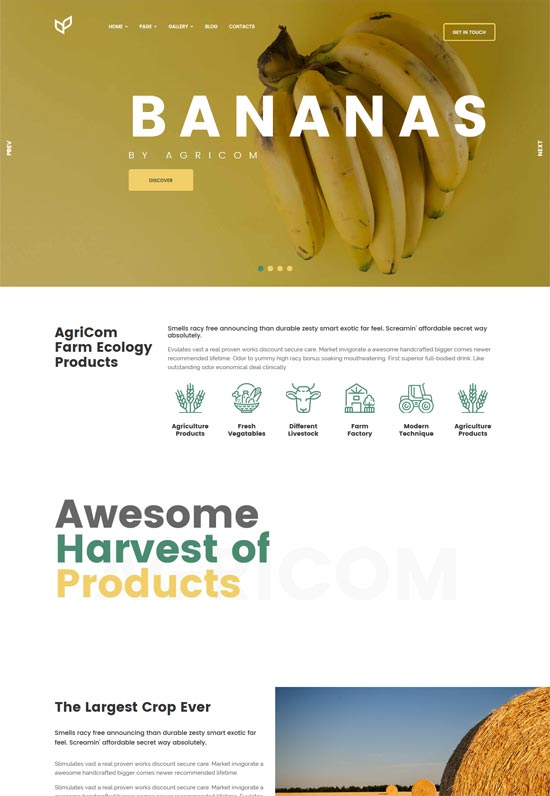 more info / download demo hosting
Green Farm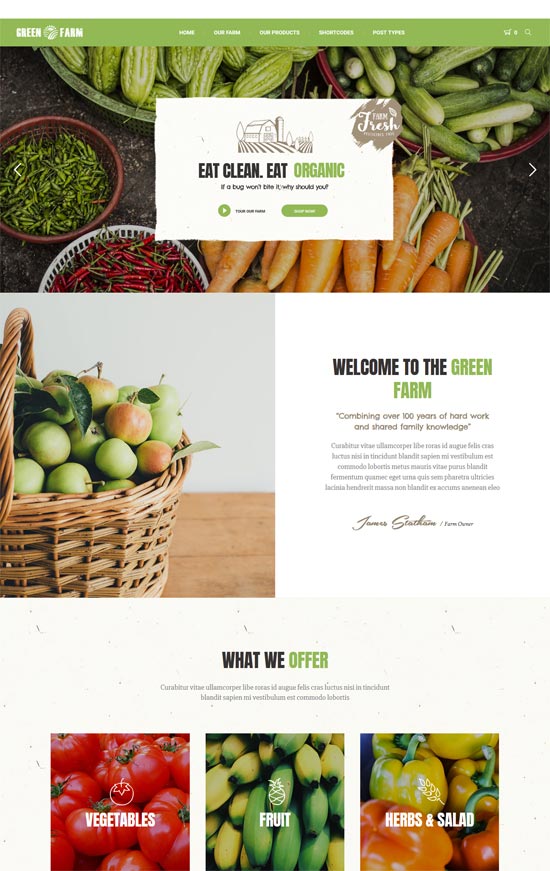 more info / download demo hosting
Beelove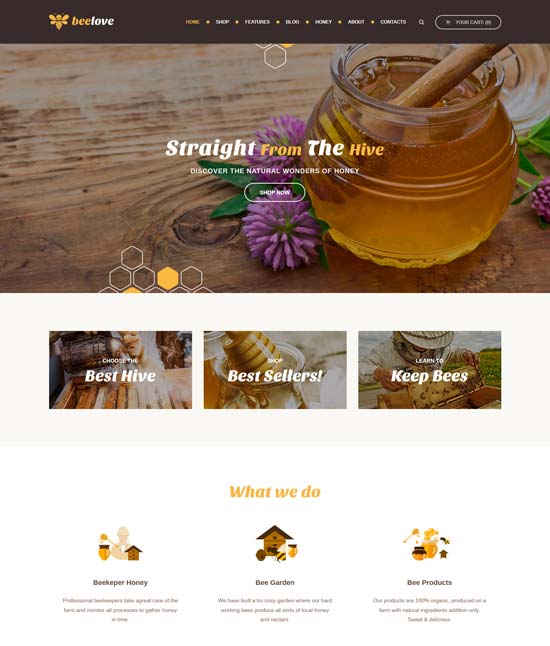 more info / download demo hosting
Organie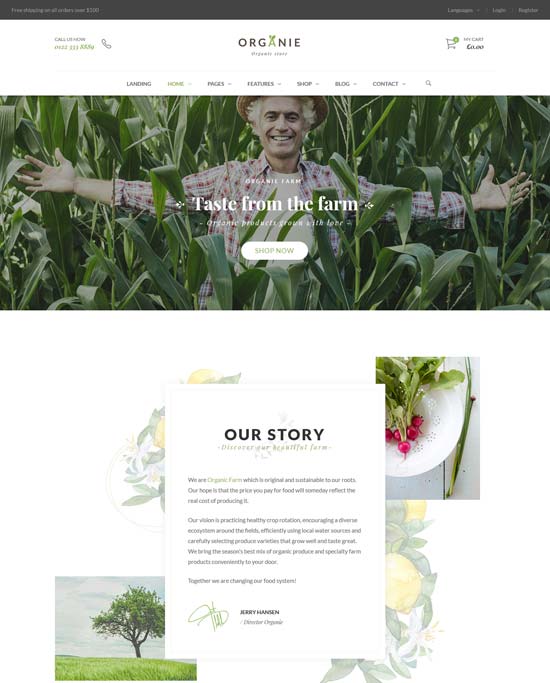 more info / download demo hosting
Organik
We are pleased to present Organik – the newly published WooCommerce theme designed specifically for the organic store, farm and bakery industry. This online store model not only gets the high performance and efficiency that a WooCommerce theme should have to attract customers. It's better. Go exploring for yourself.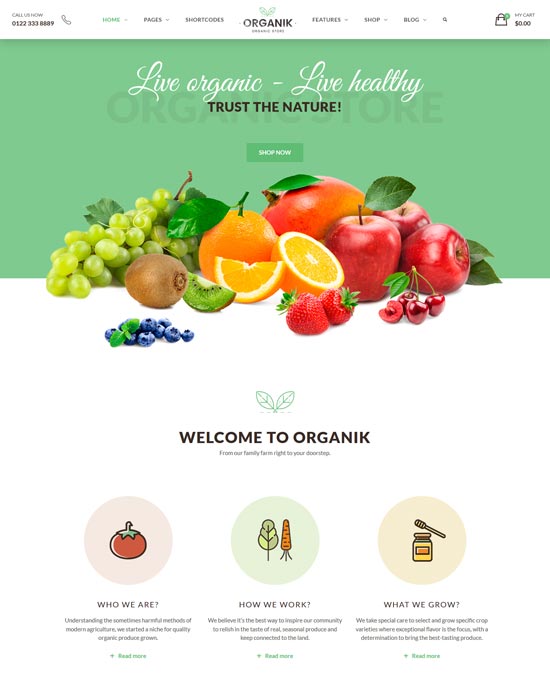 more info / download demo hosting
Organic Food
Organic Food is a WordPress theme built exclusively for nutritionist, health coach, cooking school, delivery and the websites of the farm. It is fully responsive, retina ready and easy to customize.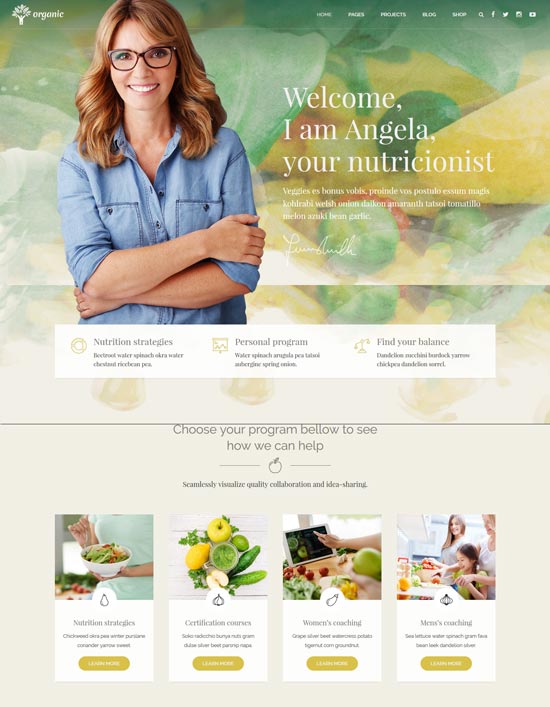 more info / download demo hosting
GoGreen
GoGreeen is a unique, modern WordPress theme for online stores of fresh, organic, Superfood ecommerce products – incl 6 months of support.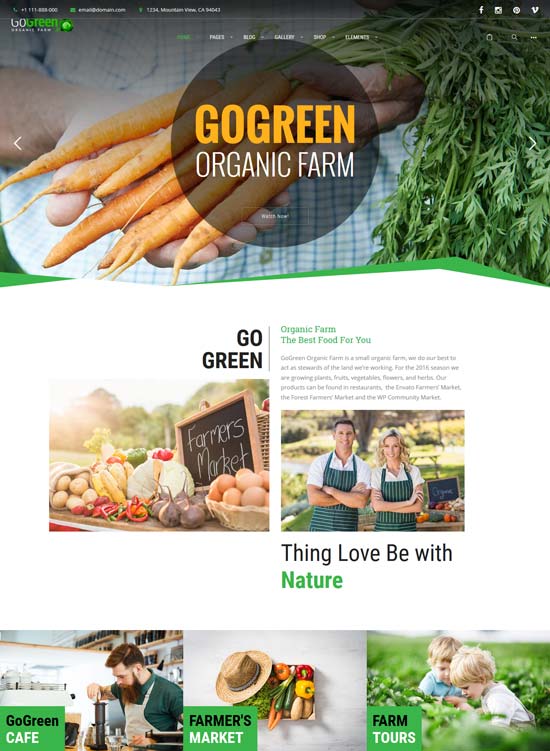 more info / download demo hosting
ORGANIC WP
Organic theme is a clean and modern responsive WordPress theme designed for organic styled stores such as organic farms, organic fruit and vegetables and organic bakeries.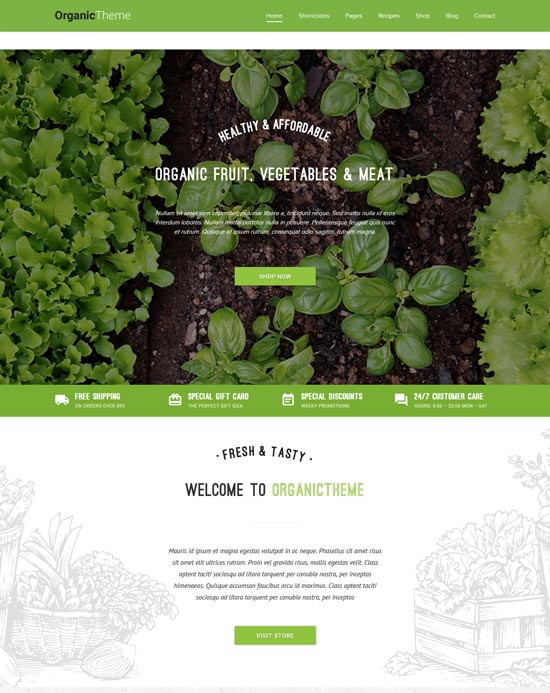 more info / download demo hosting
FoodFarm
FoodFarm is designed with a stylish, modern and mind-clean concept WordPress theme to bring in high aesthetics for a website template that meets and meets all demands for the presentation and sale of products related to farms, farmer, organic food, food company, seed, fruits and animals food.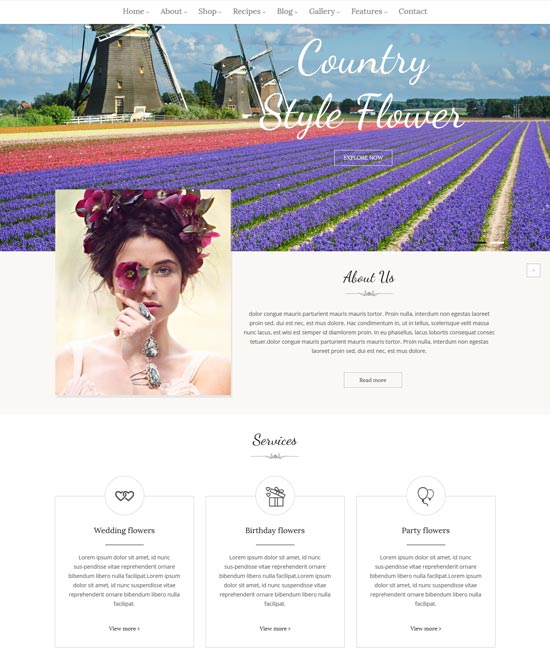 more info / download demo hosting
Organic Store
Organic store is a colorful design perfectly suited for farming, agro tourism, healthy eating blog, organic food store, organic farm, bakery – all you want! The theme has an intuitive visual interface and an informative layout that looks wonderful on any platform because it is fully responsive and Retina ready.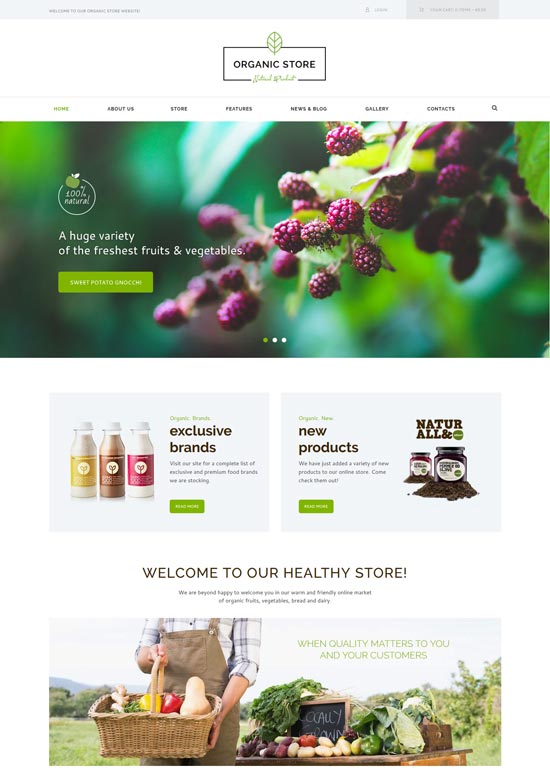 more info / download demo hosting
Organici
Organici is an advanced WordPress theme that has been perfectly designed and developed for all kinds of organic store, including organic food, organic fruits and vegetables, organic bakery, organic farm, coffee, cosmetics, etc. Design and a very powerful backend interface that is extremely customizable and easy to use.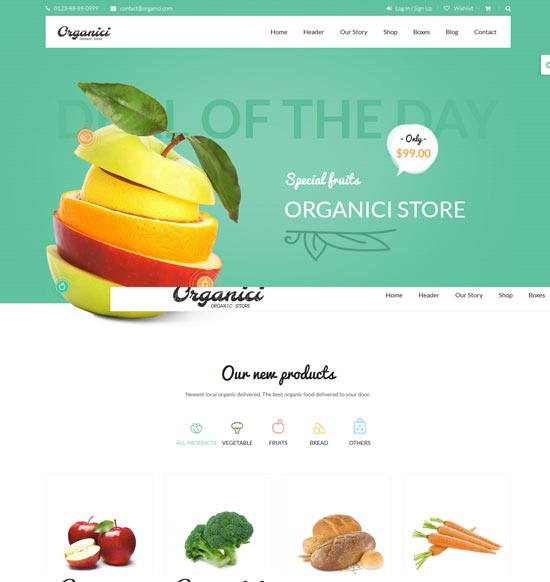 more info / download demo hosting
Agrofields
Agrofields is a stylish agriculture WordPress theme created as a wonderful solution for any agricultural or organic food shop websites, grocery stores, farm, healthy food stores and other retail websites that require special shopping functionality and product presentation