Private Winery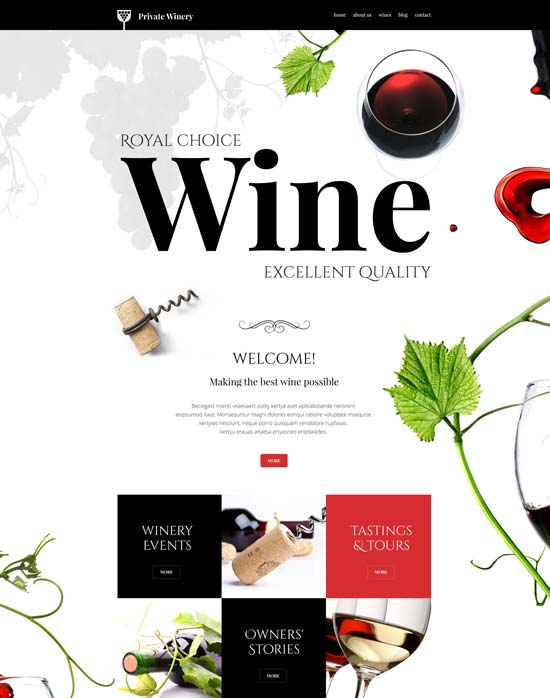 demo more info / download
Agriculture Company
Built with Cherry Framework, this agriculture WordPress theme ensures a worry free installation and a number of ways for customization. It offers a clean layout with a full-width slider at the top, circular icons with hover effect and a number of other features that can give your site a cutting-edge functionality. Responsive design makes this WordPress theme perform equally well on any device ensuring smooth traffic flow.
Crop Farming WordPress Theme 53592
Optimize your web portal for mobile browsing by means of this responsive wordpress agriculture theme. It can automatically detect the devices used for viewing your site and, therefore, adapt its layout to the right screen parameters. By means of a stylish gallery, you can arrange multiple images in a compact way on the homepage.
Agriculture Business
Health Benefits of Meat WordPress Theme
One of the latest nutrition trends is to go on a vegetarian diet because of horror stories about a harmful impact of red meat. But the truth is this product has a wide range of health benefits, that's why its consumption is obligatory to keep the human organism strong. If you're eager to motivate people to include meat in their menus, it's worthwhile to make use of this template
Farmer Vegetable WordPress Theme
The goal of any agriculture company is to sell goods, build long term partner relations, and widen loyal customer base. The use of this agriculture WordPress theme opens completely new opportunities to promote your products online and make them available to farmers throughout the world. Customers from the most remote villages won't find any difficulty navigating though your site owing to its user friendly interface and intuitive navigation.
A high resolution slider featuring an accurate image of crops in light brown and fawn colors will look very familiar to your online audience and create a feeling of relaxation, reliability, and trust. Alongside with introducing partners to your business, its achievements and goals, you may also share your contact details to allow them reach you with ease. Overall, this farming WordPress theme is the perfect solution for promoting your agriculture company online.
Farm Responsive WordPress Agriculture Theme
Vegetable WordPress Agriculture Theme