In this blog post, we've explored the top fitness WordPress themes, each catering to a specific aspect of the health and wellness industry. From gym owners to personal trainers, nutritionists to yoga enthusiasts, there's a theme to suit every fitness website's needs. By choosing the right theme, you can elevate your online presence, engage your audience, and ultimately, boost your fitness business or community. So, go ahead and pick the perfect WordPress theme to embark on your journey towards a healthier and fitter online presence.
NoStop
NoStop Gym and Fitness WordPress Theme is a minimal, clean, and modern theme suitable for gym, yoga, sports, fitness, and related businesses. It caters to fitness experts, personal trainers, and yoga trainers who want an easy and attractive way to showcase their work to clients.
The theme is built on Elementor, a user-friendly drag-and-drop PageBuilder for WordPress, ensuring a smooth website creation experience. Additionally, it is fully responsive, providing a seamless viewing experience across various devices, including mobile and tablets.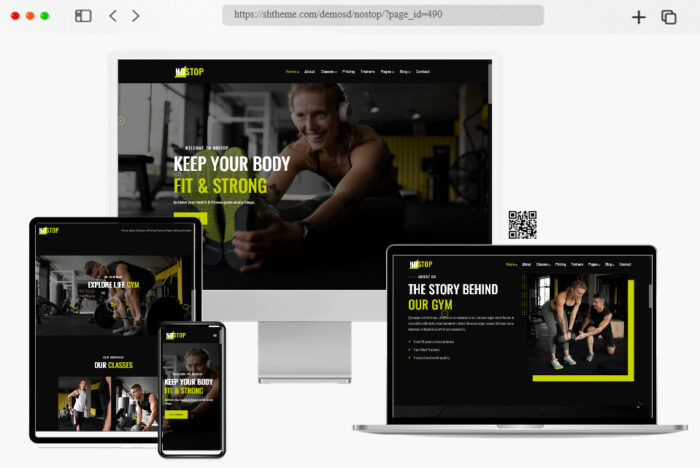 More info / download Demo
Gymsick
Gymsick is the ultimate WordPress theme tailored for fitness enthusiasts and gym owners. Its sleek and modern design captures attention and inspires action. Packed with powerful features like customizable workout plans, fitness classes, and a BMI Calculator, Gymsick elevates fitness websites to new heights.
It caters to personal trainers aiming to showcase services and gym owners seeking to attract new members. With Gymsick, you can establish a strong online presence and enhance your fitness business effectively. Don't wait, get moving, and transform your fitness website with Gymsick!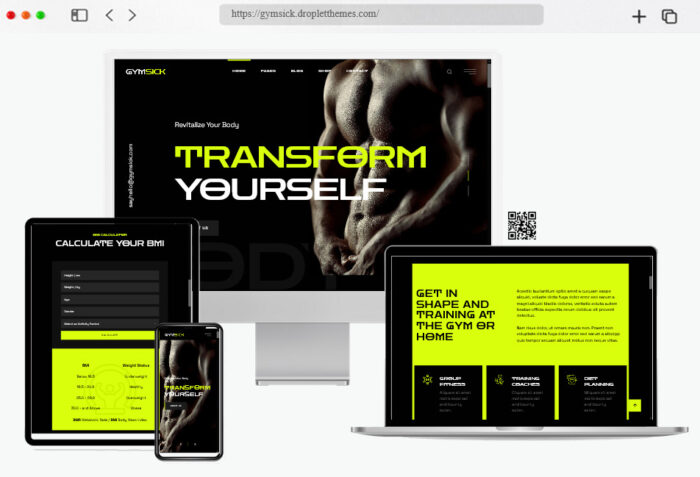 More info / download Demo
Stronger
Stronger is a powerful and responsive fitness theme specifically created for modern gym and fitness websites. It offers a range of meticulously designed templates for fitness consultants, training, exercises, crossfit, and sport shops, making it ideal for creating contemporary sportswear, gym equipment, and workout websites.
The theme includes the Timetable Responsive Schedule for WordPress plugin for free and is fully compatible with the Elementor Page Builder. With Stronger, you can create a robust and visually appealing fitness website to showcase your services and products effectively. Stay strong and get even stronger with the Stronger WordPress theme!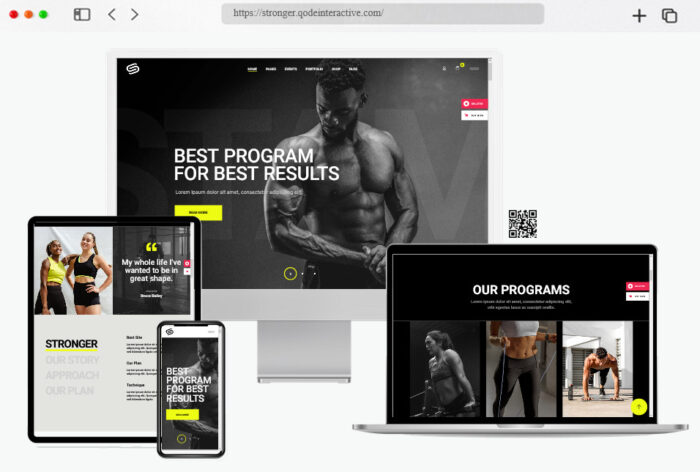 More info / download Demo
Fittlife
Fittlife is a dedicated Gym WordPress Theme designed for gyms, fitness centers, personal trainers, and other sports or nutrition service providers, including bodybuilding, crossfit, boxing, health coaching, and Zumba. With its One Click Demo Importer, you can set up your website quickly.
The Elementor Page Builder allows easy website customization, and the Live Theme Customizer enables real-time preview of visual style changes. Fittlife offers key features to make your website durable and distinctive, ensuring it stands out among competitors. It's the perfect fit for creating a professional and eye-catching website for your fitness or sports-related company.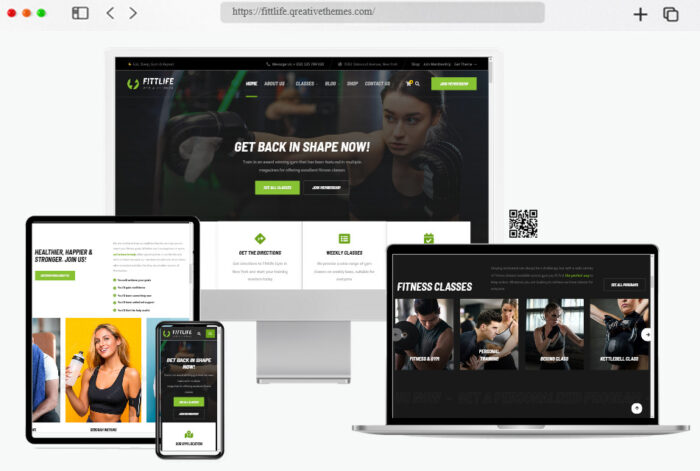 More info / download Demo
Kropp
Start strong with Kropp, a modern fitness, gym, and Personal Trainer WordPress Theme. It offers a variety of layouts and elements specifically designed for training and weightlifting purposes. Key features include the BMI Calculator, a wide selection of versatile prebuilt templates, full compatibility with Elementor Page Builder, and much more. Kropp provides everything you need to create a dynamic and visually appealing website for your fitness-related business, making it the ideal choice for your fitness journey.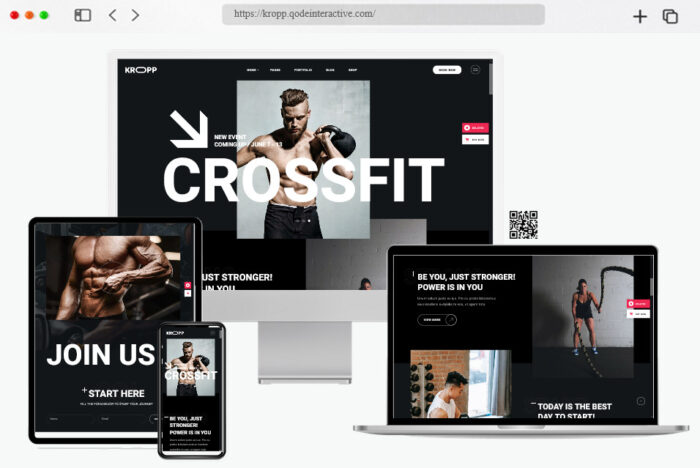 More info / download Demo
Gyim
Our CrossFit WordPress Theme with Elementor plugin support is a powerful and flexible solution for gym and fitness businesses. It caters to the unique needs of fitness organizations, offering a wide range of features and customization options for a standout website. The theme is fully responsive, ensuring a great user experience on any device, and includes optimized code for improved search engine rankings.
Whether you're starting out or upgrading your existing website, this theme provides all the tools you need to confidently establish your gym's online presence. With the Elementor page builder, creating custom pages and layouts to showcase your services, classes, and facilities is effortless.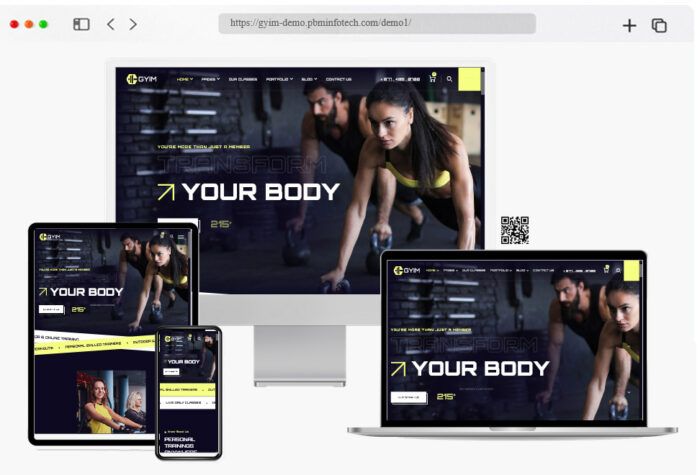 More info / download Demo
Fortius
Fortius is a Fitness Elementor WordPress Theme that helps you to build a beautiful website for your gym, fitness center or sports company. With just a click of a button, you can create a stunning responsive website that fits right into your brand and also provides the perfect user experience.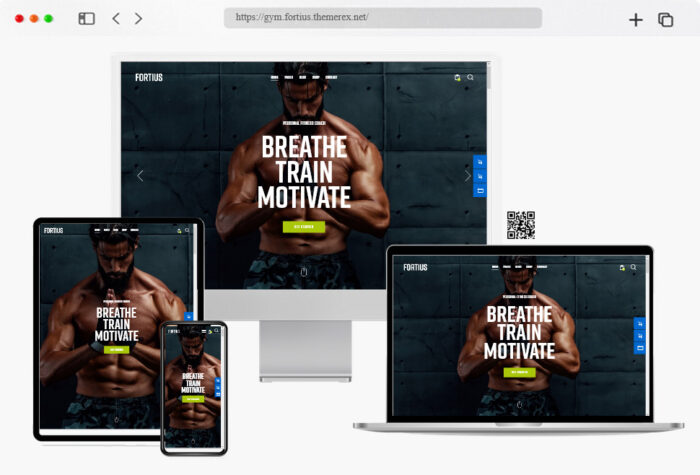 More info / download Demo
Fitsense
Fitsense is a Fitness WordPress Theme, which is perfectly suited for anyone looking to start a gym or sports website. It's loaded with all the necessary tools to create an engaging and informative online presence with ease. With plenty of stunning design elements and functionality, Fitsense is the perfect option for fitness instructors and enthusiasts alike.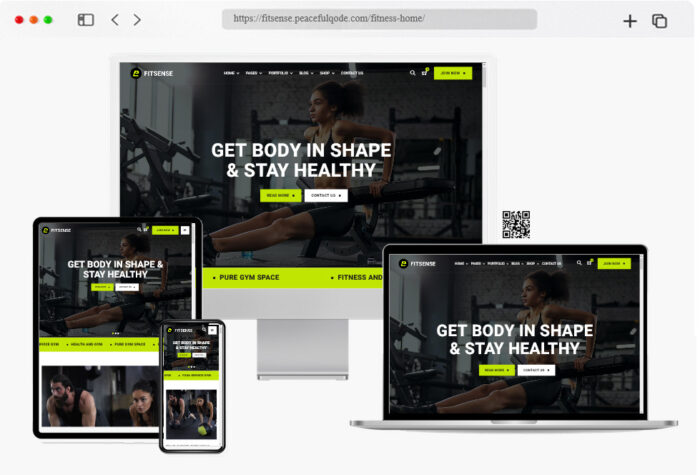 More info / download Demo
Gymat
Gymat is the ultimate solution for fitness trainers seeking a Fitness Website Template for WordPress. Designed for gyms, fitness centers, yoga studios, sports clubs, personal trainers, and sports instructors, Gymat allows you to showcase your gym sessions effortlessly.
The theme offers innovative web pages for class schedules, events, classes, and trainers, enhancing your fitness venture. With its clean and modern look, Gymat provides useful functions like a built-in timetable and a BMI calculator, offering dynamic options for your website users. Get ready to create a striking and functional fitness website with Gymat!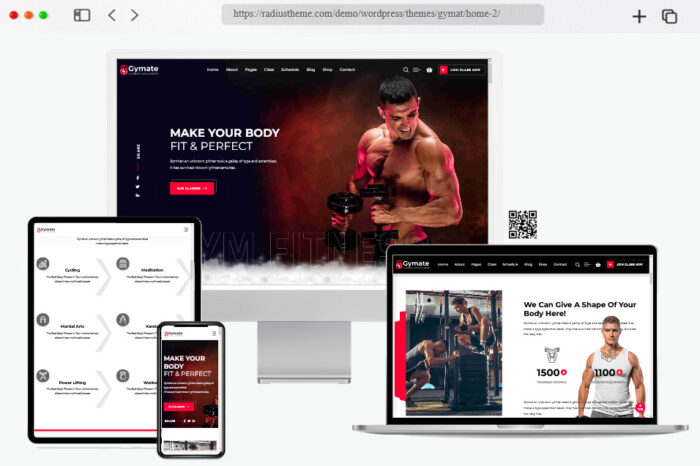 More info / download Demo
Zium
Zium is a premium Fitness WordPress Theme designed to perfectly suit gym and fitness websites, yoga studios, sports, dancing classes, TRX training, CrossFit, events, and health clubs. Built on the popular Elementor page builder, it includes powerful WGL Extensions, eliminating the need to purchase separate Pro versions for plugins.
The theme offers various layouts for blogs, portfolios, testimonials, and teams, allowing you to showcase your achievements in real-time. Additionally, Zium is fully compatible with plugins like WooCommerce, WPML, and Polylang, and it comes bundled with the RevSlider plugin, saving you extra costs.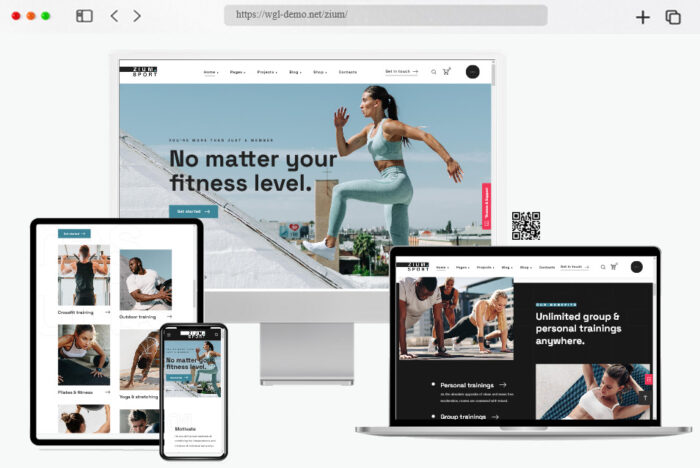 More info / download Demo
Zyth
Zyth is a customizable Fitness Theme for WordPress that helps create a stunning online presentation for gym businesses, fitness centers, personal training profiles, and other sports-related ventures. It features a built-in Class post type to showcase workout classes attractively. The theme integrates Pricing Plans with Contact Form 7, making it easy to identify customer interests.
A modern timetable allows customers to view class schedules conveniently. Zyth utilizes the powerful & customizable framework by GoodLayers, offering a flexible drag-drop page builder with various features like background wrapper options, custom skin colors, ajax page builder saving, pre-built pages, and more. It provides a comprehensive solution for creating an impressive fitness website.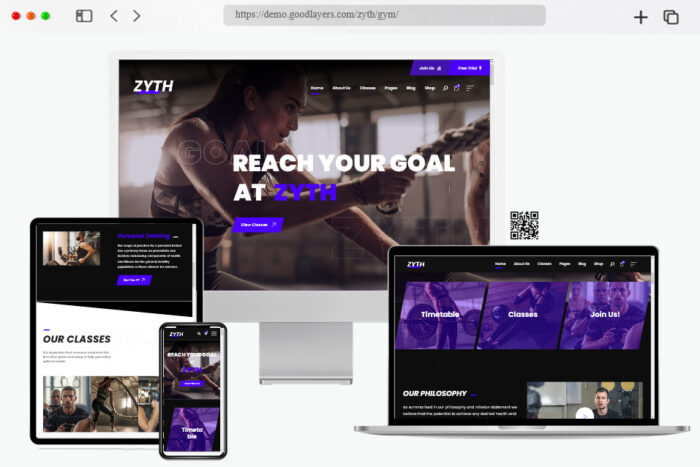 More info / download Demo
Zele
Zele is a fantastic Mobile-friendly Fitness WordPress Theme designed for fitness enthusiasts. It offers 12 beautifully designed homepages, making it versatile and suitable for various users, including professional sportsmen, personal trainers, sport clubs, fitness centers, gyms, yoga & pilates classes, hiking clubs, biking organizations, swimming & aquabic clubs, and other fitness activities. With its wide range of features and appealing design, Zele provides a perfect solution for anyone passionate about fitness to showcase their services and activities online.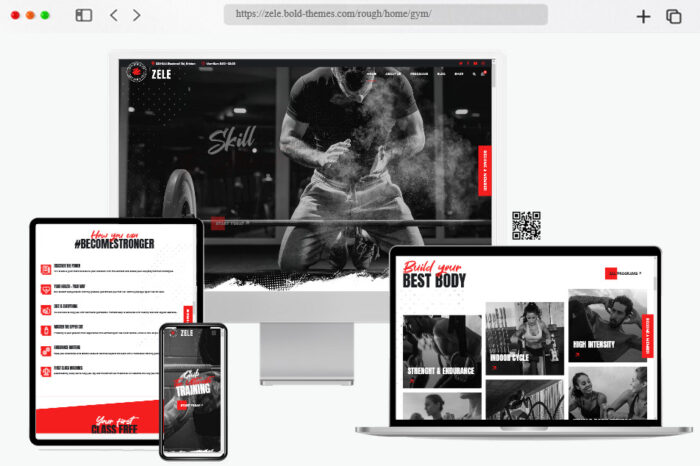 More info / download Demo