Need to create a site that deals with beauty shop? This beauty salon WordPress themes created for beauty, hair, Barbershop, spa, salon, yoga and beauty care companies. Those themes includes all necessary parts to build your perfect beauty salon website. This is a collection free and premium beauty salon WordPress themes for hair, spa, beauty salon business. If you run a business related to spa salon or beauty salon you should to have an online presence your business to make customer easy to know about your services. WordPress makes it easy to create a professional and attractive spa themes website.The WordPress themes below are specifically designed for spa salon, beauty salon themes and include a range of spa specific features such as custom menu templates, integrated Google maps, contact information section, daily specials, photo galleries and some even include a price table services. Whether you are finding responsive spa WordPress themes you should find a solution for your website.
Célina
CÉLINA is a responsive and feature-rich theme designed for all modern spa and beauty websites. It comes with an excellent selection of flexible home page templates, as well as a multitude of different layouts perfect for every spa, wellness, or salon website. Meet a real WordPress beauty, create your new spa or wellness website with CÉLINA!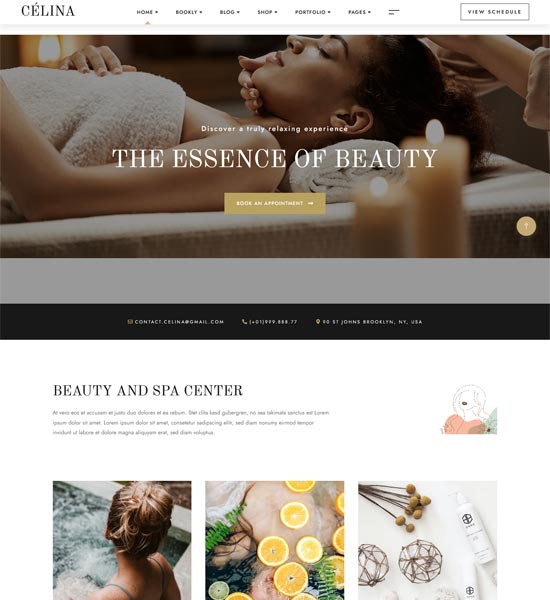 more info / download demo
Wigme
Wigme is an attractive WordPress theme exclusively designed for wig products and beauty companies. This WordPress theme is best suited for hair salon, hair salon, hair salon, hair salon, hair salon, hair salon, hair salon, hair salon, wig accessories store, manicure, beautician, beauty artist, nail salon, hair salon. , wellness center, makeup, cosmetic treatment, spa, pedicure and body treatments.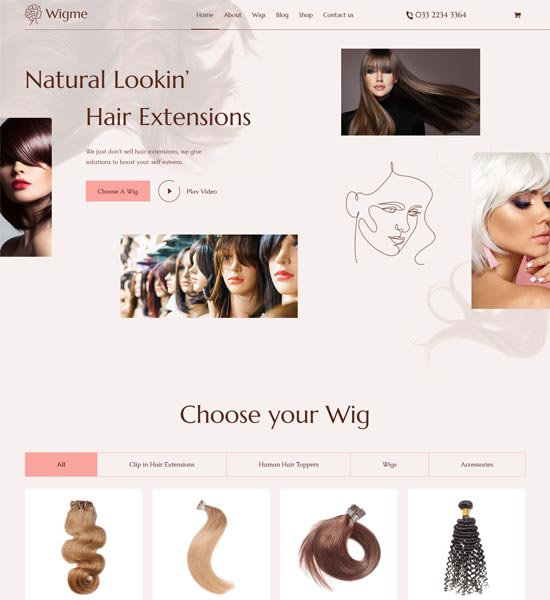 more info / download demo
Amina
Amina is truly a delicate and beautiful WordPress theme designed to create the most outstanding cosmetics store, beauty store, spa and skincare online store, which is fully compatible with WooCommerce. You can create your online beauty and skincare store using the powerful features included with the theme or choose from the awesome pre-made landing pages to design your store in minutes.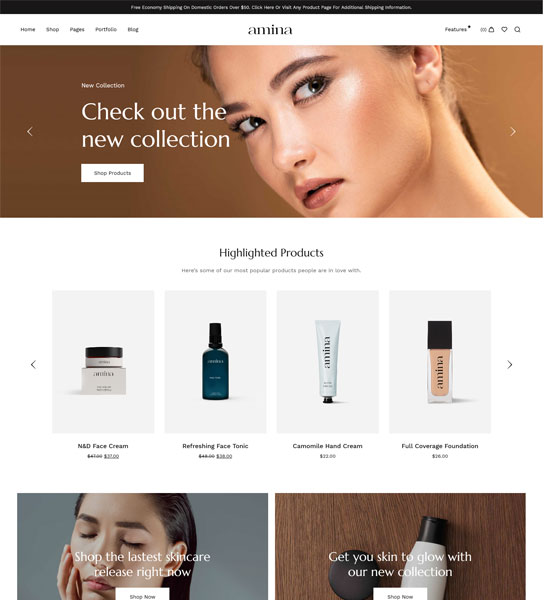 more info / download demo
Amela
Meet the gorgeous beauty care WooCommerce WordPress theme Amela. This premium WordPress theme is designed for beauty companies, cosmetic brands, and salon-related websites. It has all the tools you need to run a modern online store. Thanks to the Elementor page builder, it allows you to easily manage the overall appearance of your site and create pages that perfectly match your business goals and target audience preferences.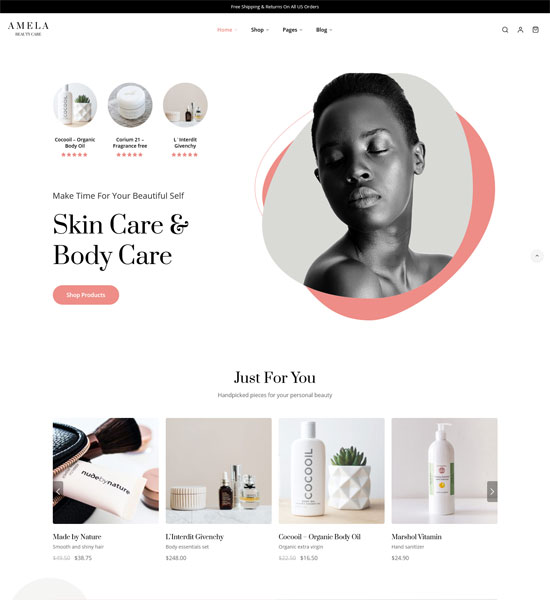 more info / download demo
Levre
Levre specially designed for cosmetic shops and beauty shops of all kinds by product designers. Levre WordPress theme is perfectly suitable for any type of cosmetics store such as ogranic store and any monobrand and multiband store. A large number of settings and internal pages will help to configure the store just for your needs. It is SEO optimized, responsive and ready for retina display, it has an outstanding design, 6 months support is included.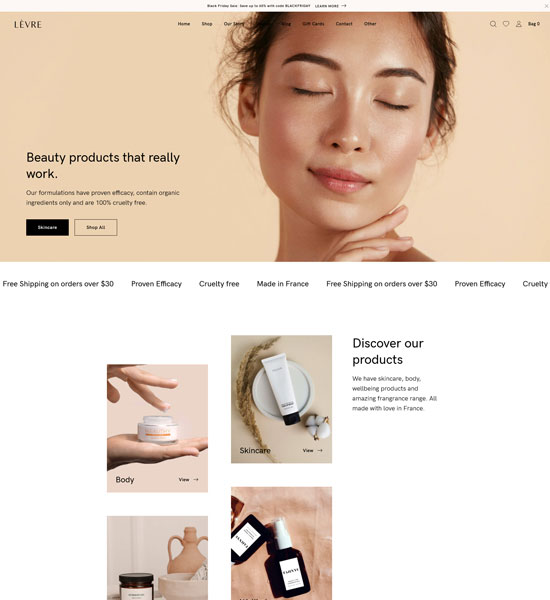 more info / download demo
Cosma
Cosma is an attractive WordPress theme designed for cosmetic stores, beauty stores, online spa products, makeup kits, skin care creams, face creams, organic cosmetics store, hairdresser, hairdresser, clinic of the skin, skin beauty salon, hair medical supplies, hair spa shop. , beauty center, beauty salon, facial creams, handmade makeup base, organic cosmetics business and spa beauty services.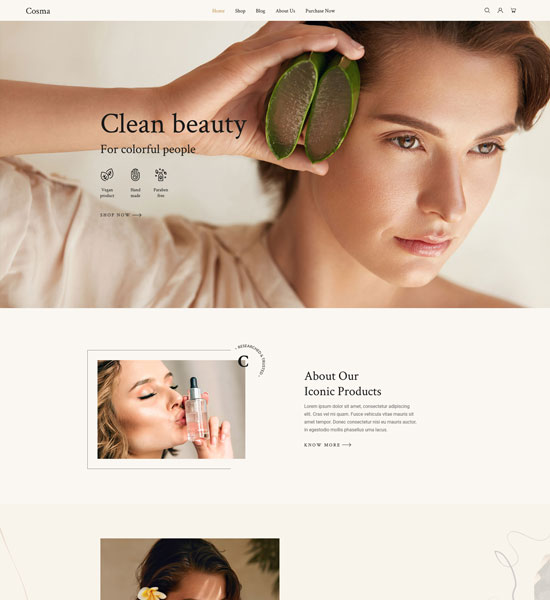 more info / download demo
Makeover
WordPress theme for Makeover Spa Salon. Clean and unique design concept suitable for spa, beauty, care, feminine, hair, health, beauty salon, massage, skincare, salon, makeup, physiotherapy, salon, wellness, yoga website. Makeover will represent your business in the web world with a unique presentation. He used the Bootstrap grid system to fit his website on any screen. Elementor visual page builder will give you a premium feel while rebuilding or customizing the site.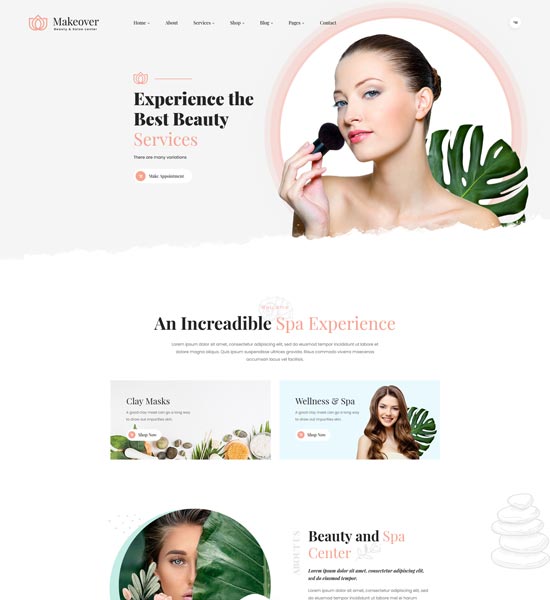 more info / download demo
Léonie
Polished and ready for your new website, Léonie is a true WordPress beauty that we designed for modern nail, pedicure, nail salon and beauty salon presentations. The theme comes with an exquisite selection of nail spa templates, nail bar, makeup bar and nail polish, as well as pages and features ideal for all nail care sites, brow tattoos, eyelashes, brow bars and cosmetic stores.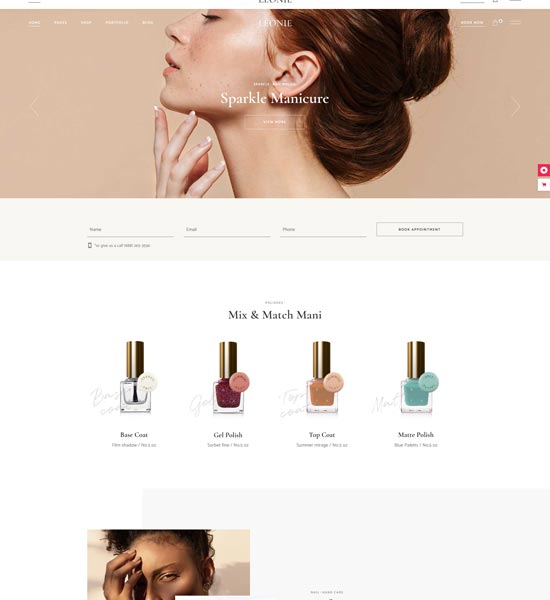 more info / download demo
Salion
Salion is a fantastic WordPress theme perfect for anyone who wants to create a website for a beauty salon, hair salon, barber, body treatment, spa, hair care, and makeup services. Every feature and element of this theme is geared towards giving you the best website and experience.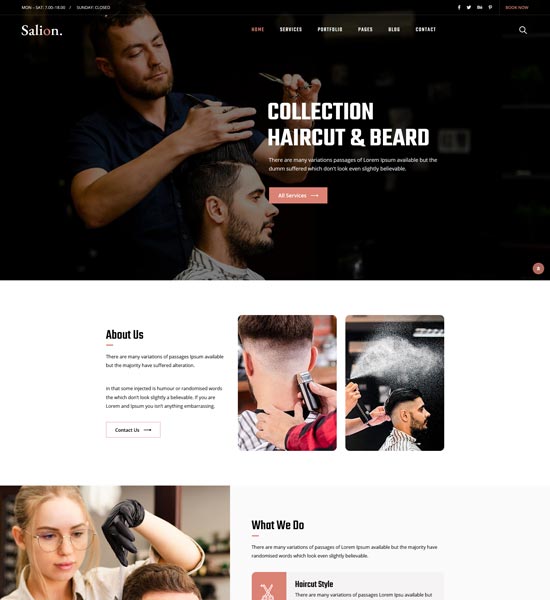 more info / download demo
Progery
Progery Plastic Surgery WordPress Theme specially created for medical clinic, diagnostic center, plastic surgery, diagnostic, massage, private clinic or private doctor, dentist, pharmacy, surgery, massage parlor, medical blog, medicine, hospital, therapist, dentistry and others .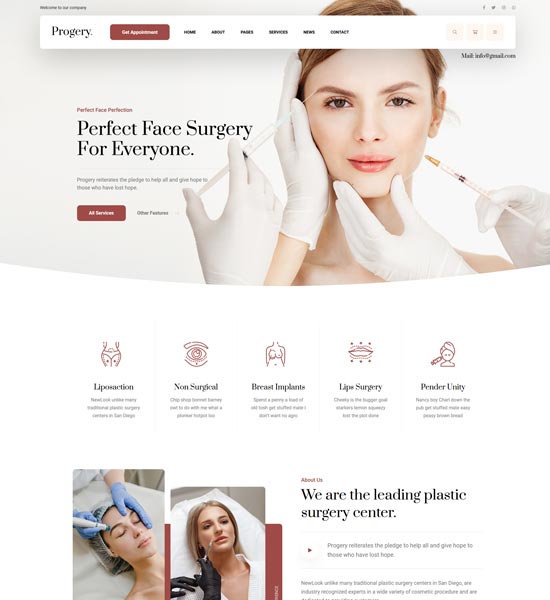 more info / download demo
Luxia
Luxia Beauty & Spa Center WordPress theme for hair salon, wellness center, yoga / meditation classes and all other healthcare businesses. Each and every one of the sections created with a fresh and modernist look to expose the view of its services, treatments and its benefits in an enchanting view.
more info / download demo
Parris
Dedicated to true beauty, Parris is the makeup expert you've been waiting for! The theme comes with a fantastic selection of beauty blog, cosmetic store, beauty product, woocommerce, shopping and beauty blog templates as well as full Elementor Page Builder compatibility. WP's ultimate face for her new website is here, perfect for every makeup vlogger and beautician!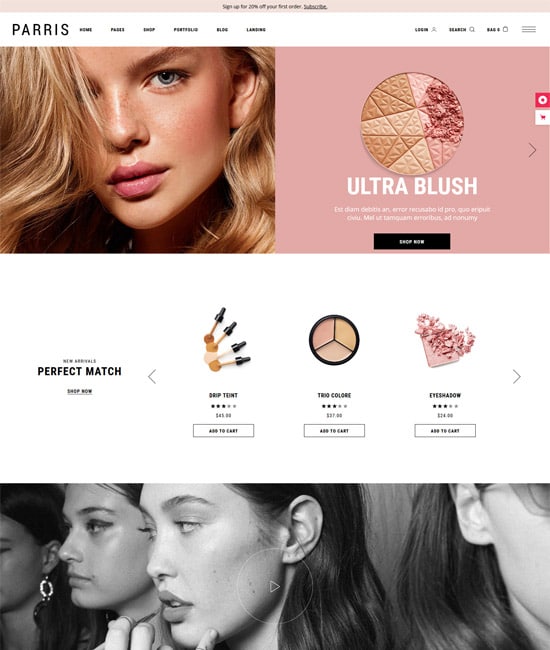 more info / download demo
Bedove
Bedove is a minimalist and creative WordPress theme specially designed for the beauty industry. It is ideal for beauty cosmetic stores, cosmetic brands, beauty stores, beauty studios, spas and hair salons. Furthermore, Bedove can be used for a wide range of fashion, food, medicine or furniture stores and shops due to its modern and minimalist design.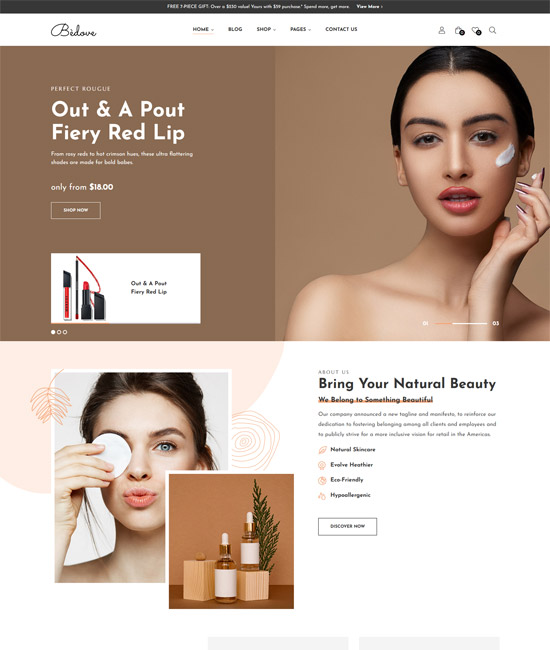 more info / download demo
Beautifo
Beautifo WP Theme, a beauty cosmetics store WordPress theme, is perfectly made for online businesses such as beauty spa, health and massage, cosmetics, makeup store, beauty products, skincare, natural beauty or purposes. health care.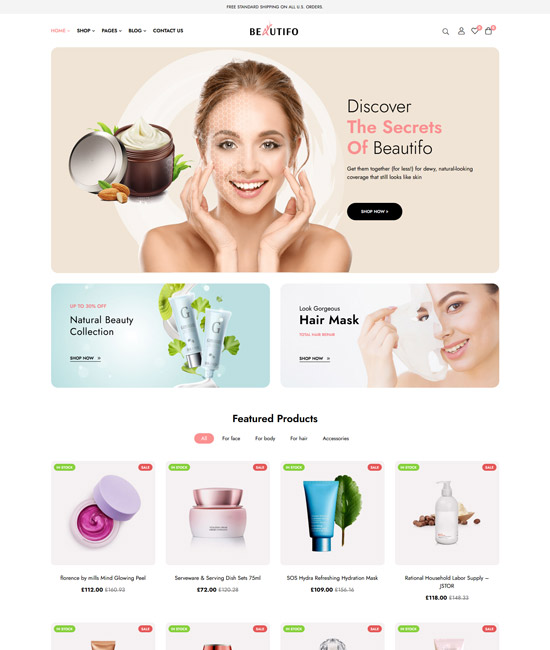 more info / download demo
Mixlax
A WordPress theme for beauty, spa and wellness treatments, packed with specific features and blocks. It includes unique service pages that will be tailored to your service requirements, also unique and specially dedicated pages such as: Our Spa, Experts, Treatments, Location, Prices, Packages, many Service pages and everything else necessary to successfully create a site Spa website. The topic is not just limited to Spa and could easily be adapted to suit a wide range of applications.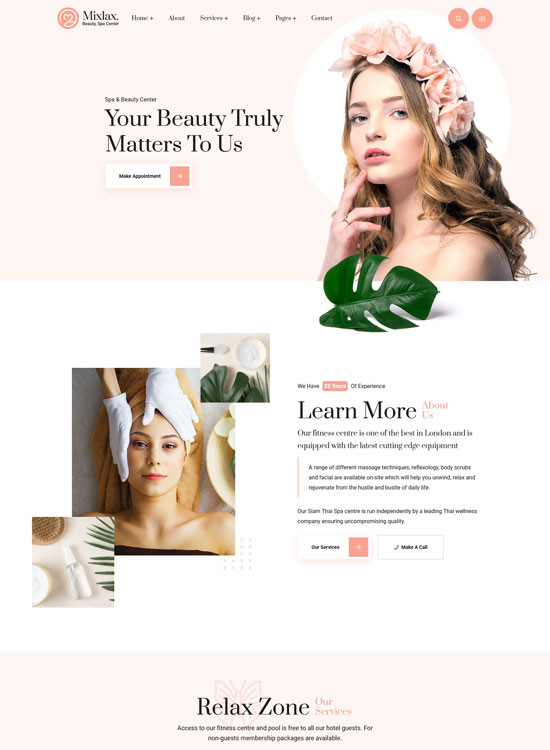 more info / download demo
Reina
Your new online relaxation oasis is here! This is Reina, a beautiful theme for all modern spa and wellness websites. It comes with a fine selection of flexible home page templates, as well as a multitude of different layouts perfect for every spa, wellness, or salon website. Meet a real WordPress beauty, create your new spa or wellness website with Reina!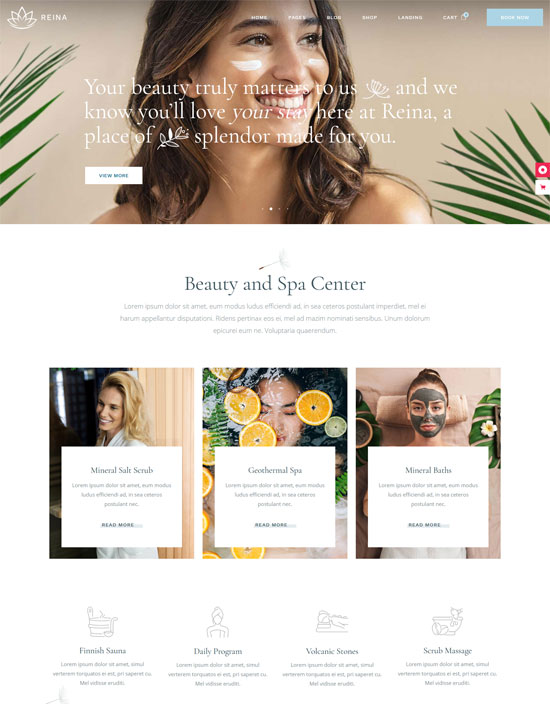 more info / download demo
Mremot
Feel free to create your own website with this finished template. This template is ideal for hairdressers and those who need an easy, attractive, and efficient way to share their work with clients. It has a purpose-oriented layout, responsive layout, and special features like 3 different landing pages, blog layouts, galleries, services, and pricing tables. Mremot offers the best solution for your own portfolio.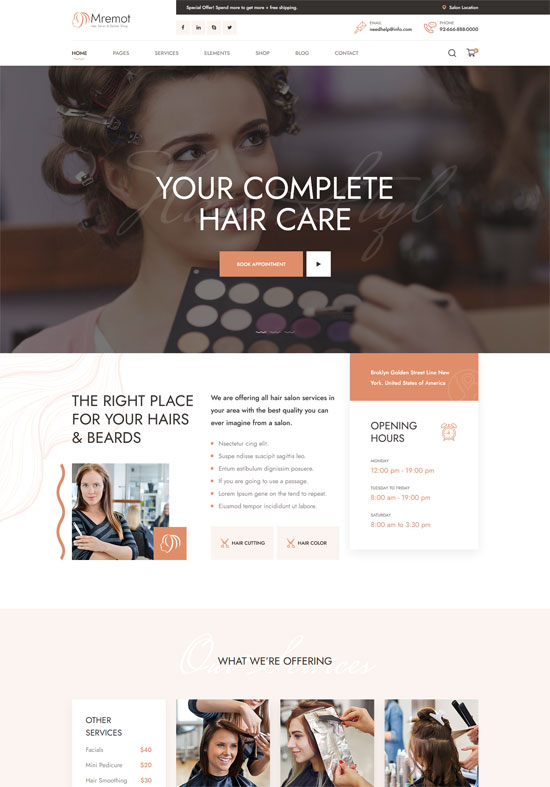 more info / download demo
Chérie
Beauty, Hair, Nail, Spa Salon & Cosmetic Shop for WordPress. It is fully SEO optimized, 100% responsive and Retina ready, has outstanding design, 6 month support is included. The Chérie WP theme is perfectly suitable for any type of beauty salon, beauty school, courses and cosmetics store. It will ideally work for online service bookings, sales, and beauty course promotion.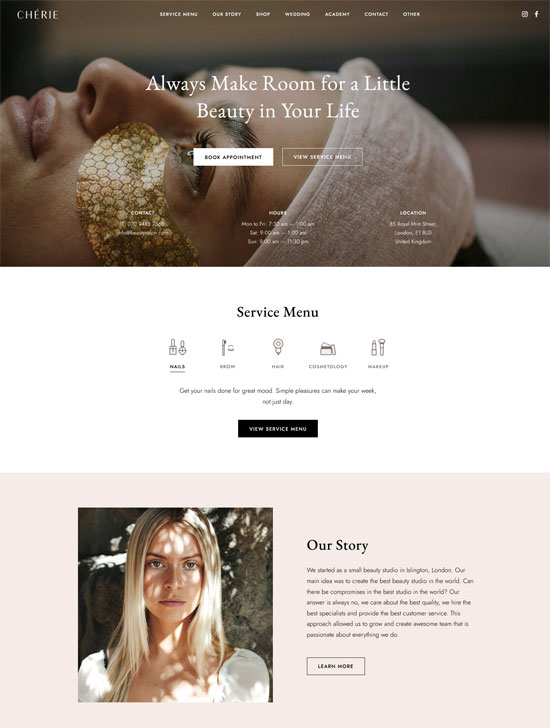 more info / download demo
Marra
A contemporary theme that revolves around beauty. Create an awesome new website for your hair salon, cosmetics store or any other kind of beauty website in the easiest way! Decorated with tons of pre-made inner page templates, as well as eight stunning home page examples designed specifically for different types of beauty websites, Marra simply has it all. Complete all of that with full Elementor Page Builder compatibility and two premium plugins included for free, and you get the best beauty expert you can find in Marra!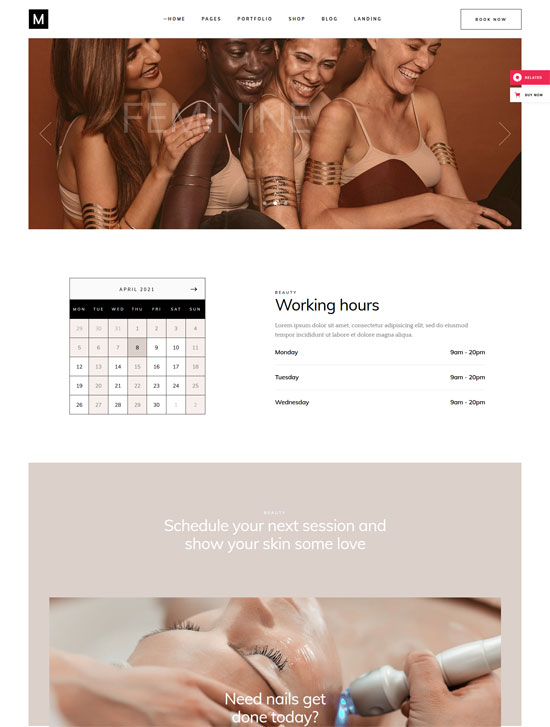 more info / download demo
Mailyspa
Beauty & Wellness WordPress Theme is a stylish theme created for the wellness and spa industry. The theme is clean and flexible. You can use MailySpa for luxury spa, beauty salon, wellness center, massage booking, beauty spa, massage therapy, yoga studio, nail salon, skin care cosmetic and makeup salon and beauty center. beauty. Depending on the type of your beauty spa, you can choose from more than 4 pre-made home pages with the best design to suit your wishes.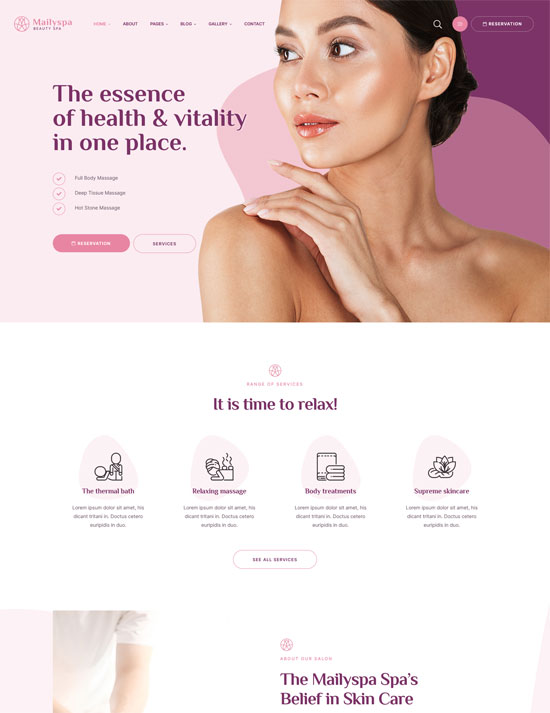 more info / download demo
Lovecare
A handy senior care WordPress theme that is ideal for managing senior care, senior life, nursing homes, senior housing, sheltered housing, nursing homes, hospice, citizens in home, medical or healthcare websites. Coming with a stunning design and easy-to-use interface, this full-featured elderly care WordPress theme is also tailored to the demands of a hospital, clinic, daycare, nursing home, and any medical organization.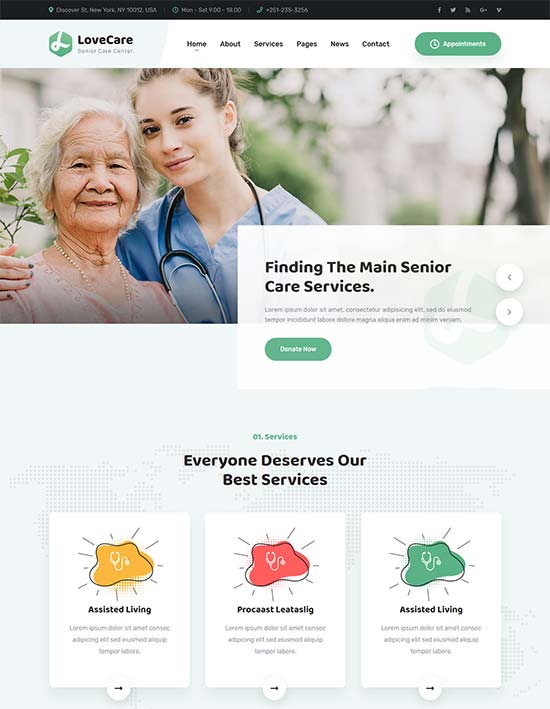 more info / download demo
TouchUp
A theme we designed specifically for cosmetics, plastic surgery, and all medical businesses alike. TouchUp comes with three free premium plugins and is fully compatible with Elementor Page Builder. Create Your Amazing New Plastic & Cosmetic Surgery Website Hassle Free – Get TouchUp Today!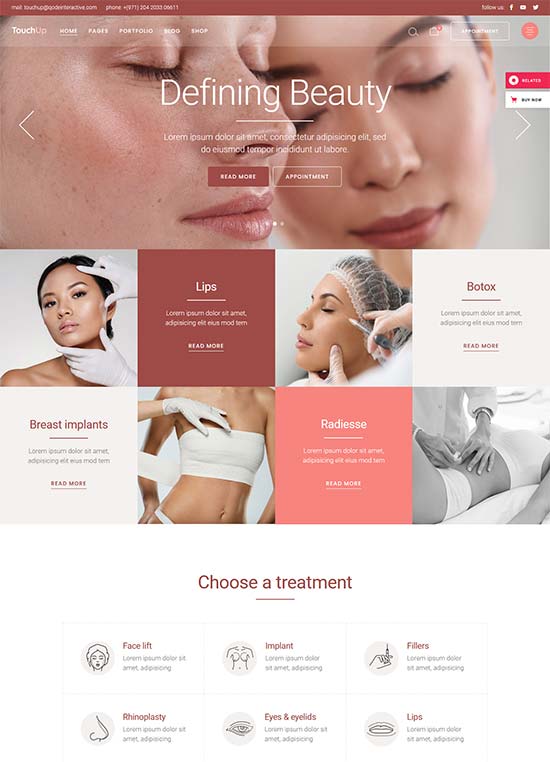 more info / download demo
Fyna
A clean, modern and responsive design that allows you to create a unique website for beauty, salons, makeup studio, hair salon, hair salon, nail salon, skincare store, cosmetic health, spa salon, skincare hair care and makeup services related to lifestyle. service / business websites.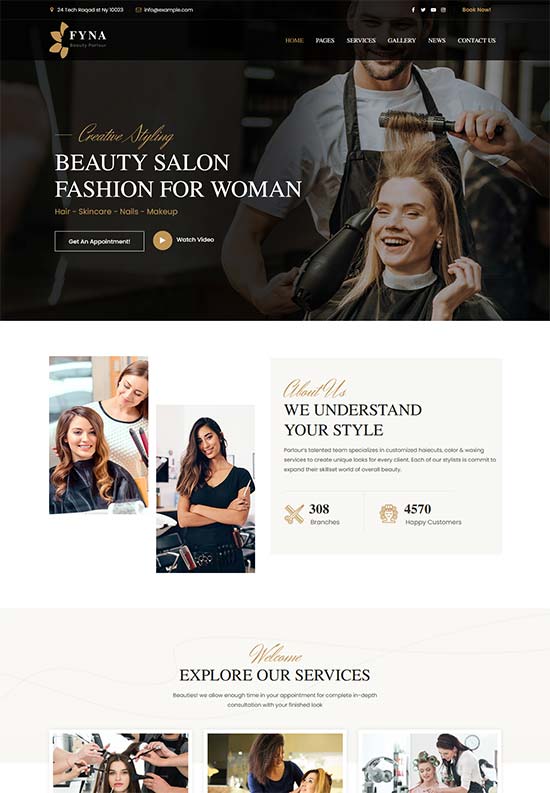 more info / download demo
Eyora
This clean and modern theme was specially designed for beauty industries like eyelash, makeup or hair salon, beauty salon and others. The theme is created with the help of Elementor, WordPress' # 1 page builder, to make the editing process easy and smooth. There are 3 pre-built home page variations to choose from and also a large variety of custom pages like Services, Pricing, About Studio, Team, and 2 Coming Soon Pages. GT3 Photo & Video Gallery PRO plugin is also included in the theme pack and allows you to create multiple beautiful galleries.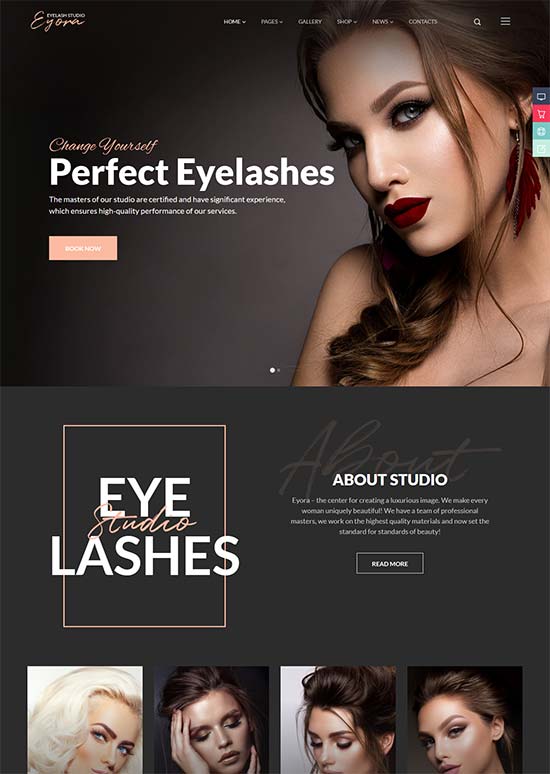 more info / download demo
Labore
WordPress theme is designed for beauty, spa, yoga, beauty salons, massages, care, hair, health, wellness…. It has a 100% responsive design and tested on all major portable devices. Especially, Labore uses our Hun Page Builder to create pages. Hun Page Builder is very easy to use and makes you feel comfortable creating pages.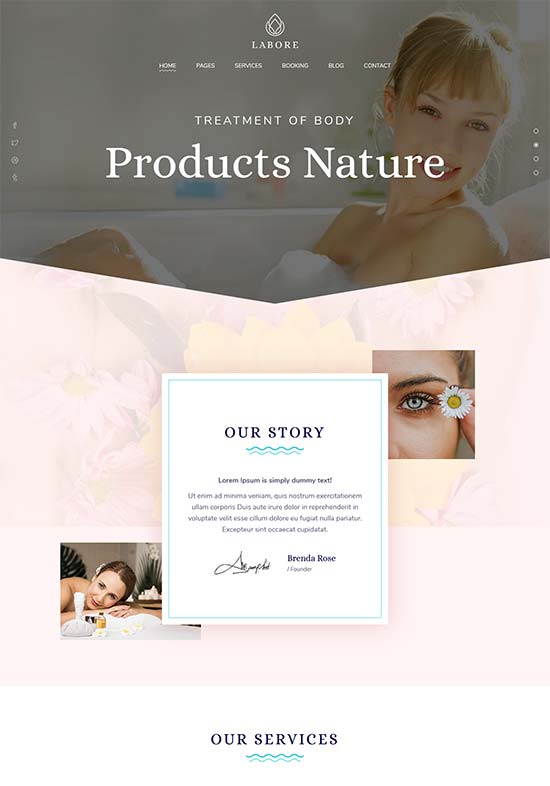 more info / download demo
Lella
A stylish theme for all kinds of hair salon and salon websites, packed with all the hair salon essentials you can imagine – you get booking form templates, full WooCommerce compatibility, and all hair salon and salon templates. of beauty you may need.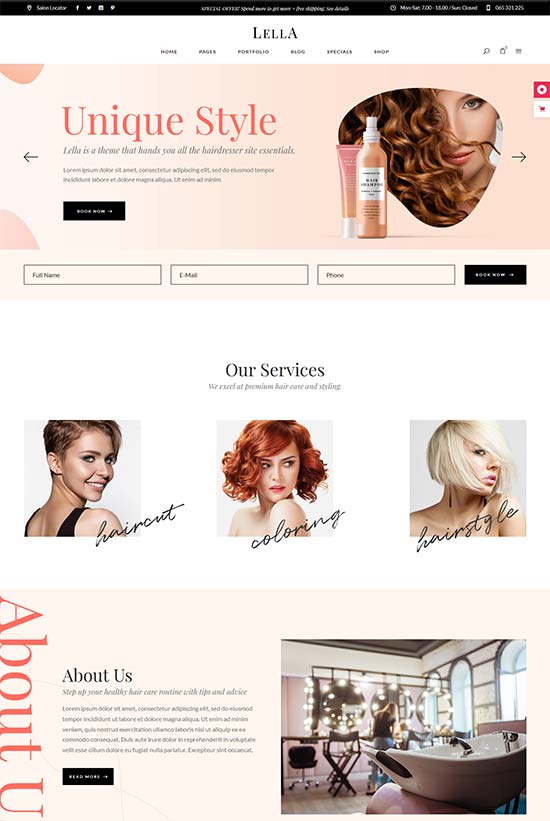 more info / download demo