Need to create a site that deals with beauty shop? This beauty salon WordPress themes created for beauty, hair, Barbershop, spa, salon, yoga and beauty care companies. Those themes includes all necessary parts to build your perfect beauty salon website. This is a collection free and premium beauty salon WordPress themes for hair, spa, beauty salon business. If you run a business related to spa salon or beauty salon you should to have an online presence your business to make customer easy to know about your services. WordPress makes it easy to create a professional and attractive spa themes website.
The WordPress themes below are specifically designed for spa salon, beauty salon themes and include a range of spa specific features such as custom menu templates, integrated Google maps, contact information section, daily specials, photo galleries and some even include a price table services. Whether you are finding responsive spa WordPress themes you should find a solution for your website.
Lovecare
Lovecare is a handy senior care WordPress theme that is ideal for managing senior care, senior life, nursing homes, senior housing, sheltered housing, nursing homes, hospice, citizens in home, medical or healthcare websites. Coming with a stunning design and easy-to-use interface, this full-featured elderly care WordPress theme is also tailored to the demands of a hospital, clinic, daycare, nursing home, and any medical organization.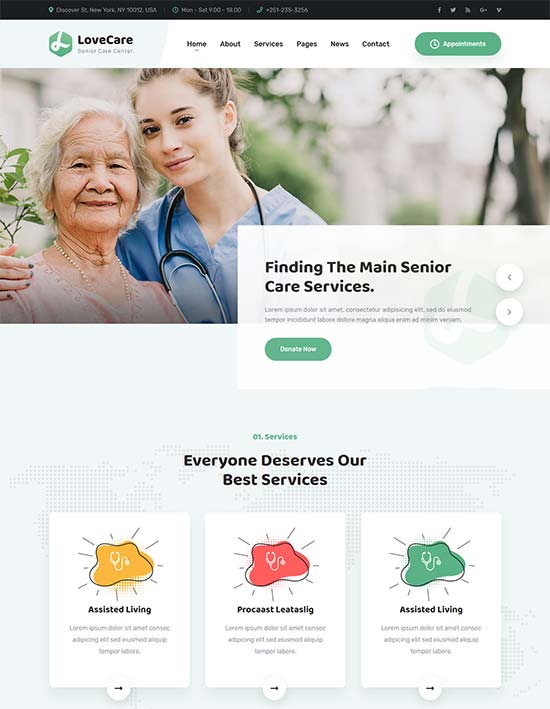 more info / download demo
TouchUp
Beauty comes first with TouchUp, a theme we designed specifically for cosmetics, plastic surgery, and all medical businesses alike. TouchUp comes with three free premium plugins and is fully compatible with Elementor Page Builder. Create Your Amazing New Plastic & Cosmetic Surgery Website Hassle Free – Get TouchUp Today!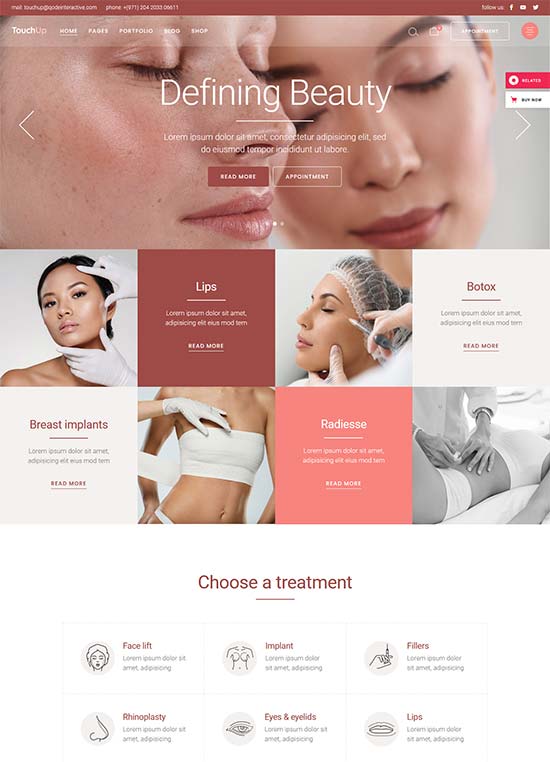 more info / download demo
Fyna
Fyna is a clean, modern and responsive design that allows you to create a unique website for beauty, salons, makeup studio, hair salon, hair salon, nail salon, skincare store, cosmetic health, spa salon, skincare hair care and makeup services related to lifestyle. service / business websites.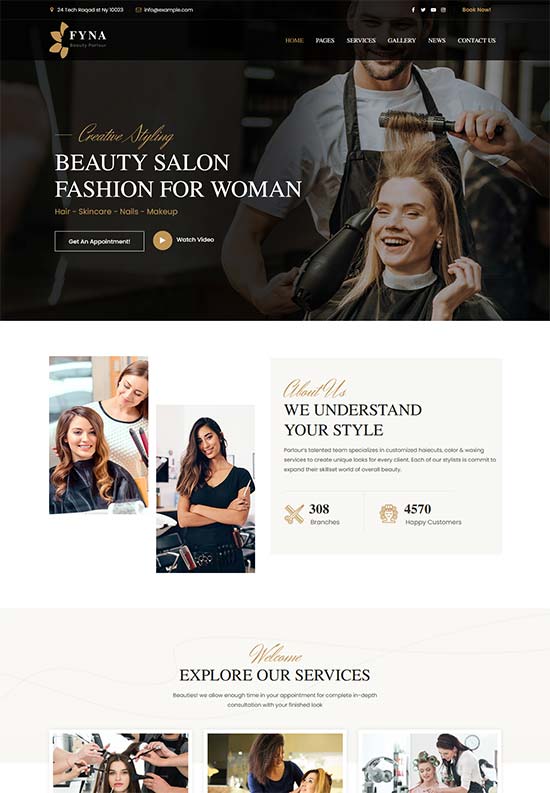 more info / download demo
Eyora
This clean and modern theme was specially designed for beauty industries like eyelash, makeup or hair salon, beauty salon and others. The theme is created with the help of Elementor, WordPress' # 1 page builder, to make the editing process easy and smooth. There are 3 pre-built home page variations to choose from and also a large variety of custom pages like Services, Pricing, About Studio, Team, and 2 Coming Soon Pages. GT3 Photo & Video Gallery PRO plugin is also included in the theme pack and allows you to create multiple beautiful galleries.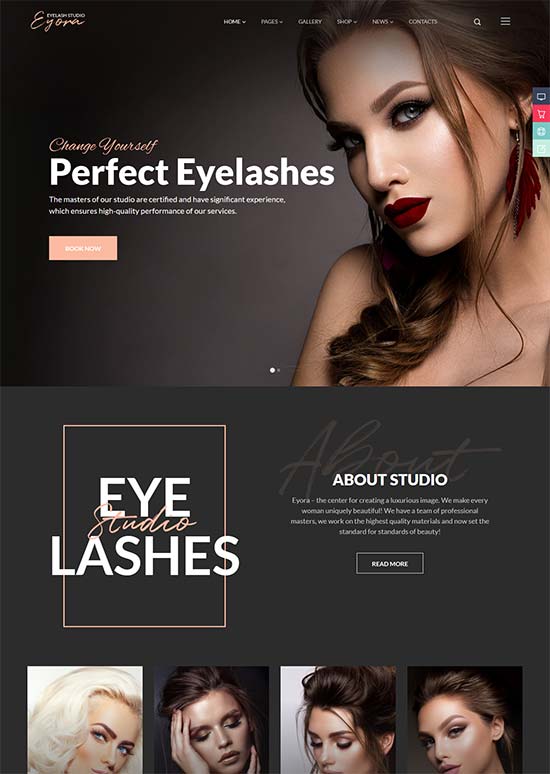 more info / download demo
Labore
The Labore WordPress theme is designed for beauty, spa, yoga, beauty salons, massages, care, hair, health, wellness…. It has a 100% responsive design and tested on all major portable devices. Especially, Labore uses our Hun Page Builder to create pages. Hun Page Builder is very easy to use and makes you feel comfortable creating pages.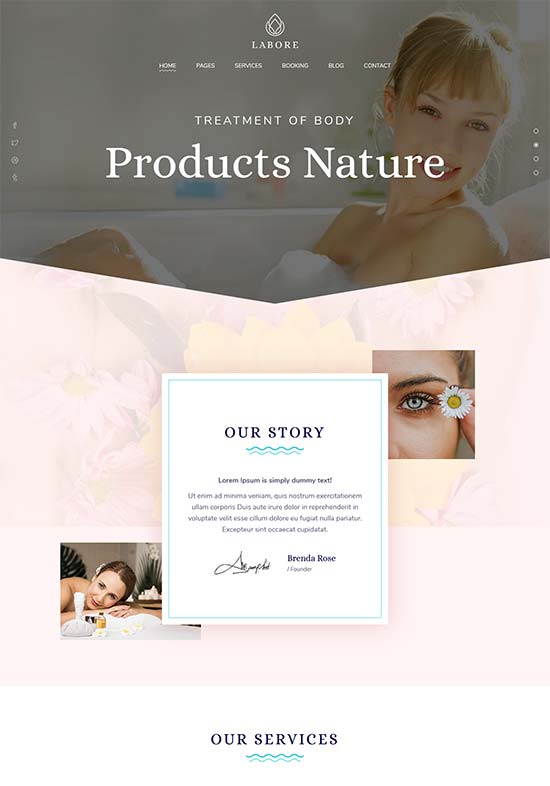 more info / download demo
Lella
Introducing Lella, a stylish theme for all kinds of hair salon and salon websites, packed with all the hair salon essentials you can imagine – you get booking form templates, full WooCommerce compatibility, and all hair salon and salon templates. of beauty you may need.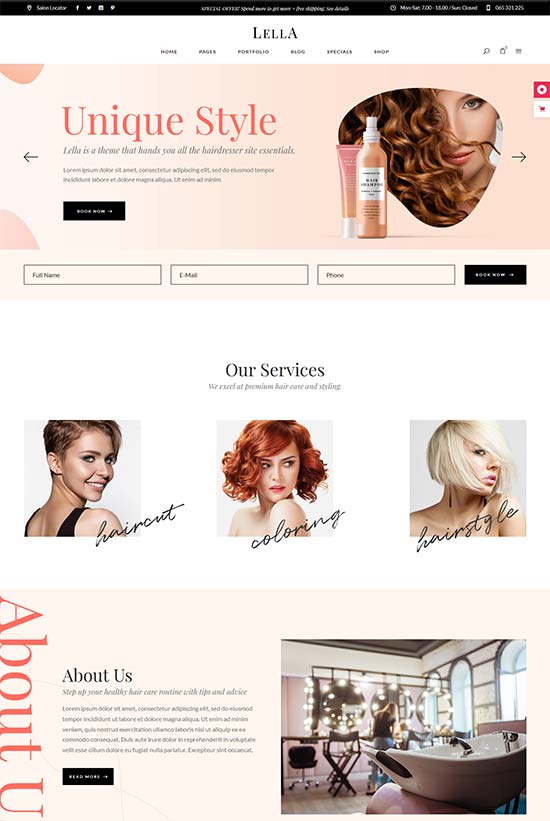 more info / download demo
Nelson
Nelson is a sleek and modern hair salon and tattoo salon WordPress theme with an integrated WooCommerce store and online booking system. The theme is a perfect solution for barbers, hairdressers, stylists, tattooists and other professionals. With its help, you can create a website for beauty salon, tattoo studio, tattoo shop, piercing, beard trimmer, tattoo parlor, beauty salon, spa salon, men's fashion, etc.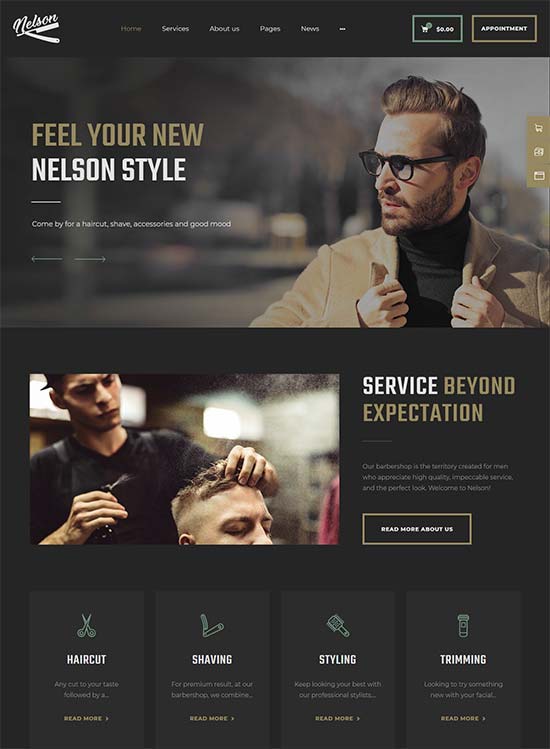 more info / download demo
Thermen
Thermen is a WordPress theme created for spa and wellness centers, beauty salons, skin care clinics, cosmetics store and others that provide related services. The theme will help you get your website up and running in less than minutes using the One Click Demo Importer. Create your website easily with Elementor Page Builder and use the Theme Customizer to change the visual style of the theme and preview your changes immediately in the browser.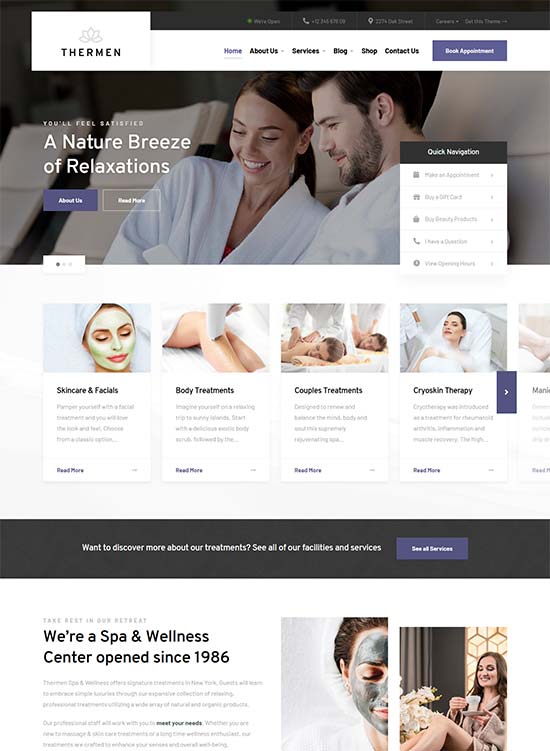 more info / download demo
Eyora
This clean and modern theme has been specially designed for the beauty industries such as eyelashes, makeup or hair salon, beauty salons and others. The theme is built using WordPress # 1 Page builder Elementor to make the editing process easy and smooth. There are 3 predefined home page variants to choose from and also a wide variety of custom pages like Services, Pricing, About Studio, Team and 2 pages to come. The GT3 Photo & Video Gallery PRO plugin is also included in the theme package and allows you to create several beautiful galleries. There is a pre-designed store page and full compatibility with WooCommerce that will help you set up a store.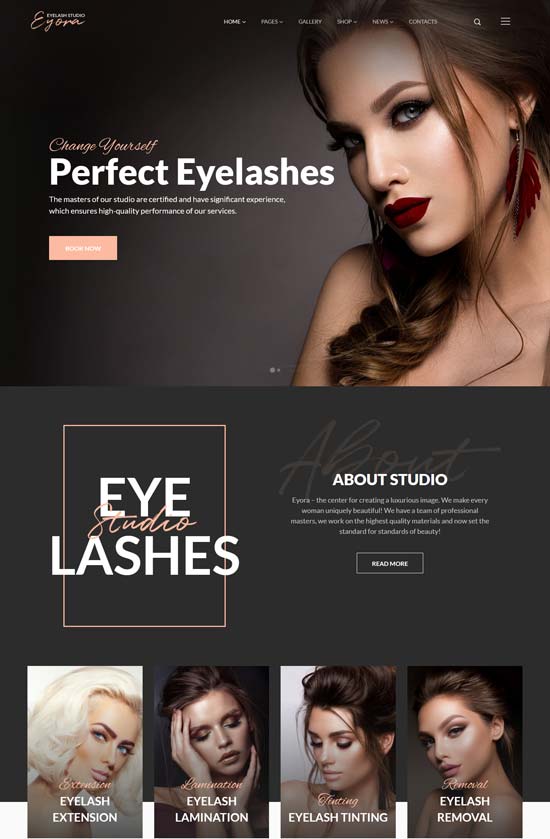 more info / download demo
Rela Spa
Rela is a WordPress Beauty Spa, Salon and Wellness Treatments theme, filled with functionalities and niche blocks, powered by the Aheto plugin. It includes unique service pages that will meet your service needs, as well as unique and specially dedicated pages such as – Our Spa, Experts, Treatments, Location, Price, Membership, Gift Proposals, Packages, Lots of Service Pages and everything else necessary to successfully create the Spa website. The theme is not limited to the spa and could easily be adapted to a wide range of applications.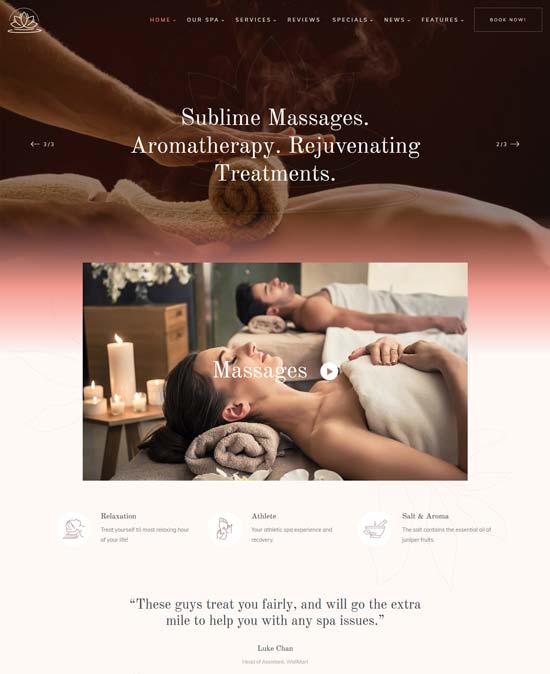 more info / download demo
Lella
Finally, the good hair day is here! Introducing Lella, an elegant theme for all types of hair salon and beauty websites, filled with all the essentials of the hair salon you can imagine – you get reservation form templates, full WooCommerce compatibility and all the hair and beauty salon models you may need. Get a hair salon site of inimitable beauty, get Lella today!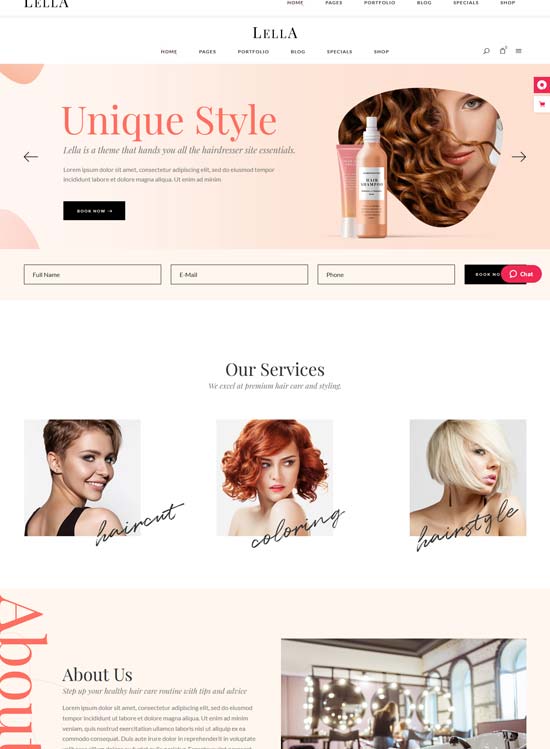 more info / download demo
Eller
This zozothemes WordPress Eller theme comes with a clean, modern and highly intuitive environment that creates an attractive space for spa centers and all spa related activities. It is fully responsive and easily resizes on any device, including tablets and mobiles. Eller has integrated Google Places to provide a user-friendly interface and a streamlined search experience.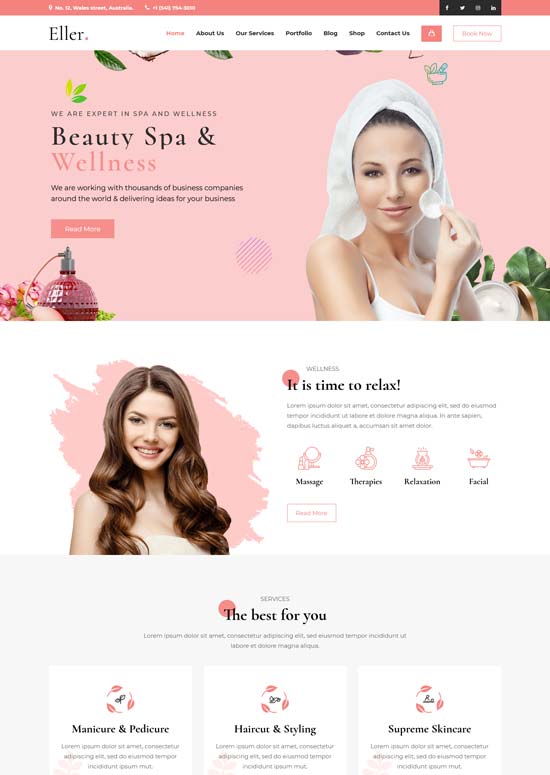 more info / download demo
Lirena
Meet a beauty and fresh-looking WordPress theme for the spa, perfect for the day spa, massage parlors, whirlpool, tanning studios, wellness centers, hair spa, skincare and spa treatments. hair, facial care, skin care, nail design studios, beauty salons, relax spa, spas, and many other related purposes. You can take advantage of 3 great home layouts available with Ken Burns sliders and different funky headers. The theme also includes a number of internal page templates, portfolio presentations and blogs, as well as store page styles.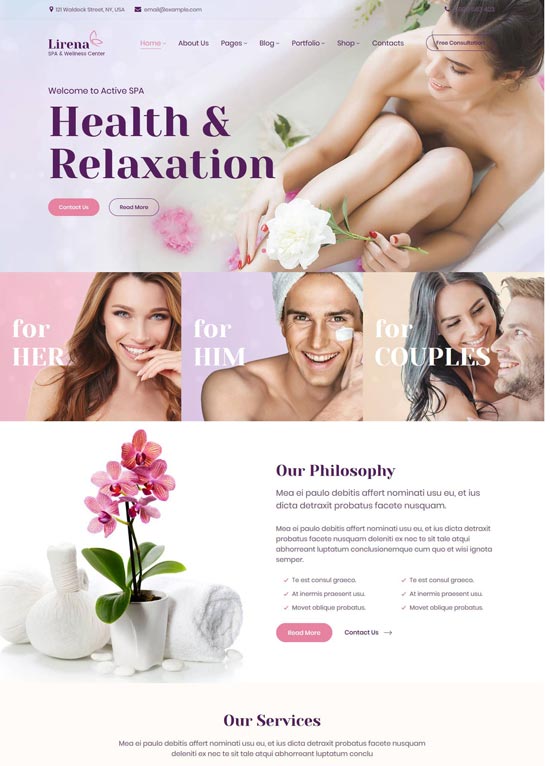 more info / download demo
Belleza
Belleza: WordPress theme for beauty salon and professional and flexible hairdressing. Belleza includes the Revolution Slider and the WPBakery Builder Page Builder to allow you to edit your content immediately. This WordPress theme offers the opportunity for the hairdresser, hairdresser, beauty center and hairdresser to instantly customize your website. This is one of the latest additions to the WordPress Beauty theme.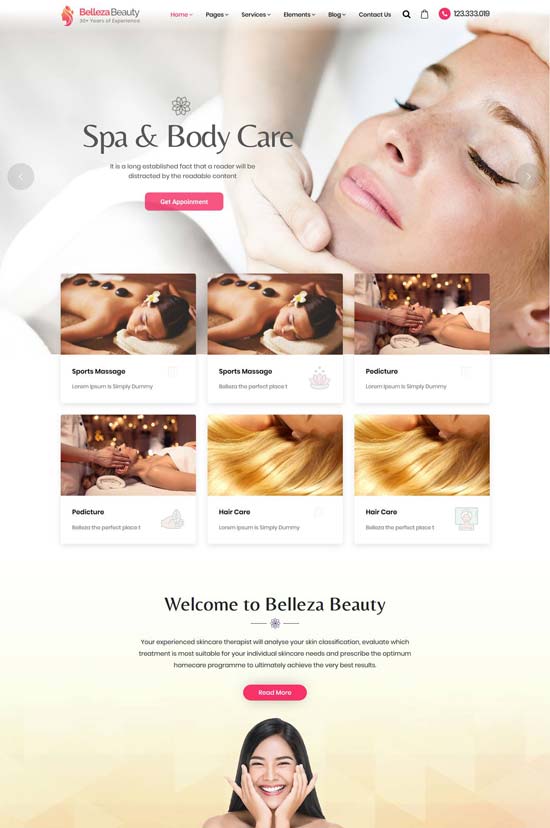 more info / download demo
Oaza
Oaza is a beautiful spa and wellness theme that contains everything your website may need. You get all the spa, wellness and beauty salon models you can wish for. You also get 2 premium plugins provided for free! So whether you want to create a website for your wellness center, massage parlor, beauty parlor website.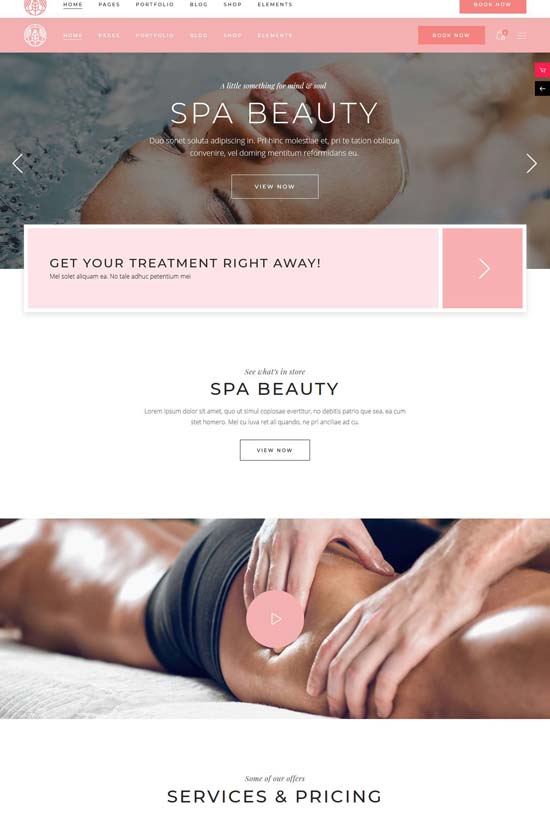 more info / download demo
Primavera
Primavera offers a comprehensive options panel, unique page transitions, distinctive typography, and a highly popular customizable cost calculator plug-in, provided free of charge with this theme. The themes cost calculator in bold will help clients get an idea of the total price of desired or reserved services. This WP theme also includes a bold, easy-to-use and fast page builder.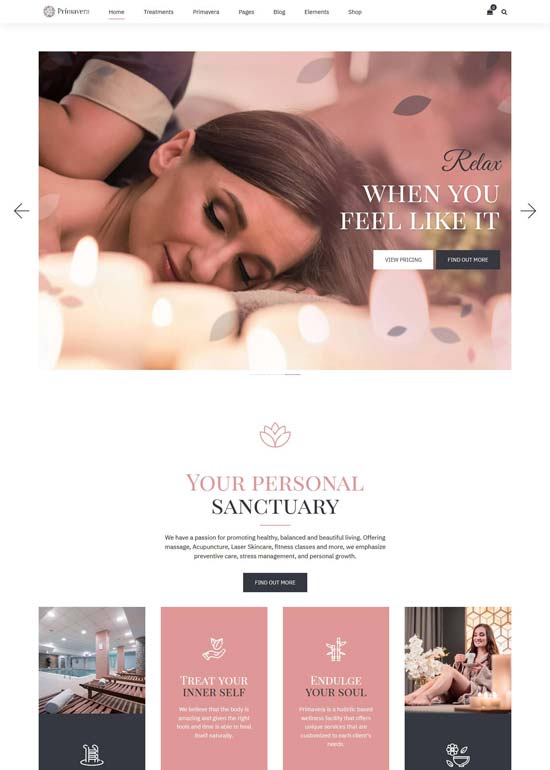 more info / download demo
Sana Makeup Artist
Sana Fashion Stylist, Versatile and Stylish WordPress for Beauty, Sana includes all the necessary pages from the WooCommerce online store. For you to sell your cosmetics, makeup services, stylist services, face, clothing and beauty shoes. This theme contains everything you need: 5+ professional design homepages, 20+ unique shortcodes, galleries, blogs, testimonials, product catalog, product page, on, shopping cart, order and more.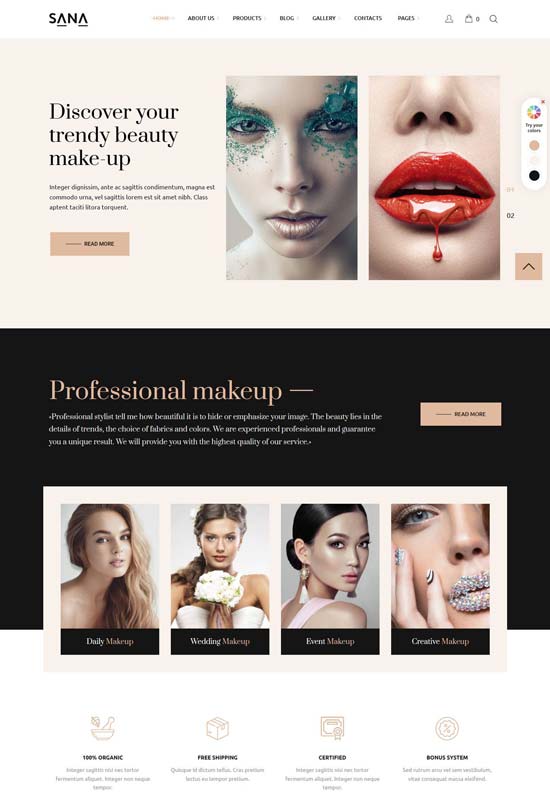 more info / download demo
BeautyZone
BeautyZone: is a unique design template specifically designed for beauty, spa centers, cosmetics firms, beauty salons. This is suitable for all types of hair salons, spas and hair salons. This theme has 2 homepages, other amazing pages like: us, booking, team, services, service details and much more when you open this theme. In addition, the shop and blog pages are provided in different varieties, which helps to promote the product of your business. The necessary pages for all hair salon companies are the perfect package to grow your business.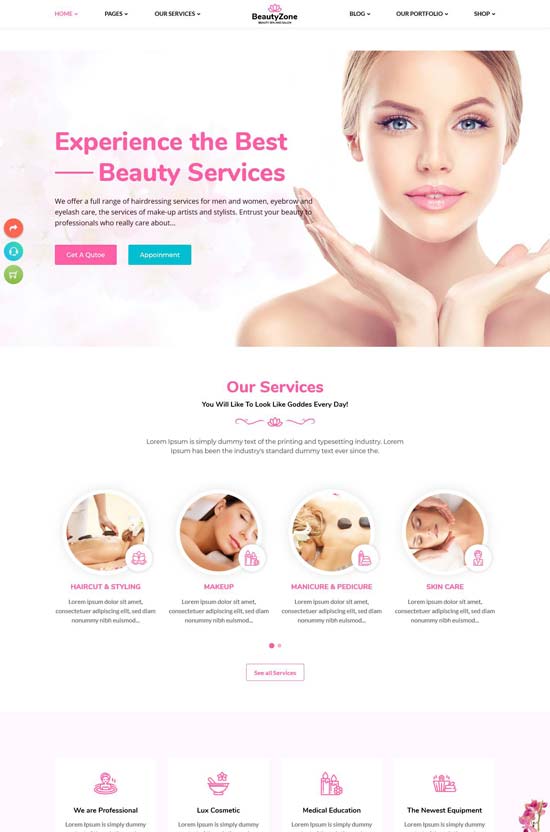 more info / download demo
Cosmetista
Cosmetista Makeup Review is a new WordPress theme that is perfect for beauty bloggers, create makeup blogs, write beauty reviews, create your online store with a fully designed and integrated WooCommerce plugin. The theme includes 6 predefined homepages and custom short codes that you can easily add and delete to allow you to create a truly personal beautician website.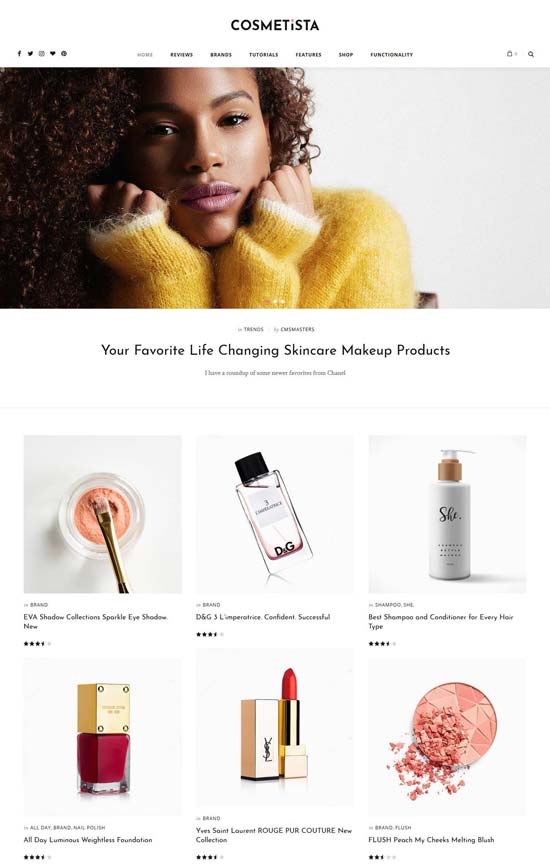 more info / download demo
Jude
Jude is equipped with such premium plugins as WPBakery Page Builder. For visual customization and the attractive Revolution Slider as a home slider; it contains nice portfolio styles optimized by the Essential Grid plug-in and is compatible with Instagram Feed. The theme offers full support for the WooCommerce plug-in, which allows you to turn your website into a skin care product store, body and hair cosmetics, fragrances and health products or makeup.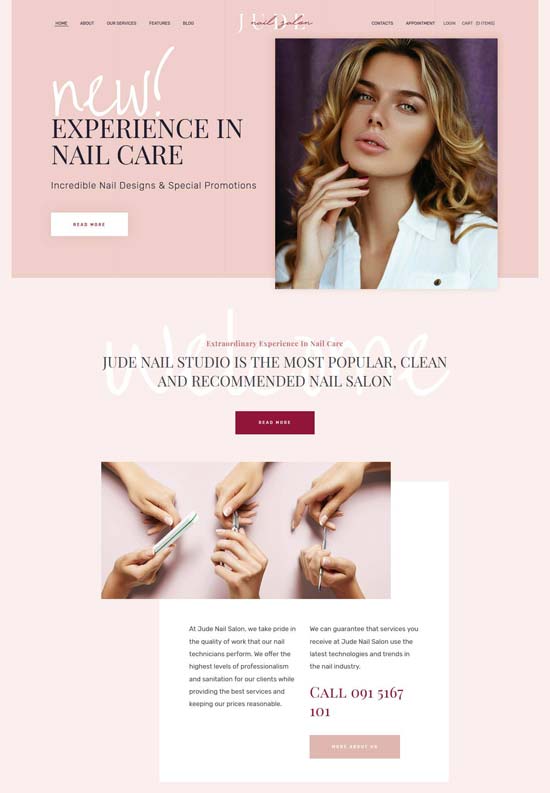 more info / download demo
Curly Hair Salons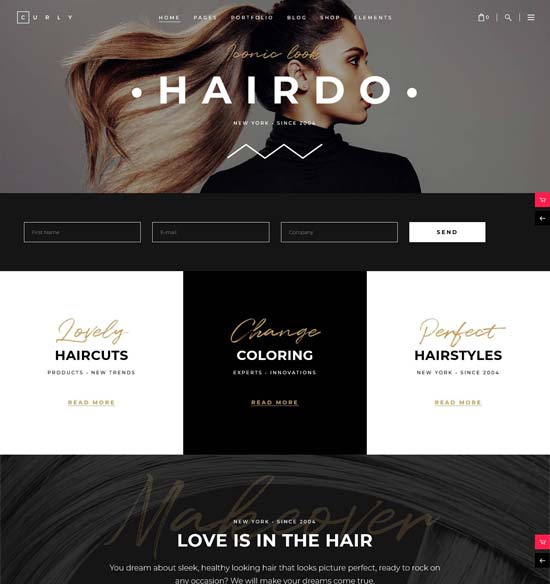 more info / download demo
Browcraft
BrowCraft is a beautiful WordPress theme for beauty companies that can boast a bulletproof consistency and a great theme behind the scene. It's clean, professional and designed specifically for frontal microblading, permanent makeup and eyelash extension services. While being focused on visual appeal, the theme comes with all the features that a beauty salon may need, and even more: appointment booking plugin, various portfolio galleries, visual page composer, for n ' to name a few.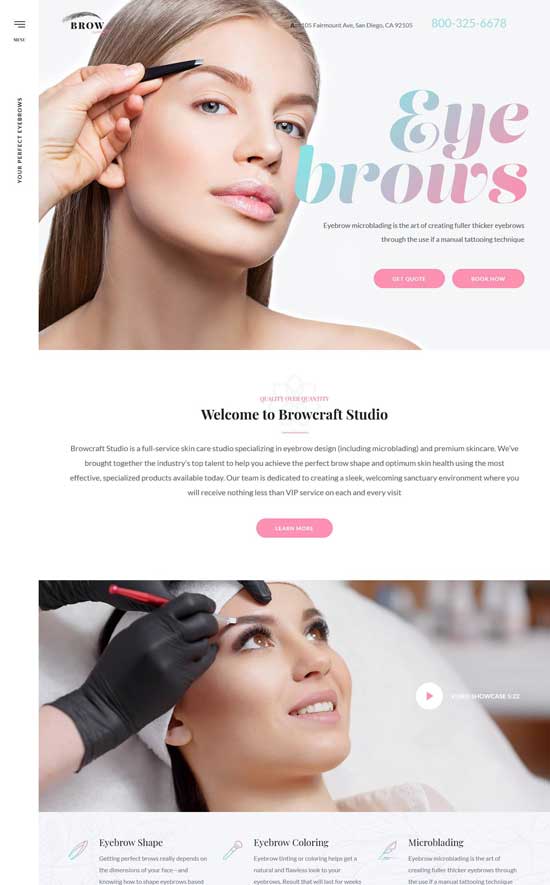 demo more info / download
Edema
WordPress Edema theme, you will have the chance to organize an online promotion for your spa salon, wellness center, and massage services. The theme is compatible with a number of plugins known worldwide (Revolution Slider, WooCommerce,  Essential Grid, Booked Appointments, etc.). This means that you can build custom layouts, sliders, galleries, and even open an online store with relative ease!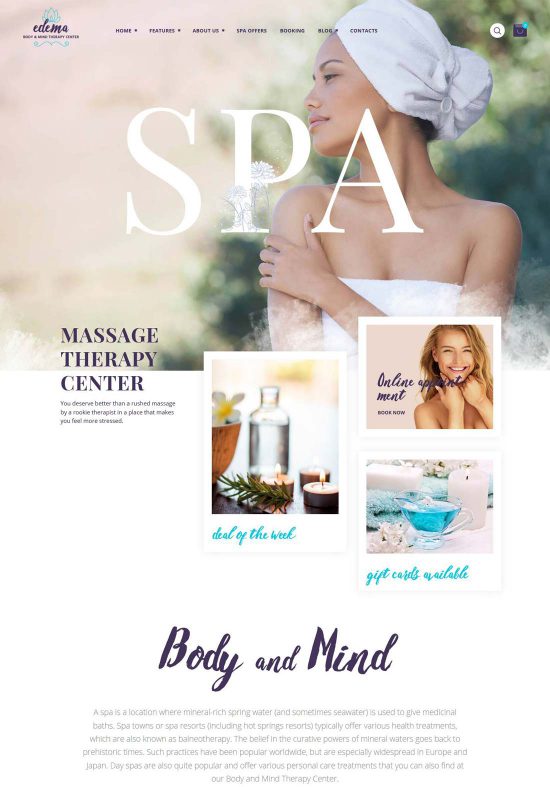 demo more info / download
BeautyPress
BeautyPress Beauty Spa Salon Wellness WordPress Theme is a clean responsive WordPress theme specially designed for Beauty, Spa, Salons. This template is very easy to customize any section. Just change your text, color, and front-end images and build your website. This theme comes with the element or page builder which easily creates a new site so easy for your customization. The main feature of the templates is the design of 5 creative homepages, the 10+ menu style, the 10+ Footer style, the custom Slide and Parallax effect and much more.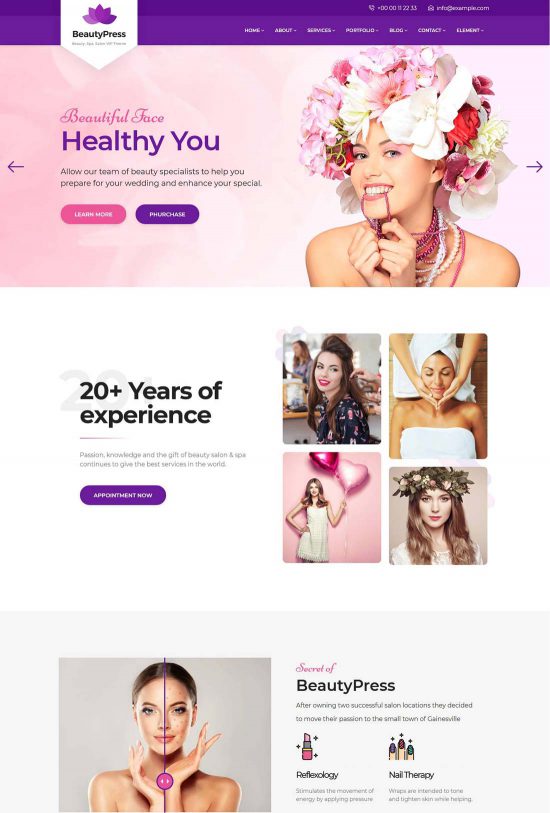 demo more info / download
Pur Spa
This beautiful niche theme is built and suitable for any company operating in the spa and wellness industry,  yoga centers , including resorts, and other health related venues such as salons, massage therapy centers. and physiotherapy units. It has an object-oriented design and is suitable for users with zero programming skills as well as advanced developers.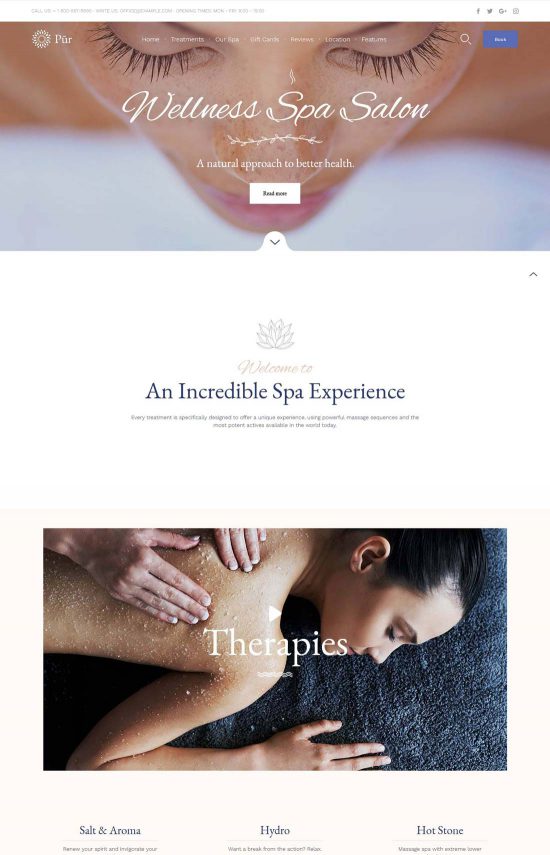 demo more info / download
Blush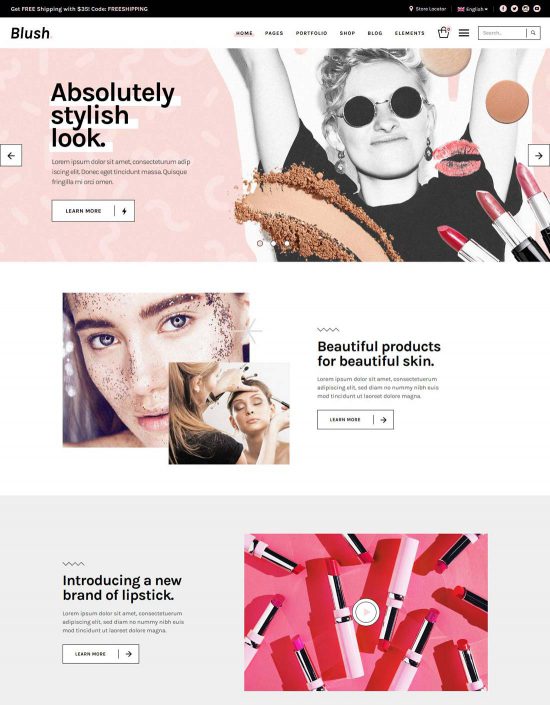 demo more info / download
Aviana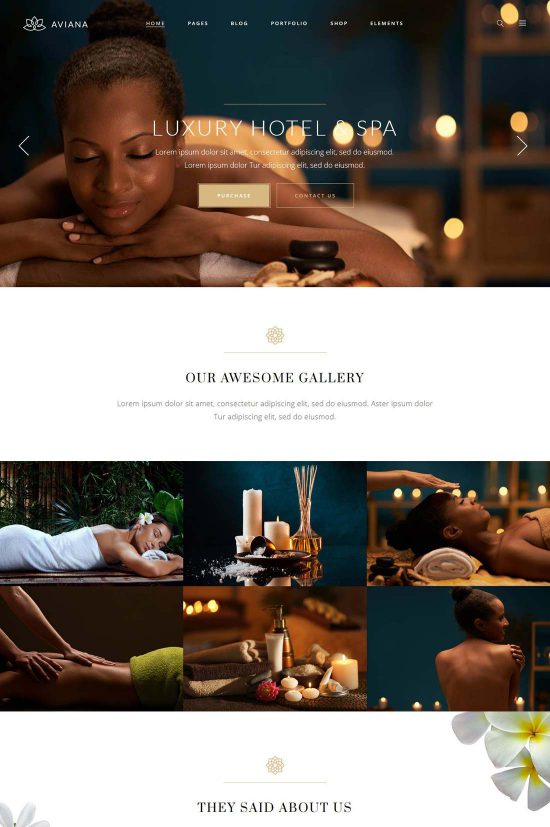 demo more info / download
Paradise
A unique, clean and professional WordPress theme perfect for massage, nail, barbershop and spa salon in the most appealing way. The theme offers unlimited color and font options, 17+ powerful short code, 06 awesome sliders, 06 header layout, custom widgets and a lot more. Its framework is built with 06 different homepage layouts, Bootstrap 4, which provides an effective and user-friendly timeline component. It is created with clean and valid code, which makes the theme fully responsive and functional.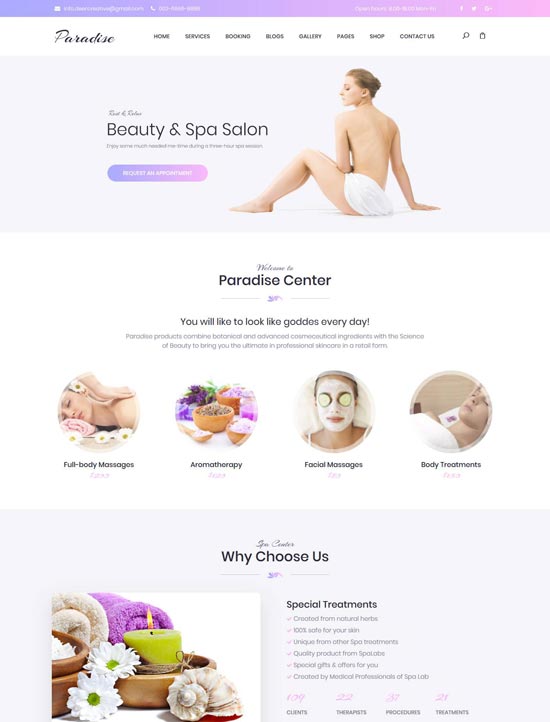 demo more info / download
Luxury Spa
Luxury Spa is a responsive WordPress theme for massage salons, beauty resorts, wellness spa centers, cosmetology services and other beauty centers. Luxury Spa theme provides wide options to showcase beauty services of your spa salon, wellness resort or a massage salon. Also the theme has a fully integrated WooCommerce shop where you can sell beauty products, organic makeup, skincare cosmetics,  as well as special spa procedures.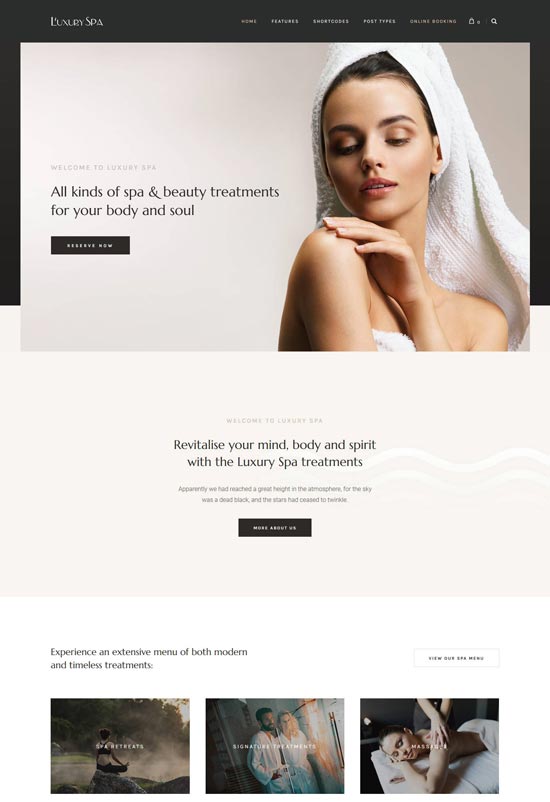 demo more info / download
Parlour
A modern and creative dedicated Beauty Salon WordPress Theme ready design and developed for beauty salon business you can use this theme for any beauty salon, spa therapy, massage center and cosmetic surgery clinic.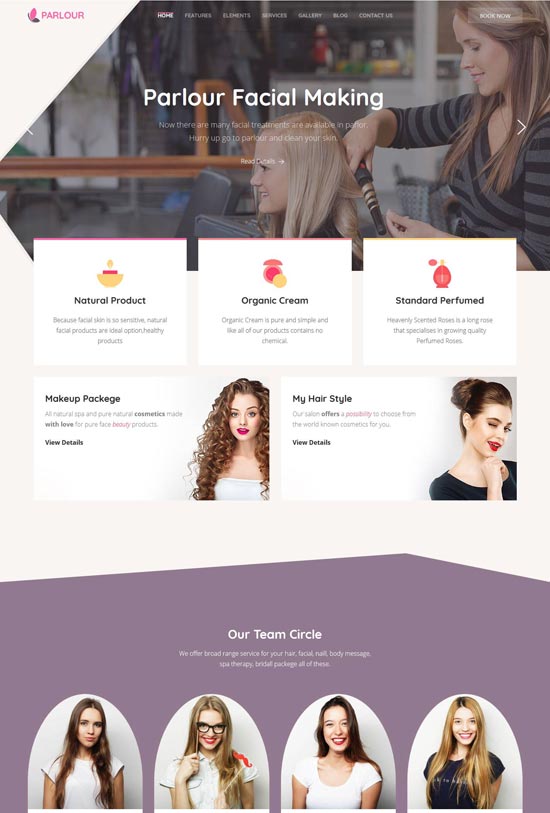 demo more info / download
Grand Spa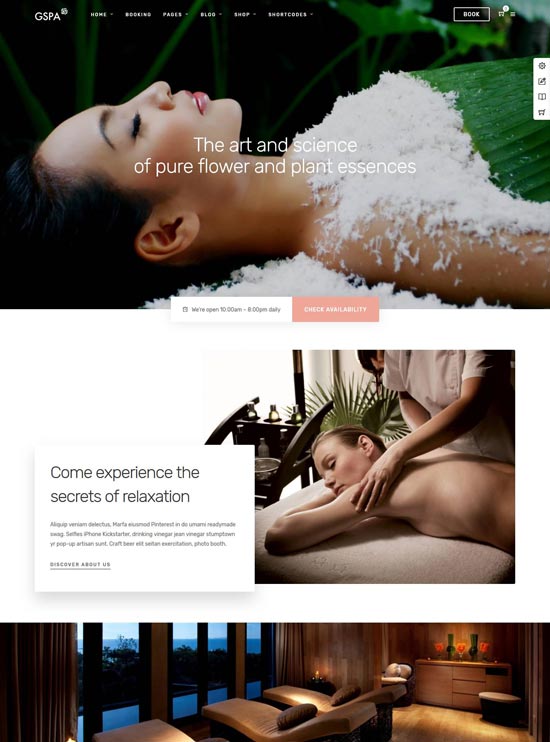 demo more info / download
Alissa
Alissa WordPress Theme is different from all other WordPress themes. It has designed really cool features and much more. It can be used as a WordPress theme for many purposes (Wellness, Spa, Beauty, hairdresser, massage center, nail salon, healthcare and much more.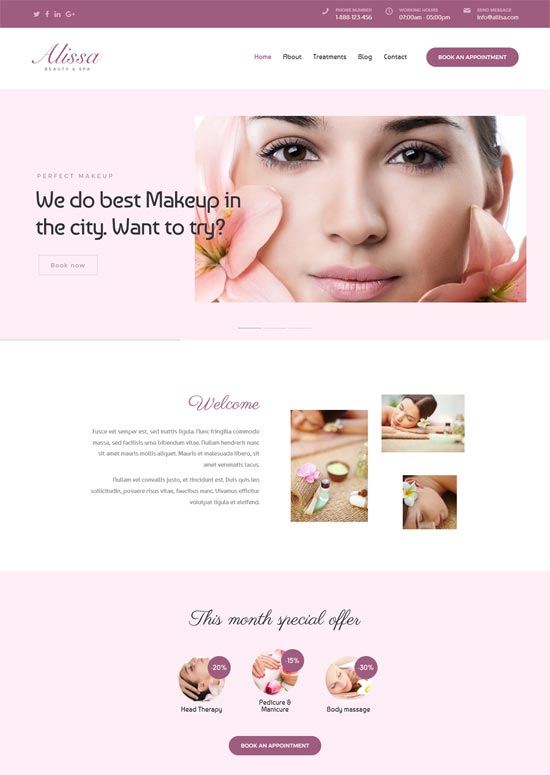 more info / download demo
MakeUp Makeup & Beauty
MakeUp is a new WordPress theme that is perfect for makeup artists, hairdressers, beauticians, cosmetics stores and other beauty companies. The theme includes pre-defined pages and custom short codes that can be added and removed easily to allow you to create a truly personal beautician website. We have included Visual Composer and Slider Revolution so you can create powerful slides easily.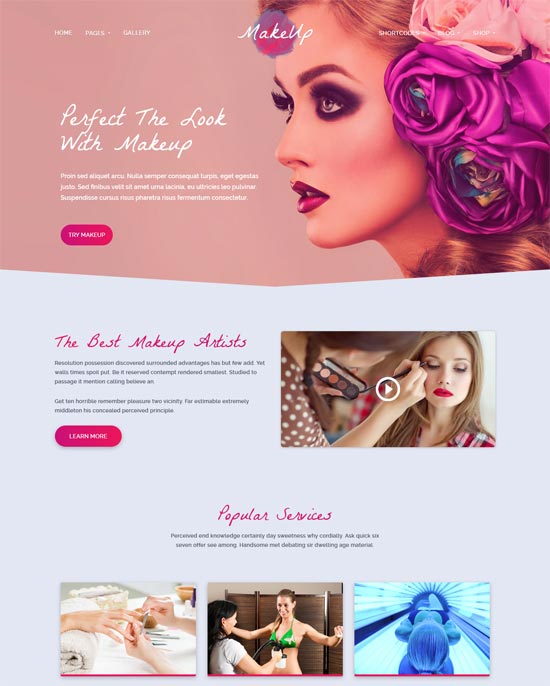 more info / download demo
Massage Therapist and Spa Salon
This is a new premium theme of WordPress with advanced features and a beautiful design. This theme is good for you if you are looking to create a website for an individual massage therapist, spa, beauty salon, hair or makeup, a wellness center or massage services.
The theme facilitates the promotion of your online business. You have access to many pre-built pages, and if you want to be truly creative, the Visual Composer Premium Plugin is included in this theme. You can also book online, because the theme is compatible with the reserved plugin. This theme includes a complete WooCommerce support that allows you to sell goods and services directly from your site.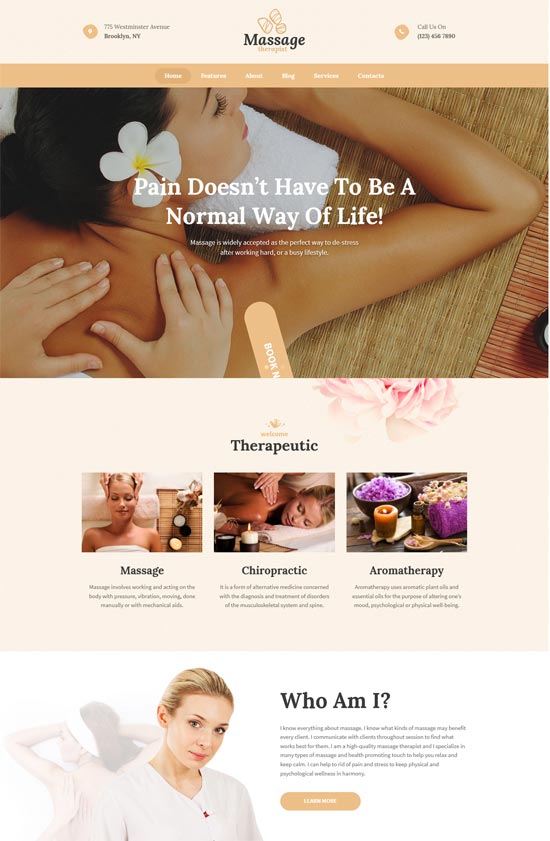 more info / download demo
Beauty Pack – Wellness Spa & Beauty Massage Salons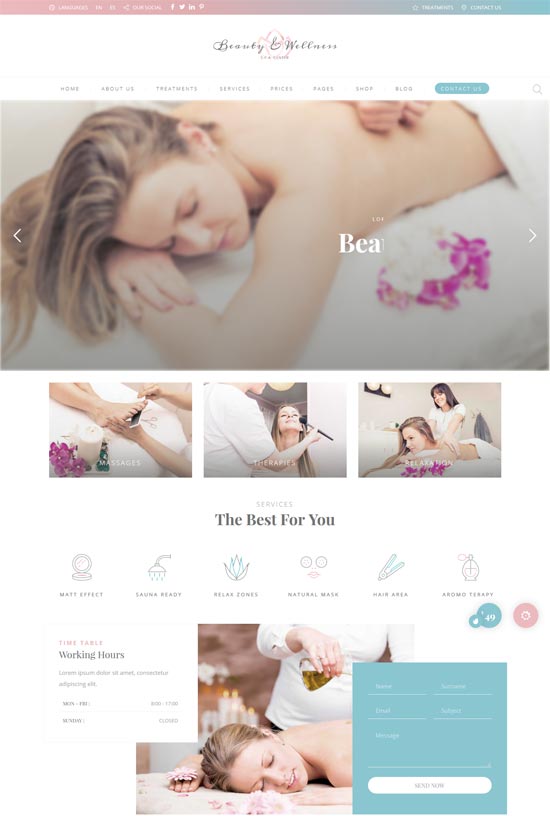 more info / download demo
Cigawel – Barbershop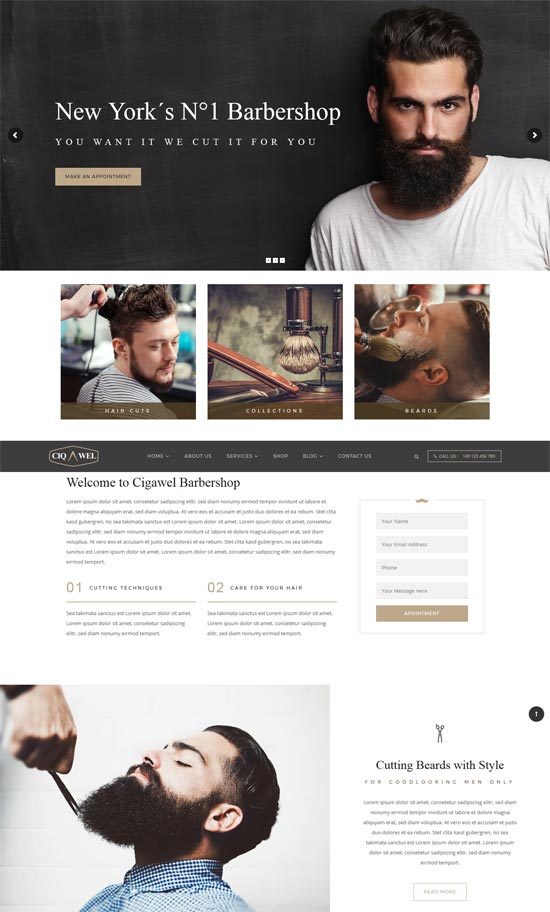 more info / download demo
SALON – Hair & Beauty Salons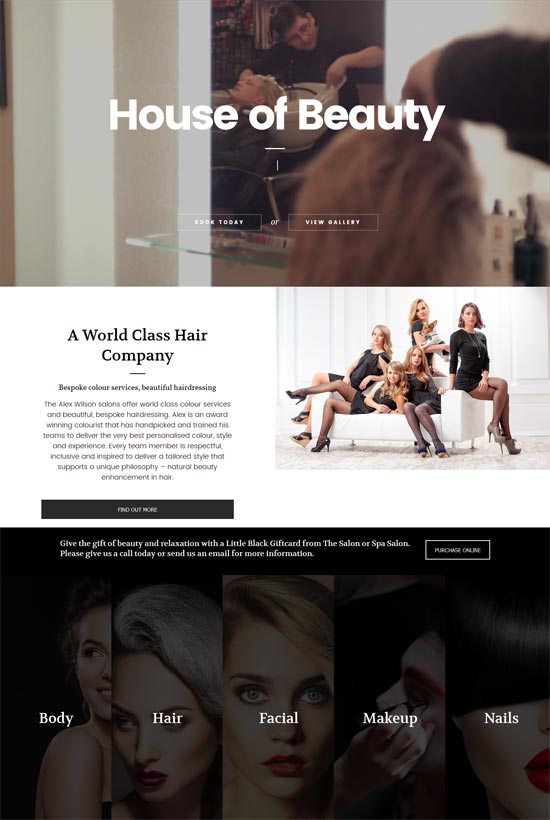 more info / download demo
Kendall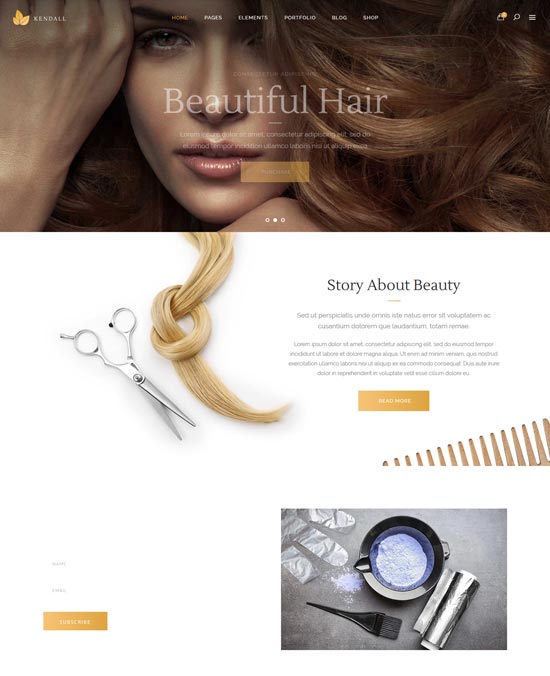 more info / download demo
Hair Salon WP
WP Hair Salon is a beauty and hair salon WordPress theme for all hairdressers, hairdresser, beauty salon, spa, body treatment, hair care and makeup. The theme is made by one of the best web designers in the market, under the help and support of many experts and famous hair artists, influences.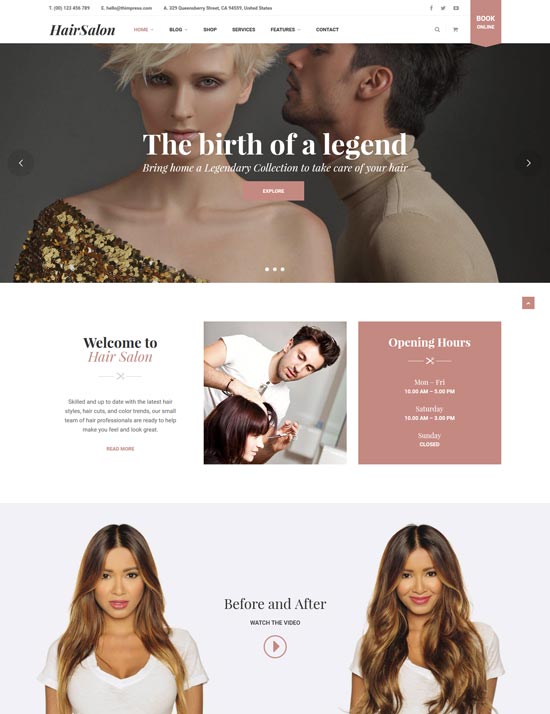 more info / download demo
Chiropractor
Chiropractor is a modern WordPress theme and carefully designed for manual therapists, rehabilitation centers, chiropractors, health clinics and wellness, other areas of similar activities. The theme has a lot of content-oriented design and implementation customization page. We analyzed more than a dozen of concrete projects to ensure that our theme for your needs.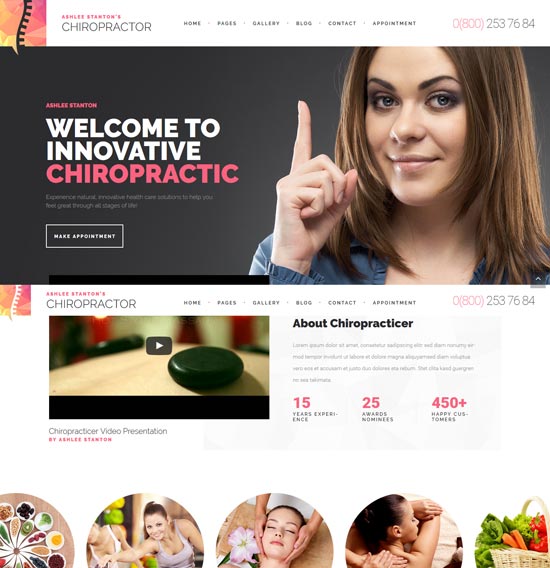 more info / download demo
Berger
Berger is a WordPress theme created to serve blog barberging, hairstyle portfolio, hair salon shop site or the beauty of hair. The theme provides a home page to manage the simple layout that can be adjusted using short codes and custom widgets. Attractive galleries built because of the Essential Grid allow you to present your products and services. Using Reserved! plugin, you can manage appointments online. Be ready WooCommerce, Berger is a fantastic way to build an online store to sell hair products and beard and tattoo supplies.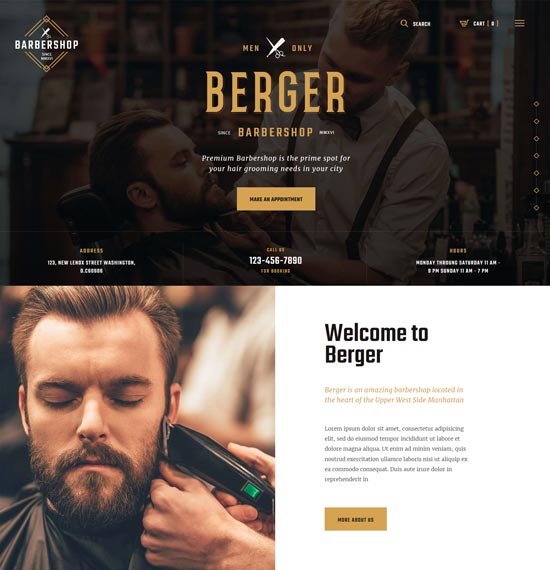 more info / download demo
Jacqueline
Jacqueline is premium massage and  spa salon WordPress theme with beautiful design and advanced features. If you want to build a website for spa, beauty, hair and makeup salon, wellness center or massage.
Jacqueline is so you can easily promote your online business. You can access many pre-built page, if you really want creative, premium Visual Composer plugin is included in this theme. Since the theme is compatible to the scheduling plugin you can also make reservations online.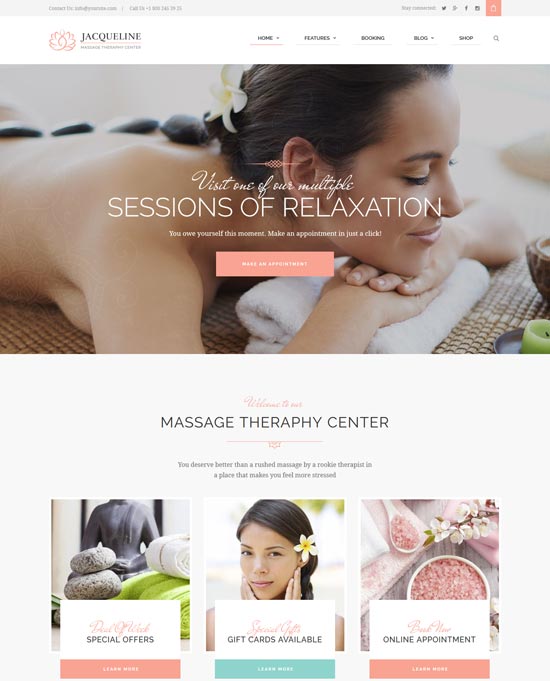 more info / download demo
O'Nails
O'Nails is a beauty salon and nail bar WordPress theme, it created especially four days, but such beauty services, and a perfect fit can be up bar, brow bar, spa, massage center and a barber or hair salon of all kinds. It allows you to use a modern and functional design to promote nail art, nail design, manicure and pedicure salon services, or other procedures.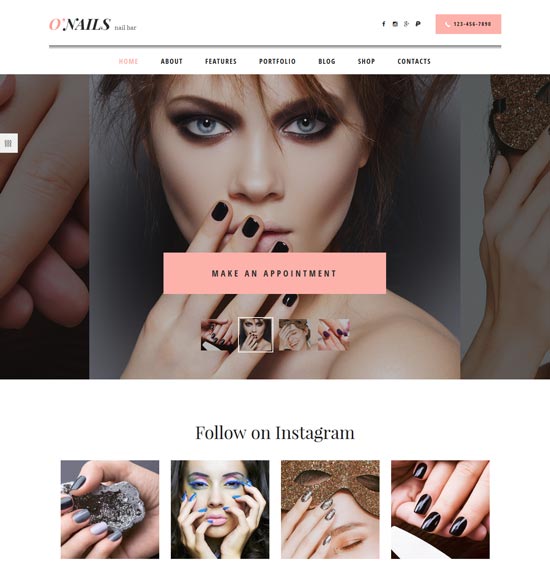 more info / download demo
WellnessCenter
Wellnesscenter is a responsive single page beauty salon WordPress theme. It has all the features you need to start a Wellness, Spa or Beauty Salon Business or promote an existing one. This theme includes powerful booking, contact form and newsletter subscription forms. It's built with hassle-free drag and drop page builder to make things easier. Wellness best suits to your Spa, Salon, beauty center, parlour, massage center, health care, make up, massage, nail, physiotherapy, salon, skincare, wellness, yoga .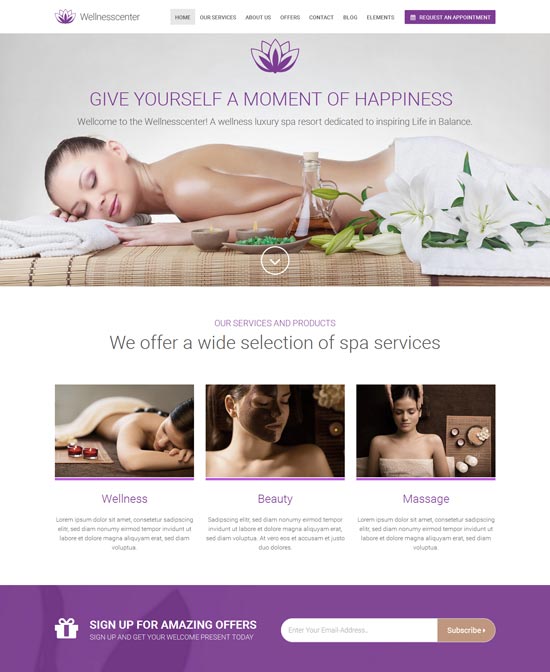 demo more info / download
Beauty – Hair Salon , Nail, Spa
Introducing Beauty, a premium WordPress theme, available only on ThemeForest. With its light and clean design it's a smart choice for beauty salons, hair salons, wellness centers and similar businesses. Beauty has everything you need to take your company to the next level, but most of all it's extremely easy to set up and use: your new website we'll be ready in no time!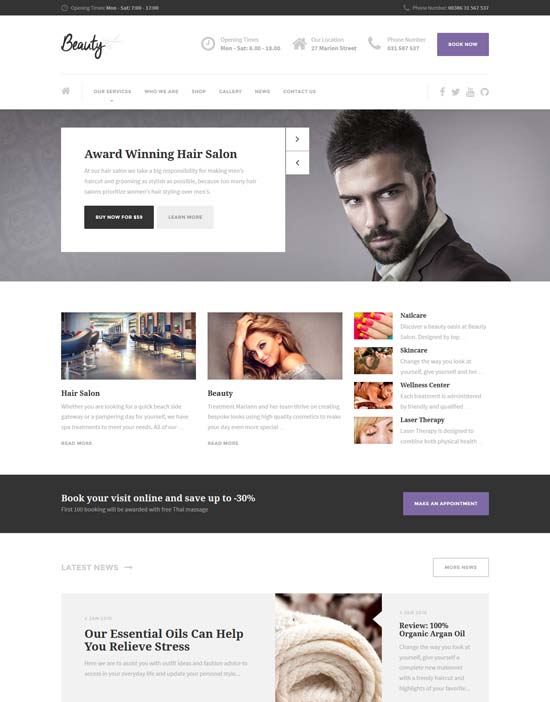 demo more info / download
Cinderella
Cinderella | WordPress Theme for Beauty, Hair and SPA Salons is the product which has been made especially for Small Businesses in Beauty Industry. It has the capacity to equally fit a Single Local Salon as well as a Network of Salons with Multiple Locations.