If you're a web designers and looking for a tattoo WordPress theme, there are a few things you should keep in mind. First, you want to make sure the theme is responsive, so it looks good on all devices.
Second, you want to find a theme that has a clean and modern design. And finally, you want to make sure the theme is easy to customize, so you can make it your own. Luckily, there are plenty of great tattoo WordPress themes out there that fit all of these criteria. So take your time, do your research, and find the perfect theme for your tattoo website.
Tristero
A contemporary theme with an outstanding collection of adaptable designs ideal for tattoo portfolios, tattoo artist presentations, and much more is available for all tattoo studio and artist websites. The theme also works flawlessly with the Elementor Page Builder plugin for quick page construction and gorgeous blog and store layouts. Sadness has everything else; you just supply the ink!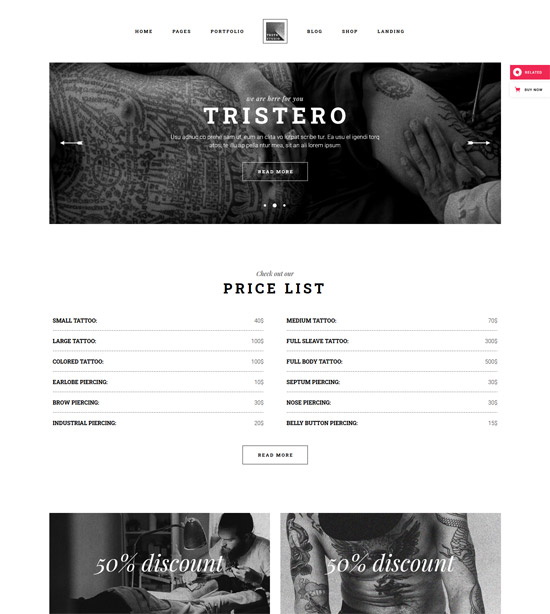 More info / download Demo
EWO
the development of the Aheto plugin-powered EWO Tattoo Studio WordPress theme with features and specialized blocks. It has 2 home pages that will satisfy your service requirements. EWO is completely mobile-friendly and responsive. It offers page layouts and templates made especially for the current market's responsive visual environment.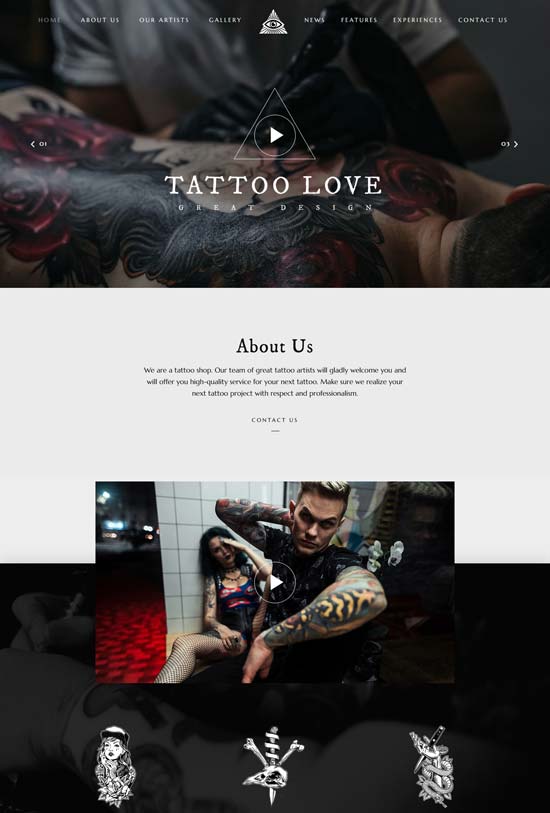 More info / download Demo
Nelson
A sleek and modern hair salon and tattoo salon WordPress theme with an integrated WooCommerce store and online booking system. The theme is a perfect solution for barbers, hairdressers, stylists, tattoo artists and other professionals. With its help, you can create a website for beauty salon, tattoo studio, tattoo shop, piercing, beard trimmer, tattoo parlor, beauty salon, spa salon, men's fashion, etc.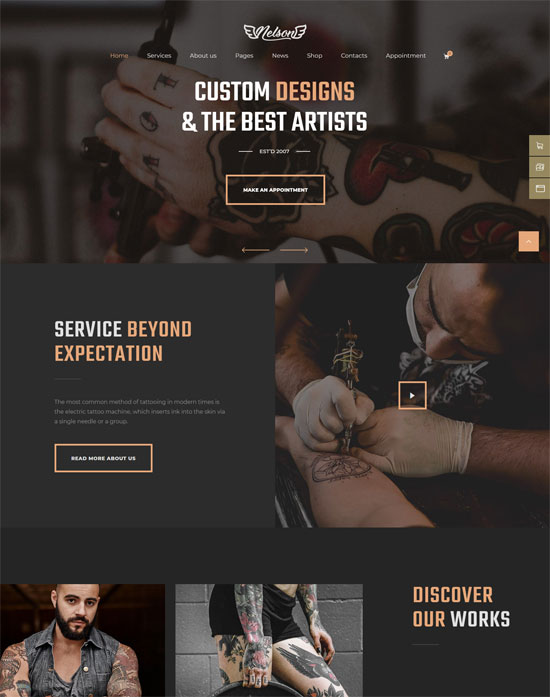 More info / download Demo
Maori
For tattoo and piercing studios and artists, a dark WordPress theme. People frequently browse the websites of hundreds of tattoo artists to discover the one they can trust while looking for the finest tattoo studios. Maori will provide you the opportunity to influence potential customers. Utilizing this distinctive WordPress tattoo studio theme will help you stand out from the crowd.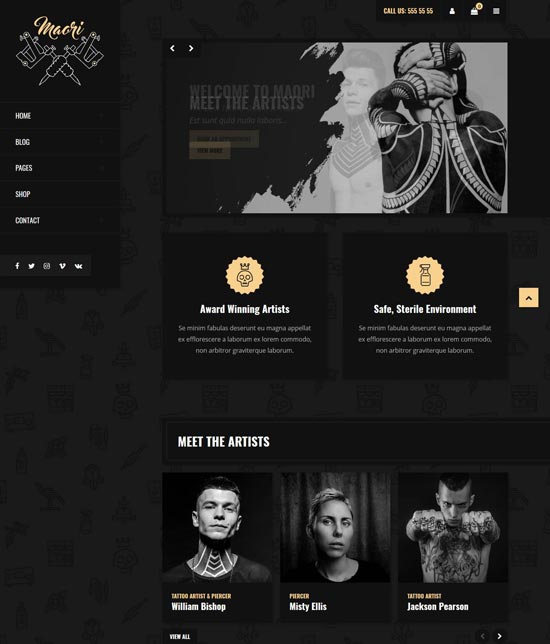 Demo More info / download
Dotwork
Leave a bold impression with a theme created for every piercing and tattoo artist! Present your work in a captivating way or present your tattoo studio with modern layouts and options. It also offers a superb collection of shop and blog templates, so you can share your tattoo related stories or sell products easily.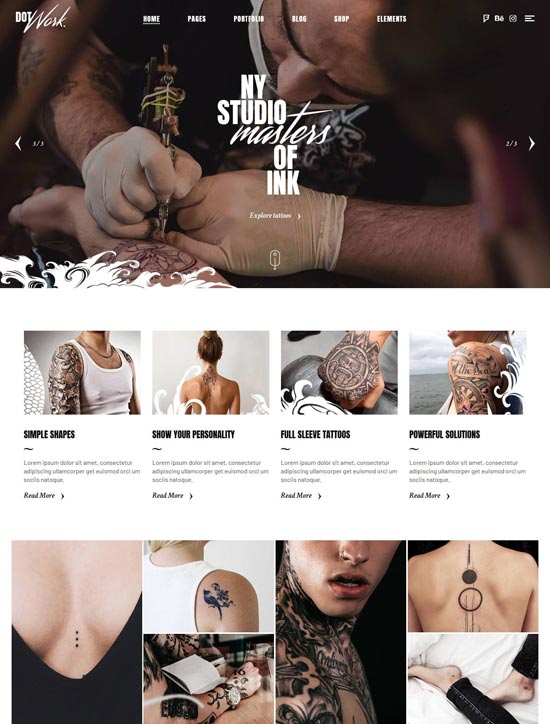 Demo More info / download
InkPress
experienced tattoo artist Paul Smith Building a personal website with a WordPress theme is helpful if you're an artist or the owner of a tattoo establishment. The professionally made templates effectively display the skills and abilities of tattoo artists. In this case, it is the best online alternative for self-promotion.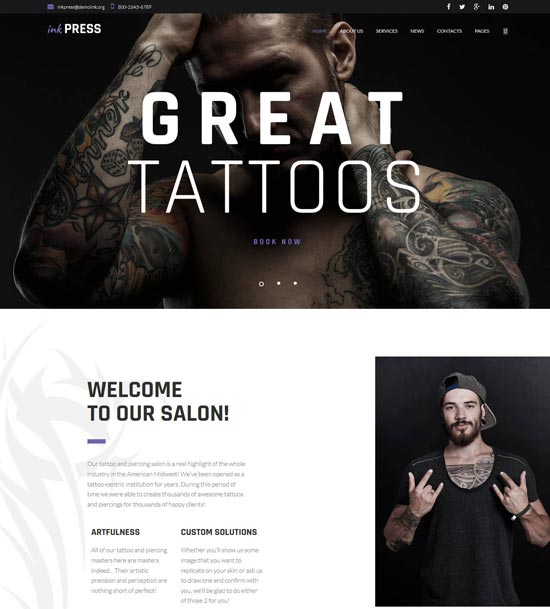 Demo More info / download
InkPink
Take your salon online with the help of this chic, black and white Tattoo Studio WordPress Theme. You'll have full creative freedom while using the included templates thanks to the Power Page Builder and Live Customizer.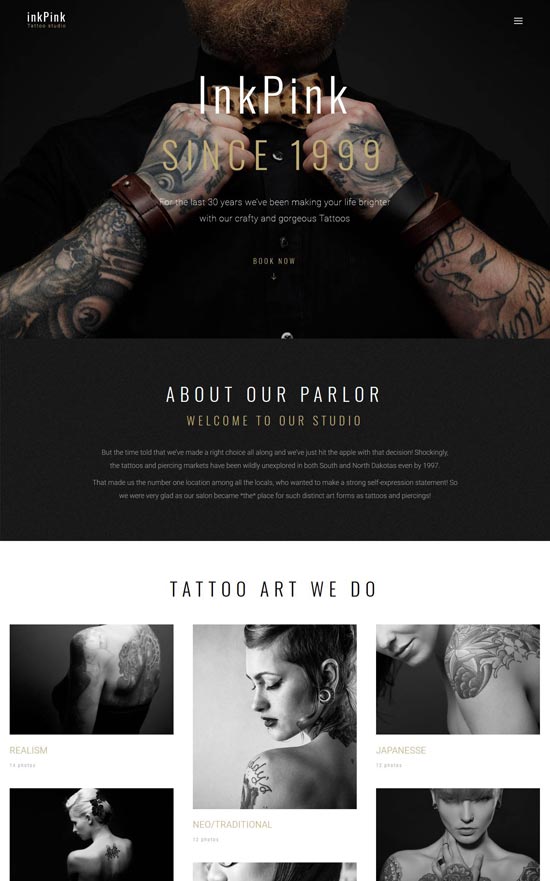 Demo More info / download
Tattoos
A power and a magic of their own, they decorate the body but also improve the soul, so think less and ink more. Now, brighten up your portfolio with your artistic tattoo designs and build your impression on your new clients and future customers with this WordPress Tattoo theme.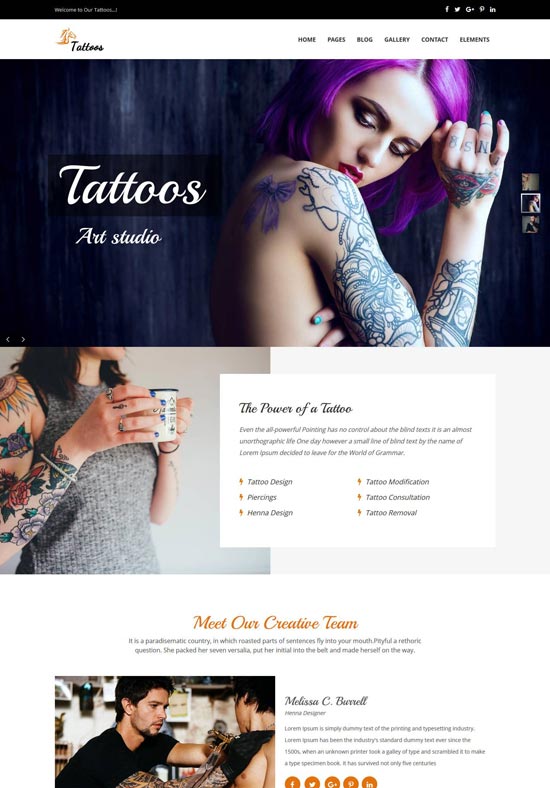 Demo More info / download
Tattoo Shop
This lovely niche theme is designed for your tattoo and piercing shop. Its design is goal-oriented and includes a booking form, boutique, reviews, Q & A and attractive galleries. It's accessible to both novice programmers and seasoned coders.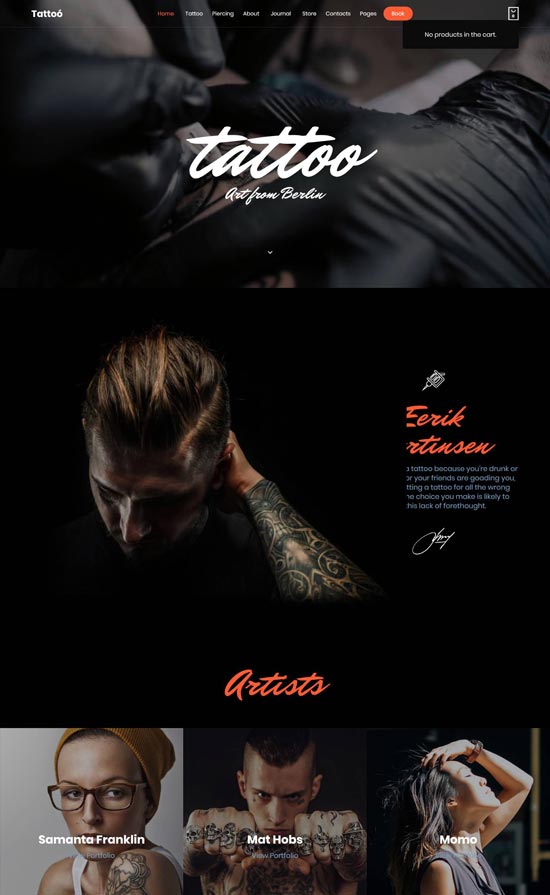 Demo More info / download
Ancora
The WordPress theme Ancora is real, orderly, and energetic for a tattoo parlor and ink store. It can be used as a website for a master, a modern tattoo blog, a young tattoo shop, or a new tattoo artist's portfolio.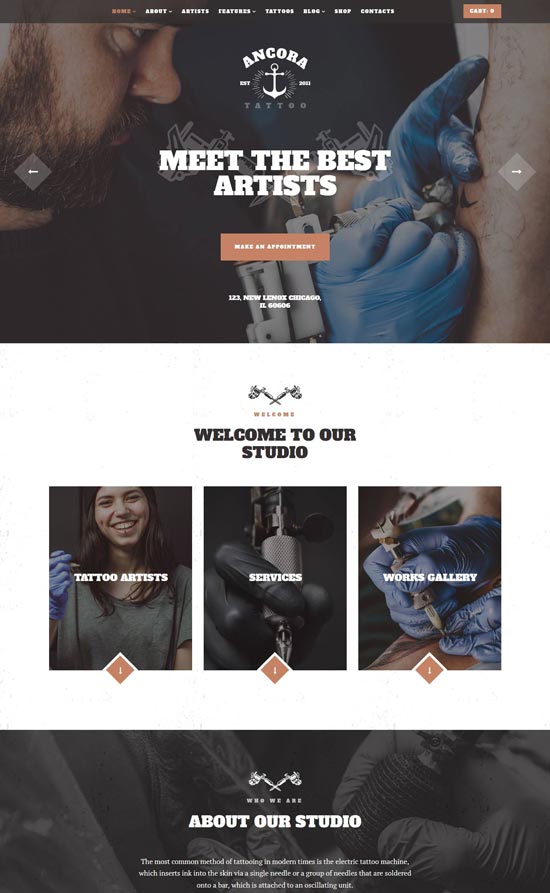 Demo More info / download
Tattoized
A WP theme, specialized in technology, well documented and fully customizable, forged exclusively in the oven for body art, piercing and tattoo parlors. An enchanting design of this theme would suit your target audience and the convenience of navigation will appeal to everyone from the first click.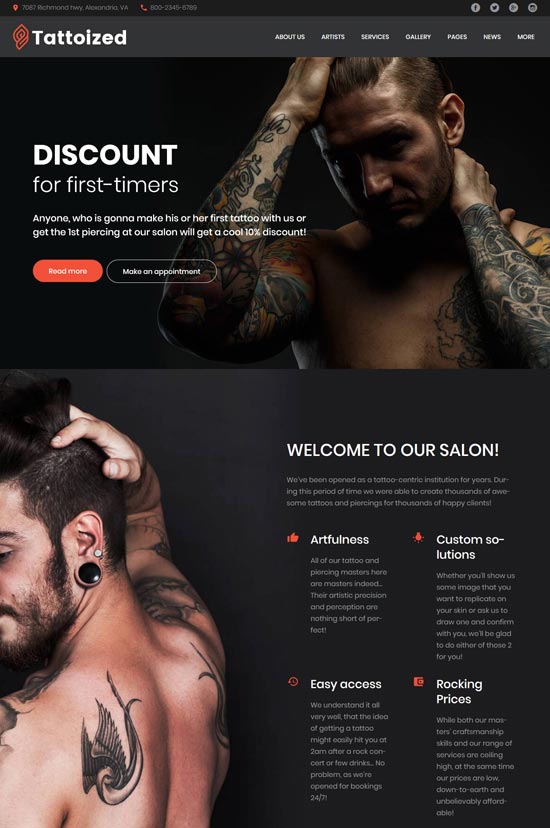 Demo More info / download
Revolver
Please, a revolver. A distinctive motif for any barbershop, tavern, biker club, or tattoo establishment. Any hair salon, biker club, or antique shop would benefit from Revolver. It is geared toward anyone who wants to present their business or passion in an elegant way and is influenced by the urban lifestyle.
With numerous lovely homepages and a sizable number of inner pages, this theme is ideal for any tattoo artist, piercing professional, beard stylist, or hairdresser. Revolver comes with a number of powerful features in addition to 2 paid plugins that are free. This theme doesn't require any coding knowledge, so you can easily build a fantastic website.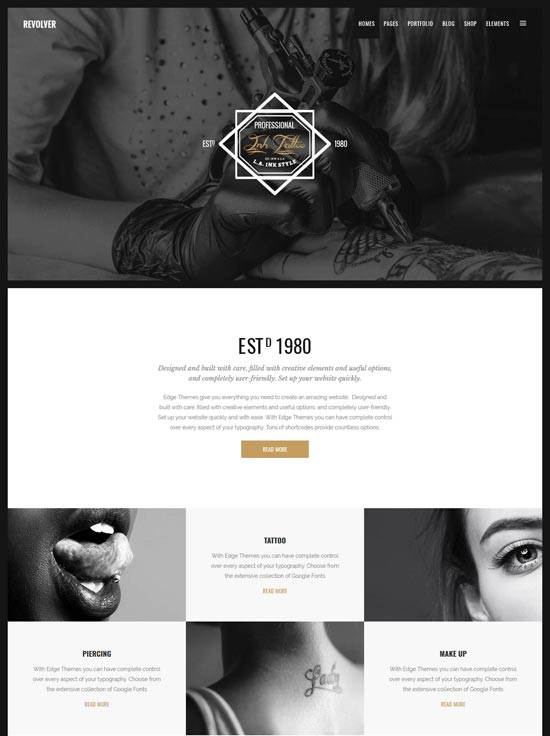 Demo More info / download
Illuminati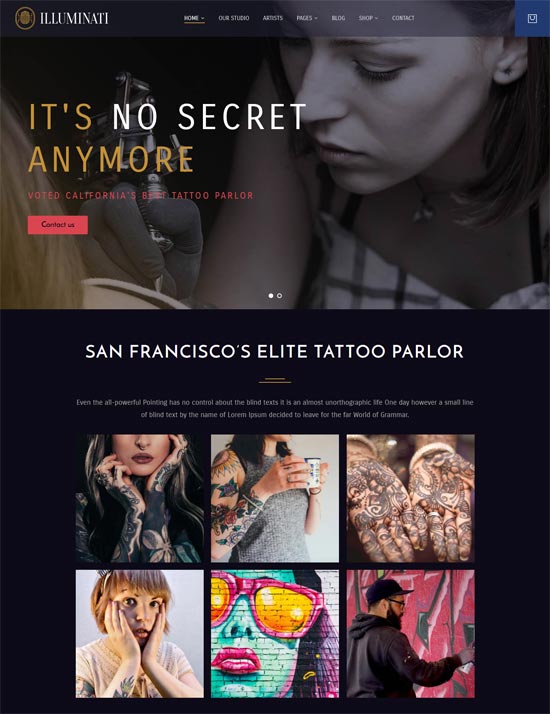 More info / download Demo
Adam Smith
High Functional Tattoo WordPress Theme is good for creating a personal website if you are an artist or tattoo studio. Well constructed stencils perfectly show professional tattoo skills and abilities.
In this case, it is the best web solution for personal promotion. Adam Smith tattoo pro WordPress theme is very simple but includes all the essential elements and pages at the same time. Help advertise yourself with the set of concise pages created for this WordPress theme.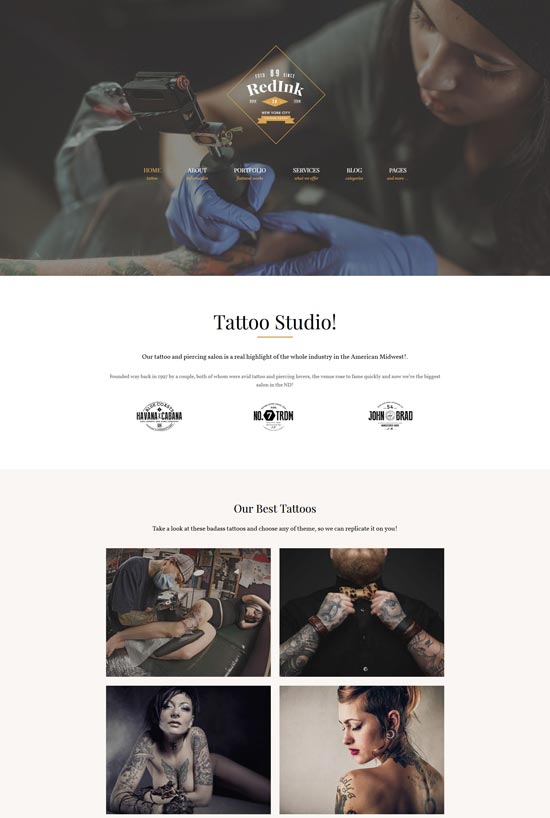 More info / download Demo
Barbershop
Attractive, contemporary and responsive tattoo shop and barber shop WordPress theme. It is a stunning vintage and authentic design for your hair salon and tattoo parlor. Also ideal for hairdressers, tattoo master agencies, hair care stylist firms, tattoo artist services, hipster styling offices, hair salon companies, haircuts, makeup masters, and grooming businesses.
Creative Tattoo
Show off the art of tattooing in style using this image-rich WP theme. Its design is flavored with plenty of trendy details, from ghost buttons and circular thumbnails to split content blocks and full-width headers. This tattoo-sensitive WordPress theme automatically reduces its dimensions on the screens of any mobile device and tablet.
Tattoo Pro
A premium tattoo WordPress theme for Tattoo Shop. It uses the power of WordPress to allows you to create a neat website very easily. It includes all the features you need to showcase your work. 5 different blog layouts available, multiple galleries and sliders for your photos and so much more!
Inkd.
A modern and stylish 1 page WordPress tattoo theme perfect for any tattoo website, body art, piercing studio or creative studio.
Ink Tattoo Studio
Creative tattoo WordPress theme for tattoo and piercing studios but it is also great for any portfolio or personal/creative presentation website. INK TATTOO STUDIO is HTML5, Bootstrap3, responsive, single page theme with 2 single page styles, with additional page templates, blog pages, built with Options Framework and it comes in 6 color styles.
Tattoo Artistry
The most important thing to do before getting a tattoo is to find the right qualified tattoo artist who is capable of creating your dream design. In search of the best tattoo studio, we typically scour the websites of hundreds of artists before finding one that we can trust. To create a reliable web resource for your tattoo studio, we recommend that you consider this template. Its blurred background image combined with a quality gallery will set the positive and proper mood of your viewers.
Tattoo Studio
Perfect WordPress Tattoo Theme for Tattoo Studio, Piercing and Body Art websites but it can be used by everyone. It is fully responsive and looks great on all screen sizes.
Tattoo Business
Neo
The design focuses on pictures, which is important for highlighting results and achievements of your tattoo and piercing salon. Layouts for handheld devices are available to make viewing of the website more comfortable and handy.