Kirsten
Kirsten is a clean WordPress theme for a wedding photographer. Simplicity and ease will help you create an excellent portfolio, a gallery of your works and attract new customers. View all your photos with the use of different styles of galleries, albums and you will see how your images can look in different styles.
demo more info / download
Dexter
Dexter is a wedding agency corporate theme, excellent for those engaged in weddings, event planning and ceremonies. An excellent template for the wedding catalog or galleries, just as easily can be adapted to any need.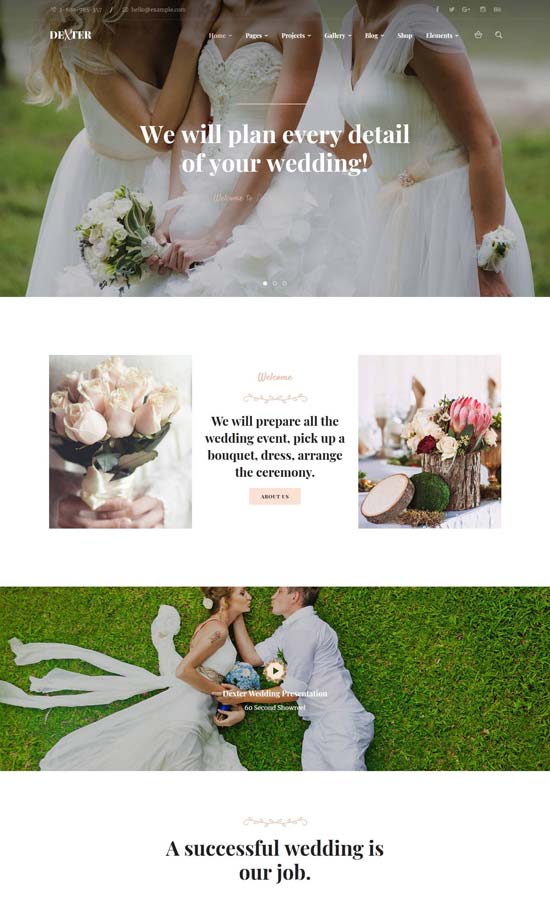 demo more info / download
OneLove
OneLove is an elegant & clean wedding theme with multi-ideas & purposes. With 17 homepages designed for a personal wedding, wedding planner, marriage anniversary, wedding shop, wedding planning agency, wedding blog and any kind of wedding industries. It also helps you connect with your guests, put more info about your even sharing, wedding events, your happy moments to them with RSVP Form, Countdown, Video Slider, Slideshow, Photo Gallery and much more.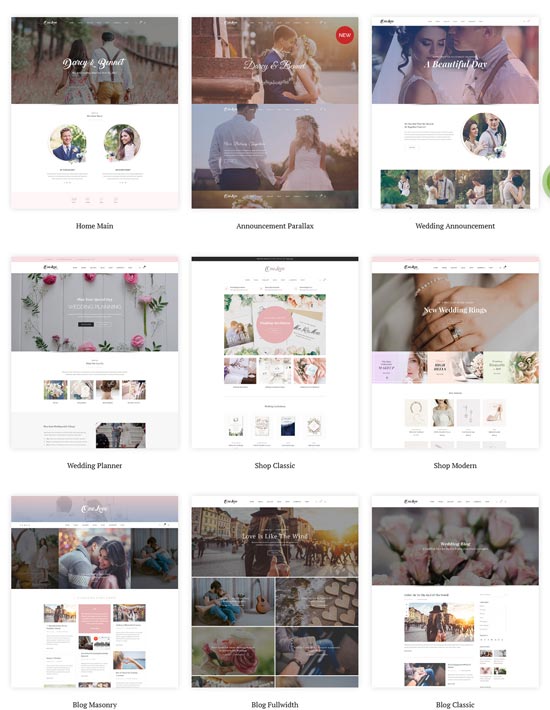 demo more info / download
Grand Wedding
Grand Wedding is a responsive clean WordPress theme for all Wedding related web site. Built with the latest WordPress technology. Grand Wedding is build with responsive layout so it looks great on all devices. It has predefined styling & templates and many features built specially for Wedding, Engagement, invitation, Wedding planner and event which can be imported with one click.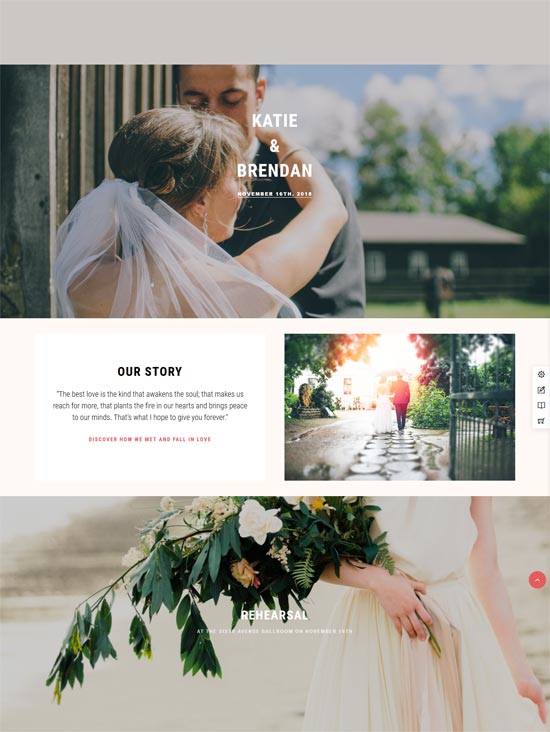 demo more info / download
Wedding Planner
The Wedding Planner is Responsive WordPress theme well-suited for wedding planner websites. Modern, elegant and creative theme for wedding and engagement event. The theme comes with a gorgeous design that is great to showcase for couples who want to create their own wedding website. Wedding Planner is a powerful tool to help your brand grow even more. With amazing features that are simple and easy to use. Build elegant wedding sites without code knowledge.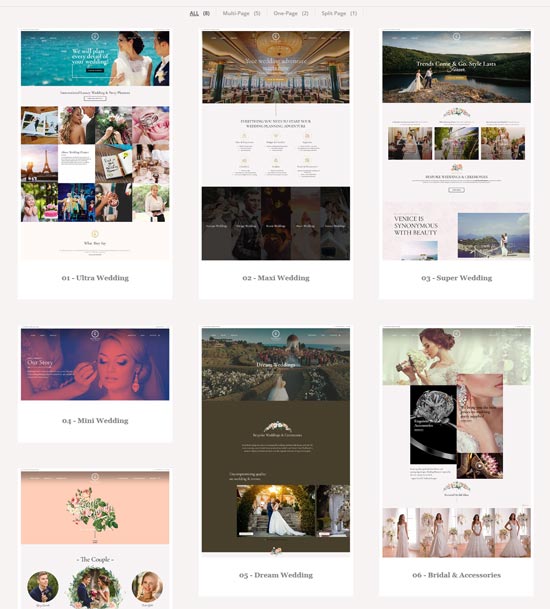 demo more info / download
Fleur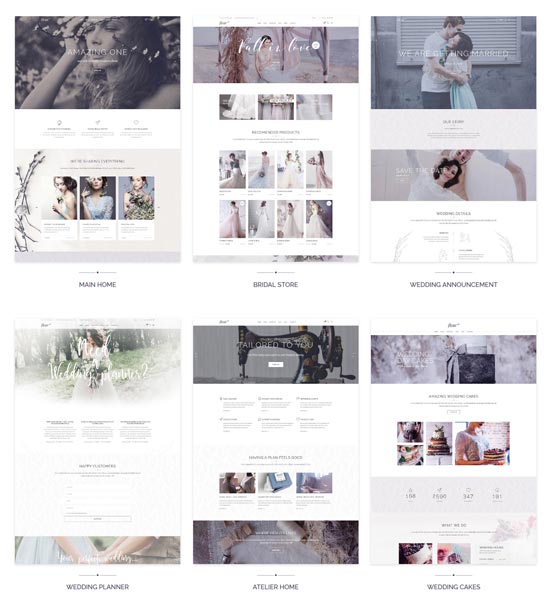 demo more info / download
Plan My Day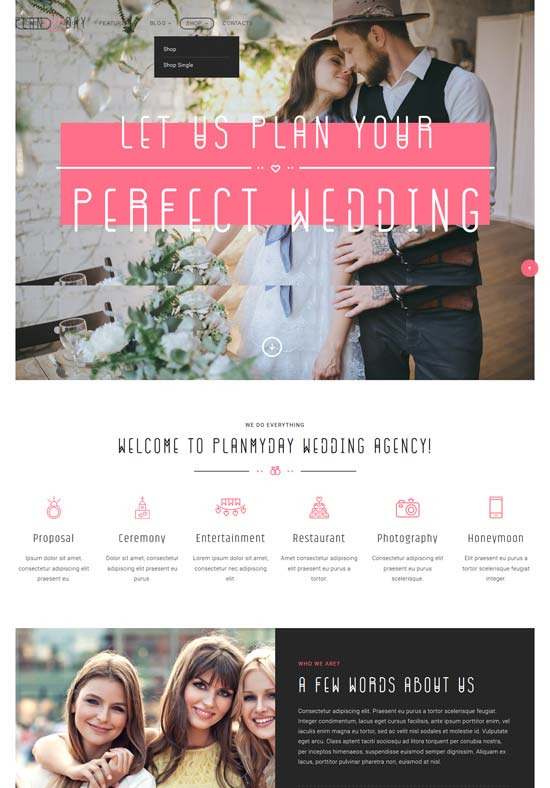 more info / download demo
Love Story
Love Story is an elegant 100% responsive WordPress theme with a trendy and tender look. It is designed for a wedding planning agency, an individual wedding planner, or any event planning company (parties, meetings, conferences). Love Story is compatible with such plugins: Revolution Slider, Essential Grid, PO Composer, Visual Composer, to facilitate the installation of a wedding planner. In addition, if you want to sell things via your website, the theme is compatible with WooCommerce plugin.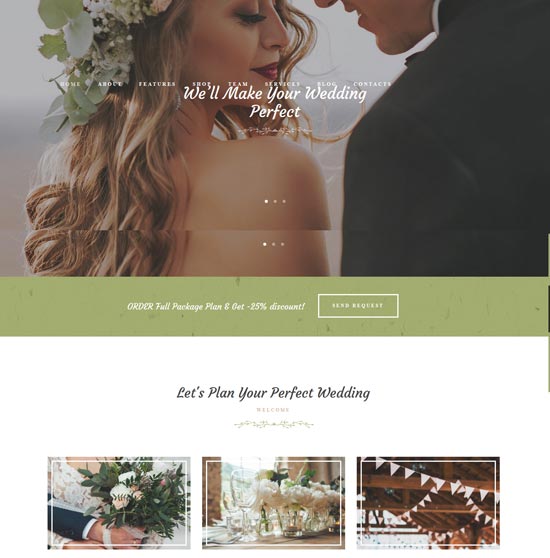 more info / download demo
Moments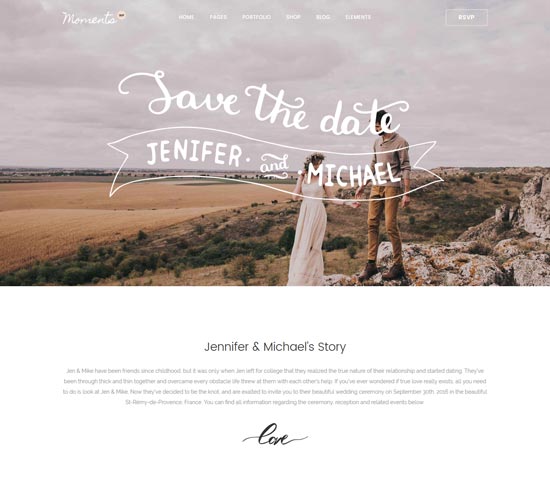 more info / download demo
Idylle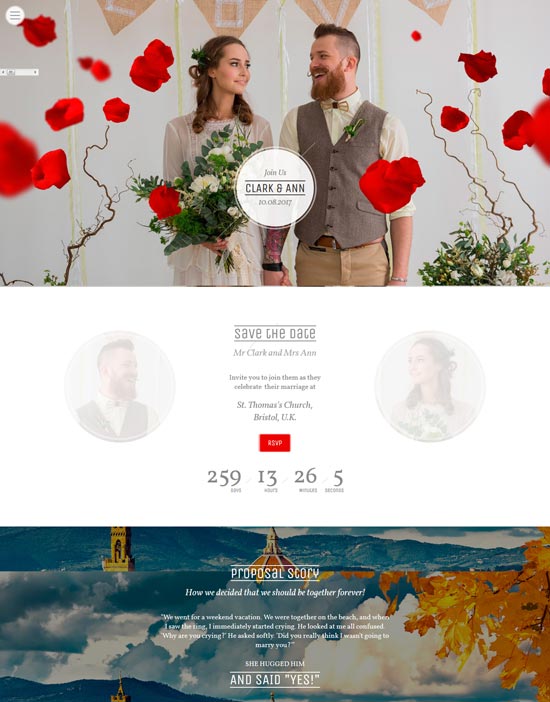 more info / download demo
WP Forever
WP Forever is a clean and stylish WordPress wedding theme, ideal for wedding invitation or engagement. Coming with wedding features like Countdown Timeline, Couple Timeline, Site Map, RSVP, Groomsmen, Bridesmaid, Gift Registry and others. This theme is reactive and optimized for the mobile device.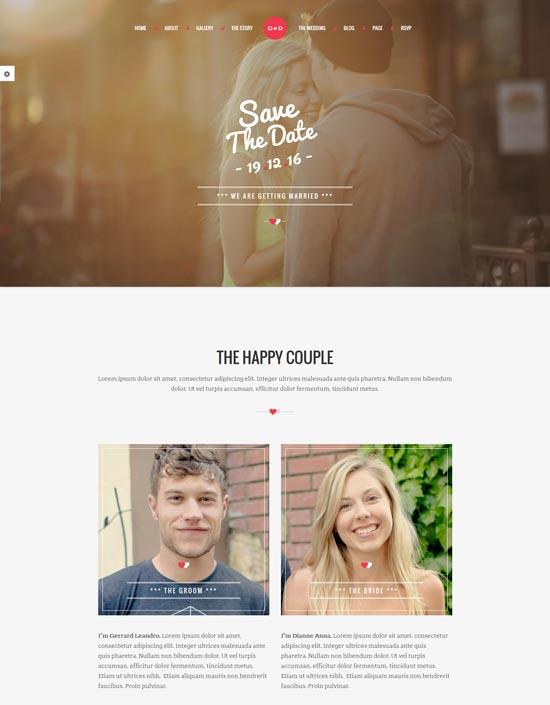 more info / download demo
Celebration
Celebration is a WordPress theme built excursively for celebrations like wedding or class reunion. It is fully reactive, retina ready and easy to customize.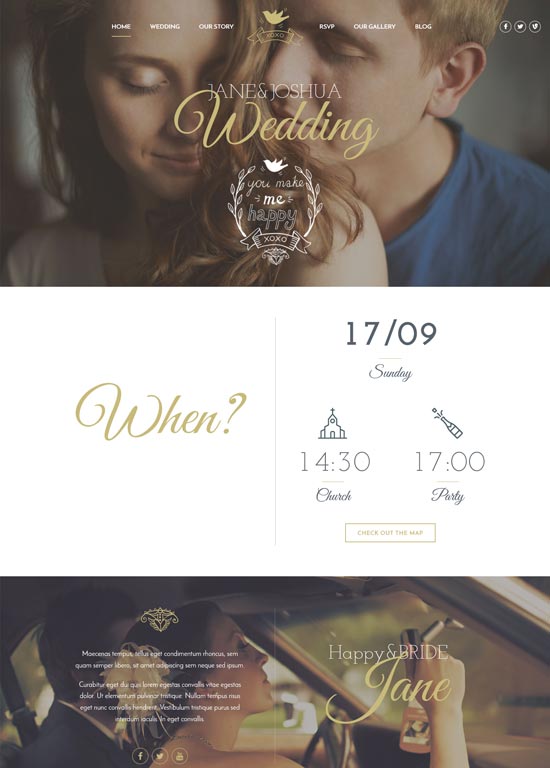 more info / download demo
Wedding Day
Wedding Event is an elegant 100% responsive WordPress Theme with a fashionable clean look. It is designed for any Wedding or Engagement event and helps you to give all the information to wedding guests or make an Invitation for your marriage party. Wedding Event Theme includes manageable built-in plugins: Revolution Slider, Essential Grid, PO Composer, Visual Composer to make it easy for you to setup your Wedding website. Wedding Event fits for Couple Parties, special occasions and moments or any wedding solution that include guest lists, invitations, wedding and ceremony planner.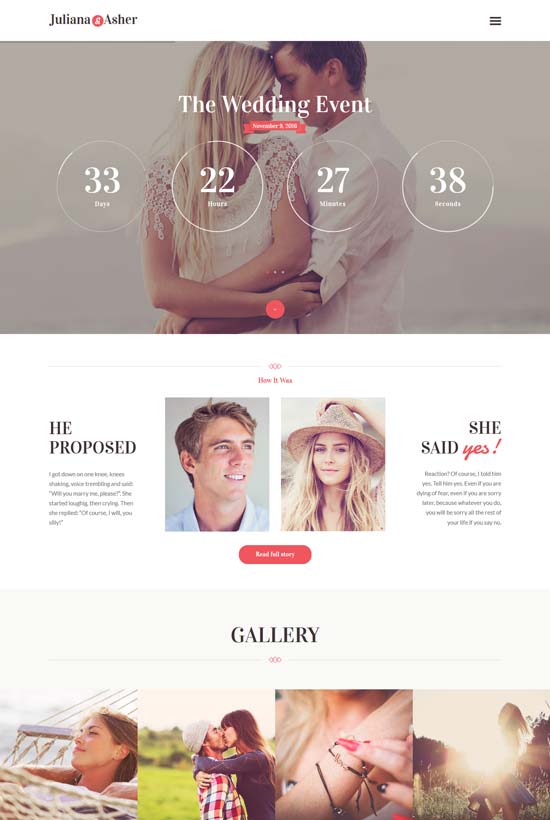 demo more info / download
Jack & Rose
First, congratulations on getting married! We wish you eternal happiness as a couple. Preparing wedding events could be very busy, and setting up your wedding website could be even more difficult and time consuming. We at Single Stroke put a lot of effort creating this "straightforward" WordPress wedding themes so that you can create your wedding website in the easiest way possible. So, welcome to Jack & Rose, a whimsical wedding WordPress theme with clean design and a lot of instant features. Powered by a robust Page Builder module, makes it easy to build your page using the included Prebuilt template or even build from scratch. Put more "whimsical" effects into your page, like the "sakura / snow fall effect", "60fps smooth parallax background", "HTML5 video background", "CSS3 animations", "interactive google maps", "filterable gallery grid", etc. On top of that, you also have our hand to support you whenever you hit problems, we provide top-notch support to all our customers.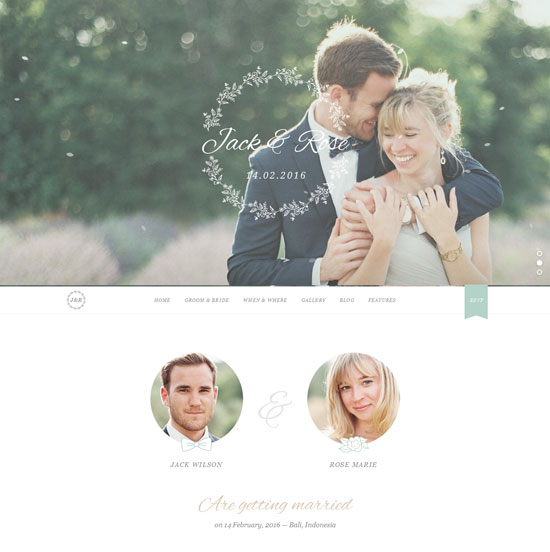 demo more info / download
Wedding Couple
Wedding Couple is an elegant wedding WordPress theme for future spouses ( groom and bride ), is a clean and one/multi pages website theme. Theme is designed to give all the information to wedding guests. The site fits for Couple, Save The Date, Engagement, Wedding Event and any kind of wedding activities. Wedding Planner is the perfect WordPress theme for your wedding business. Theme is designed to give all the information about your wedding planner services, show all your past wedding ( works ) and sell your plans, products and decorations. The site fits for Wedding Planner, Video Maker, Wedding Photography, Flower Designer and any kind of Wedding Industries.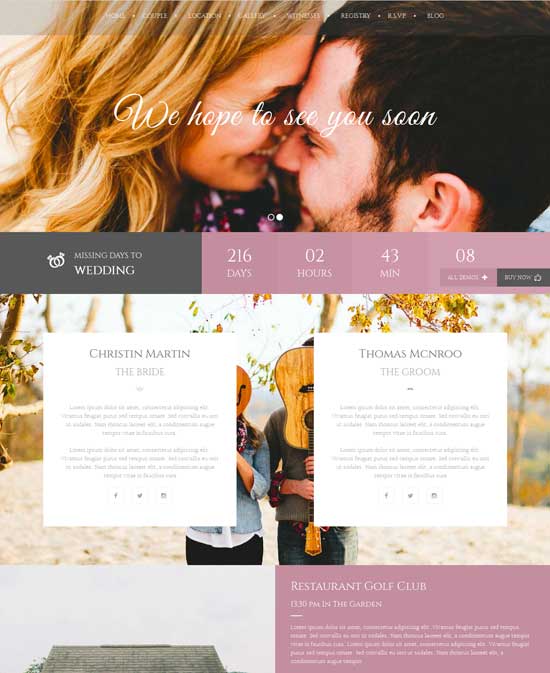 demo more info / download
Best Day
Lily
Lily is beautifully handcrafted responsive WordPress wedding theme. With a large collection of native WordPress features you can be sure that you will get the wedding website you deserve in just a few minutes.
Everline
Everline – WordPress wedding theme, coming with elegant and modest appearance, will be a meaningful WordPress theme for Wedding, Engagement and other event purposes.
Perfect Couple
Lovey Dovey
Lovey Dovey is a responsive WordPress theme . It's easy to use, simply elegant, and beautifully crafted, perfect for just everything you need to create an awesome Wedding site for your very special day.
Honeymoon
Honeymoon is a lovely, responsive wedding WordPress theme. It is perfect for your wedding event. It comes with RSVP Form, Countdown and Guestbook
Eternity
Eternity is an elegant and beautifully hand crafted responsive WordPress theme for wedding agency site. This theme is powered by the Foundation 4 Framework making it a breeze to create any kind of layout you desire.
Qaween
This is the only wedding theme for WordPress you'll ever need! Qaween is a feature-packed WordPress theme / template that can help you built the best wedding site for you and your couple on top of WordPress platform.
Belle
Belle Fleur was created as a landing page to put all the necessary information in one place. All elements of the theme are successfully combined with each other and create an attractive design. This wedding landing WordPress theme meets a great slider. You can put there the photos of the events you have made. Also there you will find a large number of portfolios to share more emotions of the events.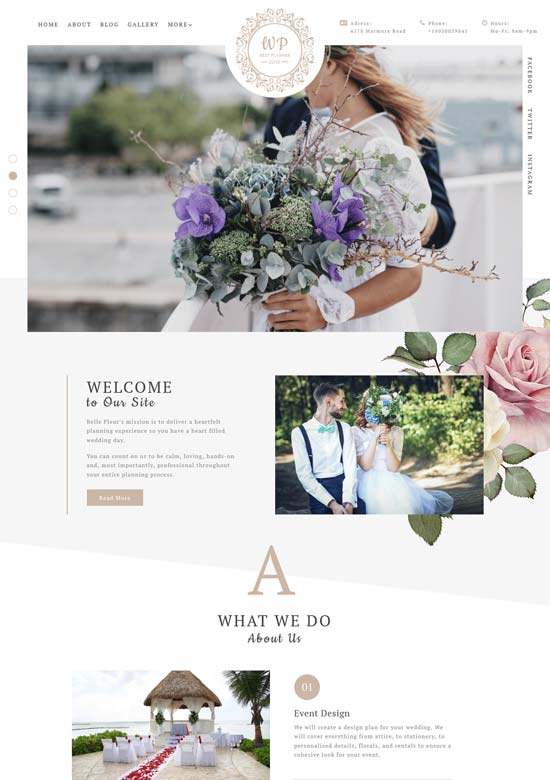 more info / download demo
ForeverLove
This stylish and sophisticated theme will meet all your needs by creating a landing page for your wedding company. ForeverLove WordPress Theme contains everything you need to represent your services and your portfolio with your visitors! It comes with a set of plugins, which are super easy to use and contain great functionality! You will be able to create your content effortlessly with the help of the Elementor page editor.
more info / download demo
Jen+Ben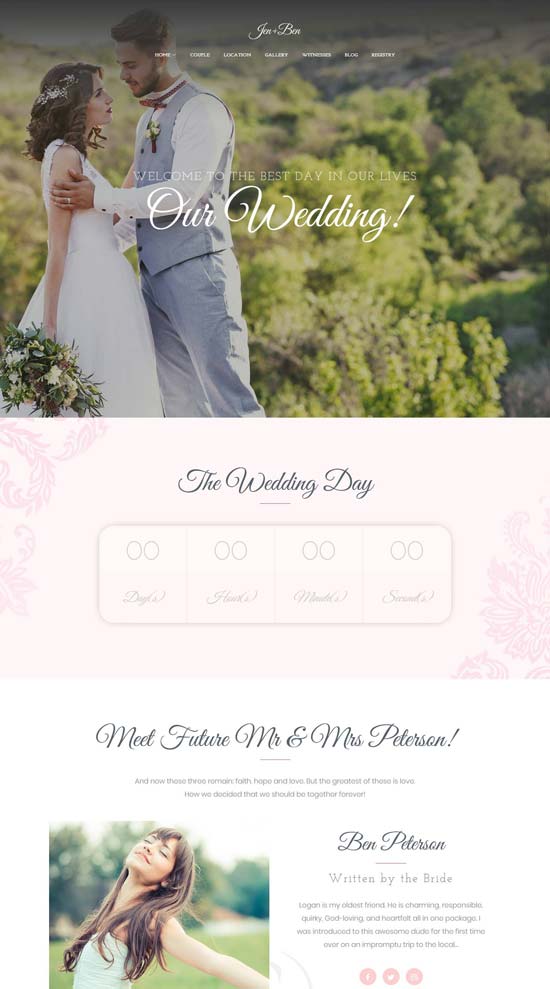 demo more info / download
Iridescent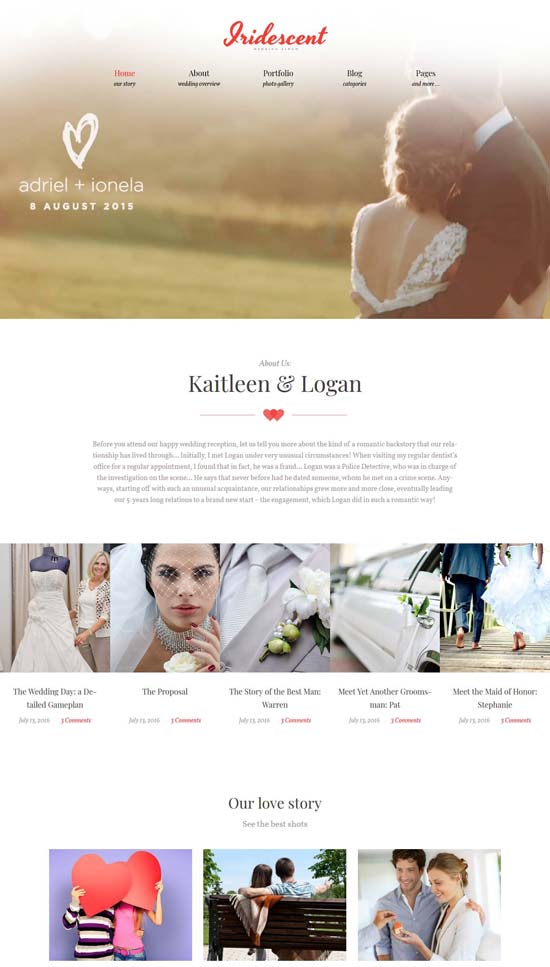 demo more info / download
Callum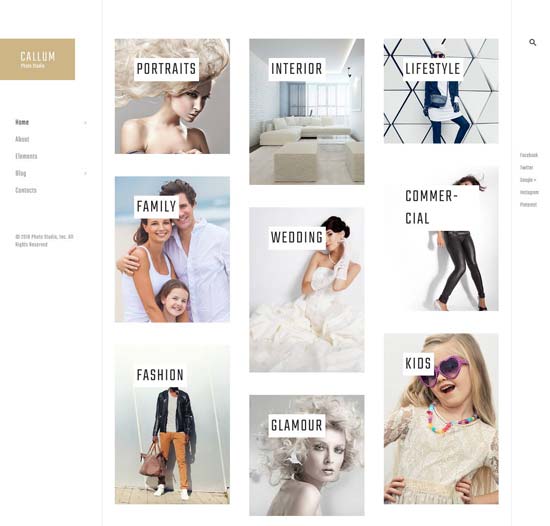 demo more info / download
Wedding Store
Here is a very elegant theme for a wedding company. White flower bouquets incredibly refresh this wedding WordPress theme's layout. They are everywhere – in slider, on banners and even at the social media block. This creates a really festive atmosphere. Main menu has lowered position. Then comes 'Welcome' section. 'Testimonials' are also presented in slider as well as 'Decoration ideas' . Transparent newsletter subscription form and ghost buttons impart lightness to the page. Black and white colors, which are traditional for wedding, perfectly balance modern trendy elements of this design.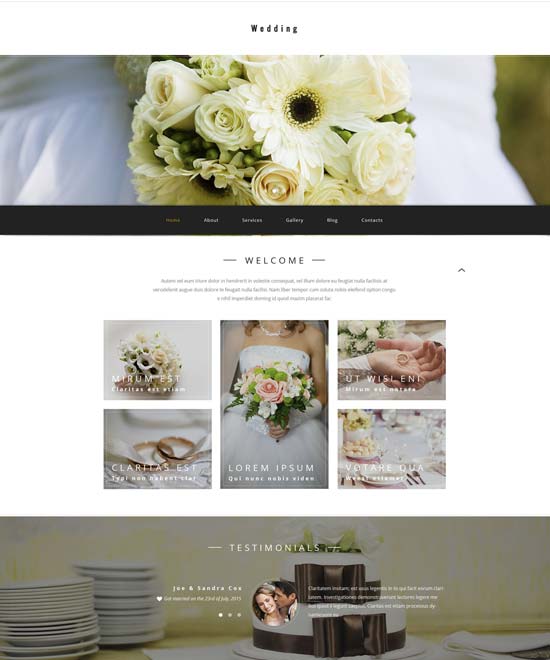 demo more info / download
Wedding Planning
This Responsive Event Planner WordPress Wedding Theme is an elegant and clean solution for marriage related websites. This WordPress theme is a wisely structured template with a news block, price table, testimonials, and 4 image gallery types. Wedding related imagery and exquisite icons add a festive touch to website's atmosphere.