Any furniture business that wants to do well needs a well-designed website. A website that looks good and is easy to use can help you show off your furniture designs, interact with possible customers, and sell more online. But making a website from start can take a lot of time and technical know-how. That is where website designs for furniture come in handy. In this blog post, we will look at ten beautiful furniture website templates that can help you make a great online presence for your furniture business.
For your furniture business to have an interesting online presence, you need to choose the right website template. Whether you focus on modern designs, country charm, or high-end furniture, there is a template that will fit the style of your brand. When choosing a template, do not forget to think about things like user experience, efficiency, and how easy it is to change. By using one of these ten beautiful furniture website templates, you can improve your online visibility, attract more customers, and increase your sales in the competitive furniture market.
Furbar
Furbar is a responsive and mobile-optimized Bootstrap template that can be accessed from any device or browser. It offers a pre-made header style that can be customized to fit your website's needs and style. The template features an excellent mega menu, making it easy for visitors to navigate through the pages. Users have the option to view products in both list and grid formats.
The homepage showcases an eye-catching slideshow with smooth transitions, perfect for highlighting special offers. Additional features of this template include a single product view, quick view, mini cart, and featured products, all contributing to an enriched and improved design.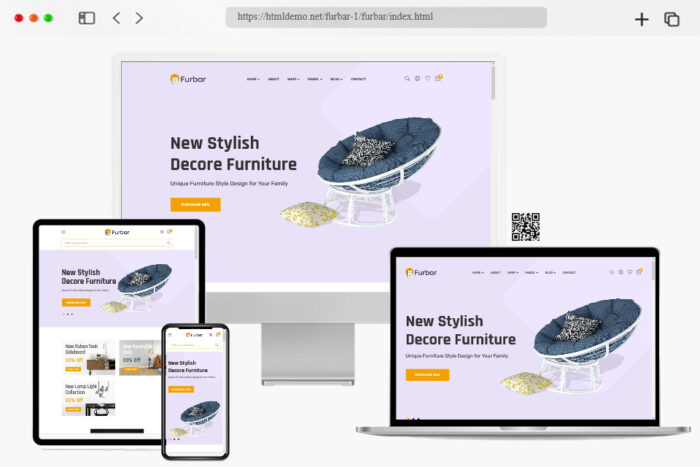 More info / download Demo
Ruper
Ruper is a clean and modern HTML template designed specifically for furniture stores. It features a sleek and minimal design that creates an impressive online presence. The template is fully responsive, ensuring that it looks great on different devices and screen sizes, including desktops, tablets, and mobile devices. With a total of 39 HTML pages, including 15 homepages, Ruper provides a comprehensive set of layouts and options to showcase your furniture products effectively.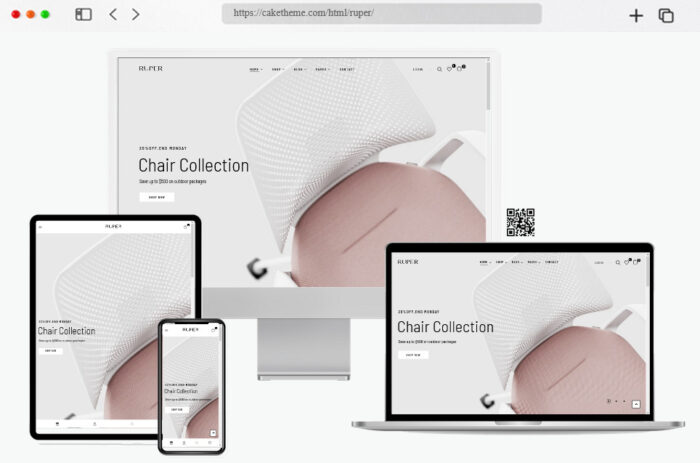 More info / download Demo
Bloxic
Bloxic fully responsive, unique & modern designed HTML template. This HTML template can be used for furniture stores, shops, and much more. This code is well-commented, and the lines are arranged in a way that makes it easy to change.
This package has an HTML file with clear instructions and a picture. All of the images are only used as examples; they are not part of the download package.
More info / download Demo
Dkoor
The Dkoor Home Decor & Furniture Store Template is a superb website template for home decor websites, as it employs Bootstrap 5 and boasts a clean and modern design.
This eCommerce template will help you create a professional website to sell office furniture, bedroom furniture, interior design items, decoration items, and so on. It has a large number of essential web pages and a multitude of features.
Additionally, it includes a multitude of features that can assist you in creating an eCommerce website to sell office furniture, bedroom furniture, interior design items, and decorative items.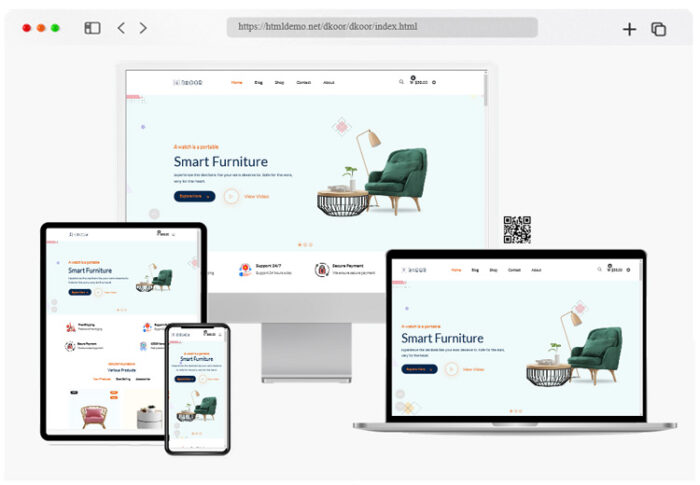 More info / download Demo
Furea
Furea Furniture e-commerce HTML template is a sleek furniture store. Furea is an up-to-date, user-friendly, and responsive Bootstrap 5 template. It's a terrific place to start if you want to develop a website for your furniture store, home décor business, or interior design-related business. The best approach to showcase your abilities, products, and specialties is through the use of excellent HTML.
Fuera is a dream HTML for everyone in the aforementioned industries; all that remains is for you to create a fantastic website! The code of Furea is well-written and simple for developers to use if they want to create their own project with exceptional features and design. There are three examples of home pages and a total of over 25 HTML pages.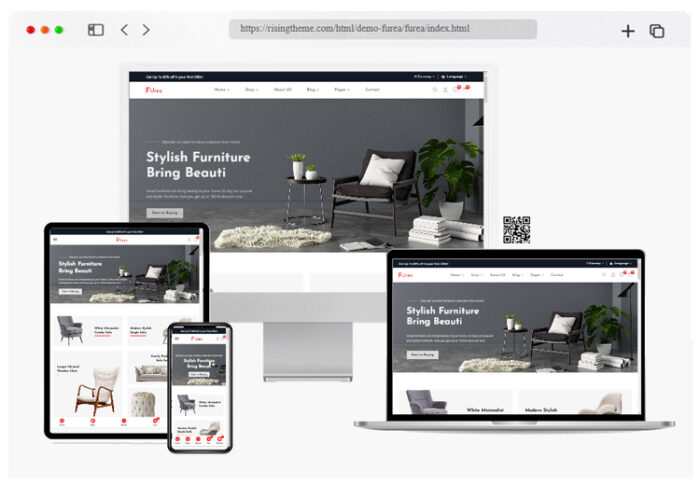 More info / download Demo
Furns
Furns React eCommerce Template is a great website-building template based on the React Nextjs framework and Shopify Storefront API if you want to make a modern, professional, and impressive eCommerce site to sell furniture, home decor, or other products. This beautiful React furniture eCommerce template has a clean and simple look.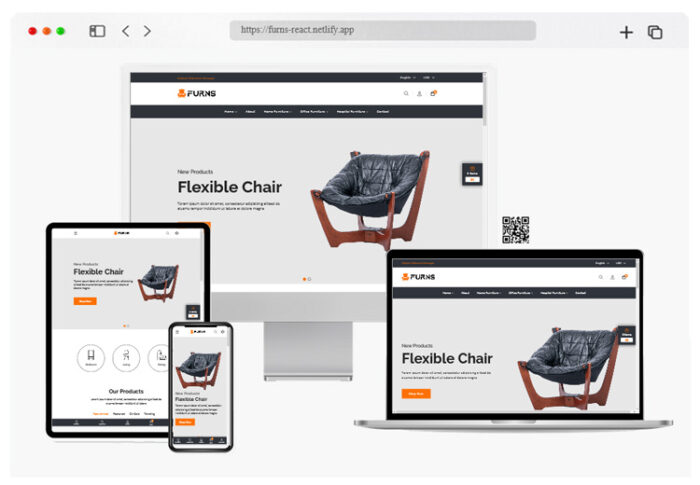 More info / download Demo
Furnitor
The Furnitor Minimalism Store HTML Template is a great choice for an ecommerce site, especially one that needs to list and manage products.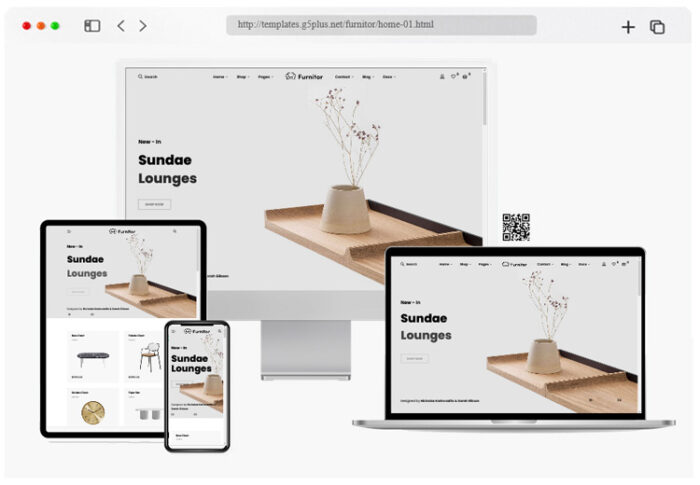 More info / download Demo
Helendo
Check out Helendo if you want to make a modern, professional, and impressive e-commerce site to sell furniture, clothes, electronics, accessories, watches, or any other similar products online. It is a great HTML-based website template with a clean, simple look.
With 10 Beautiful Shop Page Layouts's collection of 11 pre-built layouts, it will be easier to find the look that you like best. This way, even if you don't know much about technology, you can get your new site up and running as quickly as possible. You can also show off different kinds of products in different ways by making simple changes to the header, footer, typography, blog, and page layouts.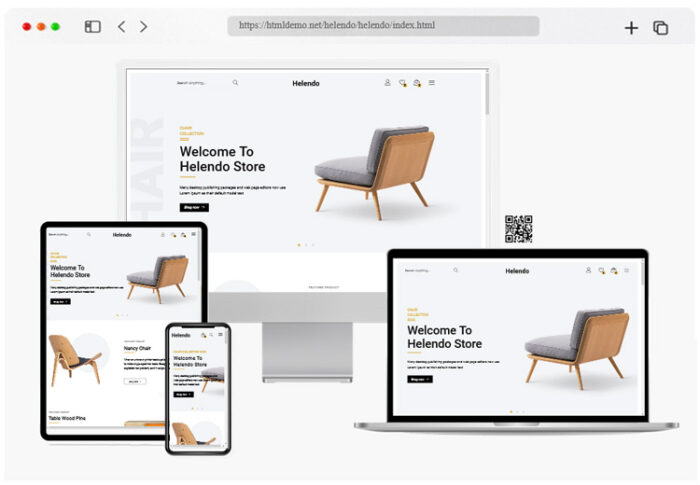 More info / download Demo
Eposi
The elegant white background of the Eposi Multipurpose eCommerce Bootstrap 5 Template makes it a modern HTML template. It is a large template with the best features and design. With Eposi, you can make your furniture and home decor shop the best-selling online home.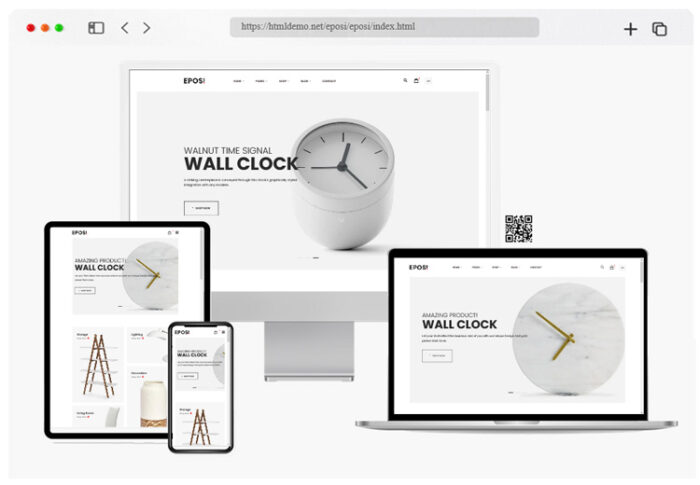 More info / download Demo
Robin
Robin Furniture eCommerce Bootstrap5 Template is an elegant white HTML template for a furniture business website. Robin is a huge model, not just for selling furniture online, but also for connecting people and building a brand. Robin, on the other hand, has 10 Home Pages, 6 Shop Pages, and 4 Blog Pages.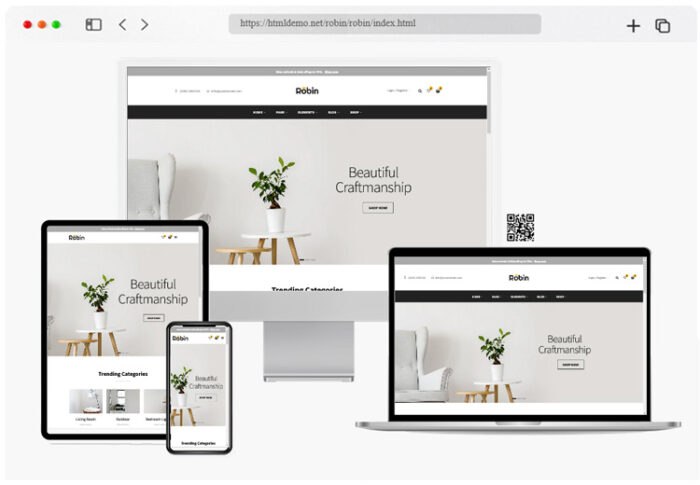 More info / download Demo
Indecor
The Indecor Minimal Furniture Store HTML Template is a high-quality and aesthetically pleasing HTML5 template that can be used to develop websites for furniture stores. Indecor was created so that customers may create an online store selling modern furniture, electronics, home decor, kitchen appliances, and virtually anything else.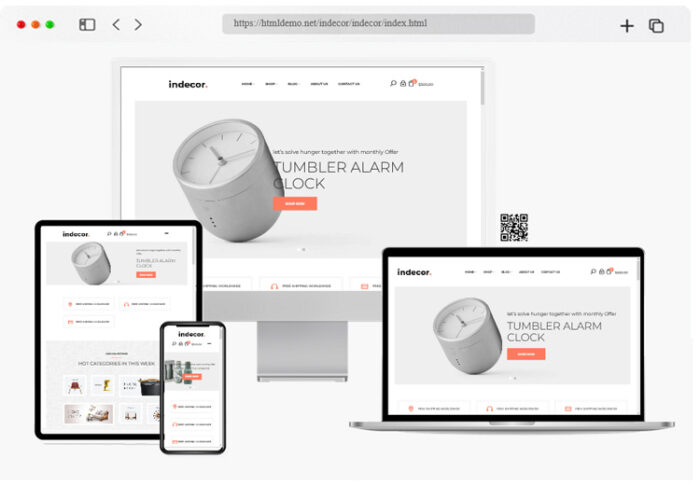 More info / download Demo
Benco
The Benco HTML5 template is based on the powerful Bootstrap 5 framework and is full of important elements or assets that will make your website strong. This template can be used for many different things, but it works best for your online store selling Furniture, Home Decor, Home Appliances, Office Furniture, Luxury Products, and Accessories.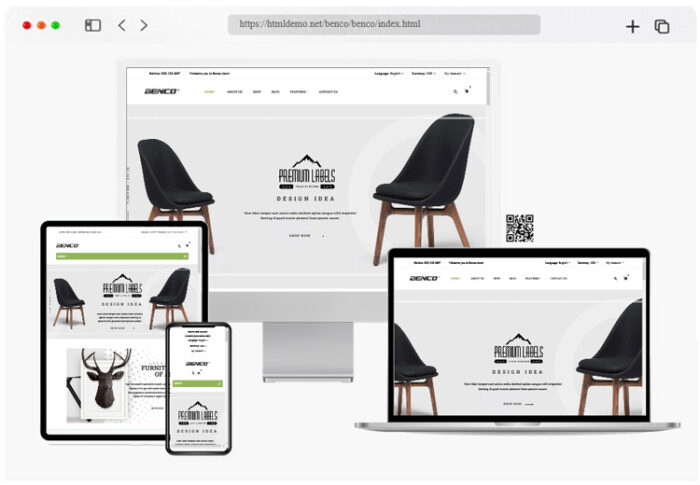 More info / download Demo
ArtFurniture
The responsive e-Commerce HTML template ArtFurniture Minimal Furniture Shop eCommerce HTML Template is a website for selling things online. Fits any eCommerce website or business, such as a fashion house, furniture store, electronics store, specific product line, sports, clothing, high fashion, men's fashion, women's fashion, accessories, digital, kids, watches, jewelry, shoes, tools, and even a grocery store.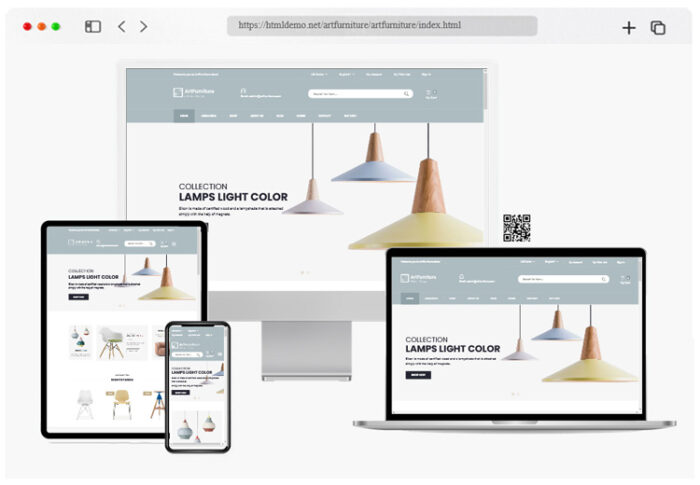 More info / download Demo
Furnish
The sophisticated and elegant design of the Furnish Minimal Furniture HTML Template makes it an excellent choice for online stores selling apparel, fashion, high fashion, men's fashion, women's fashion, accessories, digital products, children's products, jewelry, watches, shoes, children's products, furniture, sports equipment, and tools. It has a width that automatically adjusts to any screen size or resolution, and it is capable of doing it on its own.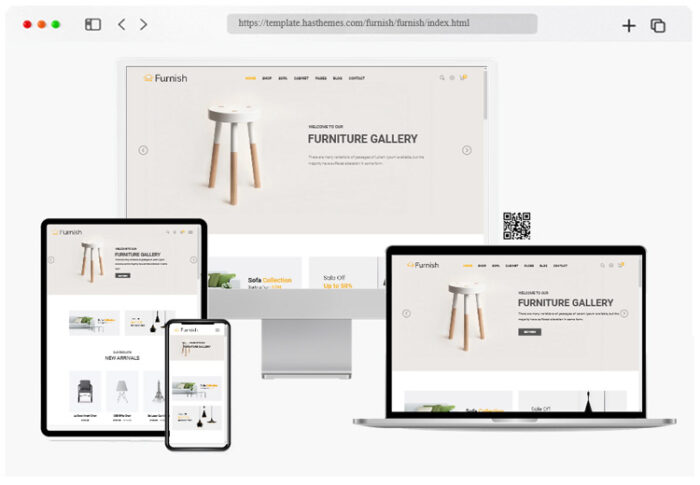 More info / download Demo