So you want to open a clothing or fashion store but aren't sure which eCommerce platform to use. Shopify is one of the best platforms for people who want a hassle-free setup. With tons of themes, it's not difficult to find one that matches your brand. Check out my Shopify Themes list below!
Top Clothing & Fashion Shopify Themes
Demati
Shopify has an ecosystem called Demati. You can make your business stand out in the eCommerce industry by utilizing all the strong capabilities to upsell, cross-sell, improve customer experiences, and dozens of beautifully designed demos and prebuilt pages from Demati. The fact that Demati is reasonably priced in comparison to other clothing shopify themes is what excites me the most.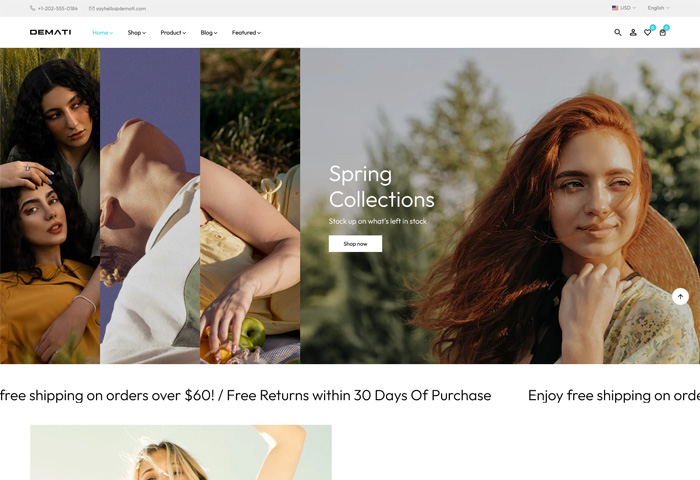 More info / download Demo
Storepify
Storepify gives you a brand-new Minimal Multipurpose clothing themes that makes a big first impression on your customers. Your online store's unique design makes it easy for potential customers to find it and makes it a favorite spot in the eCommerce World.
Storepify already has powerful tools built in, and you can show off your products with just one click to import a demo. You won't have to pay extra for a website optimization service because the page speed, UIUX, and mobile layout have all been carefully optimized.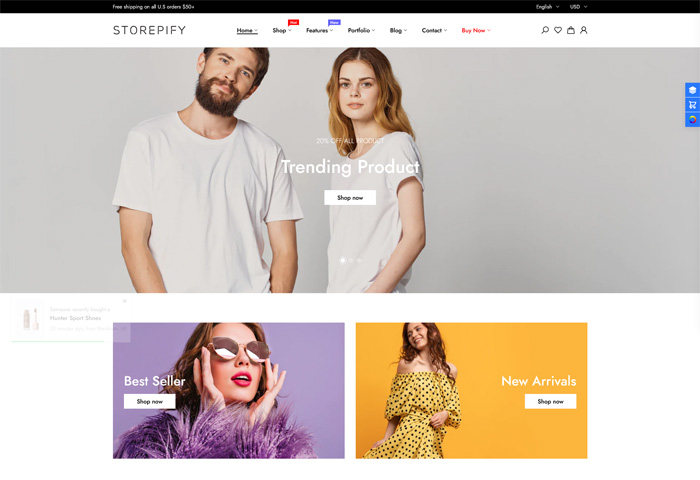 More info / download Demo
Unsen
The amazing people at The4 have created another high-quality Shopify theme called Unsen. Like with our Kalles and Gecko themes, we spent a lot of time developing Unsen and thinking about the user experience to make sure that stores that use our new theme give their customers a smooth, easy time.
Unsen was made to work with EComposer, which is one of the most popular page-building apps in the Shopify app store. With this unbeatable combination of Unsen and EComposer, you can make a store that is not only beautiful but also easy to use and makes a lot of sales.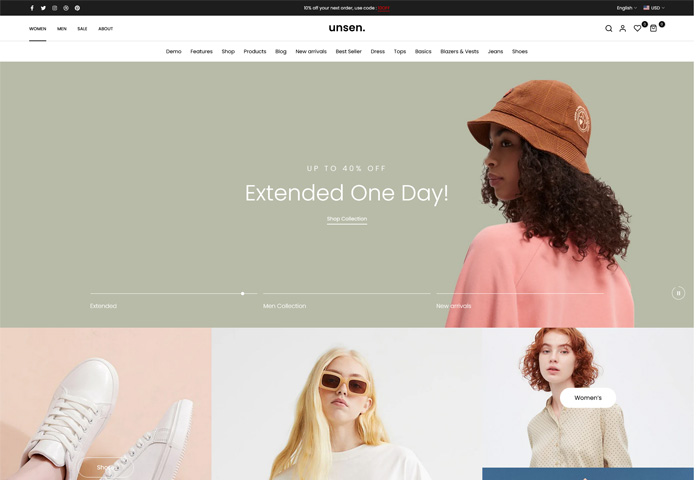 More info / download Demo
Mojuri
Mojuri is a clean and stylish fashion store Shopify theme. It specializes in displaying all the products with the feature of "quick view". With this theme, your customers are empowered to view product details, reviews and pricing at every glance. Combine styles and modern layouts with our built-in options, you can create an amazing store experience for your customers to have a pleasant time shopping in your store.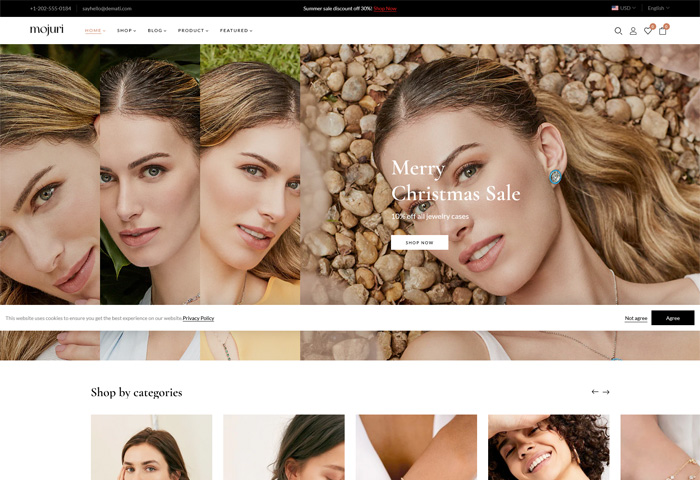 More info / download Demo
NeonCart
Use a beautiful NeonCart Premium Shopify theme to build your store. NeonCart's easy-to-customize section layouts for Shopify make your store appealing and universal. You can make your ideal online shop by choosing from different layouts for each section. The package comes with 20+ ready-made Home versions that can be changed to fit your store. The theme uses HTML5, CSS3, and Bootstrap 4, which are all cutting-edge ways to code.
NeonCart is a ecommerce Shopify theme for online shopping stores. It is our most unique, multi-purpose, Shopify 2.0, fully customizable, and best ecommerce Shopify theme. It comes with a number of clean and modern layouts. Neoncart will be a smart and understated way for store owners to sell their best items. NeonCart will definitely make your work look better and more interesting to people who look at it. Because it's based on a grid, your site will look great on any screen.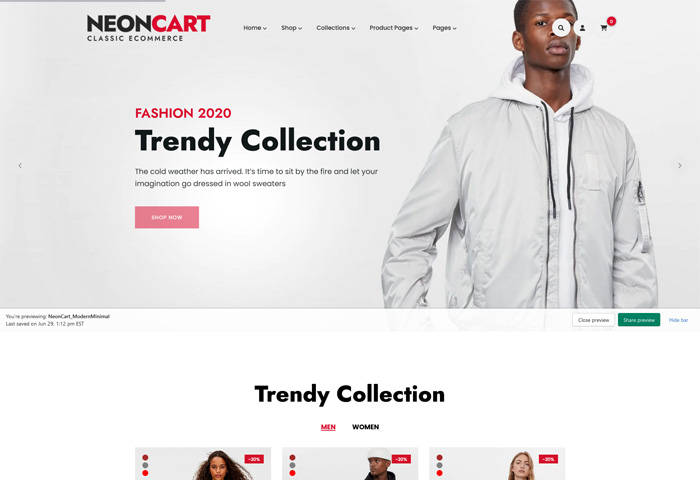 More info / download Demo
Mysterio
Mysterio is a Shopify theme store with a responsive layout design that lets you get high-quality web resources for a fashion store, or any other eCommerce business. When making page elements, the people who made the template paid close attention to the details. As a result, the functionality of the theme is thoughtful and can be used for a wide range of projects.
Every Mysterio theme from Zemez uses the same color scheme on each page of the theme. The product on your website will stand out best when you use strict black, soft turquoise, and elegant white together. You can be sure that this color scheme will get people's attention.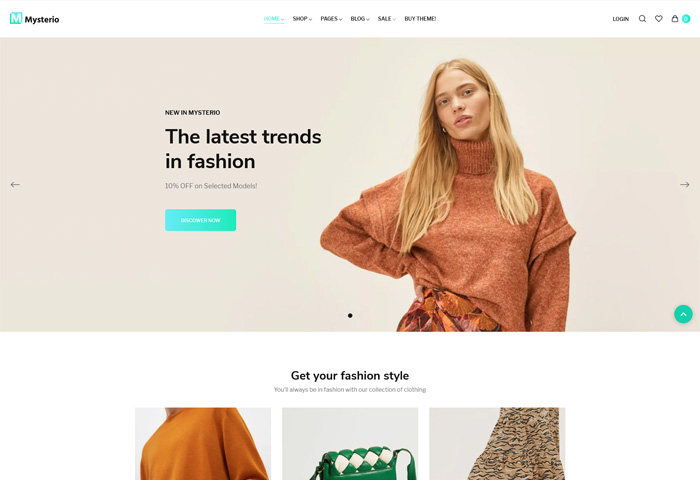 More info / download Demo
Riode
Riode is a responsive fashion Store Shopify Theme. It has the responsive design which works perfectly on any device. This unique theme gives you modern style and flexible layout. All the colors are easy to customize and modify. Riode offers multiple useful sections for creating incredible websites for shopping, selling and promoting your products. You can create an amazing online store just by installing this theme without requiring any coding knowledge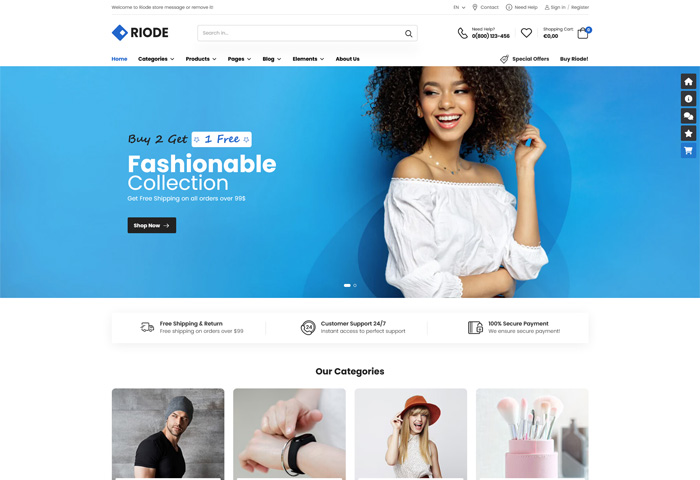 More info / download Demo
Cozy
Cozy is a beautiful fashion store Shopify theme that you can use to sell your clothing, accessories, and shoes on your online Shopify store. The theme includes many features such as a filterable product page, fully responsive design, high resolution product images and an installation package that makes it easy for you to get started.
Best of Cozy, conversational The Shopify Responsive Theme was created specifically for Powerful E-Commerce Themes, Minimalist eCommerce, and Cozy to launch your business revolution. Multiple pre-made layouts that are simple to use include effective E-Commerce Conversation-friendly features that increase store sales. The color combinations make the theme seem nice and polished.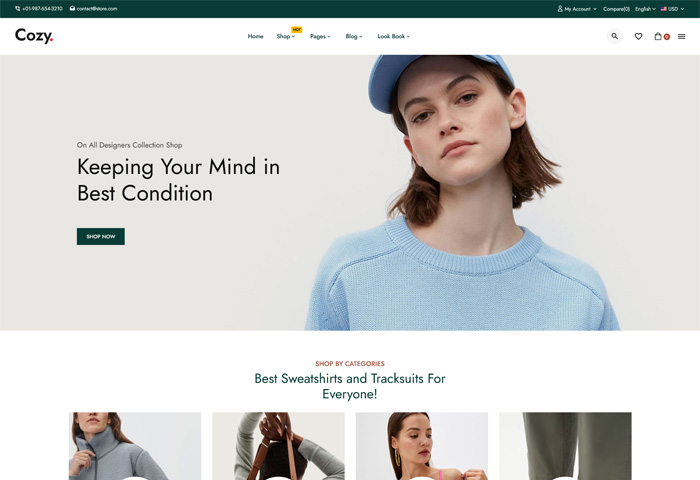 More info / download Demo
Optimal
Optimal is a fashion store Shopify Theme. It is beautifully designed and fully-responsive, which makes it compatible with all devices. This responsive Shopify theme has a clean and elegant design, so it looks great on any screen size.
Optimal is the best multipurpose Shopify theme you've ever seen, offering a trendy, eye-catching style and unique functionality. Get rid of such programs and replace them with drag-and-drop page sections. We are delighted to proclaim that "optimal" is more than simply a theme. It is an effective design tool with all the features you require to be successful in the internet market today. All the tools you require are included in Optimal, including powerful product filters, predictive search, configurable sections, and many others.
More info / download Demo
Random
Random is a responsive Shopify theme that comes with unlimited customization options. The theme has a clean design, eye-catching color schemes, and responsive layout. The theme includes an impressive number of custom widgets to increase the store's visual appeal. Get your business off the ground with a functional and professional looking store. With our Random theme, you can easily customize your site to fit your brand.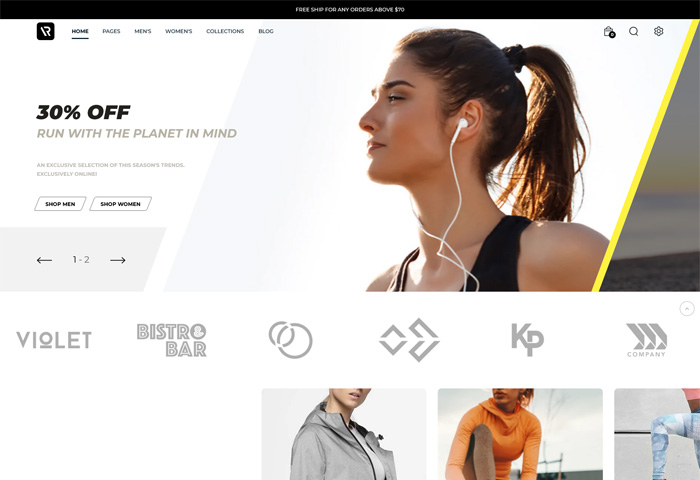 More info / download Demo
Kolly
Kolly is a neat, fashionable, minimalist website that works best for businesses in all sizes of industries to sell their products with the greatest levels of design quality and functionality. Kolly is a multifunctional Shopify theme for businesses with a single product responsive support to all devices, a simple shop, a kids' fashion store, gadgets, and an online store.
Kolly is a versatile Shopify theme with drag-and-drop sections, multiple product pages, about and contact pages, full responsiveness, multiple grid and list options, multiple header and footer options, product swatches, product quick views, mobile friendliness, ease of customization, and SEO optimization with RTL layout.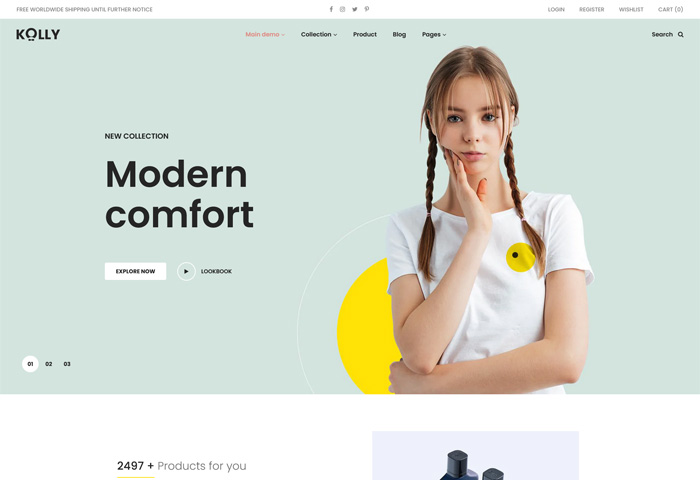 More info / download Demo
Minimog
The Next Generation of adaptable and high-converting Shopify themes, Minimog will get you up and running in almost no time. Without a question, Minimog has something to offer everyone. Whether you want to sell apparel, jewelry, sports equipment, footwear, handbags, electronics, or POD, Minimog can handle it.
There are more than 50 different demos available, and with FoxKit—an exclusive app created just for Minimog—this theme offers an almost limitless variety of pre-made layouts, elements, and components. With the numerous content blocks that Minimog has, you may quickly and easily organize a page.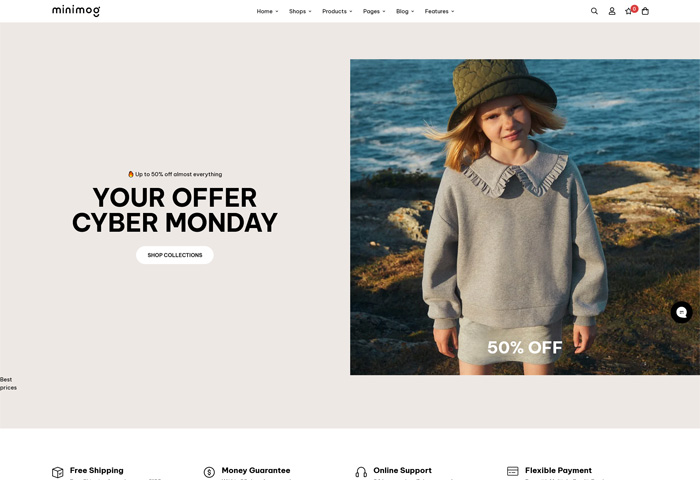 More info / download Demo
August Shopify
The gorgeous August Responsive Multipurpose Shopify Theme was created using Bootstrap 4.3.1 and the most recent version of Shopify. It has a ton of special features and a sleek, modern style that can handle any challenging needs for an eCommerce website. The August Shopify Theme is a wonderful online store that fits any of your business niches. It comes with 12+ Pre-designed Homepage Demos for diverse topics including Bikini, Swimwear, Fashion, Beauty & Spa, Art & Culture, etc.
Numerous new technologies are also being used to enhance consumer experience and page loading speed. This premium Shopify theme doubles as a potent design tool that enables you to create pricey websites without incurring significant design costs. straightforward administrative interface, amiable technical support, and money-back guarantee on purchases. Let's explore the fantastic theme features of August with its demos right away.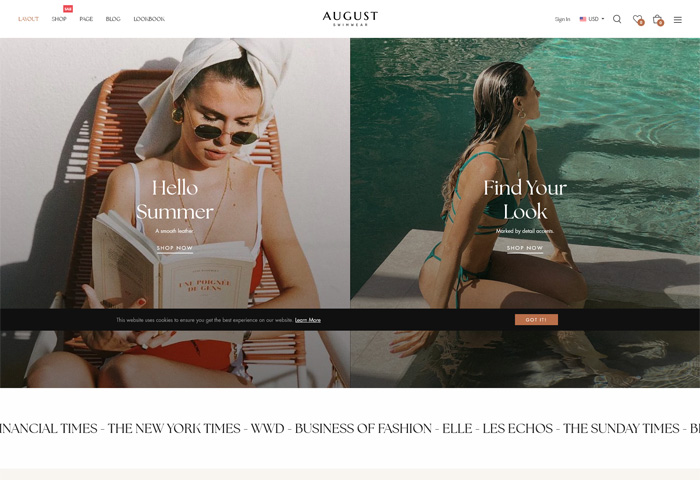 More info / download Demo
Vendy
Vendy is a multipurpose Shopify Theme for Fashion, Apparel and Jewelery Stores. It comes with tons of awesome features to make your online store even more impressive. Vendy is super flexible and easy to use, it can be adapted as any other shop that you want!
Vendy is one more premium Shopify themes which is compatible with the latest version of Shopify. With its elegant design and amazing features, Vendy will help you to set up your fashion e-commerce store in no time.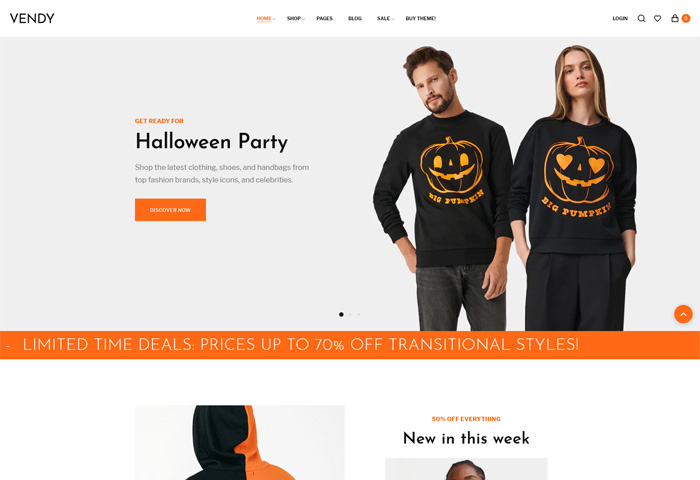 More info / download Demo
SaleHub
The SaleHub Shopify theme features designs for T-shirts, clothing, accessories, jewelry, and other categories. Although it has a unique and inventive design, the clients will find it to be relatively straightforward and simple to use. This website is an effective e-commerce platform.
Small and medium-sized businesses can create an online store using this Shopify theme. 10 homepages with multiple styles are included for your convenience. The greatest Shopify themes for your store are those like the SaleHub design. A great e-store solution should have a live demo available.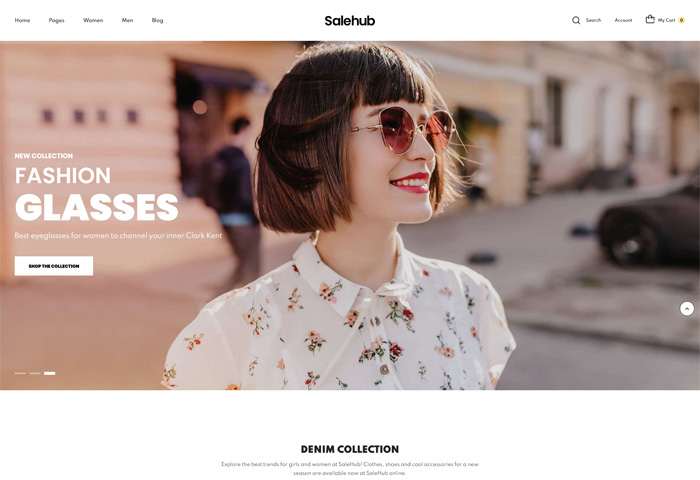 More info / download Demo
Lusion
Lusion is a multipurpose Shopify Theme for Fashion. It is perfect to fashion stores, lifestyle stores, clothing and accessory stores, jewelry store, shoes shop and more. Lusion is considered to be the most original multi-purpose eCommerce theme for online shopping with a sleek and contemporary look.
For store owners looking to market their greatest goods, Lusion will be a deft and wise decision. Lusion will unquestionably improve the impact and appeal of your work to viewers. The Lusion theme is compatible with many different browsers and devices and is Retina ready.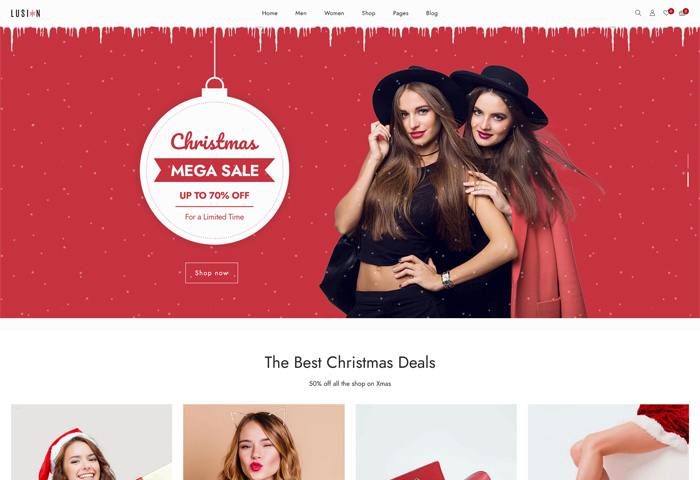 More info / download Demo
Beloria
Beloria is a multipurpose eCommerce theme perfect for all kinds of fashion businesses. This Theme has great features like a fully responsive design that looks beautiful on any device, powerful SEO options and unlimited color options.
Beloria is a multipurpose Shopify Fashion Theme. It's designed to be a perfect fit for any fashion store, but you can use it for almost any type of eCommerce businesses such as shoes, jewelry and accessories, accessories, bags and luggage shops.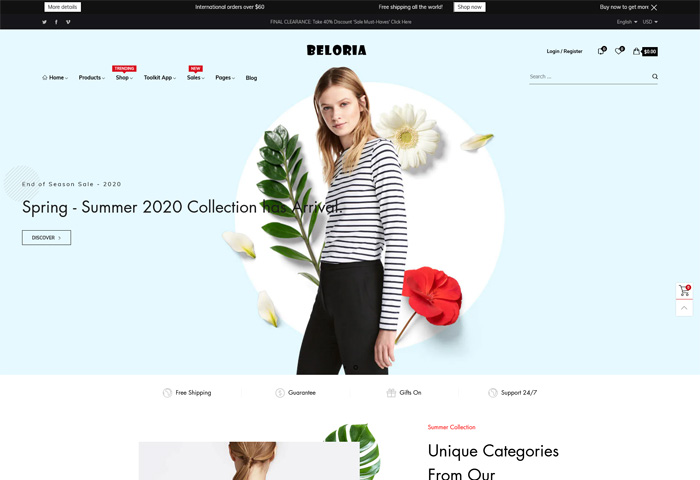 More info / download Demo
November Theme
November is a multipurpose Shopify Fashion Theme that helps your store to display the greatest collections of fashion. This theme has been designed specially for Shopify. It will give you a flexible and clean layout, along with the powerful customization options that lets you showcase your products effortlessly.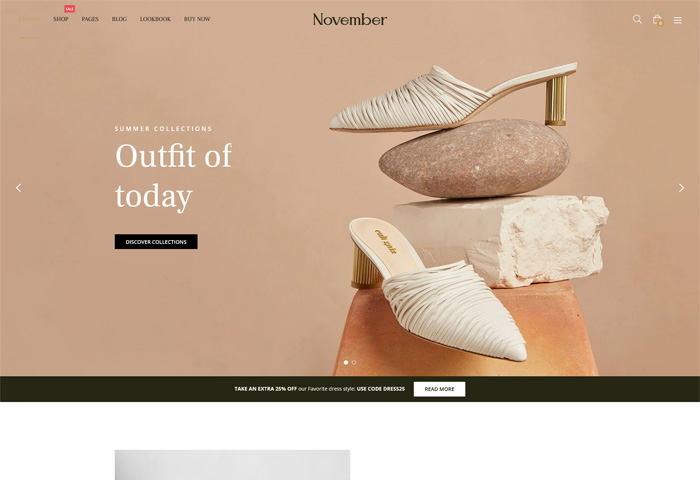 More info / download Demo
Boom
Boom is a Shopify theme with a clean, minimalist design that can be used for any type of store. It is perfect for fashion and apparel stores, but it also works great for jewelry and beauty stores. Boom's elegant color scheme features orange and blue hues with custom banner images to accentuate any product and make your commerce site look beautiful. This Shopify theme includes multiple language support, Google Analytics integration, mobile responsive design, and cross domain compatibility so that you can launch your store in minutes without any technical skills required!
Boom is a top popular Shopify Theme that's been built with the needs of your customers in mind. It has all the features you need to sell your products and services to an international audience, including multiple currency support and a wide range of payment gateways. Build a custom, beautiful Shopify store in minutes with Boom. Great features and a simple, yet flexible design make it super easy to build the store you want!
Boom is a modern and clean online t-shirt shop created for you to sell, promote, and display your creative ideas. This Shopify Theme is packed with features like infinite scrolling, highly customizable, multiple currency option, shopping cart, countdown timers, layout options and many more to help you grow your business
More info / download Demo