If you're in the construction business, you know that a strong online presence is essential to success. And what better way to create a website than with one of the many free construction WordPress themes available? There are themes for all types of businesses, from small contractors to large construction firms. With so many options to choose from, you're sure to find the perfect theme for your company. Why not give WordPress a try today?
Related Article
Business Capital Construction
The Company Capital Construction WordPress theme is a unique, flexible, and modern-looking design option that works well for business and construction websites. This theme can be changed to fit a wide variety of construction-related websites, such as those for design and architecture firms. The Business Capital theme, which is a very flexible parent theme, was used to create this child theme.
Even though it has some of the same qualities as its parent theme, Business Capital, it has a pretty different style because it focuses mostly on the building and construction business. This responsive theme has a ton of great features and functions, such as a Slider, Hero Content, Featured Grid, Testimonials, Contact form, and What we do, to name a few.
This building theme is full of great features that make it a great choice for the website of almost any business that isn't in the construction business. When you are working on building your site, you can always ask for help with the demo. When you get Business Capital, which you should do right away, you should start building your website right away.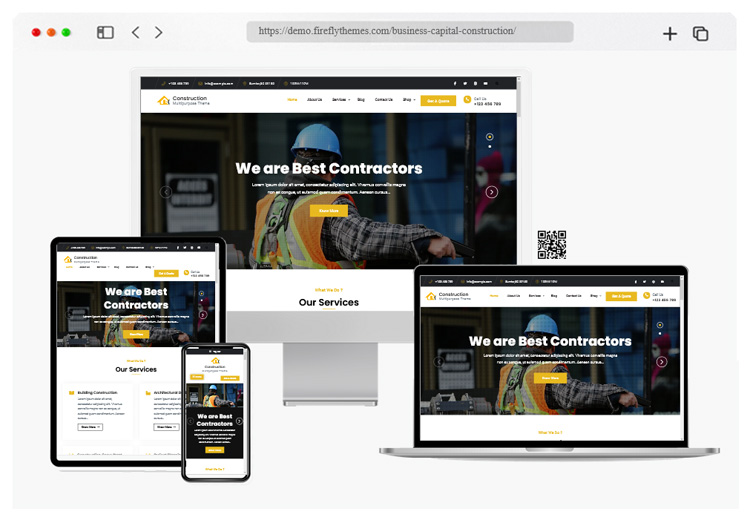 More info / download Demo
Classic Construction
This helpful presentation template with a construction theme will be very helpful for any organization that works in building or construction. There are a lot of ways to change things, such as a child theme for businesses that work with or serve children. This would be a good way for businesses that offer services like lawn care, home improvement, and lawn care to market themselves.
It would also help businesses that sell building toys for kids. Galleries make it simple to display creative works such as architecture, design, photography, and art. Here are some examples of this kind of creative work: Audio and video can help music businesses, churches, and other places do their jobs better.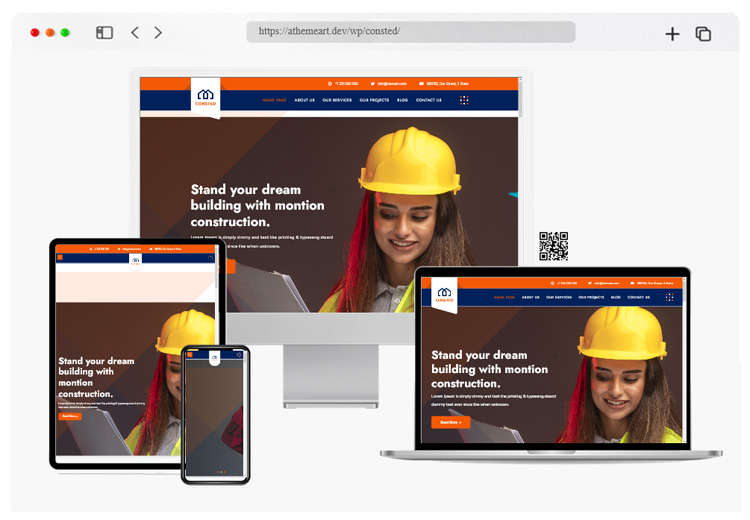 More info / download Demo
Construction Sewa
The Construction Sewa WordPress theme is a child of the Bizberg theme. In other words, the Bizberg theme is the parent theme. The Construction Sewa theme was made so that corporations and businesses in the construction industry could use it. Even so, the theme is flexible enough to be used by any kind of business, including corporations, law firms, agencies, educational institutions, architectural firms, furniture manufacturers, and many more.
It looks great and has a lot of useful features. The fact that the theme was built with the Bootstrap framework makes it flexible and easy for the end user to use. This WordPress theme is completely ready to be translated, works well in all browsers, and has been improved in a lot of ways to make it better for search engines. On top of that, it is completely responsive (SEO).
If you have any problems while using our theme, you can look at our detailed documentation or contact our helpful support team for help. It works perfectly with Elementor in every way, and Elementor is what is used to make all of the website's parts.
More info / download Demo
Daily Construction
Daily Construction WordPress Theme is specially designed for construction, handyman, plumber or electrician, carpenter, craftsman shop, painter or similar craftsman or repair business website. The Daily Construction theme has a beautiful and unique design. It is fully responsive and tested on all major portable devices.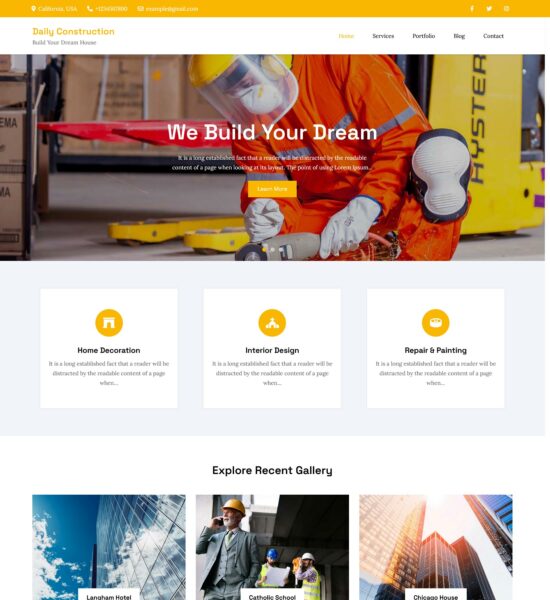 More info / download Demo
Home Construction
Home Construction is a high-quality theme created to create landing pages for construction companies, real estate solutions, property dealer websites, homes, developments, or real estate agent websites. Construction companies and builders will also find the default layout conducive to their work. When it comes to professional appeal, this theme literally commands attention with its sleek and minimal design that is packed with responsive design. To make your website more interactive, call-to-action (CTA) buttons are included as part of the design.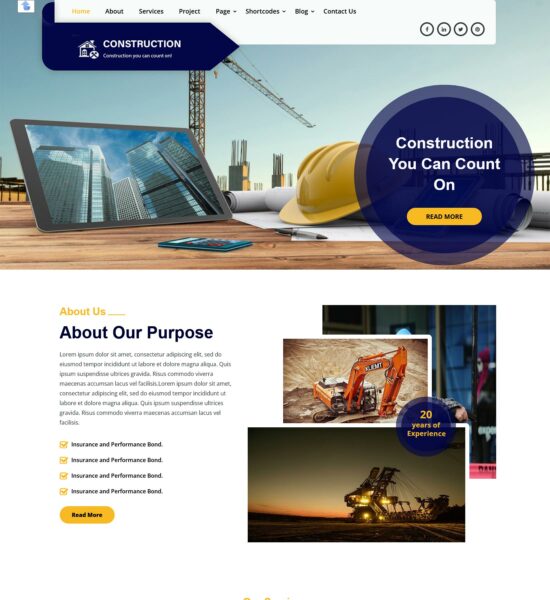 More info / download Demo
Construction Techup
Construction Techup is a child theme of Techup, a free WordPress theme useful for business, corporate, agency, and commercial institutional websites. The theme has a full screen option. The theme is developed with a creative design that has various sections on the homepage. The theme has powerful features that allow you to write articles and blog posts with ease. It uses clean build best practices, responsive HTML5, and is fast, simple, and easy to use.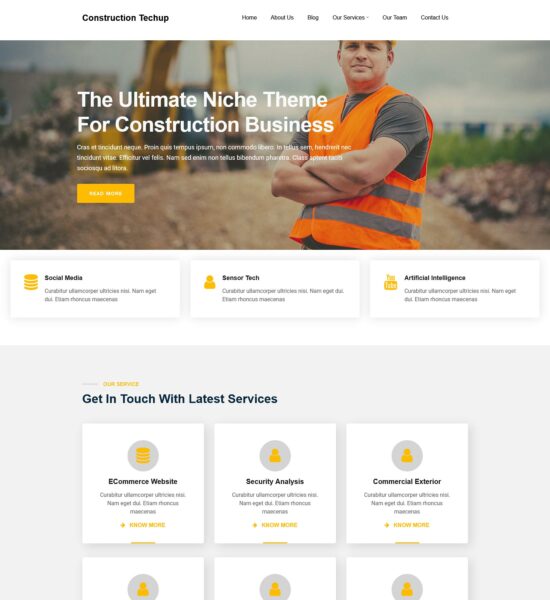 More info / download Demo
Construction Firm
Multipurpose construction company. Fully customizable theme design. This lets you edit the website without touching the code. Multilingual features make your website accessible worldwide. Starter frames form this construction company theme.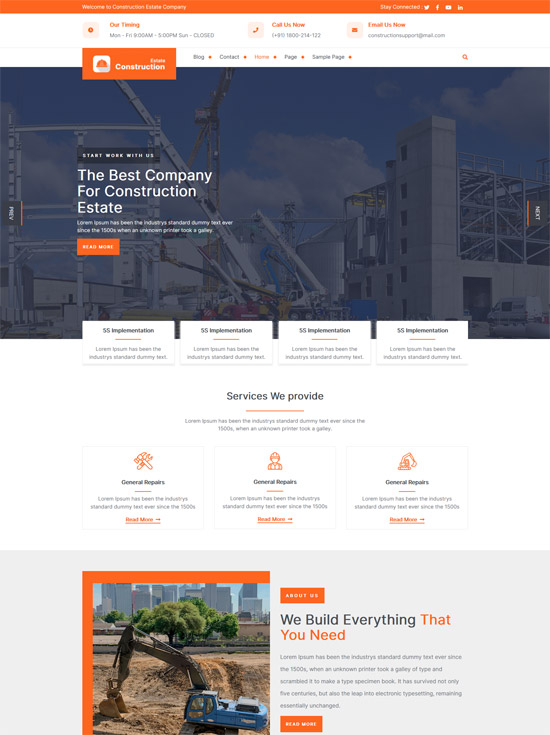 More info / download Demo
Chique Construction
Chique Construction is a clean, simple yet versatile, responsive, and free construction WordPress theme. It is ideal for all construction companies, builders, contractors, and other businesses alike. This theme is a child theme of a popular multipurpose fashion WordPress theme, Chique. Chique Construction inherits its main features from its main theme. However, Chique Construction is exclusively dedicated to construction companies and corporations to display their products and services in an aesthetic way. Chique Construction focuses on providing features and site designs that are best for building a strong online presence for businesses.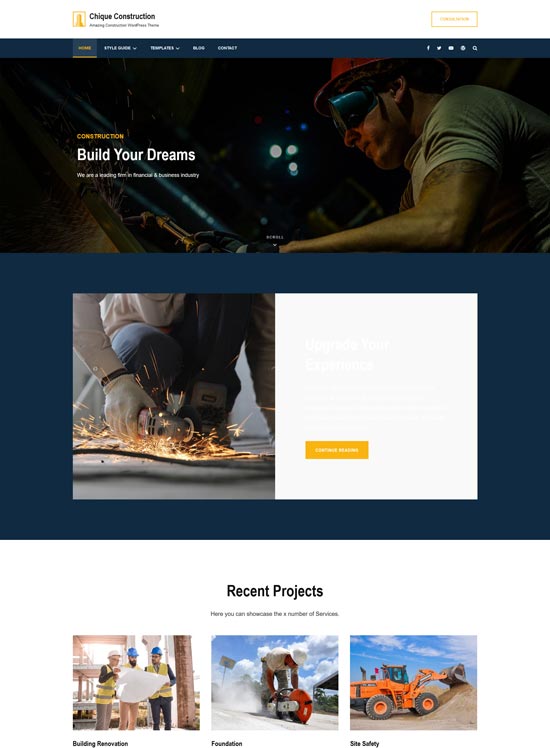 More info / download Demo
Construction Light
Contractors, builders, architecture firms, renovation and repair services, property dealers, building materials traders, infrastructure companies, plumbing and roofing service businesses, and others can use the Construction Light theme to create stunning and modern websites. online agencies, portfolios, photography, business, and corporate websites.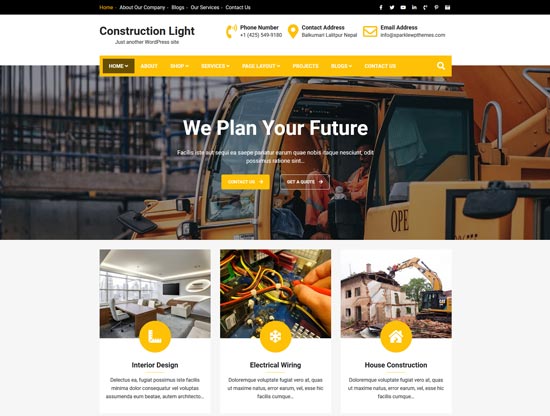 More info / download Demo
Building Construction Architecture
Bizberg WordPress Theme's Building Construction Architecture child theme. The Building Construction Architectural theme is developed for construction firms but can be used for any company, corporate, attorneys, agencies, education, architecture studios, furniture shops, and more.
It's beautiful and feature-rich. Bootstrap underpins the theme, making it functional and simple to use. This flexible, cross-browser, translation-ready WordPress theme is SEO-friendly. Check out our detailed documentation or contact our helpful support staff if you need help with our theme. All parts are Elementor.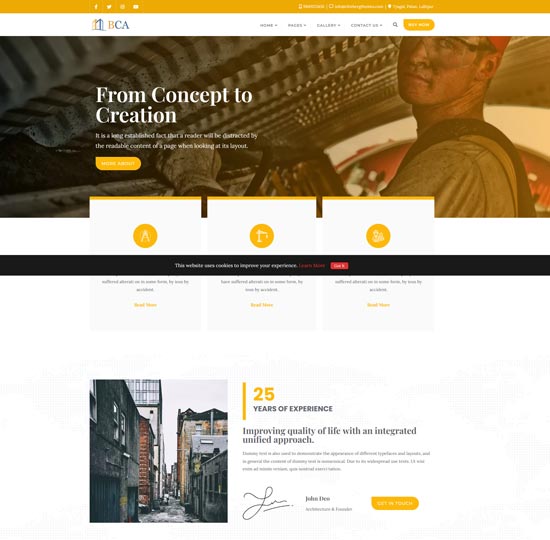 More info / download Demo
Construction Hub
The construction center is an exemplary subject related to construction business and is well suited for companies dealing with construction engineering. If you are a newbie to the real estate business or are already an established player with the primary focus on going global, this premium category WordPress theme should be your preferable choice and will provide a great boost to your business due to the splendid features associated with he. It is an exemplary theme for architectural factories and the merit is of its multipurpose nature, in addition to responding to the core.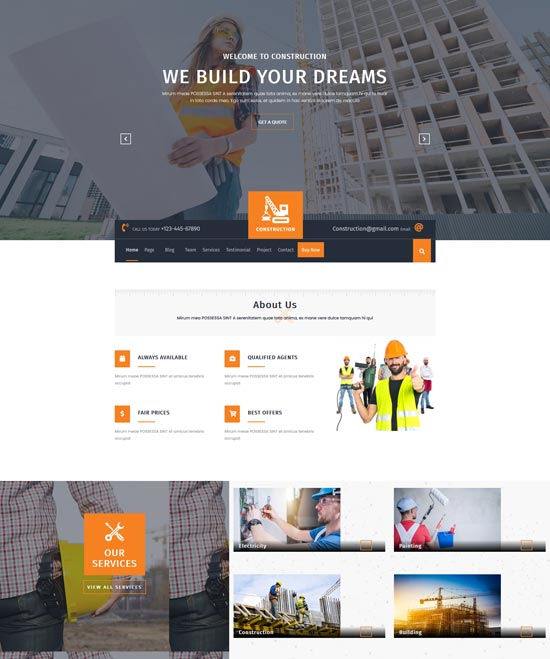 More info / download Demo
Construction Kit
Construction Kit is a free WordPress theme suitable for the construction company website. This building template is compatible with Gutenberg, Elementor, and WooCommerce. Also, it works perfectly with Beaver Builder, Brizy, KingComposer, and other page builders. The Construction Kit theme is specially designed for construction companies / businesses, but can also be used for any other business, corporate, lawyers, agencies, education, architecture studio, moving, furniture companies and many more.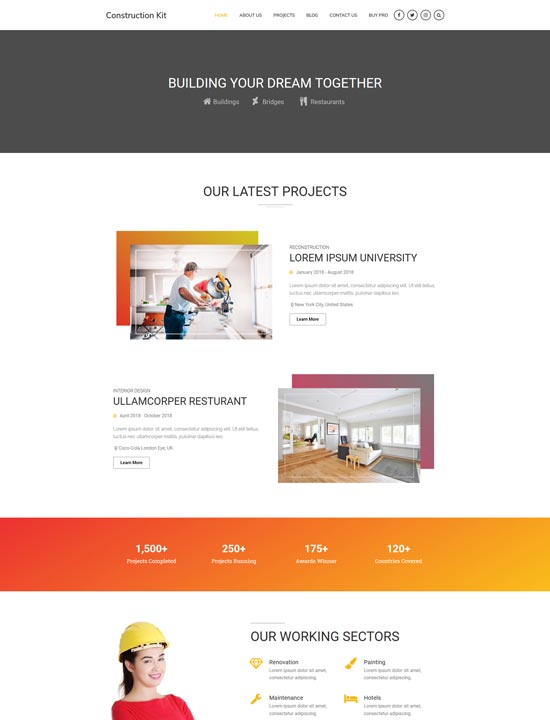 More info / download Demo
Construction Get
This theme suits all building websites, including commercial ones. Commercial and corporate websites may utilize Construction Get. . An outstanding slider section, header, footer, layout design, color, widget, custom copyright, built-in social icons utilizing the menu, color reset, and many other choices enable you to build a unique website.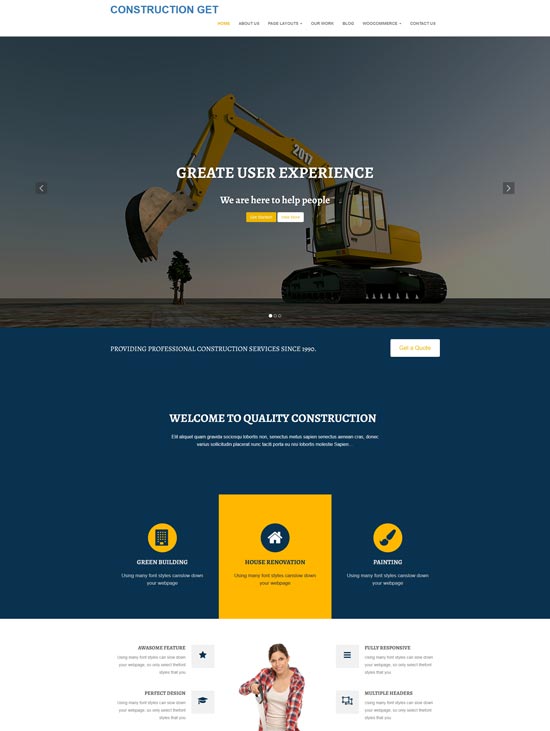 More info / download Demo
Nirman Construction
This free building WordPress theme makes the most of the online space to show off your work and services in a professional way and turn visitors into loyal customers without breaking the bank.
It's a theme that can be used for a variety of businesses, like interior design, plumbing and roofing services, property negotiation, real estate agencies, etc., as well as construction companies, contractors, builders, architects, and repair and renovation service providers. With the WooCommerce plugin, which is built in, you can set up your online store in a few clicks.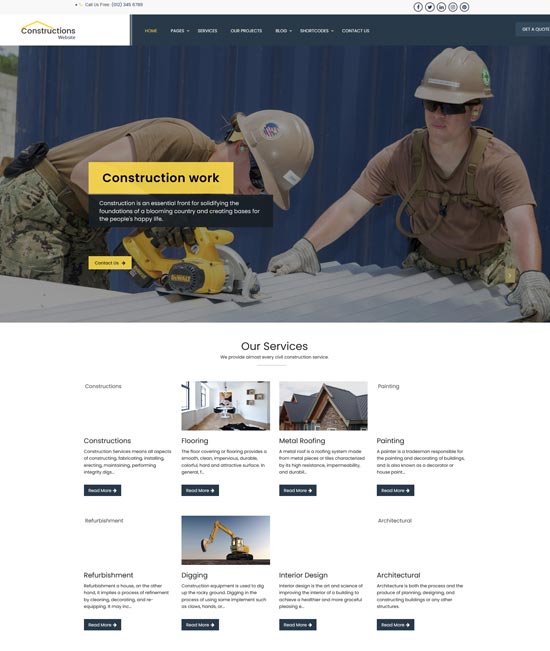 More info / download Demo
Tameer Construction
Tameer Construction is a powerful, bold, attention-grabbing, performance-focused construction WordPress theme for builders, construction companies, infrastructure companies, construction equipment dealers, contractors, and similar businesses. By customizing it a bit, it can be used by real estate agents, property listings, property dealers, brokers, landlords, architectures, invoices, consultants, builders, industrialists, builders, interior designers, architects, accountants, renovation service providers, and repair portfolio website.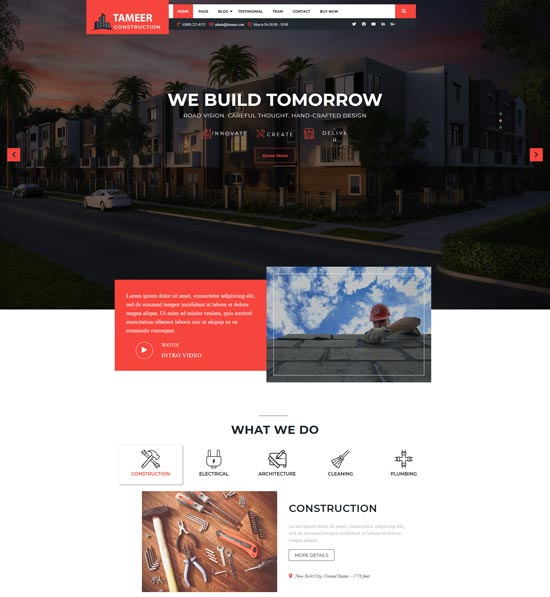 More info / download Demo
Modern Construction
The Modern Construction WordPress theme is bold, powerful and impressive, specially designed to cater to all real estate businesses and services such as construction and construction, contractor work, property negotiation, real estate agency and brokerage, repair, architecture, renovation, real estate. , invoices, accountants, agents, consultants, road builders, carpenters, brokers, municipalities, building material raw materials, builders, interior designers, useful for blog trade, corporations or portfolios and any relevant business. From meeting basic to advanced needs of builders and contractors, the Modern Construction WordPress theme is capable enough to design an efficient performance website with one click.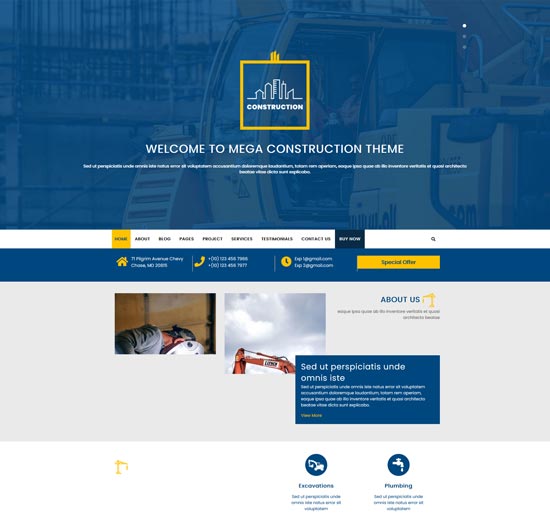 More info / download Demo
Solid Construction Classic
Solid Construction Classic is a child theme of our Free Construction WordPress theme: Solid Construction. Solid Construction Classic is a simple and clean, robust and reliable, professional and classic WordPress theme that has been built to flaunt your products and services online. As the name suggests, Solid Construction Classic makes your construction and architecture website bold and solid, giving your website a classic look on all devices regardless of screen resolution.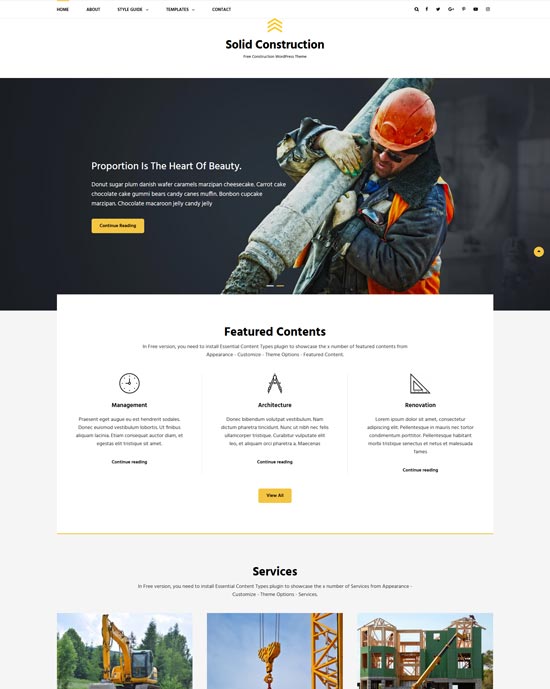 More info / download Demo
VW Construction Estate
The VW Construction Real Estate WordPress theme covers all your construction-related web enterprises. This versatile construction theme is used in many company construction websites.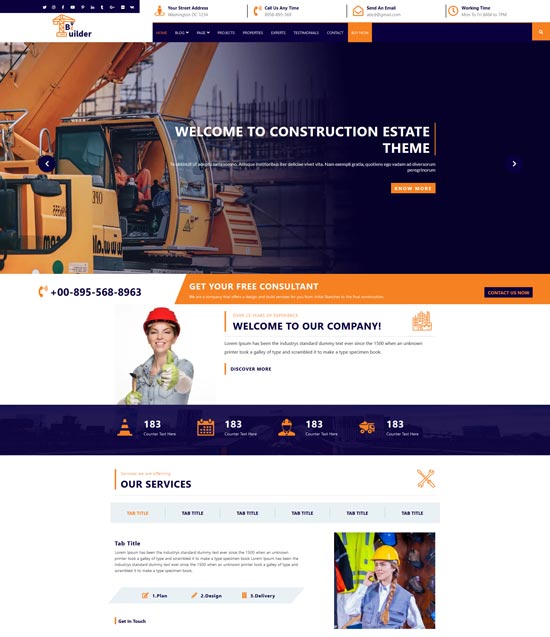 More info / download Demo
Construction Field
Construction Field is an amazing free WordPress theme for construction, engineering, architecture, real estate or construction companies. The theme is suitable for construction or real estate agencies and construction sites and real estate in general. It is very important for any company to show its service, portfolio, about the company, recent updates in a professional way so that customers are up to date and know the company's service and portfolio. With the use of Construction Field, you can present your company's online presence in a beautiful and distinctive way.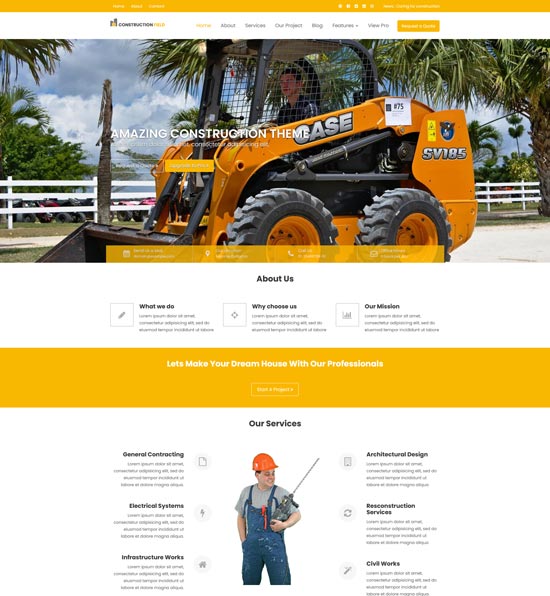 More info / download Demo
Ample Construction
Ample Construction is a bright, contemporary, easy-to-use, responsive WordPress theme. It works for commercial, corporate, e-commerce, personal, blog, and creative agency sites. It may be utilized on any business website despite its building emphasis.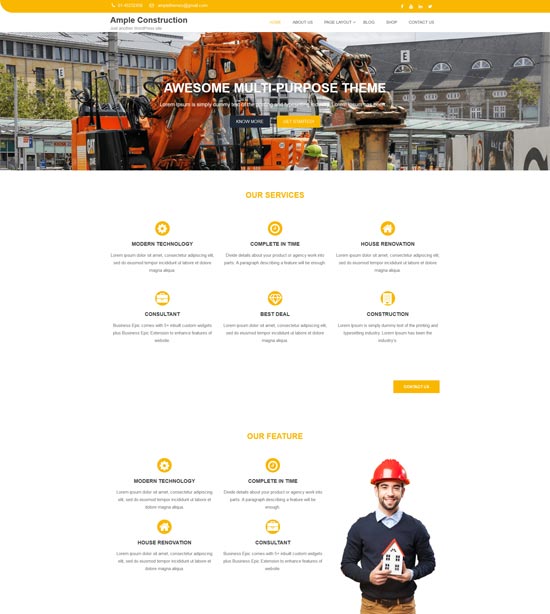 More info / download Demo
Super Construction
Super Construction is a modern, easy-to-use, and highly customizable WordPress theme for construction companies, architectures, and builders. It's a clean, responsive, and SEO-friendly theme. This theme is flexible enough to be used in businesses, corporations, blogs, digital agencies, portfolios, and other creative website development.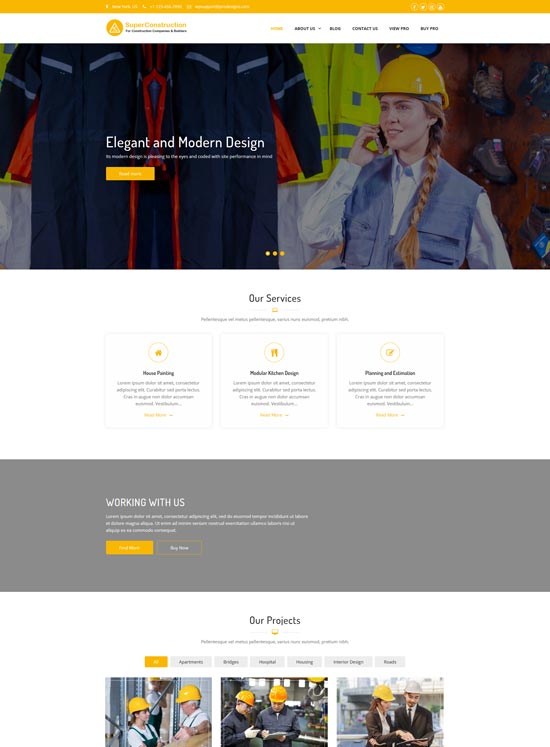 More info / download Demo
Construction Base
Construction Base is a robust and free responsive construction WordPress theme. It is simple and intuitive platform so that it would be easy for making resourceful business websites without any coding. It has been created specifically with one purpose in mind, to provide the easiest and most intuitive platform for construction companies, builders, woodworkers, contractors, and all similar, related fields of business. Although it is focused for construction area, it can be used in any type of business websites.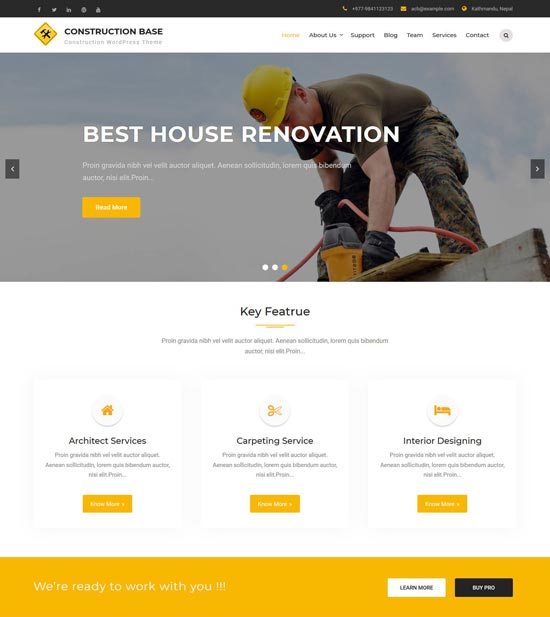 Demo More info / download
Quality Construction
This theme suits all building websites, including commercial ones. Business and corporate websites may employ Quality Construction. Advanced theme choices and drag-and-drop widgets allow site customization. Footer, amazing slider, header, layout design, and Widgets, colors, custom copyright You may construct a distinctive website utilizing menu-integrated social icons, reset color, and other choices.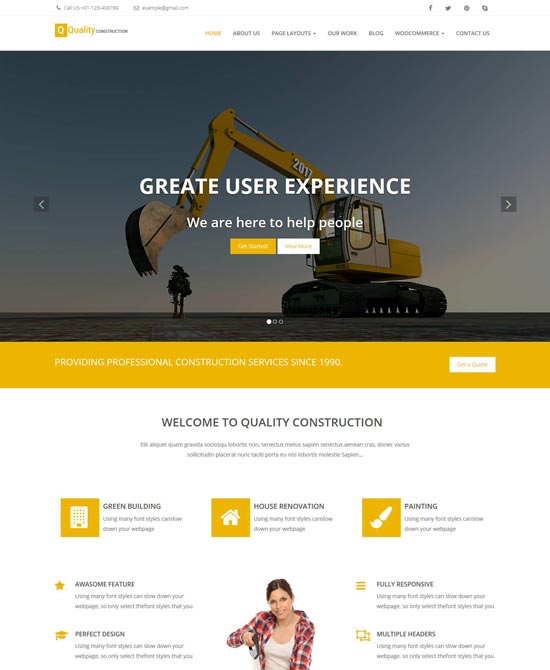 Demo More info / download
TF Construction
TF Construction is a WordPress theme for businesses. It is clean and original, and it has a great, elegant, multipurpose responsive design for your website. A bootstrap-based HTML5 theme that is light and fully responsive, with FontAwesome icons. On the home page of the theme, you can show off your portfolio projects. TF Construction can help you with your online store's woocommerce.
With TF Construction's easy customizer, you can change the look of the theme with just a few clicks. A theme that is ready to be translated and works with most browsers. On the top header, you can change the logo, social icons, and contact information.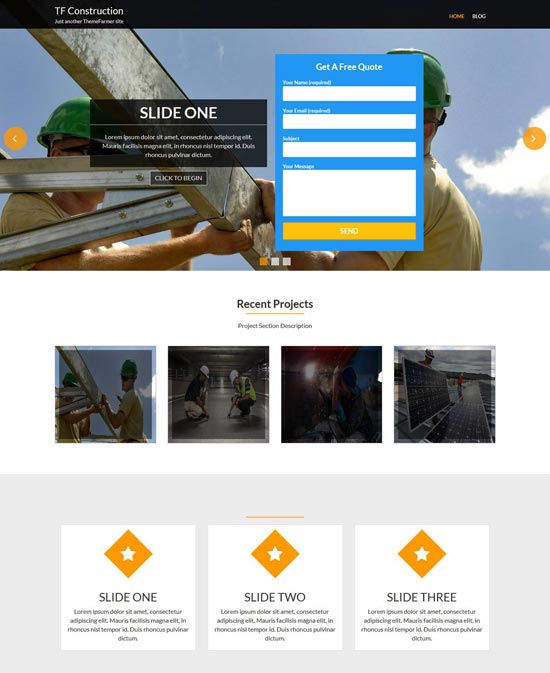 Demo More info / download
Constructisle
Constructisle Lite is a free construction WordPress theme for company, responsive, high-resolution corporate theme built with construction companies / businesses in mind, featuring a pixel perfect responsive corporate design, large images, other features include optional social menu, sidebar,clean, modern and minimal responsive design footer widgets and blog / business template.Some other businesses that uses it are : translators, interior design, architec, plumber,lawyer, painter, roofing business,repairing or even it consulting ones.All options are using WordPress Theme Customizer feature so you can watch changes live!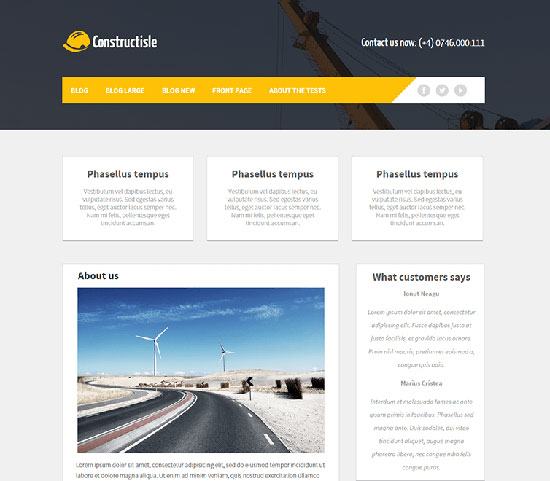 More info / download