Our hand picks up the best free and responsive magento themes with an advanced admin module, it is extremely customizable, easy to use, and fully responsive. Suitable for all kinds of online e-commerce store. Excellent as a starting point for your custom projects. There are more free magento themes to use for all online e-commerce purposes, so today we have a collection of best-selling premium themes with responsive design to help you easily find the best themes with one panel.
More useful options easy to control your product for sale online on e-commerce websites. In fact, the most responsive Free Magento themes are the best choice for e-commerce purposes because those themes are always kept up-to-date by the author to correct any errors and keep the themes safe. So, enjoy this collection of premium and free Magento themes and have good luck making your web design experience more enjoyable.
Free Responsive Magento Themes
StartElectro Free eCommerce Magento Theme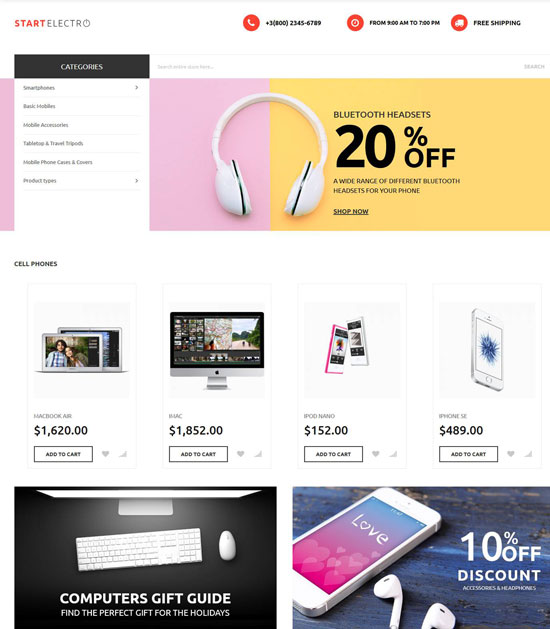 More info / download Demo
F2 – Free Magento 2.0 Theme
F2 is designed in accordance with the latest web trends. That is why it offers a compelling look coupled with an unmatched functionality. At the same time, it is not overloaded with visual effects, which ensures faster loading speed of the site. A structured menu and layout of the theme help you keep the content look more organized. If necessary, you can easily adapt this fashion store Magento template to any other project of any kind.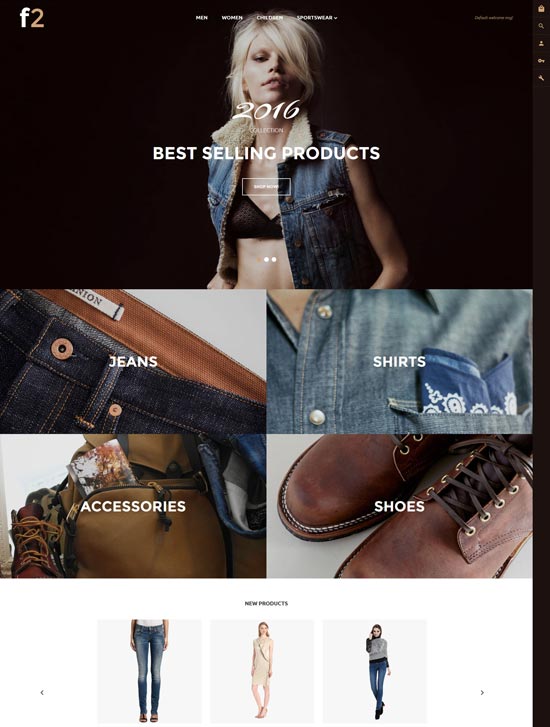 Demo More info / download
FreeGo
FreeGo is a fully responsive Magento 2.3 theme with a clean and eye-catching design in line with the latest web trends. This beautiful theme helps store owners make their businesses highly effective and improve short-term revenue. It has so many features like easy to use navigation, ready kids theme, list of new and featured products, blog and brand owl carousel, out of stock product tag, better readability on all devices and fast loading on all mobile devices.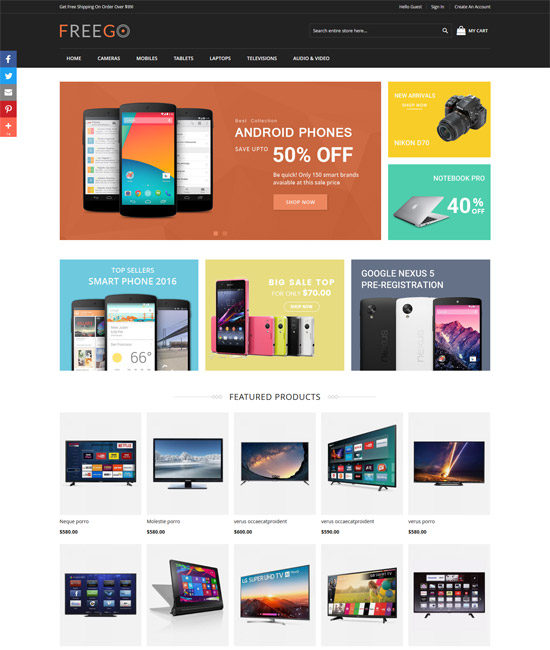 More info / download Demo
Magetique Lingerie FREE Magento 2 Theme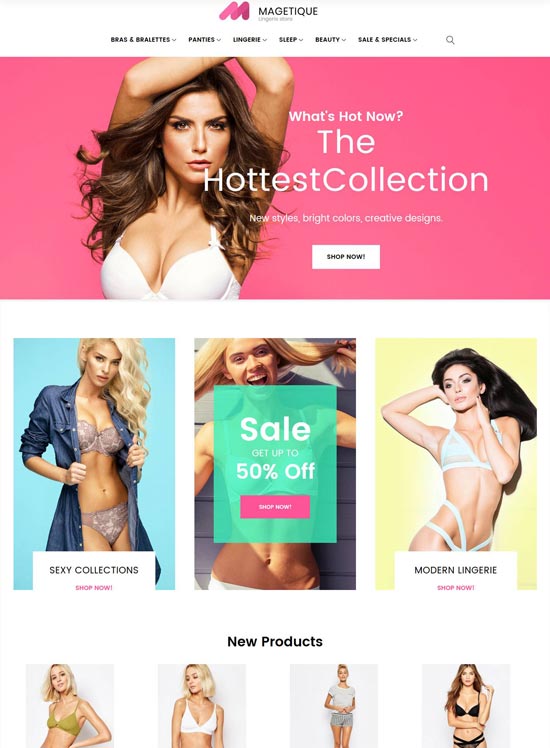 More info / download Demo
Ketty Magento 2
This Clothing Store Magento Theme will set a voguish tone to any fashion apparel store. Grid-based content block layout, retina-ready images and modern fonts showcase your offers in the most favorable light. Mega Menu will make your visitors acquainted with a full range of clothes and accessories in an easy-to-perceive manner. Due to custom admin panel, the template can be easily adjusted to suit the needs of your business. Fully responsive, SEO-friendly and cross-browser compatible, this Magento 2.0 theme will help you build a solid online shop.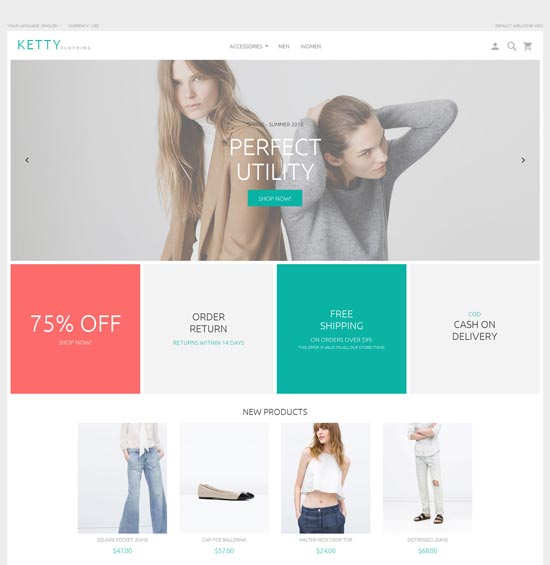 Demo More info / download
StereoCar FREE Audio Magento Theme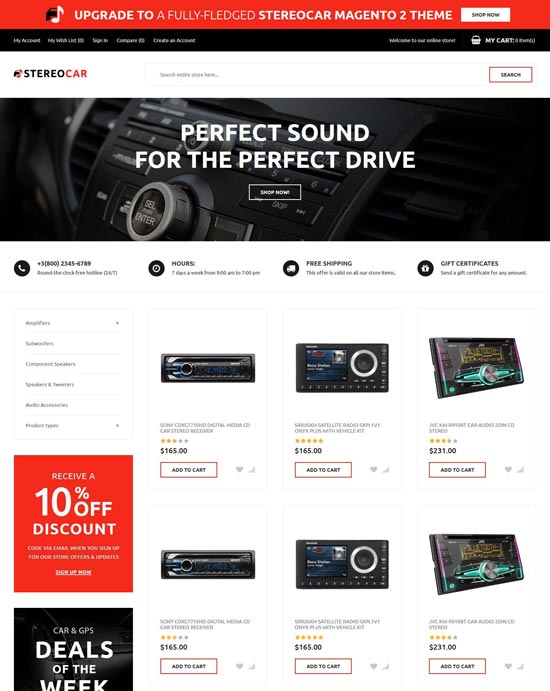 More info / download Demo
Softonne Free Electronics Magento theme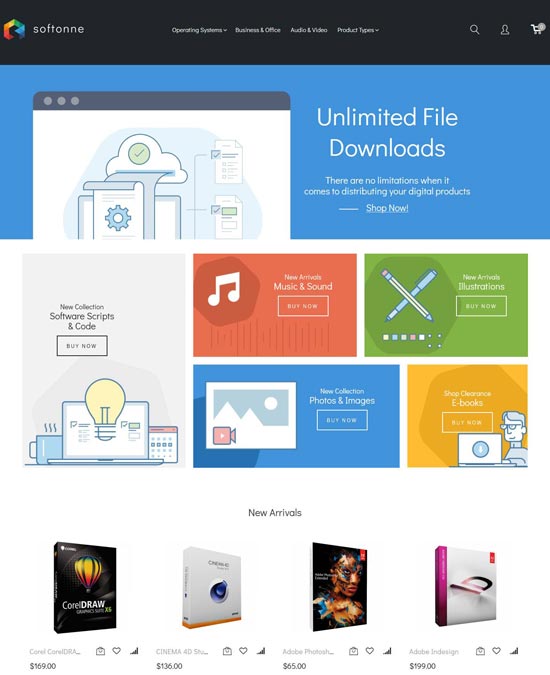 More info / download Demo
AllyBike FREE Sports Magento theme
More info / download Demo
Free responsive Magento theme 1.9
Here is a pro designed Free responsive Magento theme for online clothes stores. It offers a powerful set of features that add usability and style to any website. This particular theme offers a clean layout with a minimal design and a variety of cool effects including parallax scrolling, animated pictures, full-width sliders and images. Hover effects fixed menu, etc. In other words it is ready for eCommerce, you only have to upload your content and make several adjustments and it is good to go.
Responsive design is a must-have feature for any modern website whether it is a news blog or a powerful online shop. It automatically adjusts the content of your site to any screen resolution it's been displayed on. So more people will be able to reach you page even from their smartphones and tablets. FYI. This Free responsive Magento is forbidden for commercial use and designed for educational purposes. However it can be used as a prompt for designing your own site.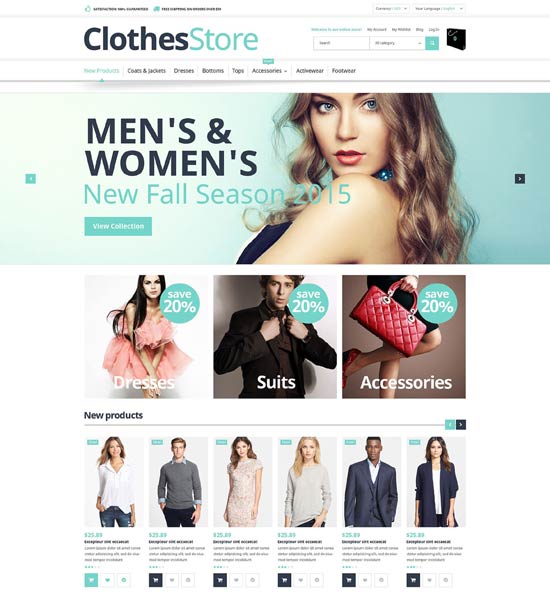 Demo More info / download
Free Responsive Magento Theme for Fitness
This Free responsive Magento theme is designed and developed for sport, cars, electronics, fashion, beauty stores. Being highly customizable, it can be easily altered and transformed to meet the needs of your business.
Ebajes Free Responsive Electronics Magento
Ebajes is a minimalist free magento theme. The theme is for free; still, it owns a clean, elegant and high-tech look, which is meant for Computer Store, Laptops Store, Electronics Store and Hi – tech Store. Ebajes brings quite an experience with nice features like Responsive – preserving perfect compatibility with current browsers, and work well with tablets and smart phones as well.
Best Premium themes
Porto
This item is no longer availablePorto is simply a better choice for your new website design. The theme has been among the most popular in the world for several years, being constantly improved and following design trends and best code practices. Your search for the best solution is over, get your own copy and join tens of thousands of satisfied customers.
Claue
Claue Clean, Minimal Magento 2&1 Theme is a great clean modern eCommerce store template with 20+ homepage layouts and tons of options for shop, blog, portfolio, store locator layouts and other useful pages . Claue will meet and adapt to any type of e-commerce site you can imagine. Furthermore, Claue is built on the basis of Front-End Page Builder and tons of extensions like Mega Menu, Store Locator, One Step Checkout, Daily Deals, Advanced Reports, Quick View, Color Swatches, Ajax Cart, Product Questions (magento 1) , shop by brands, …. Which in total save more than $699. Therefore, it will give you the power to transform your dream store into a magical digital result that knows no bounds. Let Claude grow his business and reach his full potential today. Claue V1 is compatible with Magento: 1.7.x, 1.8.x, 1.9.x, 2.1.x, 2.2.x, 2.3.x, 2.4.x. Claue V2 is compatible with Magento: 2.4.x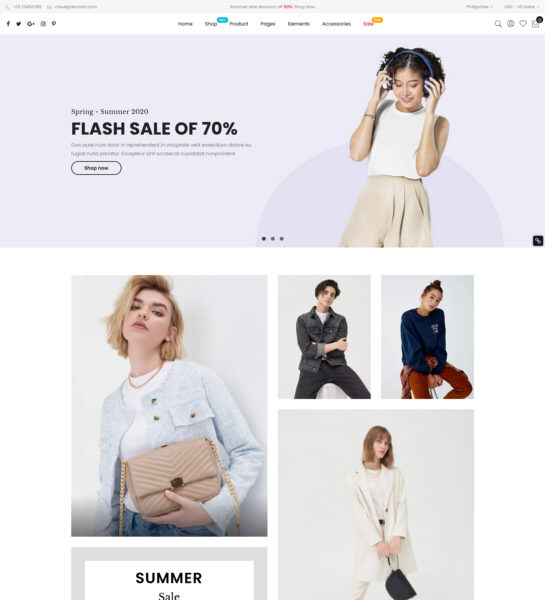 More info / download Demo
Fastest
Fastest Magento 2 & Magento 1 Theme is designed with intelligence and good UX design for all mobile devices. Also, the fastest Magento 2 and Magento 1 themes give you the ability to choose a fully responsive website or a mobile friendly theme for mobile devices. Fastest responsive web design makes your webpage look great on all devices (desktops, tablets, and phones). Faster Responsive web design is all about using CSS.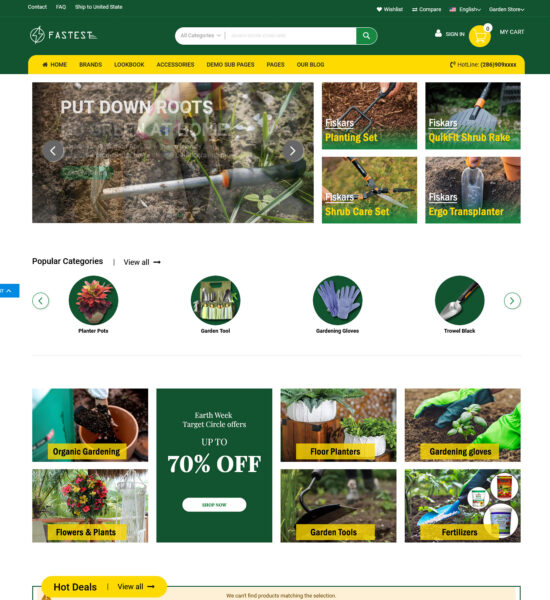 More info / download Demo
Market
Market is a Magento 2 and 1.9 responsive theme that is fully customizable and suitable for online stores, especially for multi-category stores with multiple branches and products like online market stores, supermarket stores, digital stores, hi-tech stores , watch stores, fashion store, clothing store, furniture store, book store, cosmetic store, luxury jewelry and accessories store or mega stores. Integrating with many premium Magento extensions: Vertical Mega Menu with multiple columns and static blocks with a nice image, SM Tab Listing displays products from each category on each tab with the slider. SM categories help you display many categories with the display image. Static blocks with nice images and texts provide useful information about your store. Ajax layered navigation, ajax cart pro extension helps customers shop faster, multi-language, multi-currency, product hover effect, etc.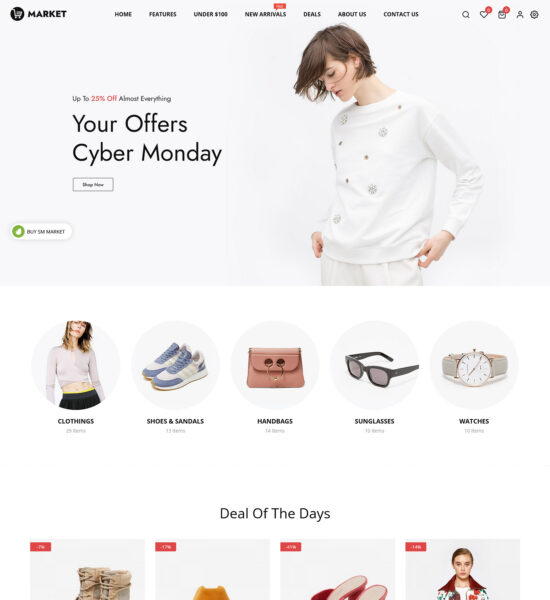 More info / download Demo