Looking for an awesome, free pizza WordPress themes for your website or blog? Check out our collection of Pizza Burger WordPress themes! These themes are perfect for anyone who wants to create a website about their favorite food – pizza burgers! With beautiful designs and easy-to-use features, these themes will make creating your website a breeze. So don't wait any longer, start browsing our collection of free burger WordPress themes today!
Related Article
Fast Food Pizza
Your pizza shop, fast food restaurant, pizzeria, restaurants, burger joints, multi-cuisine food outlets, Mexican food and Chinese food outlets, restaurant dining, pizza delivery, cafes, etc. will all look classy and elegant with the help of the free Fast Food Pizza WordPress theme. The layout is uncomplicated, tidy, and straightforward to use.
It may also be modified to meet various requirements. This theme for your online store is responsive, has a ton of cool features, and looks fantastic. It has options for simple customization and a professional appearance. Additionally, you may alter the font and color. A program will always run more efficiently and provide a better user experience with safe and clean code.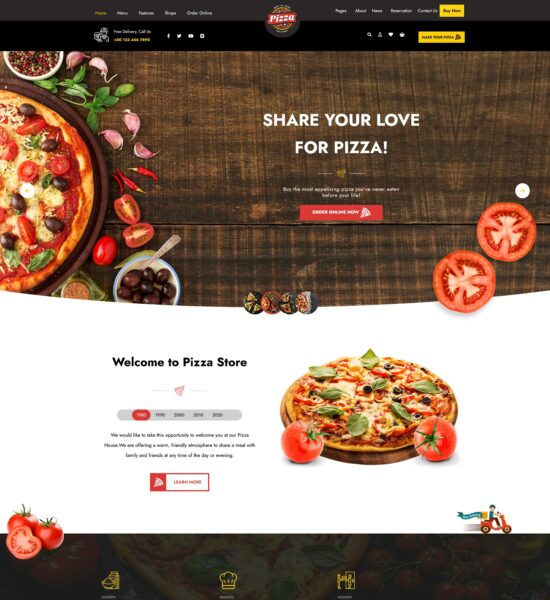 More info / download Demo
Pizza Hub
The Pizza Hub theme is a "child theme" of the Bizberg theme, which is the parent theme. Pizza Hub is a neat and modern WordPress theme that works well for cafes, restaurants, and other food-related businesses. Built using the most cutting-edge technology WordPress currently has. The layout of Pizza Hub is intelligent enough to adapt to the size and resolution of the user's screen.
By doing this, the app is guaranteed to look great on all devices. It can be used in a restaurant that serves high-end food, Asian food, or food from a modern kitchen because it has a layout that can be imported with just one click. Food is served in each of these locations, and each serves something unique. Elementor, which is also used to design every component of this website, integrates reasonably well with it.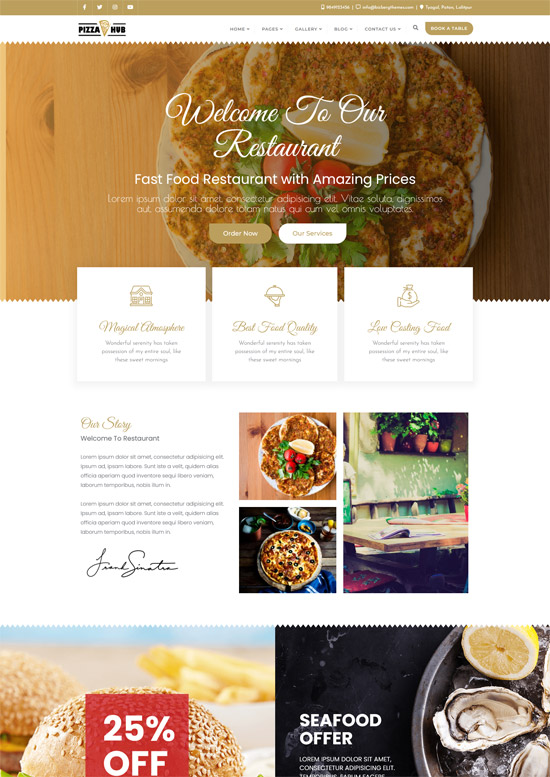 More info / download Demo
Rasam
Restaurants could significantly improve their online presence by utilizing Rasam, an innovative WordPress theme that is not only up to date but also of high quality. Rasam was developed specifically for use in dining establishments.
This theme is ideal for websites about restaurants, fast food, seafood, recipes, bakeries, burgers, cafes, and pizza shops that want to display their food-related services in a way that is simple to understand, looks good, and functions well. It is also an excellent choice for websites that want to show off their burgers.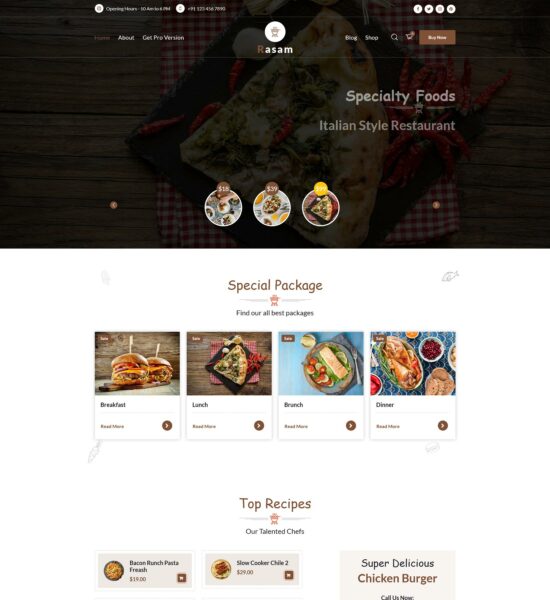 More info / download Demo
Food Truck Lite
Your most devoted customers will be able to communicate with you and view your menu in the most time-efficient manner possible if your food truck business has a robust web presence. This will assist you in better satisfying their requirements. This Food Truck Lite is an effective tool that will assist you in accomplishing the objectives you have set for your company in the quickest and most effective manner.
This theme works exceptionally well for businesses that are associated with food, such as food trucks, websites that allow users to place orders for food, and a wide variety of other types of businesses. Because of its intuitive drag-and-drop user interface, Food Truck Lite makes it simple to create a website that not only looks professional but can also be updated even when the user is away from their computer.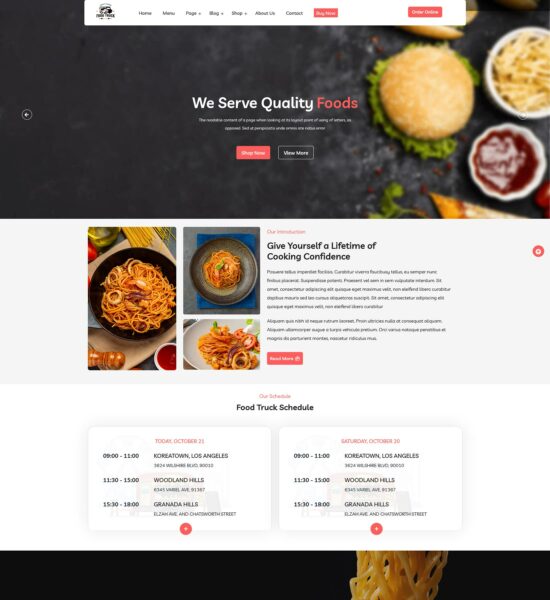 More info / download Demo
Mia Ittalloni
This platform will make any online cookery project appear its best because of its clean and attractive style. As a result, the people who visit your site will be quite delighted. It might be the website for a quick-service restaurant, a coffee shop, a bar, a culinary school, pizza, a burger, or anything else associated with the food and drink industry.
If you employ this subject in your presentation, not only will you be able to offer your online audience a tour of the location, but you will also be able to welcome them in a warm manner. Make sure that it has a contemporary style and is simple to use.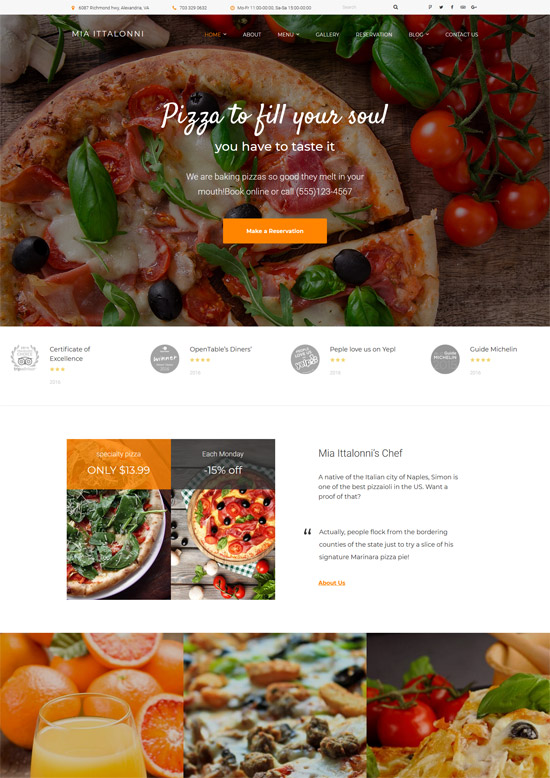 More info / download Demo
Dro Pizza
With the help of DRO Pizza, you can serve your pizzas in ways that are both traditional and new. It gives you a number of choices that you can choose from and use to make changes to how your pizza restaurant works. The process is straightforward and quick.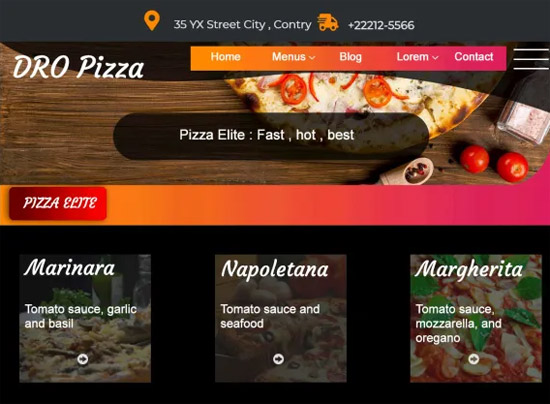 More info / download
Pizza Lite
SKT Pizza Lite is a great choice for websites about pizza home delivery, online ordering, e-commerce, restaurants, and fast food, as well as other websites for small businesses and locals that need a responsive site that works with multilingual plugins like WPML, qTranslate X, and Polylang and supports elementor page builder, divi, visual composer, beaver builder, live composer, and other page builders that are similar to these. It works with WooCommerce and can be used to order food or make restaurant table reservations online.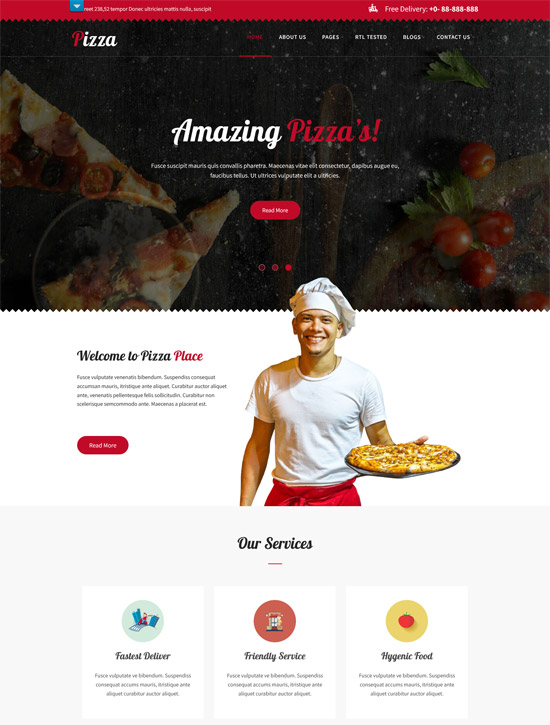 More info / download Demo