There are many great free lawyer WordPress themes available online. But with so many choices, how do you know which one is right for your law firm? Here are a few things to look for when choosing a WordPress theme for your law firm:
First, make sure the theme is responsive and mobile-friendly. With more and more people using their phones and tablets to browse the web, you want to make sure your website looks great on all devices.
Second, look for a theme that has a professional design and is easy to customize. You want your website to look professional and polished, but you also want to be able to change things up if you need to.
Finally, make sure the theme you choose has all the features you need. If you need a blog or a contact form, for example, make sure the theme includes those features.
There are many great free lawyer WordPress themes out there, so take your time and find the one that's perfect for your law firm.
Related Article
Lawyer Hub
Lawyer Hub is a modern theme made for legal consultants, law firms, attorneys, Barristers at Law, advocates, legal councils, solicitors, and any other type of legal office you can think of. This theme was made so that legal consultants, law firms, lawyers, and advocates could use it. The motif is flexible and can be used in many different ways because it can be changed to fit the preferences and needs of the user.
This theme's elegant design is clean and simple, and the fact that it has a responsive layout makes sure that it will look its best on screens of any size. People who are new to coding or haven't done much of it in the past will find that the interface's simplicity makes things easier for them to do. This amazing design is free and comes with a banner that gets people's attention as well as other parts like Team, Testimonials, Services, and many more.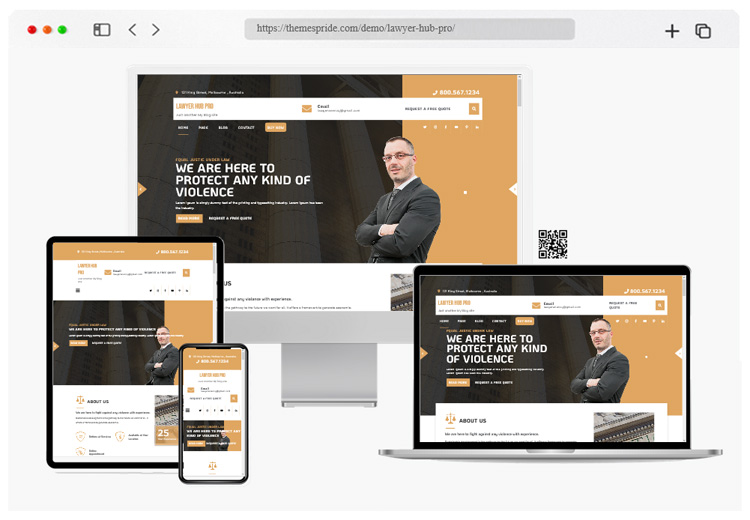 More info / download Demo
Lawyerfirm
Lawyer Firm is the best WordPress theme for lawyers, whether they work alone or for a company. If you work in the legal field, you should use this theme. The Lawyer Firm WordPress theme is a tried-and-true and flexible design that can be changed to meet the needs of a wide range of law-related businesses and individuals. Because it works well for this kind of thing, it can be used to make professional websites for lawyers and other people who provide legal services.
You don't have to have worked as a professional programmer or designer before you can start using Frontline and building a name for yourself on the internet. Frontline is made for people with different levels of skill. This is because the Elementor page builder was used to make the Lawyer Firm theme, which is why this is the case.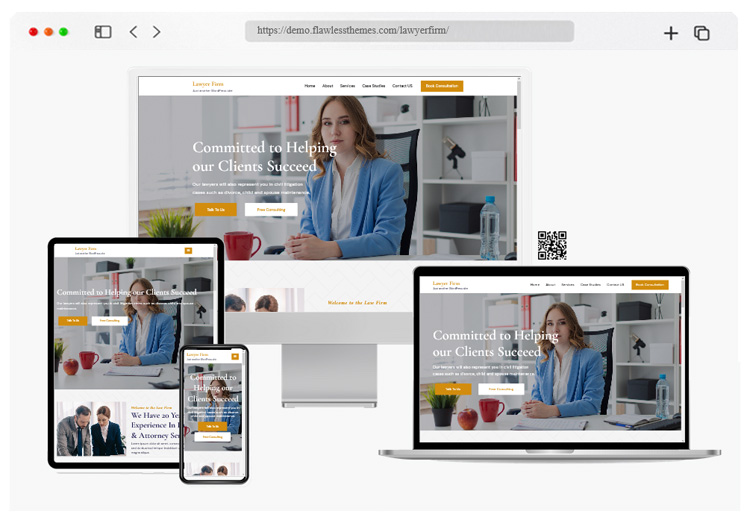 More info / download Demo
Business Lawyer Firm
Free Business Lawyer WordPress Theme is suitable for all types of lawyers to create a professional website. It has to offer all the elements, layouts, and options that any legal website will need, neatly stored in one package. The theme is optimized for all types of law websites and is packed with tons of powerful options and flexible law specific elements and layouts that are sure to give you a smooth website building experience. Whether you're looking to create a law firm with a landing page a personal website for a lawyer, or any other law-related website, this theme will help you get it all done quickly and with complete ease.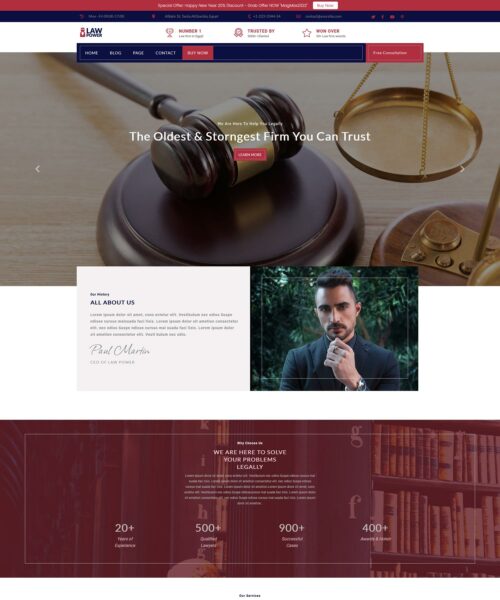 More info / download Demo
Bosa Lawyer
Bosa Lawyer is a versatile lawyer theme. Bosa Lawyer is a beautiful, fast, lightweight, responsive and extremely customizable theme that you can use as a base to create versatile sites and preferably ideal for any type of lawyer sites.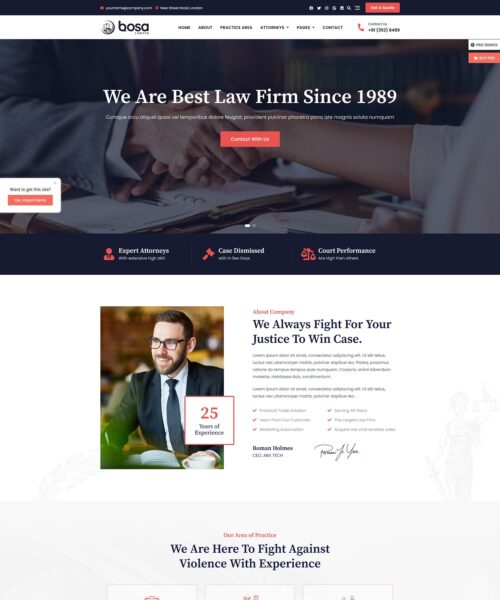 More info / download Demo
Lawman
Lawman is responsive, packed with functionality but doesn't compromise on fancy design. He is viewable and adaptable on different devices and browsers, which means that the layout options help you display your services and reputation on any screen size. It is also optimized for SEO and fast loading. No matter what area of law you practice, Lawman is all you need to set up your business and reach new heights with an amazing website. Lawman is suitable for lawyers, attorneys, and related business websites.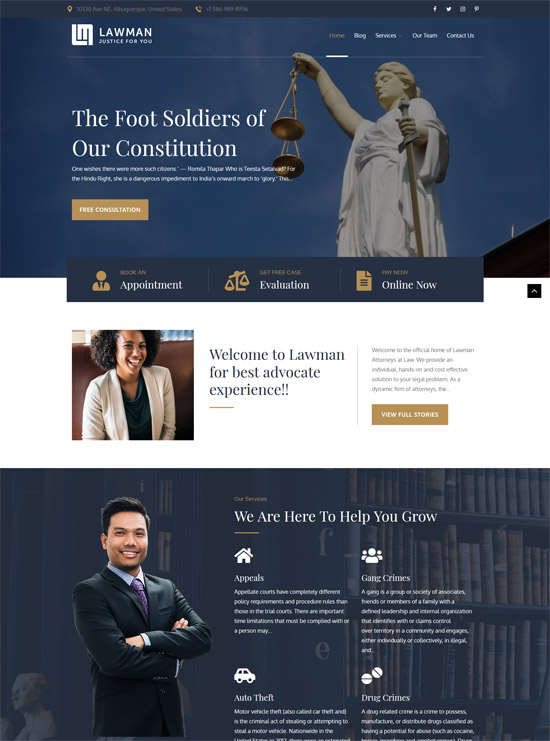 More info / download Demo
LawPress Lite
Excellent choice for attorneys, law firms, attorneys, solicitors, advocates, and other legal businesses. This is a law topic to use the LawPress plugin.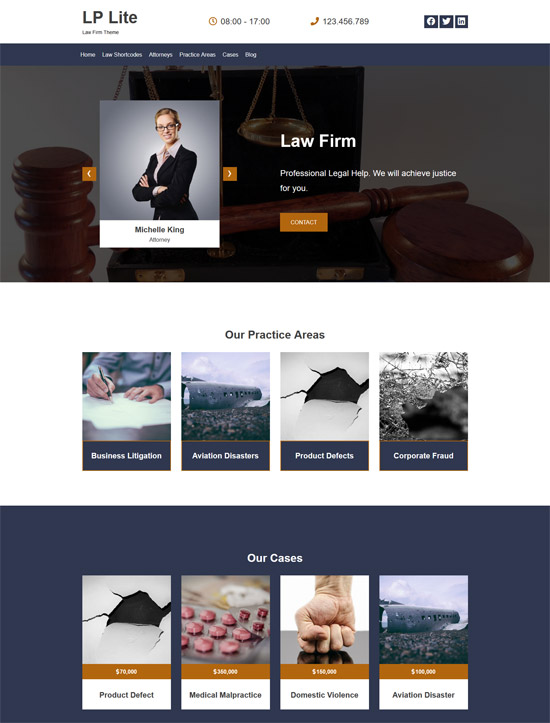 More info / download Demo
Krystal Lawyer
Krystal Lawyer is a free WordPress theme that helps you create a website in just a few minutes. You can create law firms, attorneys, legal advisers, legal advisors, legal expert websites, and many more from this WordPress theme. The theme offers many options and can be easily customized through the Customizer. Optimized for speed and 1-click demo import options, this theme is quick to set up.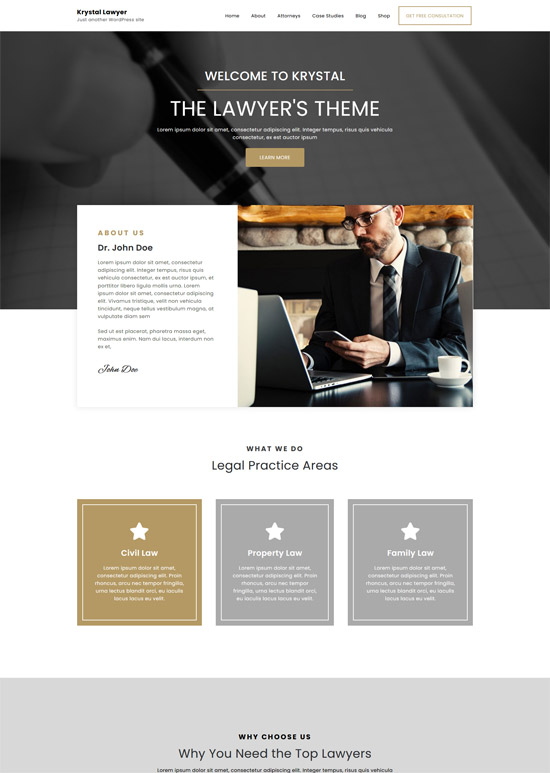 More info / download Demo
Lawyerpress lite
Lawyerpress lite is a free WordPress lawyer theme for law firms, attorneys, legal advisers, legal experts, and much more. Built with the safe and clean code, you can easily customize it to your needs. Although this WordPress theme is free, it has premium features. This WordPress theme for lawyers is fully compatible with the Elementor Page Builder plugin, which means that you can simply drag and drop the provided elements and create a page in a matter of minutes. Similarly, with the crucial feature sets like advanced theme panel, call to action, call section, custom widgets make it the best free law WordPress theme to launch your project. You don't need to do anything from scratch as Lawyerpress lite includes a one-click demo importer; just import the demo website, add content, and your law-based website is ready to go. Lawyerpress lite is optimized for speed and SEO, making it one of the most powerful search engines.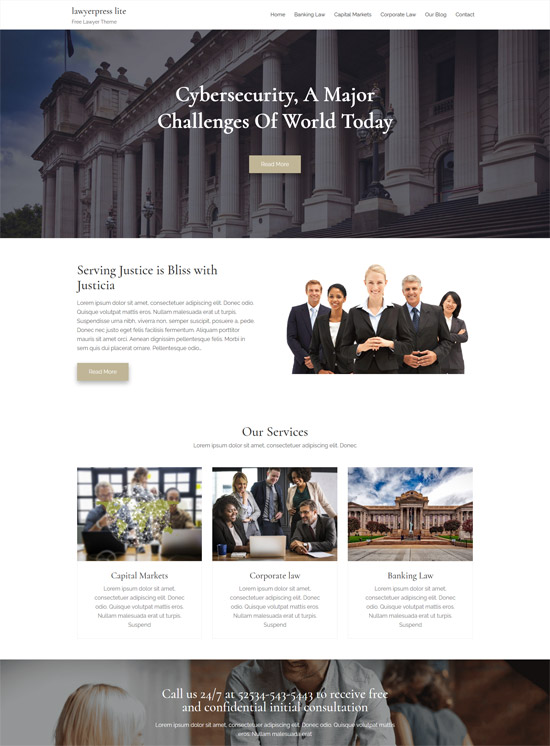 More info / download Demo
Law Firm Lite
The lite law firm is one of the most demanded WordPress themes in the international online market today and is beneficial for law firms or various law-related businesses or businesses associated with areas where the legal sector is involved. . It is one of the most sought after WordPress themes for lawyers and has been in constant demand in the market since its inception. It is also applicable for individual attorneys and in case you are operating an established law firm or want to start one, the theme will work wonders when it comes to business excellence and expansion in this area. This WordPress theme for legal lawyers is multipurpose armed with classic features like Bootstrap framework, call-to-action button, responsiveness, and clean code.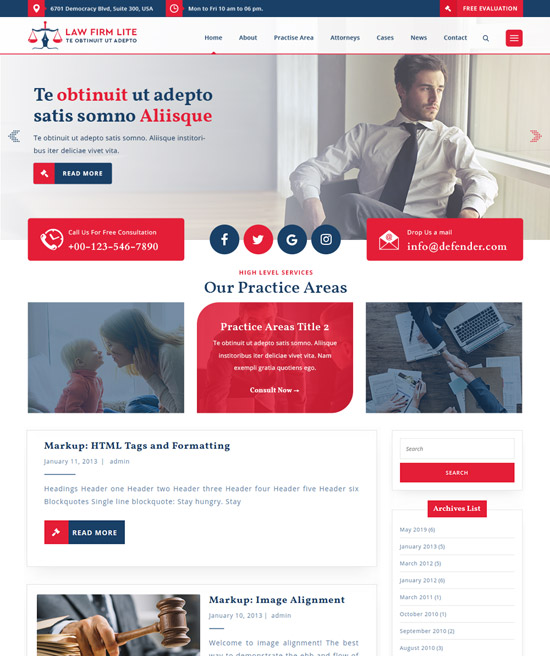 More info / download Demo
Expert Lawyer
The free WordPress theme for lawyers has a gorgeous touch and is well suited for legal professionals including individual attorneys, legal experts, business law advisors, and all other professionals dealing directly or indirectly with legal forms as well. as well as governmental or non-governmental legal organizations. One of the specialties of the free WordPress theme for lawyers is that it is not difficult to understand and there are no coding knowledge requirements. Being responsive to the core, you can make an exemplary website related to legal aid, legal institutions, and professionals dealing with civil law. It is in high demand due to its compatibility with the latest version of WordPress and has been written in clean and safe code. It is translation ready and has a call to action button in addition to customization options. The free WordPress theme for lawyers is not only modern but also luxurious and above all it is SEO friendly, which makes it very suitable for legal services.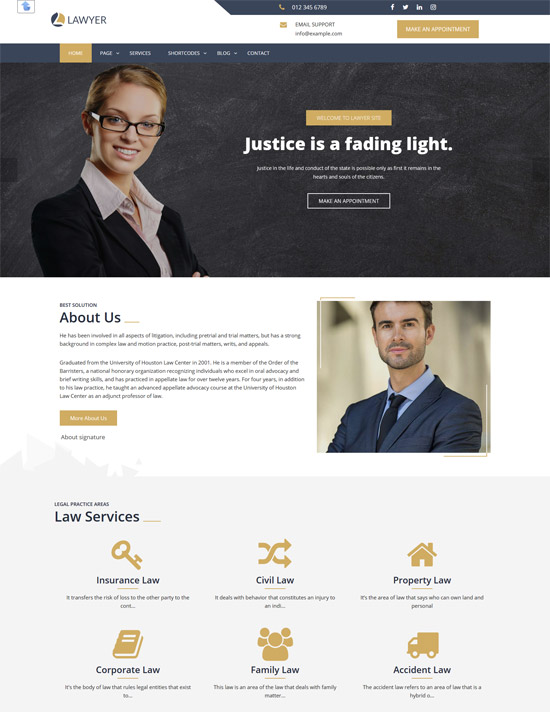 More info / download Demo
Multipurpose Lawyer
This free WordPress theme for lawyers is elegant, modern and captivating and can be used for lawyers, attorneys, legal advisers and consultants, law firms, law enforcement agencies, and similar professional and commercial jobs. It is built on the Bootstrap framework to provide a solid foundation for your website and ease of use at the same time. The backend of this free lawyer WP theme is easily understandable and very useful so that everyone can use the theme to its full potential without having to worry about not being a professional developer. It is light and therefore charges very fast.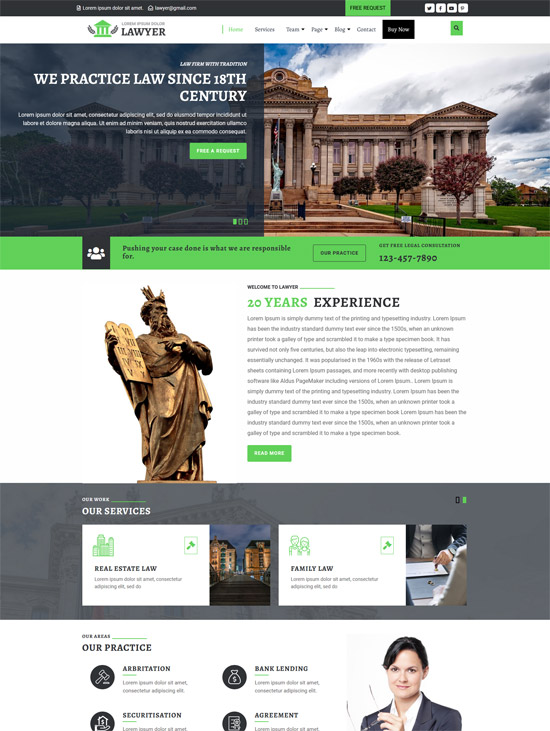 More info / download Demo
Lawyer Gravity
Lawyer Gravity is an enhanced Business Gravity subtopic created for attorneys, law firms, legal advisers, private attorneys, law teaching websites and companies, business consultants, agencies, and corporations.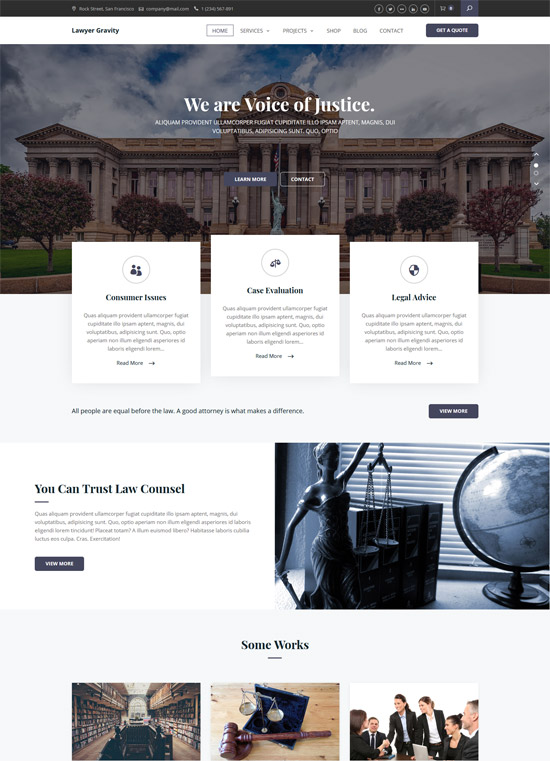 More info / download Demo
Lawyer Lite
Lawyer Lite is a professional WordPress theme created for attorneys, law firms, legal advisers, consultants, politicians, attorneys, civil law notaries, counselors, municipal corporations, business consultants, private attorneys, paralegals, corporate, law teaching . websites and companies, legal advisers, legal experts, courts,  legal adviser, law firm,counseling, attorneys, law agencies and corporations. You can use this topic to write law related blogs or any personal blog. It has a clean design. The color scheme is chosen to fit a legal website. It takes less time to set it up. The Lawyer Lite has a sophisticated design to show solemnity in your work. It is a minimal theme with a user-friendly interface for smooth navigation.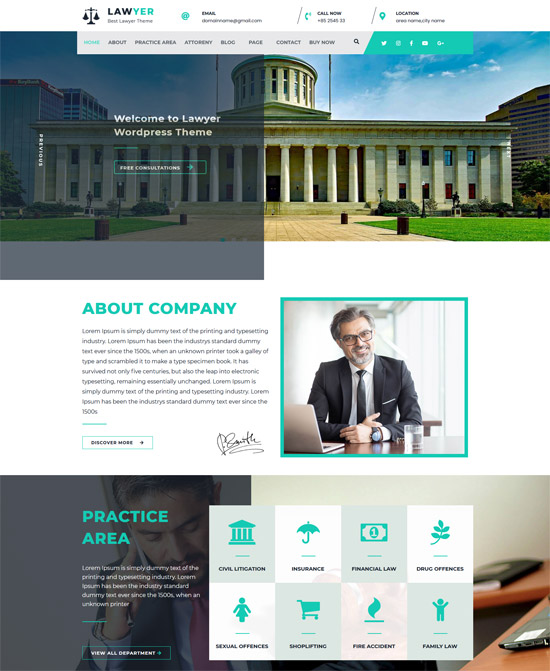 More info / download Demo
Lawyer Zone
Lawyer Zone is a modern and elegant WordPress theme designed especially for the legal sector. It can be used to create a well-organized online presence of law organizations such as law firms and law firms. You can also use it as a portfolio page for people like attorneys, attorneys, legal officers, attorneys and solicitors, and others involved in the field of law. It is a multipurpose theme, so it can be used for many other purposes such as corporate, business education, and medical sites. The theme possesses some splendid features including advanced custom widgets, Page Builder support, unlimited slider, advanced logo options, custom sidebar areas, social media integration, translation list, category color options, browser compatibility and much more.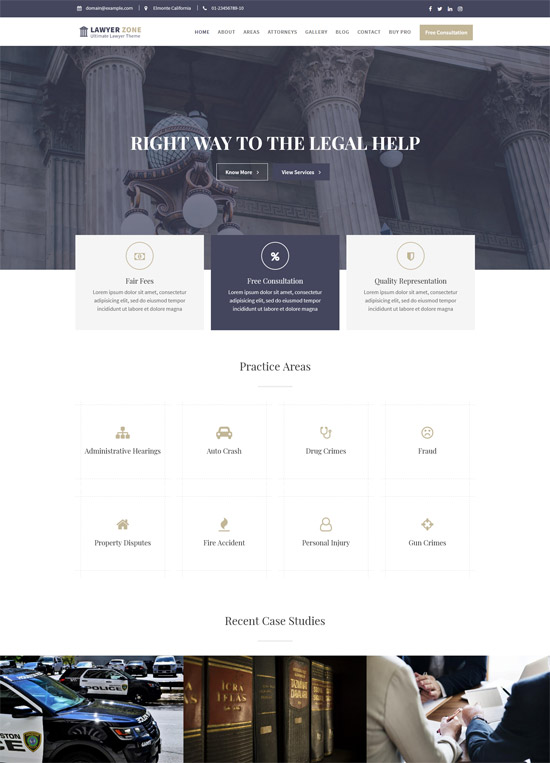 More info / download Demo
Lawyer WP
Build a website to promote your professional services as a Lawyer / Lawyer or Lawyer / Law Firm. 2 custom menu areas, 3 custom widget areas, 2 custom page templates, easily upload a custom logo, background, add Google fonts, and more. Fully responsive with WooCommerce and built-in bbPress support. By being carefully coded with quality and minimalism, Lawyer manages to take a hit and remain incredibly fast and SEO friendly, without all the bloat.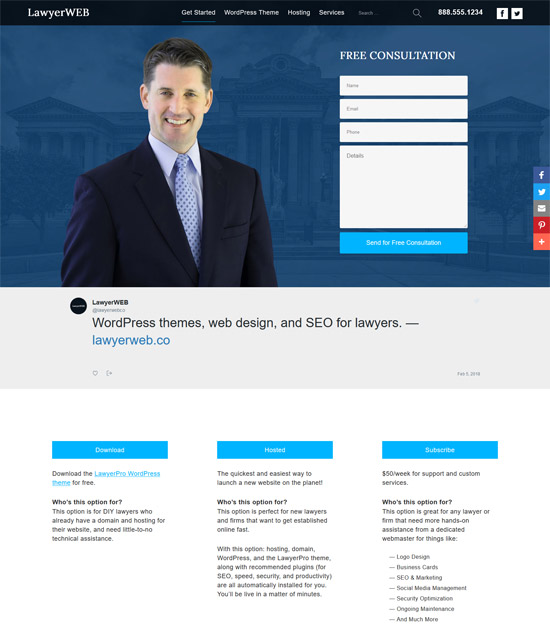 More info / download Demo
VW Lawyer Attorney
VW Lawyer Attorney is a free WordPress theme for lawyers is ideal for lawyers, agencies, and law firms. Lawyers have an important role today and the WordPress theme for lawyers is designed to strengthen the professionalism and high degree of a trustworthy law firm. The subject is developed with excellence just as law firms are. This theme works at its maximum level to train web enthusiasts to create fabulous law related websites without indulging in the code part. Built with supremacy, the theme has an impressive design and offers first-class performance. The WordPress Free Lawyer theme will impress a ton of clients with enough pages to showcase a multitude of legal specialties.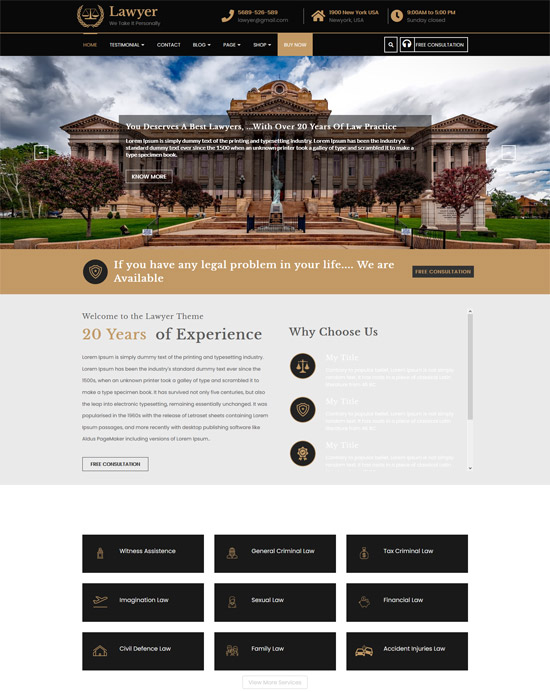 More info / download Demo
Lawyer Landing Page
The awyer landing page is a sophisticated, elegant, professional, and solidly built WordPress theme for lawyers, law firms, and law websites. The theme is very versatile and can also be easily used by various types of companies, corporations, and freelancers. The Lawyer Landing Page includes several features to create an easy-to-use, interactive, and visually stunning website. Such features include a custom menu, an attractive banner with contact form, the About section, the Service section, the Testimonials section, the Team section, the FAQ section, the Banner with the call to action button ( CTA) and social media. The theme is SEO friendly with optimized codes, making it easy for your site to rank on Google and other search engines.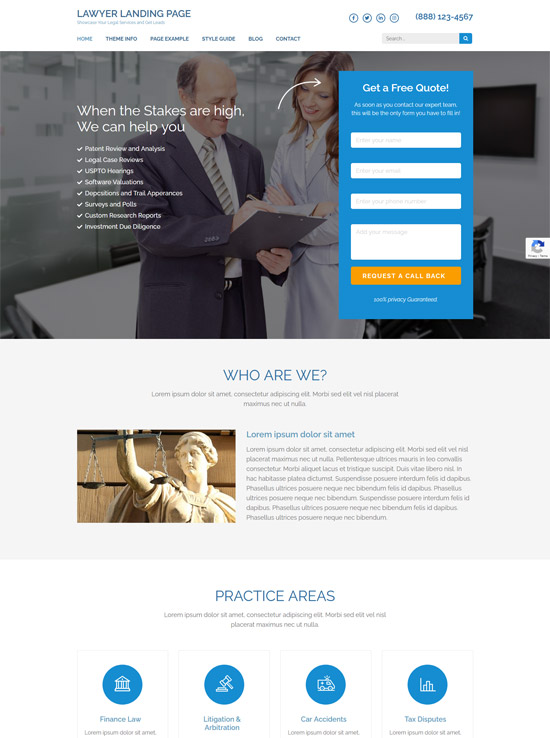 More info / download Demo
EightLaw Lite
EightLaw Lite is a cutting-edge WordPress legal theme designed for attorneys, law firms, attorneys, and other legal websites. This theme is packed with modern designs and powerful features needed to create a complete website for legal professionals.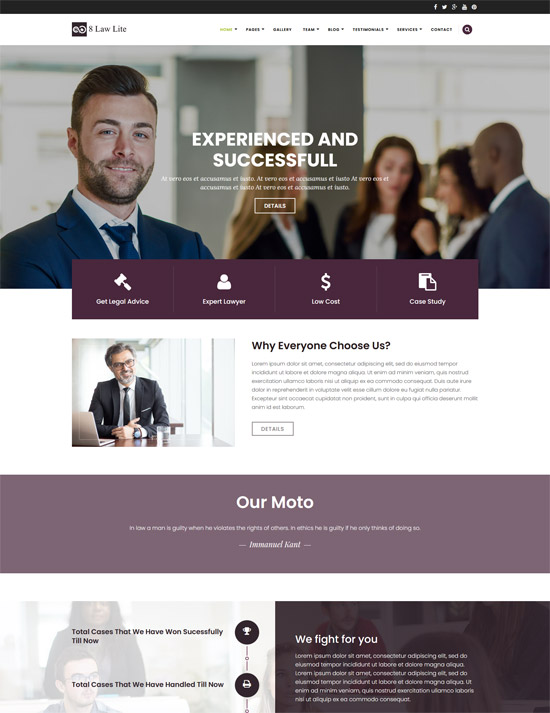 More info / download Demo