In the fast-paced world of web application development, having a reliable and efficient admin template is crucial. Angular, one of the most popular JavaScript frameworks, offers a robust platform for building dynamic and responsive web applications. To accelerate your development process and enhance the user experience, utilizing free Angular admin templates can be a game-changer.
In this blog post, we'll explore the top free Angular admin templates for 2023. These templates are not only visually appealing but also feature-rich, providing you with a solid foundation to kickstart your project without compromising quality.
CORUI
The CoreUI Angular Admin Panel is not just a bunch of free parts and frameworks from other places thrown together. It is the first Open Source Angular Admin Dashboard page templates that is based on the enterprise-grade, hand-crafted Angular Components Library and is designed and supported by experts.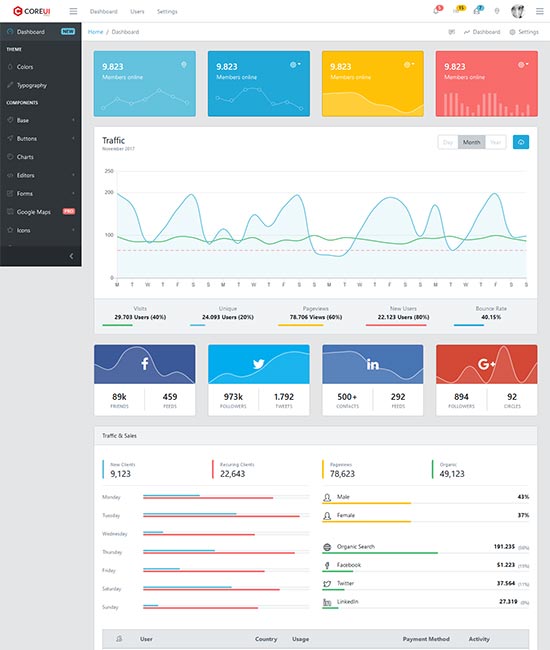 More info / download Demo
Flat Able
The Flat Able Angular 9 Admin website templates has everything you need to make a dashboard. Flat Able Angular 9 Lite is a flexible solution for any type of back-end application project. It has a default layout version with limited options, is Google-optimized, integrates fonts, is fast, mature and sophisticated, and has a code that is very well organized.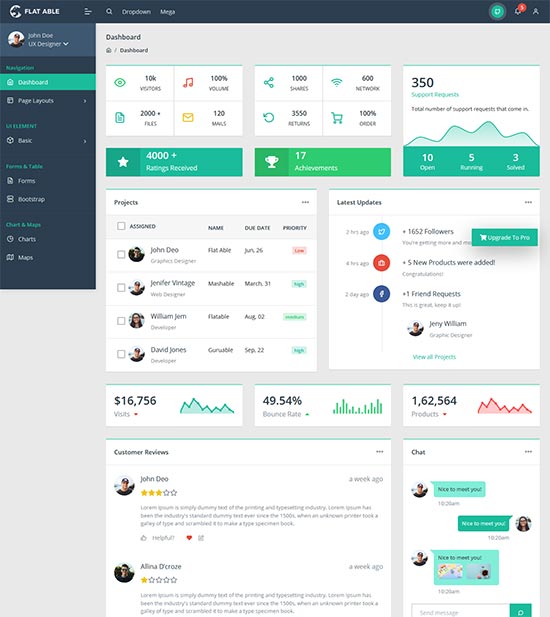 More info / download Demo
SB Admin Angular
SB Admin Angular is a free, open-source modern web dashboard template for Angular 9 that is used by admins. This Angular version of SB Admin takes the layout styling from SB Admin and adds a powerful development environment and workflow based on Angular 9. It is a great starting point for any Angular 9-based web application or admin dashboard.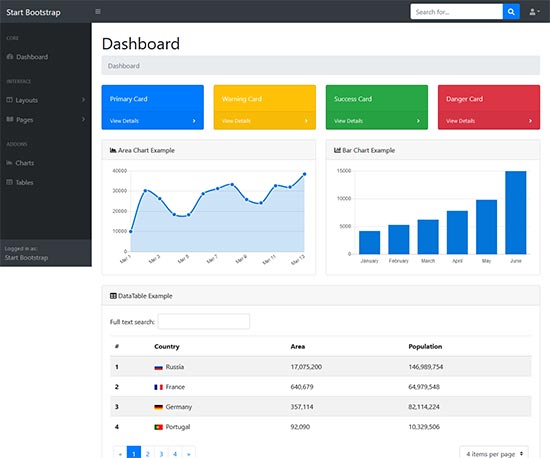 More info / download Demo
Angular Material
Angular Material Admin is an Angular template made with Typescript and based on Material design. Angular Material Admin can be used to build any kind of web app, such as SaaS, project management tools, CMS, apps for visualizing data, etc. Four color themes, hundreds of pages and components, a modular design, and the latest best practices in the industry are all you need to get started with modern material application.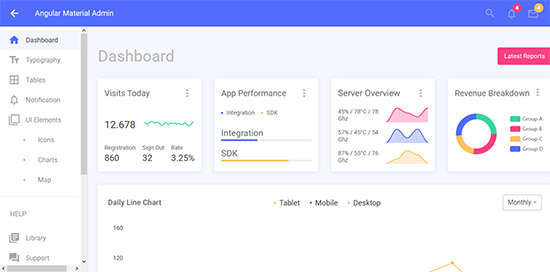 More info / download Demo
BlurAdmin
The Blur manager is a term that refers to a template that may be used for an angular UI admin panel. This leads one to believe that Javascript was utilized in order to write out all of the data that is provided in the charts as well as the chart tables. You are not restricted in any way with regard to the backend that you employ; there are no requirements placed on you in this regard.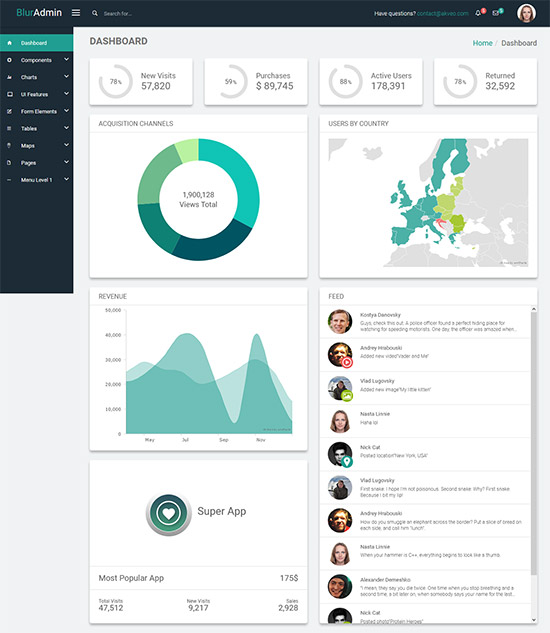 More info / download Demo
Material Dashboard
Dashboard of Material Angular is a free Material Bootstrap 4 Admin with a fresh, new design that was inspired by Google's Material Design. We're very excited to share our take on the material concepts in the form of a beautiful and easy-to-use set of components. Material Dashboard was built on top of the popular Bootstrap framework, and it comes with a couple of third-party plugins that have been redesigned to fit in with the rest of the elements.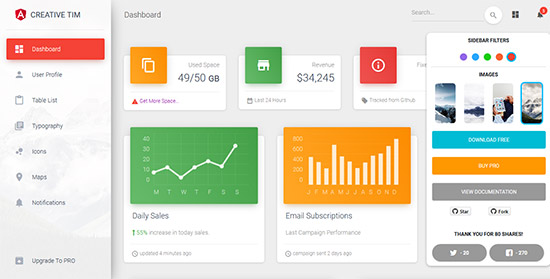 More info / download Demo
Premium Angular Admin
Oreva Angular
Oreva Angular Admin is a contemporary Angular 14 / CLI Web Application template for admin dashboards and control admin panels. Oreva includes Bootstrap 5.1.3, the most recent version supported by the ng-bootstrap library. There is no jQuery reliance in the template, so you will get a pure angular experience.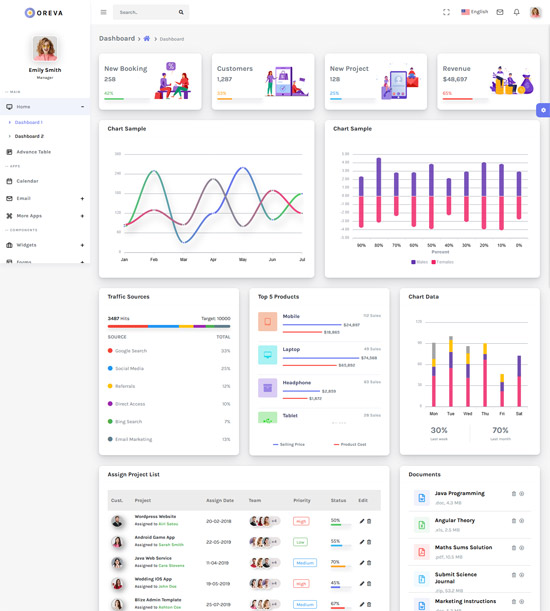 More info / download Demo
NobleUI
NobleUI Angular Admin Template is a robust and lightweight dashboard template built with Angular 13+ and the Bootstrap 5x Framework. It contains a vast variety of UI components that may be reused.
All styles are developed using SASS and are simple to comprehend. NobleUI's admin panel is completely responsive and compatible with all major web browsers and devices.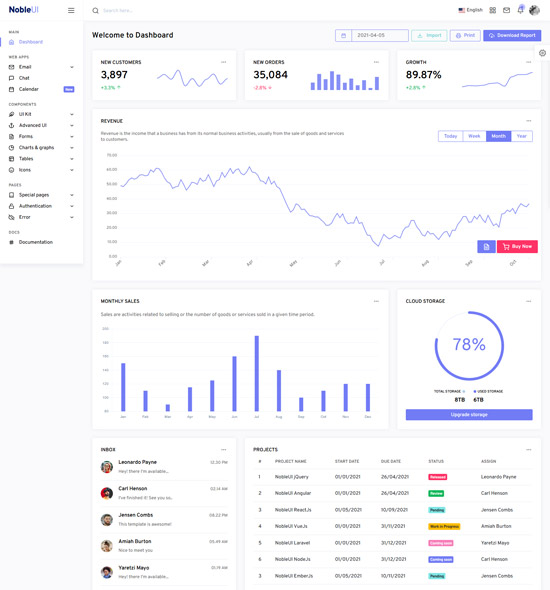 More info / download Demo
Cuba
Cuba Admin is a premium, versatile, bootstrap admin template developed with Bootstrap 4 Framework, HTML5, CSS, and JQuery. It includes a large library of UI components that may be reused and the most recent jQuery plugins. It may be used for all kinds of Web applications, including custom admin panels, app backends, CMS, and CRM.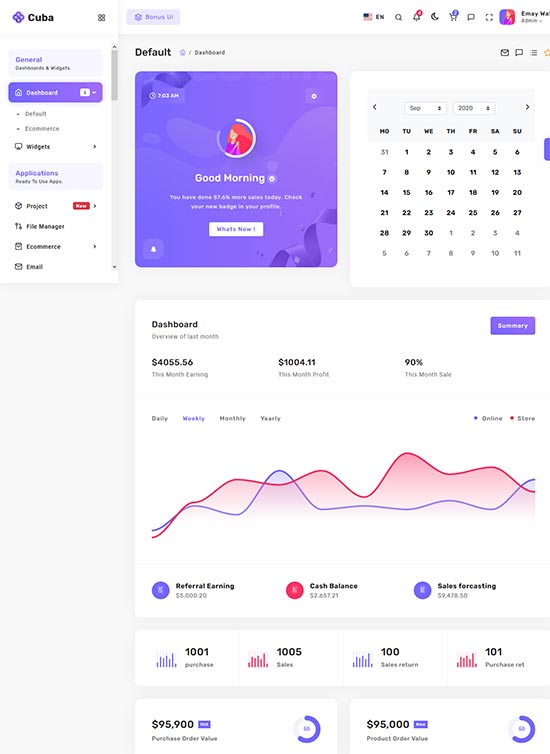 More info / download Demo
Smart
Smart is a contemporary material design admin dashboard template constructed using Angular 14+ and Angular-CLI for your University, School, or College. Smart features material design elements for sophisticated styles and designs.
Advanced features of Smart include Role-Based Authentication; using the template, you will have sales dashboard, Teacher, and Student roles predefined. You may make additional as per your demand. You may limit page access depending on the role of the user.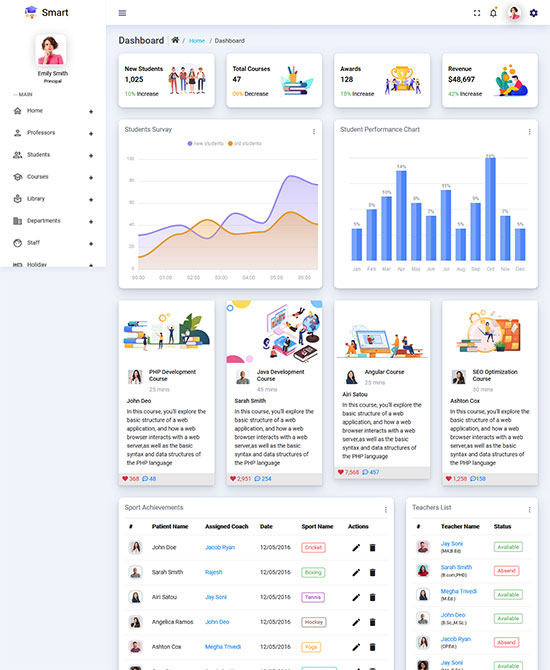 More info / download Demo
Skote
Skote is a developer-friendly premium Angular 14 admin dashboard template with Fake-backend, Firebase authentication, and multilingual support. This is a pure Angular 14 admin template with reusable components; we have not utilized jQuery.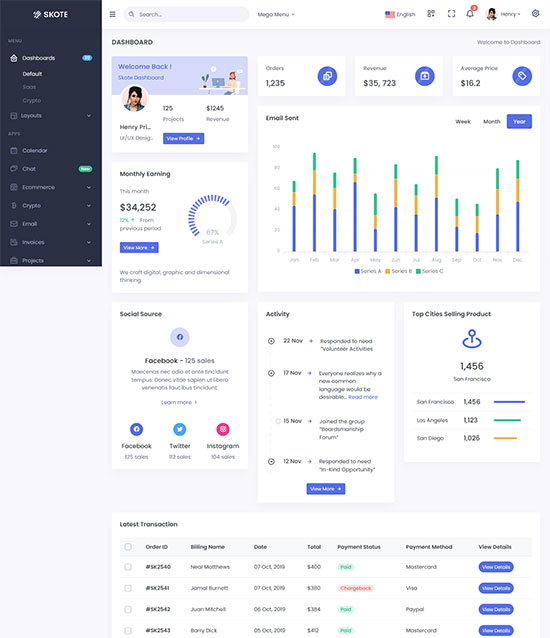 More info / download Demo
Shreyu
Bootstrap was utilized in the creation of the premium admin and dashboard template known as Shreyu. It comes equipped with all of the features that one might want. It comes pre-packaged with a wide variety of components, UI elements, and app pages that have all been expertly built and can be used in a variety of contexts. The theme is fully responsive and displays and operates in the intended manner across the full range of modern browsers and devices that are supported.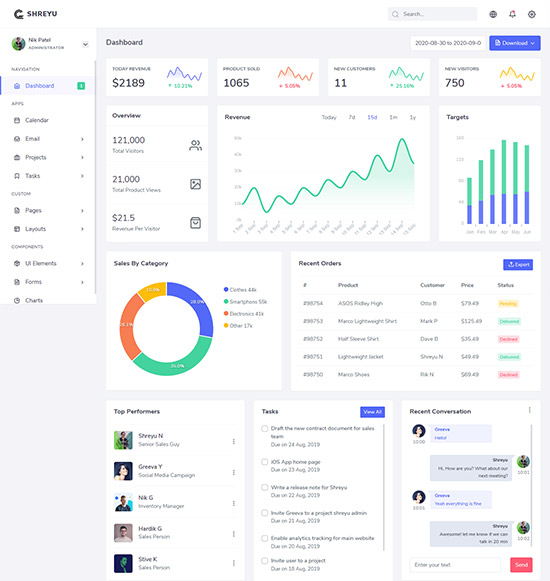 More info / download Demo
Modern
The Modern Admin Angular 10+ Bootstrap 4 Admin Dashboard Template combines a clean design with a flexible code architecture. Due to this combination, the Angular 10+ Admin Dashboard Template can be constructed rapidly and efficiently while preserving an extraordinary amount of versatility. If you are a developer looking for an Angular marketing dashboard developed specifically with you, the developer, in mind, then look no further than Modern Admin.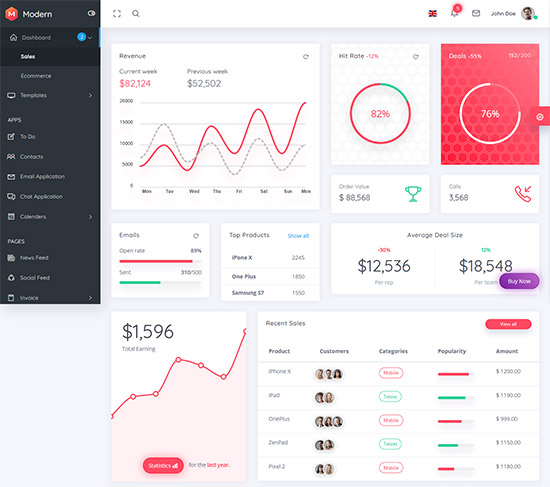 More info / download Demo
Cliniva
Cliniva is an up-to-date admin panel template that was made with Angular 10 and Angular-CLI. It was created by Cliniva. It was developed primarily for use in medical facilities such as hospitals and clinics, and it features a design that is composed of material. Users are able to develop designs and styles that have a great level of detail because to the fact that Cliniva comes pre-packaged with components for material design.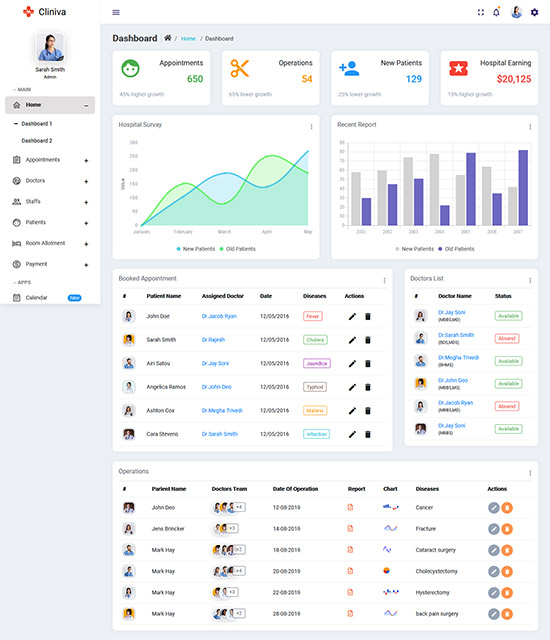 More info / download Demo
Vex
The Vex Angular 10 and Angular-CLI admin template offers a one-of-a-kind material design and was created by the Vex firm. It extends the Material Design components developed by the Angular team and provides you with everything you need to begin your next CRM, CMS, or dashboard-based project.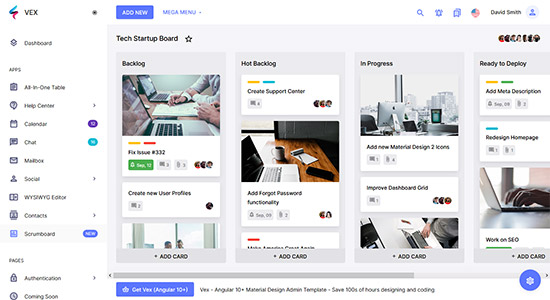 More info / download Demo
Endless
The Endless Angular Theme is without a doubt a genuine example of the Angular theme! If I've heard you properly, the Angular No Jquery admin theme that you're considering buying is the one that provides your project with all of the features and functions that it needs, and it interacts with your website in a very intuitive manner.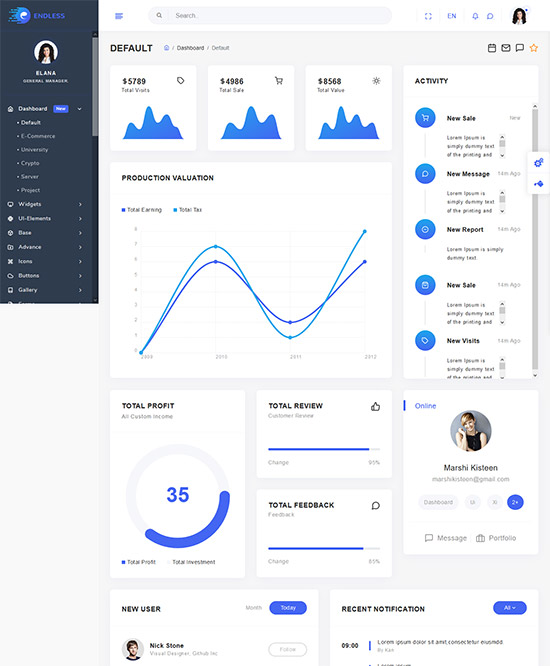 More info / download Demo
Summarize the key takeaways from the blog post, emphasizing the importance of choosing a high-quality Angular admin template for your web application development. Reinforce the benefits of these free templates, such as saving time, increasing productivity, and delivering visually stunning interfaces. Encourage readers to explore the templates further and choose the one that best suits their project requirements.
By utilizing these top free Angular admin templates in 2023, you can elevate your web application development and deliver exceptional user experiences without breaking the bank. Happy coding!